Watermelon Margaritas are the perfect summer cocktail! Get that fresh and fruity watermelon flavor in a delicious and easy margarita recipe that everyone will love. This watermelon margarita recipe is super refreshing, tasty, and pretty cute too. There's no better way to celebrate the season than with a watermelon cocktail!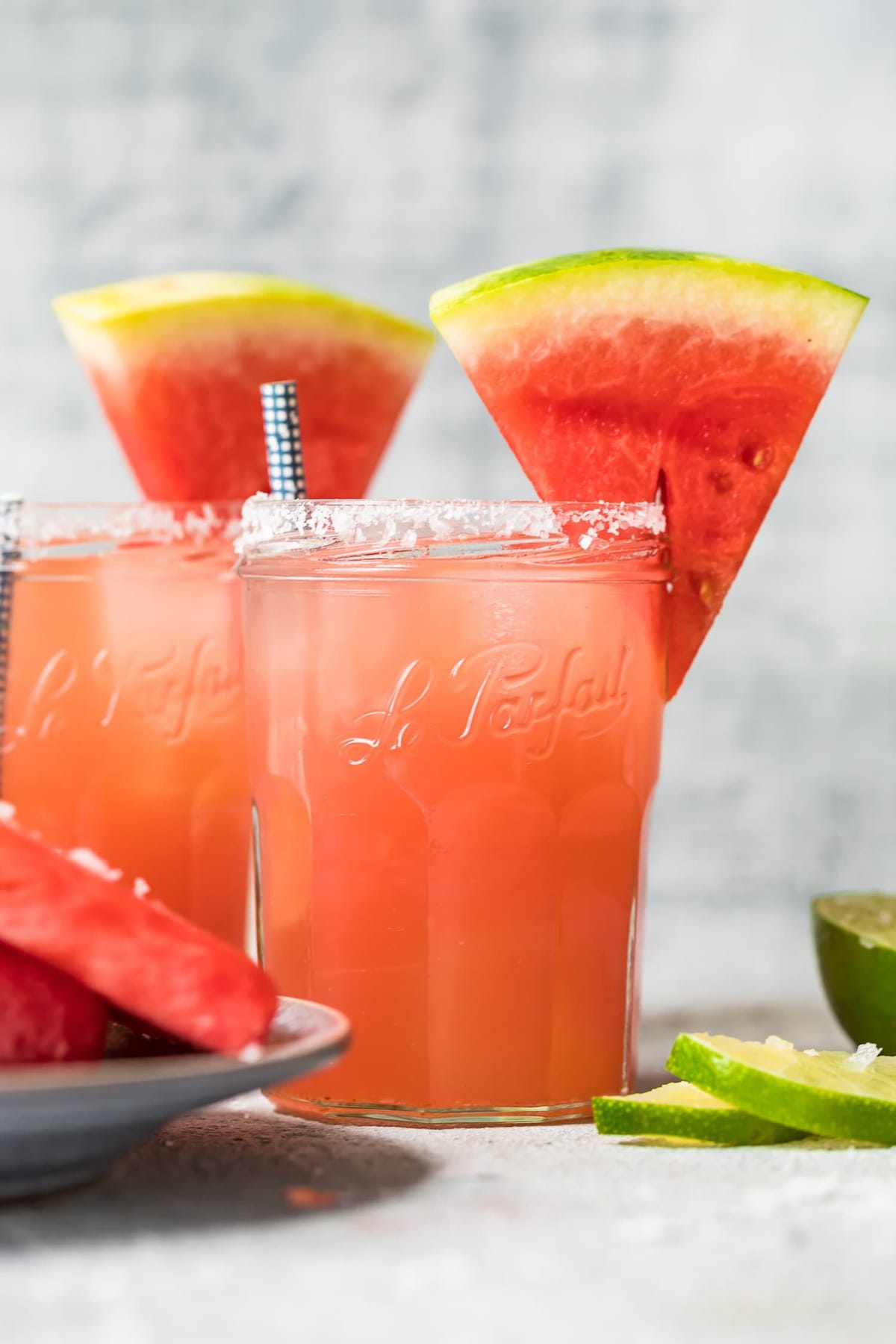 Watermelon Margaritas
Watermelon is the most summery food I can think of. It's fresh, it's fruity, and it's so fun. Nothing cools you down on a hot summer day like a watermelon…except maybe a margarita! So by combining the two into a Watermelon Margarita, you know we've got the best and most refreshing cocktail for summer.
Margaritas are my favorite cocktail, so any chance I get to make a new flavor, you know I'm on it. More margaritas for everyone, please! These watermelon cocktails are perfect for summer days, BBQs, Cinco de Mayo, and all the warm-weather holidays you can think of.
Sipping this pink drink by the pool or on the patio is sure to make your summers even better. Drink up, stay cool, and enjoy the last days of the season with the best margaritas!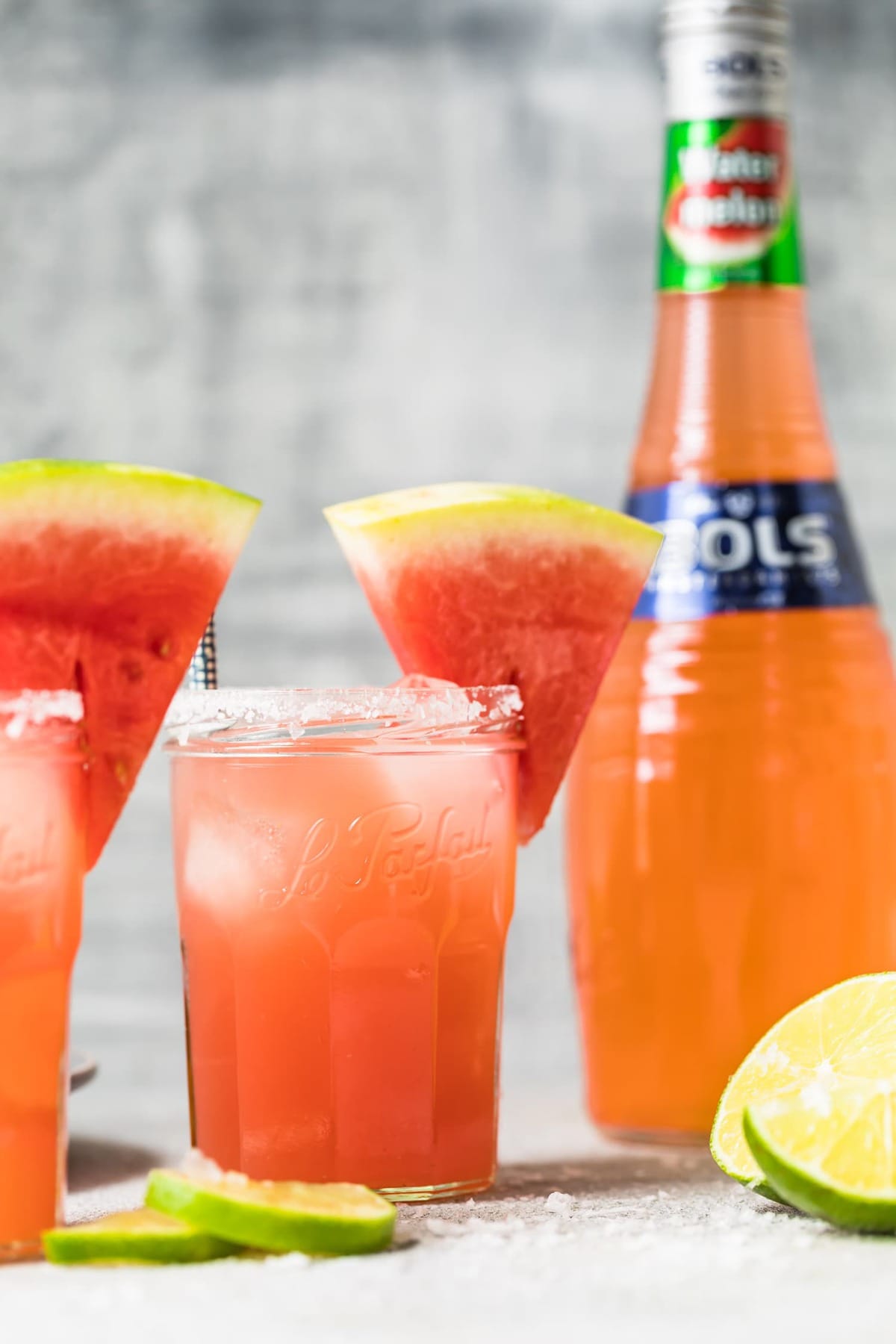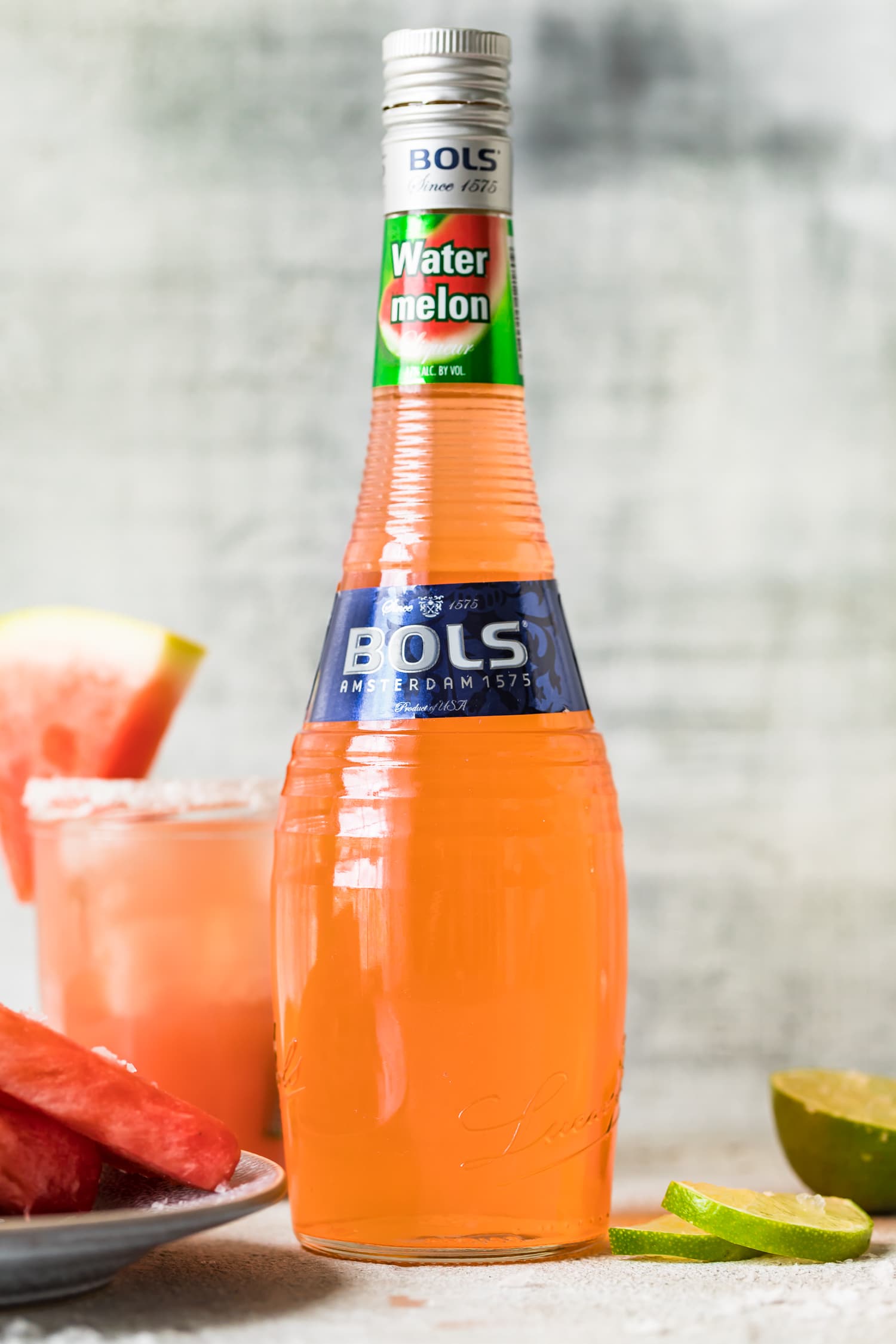 COCKTAILS MADE WITH BOLS LIQUEURS
Making these Watermelon Margaritas special and amazing is all because of BOLS Watermelon Liqueur! BOLS is the oldest liqueur brand IN THE WORLD and dates back to the 1500s. It's a brand you can totally trust (it's also the most awarded brand in the world!) and I love using it for fun and delicious cocktails.
Using BOLS Watermelon Liqueur in this recipe makes it the perfect fun and fruity margarita with none of the fuss. It's easy, quick, economical, and perfect! It's sure to be the hit of any party. The watermelon flavor is so bright and delicious, it'd be tasty mixed with everything from champagne (watermelon mimosas!) to simple club soda.
Be sure to check out our video for making these Watermelon Margaritas with BOLS as my other posts using their amazing Liqueurs; Blue Margaritas and Loaded Queso with Spicy Pineapple Margaritas.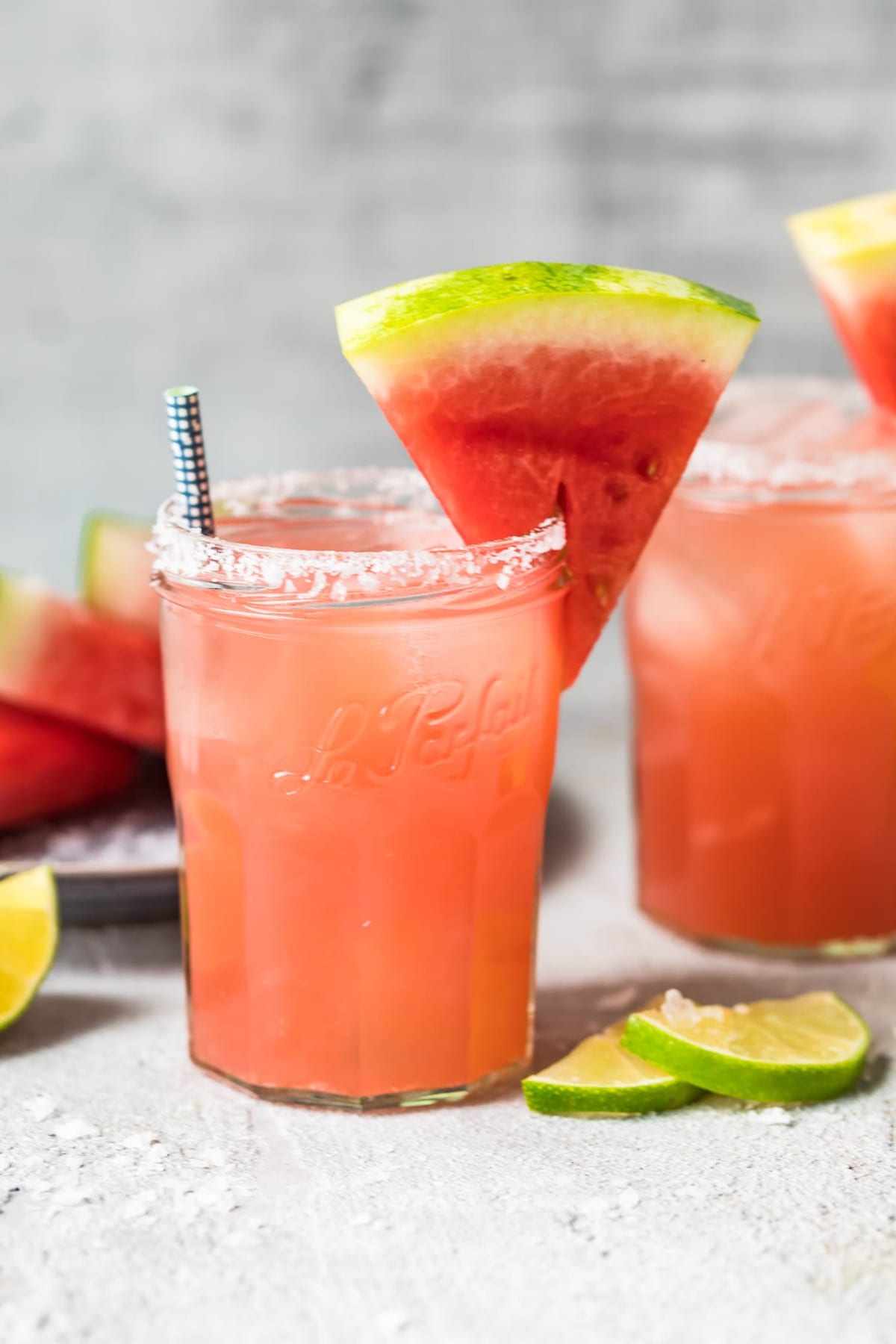 How to Make Watermelon Margaritas
This easy margarita recipe is my new go-to for the summer season. I love how simple it is to make drinks like this, because I get to feel like I've made something absolutely amazing (and it does taste amazing), without putting in too much effort. I'll still be able to impress anyone who tries this watermelon margarita recipe!
To make:
Blend all ingredients (tequila, watermelon liqueur, lime juice, agave nectar, and watermelon) together in a high-powered blender.
Rim glasses with lime juice and salt, then fill with ice.
Strain the watermelon cocktail into the glasses.
And my favorite part: if you really want a fun cocktail, add a slice of watermelon to the glass for A+ presentation skills!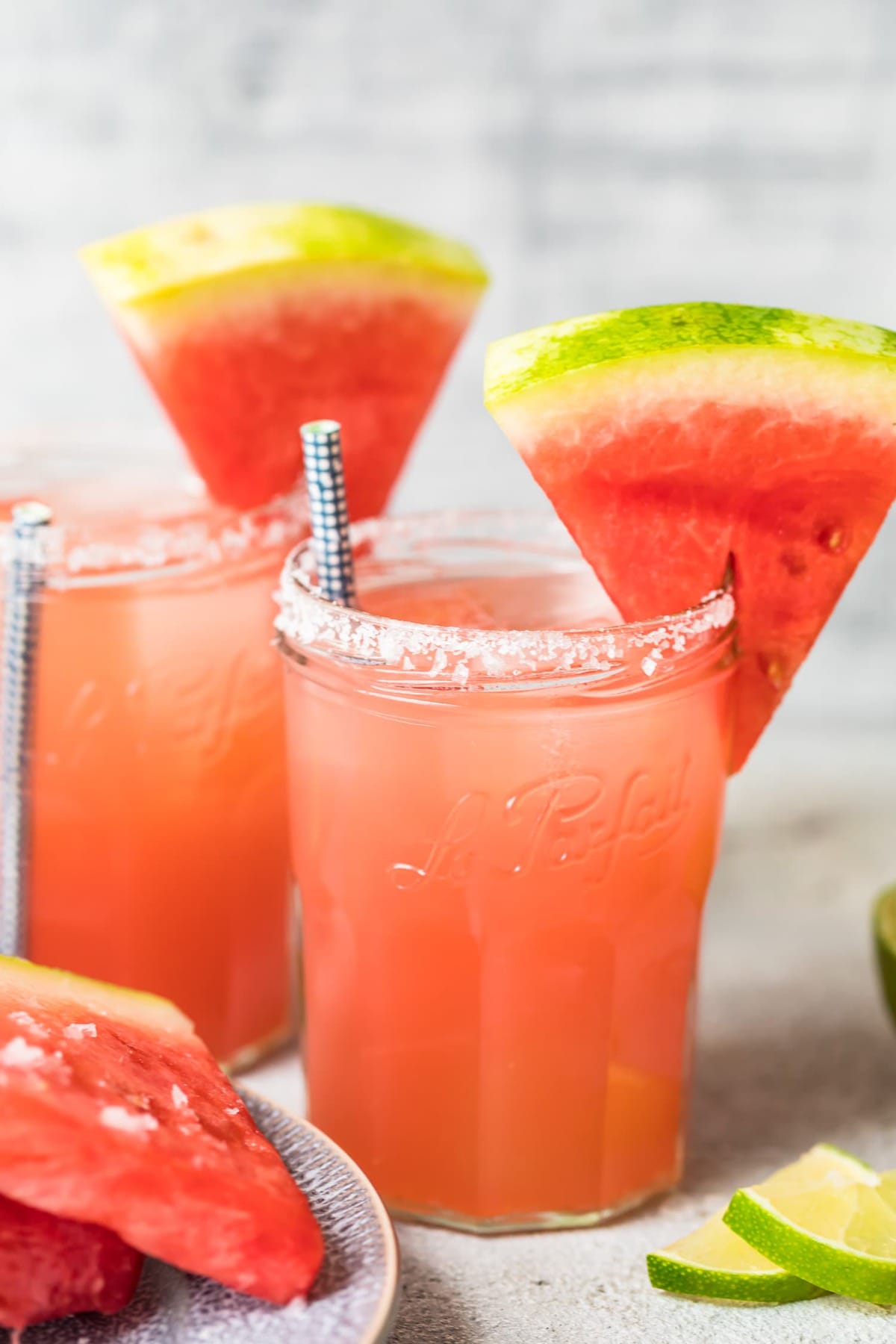 More Margarita Recipes
We've got a Frozen Watermelon Margarita too! And the best Frozen Lime Margaritas. We've got it all! Here are some favorites: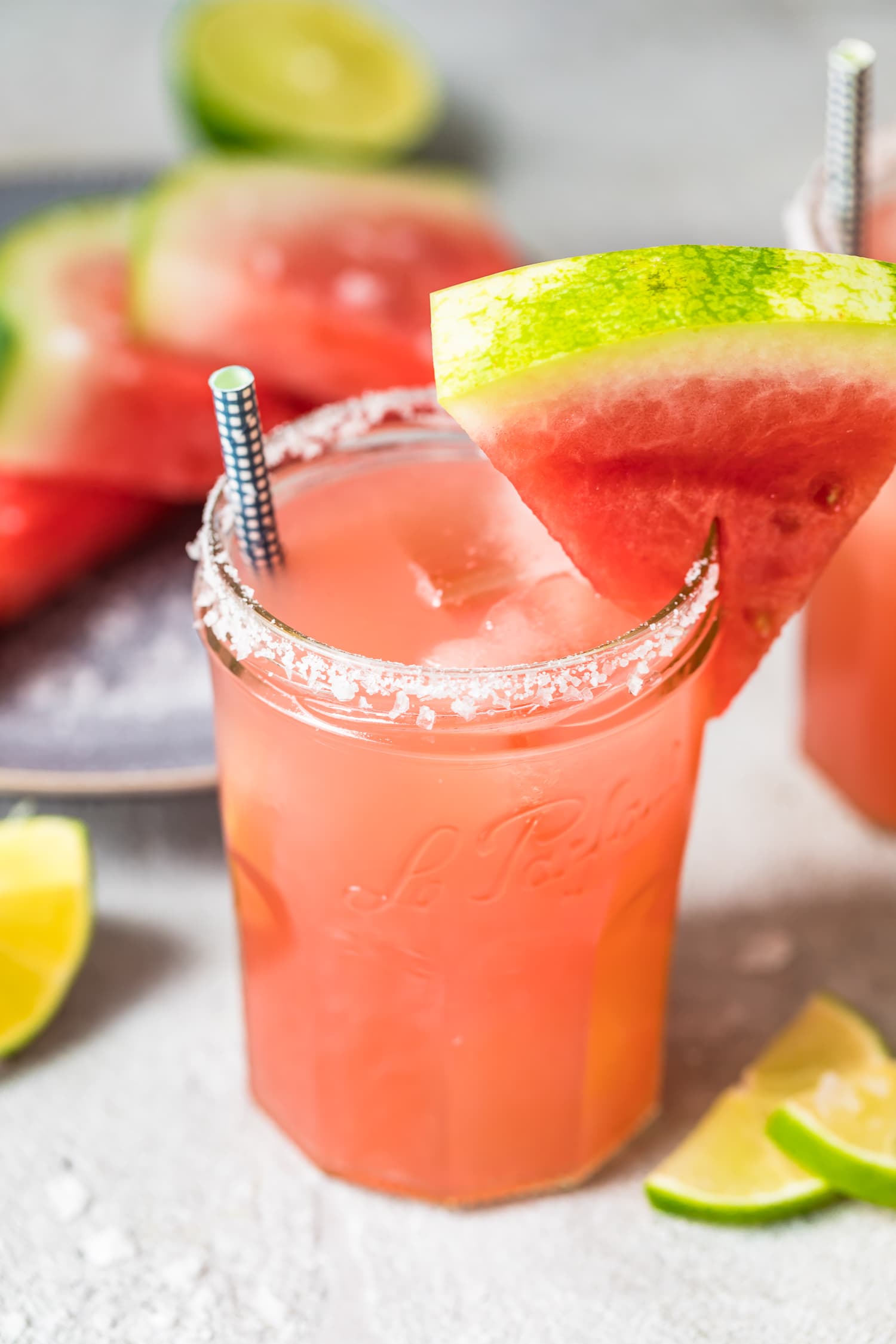 Let's keep summer going as long as possible with this fresh watermelon cocktail! Everyone will love sipping on this drink, and I know you will too.
Don't let summer pass by without trying our other summer cocktails:
If you make this recipe be sure to upload a photo in the comment section below or leave a rating. Enjoy!