Chili Mac is a hearty, delicious dish filled with ground beef, noodles, cheese, beans, and so much more. Now you can take your weeknight meals to another level with this one pot chili mac recipe! It's so easy to make in just one pot, and it's ready to serve in 30 minutes.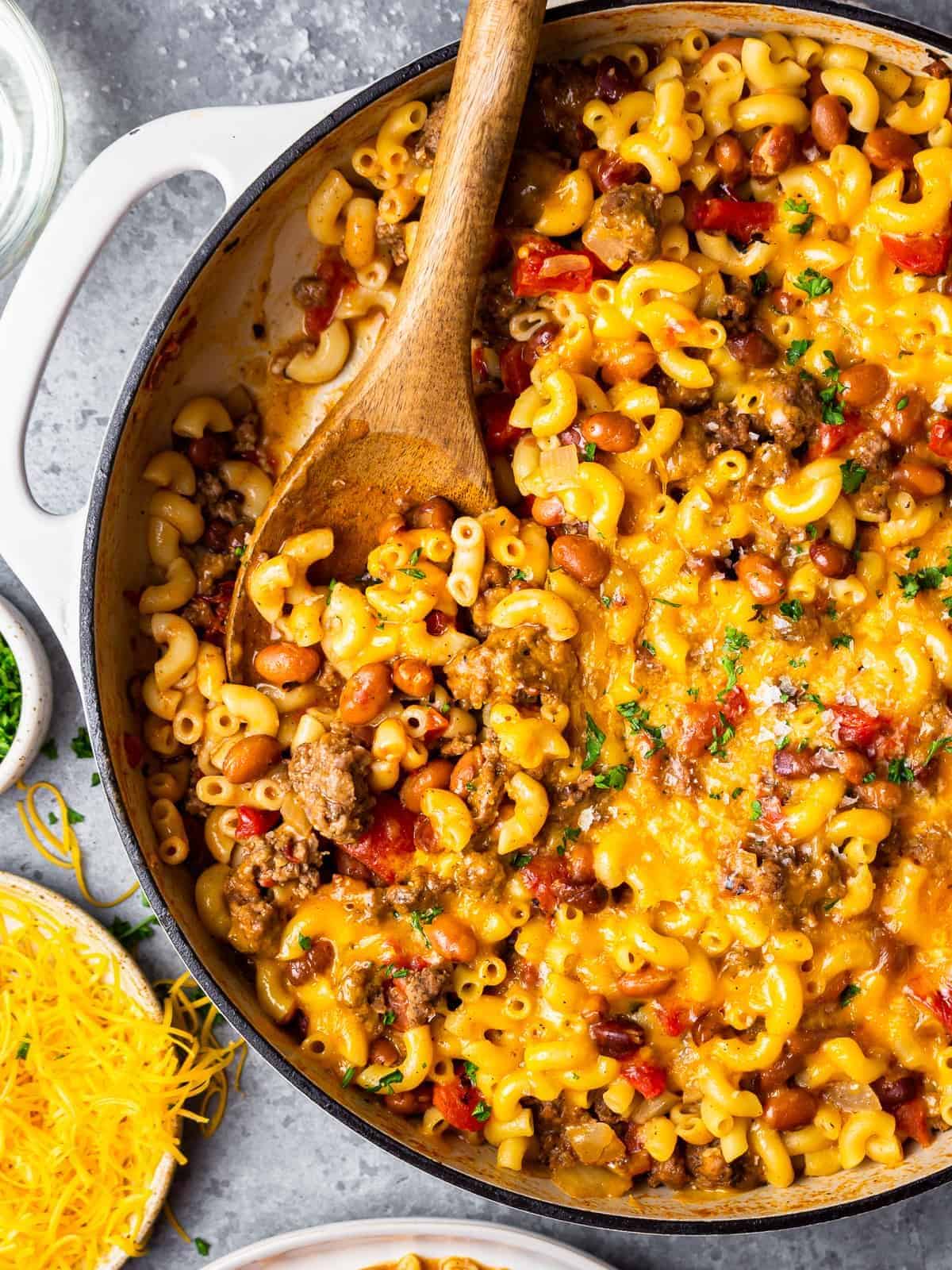 What's in this Chili Mac Recipe?
This easy, cheesy dinner is so hearty and comforting. It's filled with beans, ground beef, cheese, macaroni, and lots of other good stuff. This has quickly become a family favorite in our house!
Olive Oil: Cooks the garlic, onion, and beef without burning them.
Onions and Garlic: Add rich, earthy flavor.
Seasonings: White and black pepper, and cumin. Add other seasonings or spices as desired.
Ground Beef: Substitute ground chicken or turkey if you like.
Chicken Broth: Or substitute beef or veggie stock.
Tomatoes: I like fire-roasted diced tomatoes, but you can use any can of diced or chunky tomatoes.
Beans: Pinto and chili beans are great, but you can substitute black beans or another type.
Macaroni Noodles: You can use any short-shaped pasta.
Cheese: Shredded cheddar cheese finishes off the chili mac. Add another type, like Monterey Jack or Pepper Jack.
Pro Tip: Try adding chili seasoning!
Variations on Chili Mac and Cheese
This one pot chili mac is delicious exactly as it is, but you can easily adjust it to suit your tastes.
No Beans: If you want more of a saucy, beefy mac and cheese, just skip the beans. The rest of the recipe won't change.
Spicy: If you like spice, add in some chili powder with the rest of the seasonings.
Mexican: Make a Mexican-inspired version by adding pepper jack cheese and taco seasoning.
More Veggies: Add in other vegetables (like broccoli bits, peppers, or mushrooms) when you add the beef.
Dairy-Free: You can still have a hearty chili mac without the cheese! Just skip it at the end.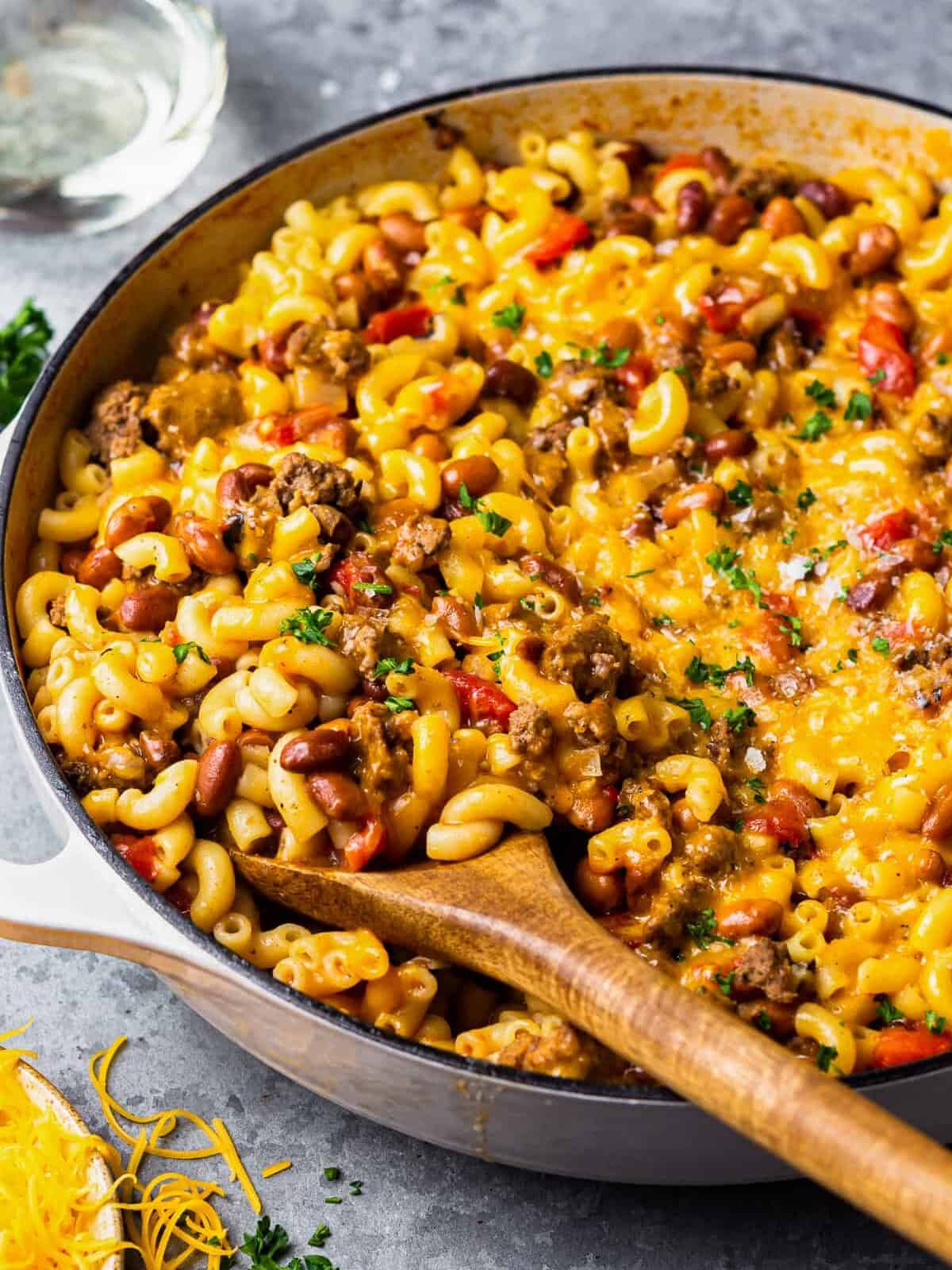 What's the difference between chili mac and goulash?
Chili mac is very similar to American goulash — a one-pot meal made with ground beef, pasta, tomato sauce, and cheese. American goulash, however, isn't made with beans.
How long does it take to cook chili mac?
The total cook time for this one-pot recipe is only about 20 minutes! Add a little bit of prep time, and you'll have dinner ready in half an hour.
Can I use different noodles?
Macaroni is perfect for chili mac, of course, but you can use other types of pasta as well. I recommend using short pasta shapes, like penne, rotini, or bowtie.
What goes well with chili mac?
There are already lots of ingredients in this dish, but a few extra toppings never hurt anyone. Add a handful of corn chips or tortilla strips, sprinkle more cheese on top or a dollop of sour cream, add sliced jalapenos for a little heat, or top with slices of avocado for a refreshing twist.
Can you freeze chili mac?
Yes, this dish actually freezes quite well. Let it cool completely, then scoop it into freezer-safe containers or bags. Freeze for 3 months, then thaw before reheating.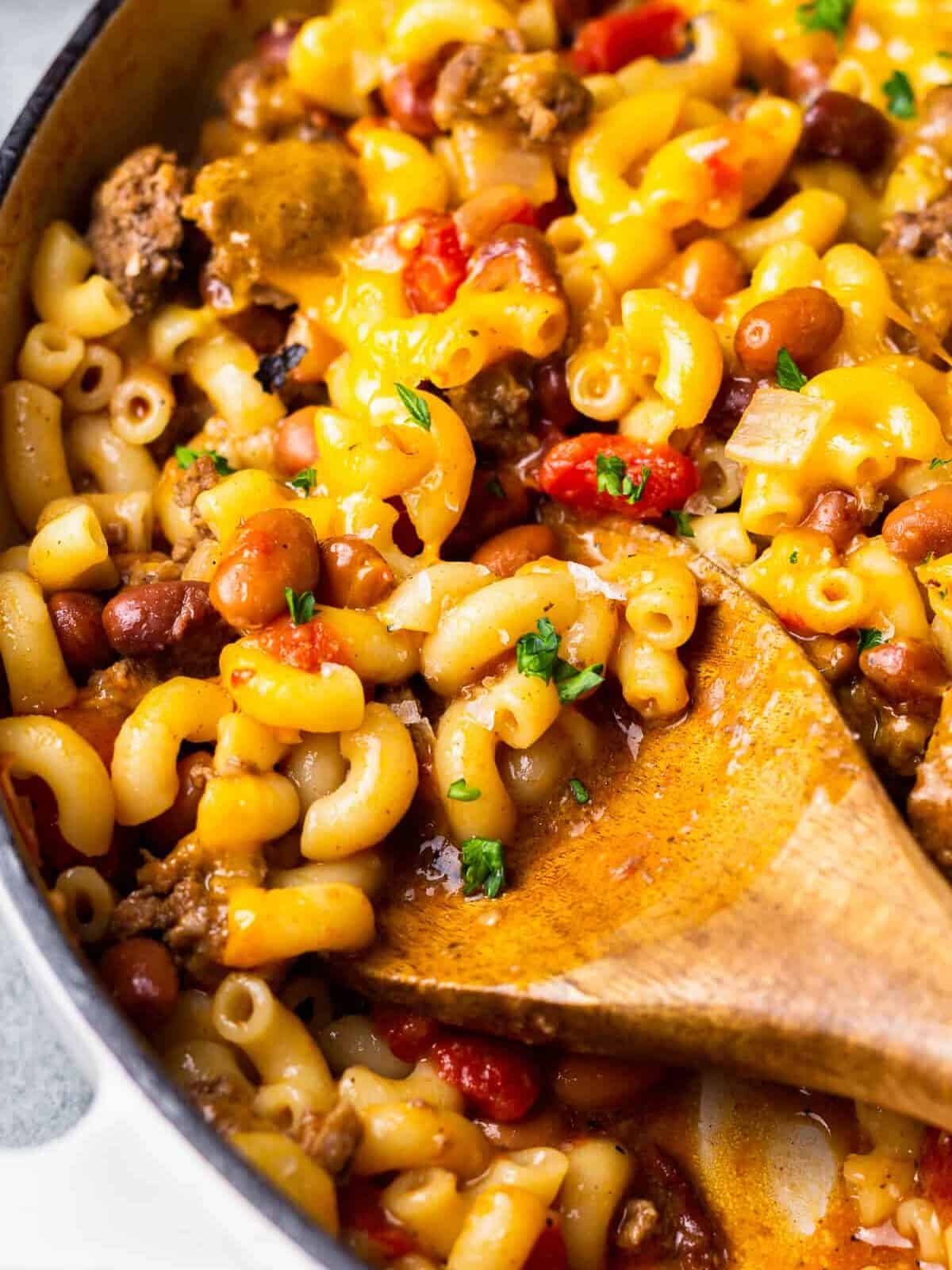 How to Store and Reheat
Store leftover chili mac in an airtight container in the refrigerator for up to 4 days. Reheat in the microwave in 30-second increments until warmed through or in a pot set over medium-low heat.
How to Freeze
Freeze chili mac in an airtight container for up to 3 months. Let thaw overnight in the refrigerator before reheating.
Serving Suggestions
This chili mac and cheese is a hearty meal all by itself. It's a one-pot meal and one-dish dinner! But I love serving this up with some bread to help scoop up any lingering bits. Serve this with cornbread muffins, Parker House rolls, or cheesy garlic bread.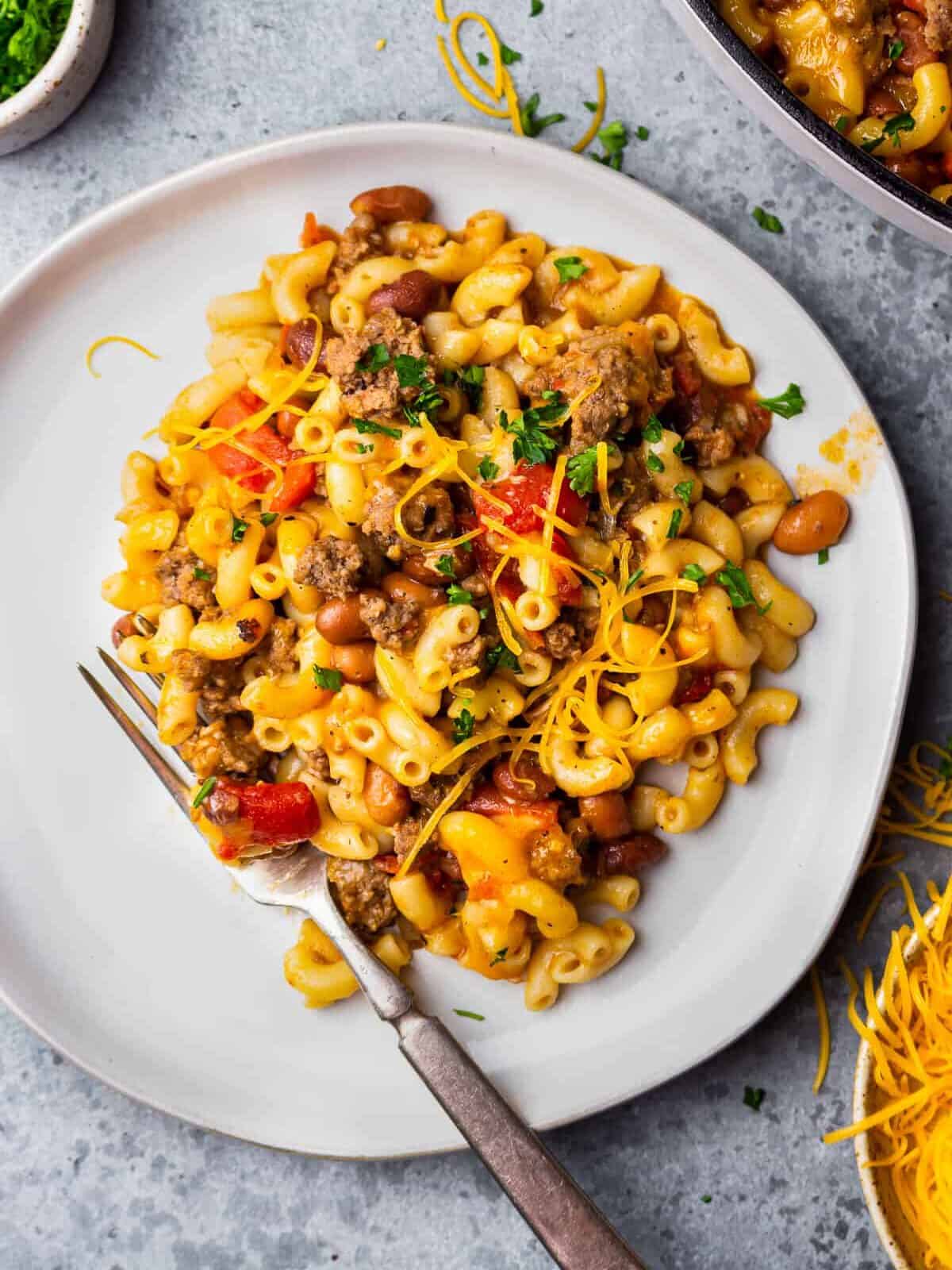 More Chili Mac Recipes We Love