Bacon Wrapped Shrimp is cooked in the oven with brown sugar for a sweet and savory appetizer! This recipe is so quick and easy to make. It's perfect for any party, from New Year's Eve to game day!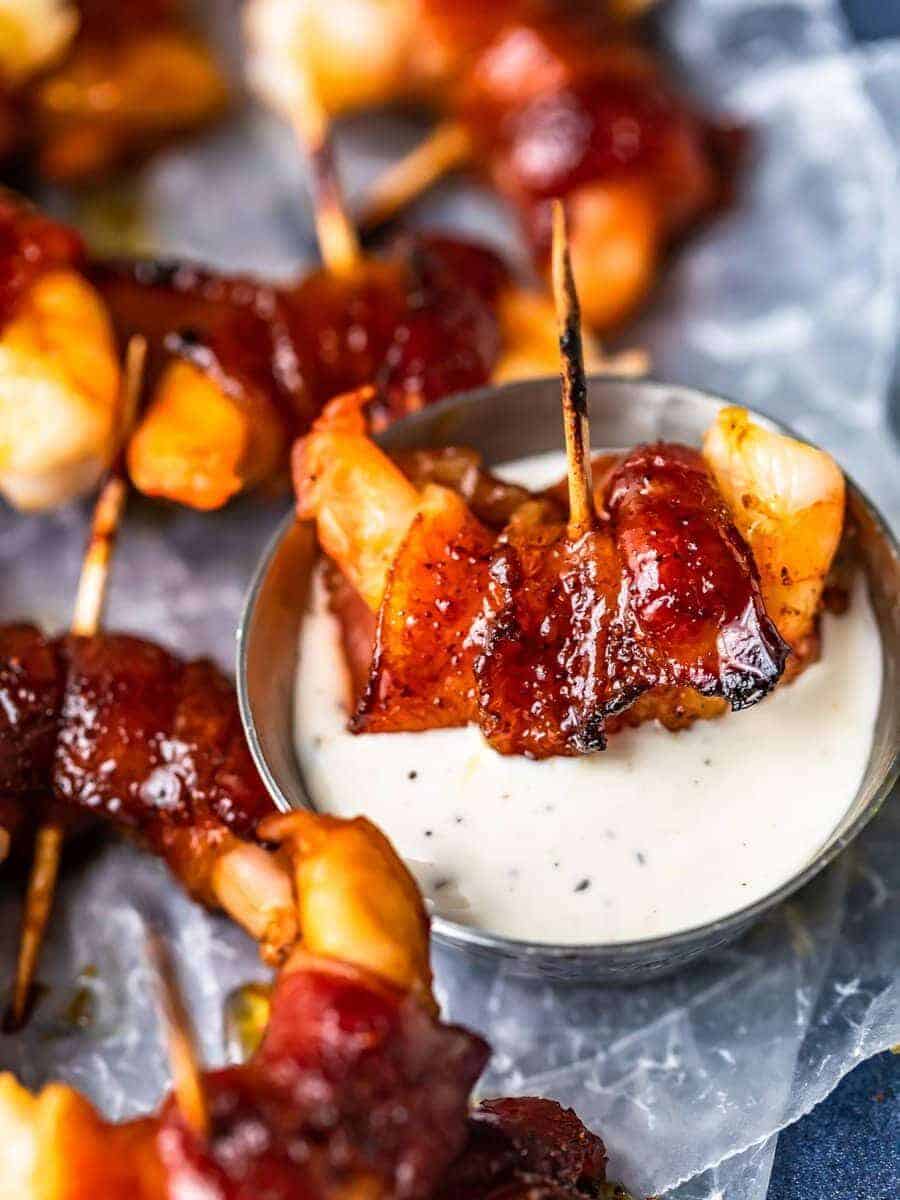 What's in this Shrimp Appetizer?
You only need 5 ingredients to make this bacon wrapped shrimp recipe. Talk about an easy appetizer!
Shrimp: Clean, peel, and devein shrimp before using. You can make as many as you like, just work in batches and don't overcrowd the pans.
Bacon: Cut bacon into strips that will fully wrap around the shrimp, but not too long or they will just add extra heft and be difficult to secure in place.
Brown Sugar: This adds the perfect amount of sweetness to balance out the savory bacon.
Butter: Use fully melted butter. This will be brushed onto the shrimp before baking to add flavor.
Chipotle Powder: This adds a little bit of heat and spice into the flavor mix. You could use smoked paprika, red pepper flakes, or chili seasoning instead.
To prep the shrimp: use a paring knife to remove the shells, then cut directly along the vein on the back to remove it. Fully rinse the shrimp and pat dry. You can buy shrimp ready to cook and eat if you prefer.
Flavor Variations
The simplicity of this recipe means it's easy to change the flavor to your liking. Here are a few ideas.
BBQ: Brush on your favorite BBQ sauce (sweet, smoky, or tangy) before placing them in the oven.
Garlic Butter: Mix minced garlic and/or garlic powder into the melted butter to add more flavor.
Ranch: Add dry ranch seasoning mix into the melted butter. And of course you can serve with some ranch dressing for dipping.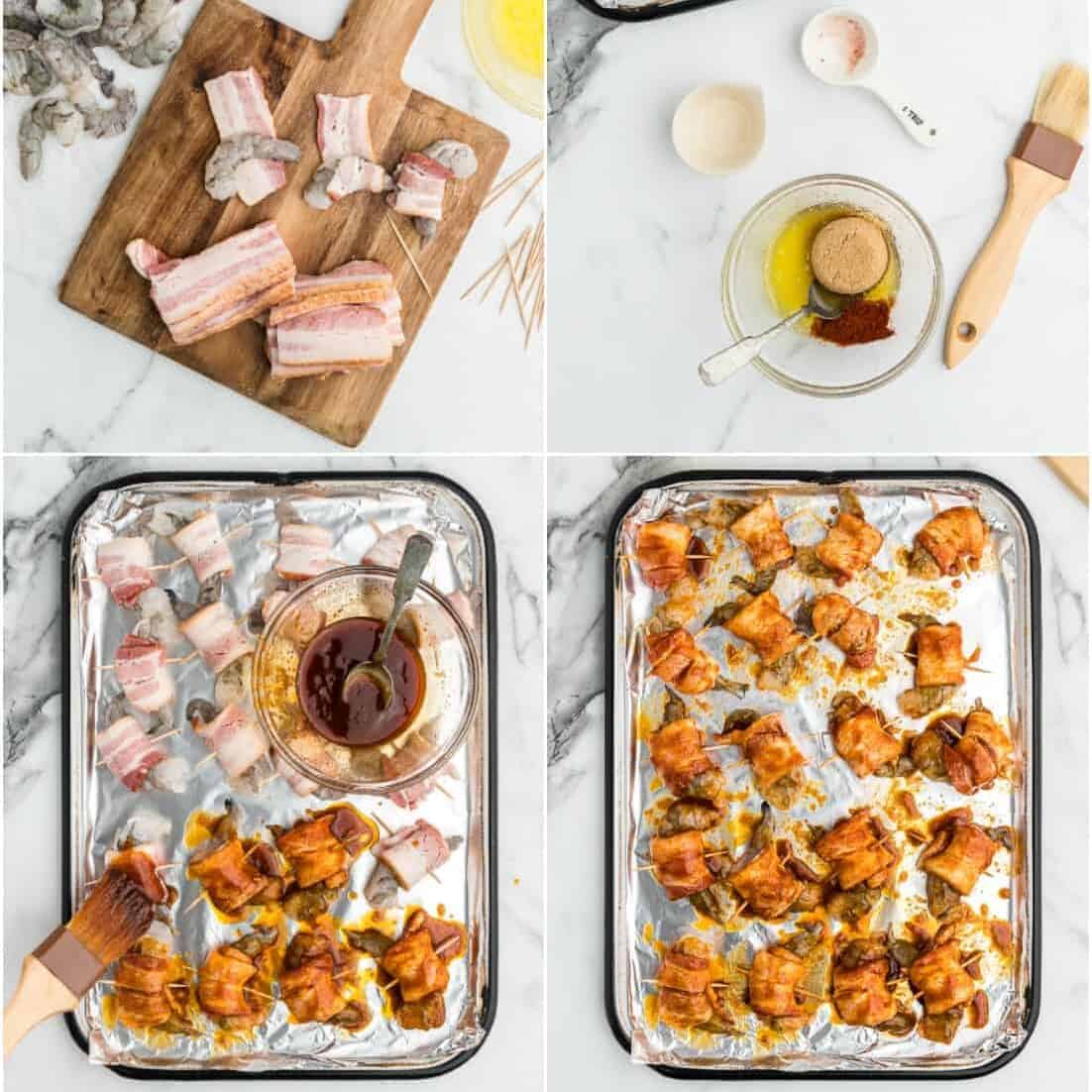 What temperature do you cook bacon wrapped shrimp?
We're cooking these shrimp in the oven at 400°F.
How long do you cook bacon wrapped shrimp in the oven?
Bake the shrimp for about 15 minutes, then broil for a couple of minutes at the end.
How do you make the bacon crispy?
The thinner the slices of bacon, the crispier they're going to get in the oven. I also recommend placing a rack in the baking pan to elevate the shrimp–this allows hot air to circulate around the bacon.
How can you tell when shrimp is done cooking?
Shrimp will become opaque when it's fully cooked, and it should be fork-tender.
Can I make bacon wrapped shrimp ahead of time?
They will be best if cooked right before serving, but you can make them and reheat a couple of days ahead of time.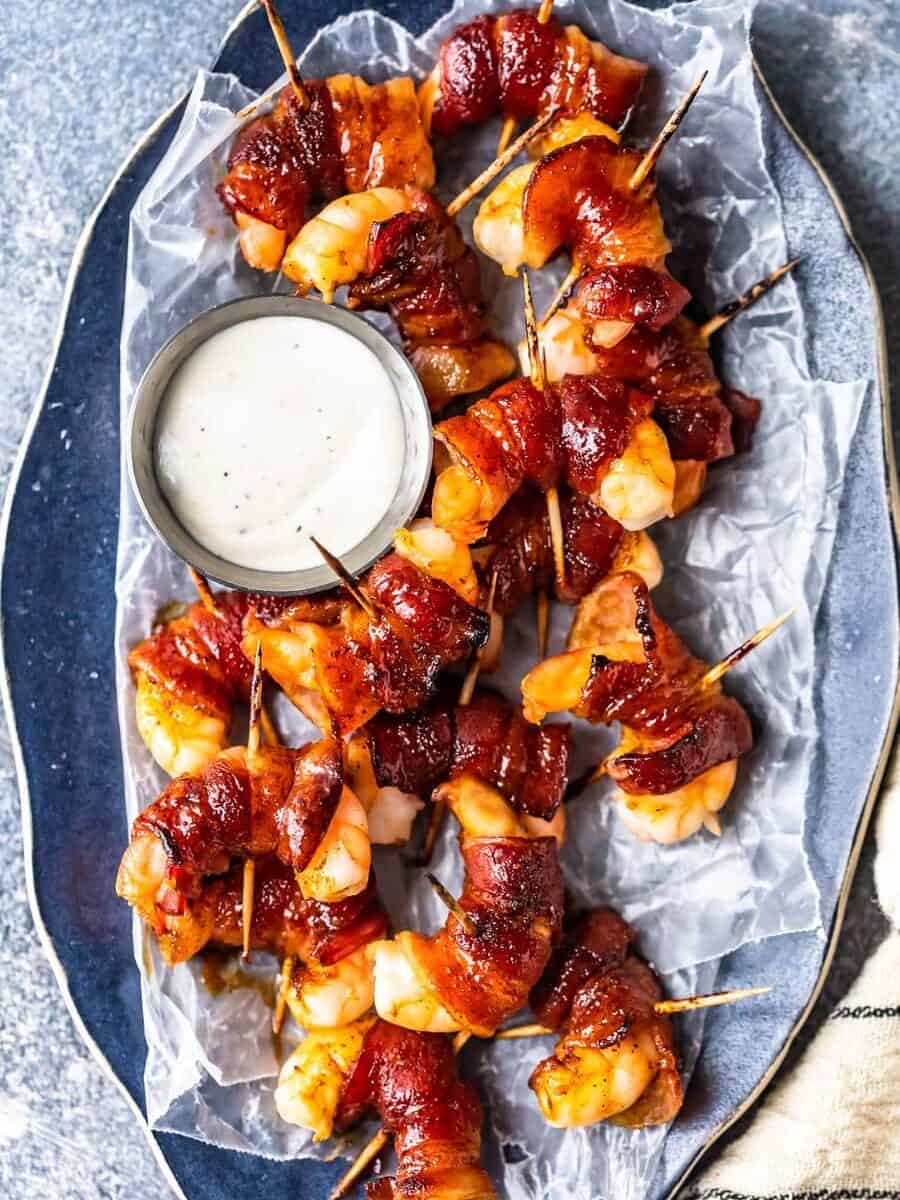 How to Store Bacon Wrapped Shrimp
If you have leftovers, place the shrimp in an airtight container or resealable bag, and keep them in the fridge up to 3 days.
The best way to reheat them is to quickly warm them in the microwave, or broil them for 2-3 minutes. You can also eat them cold, as long as they were fully cooked before storing them.
What to Serve with Shrimp Wrapped in Bacon
I definitely recommend serving these with dipping sauces. They taste great with ranch, honey mustard, garlic aioli, or even just a bit of soy sauce.
They also go great with other bacon wrapped appetizers, or any of your favorite finger foods for parties. Try ham roll ups, cheesy artichoke bruschetta, and herb marinated mozzarella.
And if you want more shrimp appetizers, try this coconut shrimp, or garlic butter shrimp.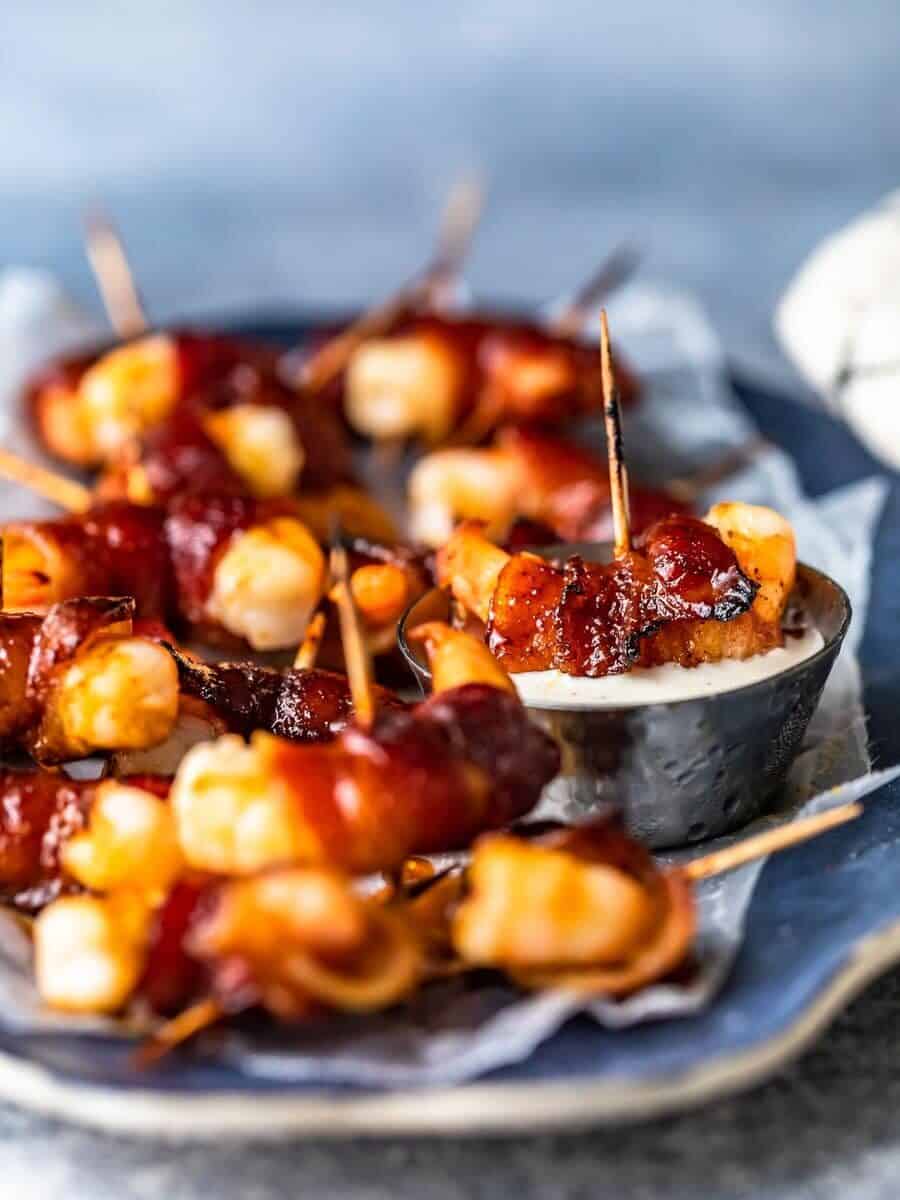 More Bacon Wrapped Appetizers We Love