Cucumber Jalapeno Margaritas are the perfect mix of fresh and fun. This Spicy Cucumber Margarita recipe has the best flavor! Make this spicy margarita recipe for Cinco de Mayo, or any summertime gathering. Everyone will love this cocktail!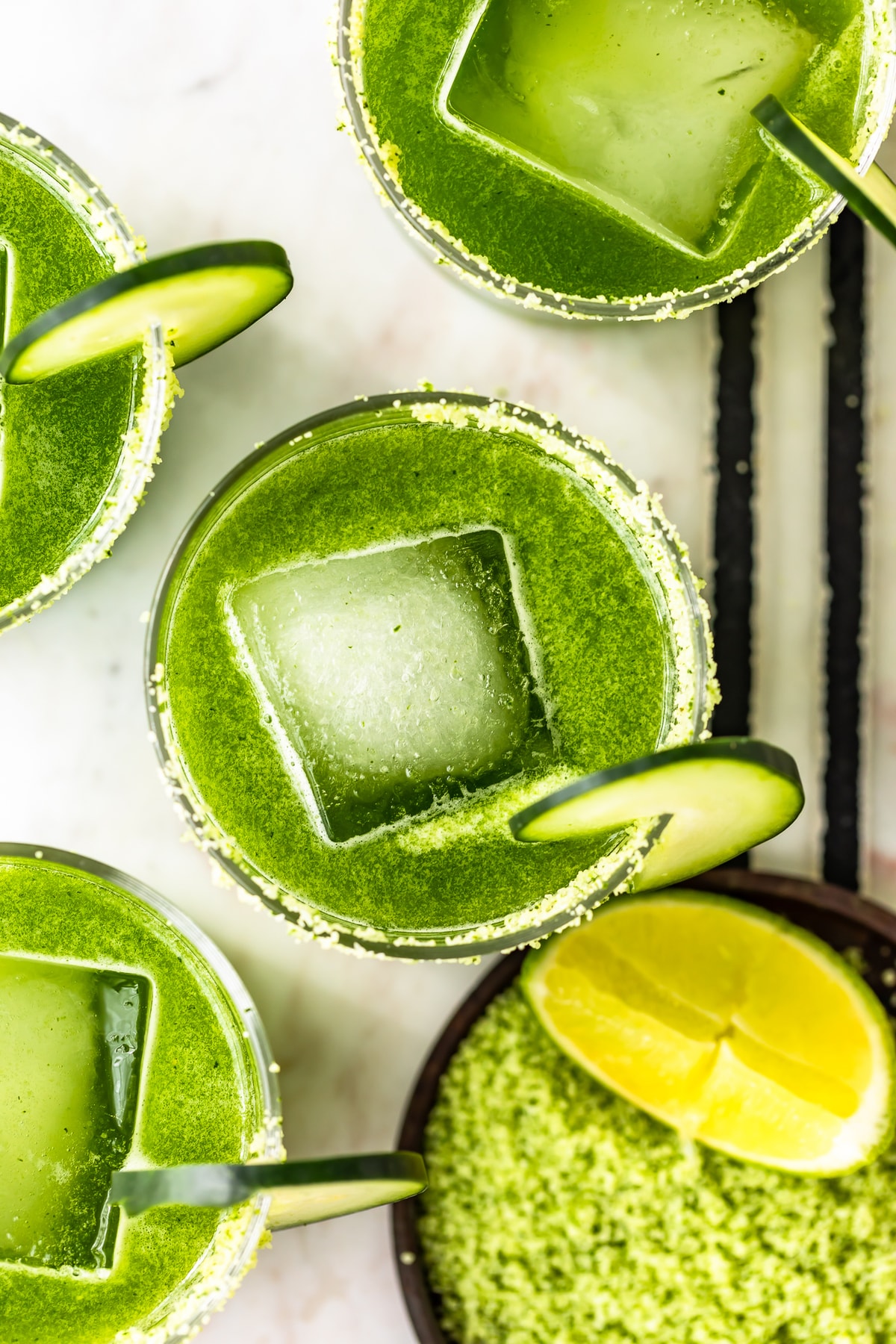 Cucumber Jalapeno Margarita
I absolutely love coming up with new margarita recipes to share with you guys, especially around this time of year. Summertime is the best time for a few margaritas because they're so refreshing!
This Spicy Cucumber Margarita is one I'm really excited about. The flavor is so good, and I find them so perfect for warm evenings. Make these Cucumber Jalapeno Margaritas for Cinco de Mayo, game day, BBQs, or any time you need a quick drink to enjoy with friends.
This spicy margarita has just the right amount of kick, without being overwhelming (and you can make it a little less spicy if you prefer by removing the jalapeno seeds). Make some fresh guacamole to snack on while you sip on this tasty cocktail!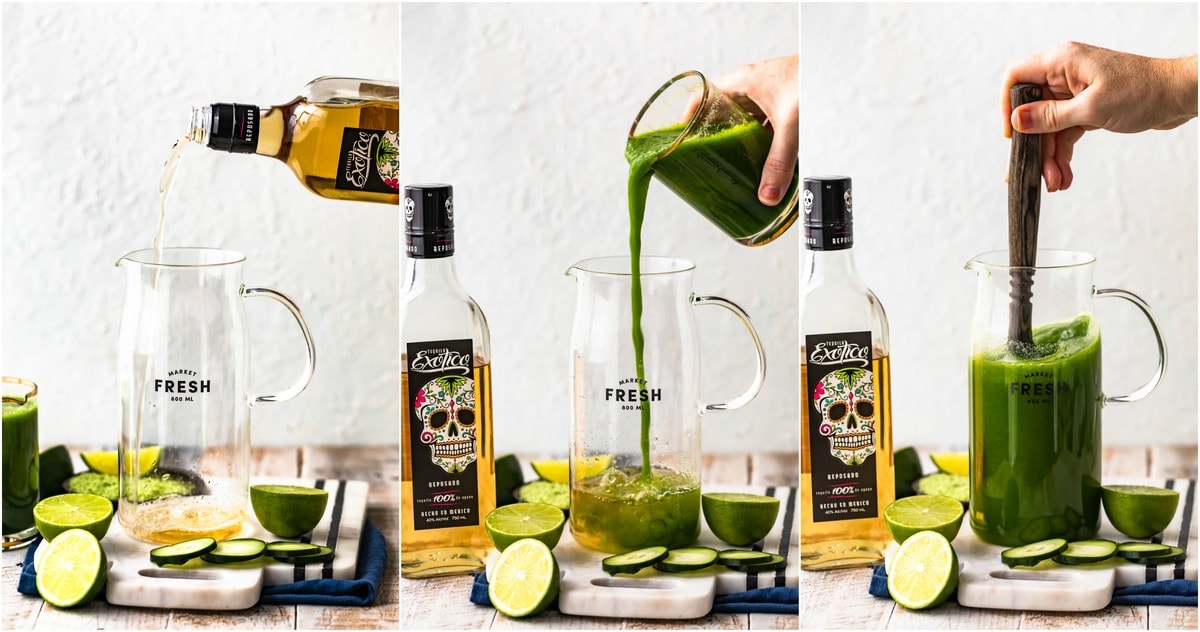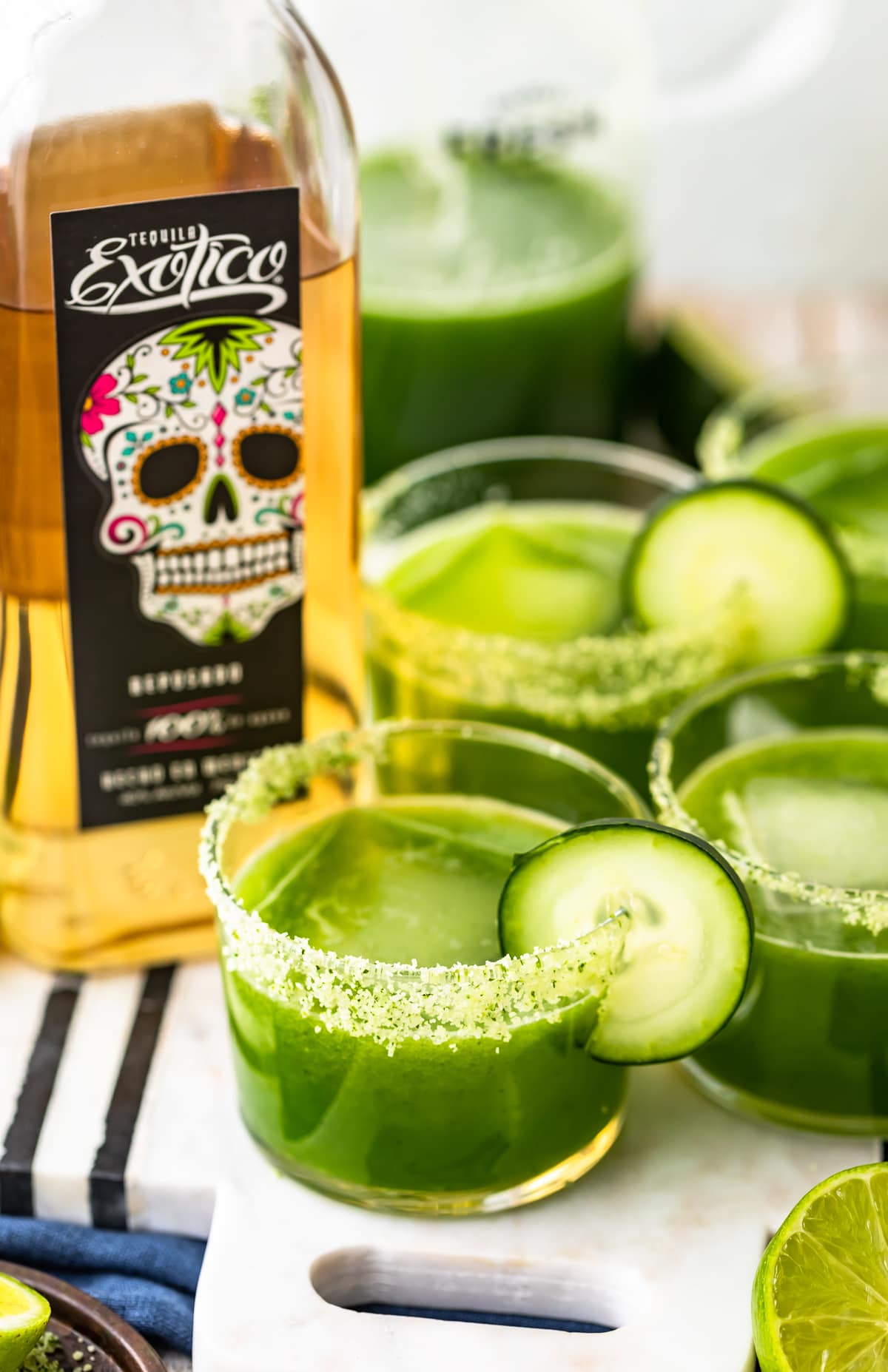 Spicy Cucumber Margarita
I love a little bit of spice in my margaritas to add some heat. The mix of spicy jalapeno and cool cucumber is oddly refreshing, yet still has a nice kick. This spicy margarita is perfect for Cinco de Mayo, and I can't wait to sip on these all summer long!
What's in this Spicy Cucumber Jalapeno Margarita?
Tequila
Lime Juice
Cucumber
Jalapeno
Triple Sec
Water
Sugar
Cilantro
Reposado Tequila for Margaritas
A good margarita called for GREAT tequila…it's the #1 most important ingredient. My favorite tequila for these cucumber margaritas is Exotico Reposado. Exotico has been my go-to brand for quality tequila for a few years now, and I just love their (AWARD WINNING) reposado.
Reposado is known for being extra smooth, making it just perfect for these margaritas. It has notes of vanilla, dry fruit and spices, and a finish of oak and vanilla as well as hints of caramel and cinnamon. If you see me making margaritas, you know I'm using Exotico. Click HERE for where to buy!
Here are some other favorite tequila recipes using Exotico Reposado!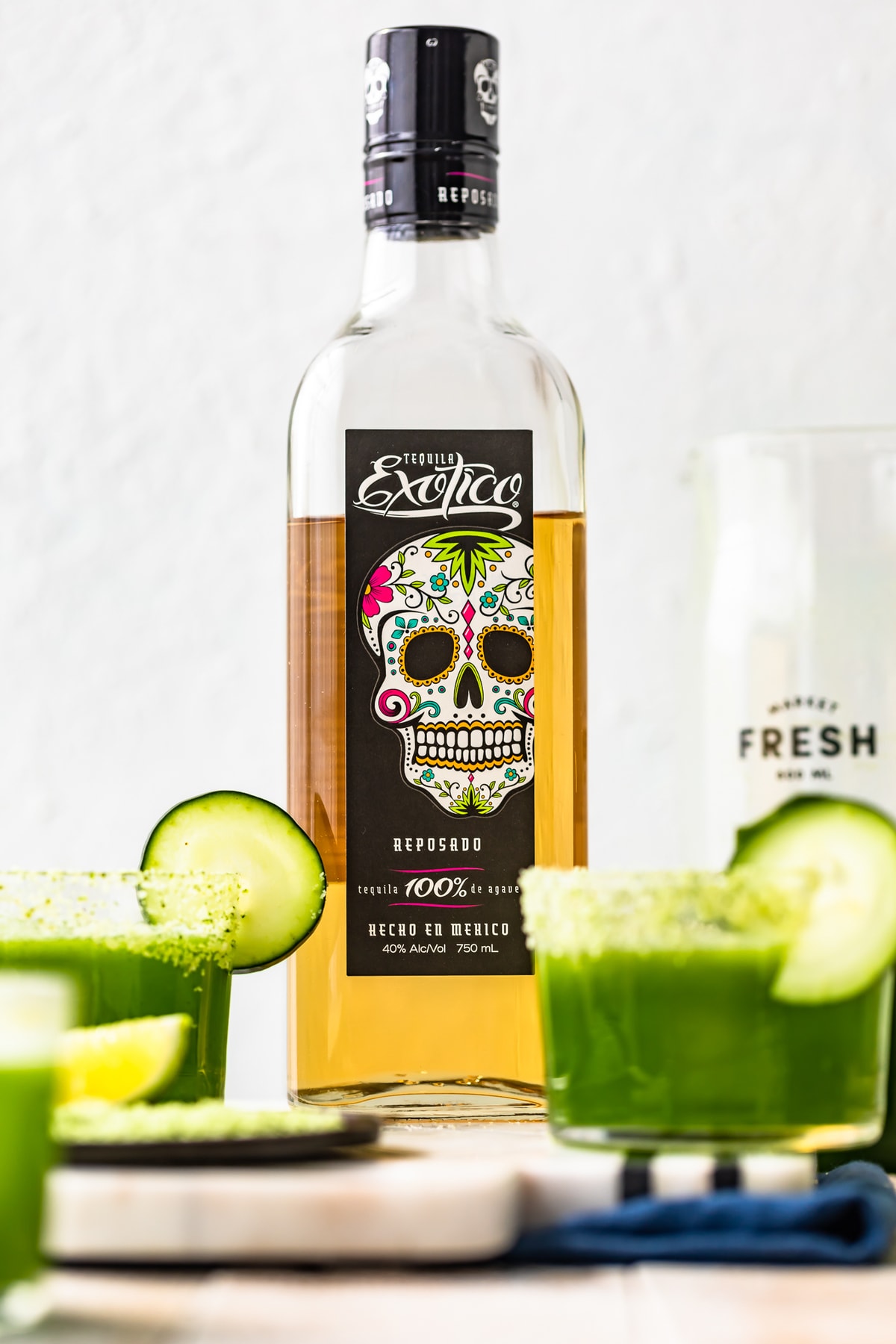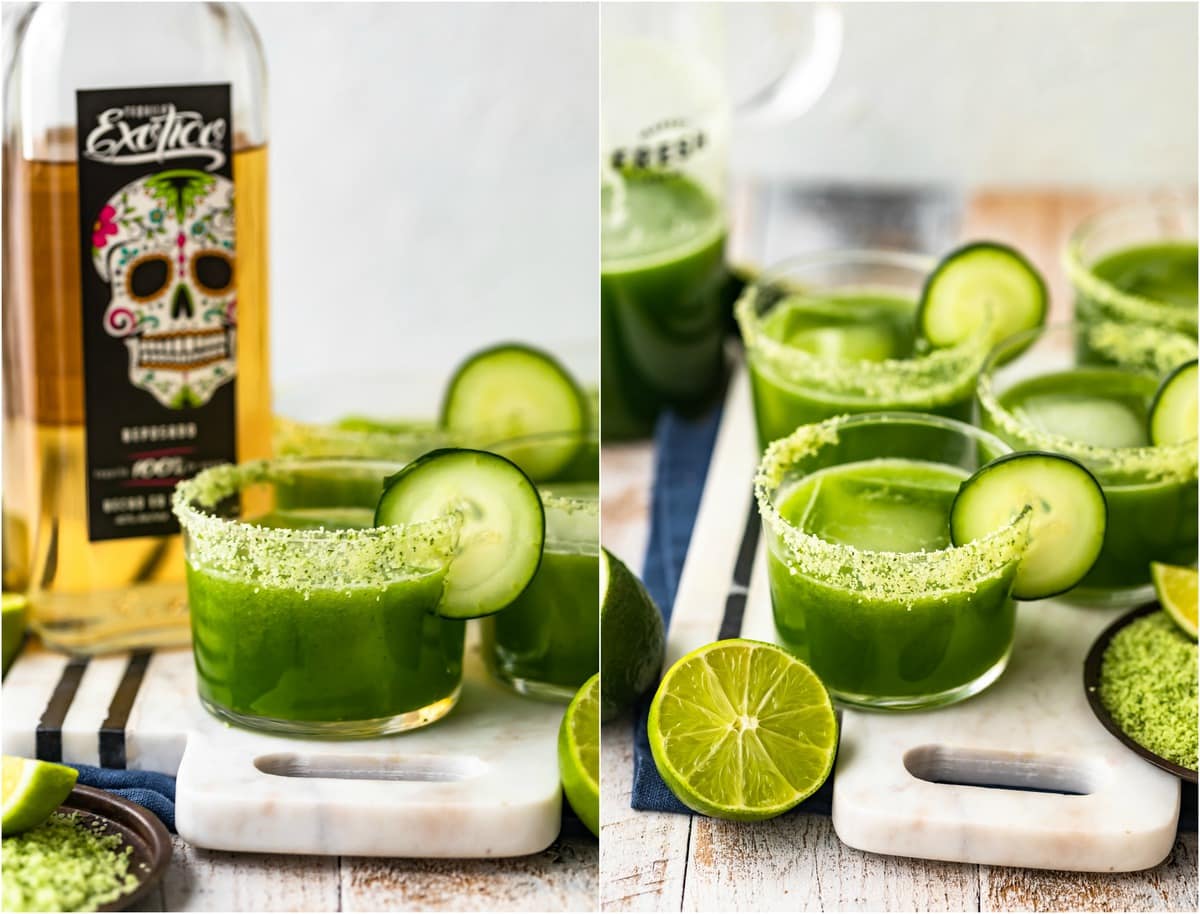 How to Make a Cucumber Jalapeno Margarita – Step by Step
To make this cucumber jalapeno margarita, you'll make a jalapeno simple syrup, a cucumber puree, let them chill, and then combine them along with the alcohol. It's a simple process and makes the drinks extra chilled and fresh.
How to Make Spicy Cucumber Margarita:
Make the Simple Syrup: combine water, lime juice, sugar, cilantro, and jalapeno in a saucepan. Bring it to a boil and stir to make sure the sugar dissolves. When it boils, reduce heat and let it simmer for a couple of minutes. Remove from heat, discard the jalapeno and cilantro, put it in a bowl, and let it chill in the refrigerator.
Make Cucumber Juice: Puree the sliced cucumbers in a blender, then push the puree through a mesh strainer to get all the cucumber juice. Refrigerate it until cold.
Make the Margaritas: Combine jalapeno simple syrup and cucumber juice in a large pitcher. Then add in the tequila and triple sec, and stir everything together.
To Serve: Rim the glasses with cilantro salt (pulse it together in a food processor), pour the margaritas over ice, and garnish with cucumber slices.
Fresh, chilled, and absolutely delicious! If you want your cucumber jalapeno margaritas a little less spicy, be sure to remove the seeds from the jalapenos before adding them into the simple syrup.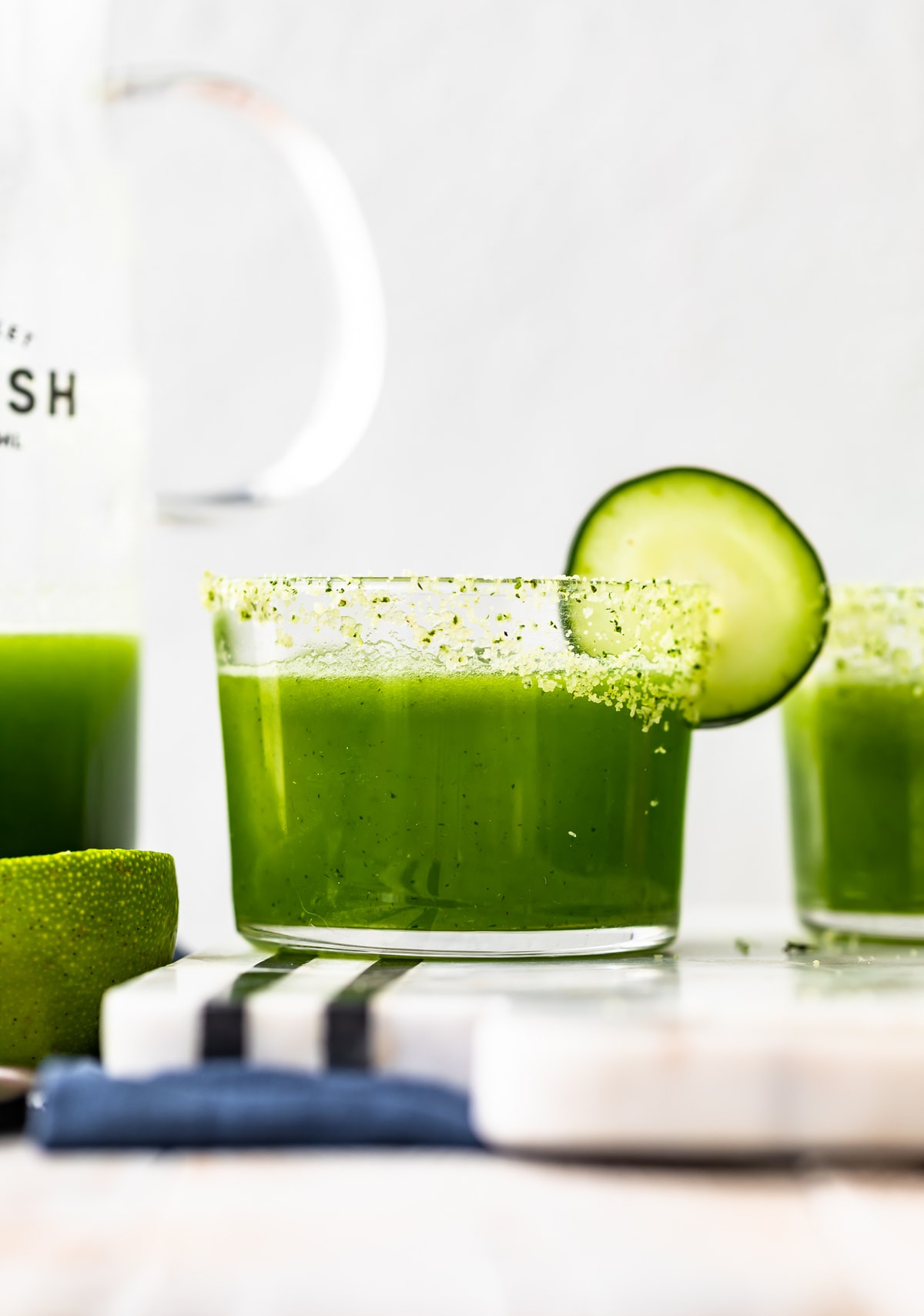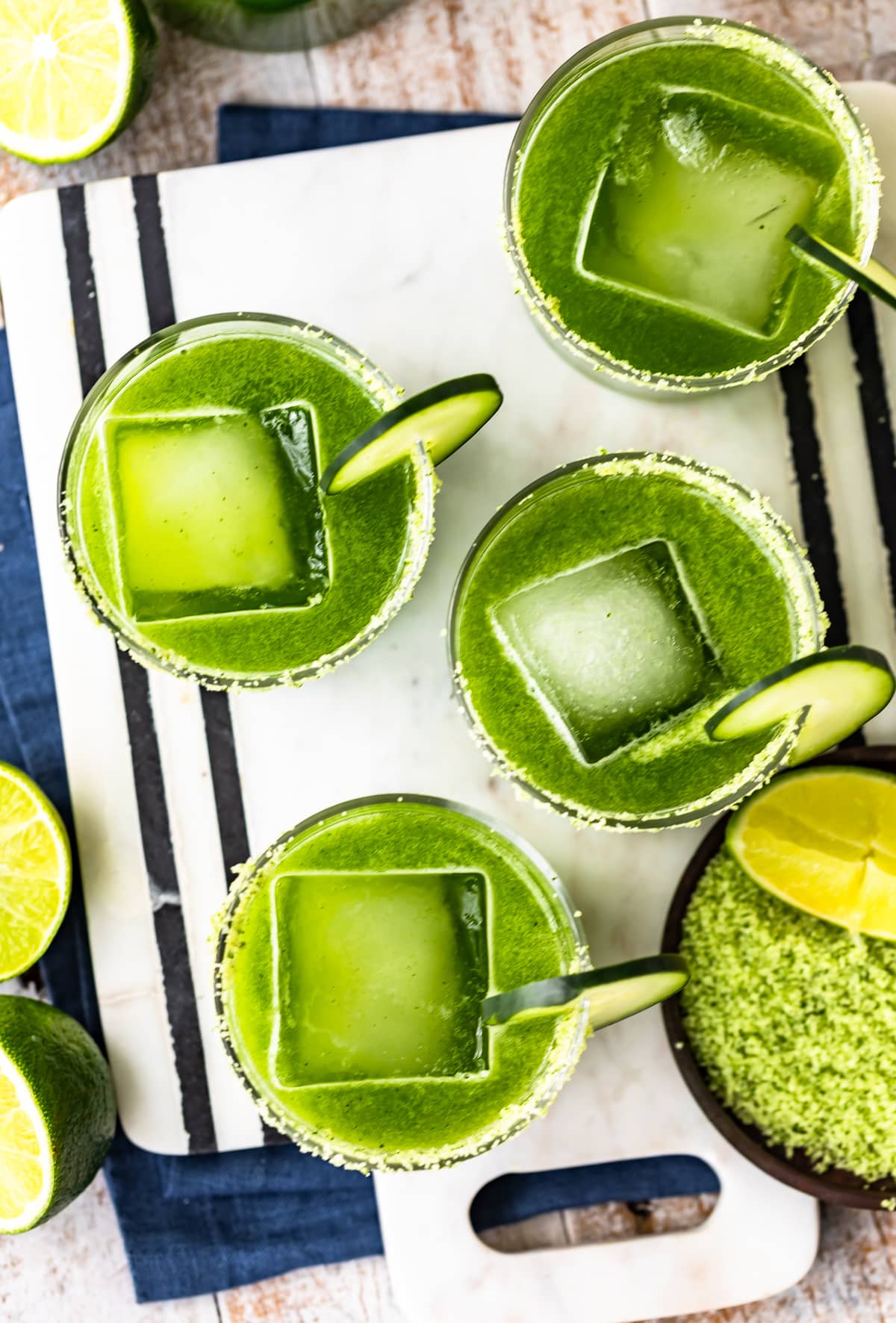 Best Margarita Recipes
This Spicy Cucumber Jalapeno Margarita recipe is just another addition to my long list of favorite margaritas.
There's never a wrong time for a margarita. Holidays, parties, summer BBQs, game day, Taco Night…the list goes on and on. So of course I need multiple margs. So happy to be adding this refreshing and spicy margarita to the mix!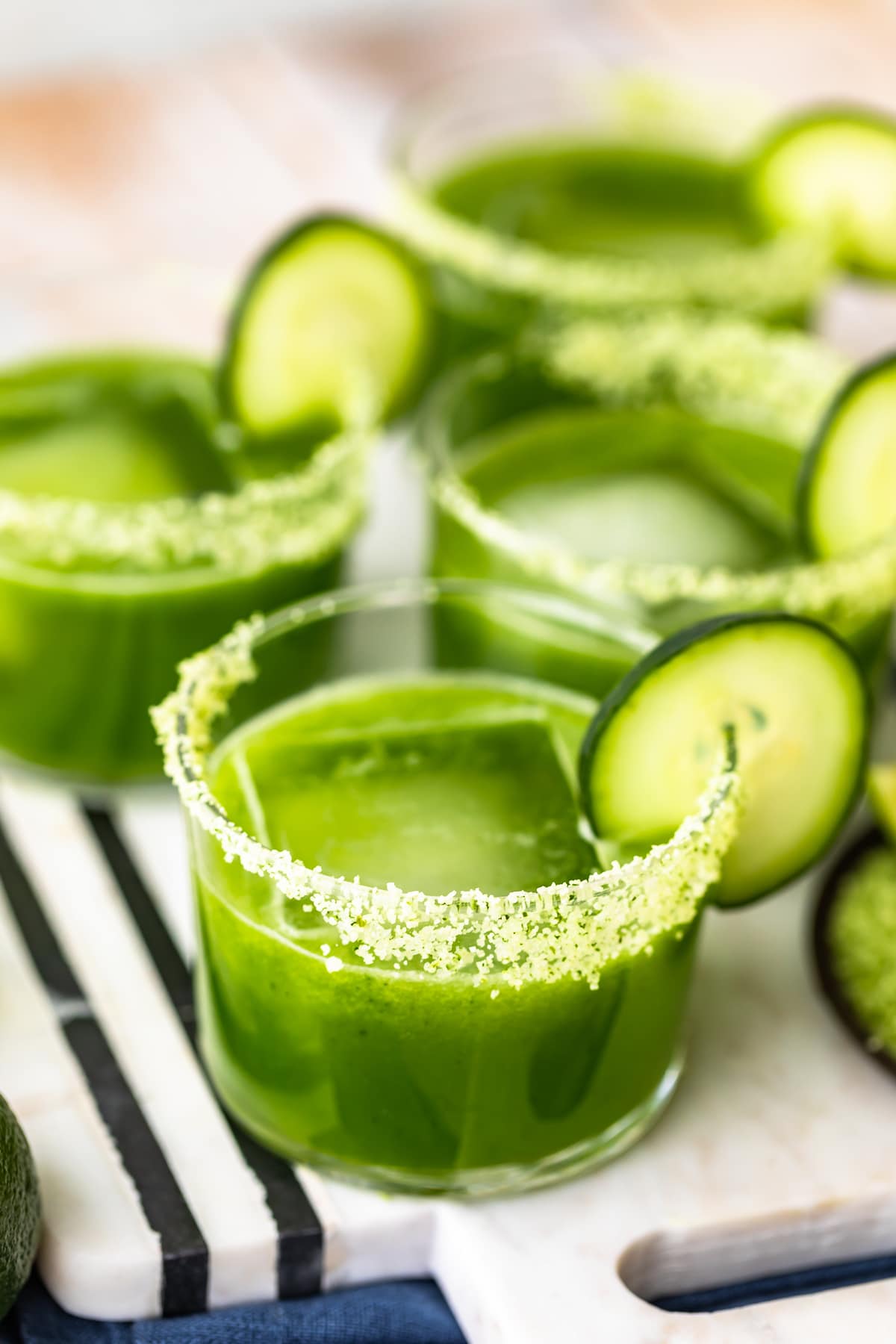 I can't wait for you to try this cucumber jalapeno margarita recipe, and I hope you love it as much as I do! It's such a fun summer cocktail for parties or nights on the patio.
Be sure to try some of our other favorite margarita recipes: