Margaritas are a classic drink that we all know and love. It's definitely the favorite cocktail here on The Cookie Rookie. So I created this margarita guide to show you how to make a margarita, plus 30 of the BEST margarita recipes to try out, and everything you need to know about making the perfect drink, whether frozen, blended, or on the rocks!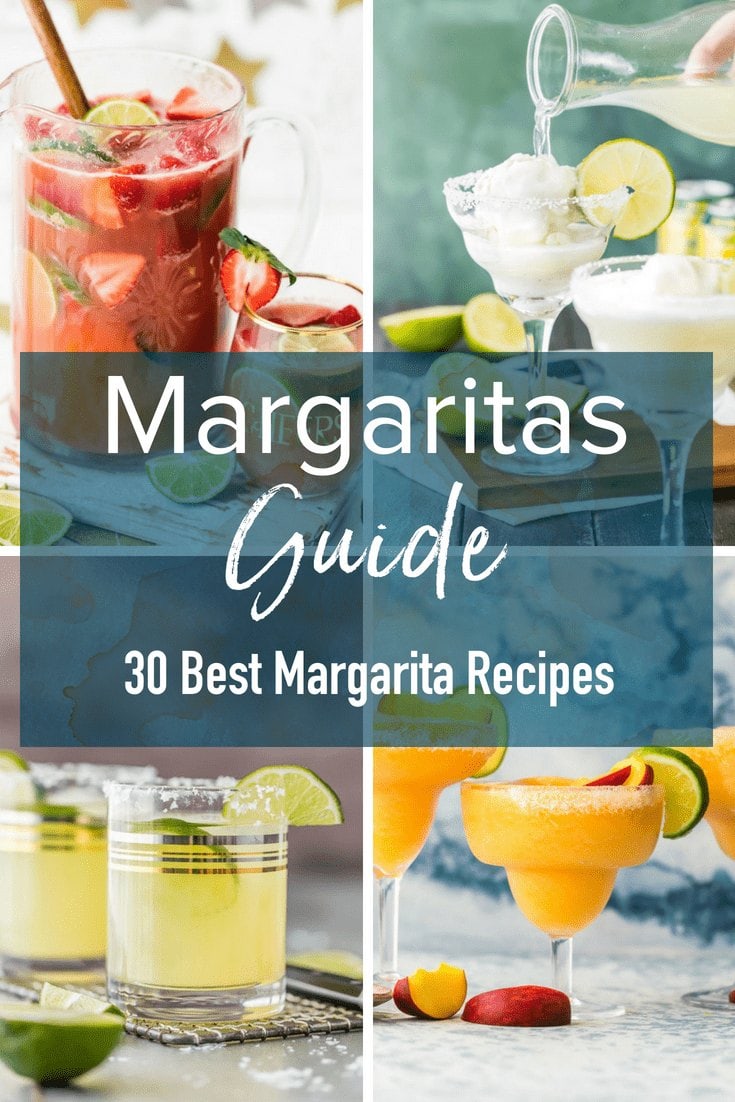 Margaritas Guide: Best Margarita Recipes
Margaritas are my favorite cocktail, so I created this guide to answer ALL of your questions about the classic drink. And of course I'll share some of the best margarita recipes too! Find an awesome recipe for Cinco de Mayo, Taco Tuesday, game day, or any party.
Classic margaritas, frozen margaritas, strawberry margaritas, skinny margaritas…I've tried them all, made them all, and loved them all. I've shared so many margarita recipes here in the past, and this guide will let you in on all of my (not) expert advice on how to make margaritas that are absolutely DELICIOUS every time.
The Best Margarita Recipes, How to Make a Margarita, Recommended Tips & Tools, and EVERYTHING You Need to Know About this Classic Cocktail in The Cookie Rookie Guide to Margaritas!

Margaritas Essential Tools
You really don't need much to make margaritas. Just a few simple tools and things to make the best margarita recipes, any time you want!
Margarita Ingredients
Margaritas are a simple drink. Sure, you can get super creative and make all kinds of flavor combinations. But at the end of the day, all you really need are a few basic margarita ingredients.
Tequila

Lime juice

Fresh Limes

Triple Sec

Fresh Fruit

Ice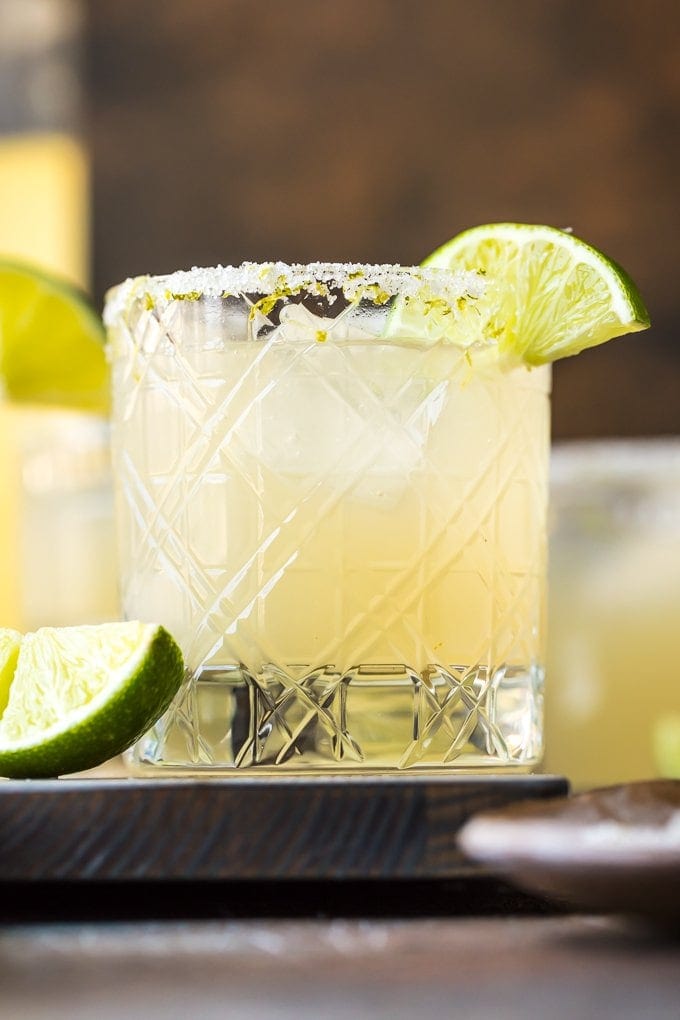 How to Make a Margarita
Margaritas are actually really easy to make. It's a simple drink with simple instructions. If you just want a truly classic margarita recipe, follow these directions. This will make a single glass. Double it for an 8 ounce drink. If you want to make margaritas for multiple people, check my Pitcher Margarita recipe.
This is a recipe for a classic and simple margarita. Nothing better! Keep reading below for FAQ and 30 best margarita recipes (of all types!)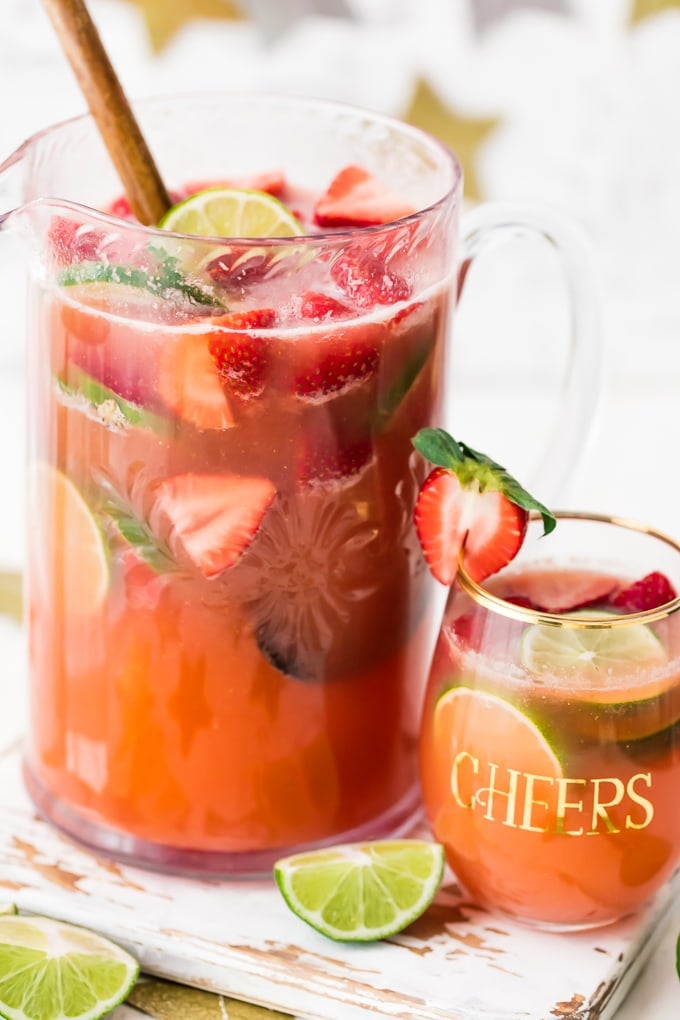 Margaritas FAQ
What are the main margarita ingredients?
There are 3 main margarita ingredients:
Tequila

Triple Sec

Lime Juice
So if you want to make a classic margarita, that's what you'll need. Of course, you can add all kinds of ingredients to your margaritas to change them up, create unique flavors, etc. Unless you chill your margaritas ahead of time, you'll want plenty of ice too (on the rocks, blended, or frozen margaritas). And salting the rim of your margarita glass is a must!
How do you make a good margarita?
A few tips to help you make the best margarita recipes:
Keep your tequila in the freezer so the margaritas are nice & cold without extra ice
Mix in a bit of lime zest with the salted rim of your glasses
Always SHAKE your margaritas with ice before serving (no stirring!)
Make your own lime juice by squeezing fresh limes
Try some fun, flavored salts on the rim of your glass
How do you make a skinny margarita?
For my favorite skinny margarita recipe, I just make a couple of tiny changes compared to a classic margarita. Replace the Triple Sec with freshly squeezed orange juice for that simple orange flavor without the extra calories. You can also use agave syrup to add a bit of sweetness to your liking. This comes out to less than 200 calories for a large glass of my skinny margaritas!
What is the best margarita mix?
Homemade margaritas are so easy to make, I don't think store-bought, premade margarita mixes are really necessary. However, you can make your own homemade margarita mix to keep on hand just as easily.
How to Make Homemade Margarita Mix:
Combine sugar, orange juice, lime juice, & salt in a saucepan on medium heat
Heat for 5 minutes, until sugar is dissolved, stirring frequently
Let the mixture cool and store it in an airtight container in the fridge for up to a week

What is the best tequila for margaritas?
You can use whatever tequila you like for margaritas, but I prefer to go with cheaper options rather than the "best" Tequila. Once it's mixed in, having the highest quality Tequila won't matter. That being said, I also don't pick the cheapest Tequila. Go for a good, mid-range Tequila for your margaritas and you'll be set. Repasado Tequilas are much smoother than Blanco Tequilas, so I prefer that.
How do you make a frozen margarita?
Frozen Margaritas are a tasty treat for hot summer days. All you have to do to make a frozen margarita is pour it into a blender, add ice, and mix. You can keep it icy like a slushie or turn it into more of a blended margarita by blending it until it's smooth.
How much alcohol is in a margarita?
This really depends on the margarita recipe and your preferences. My preferred ratio for a great margarita is 2 parts Tequila to 1 part lime juice and 1 part Triple Sec. That's quite a but of alcohol in any given margarita (exactly how I like it). So for a typical glass, you could expect 3 ounces of alcohol. If you want less alcohol in your drink, simply make a 1:1:1 ratio.
How many calories are in a classic margarita?
It definitely depends on the margarita recipe. Typically, you can expect a classic margarita on the rocks to run about 400-500 calories for an 8-ounce glass.
30 Best Margarita Recipes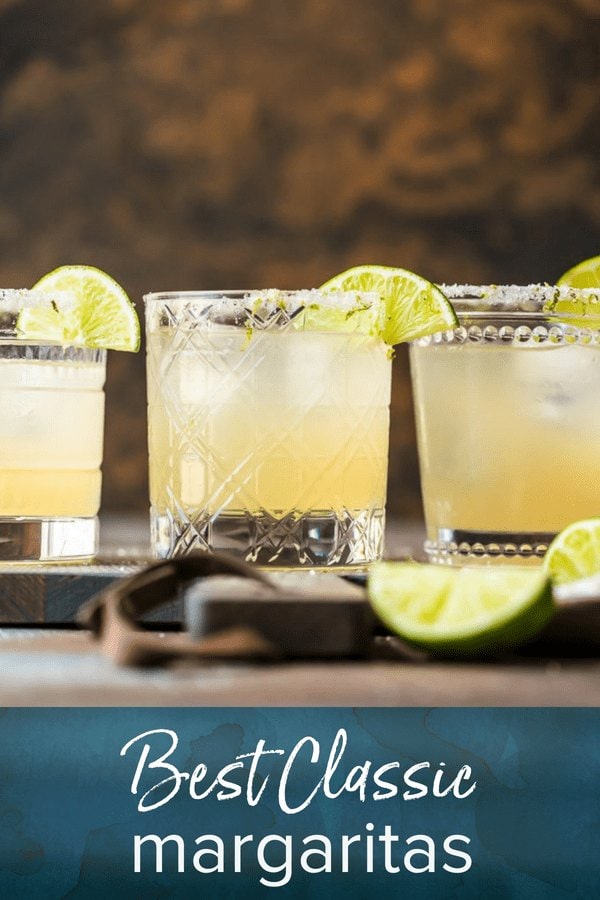 Classic Margaritas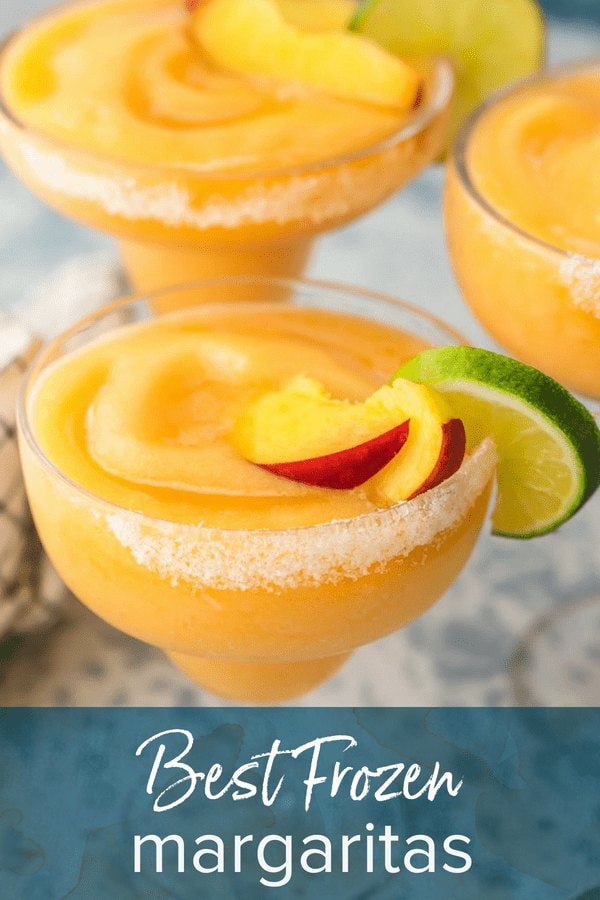 Frozen Margaritas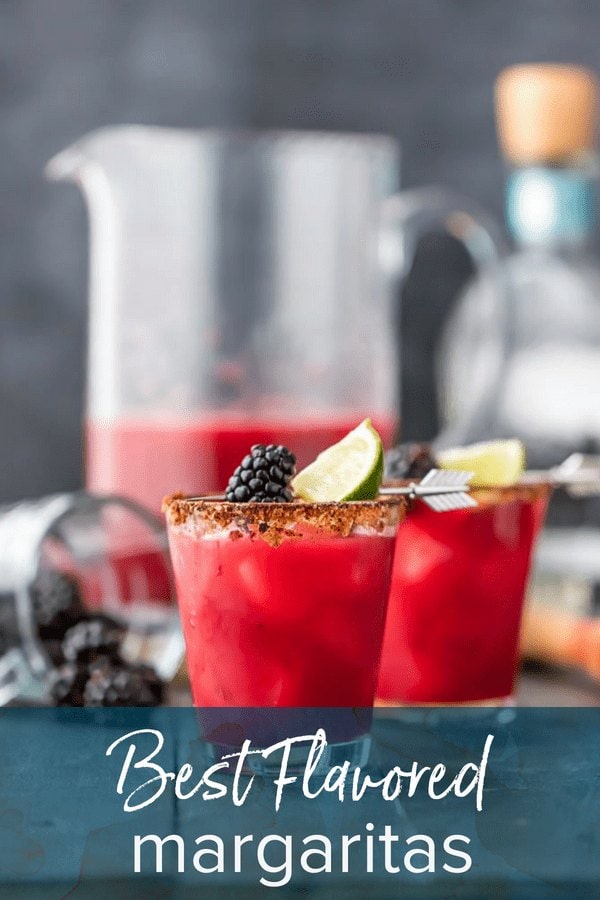 Flavored Margaritas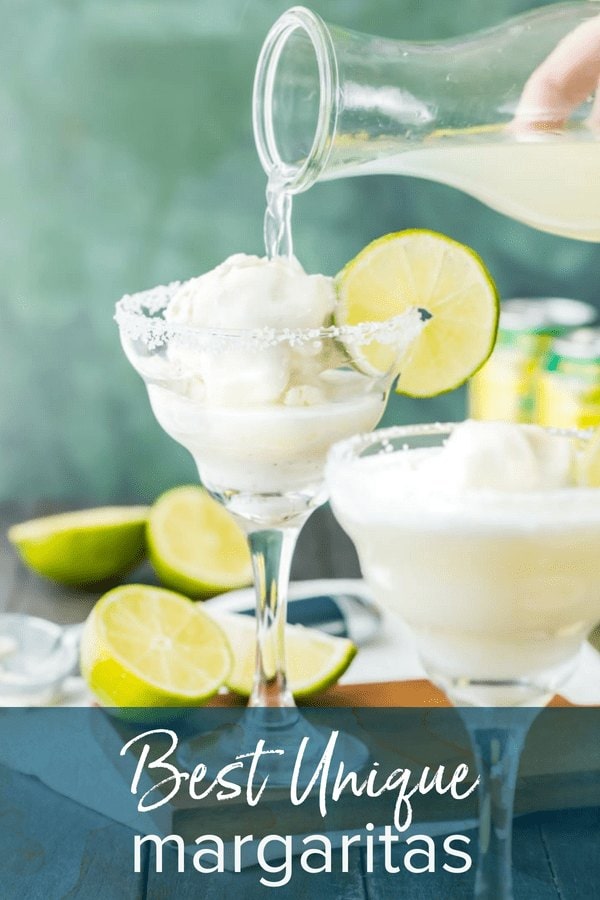 Unique Margarita Recipes
What food goes well with a margarita?
I don't know about you, but I like having some good food to snack on while I'm enjoying a (few) margaritas. These dishes just go hand-in-hand with the best margarita recipes. Chips, salsa, guacamole, tacos…the perfect pairing.
Make some margaritas for Taco Night! Check out the full Taco Tuesday Guide for more tips, ideas, and recipes.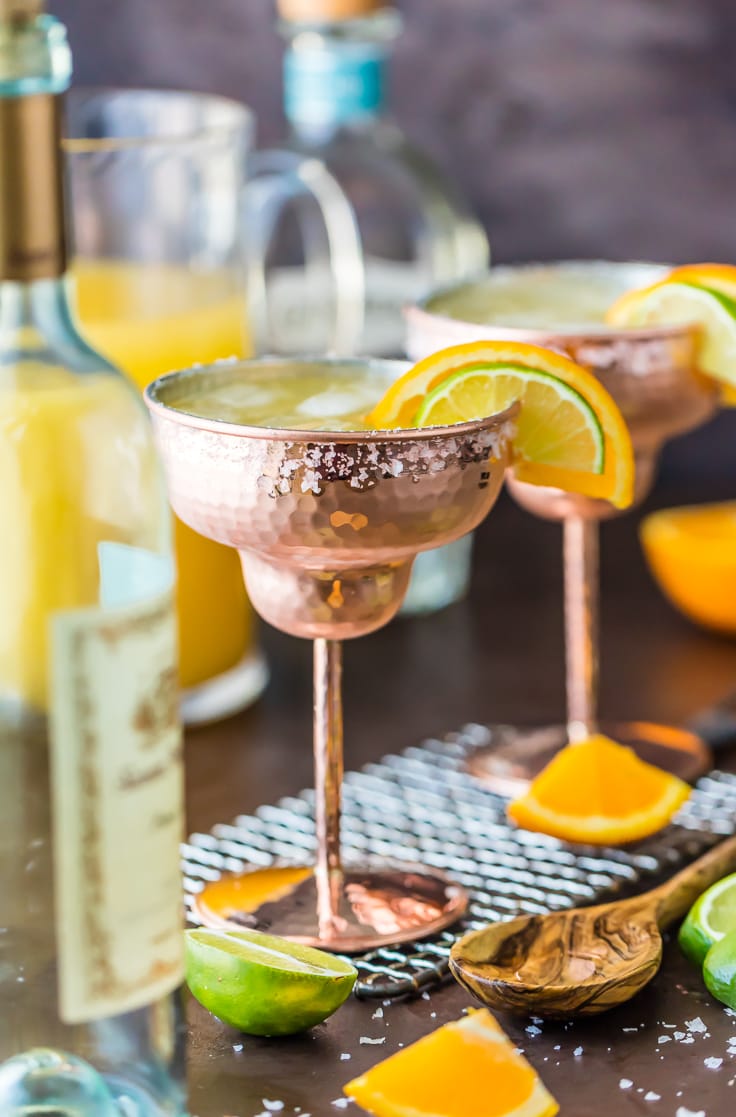 I hope this Margaritas Guide helped you learn how to make great margaritas! Don't forget to try out some of the best margarita recipes for yourself, your friends, or your next party. And don't be afraid to get creative and try new flavors! A classic margarita is great, but so is a flavored margarita or a frozen margarita.