Margaritas are a classic drink we all know and love. It's definitely the favorite cocktail around here, so I created this guide to show you how to make a margarita, plus some of the best margarita recipes to try out. Learn everything you need to know about making the perfect drink, whether frozen, blended, or on the rocks!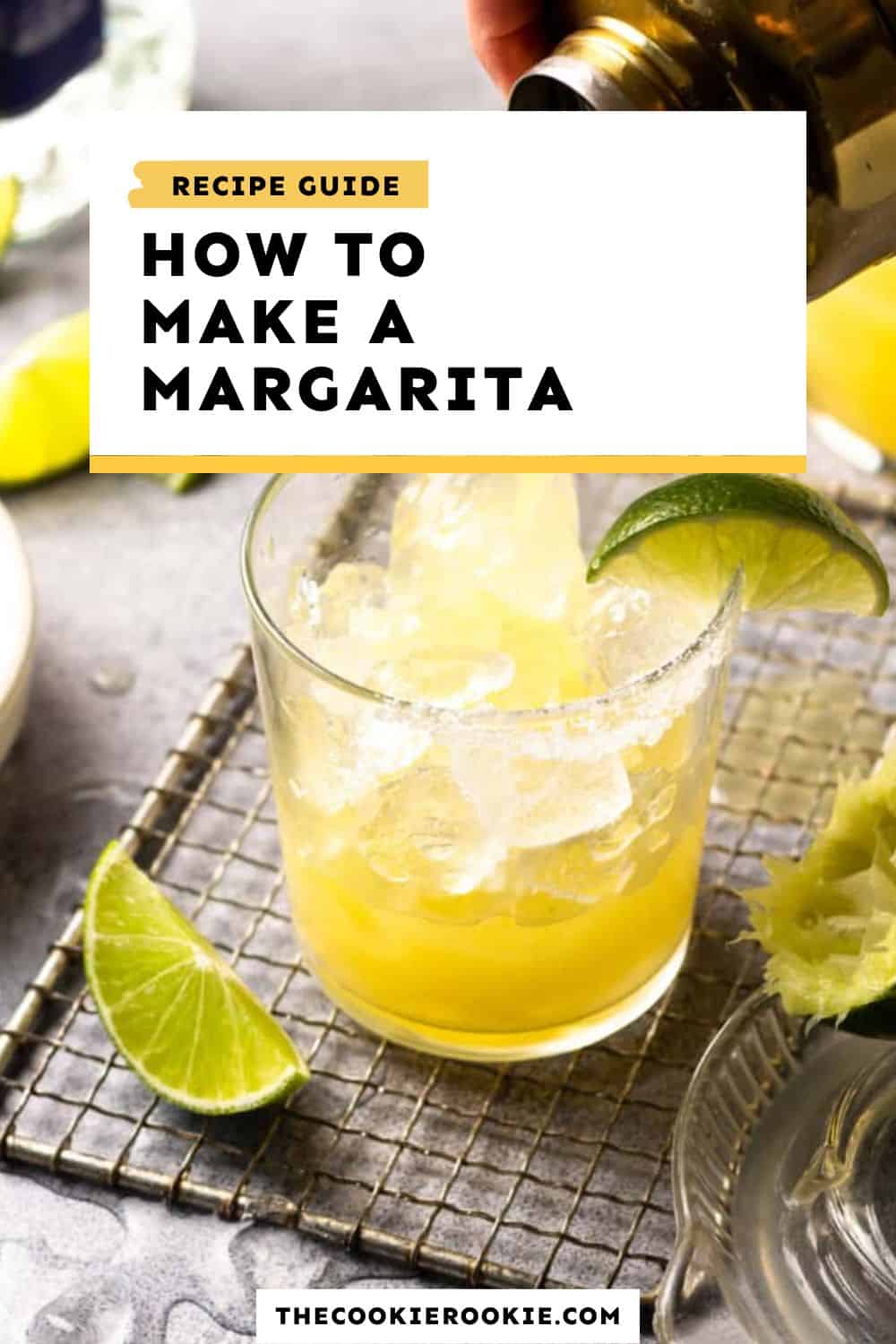 Best Margaritas
Margaritas are my favorite cocktail for any occasion, from Cinco de Mayo to Taco Tuesday. I've perfected my recipe, so I want to show you how to make a classic margarita that you can enjoy any time. 3 main ingredients and the best ratio leads to the most delicious drink every time!
And because I love these so much, I'm also sharing all of my best margarita recipes, including frozen margaritas, fruity and spicy margaritas, and some unique flavors I'm sure you'll love.
What's in a Margarita?
There are 3 main ingredients in a traditional margarita:
Tequila: Tequila is the classic alcohol for margaritas, and it really influences the overall quality of the cocktail. So the better the tequila, the better the drink will taste! Keep your tequila in the freezer so your drinks come out cold without extra ice.
Triple Sec: Triple Sec, Cointreau, or another orange liqueur can be used. This adds a sweetness to balance out the lime and tequila.
Lime Juice: Fresh-squeezed lime juice will create the best flavor. The tart and tangy flavor is so refreshing.
So if you want to make a classic version, that's all you'll need. But of course, you can add all kinds of ingredients to change them up and create different margarita flavors and recipes.
Optional Ingredients
All you need are the basic margarita ingredients mentioned above, but here are a few other things you might want to use for your drinks.
Ice: Unless you chill your margaritas ahead of time, you'll want plenty of ice to serve them on the rocks, or to make blended or frozen margaritas.
Margarita Salt: Salting the rim of your margarita glass is a must! Getting a taste of it with each sip helps balance out the citrus-y flavors. You can also use flavored salts to amp things up.
Agave Syrup: This is a great way to add a bit of extra sweetness to your cocktail.
Fresh Fruit: Fresh slices of lime, orange, grapefruit, or another citrus fruit are great for simple garnishing. You can also use berries and other fruits to muddle and mix in, or for more garnish.
Margarita Mix: If you're making margaritas for a crowd and want the easiest option possible, you can buy a pre-made mix. Or follow my simple syrup recipe below!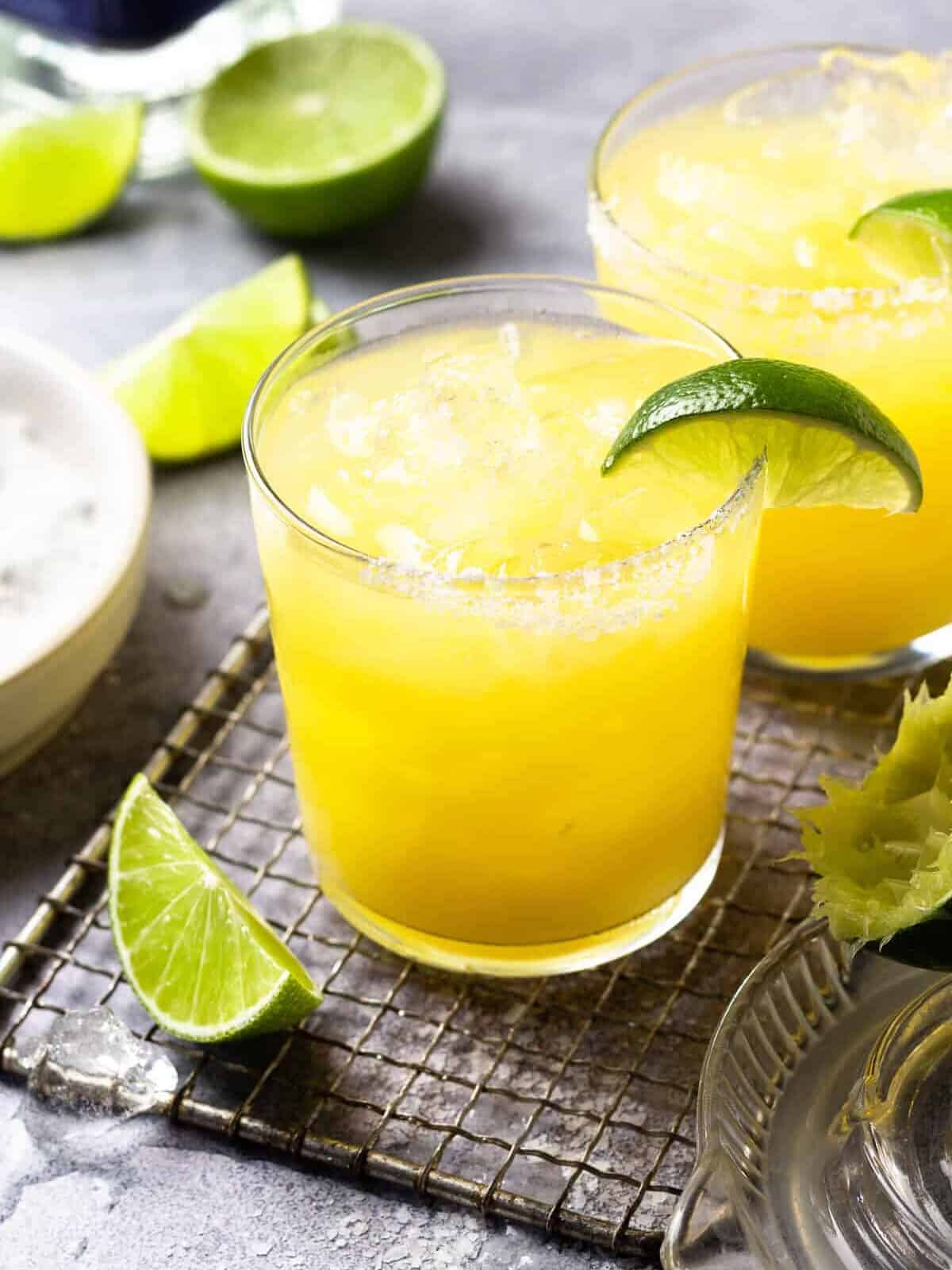 How to Make a Margarita
Margaritas are actually really easy to make. It's a simple drink with simple instructions, 3 ingredients, and an easy ratio to remember:
(2:1:1)
2 parts Tequila
1 part lime juice
1 part Triple Sec
If you want a truly classic margarita recipe, follow the directions in the recipe card. It's really as easy as shaking ingredients together and pouring over ice! This will make a single glass. Double it for an 8 ounce drink.
If you want to make margaritas for multiple people, follow my Pitcher Margarita recipe.
Keep reading below for FAQ and all of my best margarita recipes (of all types–frozen, fruity, flavorful!)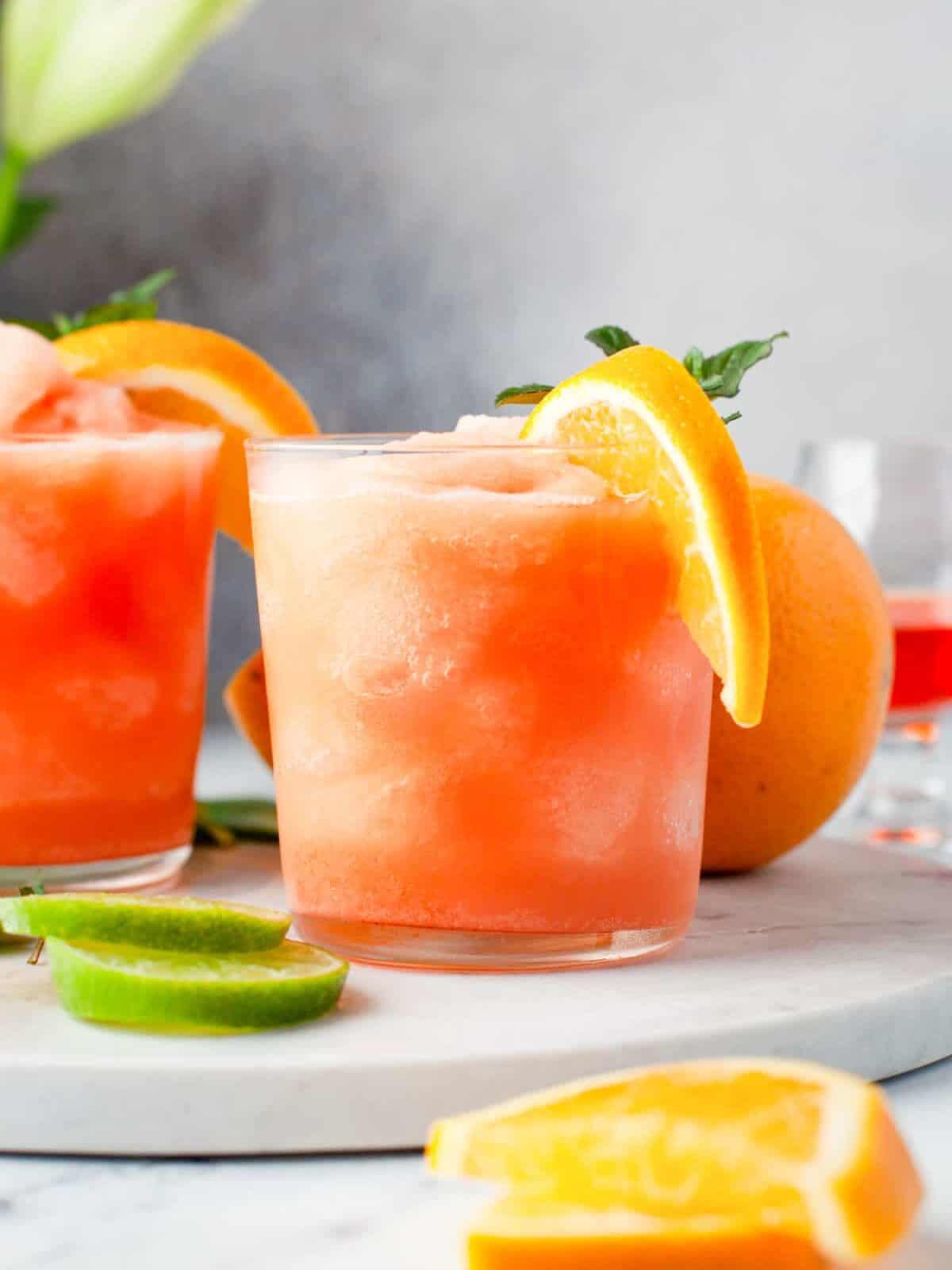 How do you make a skinny margarita?
For my favorite skinny margarita recipe, I just make a couple of tiny changes compared to a classic margarita. Replace the Triple Sec with freshly squeezed orange juice for that simple orange flavor without the extra calories.
You can also use agave syrup to add a bit of sweetness to your liking. This comes out to less than 200 calories for a large glass of my skinny margaritas!
What is the best tequila for margaritas?
You can use whatever tequila you like for margaritas, but I prefer to go with cheaper options rather than the "best" Tequila. Once it's mixed in, having the highest quality Tequila won't matter.
That being said, I also don't pick the cheapest Tequila. Go for a good mid-range Tequila and you'll be set. Repasado Tequilas are much smoother than Blanco Tequilas, so I prefer that.
How do you make a frozen margarita?
Frozen Margaritas are a tasty cocktail for hot summer days. All you have to do is pour the ingredients into a blender, add ice, and mix. You can keep it icy like a slushie or turn it into more of a blended margarita by blending it until it's smooth (both are great!).
How much alcohol is in a margarita (best ratio)?
This really depends on the recipe and your preferences. My preferred ratio for a great margarita is 2 parts Tequila to 1 part lime juice and 1 part Triple Sec (2:1:1 ratio). So for a typical glass, you could expect 3 ounces of alcohol. If you want less alcohol in your drink, simply use a 1:1:1 ratio.
How many calorie are in a classic margarita?
Typically, you can expect a classic margarita on the rocks to run about 400-500 calories for an 8-ounce glass.
Make Homemade Margarita Mix
Homemade margaritas are so easy to make from scratch, so I don't think pre-made margarita mixes are really necessary. However, you can make your own homemade margarita mix (a simple syrup that's much better than store-bought stuff) to help prep for parties.
Combine sugar, orange juice, lime juice, & salt in a saucepan on medium heat.
Heat for 5 minutes, until sugar is dissolved, stirring frequently.
Let the mixture cool and store it in an airtight container in the fridge for up to a week.
If you're planning to host a party, a mix will make the drink-making process much easier! Just combine the syrup with tequila, and you'll be ready to serve!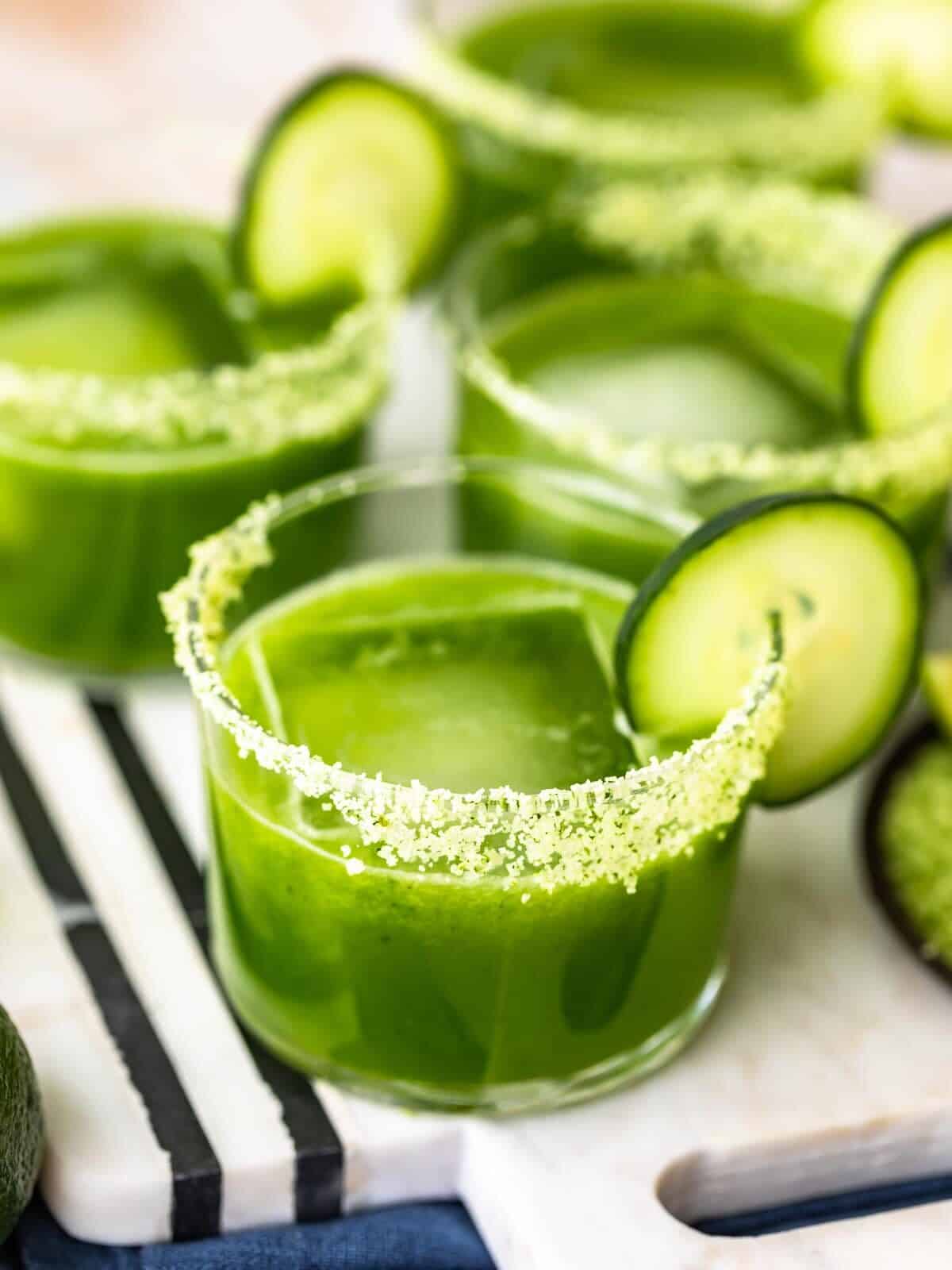 The Best Margarita Recipes
Try a classic margarita, a frozen margaritas, pitcher margaritas, spicy or fruity margaritas, or any of these fun and flavorful recipes.
Food Pairing Suggestions
Margaritas are one of the best summer cocktails, and it's definitely the best cocktail to pair with Cinco de Mayo foods, taco recipes, or your favorite Mexican dishes. Of course you have to serve them with tortilla chips, margarita guacamole, white queso, and your favorite salsas (I love avocado corn salsa, this easy blender salsa, and salsa verde).
Or serve them with chicken tacos, street corn, beef taquitos, salsa verde chicken, or margarita fish tacos. There's no bad time for a margarita!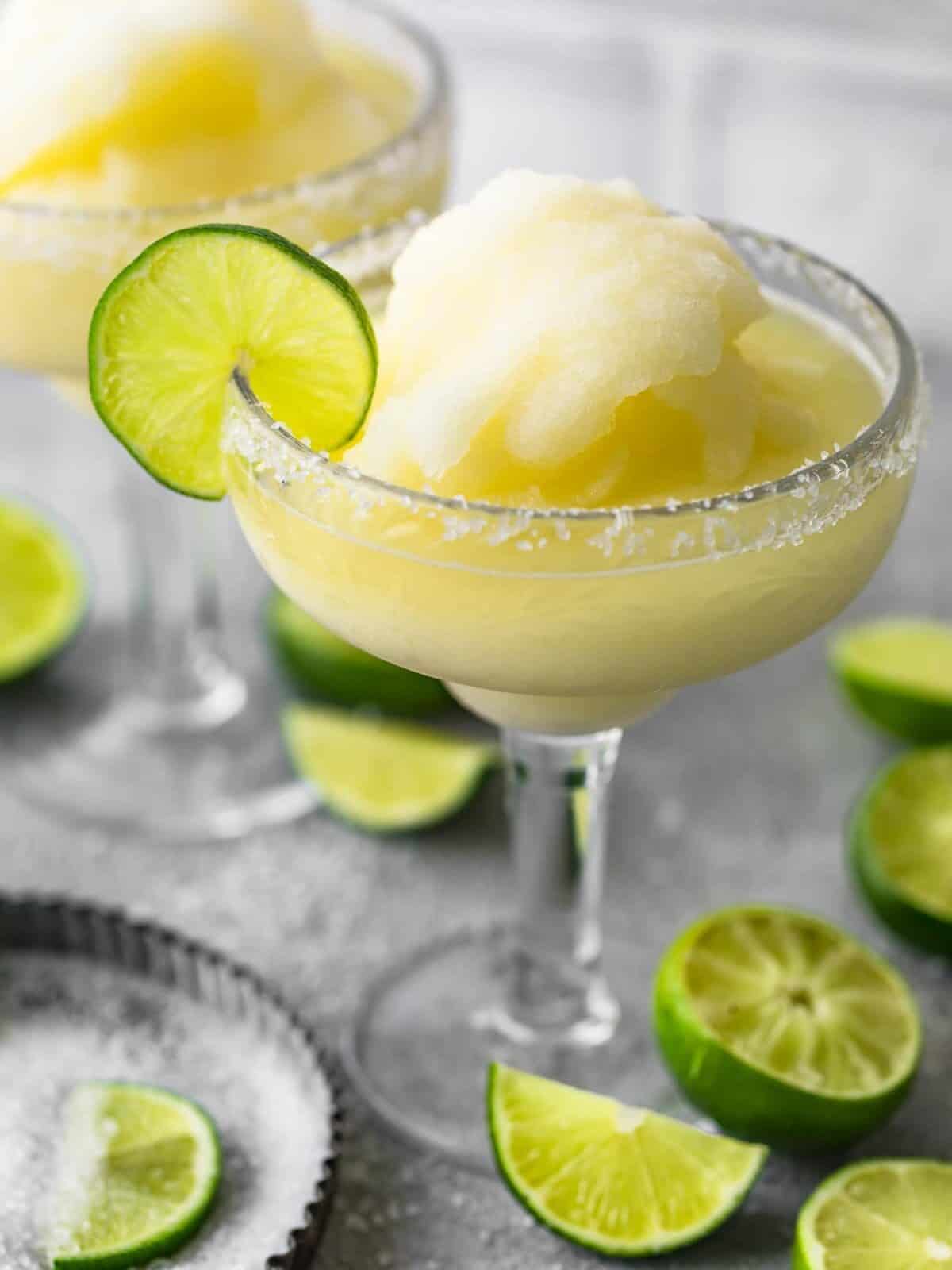 I hope this guide helped you learn how to make margaritas and find some new recipes! Don't forget to try out some for yourself, your friends, or guests at your next party. And don't be afraid to get creative with new flavors! A classic margarita is great, but you really can't go wrong with fruity, spicy, or frozen versions either.