Blackberry Margaritas for a crowd are THE BEST margaritas ever! Even better, this is a fun and SPICY margarita recipe. This easy cocktail recipe uses tequila, blackberry brandy, green chiles, fresh fruit, agave, orange juice, and lime. Rimmed with chili salt. Cheers!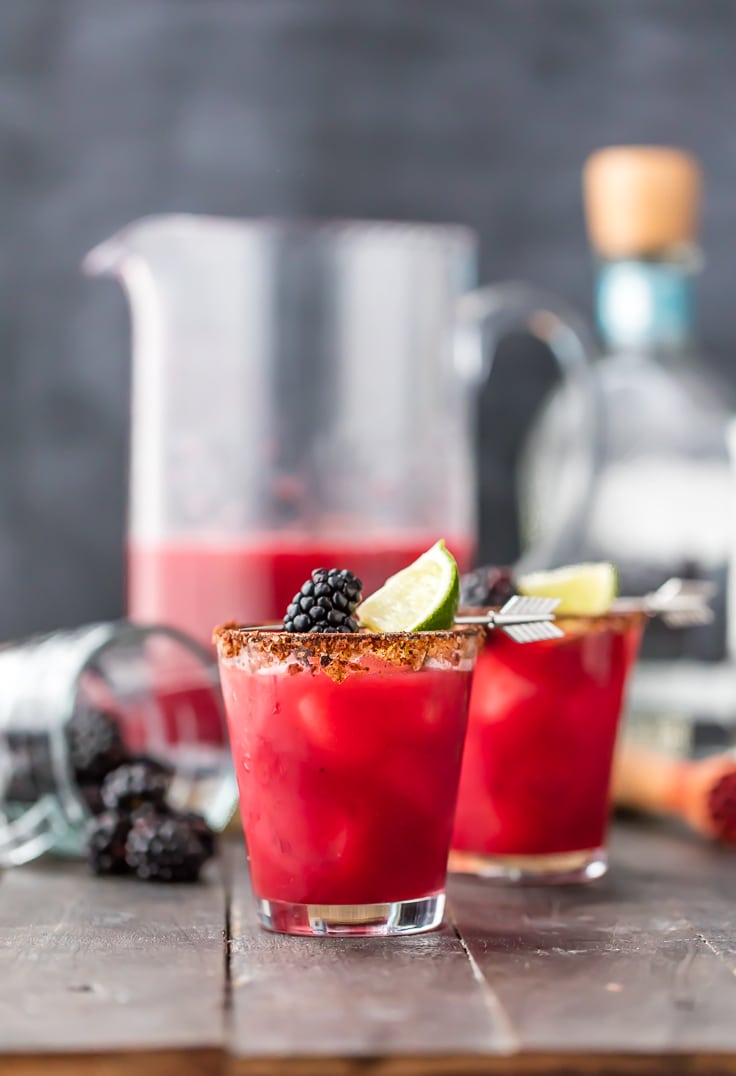 Blackberry Margarita Recipe
Blackberry Margaritas are a real treat that is PERFECT for National Margarita Day. This spicy margarita recipe has amazing flavor and the perfect spicy twist!
HAPPY NATIONAL MARGARITA DAY! I wait for this day with anticipation every year. It's my absolute favorite holiday (kidding…or am I?). Is there any cocktail recipe better than a refreshing margarita? Synonymous with fun, festivities, and great taste, there's a reason margarita recipes are my favorite!
I just love to get creative with margaritas, so I cannot get enough of these Spicy Blackberry Margaritas! Filled with amazing flavor and just the right amount of heat. It's an extra special drink that fits right in on National Margarita Day or Cinco de Mayo (or any time you need a fun and spicy cocktail).
As you can see…I really do love margaritas! They're the perfect drink for entertaining, and this spicy margarita recipe is my new favorite. Spicy, tasty, and such a vibrant and pretty color. Love at first sip!
Make this special Spicy Blackberry Margarita recipe for any special occasion!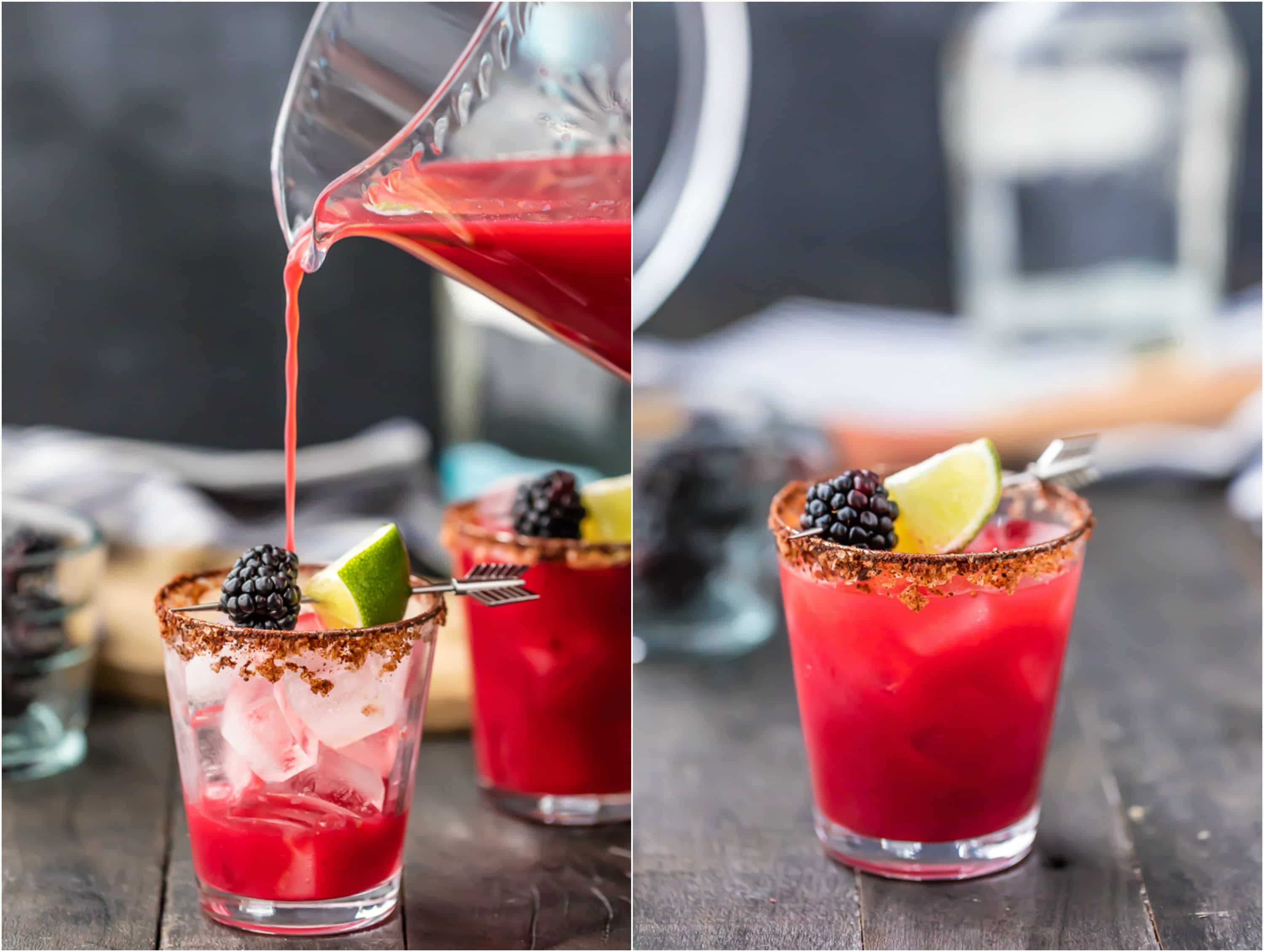 Spicy Margarita Recipe
The perfect addition to this spicy margarita recipe? Green chiles! It's something a little different for a cocktail recipe but it makes all the difference. Just what this drink needed!
I made these blackberry margaritas with Old El Paso Green Chiles. I am so honored to be working with Old El Paso this year, because they make cooking EASY. Sure, we could chop up chiles to make this sweet lil margarita spicy, but using a can of green chiles from Old El Paso is so much simpler, and just as yummy. Win win!
What else is in this Spicy Blackberry Cocktail?
Fresh Blackberries
Chopped Green Chiles
Lime Juice
Blackberry Brandy
Orange Juice
Tequila
Agave Nectar
Sea Salt
Blackberries and Lime to Garnish!
I love this fun mix of ingredients to create the perfect flavor!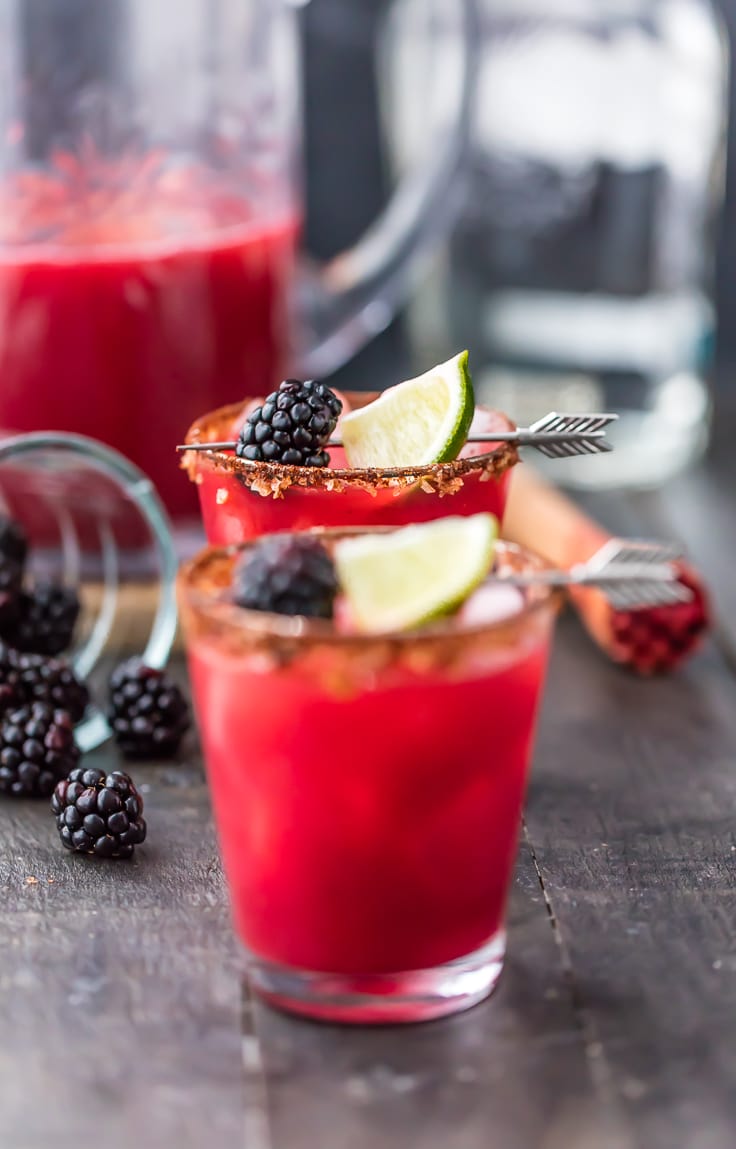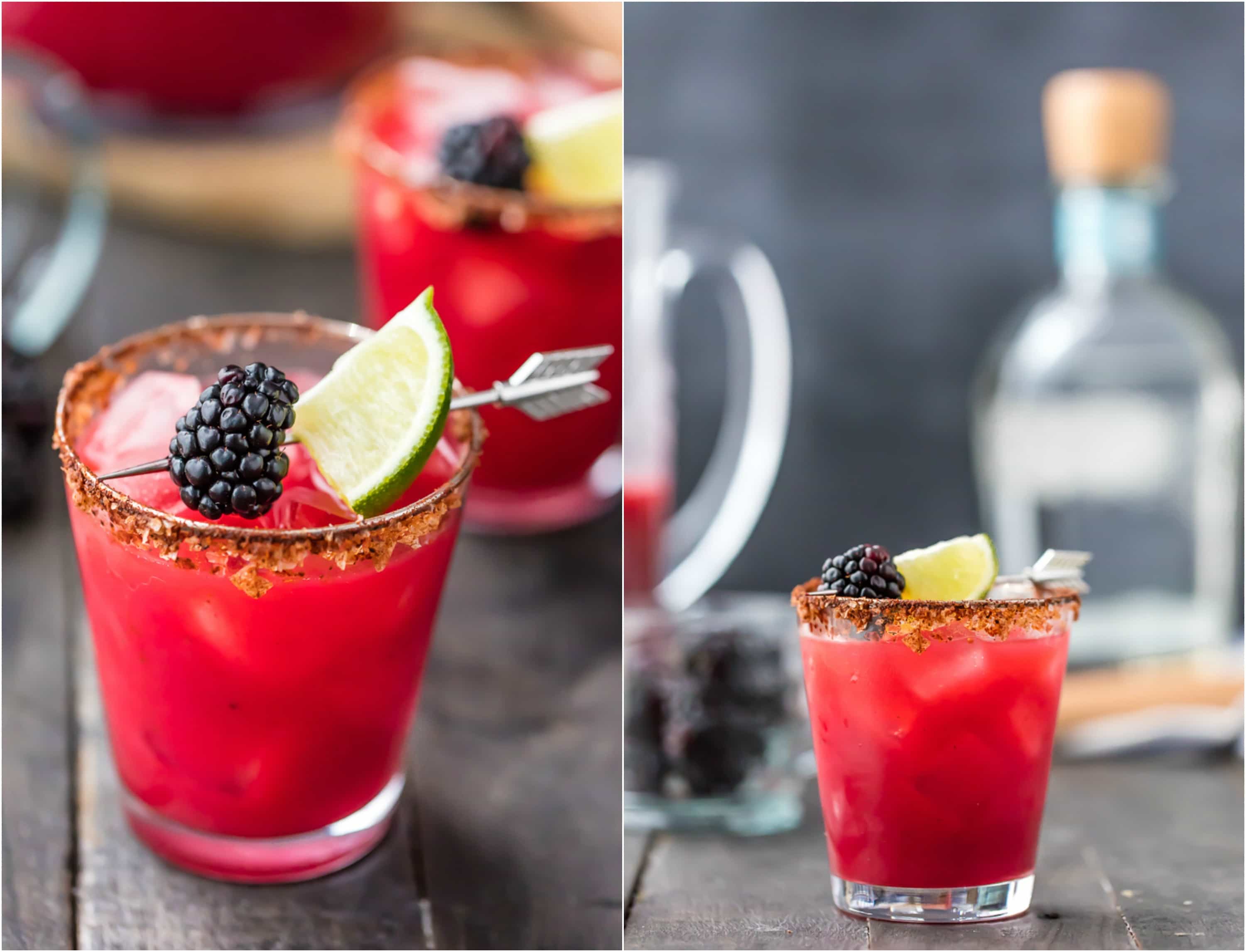 How to Make Spicy Blackberry Margaritas
It's no coincidence that cocktails are one of my favorite things to make. They're simple and pretty quick to create for parties. I love that! This spicy margarita recipe is so easy and SO flavorful. You just have to try it out!
How to Make Blackberry Margaritas:
Place lime juice, blackberries, and green chiles into a bowl, and use a muddler or immersion blender to fully combine. You want to create a relatively smooth consistency.
Pour the mixture through a fine mesh strainer to remove the blackberry seeds. You might need to use a spoon to press the mixture through to make sure all the liquid comes through.
Now pour the juice into a pitcher and add in the blackberry brandy, orange juice, tequila, and agave. Stir everything together to make sure it's even;y mixed.
To rim the glasses: mix chili powder and sea salt on a small plate. Dip each glass into lime juice and then into the chili mixture.
Fill your glasses with ice, pour in the blackberry margaritas, and garnish with fresh blackberries and lime wedges!
This is such a delicious cocktail, I just know you're going to love it!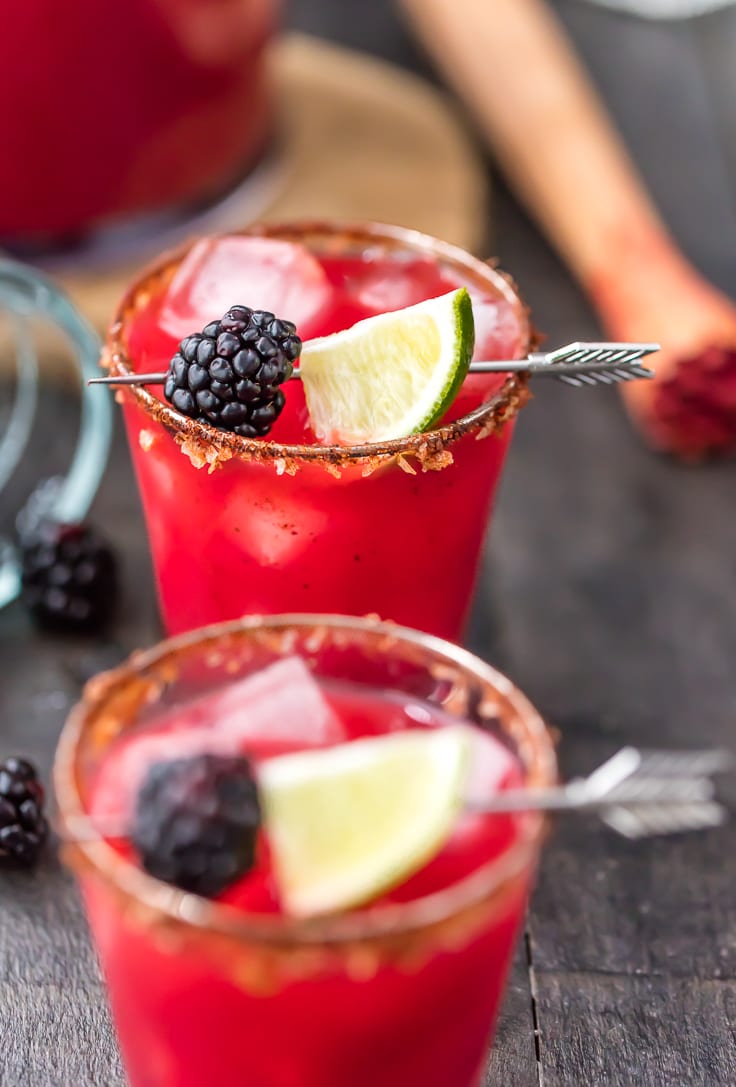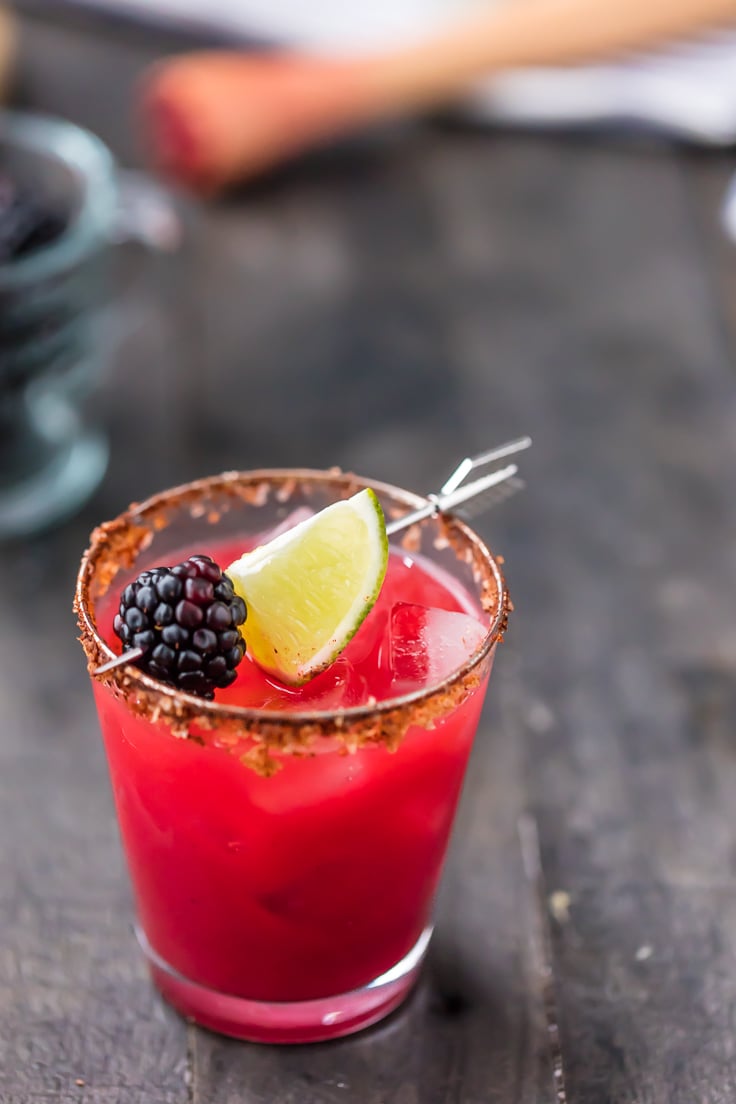 Spicy Margaritas for a Crowd
This is a great margaritas recipe for a crowd…or just more for me. Whichever. A pitcher of margaritas is worth a thousand words! I also have a classic margarita recipe for a crowd right here if you want to go a little more traditional.
Hope you have the most fabulous and delicious MARGARITA DAY with these blackberry margaritas. And then make them again for Cinco De Mayo. And tons of days in between!
The Guide to making Ultimate Margaritas Every Time
This is just one of MANY amazing margarita recipes on the site. I like to think of it as my cocktail specialty. We have compiled all of our fave Margarita Recipes in a guide to share them all in one place. Be sure to check it out for all our best tips, tricks, bar ware, variations, and more! Trust me, if you love margaritas, you're going to love this guide!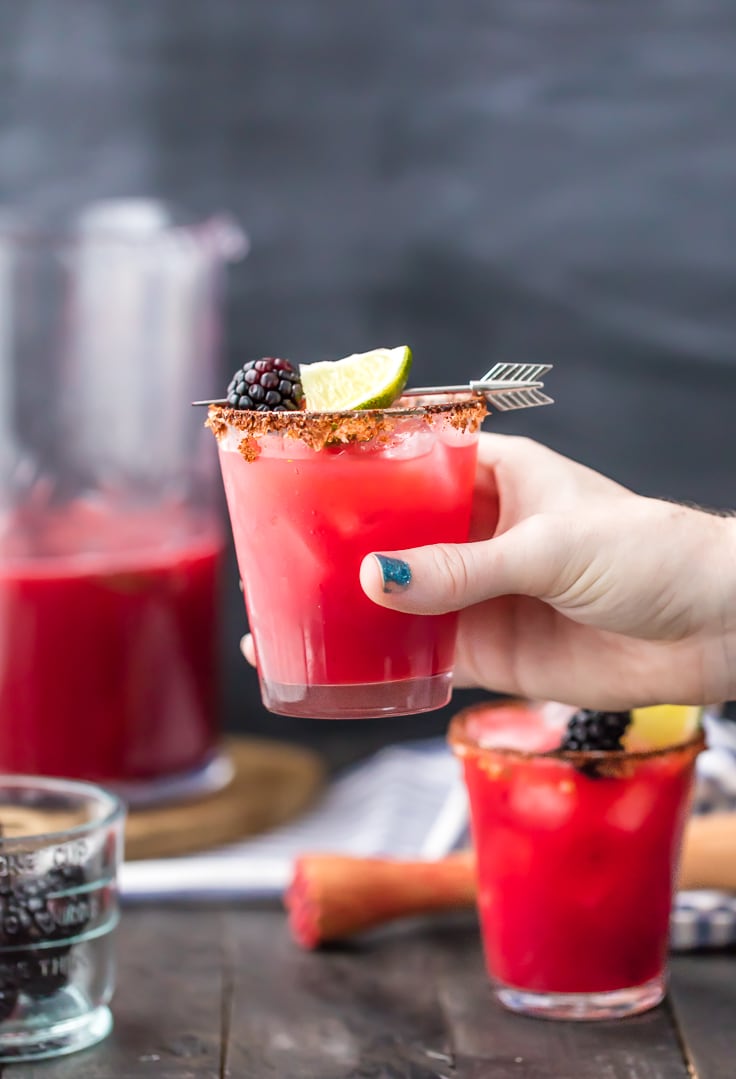 Enjoy this spicy margarita recipe any time you need a tasty drink recipe!
See the recipe card below for details on how to make Spicy Blackberry Margaritas. Enjoy!
If you like this spicy margarita recipe, you'll love our other easy margaritas too!