Check our burger temperature chart to find the ideal internal temp for the perfect burger, and how long to cook it. Whether you prefer your beef burgers medium-rare, medium, medium-well, or well-done, you can find the right cooking temperature here.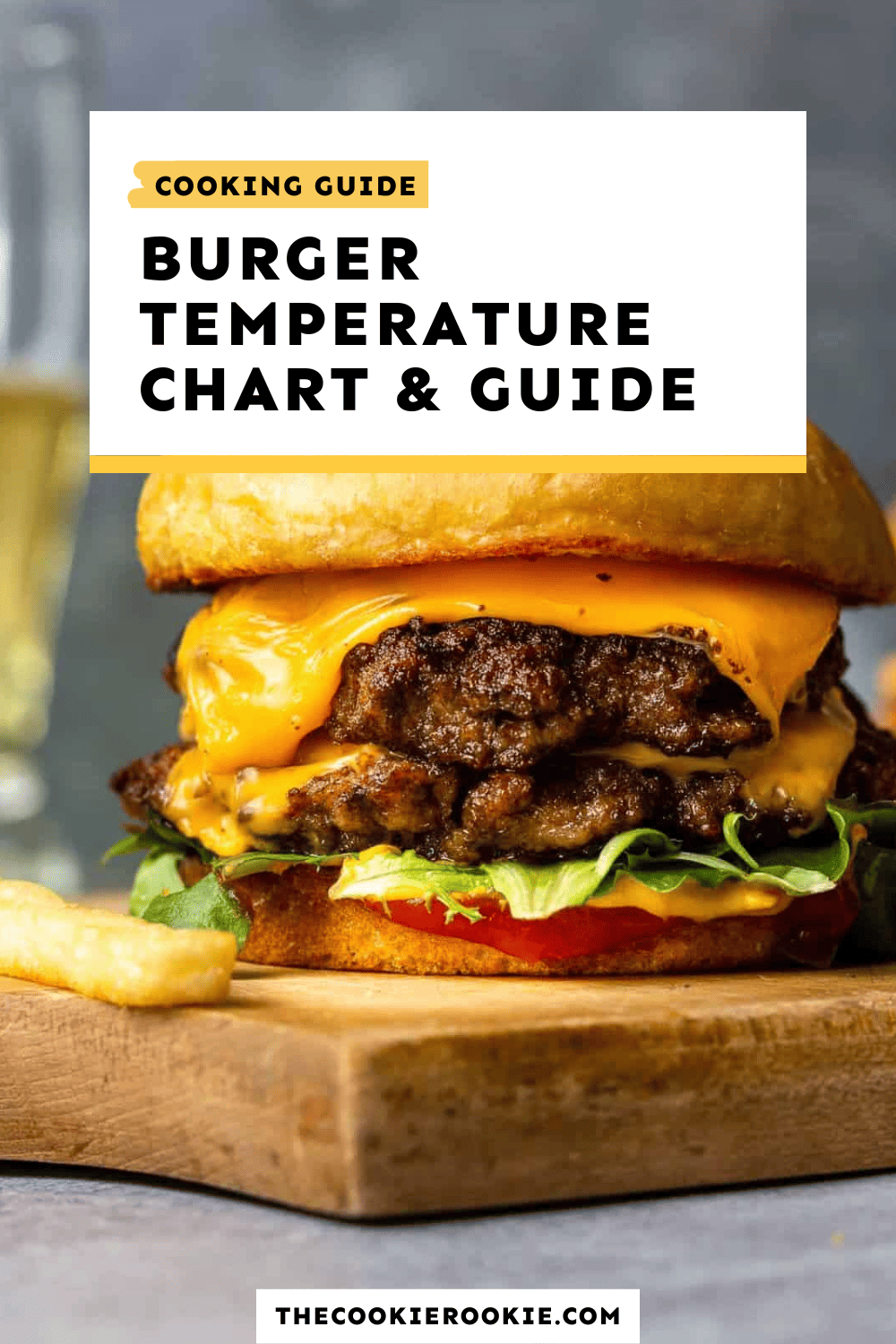 Beef Burger Internal Temperatures
Making the best burgers starts with cooking the beef to the perfect temperature. But what is the ideal burger internal temperature? And how long does that take?
It depends on how you like your burger done, of course! You can cook them to medium-rare, medium, medium-well, or well-done. This will generally change the level of juiciness and the intensity of the flavor. All four options are good, but everyone has a different preference.
Take a look at our burger internal temperature chart below to find the temperature and cooking time based on your preference! Then keep reading for details about each doneness level, how to tell when they're done, and more tips.
Burger Temperature Chart
Take a look at this chart to decide how you'd like your burger done, what the internal temperature should read, and about how long it'll take to cook it (if cooking on the grill or stovetop).
| | | |
| --- | --- | --- |
| Burger Doneness | Internal Temp | Cook Time |
| MEDIUM-RARE | 130-135°F | 6 minutes |
| MEDIUM | 145°F | 7-8 minutes |
| MEDIUM-WELL | 150-155°F | 9 minutes |
| WELL-DONE | 160-165°F | 10 minutes |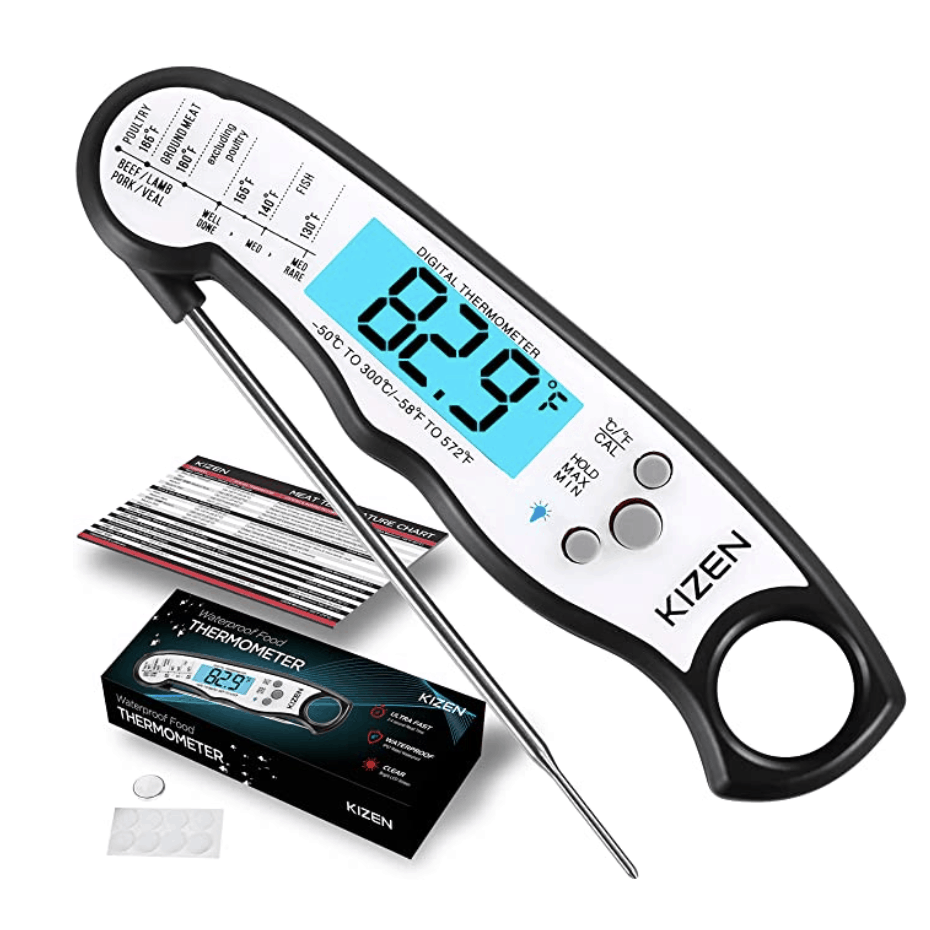 The Best meat thermometer!
I love using this meat thermometer for making sure the meat is at 165 degrees! Easy for beginners & totally worth the $10 cost!
Guide to Burger Temperatures
How do you like your burger done? Here's a quick look at what it'll look and taste like at each doneness level.
For food safety, the USDA recommends all ground beef be cooked to at least 160°F before consuming. That means well-done, but many of us will prefer to cook it slightly less. So keep that in mind as you choose how long to cook your burgers.
Medium-Rare (130-135°F)
Medium-rare burgers are cooked very briefly, so that they are brown on the outside, but still very pink (almost red) in the middle. They are super juicy and flavorful! Many aficionadas would consider this the only way to eat a burger.
For safety reasons, this is the lowest temp you'll ever want to cook your hamburgers. You'll definitely want to get good quality ground beef, and ideally, you'll ground it yourself.
Medium (145°F)
Medium burgers are cooked just a bit longer, but they are still pink in the middle. You still get the juicy, flavorful, moist beef, but it's much safer than medium-rare. Personally, I think this is the ideal burger temperature for both safety and flavor!
Medium-Well (150-155°F)
Medium-well burgers will cook just a minute or so longer than medium, so keep an eye on them. They have just a small amount of pink left in the middle of the burger patty. Beef starts to dry out at this temperature, so they won't be quite as juicy, but they are still delicious!
Well Done (160-165°F)
A well-done burger requires the longest cook time, so it will be fully browned (and maybe a little crispy) on the outside, with no pink in the middle. Cooking it this long will dry it out quite a bit, so some people consider this over-cooked.
But of course, according to the safety guidelines from the USDA, ground beef should be cooked to well-done. So this is definitely considered the safest way to cook a burger!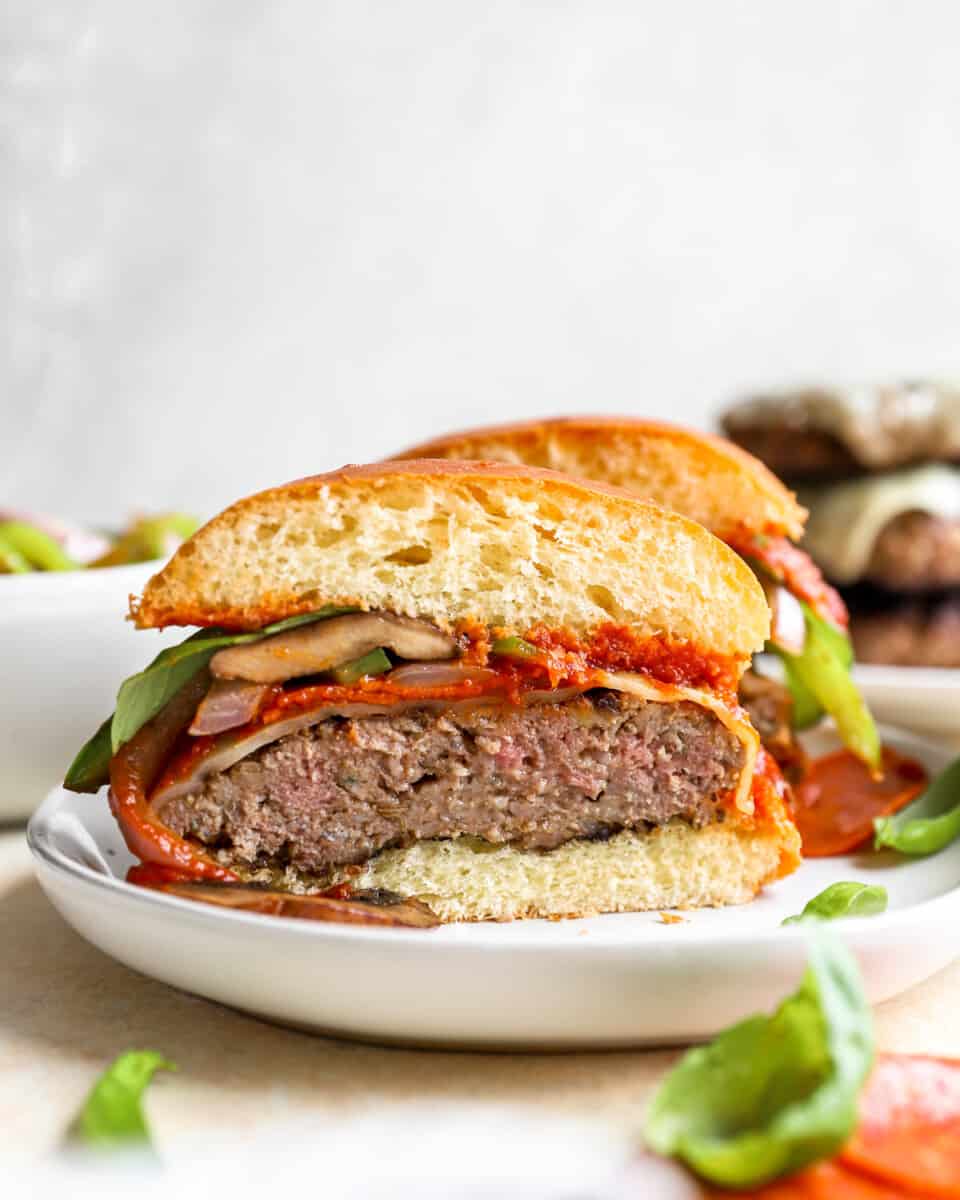 How can you tell when a burger is done?
The best, safest, and most accurate way to tell when your burgers are done is to use an instant read meat thermometer. Insert it into the middle/thickest part of the burger to check the internal temperature, and make sure it matches up with the chart I shared above.
The color is a decent indicator of the temp, but you probably don't want to cut the patties open to check, and it's not always 100% accurate. You can also press down on the center of the patty to see how firm it is, or how much juice leaks out. But again, this is not the most accurate.
Once you become a burger-cooking pro, you'll be able to tell when they're done without the thermometer, but I still recommend using it for food safety!
Is it okay to eat a pink burger?
A well-done burger will not have any pink left in the middle, but if you cook it below 160°F, then it will have varying levels of pink left. And yes, that's okay! Burgers are safe to eat anywhere from medium-rare to well-done.
So if there is some pink in the middle, it is safe. Just be sure to check the internal temperature to make sure it's done. However, if the outside of the patty (or most of the interior) is pink, keep cooking it.
How long should you cook burgers?
If you're grilling burgers or cooking them on the stovetop, you can use the cooking time listed in the internal temp chart above (6 minutes for medium-rare, and about 1 extra minute per level of doneness). Flip burger patties halfway through so they cook evenly.
If you are using a different cooking method, just use the burger temperature as a guide to figure out the right amount of time.
What is the perfect burger temperature?
This completely depends on your preference. Burgers can be cooked and eaten anywhere between 130-165°F, with a 5-10 degree difference between each level of doneness (medium-rare to well-done).
Most people will probably prefer a burger cooked to medium or medium-well. It's a nice balance for juiciness, with small amounts of pink in the middle.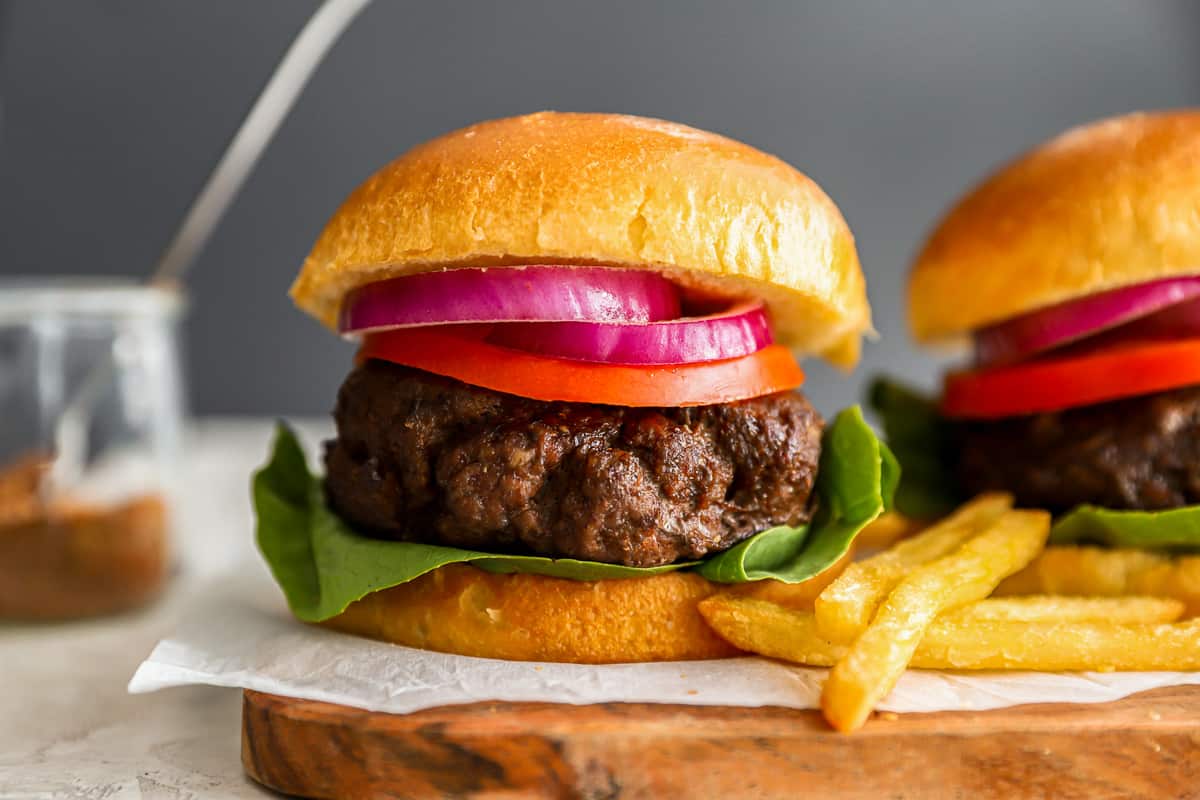 Tips!
The thickness of your burger patties will affect the doneness level, and how long it takes to cook. Thicker patties will need more time to reach the desired burger temperature, while thinner patties will cook much faster.
If you're cooking multiple burgers at once, make them the same thickness to avoid over- or undercooking them.
The meat thermometer should be inserted into the middle, or thickest, part of the patty to check the temp.
Using a thermometer is recommended for food safety. While color is a good way to check how done your burger is, it's not 100% accurate.
Remove your burgers from the heat about 5 degrees before your desired internal temperature. As the beef rests, the temp will rise slightly. Check again before consuming.
If you are making burgers with ground chicken or turkey, always cook it to 160-165°F.
If you are using a different cooking method (besides grilling or stovetop), the doneness and internal temperature are the same, but the cooking times will vary.
Now that you know the internal burger temperatures for each level of doneness (medium-rare to well-done), you'll be making the perfect burgers in no time. Fire up the grill, cook, then add your favorite toppings and enjoy!
Grilling Guides
You've got the burger temperatures handy. Now find more tips, recipes, and ideas for your summer grilling!
Cooking Guides