These are the Best Burger Recipes for summer cookouts, weeknight dinner ideas, or any time you need a meal that will make everyone happy. Find beef burgers, turkey burgers, chicken burgers, and unique topping ideas for any occasion. Learn how to make hamburgers on the grill, the stove, in the oven, or with an Air Fryer or Instant Pot, and find out how long to cook them too. There's nothing better than a burger and fries, so keep these easy recipes handy all season long!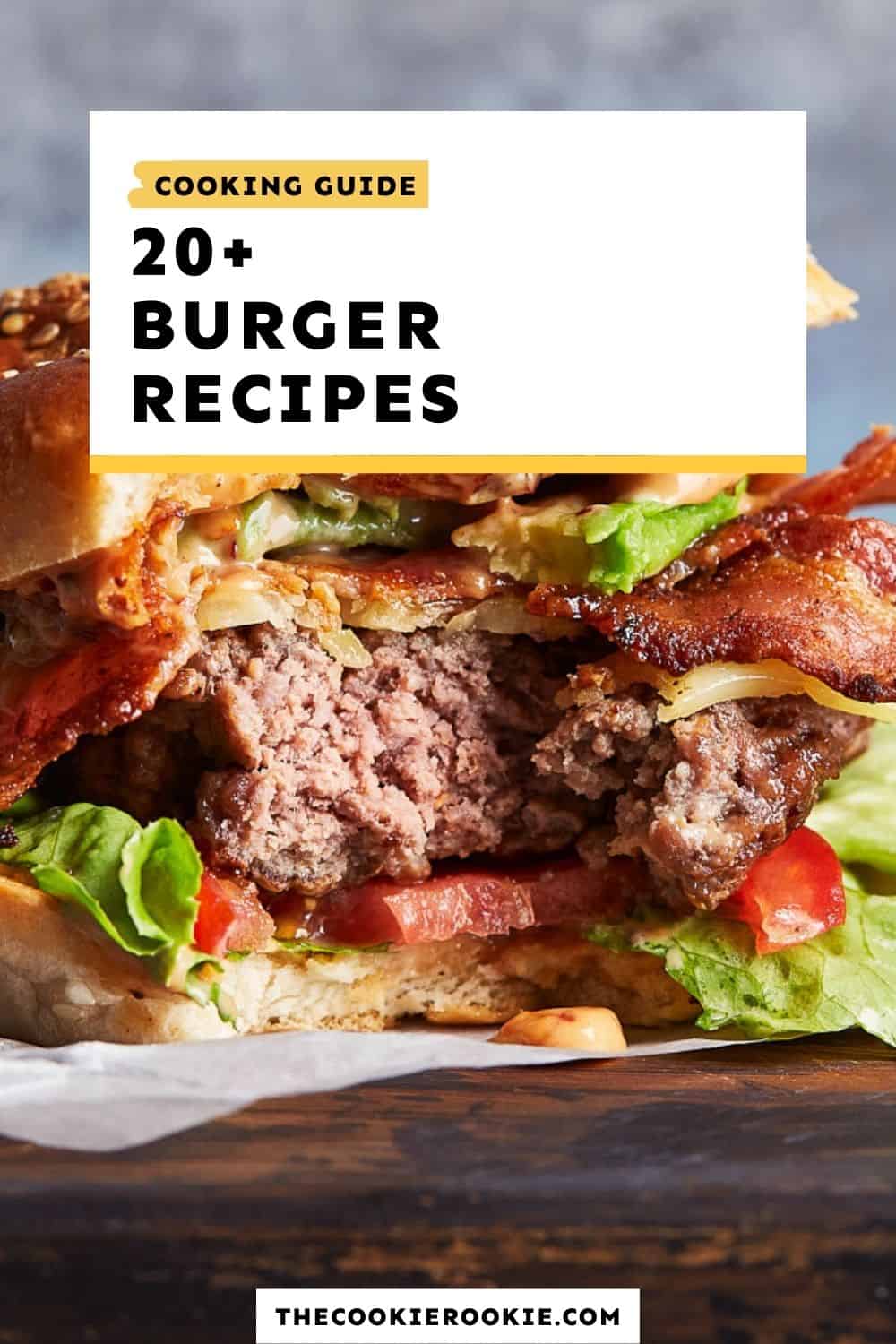 Burger Ideas for Dinner
Everyone should learn how to make burgers! They're perfect for parties and BBQs, summer grilling, game day, or even simple dinners at home with the family. So I've collected the best burger recipes to give you some delicious ideas.
These homemade burgers will absolutely blow you away. Whether you prefer a classic beef burger, chicken burgers, cheeseburgers, turkey burgers, or more unique burger ideas, you'll find something (or many things) here to add to your menu.
There's nothing better than a burger and fries, so don't forget to make some French fries, shoestring fries or sweet potato fries!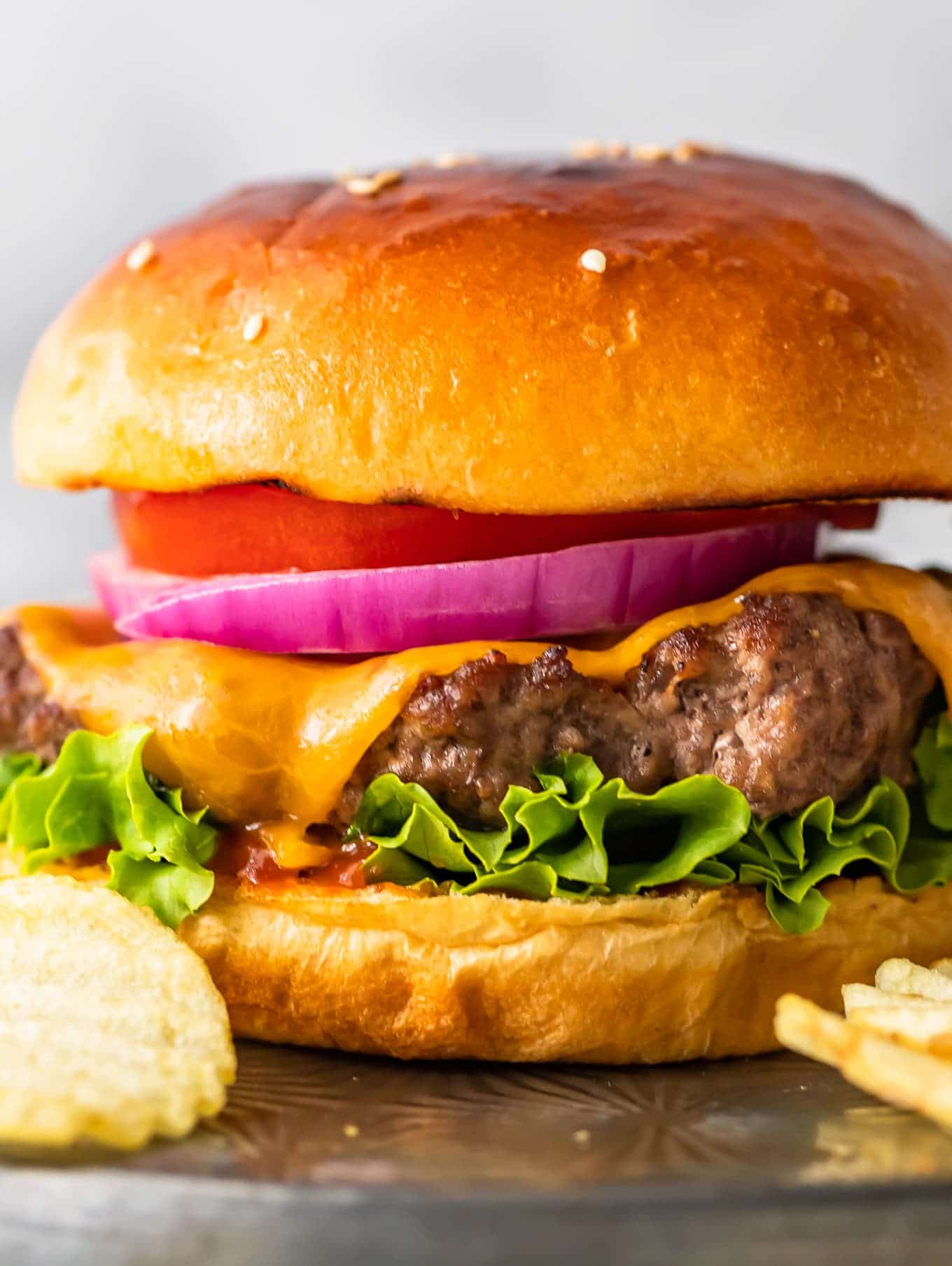 How to Cook Burgers
Make a simple, classic beef burger with one of these 4 easy cooking methods. Grill, broil, pan fry, or cook your patties with an Instant Pot. Then just add toppings for the perfect burgers!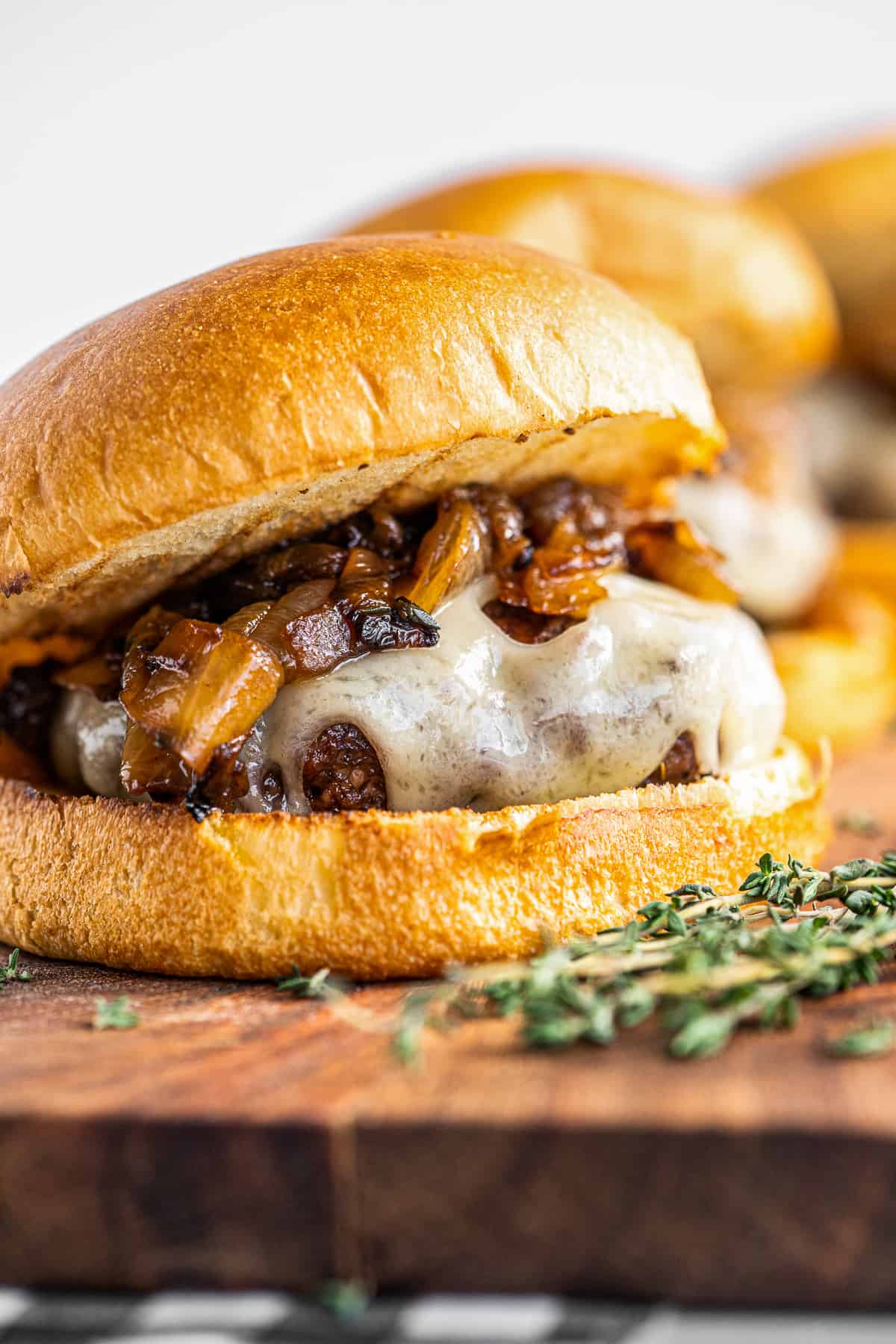 Unique Burger Recipe Ideas
Take things up a notch with these flavorful, exciting homemade burger recipes. Unique and delicious toppings will make your mouth water!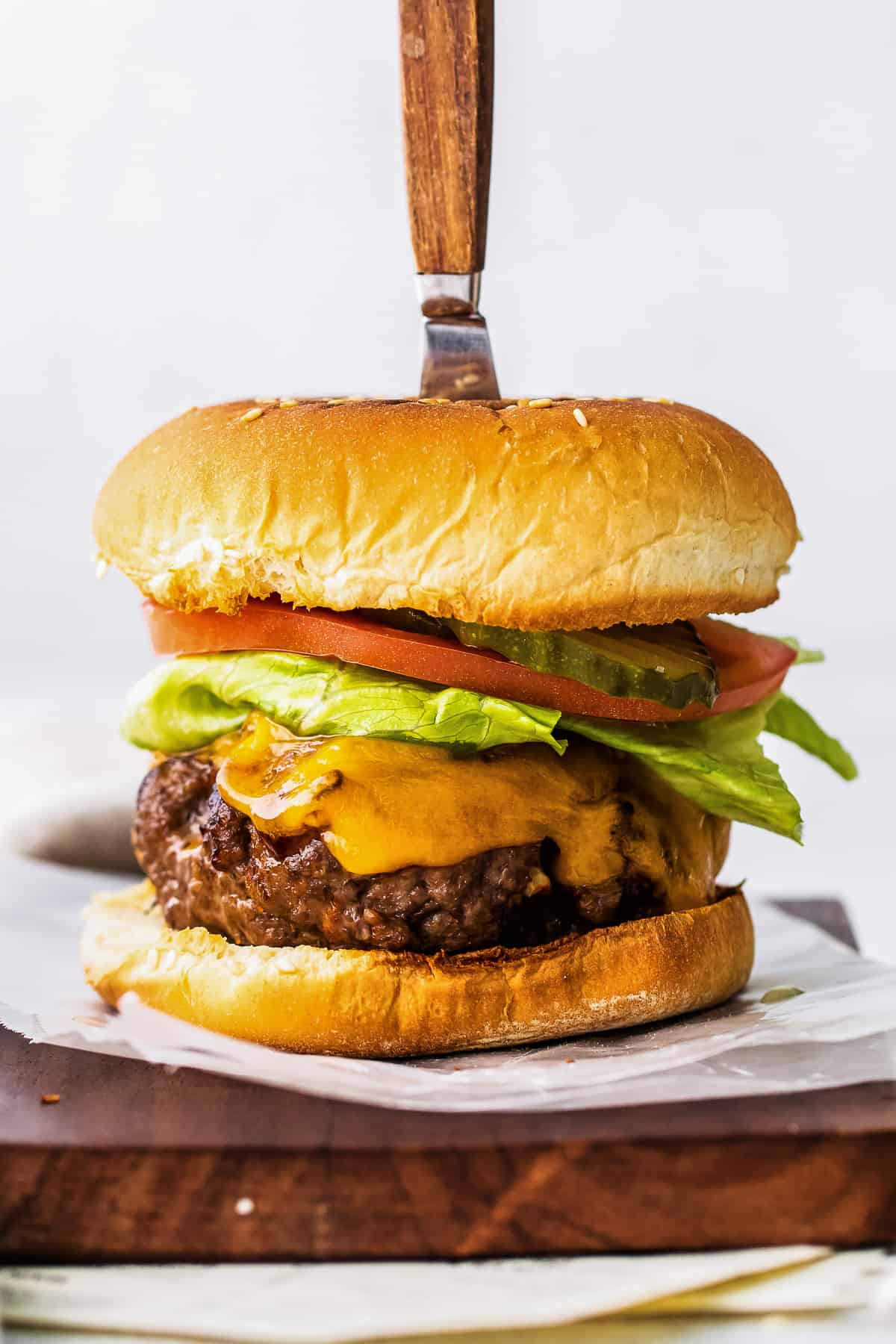 Burger Recipes for the Air Fryer
Skip the grill and make delicious, juicy burgers with the Air Fryer. It's quick and easy, and there are lots of unique recipes to try.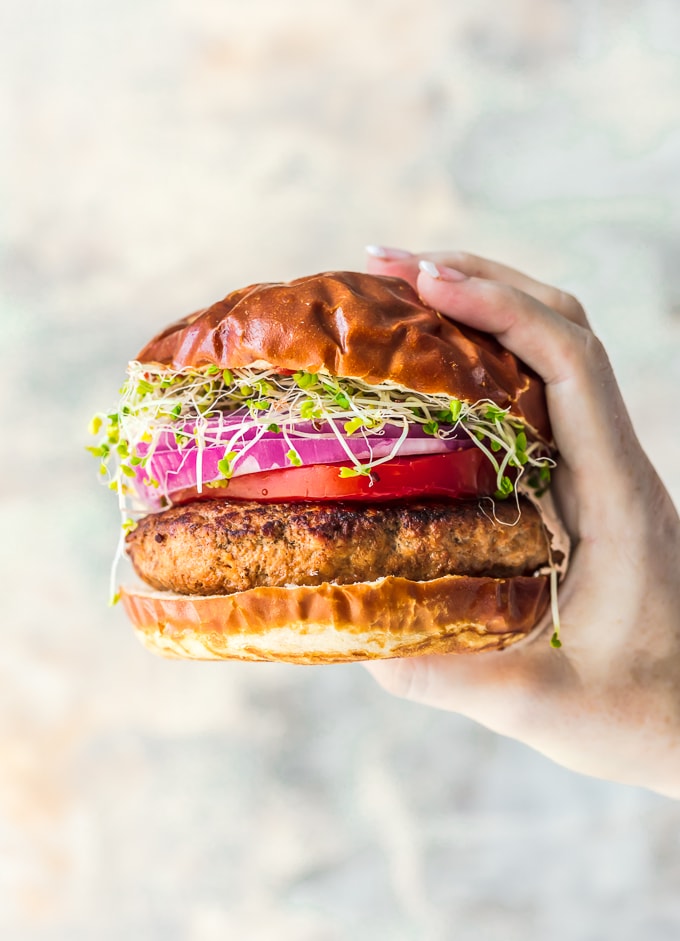 Non-Beef Burger Recipes
Beef isn't the only way to make a burger! Follow one of these recipes to make turkey, chicken, or salmon burgers instead.
Best Turkey Burgers: These juicy turkey burgers are made on the stove top, and they're a super healthy option.
Chicken Burgers: These grilled chicken burgers with feta and sun-dried tomatoes are a flavorful idea for grilling.
Salmon Burgers: These healthy burgers are homemade, fresh, and flavorful. If you're a fan of seafood, you'll love this light burger idea for summer lunches.
Juicy Lucy Turkey Burgers: These are grilled and stuffed with cheddar cheese for a juicy, flavorful burger.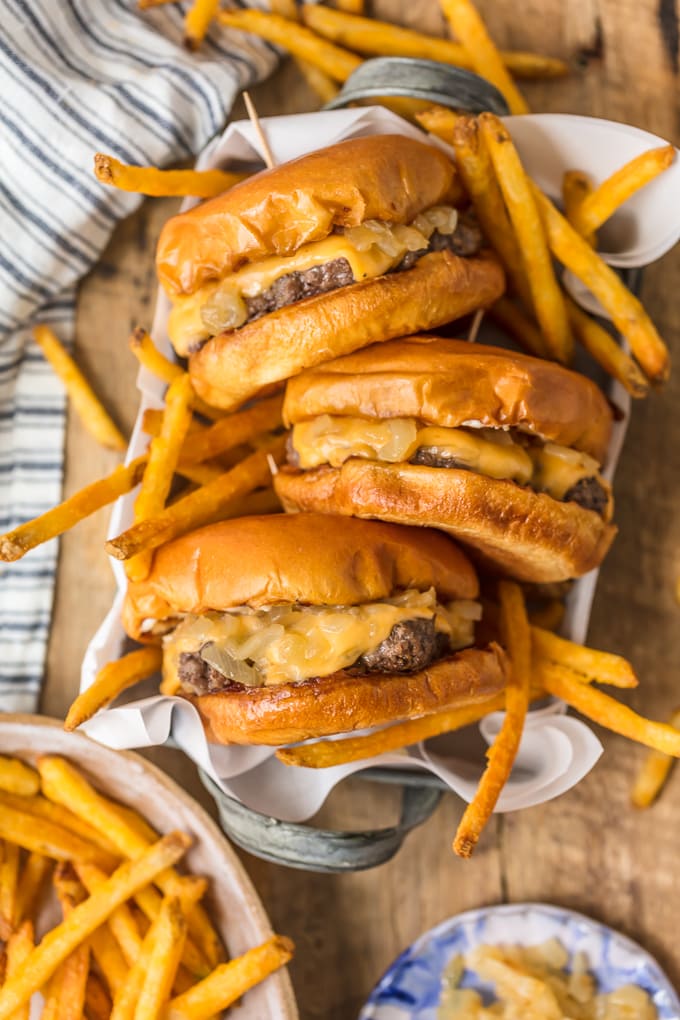 Burger Topping Ideas
Changing up the toppings or burger seasoning on your burger recipes is the best way to create something new and different. Here are some classic burger toppings, plus some more unique and fun ideas.
Lettuce: use leaves of romaine, baby spinach, shredded lettuce, or another green.
Tomatoes: Fresh slices of juicy tomatoes pair perfectly with beef, chicken, or turkey.
Cheese: You can't go wrong with classic cheddar, but Swiss, pepper jack, or your favorite cheese all work.
Onions: Red onions add bite, but sweeter onions are tasty too. Or go for caramelized onions!
Condiments: Top your burgers with ketchup, mayonnaise, dijon, or classic yellow mustard.
Sauces: But don't stop there–try them with BBQ sauce, garlic aioli, pesto, buffalo sauce, or the best burger sauce!
Bacon: Add slices of bacon to a cheeseburger or hamburger for ultimate flavor. Or use bacon crumbles.
Pickles: Pickles are the perfect topping for burgers. Use bread and butter, dill, or any style you like! Try these refrigerator pickles or ranch fried pickles. Or opt for fresh pickle relish instead.
Pineapple: Grilled pineapple slices add a sweet and fruity twist to burgers that complements chicken and beef really well.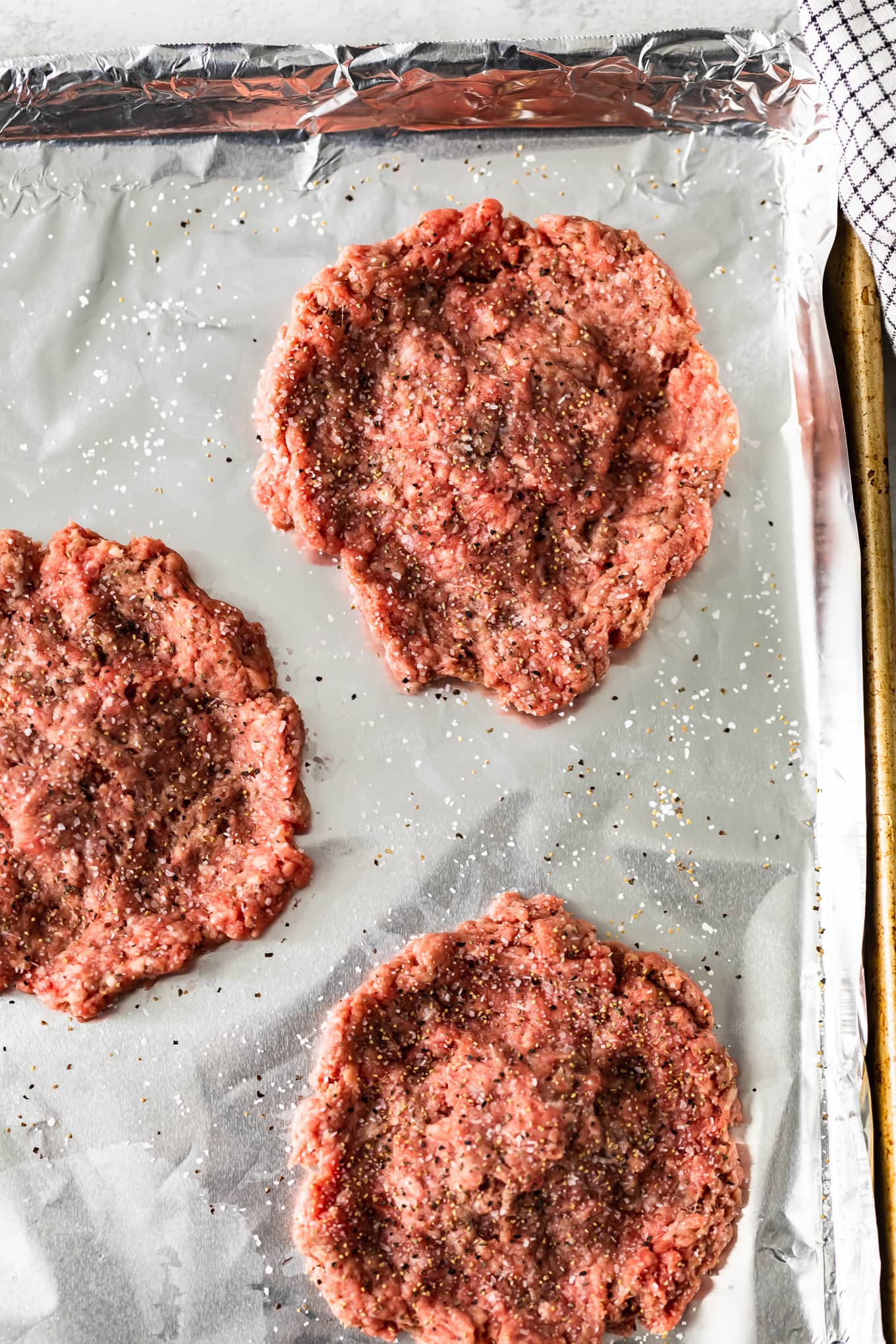 Burger Temperatures
What temperature should you cook your burger recipes to? I recommend cooking your burgers Medium for the juiciest, most delicious result, but it's up to your preference. Follow this quick Burger Internal Temperature Chart!
MEDIUM RARE: 130-135°F
MEDIUM: 145°F
MEDIUM WELL: 150-155°F
WELL DONE: 160-165°F
NOTE: The USDA recommends that hamburgers be cooked to an internal temperature of 160°F to ensure all bacteria is killed. So if you choose to cook medium/rare, be sure you're using the freshest beef or even making your own ground beef.
If you want a printable chart to keep on hand in your kitchen, check out our Internal Meat Temperature Chart.
How long do you cook burgers?
This depends on how you like them cooked and which cooking method you choose. Do you want them medium-rare, medium, well-done? Are you grilling, broiling, or cooking on the stove?
Here's a quick chart on how long to cook burgers if you're grilling or making them on the stove:
MEDIUM RARE (Red in the Middle): 6 minutes total (3 minutes on each side)
MEDIUM (Pink in the Middle): 7-8 minutes total
MEDIUM-WELL (Smidge of Pink in the Middle): 9 minutes total
WELL DONE (No Pink): 10 minutes total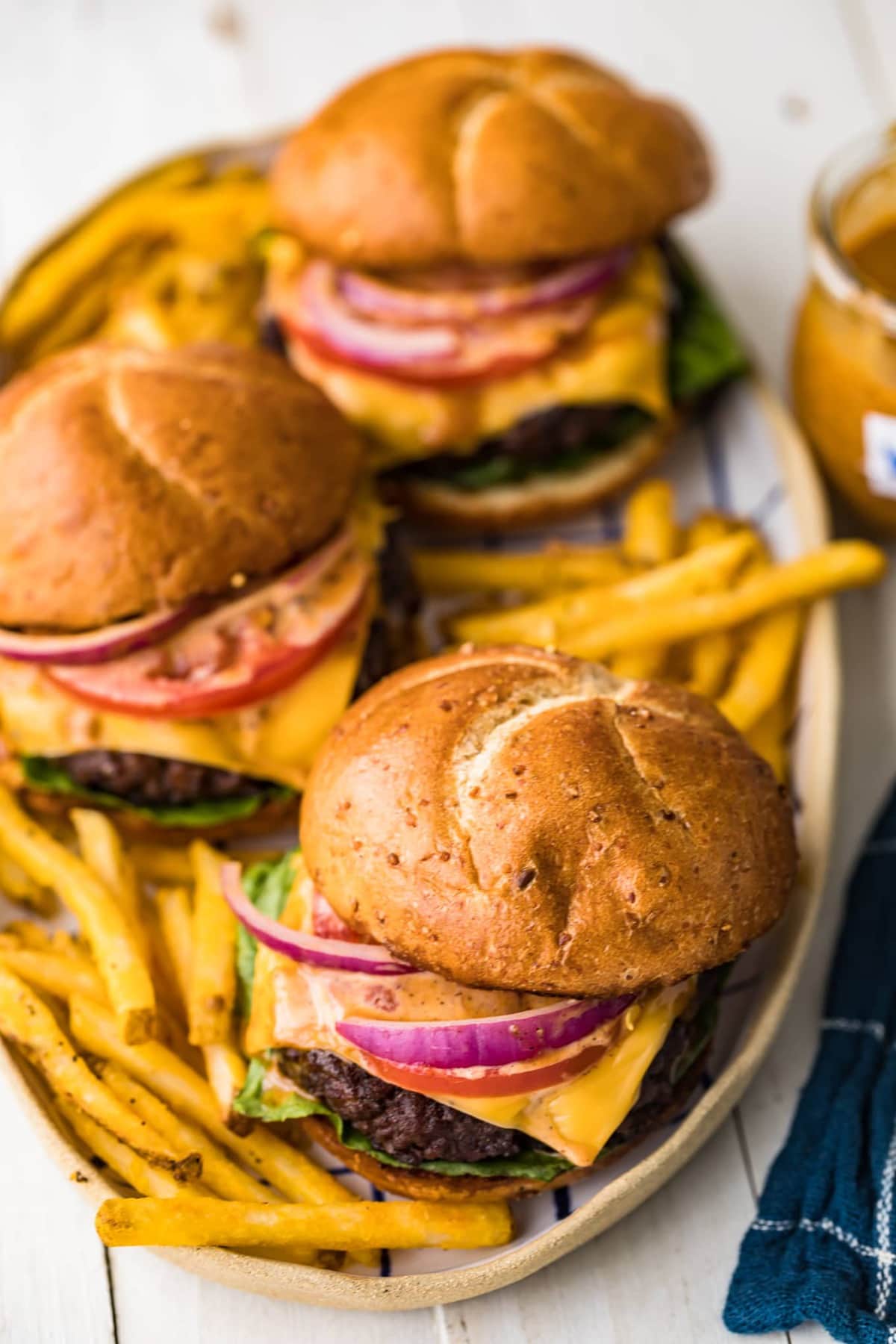 Learning how to cook burgers at home is simple. You can bookmark this guide and come back to it again all summer long. Better yet, you can make most of these all year round. And don't forget the fries!
These are by far the best burger recipes, all the favorites I go back to over and over again. Let me know which recipes you tried!
More Summer Recipes
Want something besides burgers, or the perfect side dish? Any of these recipes are great for summer cookouts and BBQs!