Crab Artichoke Dip in a Bread Bowl is the perfect EASY appetizer for tailgating or celebrating with friends. This delicious crab and artichoke dip is cheesy, hot, and so good. The Super Bowl won't be the same without this simple bread bowl dip!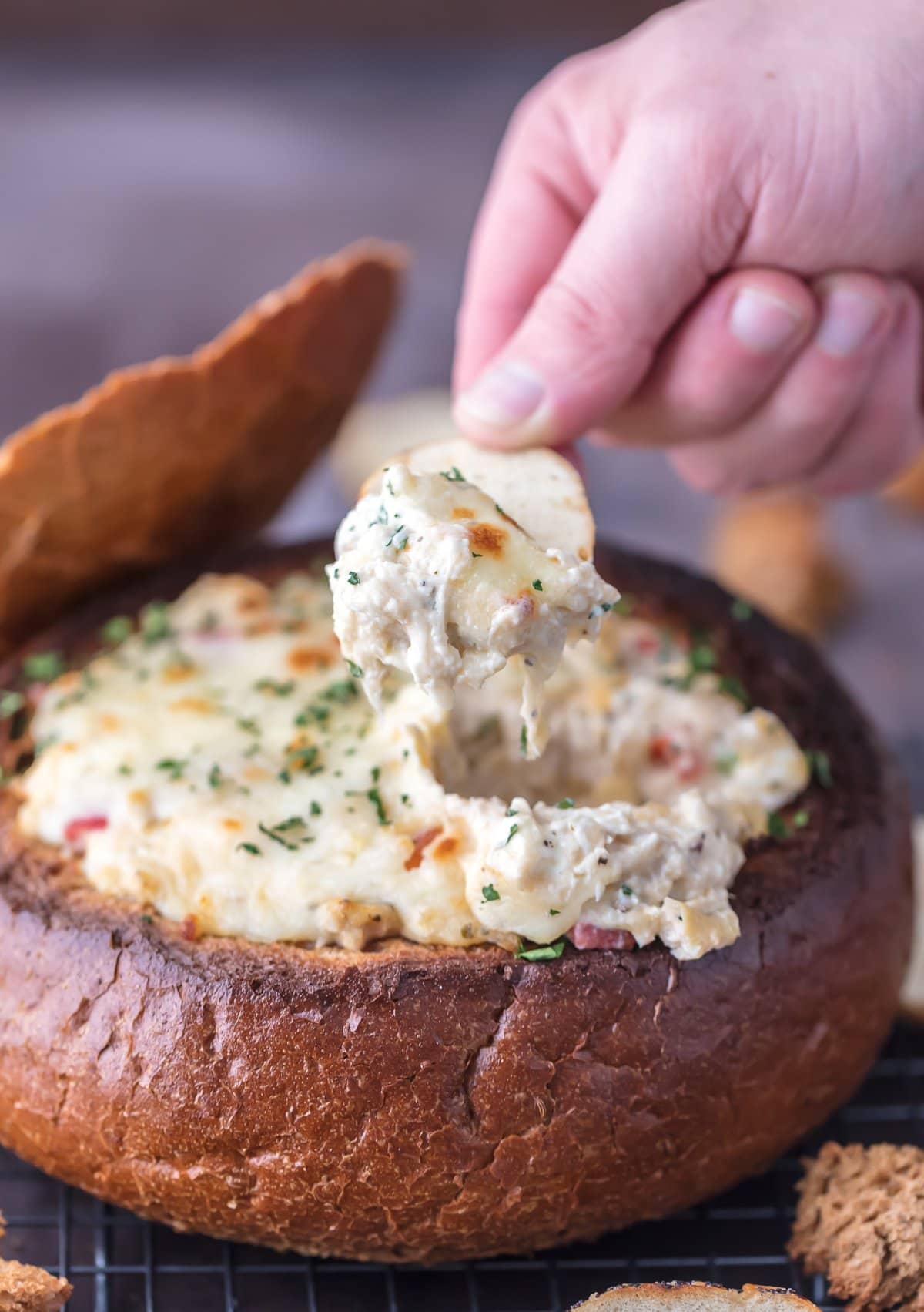 Crab Artichoke Dip
Crab Artichoke Dip is the perfect blend of cheese, artichoke, and crab in a tasty bread bowl. This bread bowl dip makes a great appetizer for game day, or any party!
The holidays are all about the delicious appetizers and festive food. Christmas parties would be pretty mundane without amazing finger foods like meatballs, wings, and hot dips.
Appetizers just so happens to be my favorite type of recipe, so I'm in heaven around this time of year. The best of the best recipes are easy, cheesy and totally fabulous, and this Warm Crab Artichoke Dip is no exception. In fact, maybe it's at the top of the list!
There's something about creamy, cheesy artichoke dips that I can never get enough of. Add some delicious crab into the mix and you know I'm sold!
This warm crab and artichoke dip is beyond crave-worthy, and I feel like it's about to be my new go-to party dip. Did I mention it's in a bread bowl? Because that's important. Hot cheesy dip in a fresh bread bowl…can it get any tastier?
This bread bowl dip can be thrown together in minutes, it's so ooey gooey delicious, and it manages to be classy while still being simple. It's the perfect starter for Christmas parties, New Year's Eve festivities, and of course, THE SUPER BOWL!
The big day will be here before we know it, so I'm stocking up on all my favorite recipes now. Make sure this crab artichoke dip is on the appetizer list!
Warm Crab Artichoke Dip is exactly what you need on game day. This bread bowl dip is hot, cheesy, and full of flavor. Yum!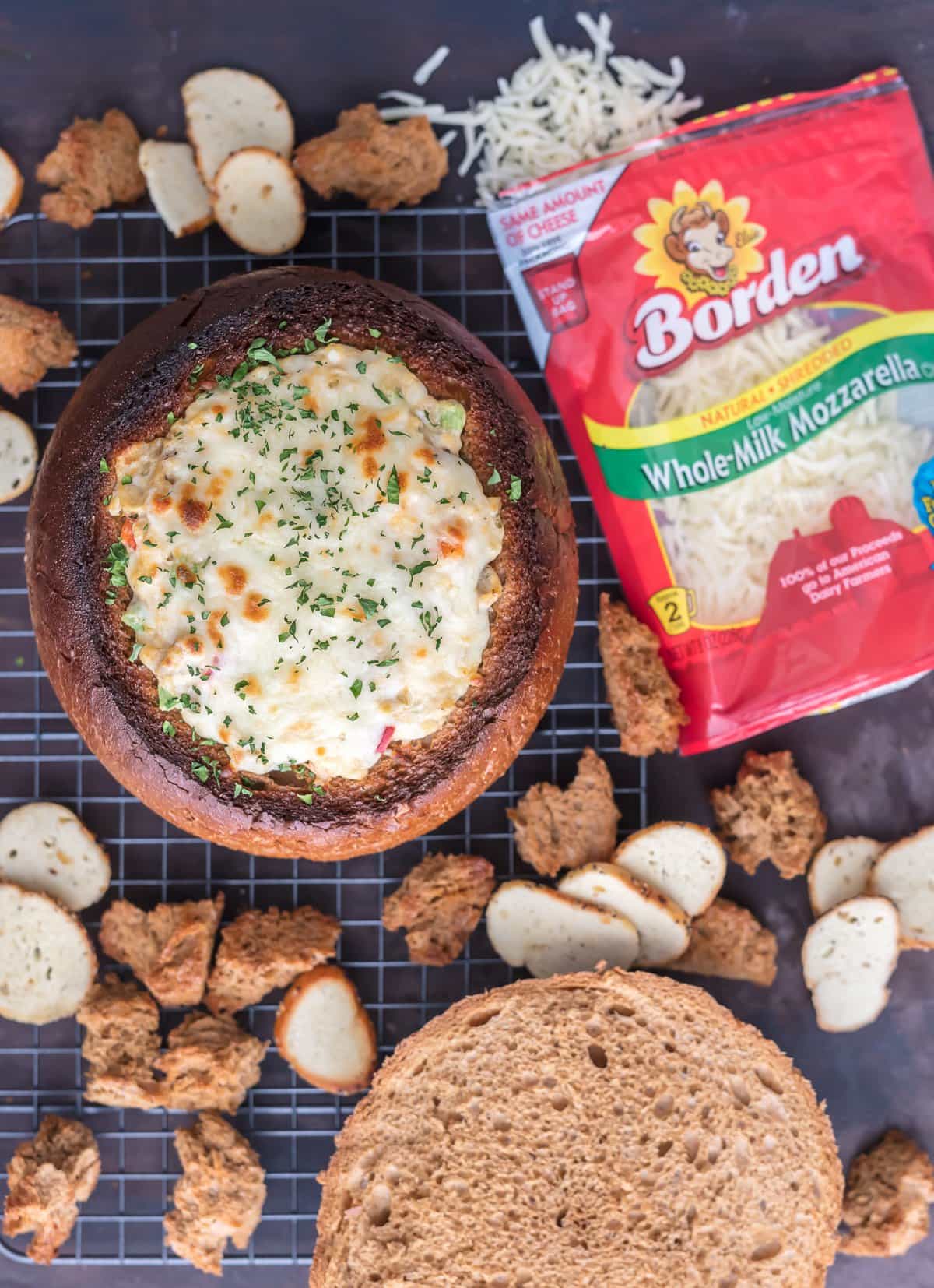 Crab and Artichoke Bread Bowl Dip
There's something about bread bowl dips that always feels extra fun, creative, and classy. Making a dip and cooking it straight into a bowl made of fresh bread is the ultimate crave-able appetizer.
By making your own bread bowl for this crab artichoke dip, not only do you have a serving dish (one that you can eat, thank you), but you also have your dippers.
When you hollow out the loaf of bread, just use it to make bread slices or chunks that you can dip in the crab and artichoke dip. So simple, yet so genius!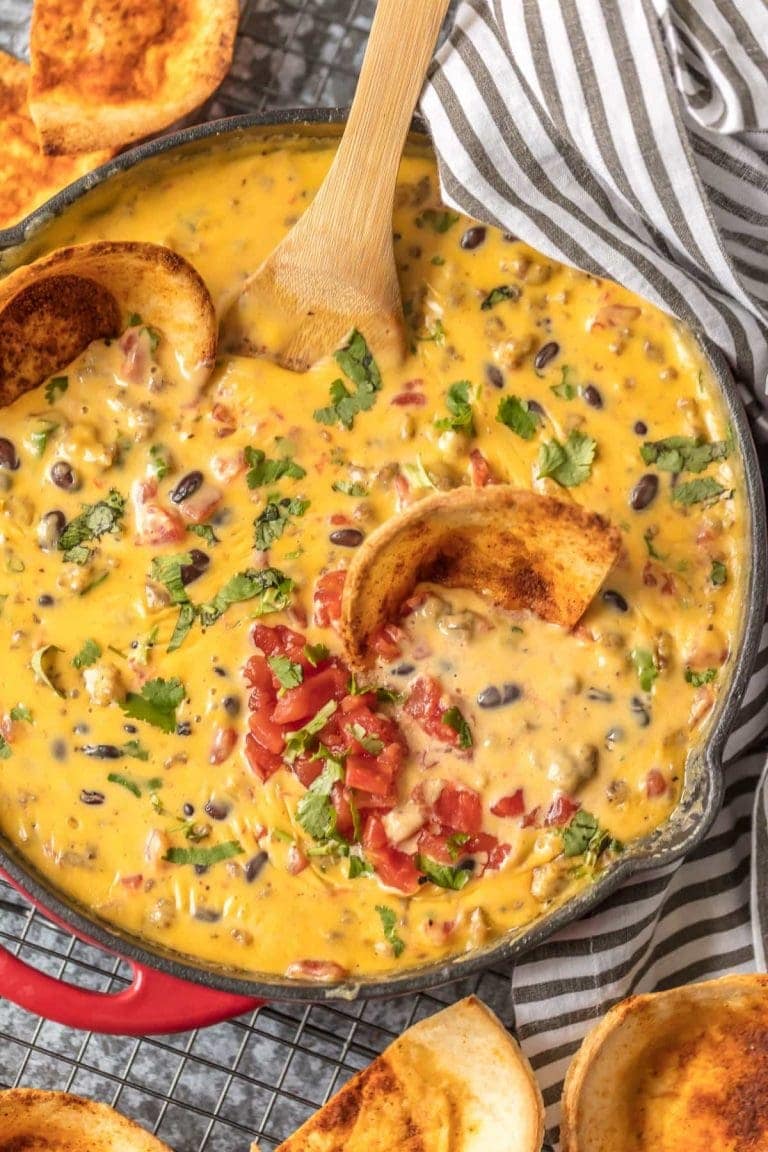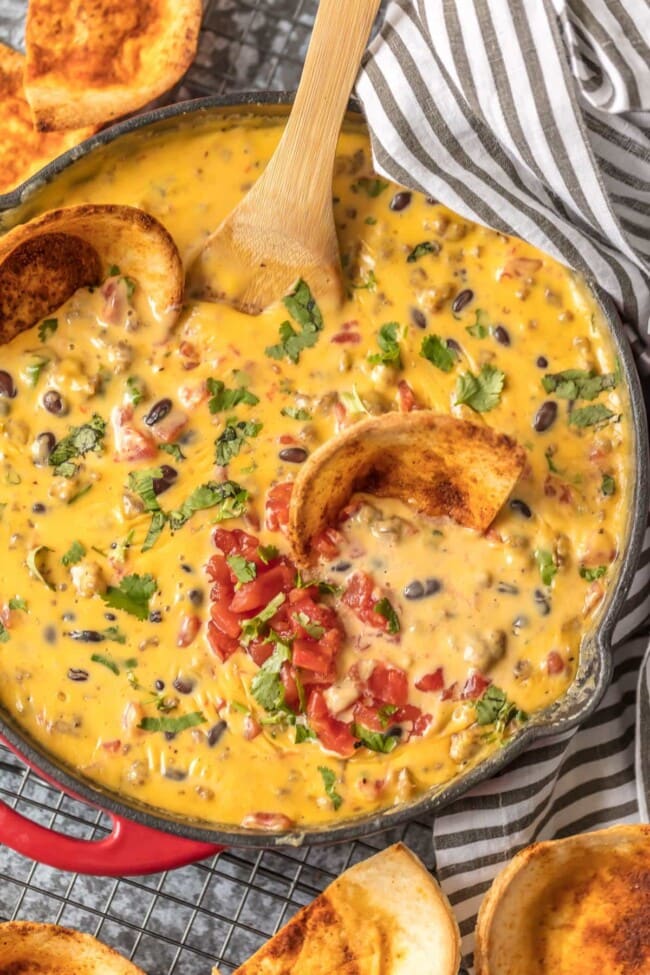 Game Day is covered!
101+ Super Bowl Appetizer Recipes
If its game day grub you crave, we have all the recipes you need to win big! Check out our easy Super Bowl recipes (or World Series, March Madness, National Championship, you get the idea!)
Game Day Guide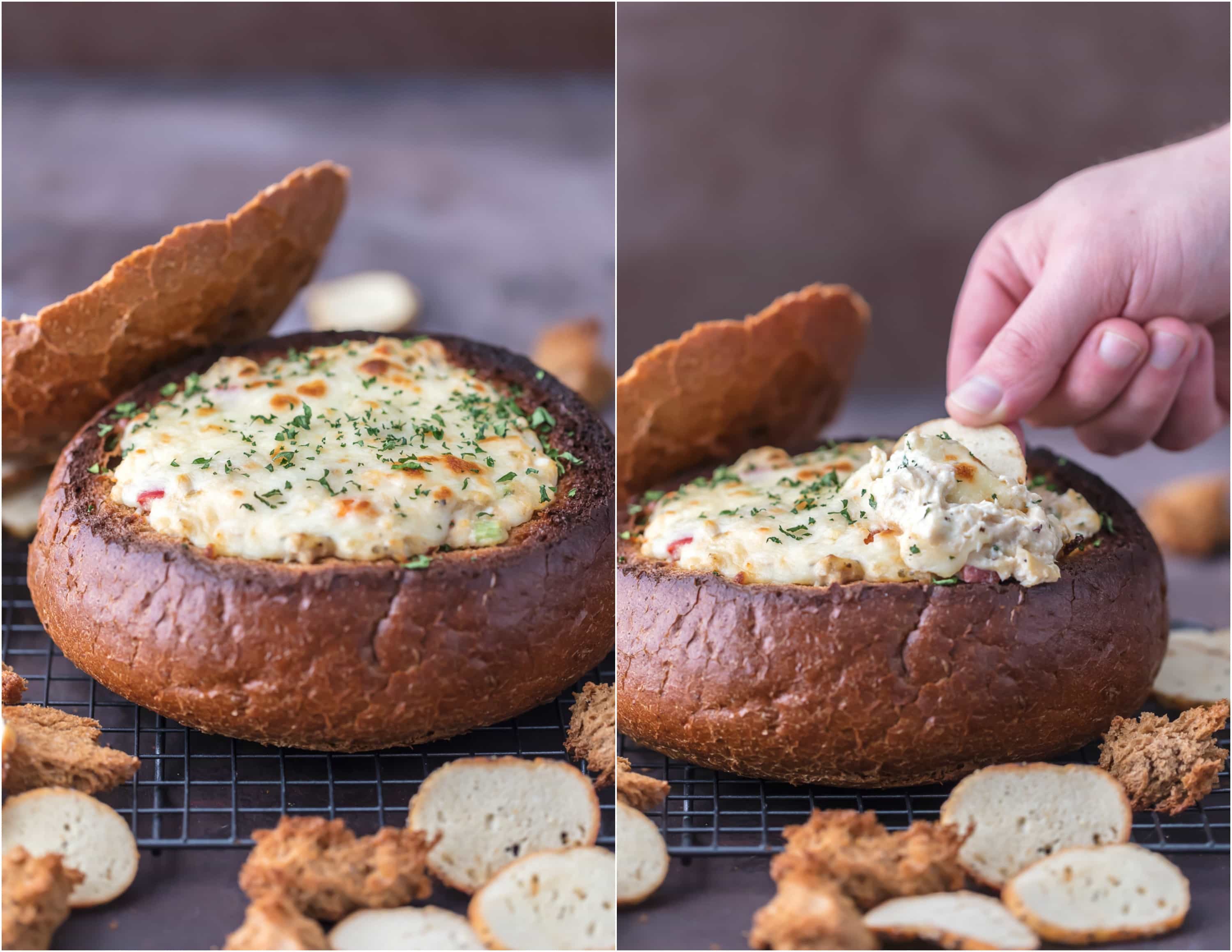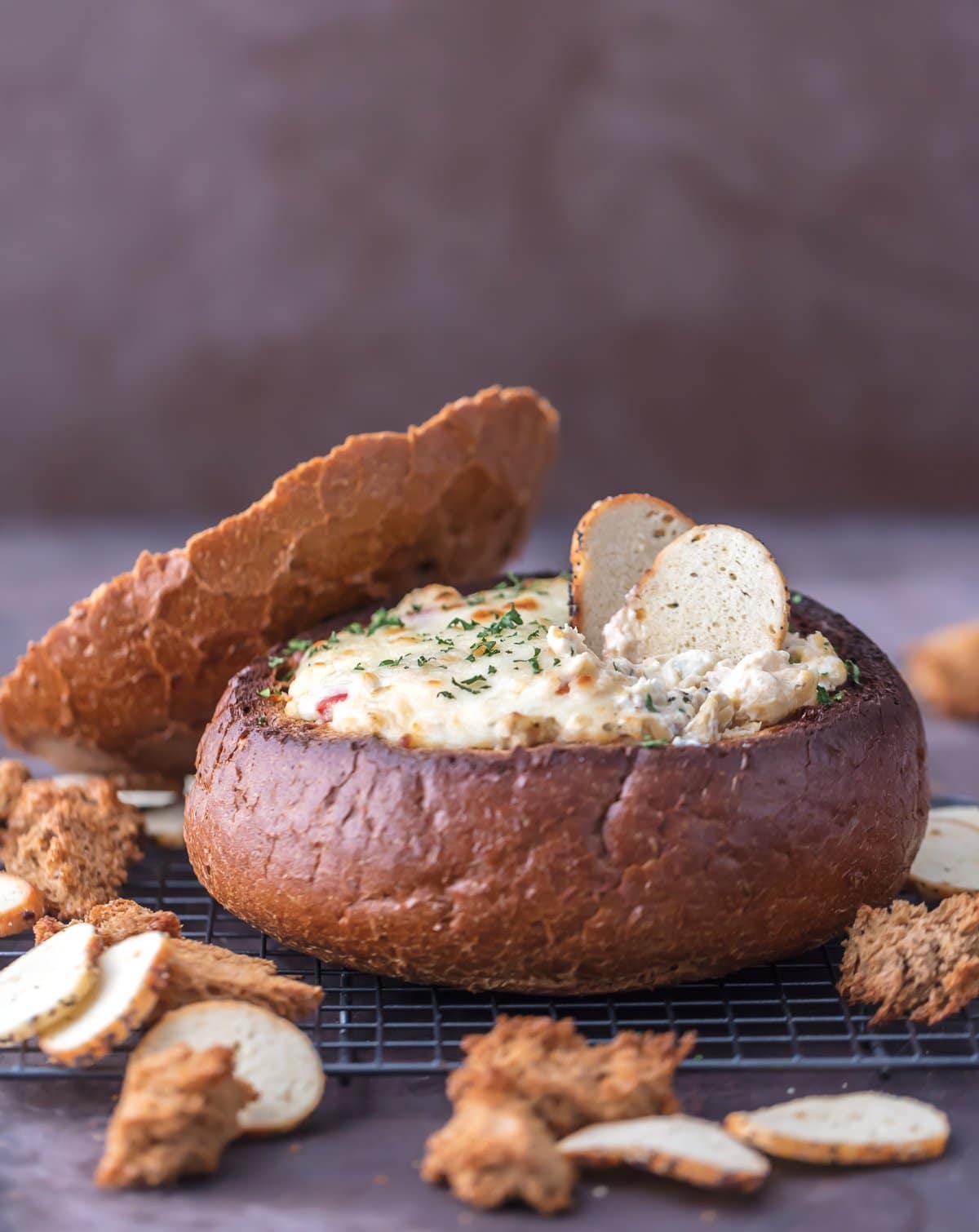 How to Make Crab Artichoke Dip
This Crab Artichoke Dip is the type of classic starter your family will request time and time again. Even the ones unsure about seafood will eat this right up. It's not super strong on the seafood taste, it's just perfect. Totally and utterly delicious!
How to make crab and artichoke dip:
Hollow out your loaf of bread to create the bread bowl. Then place the bowl and the extra bread pieces in the oven and bake for 10 minutes at 400°F.
In a mixing bowl, combine sour cream, mayonnaise, and cream cheese.
Stir in the artichokes, crab meat, peppers, onions, sauces, garlic pepper, and salt & pepper, then stir in the cheeses.
Spoon the dip mixture into the bread bowl and pack it down, then sprinkle the remaining mozzarella on top.
Bake the crab and artichoke dip for 15-20 minutes.
This crab artichoke dip recipe is enough to fill a large bread bowl, or two smaller bread bowls. Serve it warm along with the extra bread pieces, and add in some pita chips, tortilla chips, or bagel chips for more dipping. Check the recipe card for more detailed instructions.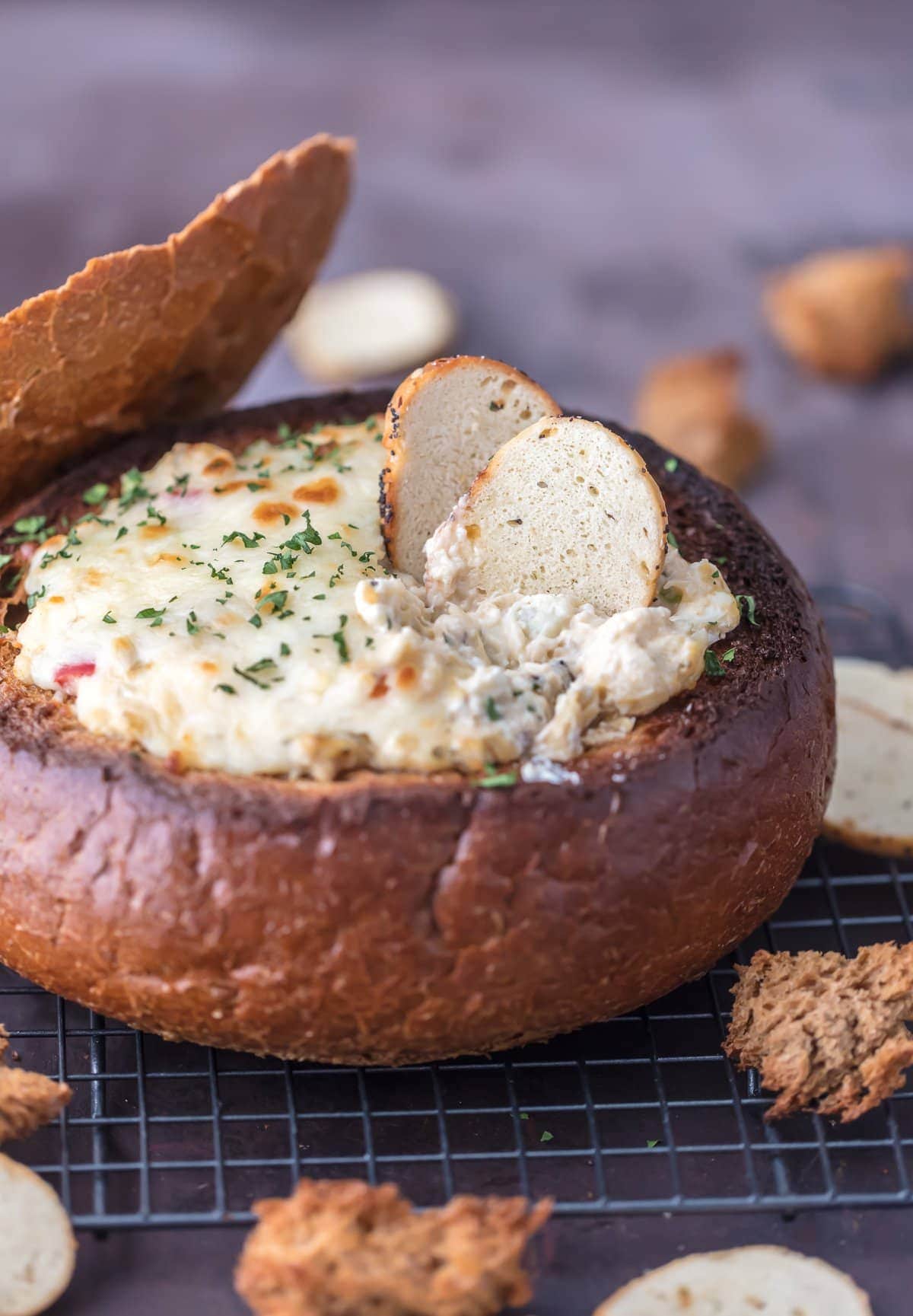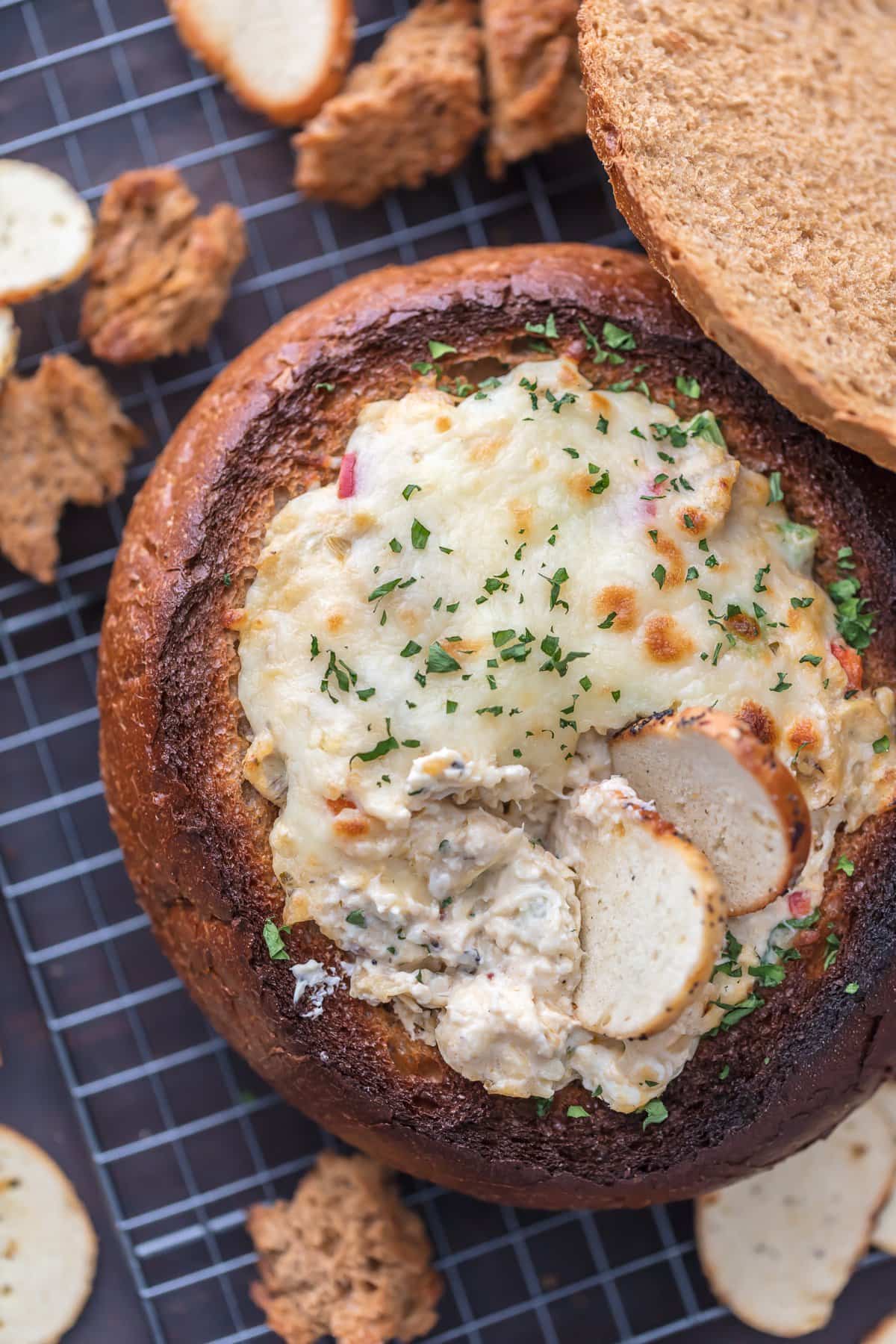 If you love cheesy holiday appetizers as much as we do, this Crab Artichoke Dip is a must make for Christmas, New Year's Eve, the Super Bowl, and every day in between!
Try these other delicious dip recipes:
If you make this recipe be sure to upload a photo in the comment section below or leave a rating. Enjoy! You can also jump to recipe.