Cowboy Dip Queso (Loaded Velveeta Queso Dip) is the ultimate Super Bowl appetizer. This EASY Rotel Dip recipe is loaded with Velveeta, beer, pepper jack, black beans, Rotel, and sausage! For me it just doesn't get better than this creative Velveeta queso recipe. COWBOY DIP IS OUR FAVORITE TAILGATING DIP RECIPE!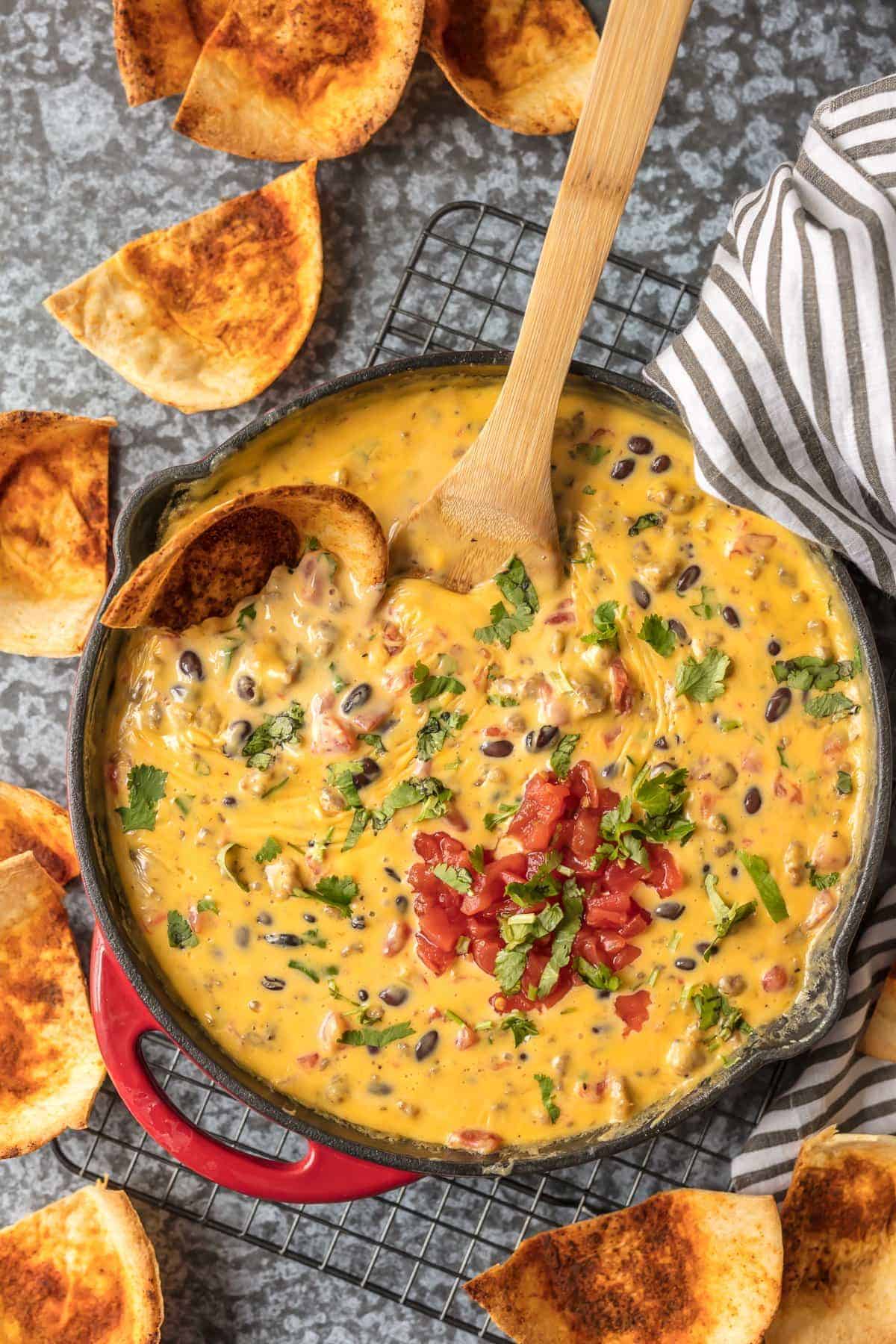 Velveeta Queso Dip (Cowboy Dip)
Cowboy Dip Queso, or Loaded Velveeta Queso Dip is the ultimate easy and fool proof cheese dip recipe for any celebration.
I sure hope you guys aren't sick of me posting queso dip recipes yet, because I'm just getting started! After finding true love with my favorite QUESO DIP (Restaurant Style White Queso) I've been on a mission to try ALL the cheese dips and report back. We have tried everything from Chicken con Queso, Crock Pot Queso Fundido, Beer Cheese Dip, and even Dairy Free Queso!
Appetizers are my absolute favorite recipe to create, and Super Bowl season is my favorite time of year as a foodie. We have a new favorite in town and it's this Cowboy Queso! We have all these parties and get togethers going on…all of them requiring the best party foods. You better believe this Rotel Dip recipe will be making it to each and every celebration.
This Loaded Cowboy Dip with taco tortilla chips is out of this world, SO simple, fool proof, and sure to please. You can make it in a skillet or in a slow cooker, making it an instant favorite.
Bring on the cheese please! Make this cheesy cowboy dip for Taco Night or for the next Super Bowl!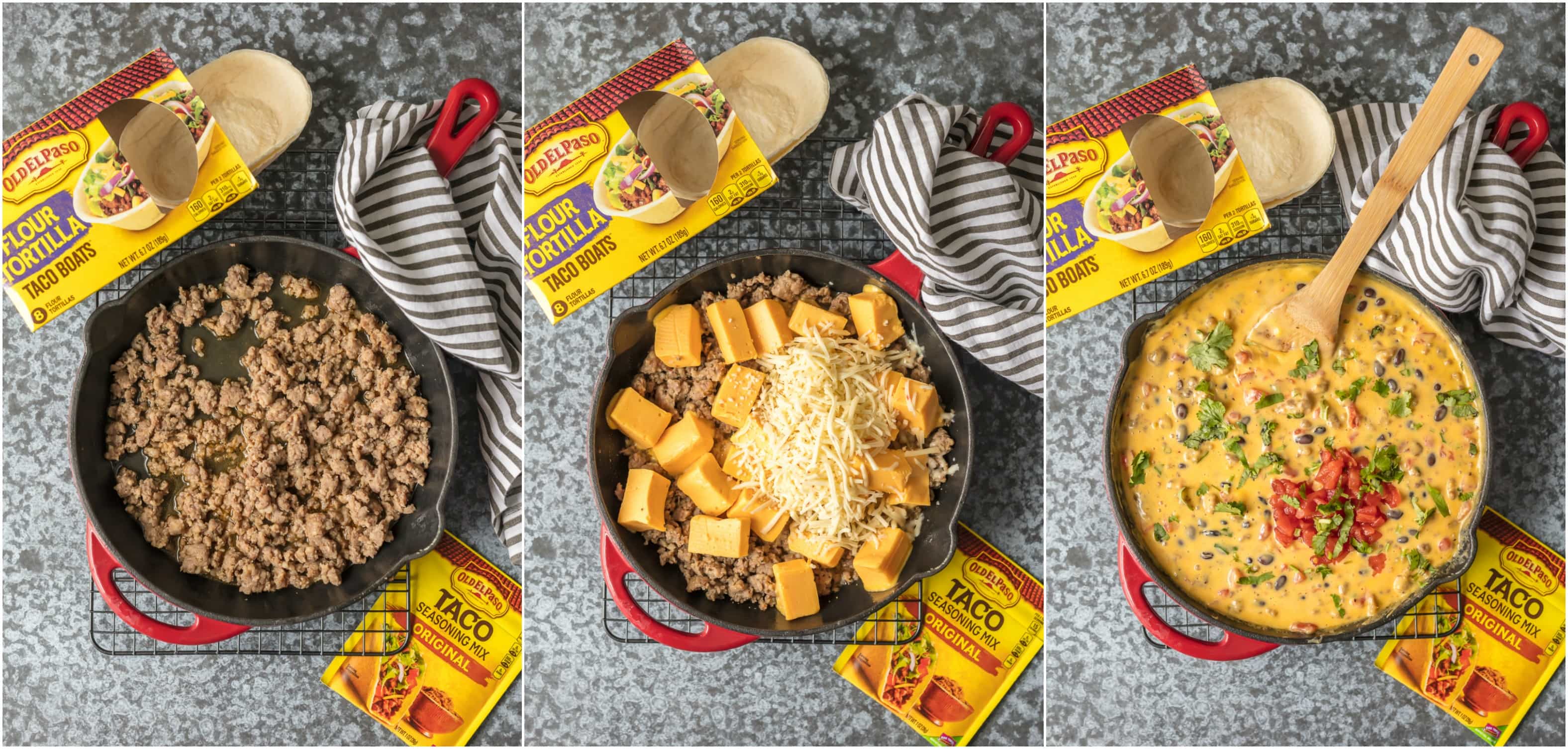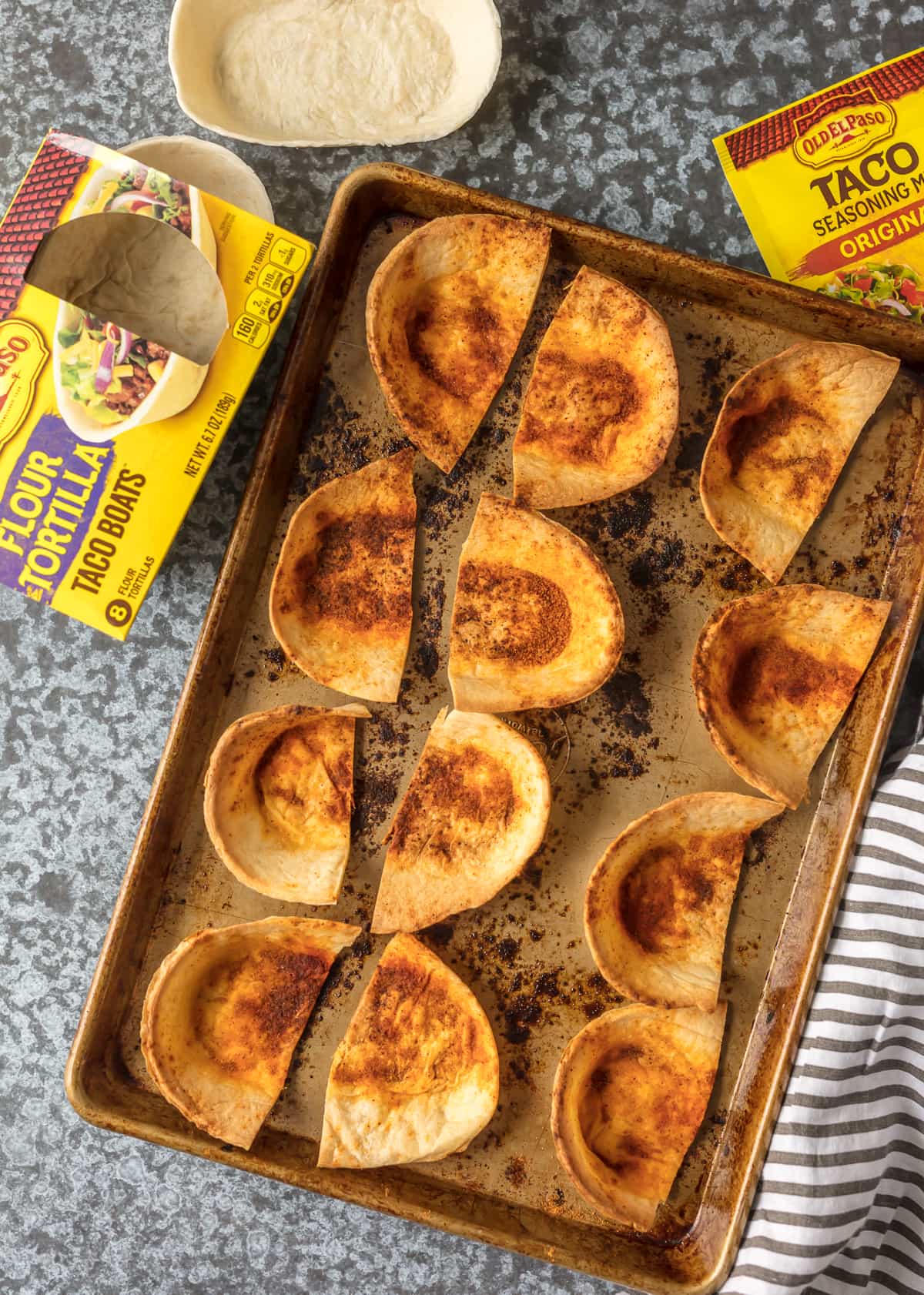 Loaded Velveeta Cheese Dip
Cowboy Dip is the kind of Loaded Velveeta Queso Dip that people will come to expect from you again and again. It will make you queso famous!
You guys know I've LOVED working with Old El Paso this year. Such an honor to create recipes with such a quality and versatile brand. I love how they help make cooking at home SO easy. You can't go wrong with their ingredients! You know what this Cowboy Queso would be delicious with? BAKED CHICKEN TACOS! Yeah…the ultimate Tex-Mex meal!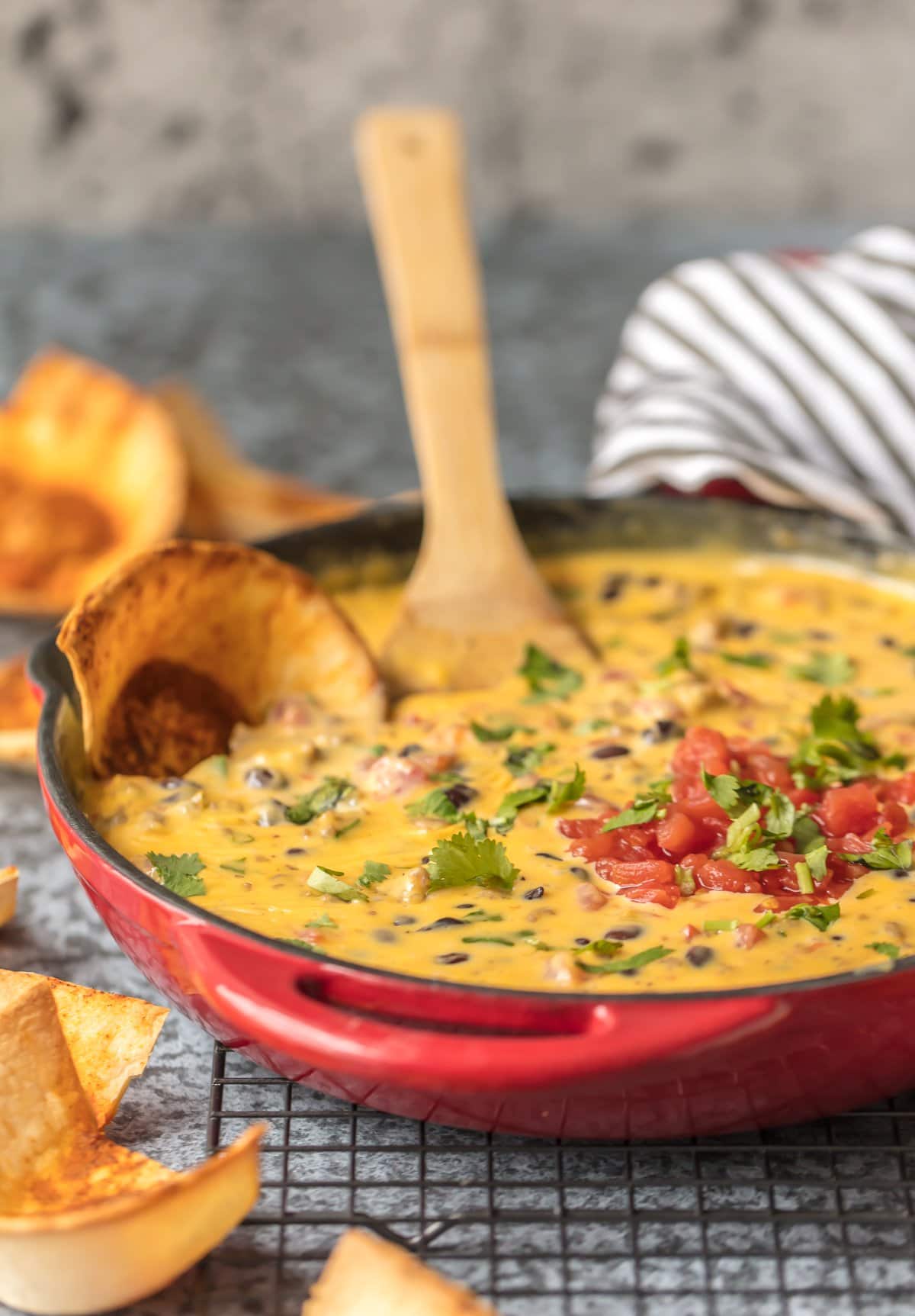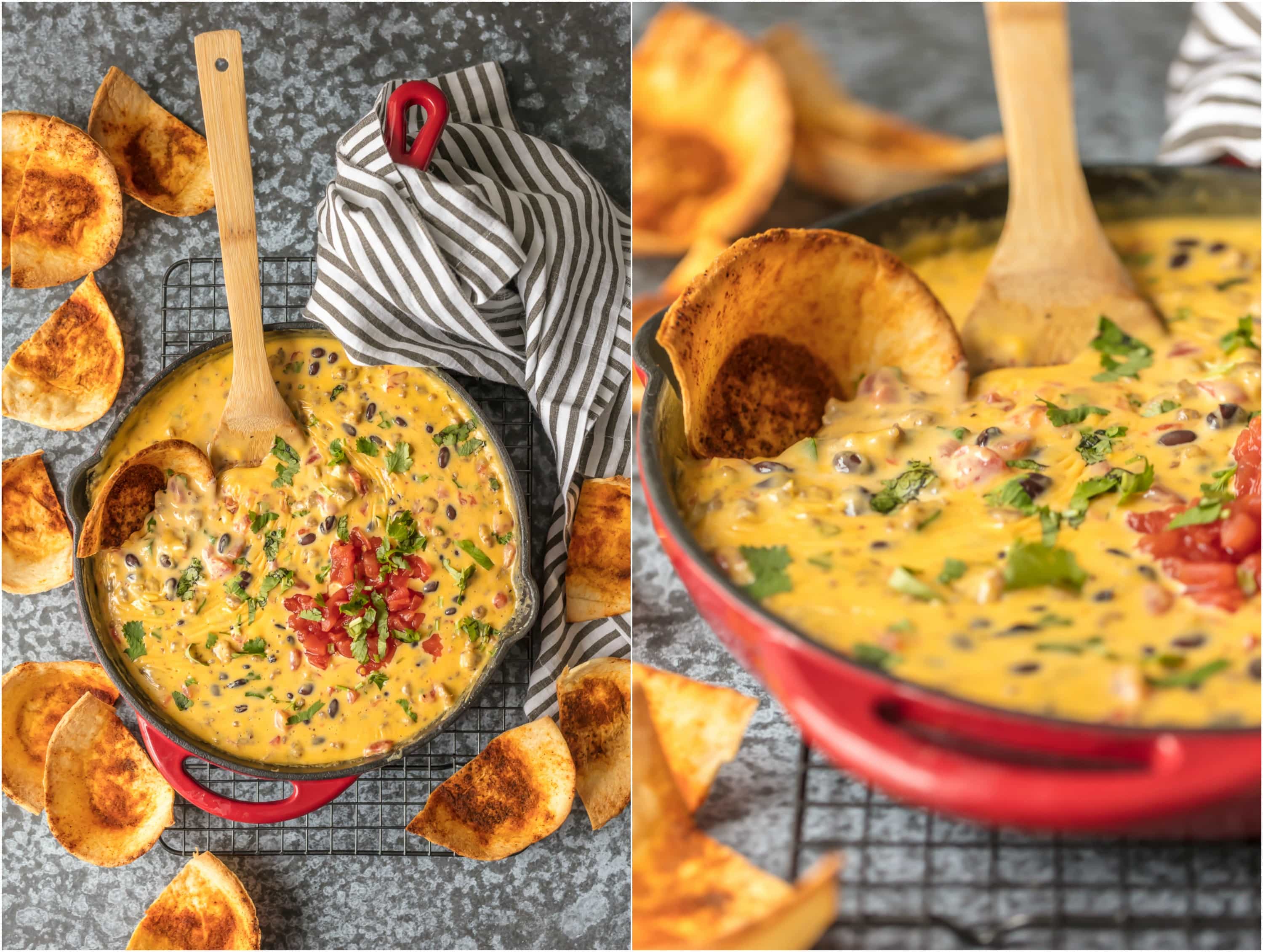 Rotel Dip Recipe with Velveeta and Sausage
Everyone under the sun loves Rotel Dip with Velveeta. It's become a household name and finds its way to so many tailgates. Why not add to it (HELLO Cowboy Dip!) and make it truly great?
This Velveeta Queso Recipe is a lot like our favorite Velveeta + Rotel Dip, but kicked up a HUGE notch by adding sausage, black beans, cilantro, beer, and shredded pepper jack. Oh and don't forget those homemade taco tortilla chips. They're so simple and so delicious. If you can't tell, I'm a little bit in love!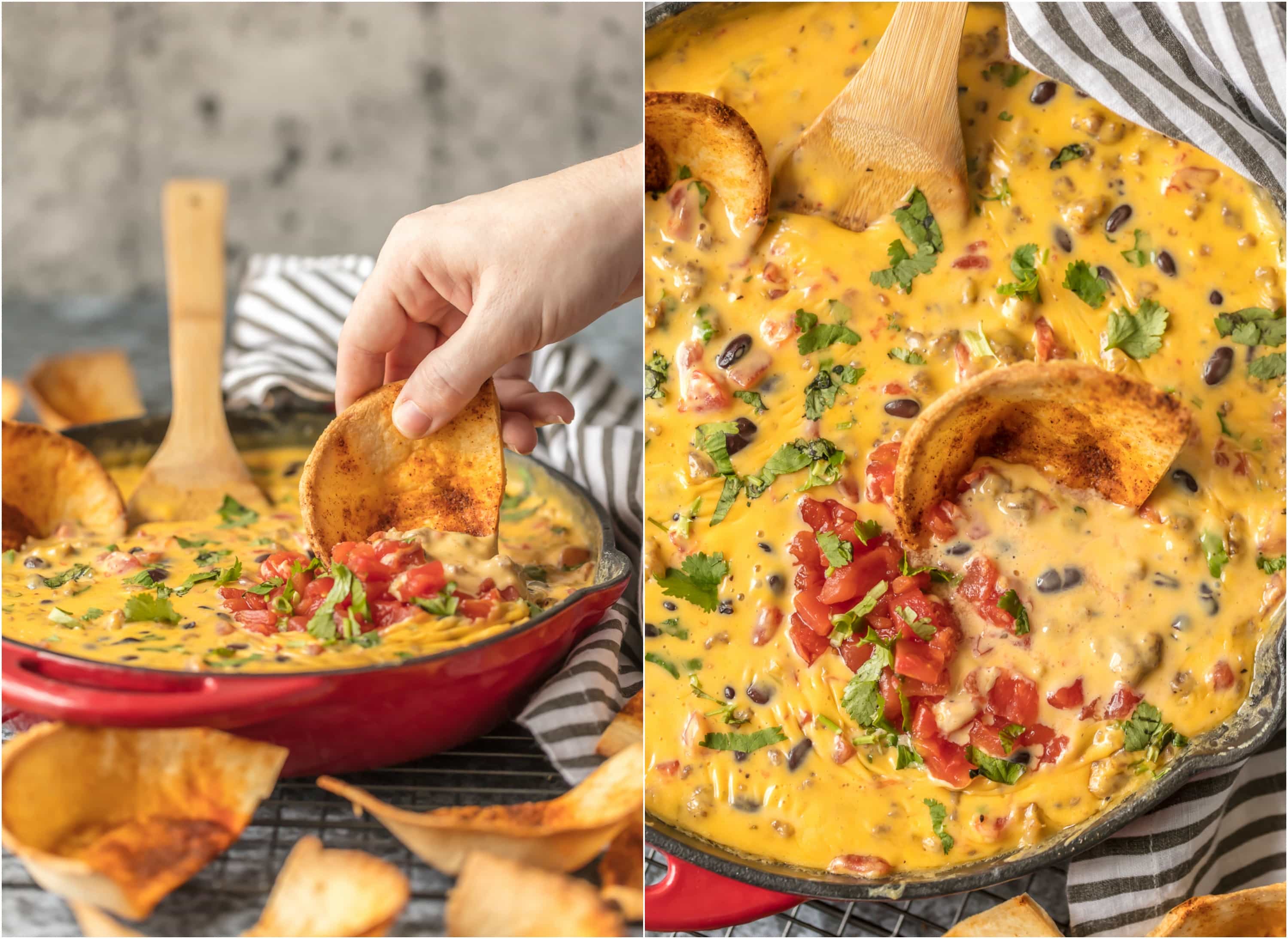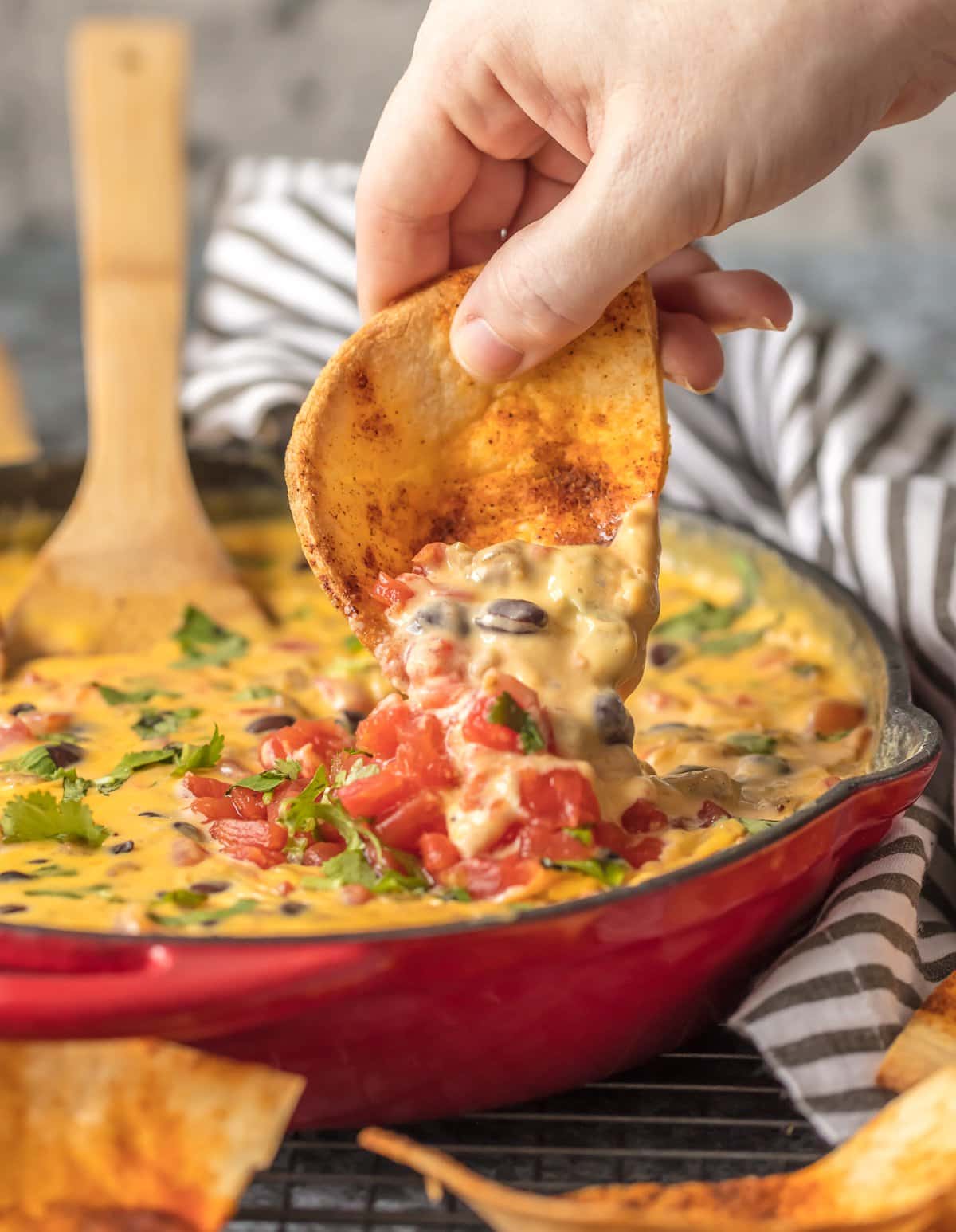 Best Velveeta Dip Recipe
If you're a cheese dip lover, this Rotel Dip recipe with sausage, velveeta, beans, and more is a must make!
Any true dairy lover hasn't lived until they've tried this Loaded Cowboy Dip Queso. Feel free to add in other favorite ingredients that you might love such as chopped jalapenos, a layer of refried beans, Mexican rice, or whatever your heart desires! This recipe is so fun because it's fully customizable.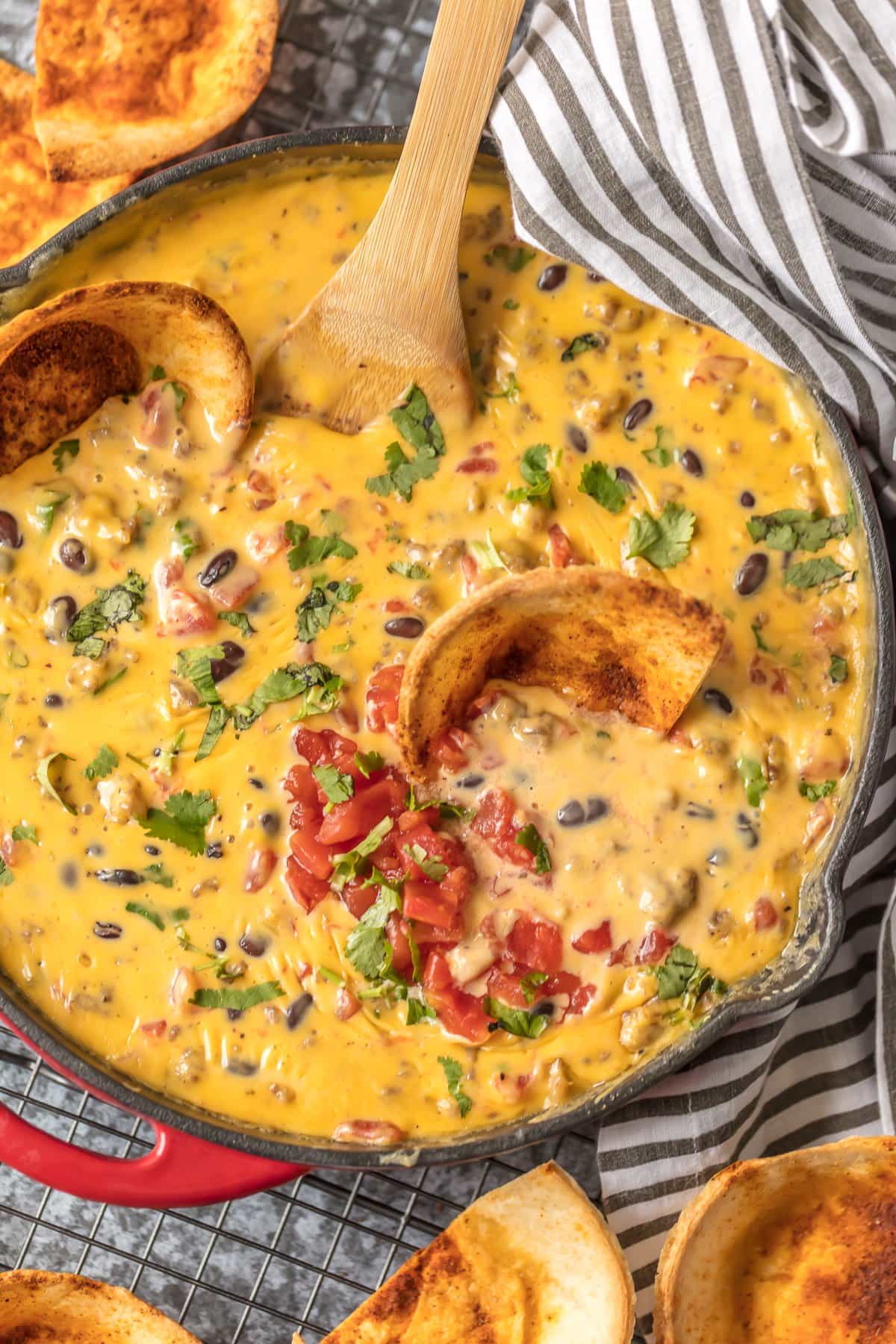 After trying out this cheesy cowboy dip, be sure you check out all of our other favorite queso dip recipes! You've come to the right place if you love cheese! I'm here to make all of your cheese dip dreams come true, one easy recipe at a time.
Watch the Video and See the recipe card for details on How to Make Loaded Velveeta Queso Dip. Enjoy!
If you like this cowboy dip recipe, you'll love all of our other queso and dip recipes too: