Loaded Rotel Dip (Velveeta Cheese Dip!) is the ultimate Super Bowl appetizer. This EASY Rotel Dip recipe is loaded with Velveeta, beer, pepper jack, black beans, Rotel, and sausage! For me it just doesn't get better than this creative Velveeta queso recipe. COWBOY DIP IS OUR FAVORITE TAILGATING DIP RECIPE!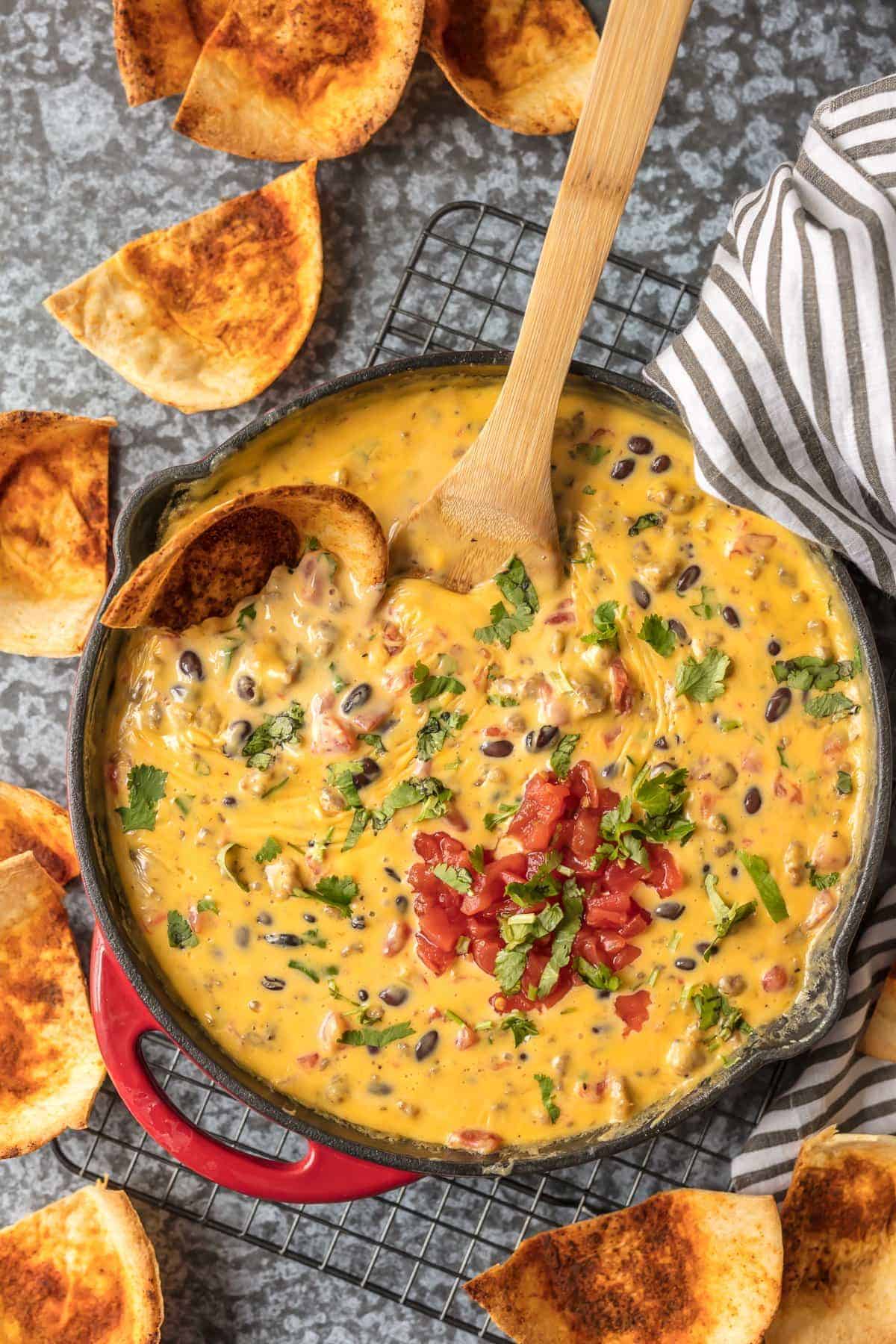 Velveeta Rotel Dip (Cowboy Queso Dip)
Velveeta Rotel Dip is the ultimate easy and fool proof cheese dip recipe for any celebration. Making queso with Velveeta is the best idea anyone has ever come up with!
I sure hope you guys aren't sick of me posting queso dip recipes yet, because I'm just getting started! After finding true love with my favorite QUESO DIP I've been on a mission to try ALL the cheese dips and report back.
We have tried everything from Chicken con Queso, Crock Pot Queso Fundido, Beer Cheese Dip, and even Dairy Free Queso!
Appetizers are my absolute favorite recipe to create, and Super Bowl season is my favorite time of year as a foodie. We have a new favorite in town and it's this Cowboy Queso! We have all these parties and get togethers going on…all of them requiring the best party foods. You better believe this Rotel Dip recipe will be making it to each and every celebration.
This Loaded Cowboy Dip with taco tortilla chips is out of this world, SO simple, fool proof, and sure to please. You can make it in a skillet or in a slow cooker, making it an instant favorite.
Bring on the cheese please! Make this cheesy rotel dip for Taco Night, Cinco de Mayo, or for the next Super Bowl!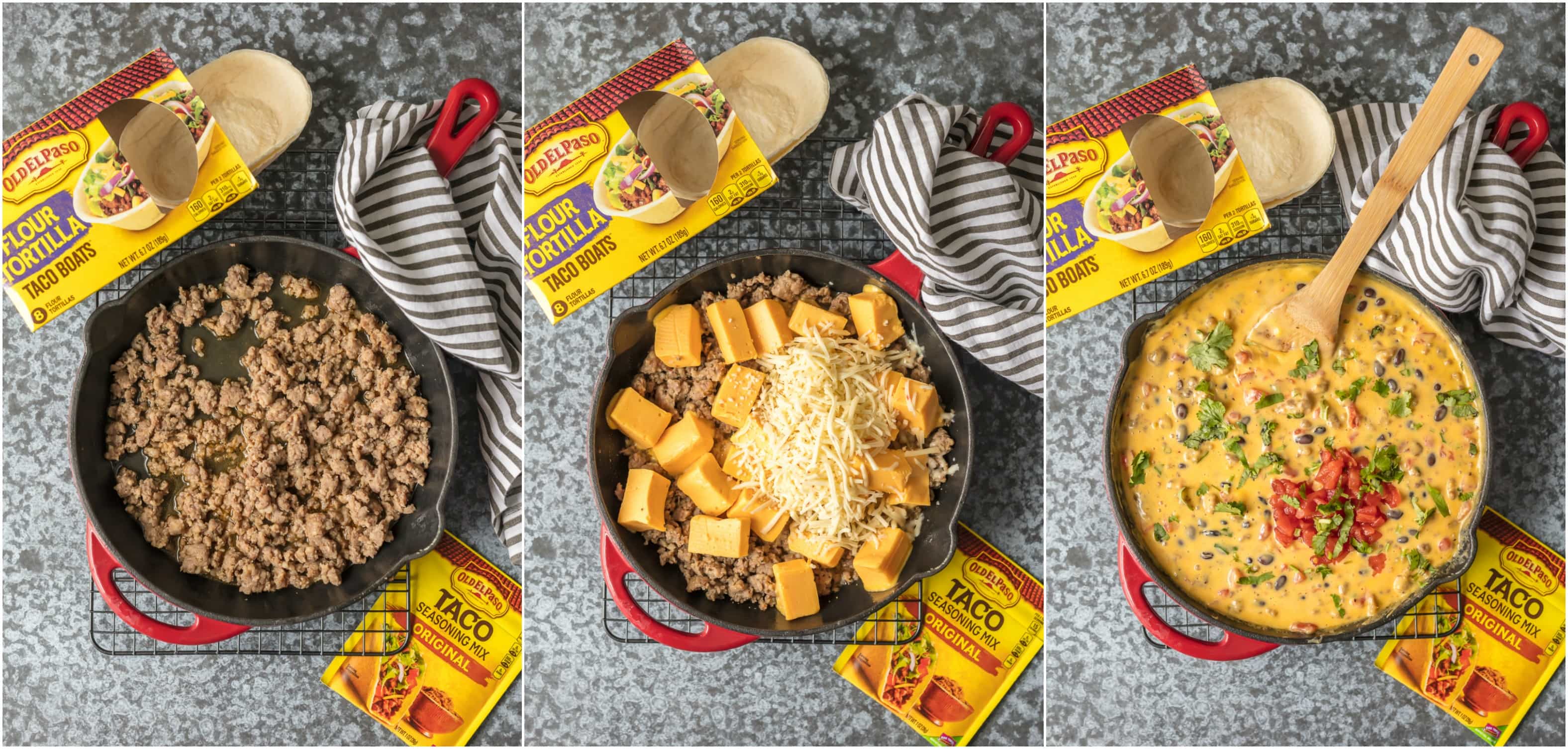 Loaded Velveeta Cheese Dip
Loaded Rotel Dip is the kind of Velveeta Dip Recipe that people will come to expect from you again and again. It will make you queso famous!
I'm known for LOVING CHEESE and I can't help but admit this easy Velveeta Queso is one of my all-time favorites. It's just that nothing compares! Easy, creamy, loaded with goodness…it's a party dip that can't be beat.
How to Make Rotel Dip
This rotel cheese dip is so easy to make! Perfect for parties, game day, Cinco de Mayo, and gatherings.
Preheat oven to 350°F

Cut the Taco Boats in half width wise and place on a large baking sheet. Spray with olive oil spray (or drizzle with olive oil) and then sprinkle with the Taco Seasoning. Spray with more olive oil.

Bake for 10 minutes, or until the taco boats are browned and crispy. Remove from the oven and set aside.

While the chips are cooking, begin your dip. Start by browning the sausage in a medium skillet over medium heat. Use a wooden spatula to crumble and turn the sausage as it cooks.

Once the sausage is cooked through, add in the beer and allow to cook down/reduce for 3-4 minutes, stirring occasionally.

Stir in the Velveeta and shredded pepper jack. It should take about 3-5 minutes for all the cheese to melt in. Once melted, stir in the tomatoes, beans, and cilantro.
Be sure to watch the video to see how to make it!
Crockpot Rotel Dip
Great news! This velveeta cheese dip recipe can be made in a slow cooker! This makes the recipe EVEN easier. It's the perfect option if you need to make a bunch of appetizers before a party.
Here's how to adapt this recipe for a crockpot:
Start by cooking the sausage fully.
Add all dip ingredients (including the cooked sausage) into the slow cooker.
Cook on high for 2-3 hours, stirring occasionally.
Easy as that! Whichever way you cook it, this velveeta dip is sure to please!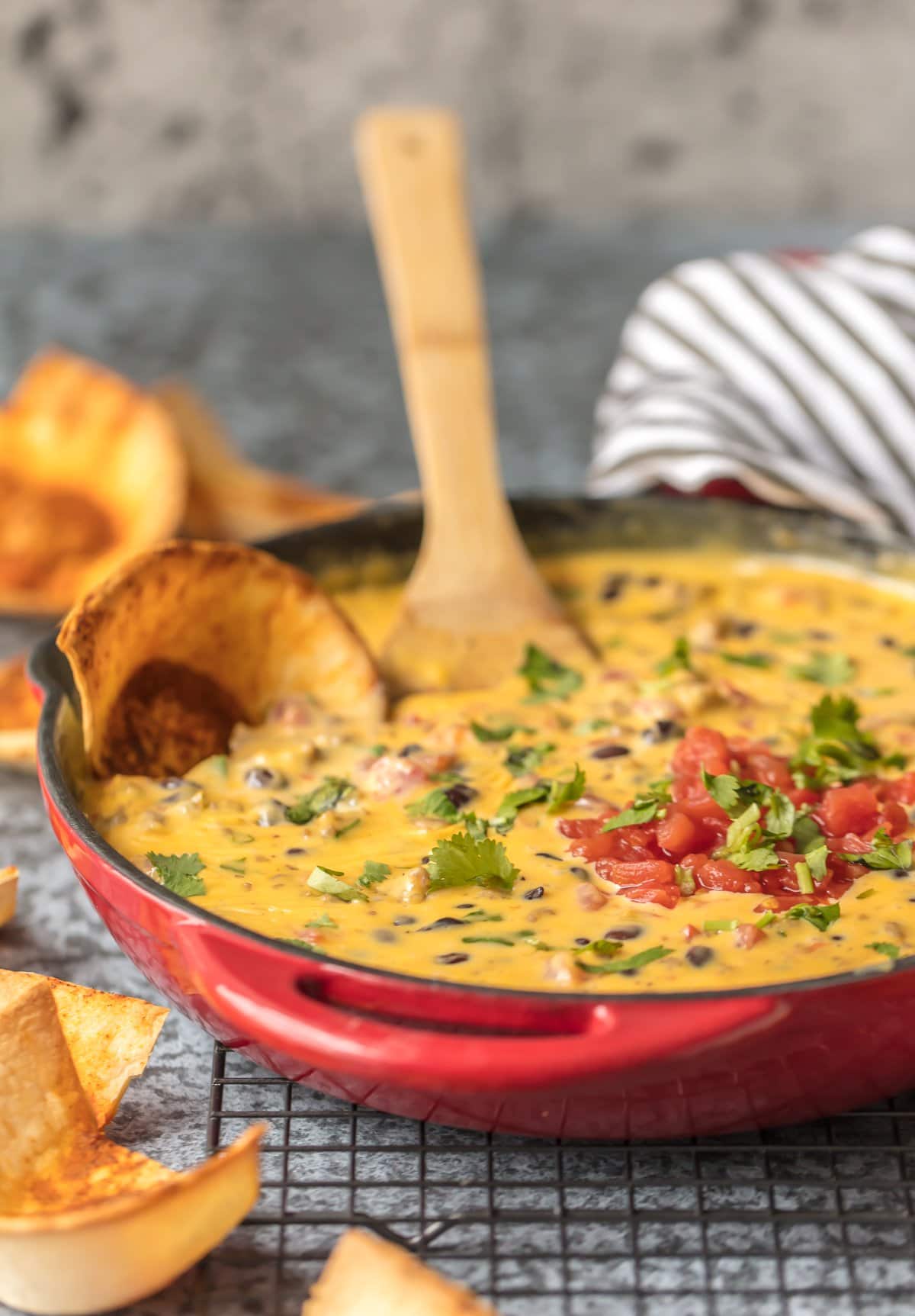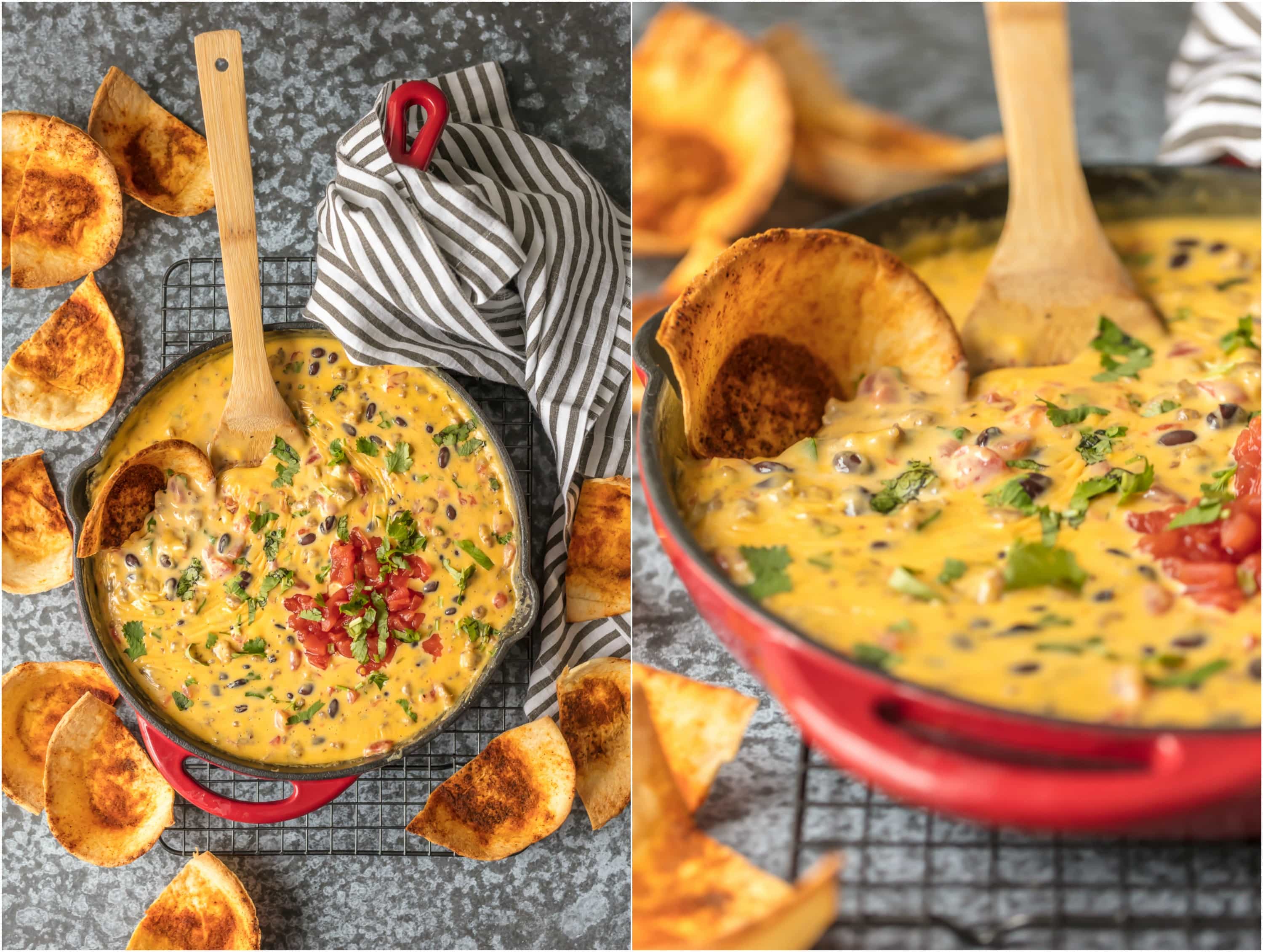 Rotel Dip Recipe with Velveeta and Sausage
Everyone under the sun loves Rotel Dip with Velveeta. It's become a household name and finds its way to so many tailgates. Why not add to it (HELLO Cowboy Dip!) and make it truly great?
This Velveeta Queso Recipe is a lot like our favorite Velveeta + Rotel Dip, but kicked up a HUGE notch by adding sausage, black beans, cilantro, beer, and shredded pepper jack. Oh and don't forget those homemade taco tortilla chips. They're so simple and so delicious. If you can't tell, I'm a little bit in love!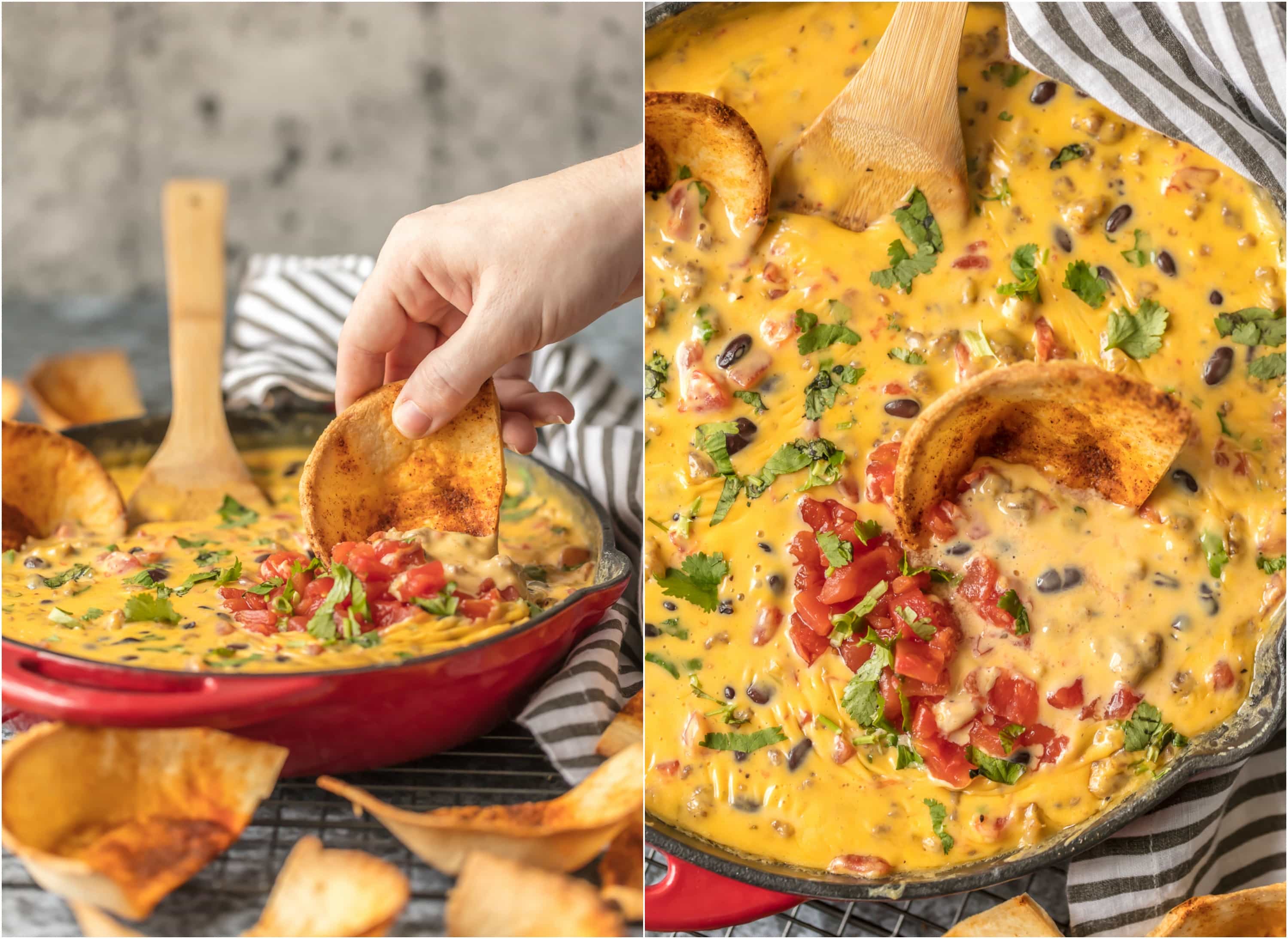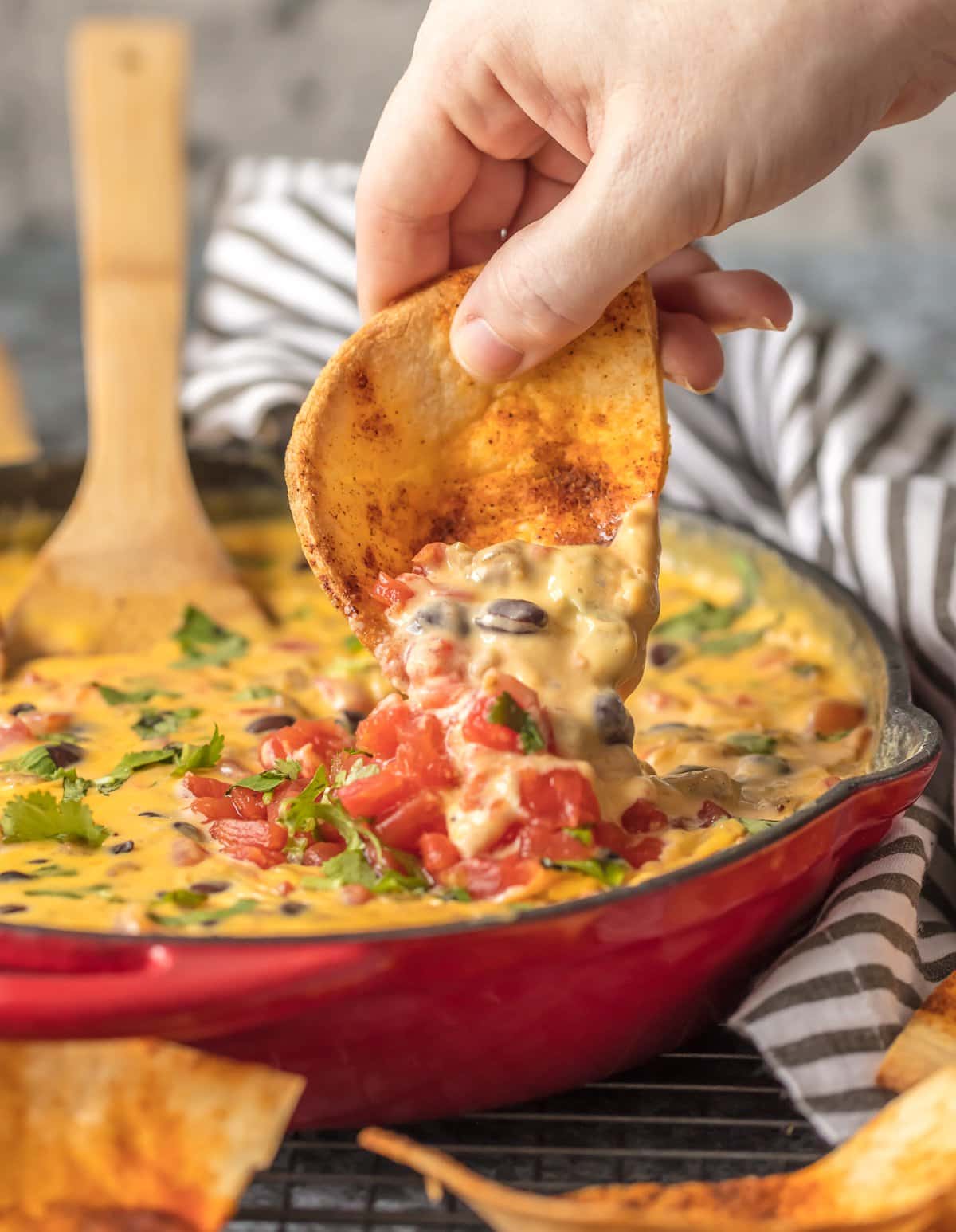 Best Velveeta Rotel Dip Recipe
If you're a cheese dip lover, this Rotel Dip recipe with sausage, velveeta, beans, and more is a must make!
Any true dairy lover hasn't lived until they've tried this Loaded Cowboy Dip Queso. Feel free to add in other favorite ingredients that you might love such as chopped jalapenos, a layer of refried beans, Mexican rice, or whatever your heart desires! This recipe is so fun because it's fully customizable.
What to pair with Rotel Dip
You're in for a MAJOR TREAT with today's Loaded Rotel Dip! I've partnered with Lisa from Wine and Glue and BOLS Liqueur to make the ULTIMATE pairing for my spicy cheese dip. I'm obsessed with Bols for it's amazing and quality liqueurs…there's no company out there with better flavor combinations. They're making Cinco de Mayo extra fun and you simply need to make this Spicy Pineapple Margarita whipped up by Lisa!
Here's why I love Bols so much:
BOLS is the ORIGINAL Liqueur range, dating back to the 1500s (!!)
It's the oldest distilled brand in the WORLD (!!)
BOLS Liqueur is the most awarded liqueur range in the world (!!)
Each BOLS Liqueurs batch undergoes a rigorous quality check in Amsterdam (icing on the cake)
Please tell me you've tried their Pineapple Chipotle Liqueur! It's simply EVERYTHING, especially at Cinco de Mayo.
Lisa and I made you a special video showcasing BOTH recipes, so you better watch it. Please?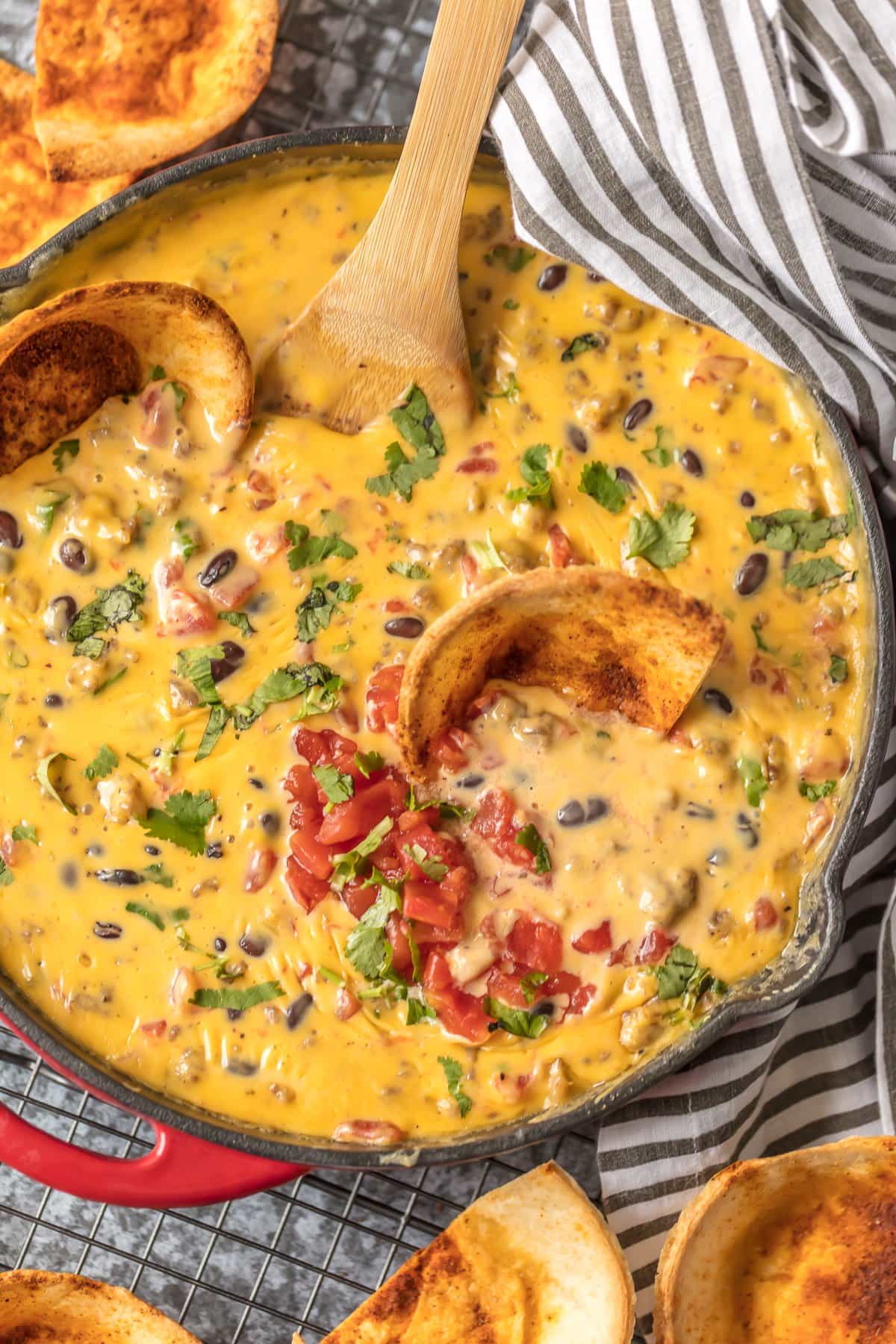 After trying out this cheesy cowboy dip, be sure you check out all of our other favorite queso dip recipes! You've come to the right place if you love cheese! I'm here to make all of your cheese dip dreams come true, one easy recipe at a time.
Watch the Video and See the recipe card for details on How to Make Loaded Rotel Dip. Enjoy!
If you like this cowboy dip recipe, you'll love all of our other queso and dip recipes too:
Be sure to check out BOLS Pineapple Chipotle Liqueur at your local Total Wine! Happy Cinco :)