Rotel Dip is the ultimate Super Bowl appetizer. This easy Rotel cheese dip recipe is loaded with Velveeta, beer, pepper jack, black beans, Rotel, and sausage! Make this for the Super Bowl and beyond!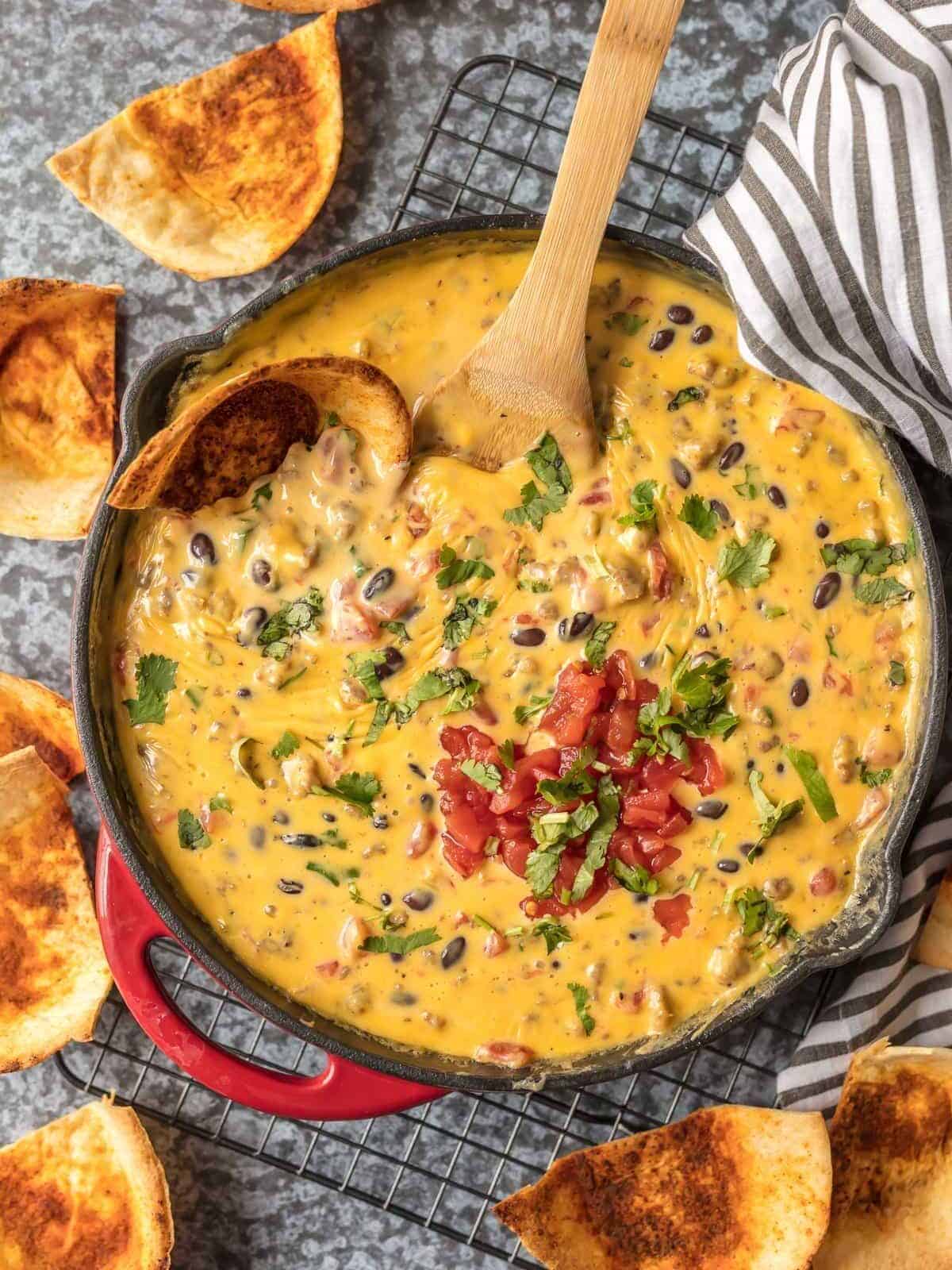 What's in this Rotel Dip Recipe?
If you're a cheese dip lover, this Rotel Dip recipe with sausage, Velveeta, beans, and more is a must-make!
Old El Paso Taco Boats: These make such a fun dipper! The boat shape is perfect for scooping up gooey, cheesy queso!
Olive Oil Spray: Helps the chips brown in the oven.
Taco Seasoning: Adds yummy Mexican flavor to the chips.
Pork Sausage: Adds a delicious umami flavor to this dip.
Salt + Pepper: Enhances the flavor of the sausage.
Beer: I like to use an IPA, but any type of beer will work. It adds a complex flavor and helps the queso stay smooth.
Velveeta: Makes the ultimate smooth and creamy queso.
Pepper Jack Cheese: Adds a buttery and spicy flavor to the queso.
Rotel: Adds that classic tomato and green chile flavor.
Black Beans: Adds an earthy flavor.
Cilantro: Brightens the queso and adds a herbaceous flavor.
Pro Tip: When melting the Velveeta, use low heat and stir often to prevent scorching or burning.
Variations on Rotel Cheese Dip
Any true dairy lover hasn't lived until they've tried this Rotel Dip Queso. Feel free to add in other favorite ingredients that you might love such as chopped jalapenos, a layer of refried beans, Mexican rice, or whatever your heart desires! This recipe is so fun because it's fully customizable.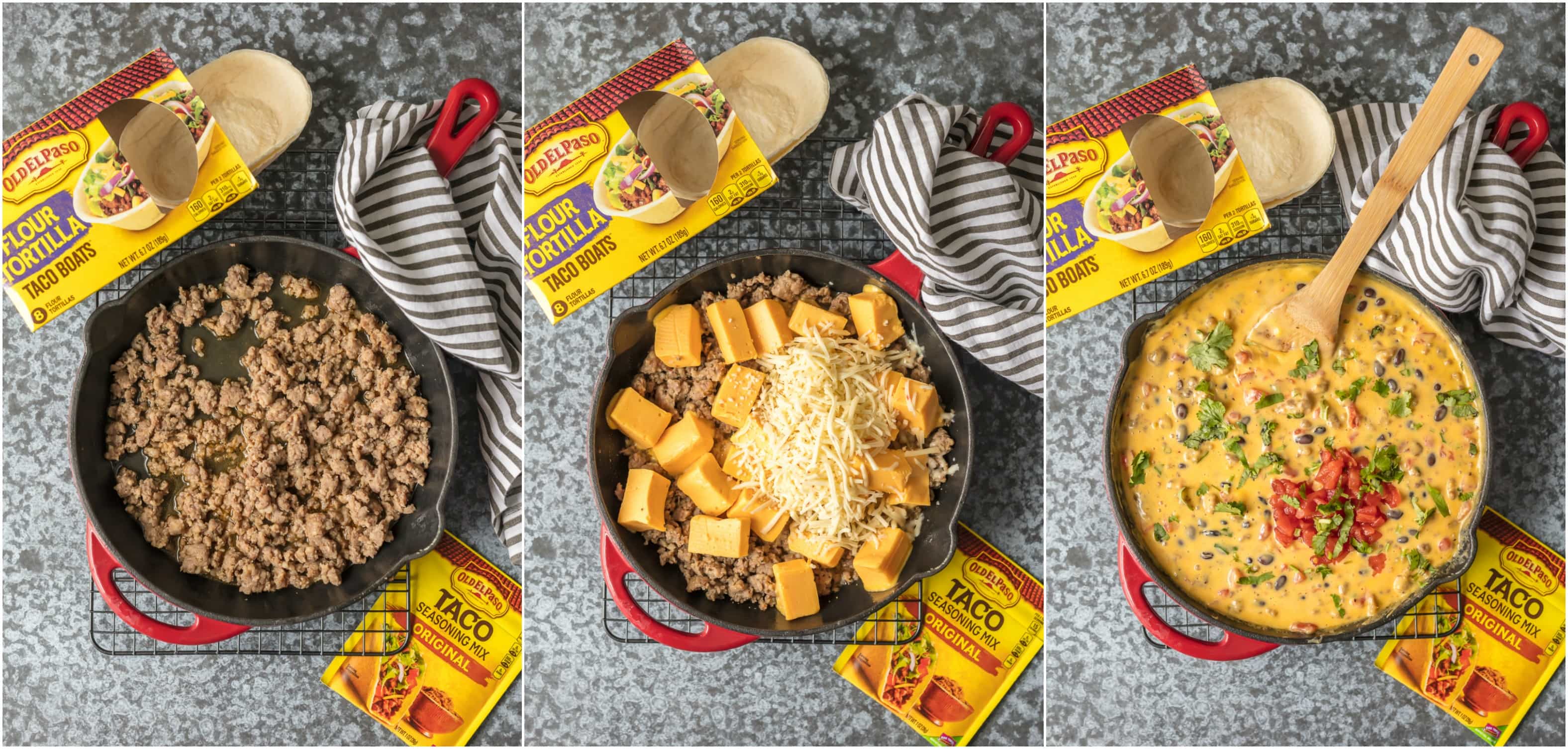 Can I use a different kind of Rotel?
Yes, you can use different varieties of Rotel in your queso, such as Mild, Original, or Hot, depending on your heat preference. Feel free to experiment and choose the one that suits your taste.
How can I make it spicier?
If you prefer a spicier queso, you can add additional ingredients like diced jalapeños, hot sauce, or crushed red pepper flakes. Adjust the amount to your desired level of spiciness.
Can I use real cheese instead of Velveeta?
While Velveeta is known for its smooth melting properties, you can substitute it with real cheese. However, keep in mind that the texture and consistency of the queso may differ. Consider using a cheese that melts well, like cheddar or Monterey Jack, and adjust the recipe accordingly.
Can I make it in a crockpot instead?
Yes! Cook the sausage fully, then add all of the dip ingredients (including the cooked sausage) to the crockpot. Cook on high for 2-3 hours, stirring occasionally, until warmed through.
Can I make it in the microwave?
Yes, you can make Velveeta queso with Rotel in the microwave. Brown the sausage, then place the dip ingredients in a microwave-safe bowl and heat it in short intervals, stirring in between, until the cheese is fully melted.
Can I freeze it?
It is not recommended to freeze Velveeta queso with Rotel. The texture of the cheese can change upon thawing, resulting in a grainy or separated consistency.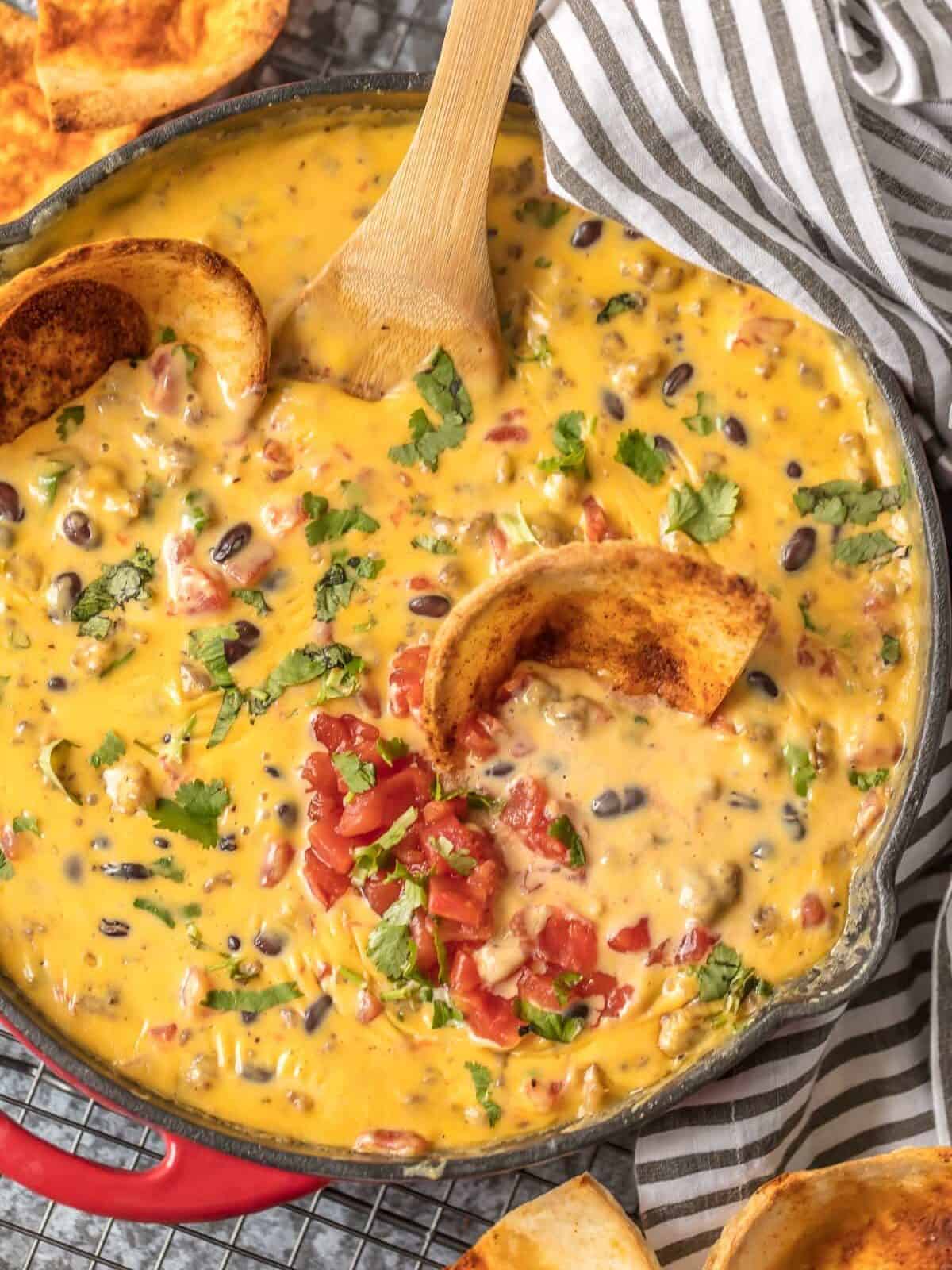 How to Store and Reheat
Leftover queso can be stored in an airtight container in the refrigerator for 3-4 days. Reheat it gently on the stovetop before serving. I do not recommend freezing this dip.
Serving Suggestions
We have all kinds of fun Super Bowl recipes that pair really well with this Velveeta Rotel Dip. We recommend our Skinny Margarita, Chicken Wings, Chicken Tacos, and Tortilla Roll Ups to start!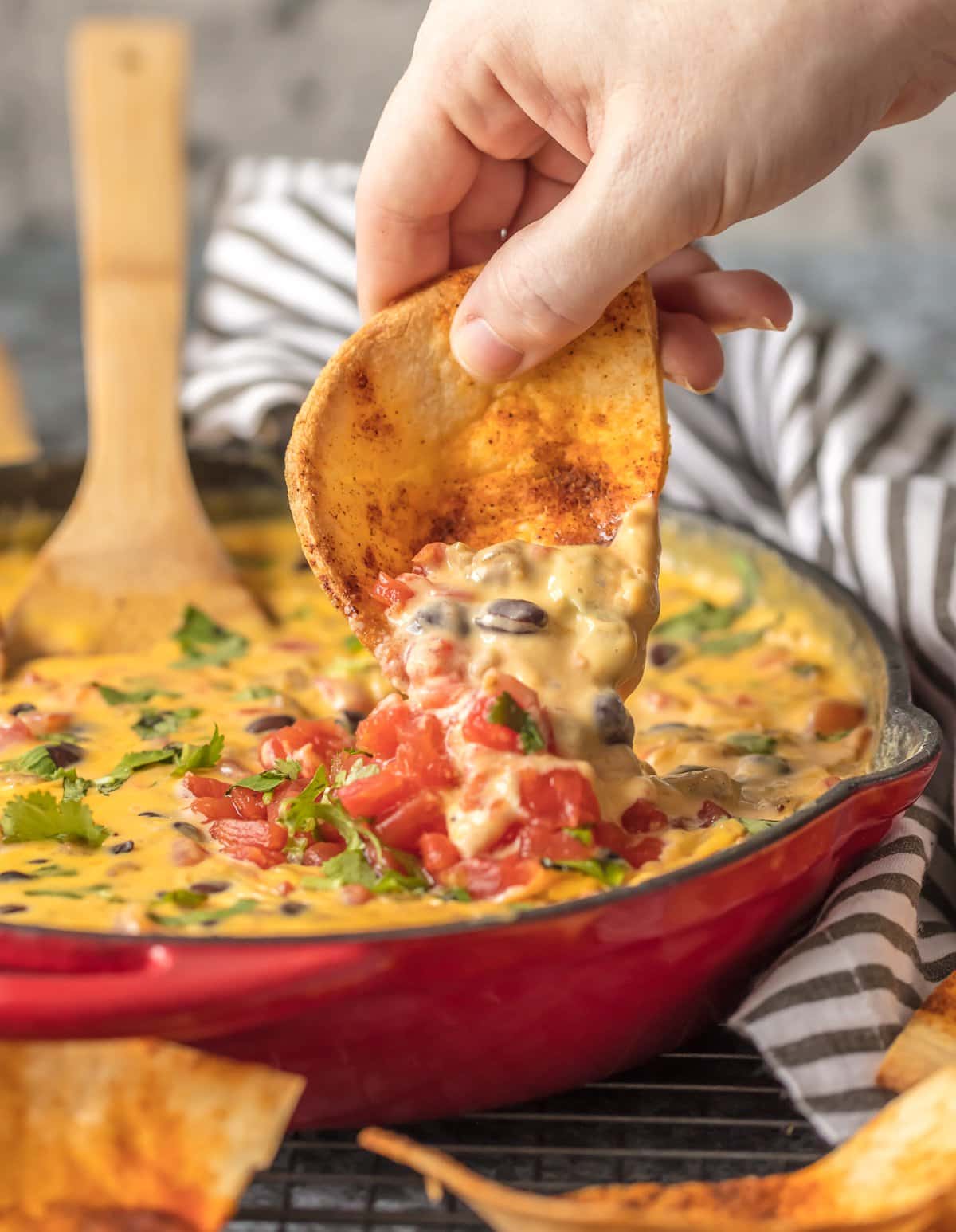 More Queso Recipes We Love