Buffalo Chicken Dip is a game day and party favorite! Made with shredded chicken, cream cheese, ranch, more cheese, and red hot sauce (yes, just 5 ingredients), this easy oven baked buffalo chicken dip recipe is so simple and insanely delicious. It's the best game day dip and it goes fast!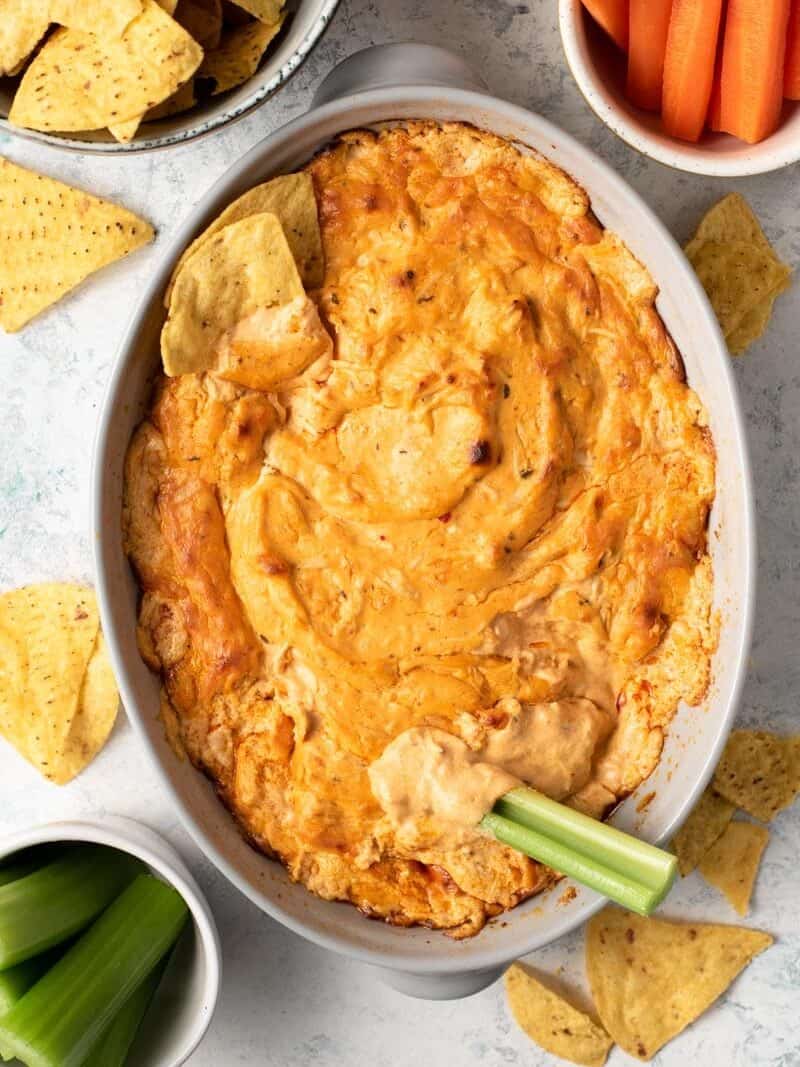 What's in this Buffalo Chicken Dip recipe?
This creamy, cheesy dip tastes just like the best buffalo chicken wings. With just a few ingredients and couple of quick steps, you'll have an easy party dip ready in no time.
Cream Cheese: This is the base of the dip. I recommend sticking to regular cream cheese, because low-fat versions will make the texture runnier. Let it soften before using it.
Shredded Chicken: Use pre-cooked, shredded chicken for this buffalo dip. You can either make it yourself ahead of time, or use a rotisserie chicken to speed up the process.
Cheese: I recommend using Mexican blend shredded cheese. You can also use different types of cheese, like pepper jack, Colby, or cheddar. Grating your own cheese will give you the best results.
Ranch: Ranch dressing is the perfect complement to buffalo flavor! I used a light dressing, but you can use a regular ranch, or substitute buttermilk or blue cheese dressing.
Frank's RedHot: This classic hot buffalo sauce is a must for the best buffalo chicken dip, although you could substitute it for a different brand or version if you prefer.
Pro Tip: Top this baked dip with blue cheese crumbles, green onions, and buffalo sauce to serve!
Easy Buffalo Dip Variations
If you're looking to change up this buffalo ranch chicken dip, there are a a few easy things you can do.
Leave out the chicken to make a meatless, vegetarian-friendly dip.
Replace the chicken with ground beef or chorizo–just make sure it's fully cooked before adding it in.
Mix in green onions or celery bits to add some crunch and texture.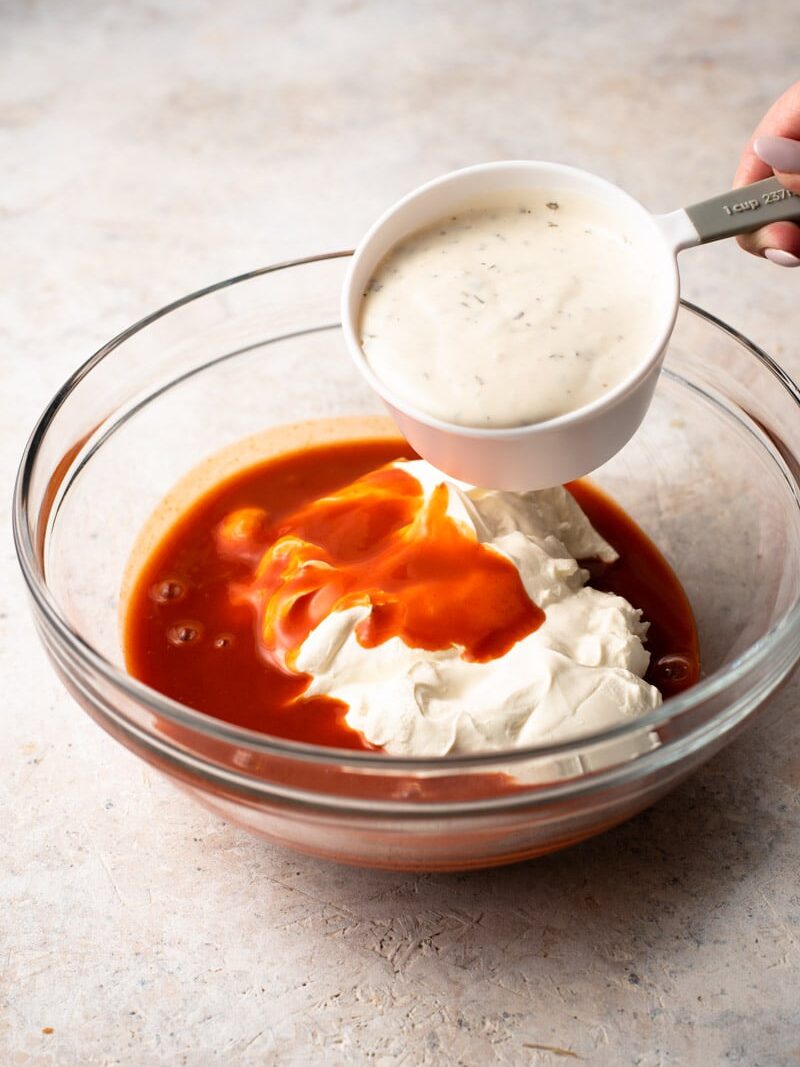 Trademark Note: In the spirit of transparency, I want to note that some of these ingredients are trademarked products. Frank's RedHot is a proprietary brand that I want to acknowledge and give credit to.
Why is it called buffalo chicken dip?
This dip brings together all the flavors of buffalo wings, so it's chicken wings in dip form (with plenty of cheese),
What is buffalo chicken dip made of?
You only need 5 ingredients for this dip: shredded chicken, cream cheese, shredded cheese, hot sauce, and ranch.
Why is my dip runny?
If your dip is runny, it's likely you used too much dressing or buffalo sauce, or just didn't mix the ingredients well enough. Also, some cream cheeses (like light versions) may be runnier.
How long does buffalo chicken dip last in the fridge?
Stored in a covered dish or airtight container, it will keep for 2-3 days.
Do you need to reheat buffalo dip?
You can eat leftovers cold, straight from the fridge. But you can reheat the dip if you want to eat it warm. It's best reheated in the oven, but can quickly be heated up in the microwave.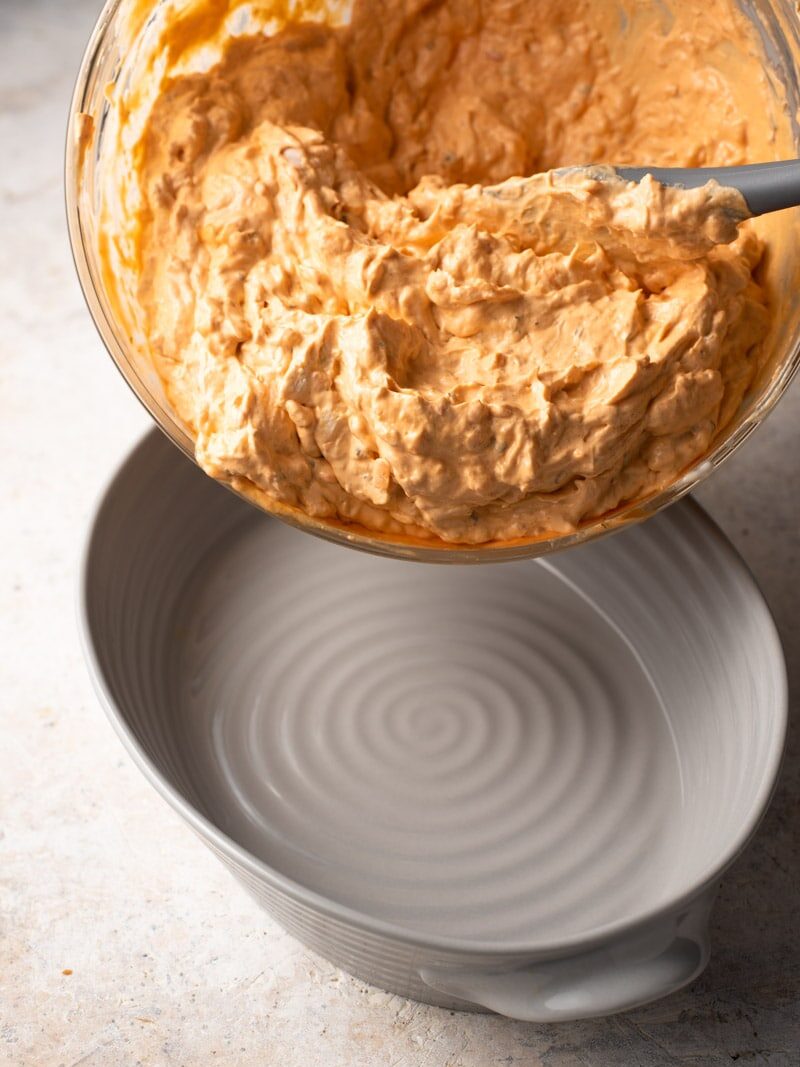 How to Make Ahead
Since this buffalo chicken dip only requires mixing and heating, you don't need to do much prep to make it ahead of time. However, you can combine ingredients in a baking dish, cover and keep it in the fridge, then bake just before serving. Add 5-10 minutes to baking time if heating straight from the fridge.
If you are cooking your own chicken, I recommend doing that ahead of time as well.
How to Store and Reheat
Store leftover buffalo dip in an airtight container, or cover the dish tightly with plastic wrap/aluminum foil. Keep it in the refrigerator up to 3 days. It can be eaten cold or reheated.
To reheat, place the dip in the oven at 350°F until fully heated through.
What to Serve with it
Chips are always the perfect thing to serve with dips, and this baked buffalo chicken dip is no exception. I like serving this with plenty of tortilla chips, ideally something that won't break and crumble when you go in for a heavy dip.
For some freshness, I also like to serve this dip alongside some sliced veggies such as carrot sticks, celery, or bell peppers. The celery sticks are perfect for this, to go with that buffalo wing flavor.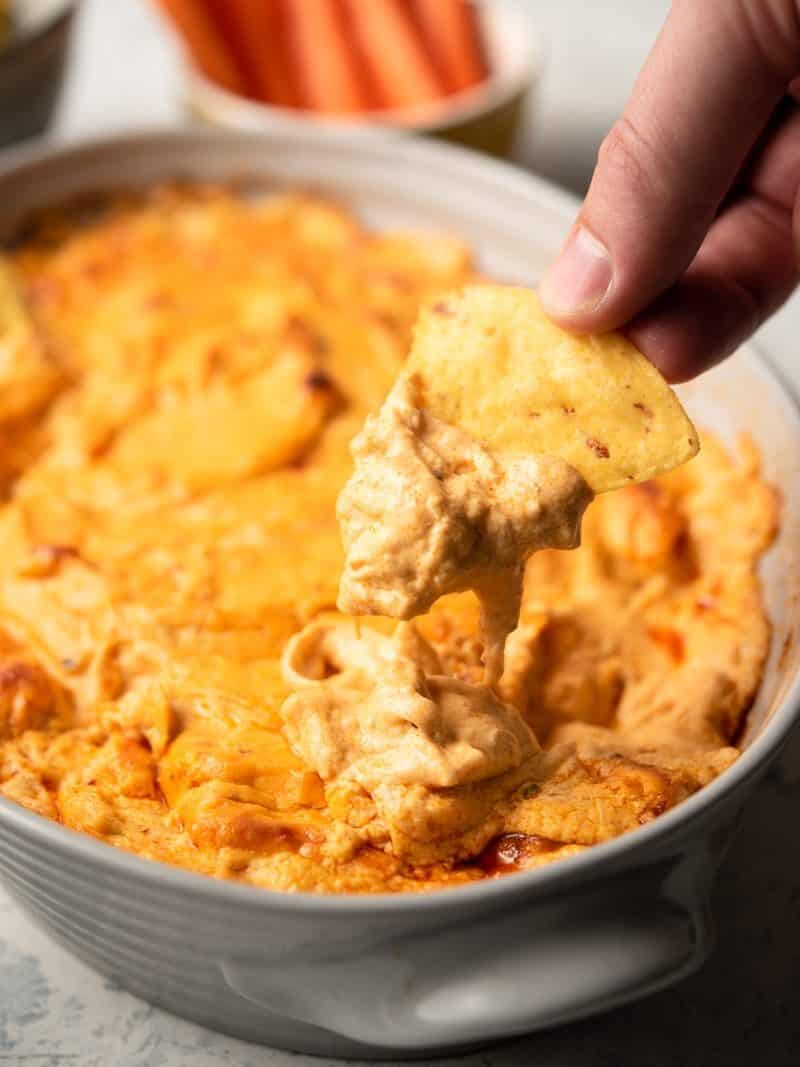 5-Star Review
"Whenever I make your AMAZING buffalo chicken dip, everyone ALWAYS wants the recipe! Some refer to it as "the crack dip" because it's SOOOOO addicting and delish!!" – Mary
More Buffalo Chicken Dip Recipes
More Chicken Dips We Love: