This creamy homemade Mayonnaise recipe is so quick and easy to make–whip it up in just 10 minutes! Made with egg yolks, Dijon Mustard, lemon juice, and a couple of other ingredients to emulsify, learning how to make your own mayo will be a breeze. This recipe will delight all sandwich lovers, salad dressing fanatics, and everyone who uses it as a dipping sauce.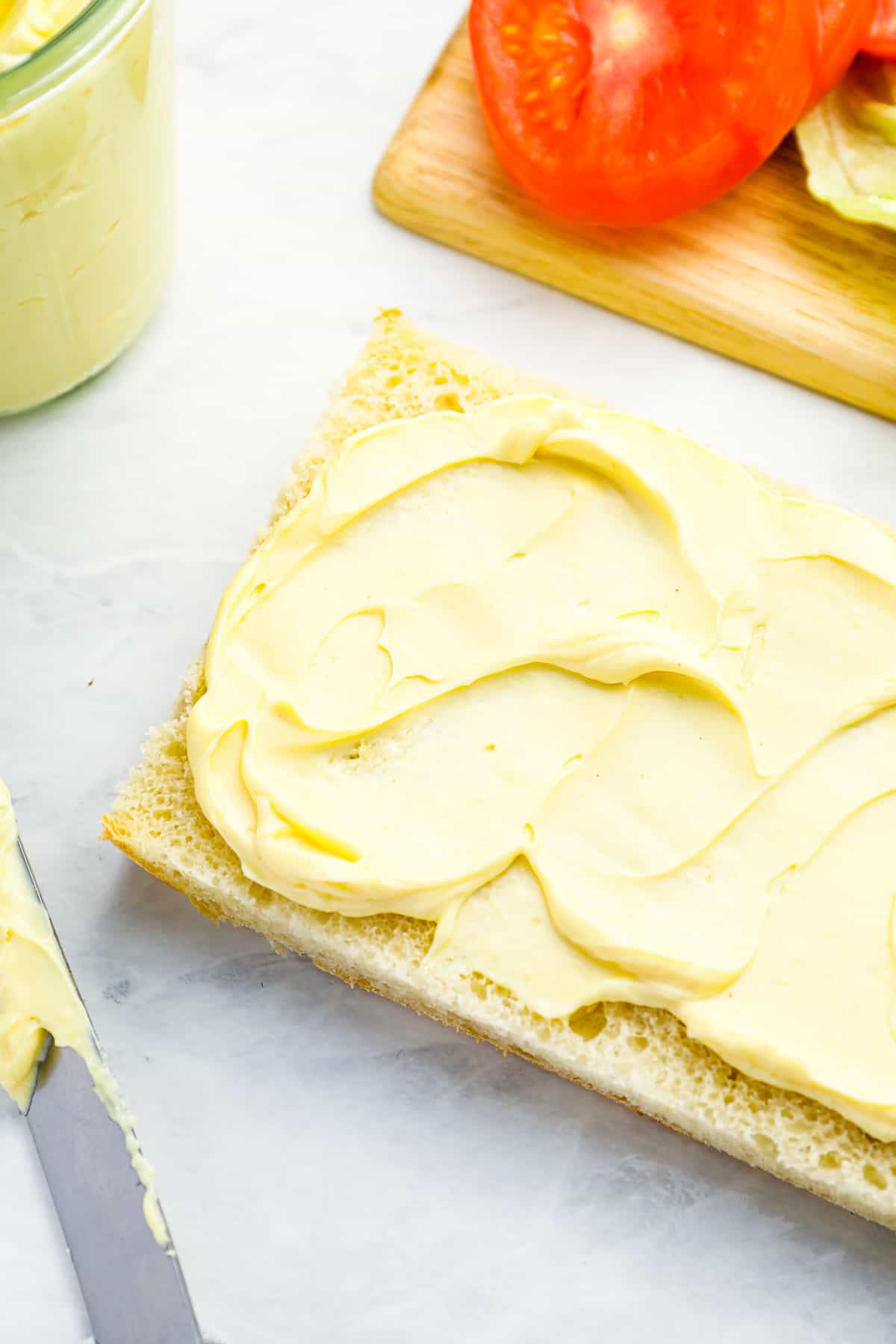 What's in Mayo?
A classic mayo is made by whipping a neutral-flavored oil, an acid, and eggs together to get that creamy spread we all know and love. This very simple recipe comes together with just a few basic pantry staples.
Egg Yolks: This acts as the emulsifier.
Dijon Mustard: A little tang never hurts.
White Vinegar: Adds flavor and stabilizes for shelf life.
Vegetable Oil: That smooth texture comes from oil.
Lemon Juice: A squeeze of lemon juice is all you need for a bit of acidity.
Kosher Salt: Just a pinch (or to taste).
Pro Tip: Use the whole egg if you like! Egg whites help make the mayo fluffy. And be sure to keep your ingredients at room temperature for easy mixing.
Variations on Mayonnaise
There are so many ways to riff on this traditional mayonnaise recipe. Whatever your personal preference, you can find a recipe to match it.
To make kewpie mayo, swap the white vinegar for rice vinegar, and add 2 teaspoons of sugar.
For spicy mayo, blend in some chili powder or crushed red pepper flakes.
For chipotle mayo, add a teaspoon or two of adobo sauce from a can of chipotle peppers in adobo sauce.
For sriracha mayo, blend in a teaspoon or two of sriracha.
For garlic mayo, blend in a teaspoon of finely minced garlic.
For herb mayo, finely dice your favorite fresh herbs like basil, dill, or thyme.
To make vegan mayo, substitute the eggs for ¼ cup of aquafaba (the drained liquid from a can of chickpeas), or swap the eggs for ⅔ cup of mashed avocado to make avocado mayo (also vegan)!
The remixes don't end there! Get adventurous by switching up your acids and oils.
Swap lemon juice for lime juice for that burst of citrus.
Try white wine vinegar, red wine vinegar, or any other vinegar that you prefer in place of traditional white vinegar.
Swap the neutral-flavored oil for extra virgin olive oil, avocado oil, or walnut oil.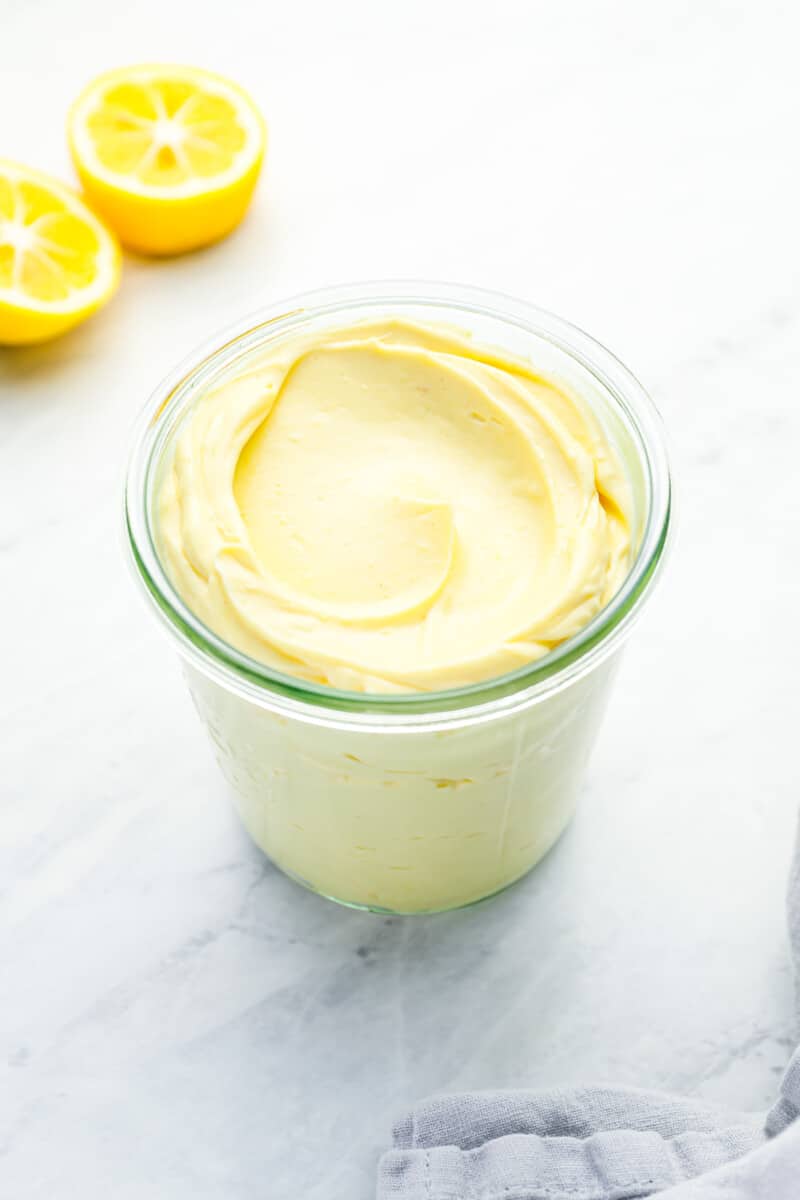 What is mayo made of?
Mayonnaise is made from eggs, mustard, vinegar, oil, lemon juice, and salt mixed into an emulsion until fluffy.
Does mayo have dairy?
Nope! This mayonnaise recipe is dairy-free.
Is mayo gluten free?
Yes! This mayonnaise recipe is naturally gluten-free!
Can dogs eat mayo?
While none of the ingredients in mayonnaise are inherently harmful to dogs, the high fat content can cause an upset stomach or other digestive issues, so it is best to avoid giving mayo to dogs.
Is mayo keto?
Yes! Mayonnaise is keto-friendly!
Does mayo go bad?
It sure does! As with any freshly-prepared food item, mayonnaise will eventually spoil.
Is mayo bad for you?
Yes and no. Mayonnaise is high in saturated fat and calories, but it is also low in carbohydrates. Enjoy mayonnaise in moderation!
Does mayo need to be refrigerated?
Yes! This homemade mayonnaise needs to be refrigerated in order to maintain its freshness. The eggs will cause the mixture to spoil if left at room temperature for more than 2 hours.
Can you freeze mayonnaise?
While you technically can freeze mayonnaise, I don't recommend it. As it thaws, the emulsion will fall apart, leading to a broken mayo. No thanks!

Why is my mayo runny?
If your mayonnaise is runny, either improper ingredient amounts have been used, or cold ingredients have been used. For the best results, use room temperature ingredients in the exact proportions stated in the recipe. If your mayonnaise emulsion breaks, simply add a bit more vinegar to balance out having added too much oil. If your mayonnaise is runny because you used cold ingredients, add another egg yolk, but make sure it is at room temperature!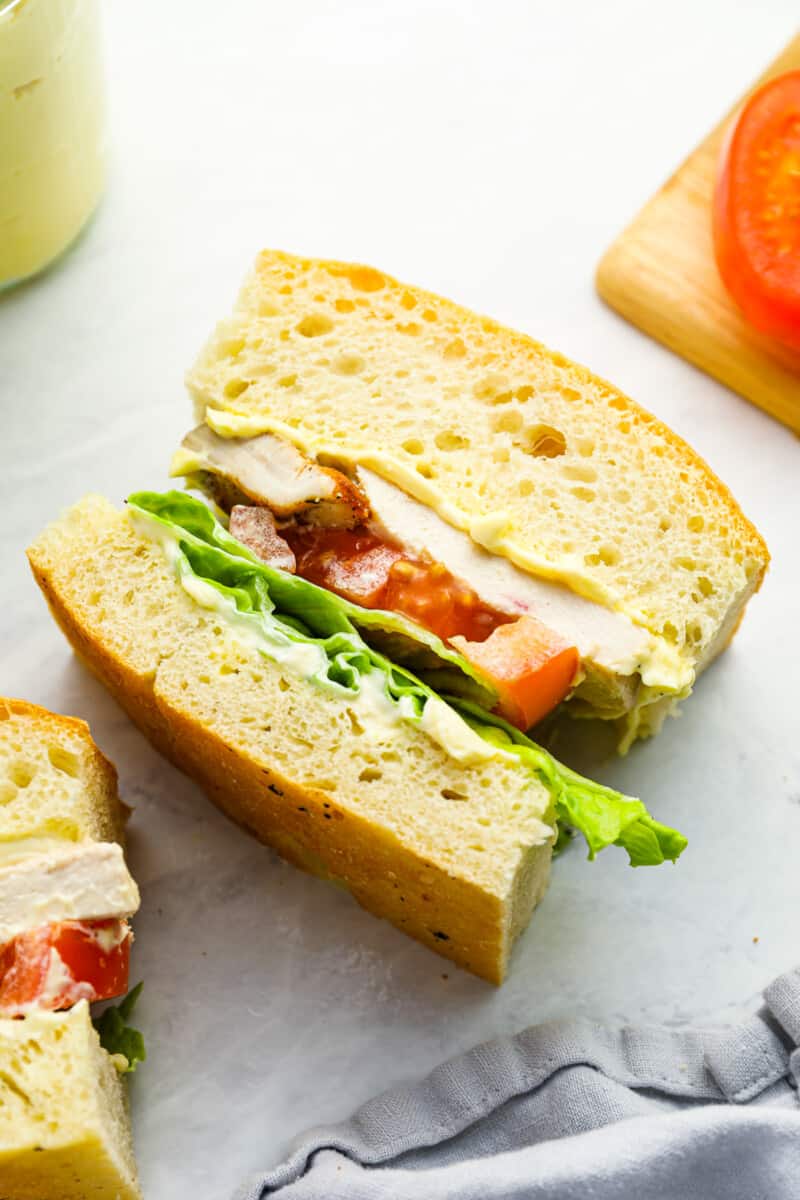 How to Store Homemade Mayo
Store leftover mayonnaise in an airtight container in the refrigerator for up to 5 days. Use cold or let come to room temperature for 10-15 minutes. Do not leave mayonnaise out of refrigeration for more than 2 hours.
What to Serve with Homemade Mayonnaise
This kitchen staple goes well on everything! Try spreading it on a classic BLT, crispy chicken sandwich, or any of your favorite sandwiches. Use it when making deviled eggs. It also lends bright creaminess to my favorite Broccoli Salad and makes a great Fry Sauce. Trust me, you'll find a million ways to use it!
More Condiment Recipes We Love