Candied Walnuts are awesome for holiday appetizers, baking, snacking, and so much more. This Easy Candied Walnuts Recipe is made in under 5 minutes and oh so tasty! Caramelized Walnuts are such a healthy snack including vitamin E, healthy fats, and antioxidants. We will show you How to Make Candied Walnuts, the perfect snack!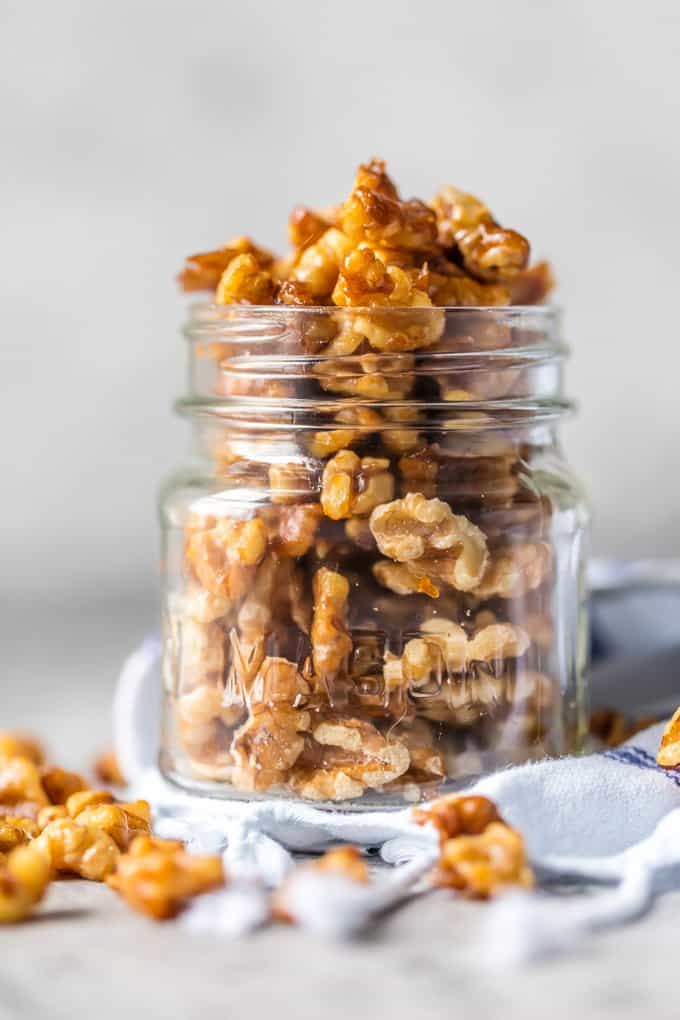 Easy Candied Walnuts
Candied Walnuts are a (mostly) healthy snack that can be made in minutes. Learn how to make candied walnuts with this easy recipe!
This Candied Walnuts Recipe is my new obsession! I recently made this Baked Brie Recipe with Bacon and Candied Walnuts and I fell so in love with the Easy Candied Walnut part of the recipe that I thought they deserved their own post. I feel like the possibilities are endless with these sweet little Caramelized Walnuts.
Once you learn How to Make Candied Walnuts, you'll be using them in all sorts of recipes. They would be awesome in baking (cookies! breads! more!), on top of bruschetta, topping salmon or mixed into sides such as brussels sprouts. Or, if you're like me, you'll find that they're perfect for eating on their own.
These Caramelized Walnuts are the ultimate sweet & tasty snack!
Learn How to Make Candied Walnuts with this easy Candied Walnuts Recipe!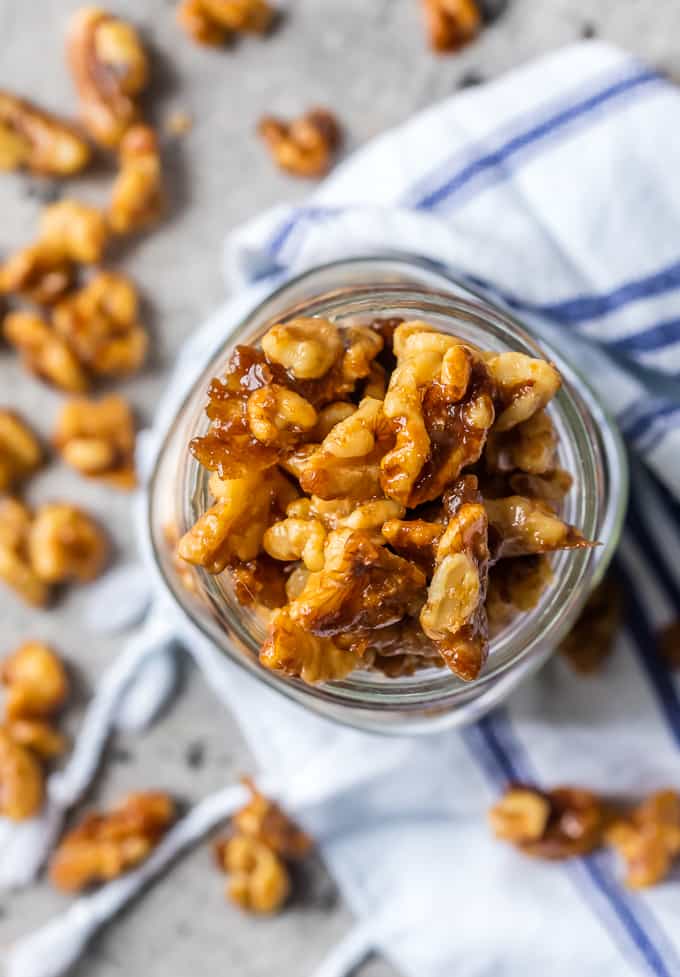 How to Make Candied Walnuts
If you don't already know how to make candied walnuts, you'll be happy to hear how easy it is! This Candied Walnut Recipe is so simple. You just need walnuts, brown sugar, and butter, plus a few minutes of time to cook these up.
I decided to make these Caramelized Walnuts with dark brown sugar to make them extra rich and tasty. I love the little candy bits that form on the edges of the walnuts. They almost taste like toffee or caramel walnuts.
This Caramelized Walnuts Recipe has just the right amount of sweet. Next time I'm going to play with the spices a bit…I think adding a dash of chili powder would be off the chain! Spicy and sweet is such a great flavor combination.
These Candied Walnuts are quickly becoming one of my favorite snacks for anytime. They're right up there with our Gardetto's Recipe and Chex Party Mix!
Are Candied Walnuts healthy?
Candied Walnuts do have plenty of sugar, but walnuts are a super healthy snack you can feel good about.
Caramelized Walnuts contain a number of healthy brain compounds, including vitamin E, folate, melatonin, omega-3 fats, and antioxidants. Research also shows that eating walnuts may support brain health, including increasing reasoning and other brain functions in young adults. WOOHOO!
Yes you're making them a little less skinny by adding the sugar and butter, but I still love this healthy snack. Caramelized Walnuts for the WIN!
Regular walnuts are good for you, so I'm going to choose to look the other way on the brown sugar and butter. I'm going to look at these as a healthy mid-day snack. Filled with fiber, protein, and omega 3. WIN WIN!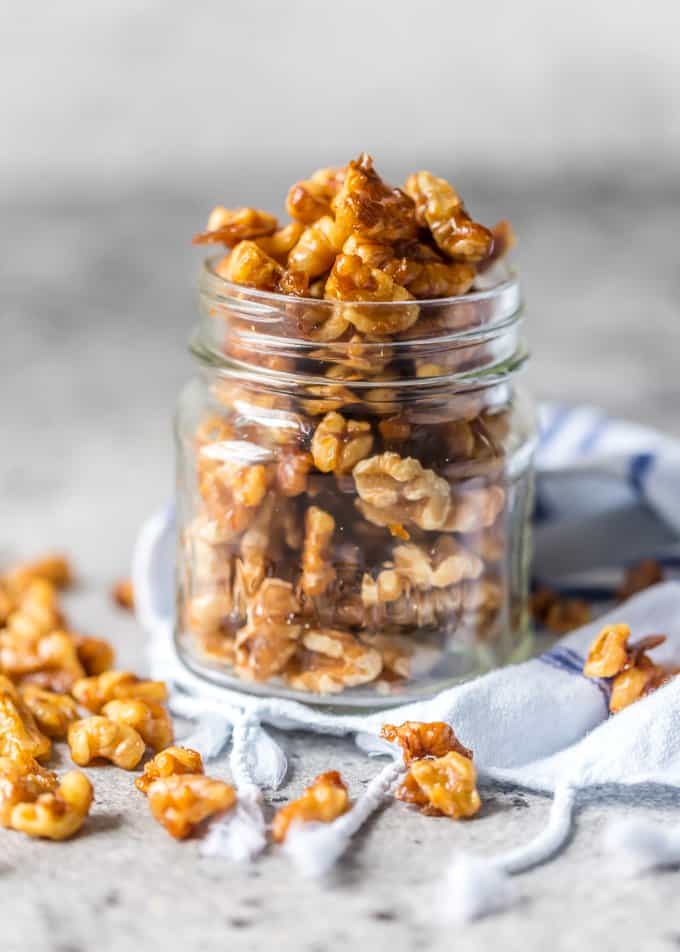 This Candied Walnut Recipe is so easy. Caramelized Walnuts are such a tasty addition to baked cheese dips, salads, and baked goods. They're even good all on their own! You definitely won't have any trouble finding ways to eat up these tasty walnuts.
If you like these caramelized walnuts, try these other simple snack recipes: