Chex Mix Recipe is a recipe my Mom has been making since I was a little kid. It's our family's favorite BEST Chex Party Mix! It doesn't get better than this mix of cereal, nuts, pretzels, and all that spice! A little bit sweet and little bit spicy. This BEST EVER Chex Party Mix Recipe is perfect for Christmas, tailgating, Summer BBQs, and every day in between. SO ADDICTING!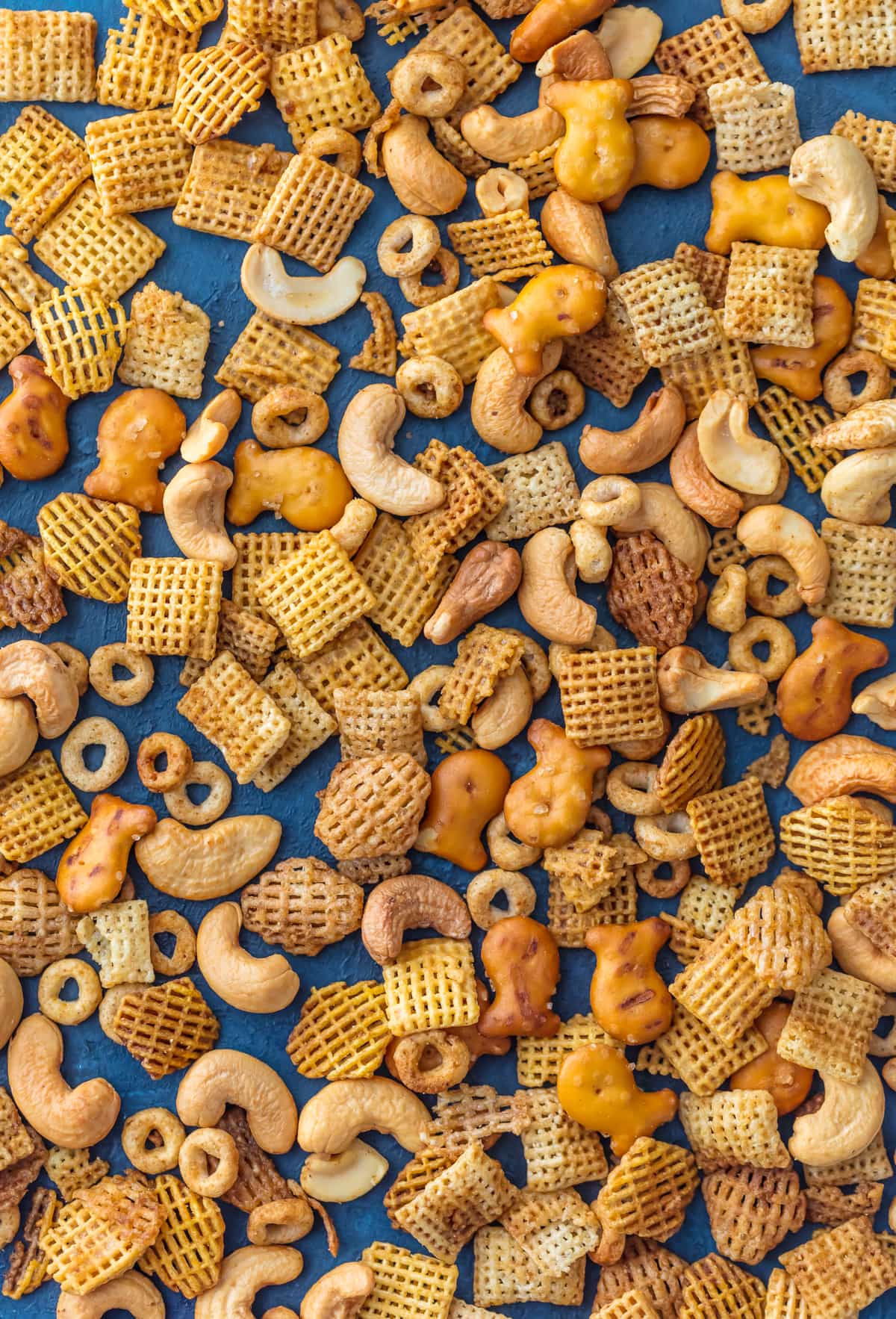 Chex Mix Recipe – Chex Party Mix Recipe
This Chex Mix Recipe is the ultimate easy snack mix recipe. If you haven't tried this Chex Party Mix, it's about time you did.
This Chex Mix Recipe has been in my family for years and years. My mom, Susie, knows how to make a goooooood Chex Party Mix. I actually offended her recently when I said 'Hey we should make Grandma Gall's party mix for the blog…the one she used to put out every Christmas'. She corrected me VERY quickly. Apparently this is SUSIE'S party mix :).
I like to call it the BEST EVER CHEX PARTY MIX RECIPE. It…is…really really good. It is so addicting. Ask my dad. He always gets to it first and takes all of the cashews. Bottom line is–you will love this party mix. You'll never eat store-bought Chex Mix, Gardettos (You ARE allowed to eat our Homemade Gardetto's Recipe however!), or any of those other varieties again. You won't need to! It's so easy to make at home and so much tastier. Try it to believe it!
Try his Best Ever Chex party Mix Recipe for your net gathering. It's such an easy Chex Mix Recipe to make!
This Chex Party Mix Recipe is another, you guessed it, simple recipe. It's SO easy and hands off.
In the pictures below you will see the main steps (It's an OLD PICTURE, one of the first from our site. BE GENTLE :).
Tips for Making Chex Mix Recipe:
It's really as simple as this:
Put all the cereal and nuts into a large bowl.
In a stove-top pan, melt the butter, adding worcestershire sauce and spices.
Mix well.
Pour the butter mixture over the cereal, stirring to make sure that it is evenly distributed.
Then you bake! THEN YOU EAT!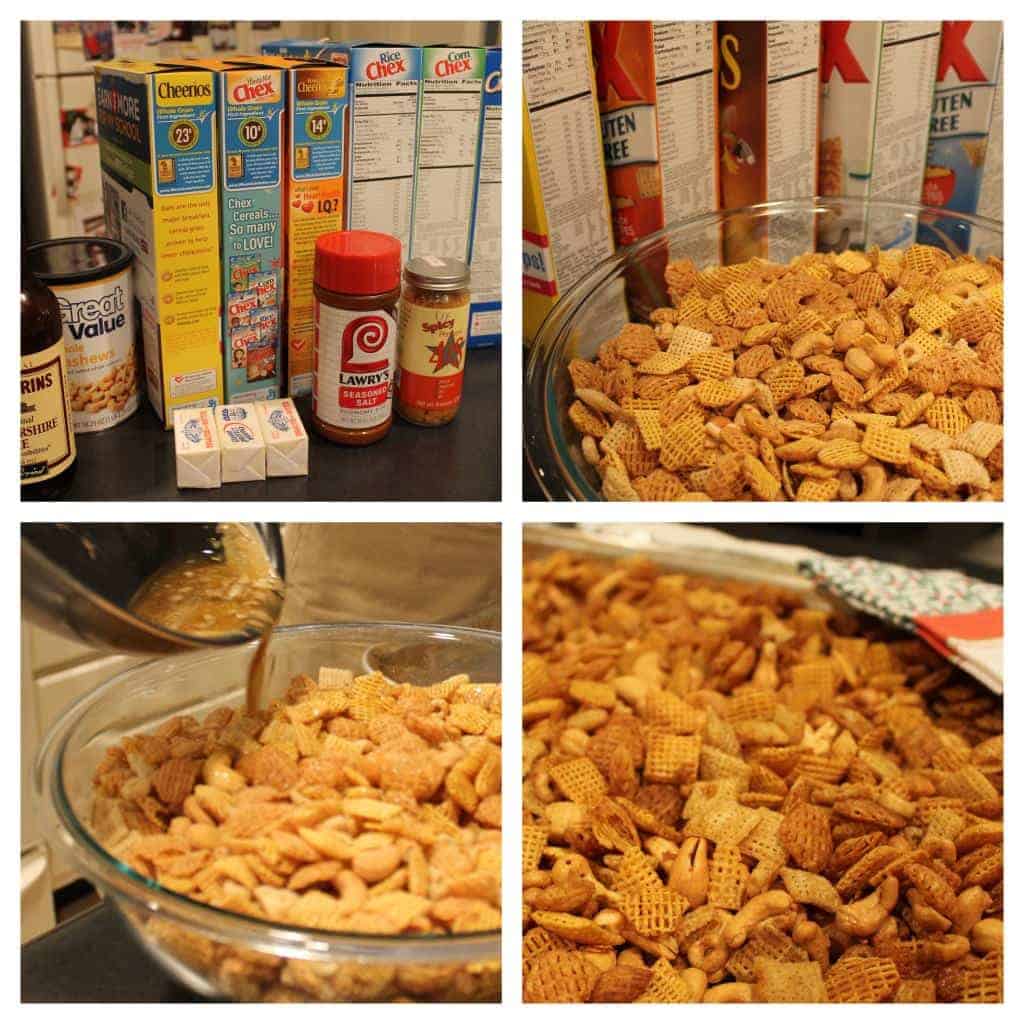 Make this Chex Mix Recipe ahead of time
This Chex Mix Recipe is perfect for making ahead in bulk, freezing, and then enjoying whenever you want. It also is great for homemade gifts!
My mom always makes a ton of this and freezes it. She sends us home from Christmas dinner with large freezer bags of this goodness. Chex Party Mix is not necessarily great for the waist line but it's really great for the soul. It's just too delicious. There's nothing better than sitting together visiting and catching up with a bowl of this Chex Party Mix Recipe in hand. Feels like home.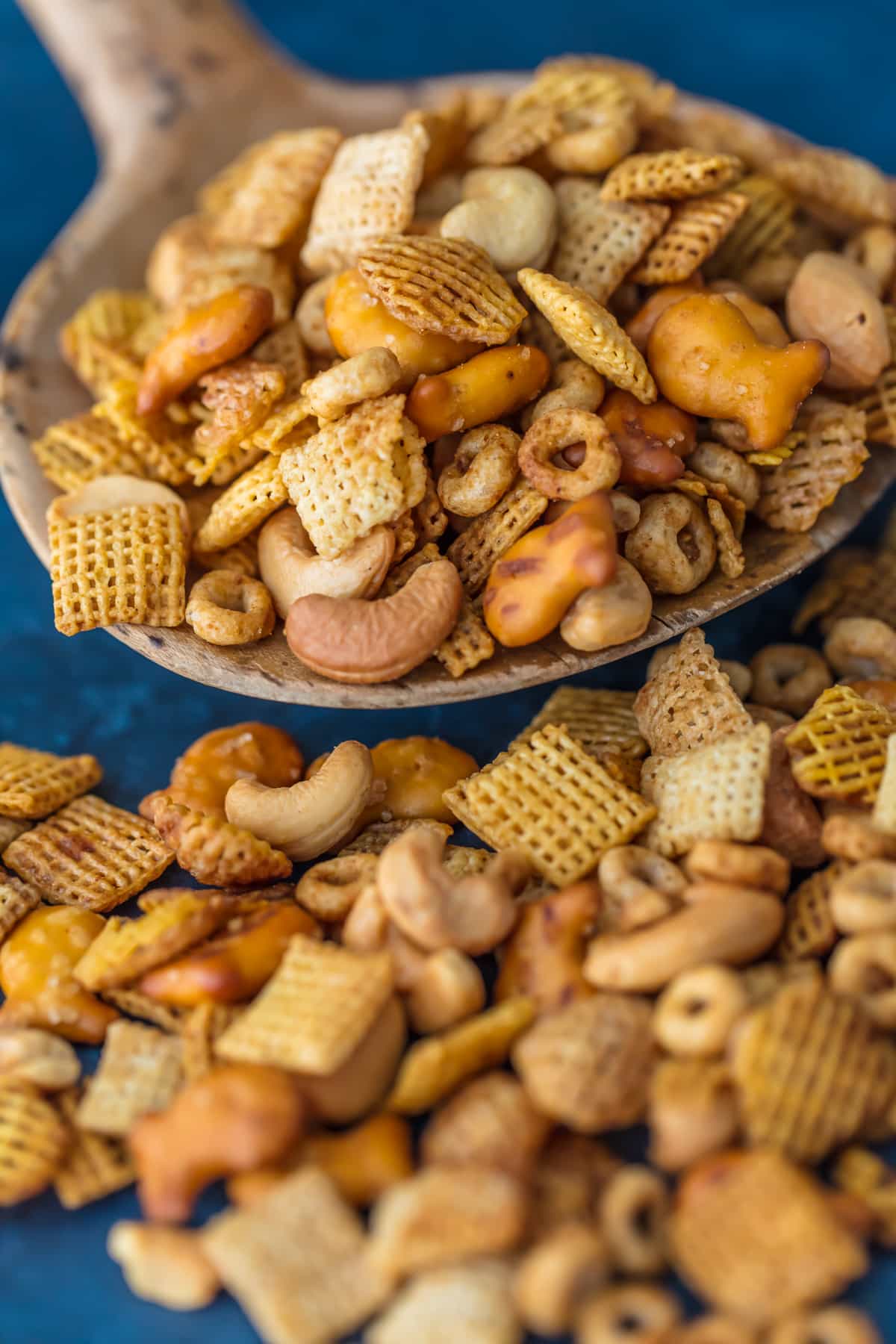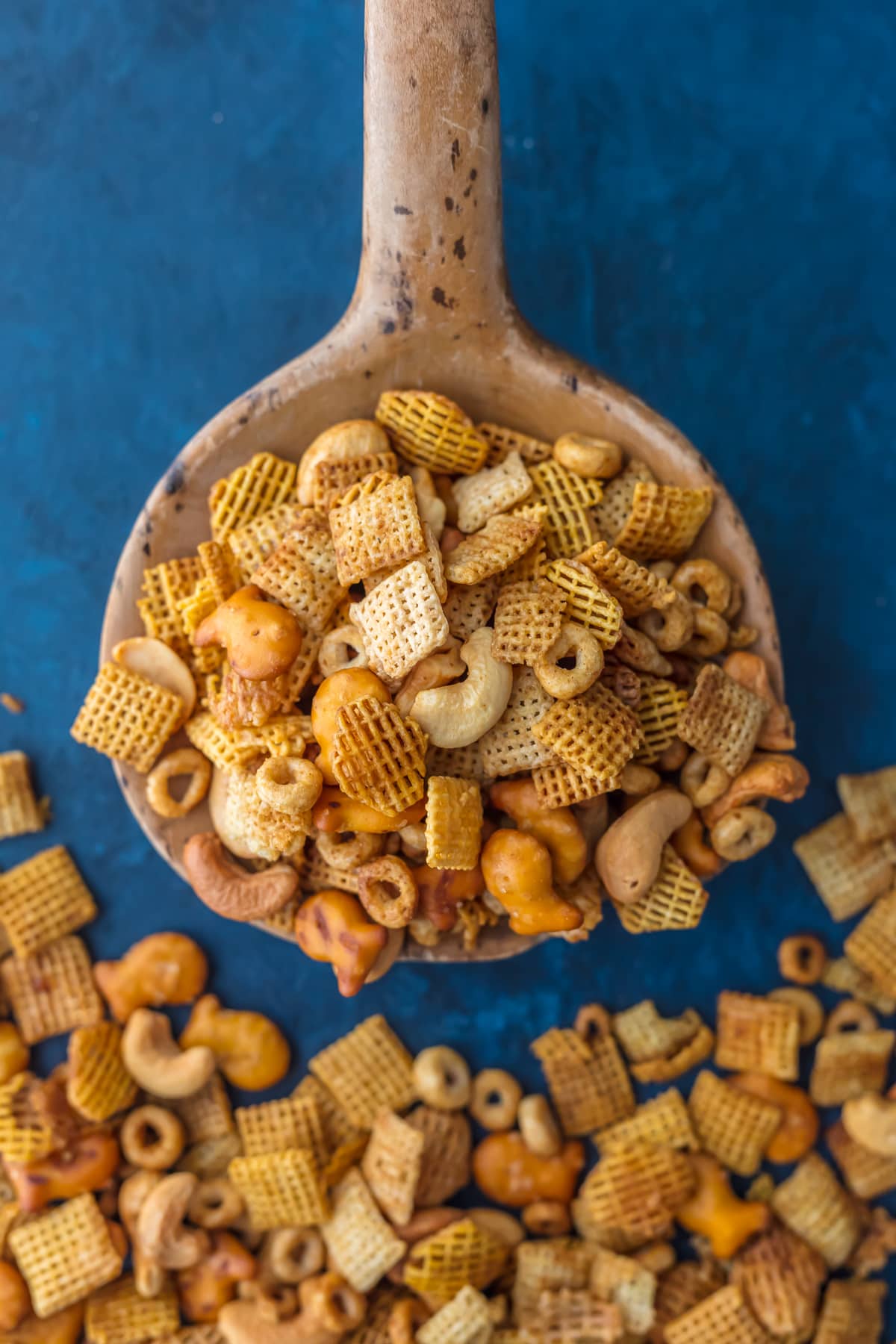 How many calories are in Chex Party Mix?
We have calculated below that each portion of this Chex Party Mix is approximately 200 calories. This recipe makes 17-18 cups of party mix…so I'm using a heaping handful as a serving. If you're my dad…then you eat about 5 servings in a sitting. But I definitely don't recommend that. :)
How long with this Chex Mix Recipe keep?
Properly stored in an airtight container, this Chex Mix Recipe should keep 4-6 weeks if sealed each and every time. You can also freeze it in freezer friendly bags for 4-6 months. DELISH!
What ingredients are in Seasoned Salt?
There are a ton of spices in seasoned salt, so I always recommend just buying the pre-made stuff at the grocery store. If you do want to make your own at home, you definitely can. It's a mix of salt, sugar, paprika, turmeric, onion powder, and garlic.
This Chex Party Mix really does bring back memories of Christmas. My mom would have it every year and we would snack on it while watching movies together, playing games, or opening presents. (Looking back on it…popcorn probably would have been the healthier alternative…) If you ask me what snack mix I crave more than anything, it will always be this Best Ever Chex Party Mix!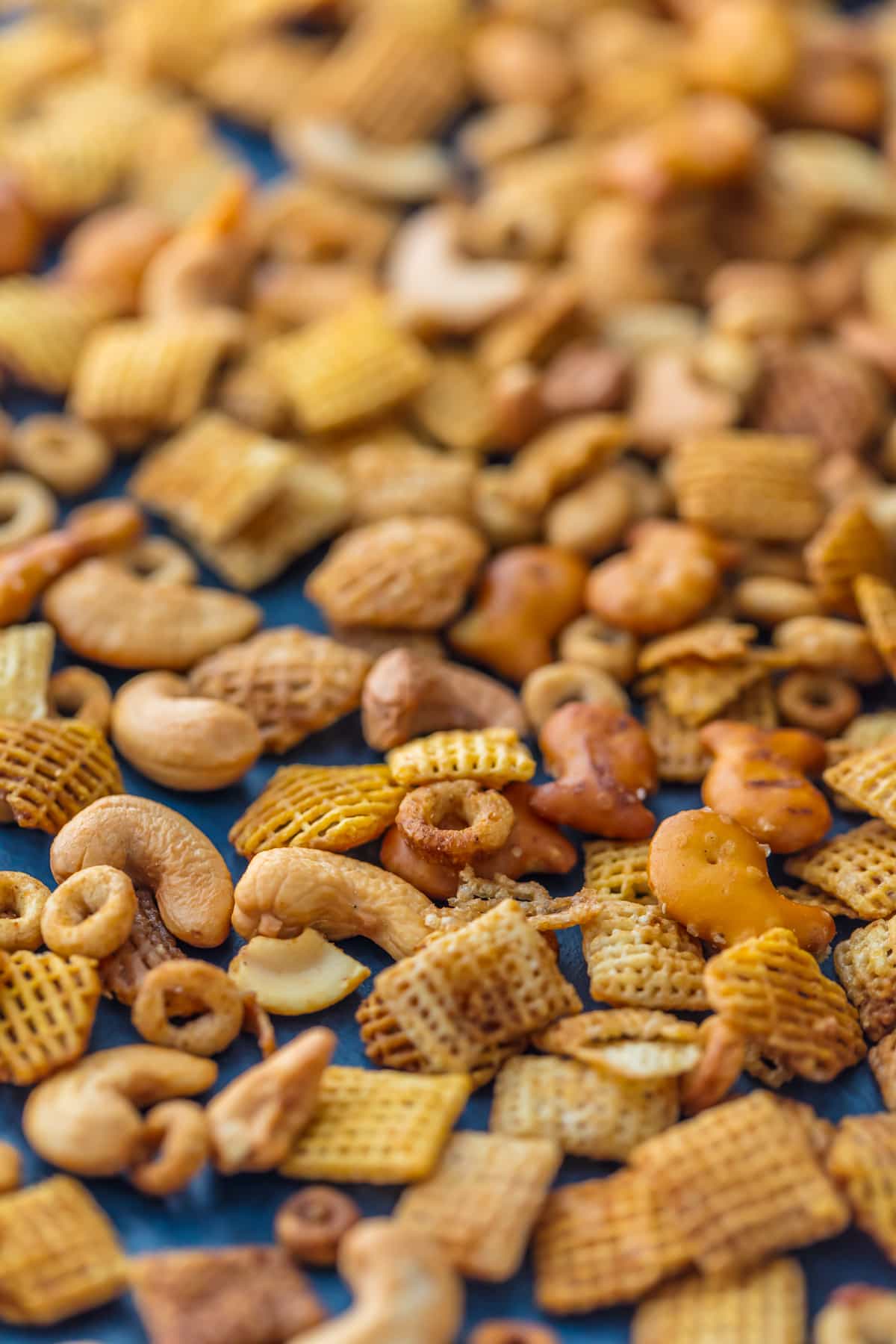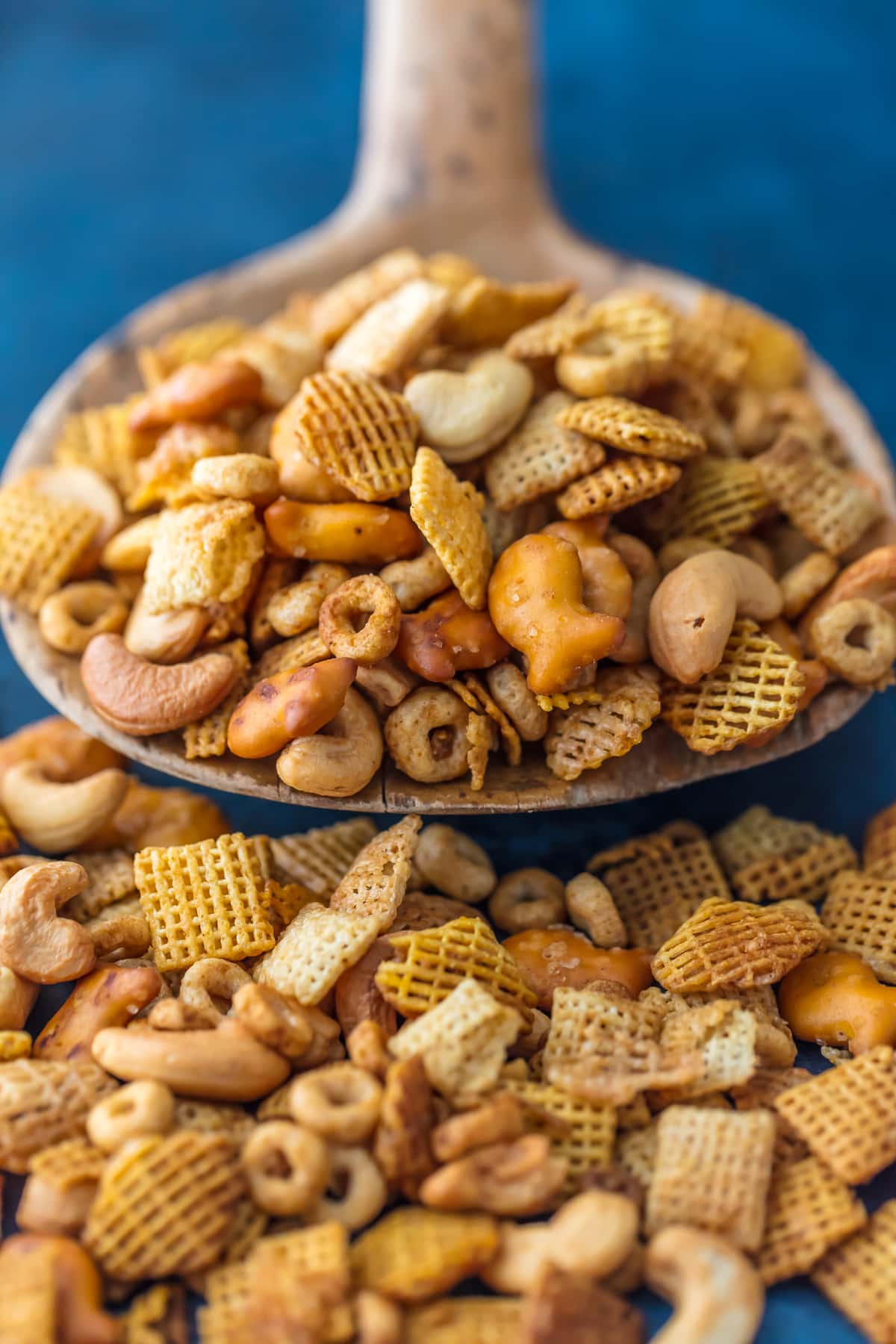 This Chex Mix Recipe will make you famous.
Chex Party Mix is a must make for any game day!! If you're looking for other options, be sure to check out all of our favorite tailgating recipes. You should also look at all of our drink recipes…because nothing goes better with Chex Mix than a great Margarita!
We love this recipe as is, but you can also add in more extras, even something sweet like m&ms! That would make it more of a trail mix, but it would still be utterly delicious. Play with the recipe and make it your own. Like I said, this Chex Mix Recipe will make you famous!
Watch the VIDEO or See the recipe card below for full details on How To Make this Chex Mix Recipe. Enjoy!
Looking for more easy Snack and Appetizer Recipes? Here are some we recommend: