This BAKED BRIE RECIPE is A MUST at your holiday table! This Baked Brie Bread Bowl Recipe with Bacon and Candied Walnuts is the ultimate holiday appetizer that all cheese lovers will devour! A Baked Brie Bowl loaded with candied walnuts and crispy bacon is SO easy and full of flavor. Best easy appetizer recipe!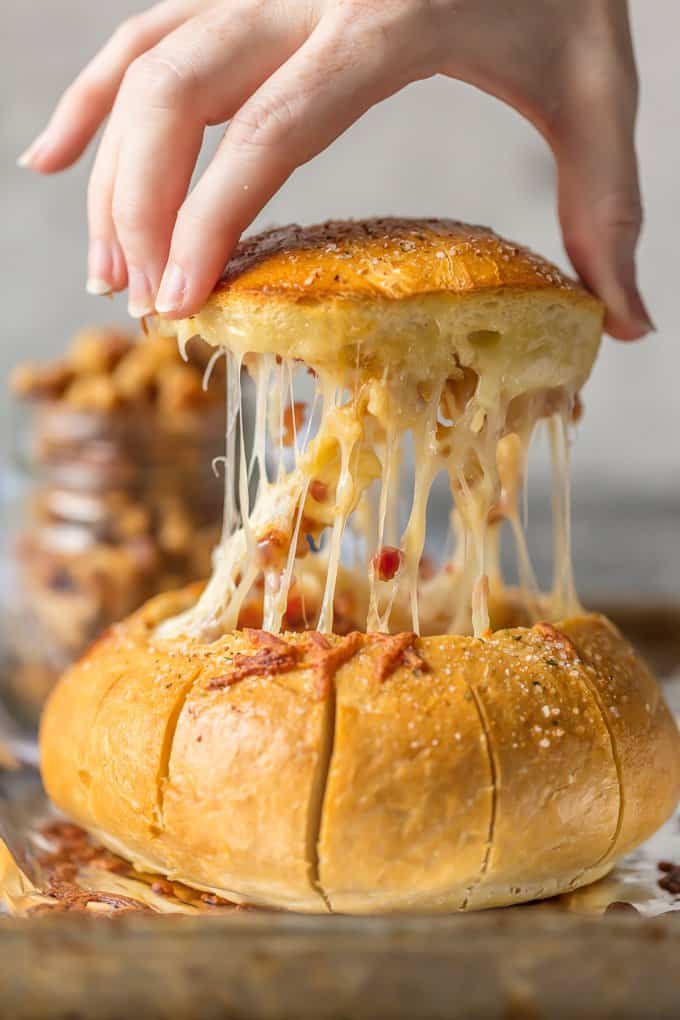 Baked Brie Recipe
This Baked Brie Recipe with bacon and candied walnuts is such a beautiful and EASY Bread Bowl Recipe.
This fun Baked Brie Recipe is a must make for any cheese lover! This melty, ooey gooey Baked Brie is served in our favorite Bread Bowls and loaded with crispy bacon and candied walnuts! The ultimate classy starter for any party, especially a holiday party, is here to make all your cheese lovin' dreams come true. I have made recipes with brie before, both Apple Pie Baked Brie and Mini Apricot Brie Bites, but never have I made a cheesy recipe this decadent, easy, or fun.
The difference that makes this Baked Brie Bread Bowl Recipe amazing may be that it's piled with bacon and candied walnuts. It may be the crusty garlic butter bread bowl. Or it may all just work together perfectly for the most awesome holiday appetizer I've ever made. Are you ready?
This Baked Brie Recipe is filled with bacon and candied walnuts! You're going to love our Baked Brie Bread Bowl Recipe.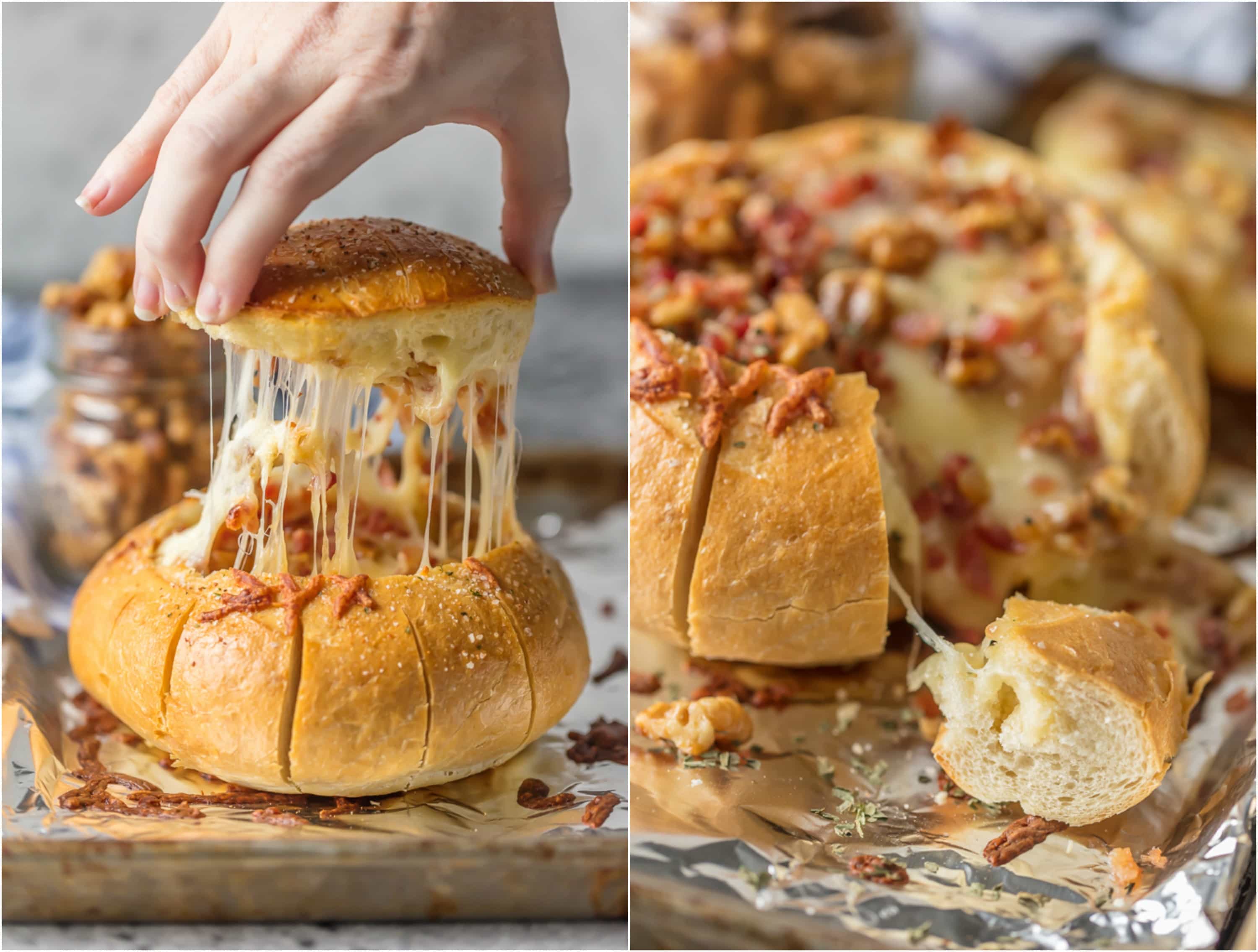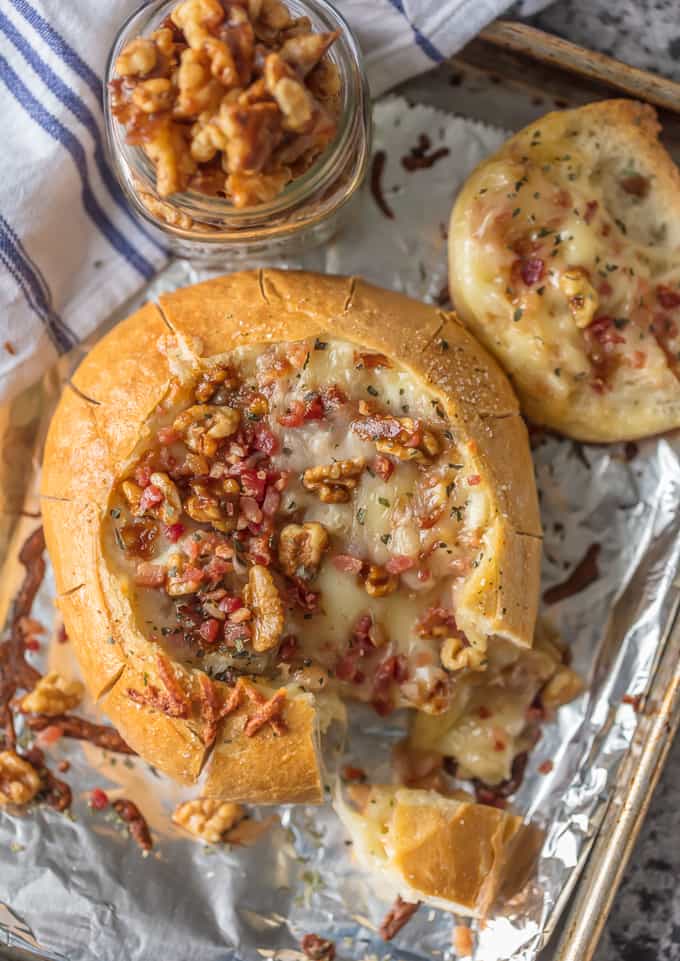 Easy Baked Brie with Bacon and Walnuts
This Baked Brie Bread Bowl Recipe wouldn't be complete without the Easy Candied Walnuts baked right into the cheese and sprinkled on top. Talk about DELICIOUS! I'm so excited to be partnering with California Walnuts this year, and this bite sized holiday treat is my first of 6 recipes.
Did you know just 1 ounce of walnuts is packed with 4 grams of protein, 2 grams of fiber, and 2.5 grams of plant based omega alpha-linolenic acid (Walnuts are the only nut that contain significant amounts of this beneficial nutrient!)
I love their rich flavor and versatility. You can use walnuts as a flour in baking, as a topping in appetizers like this Baked Brie Recipe, as a relish or pesto, and SO MUCH MORE. It's going to be a fun year coming up with some creative walnut recipes to bring you. YUM!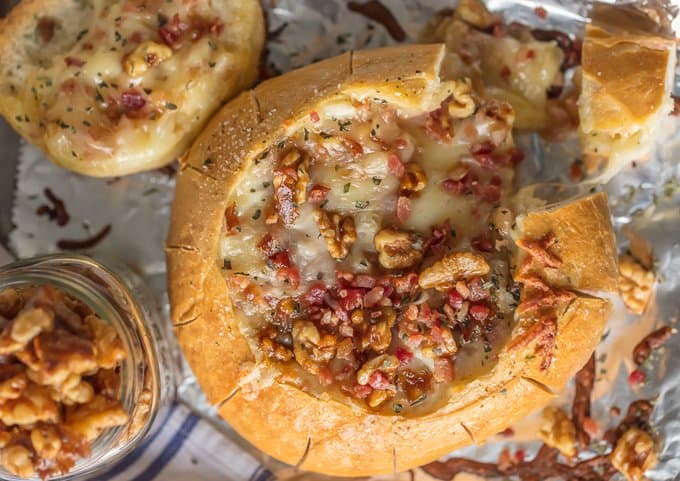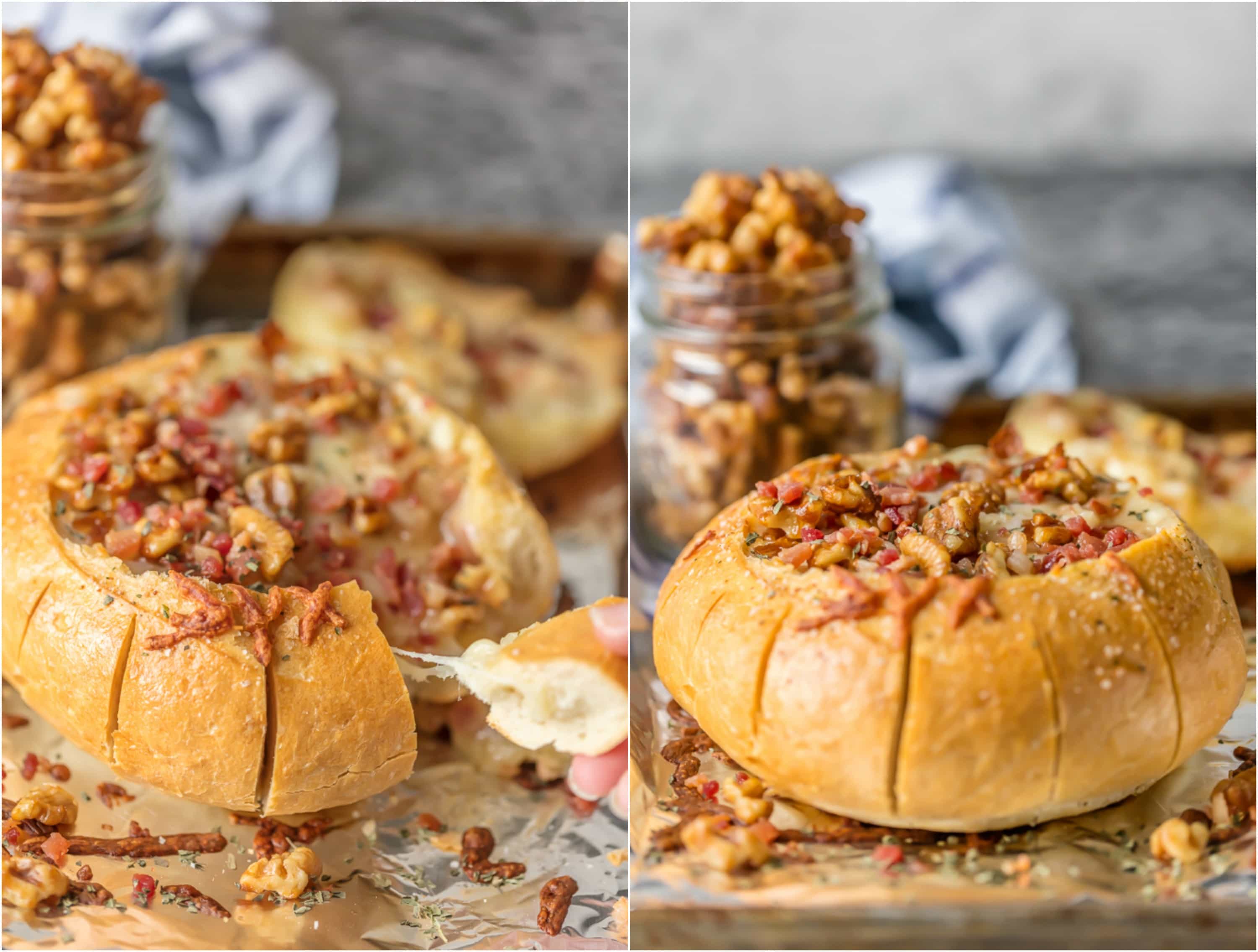 Bread Bowl with Melted Cheese
I love that this Candied Walnuts and Bacon Baked Brie Bread Bowl recipe is dip AND dipper in one.
Just break off the pieces of bread and dip them into the melty pool of cheese sitting in the middle. Be sure to get lots of bacon and walnuts on your piece of heaven. You might want to make more than one of these for your next party!
Do you eat the white part of Brie Cheese?
You can! The white part of brie is called the RIND and its simply a dried and hardened part of the brie that has come into contact with the mould. It's totally safe to eat and some studies show it's good for your immune system. Win win!
Can Brie Cheese go bad?
According to Can it Go Bad:
Let the cheese air out for a few moments, and smell again. If the rind still has a slight smell, but the paste (the inside of the cheese) smells creamy, then the cheese is fine to eat. If the whole piece of brie still smells strongly of ammonia after a few minutes, the cheese has probably turned.
How do you remove the rind from Brie Cheese?
If you choose to remove the rind, you can simple hold the brie securely on a cutting board and cut the rind off one piece at a time. Be careful not to cut yourself. You can make this baked brie recipe with or without the rind.
Can you believe the holiday season is here??! I CANNOT. Henry's first Thanksgiving and Christmas. AAHH! It's going so fast. I need to go eat more cheese to ease the pain. Give me all the baked brie with bacon and walnuts!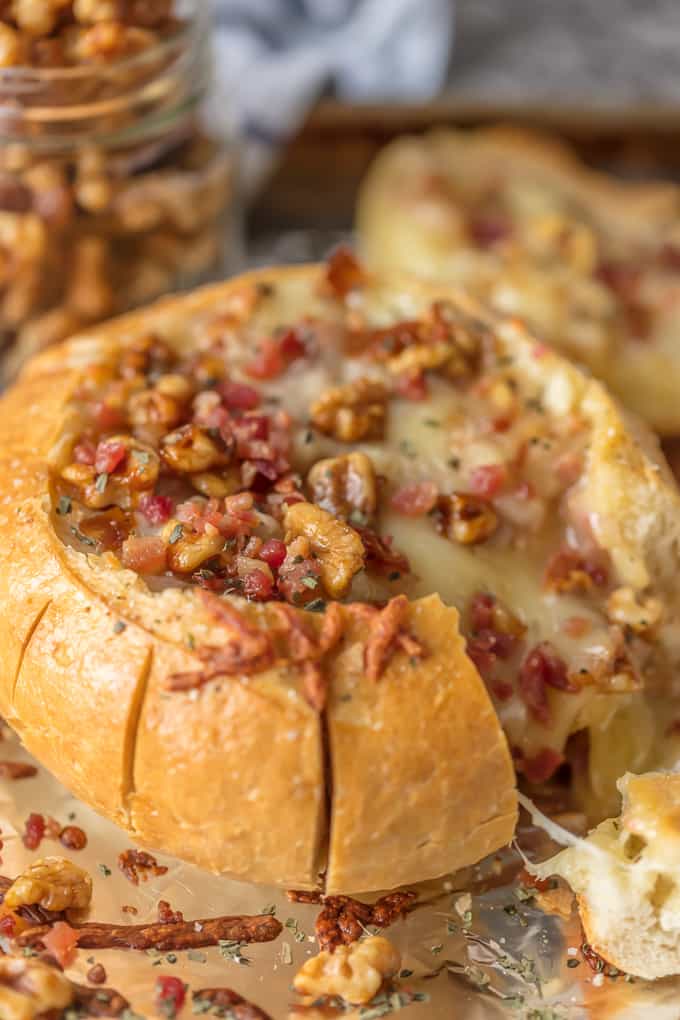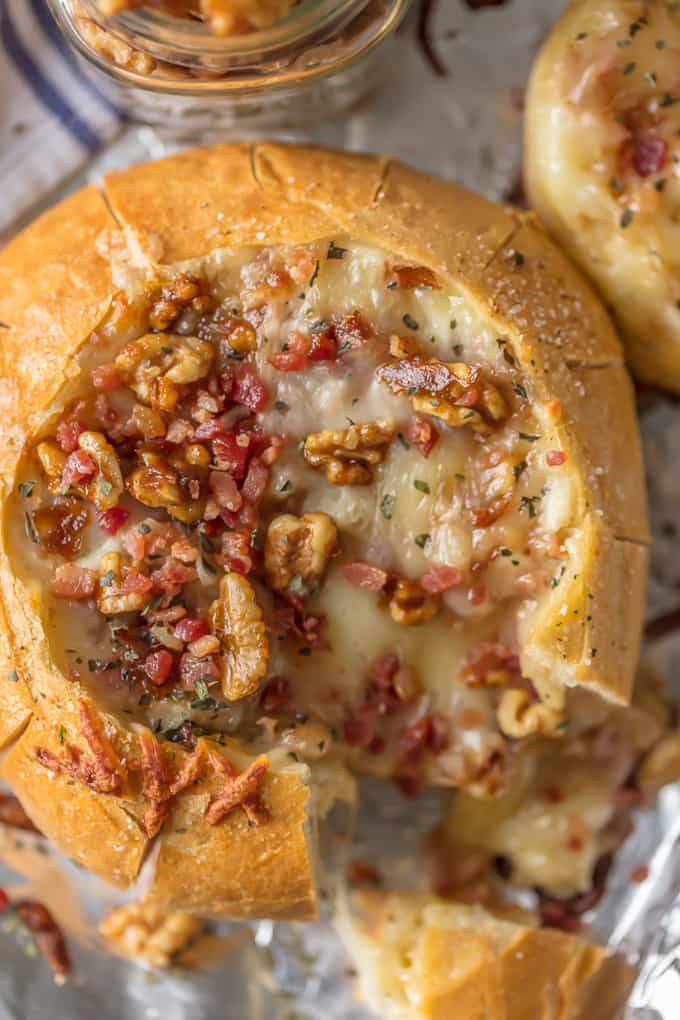 I can't wait for you to try this Baked Brie Bread Bowl Recipe! It's the best Baked Brie Recipe inside of a bowl of bread…what's not to love? And with all that bacon and delicious candied walnuts in there, you might just get addicted.
See the recipe card below to see full details on How to Make Baked Brie with Bacon and Candied Walnuts. Enjoy!
If you enjoyed this Baked Brie recipe, you'll love these other cheese dip recipes too: