Hot Buttered Cheerios are so tasty and so snackable! This sweet and salty snack mix recipe is sure to please guests at any party.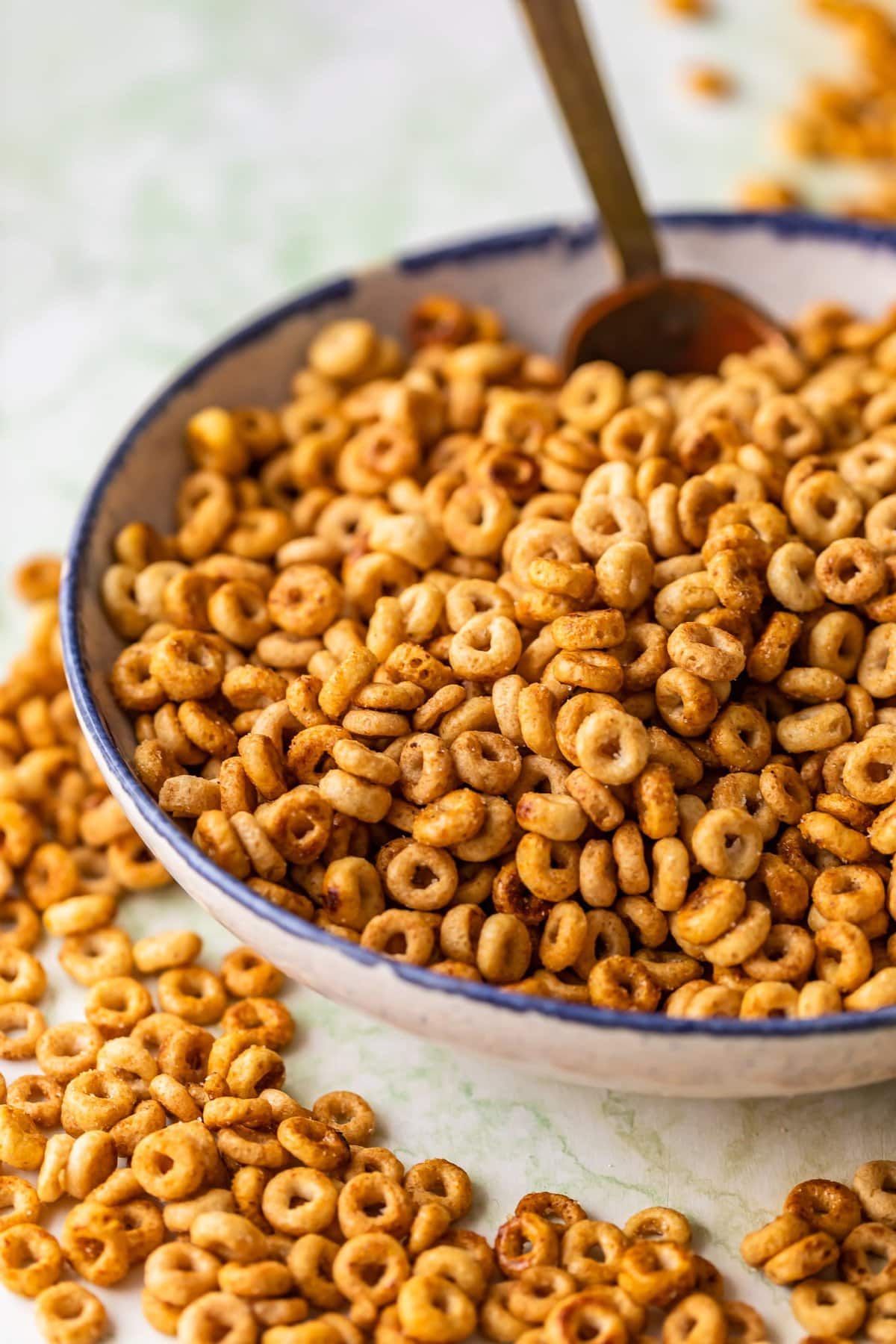 Hot Buttered Cheerios Recipe
Every party needs a tasty snack mix recipe or two! Appetizers and dips and desserts are great, but everyone is always looking for something small and simple to munch on. I set out bowls of Chex Mix, chips, and other salty treats at EVERY get together. Whether it's Sunday football, a holiday party, or just for pre-dinner snacking, it's kind of a mandatory thing. Never leave guests without snacks!
These classic Hot Buttered Cheerios are just the thing to tie people over between the hot dips and chicken wings. It's the perfect sweet and salty snack mix that no one can resist! Just mix Cheerios with a few ingredients on the stove top, and you've got one flavorful snack.
So if you're looking for something to set out for guests on Christmas day, New Year's Eve, or game day, these fried Cheerios are exactly what you need!
Hot Buttered Cheerios are a classic sweet and salty snack mix that everyone will love!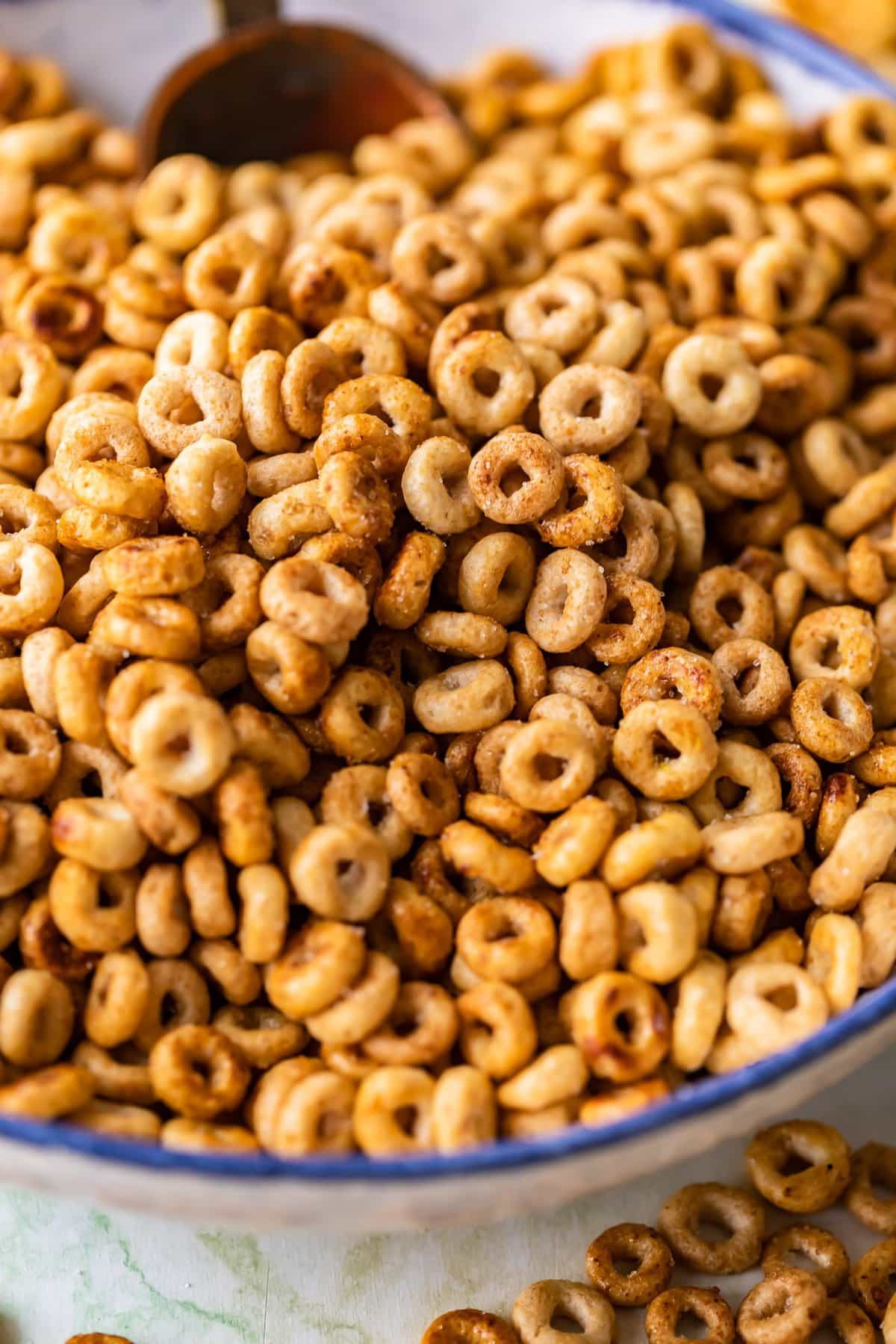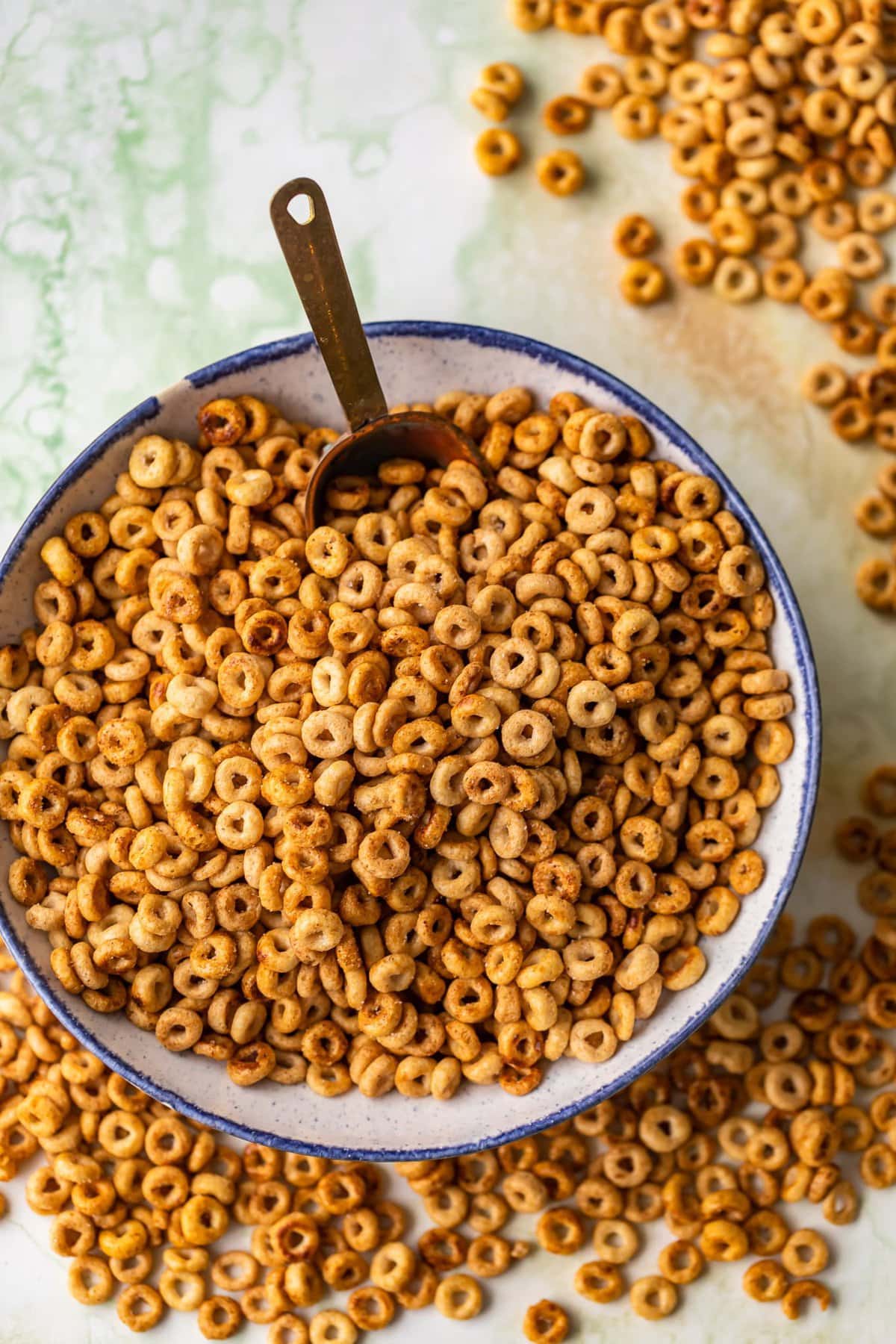 Sweet and Salty Snack Mix
There's something about the mix of sweet and salty that is absolutely irresistible! Why choose between the two when you can have both in one delicious snack mix?! The combination of original Cheerios and Honey Nut Cheerios gives the perfect balance with just the right amount of added flavor. Add in the butter, salt, Worcestershire Sauce, and sugar, and you've got a seriously addicting snack!
Hot Buttered Cheerios Ingredients:
Granulated Sugar
Butter
Seasoned Salt
Worcestershire Sauce
Plain Cheerios & Honey Nut Cheerios
These are the perfect back to school snack, and one of my favorite snack mix recipes!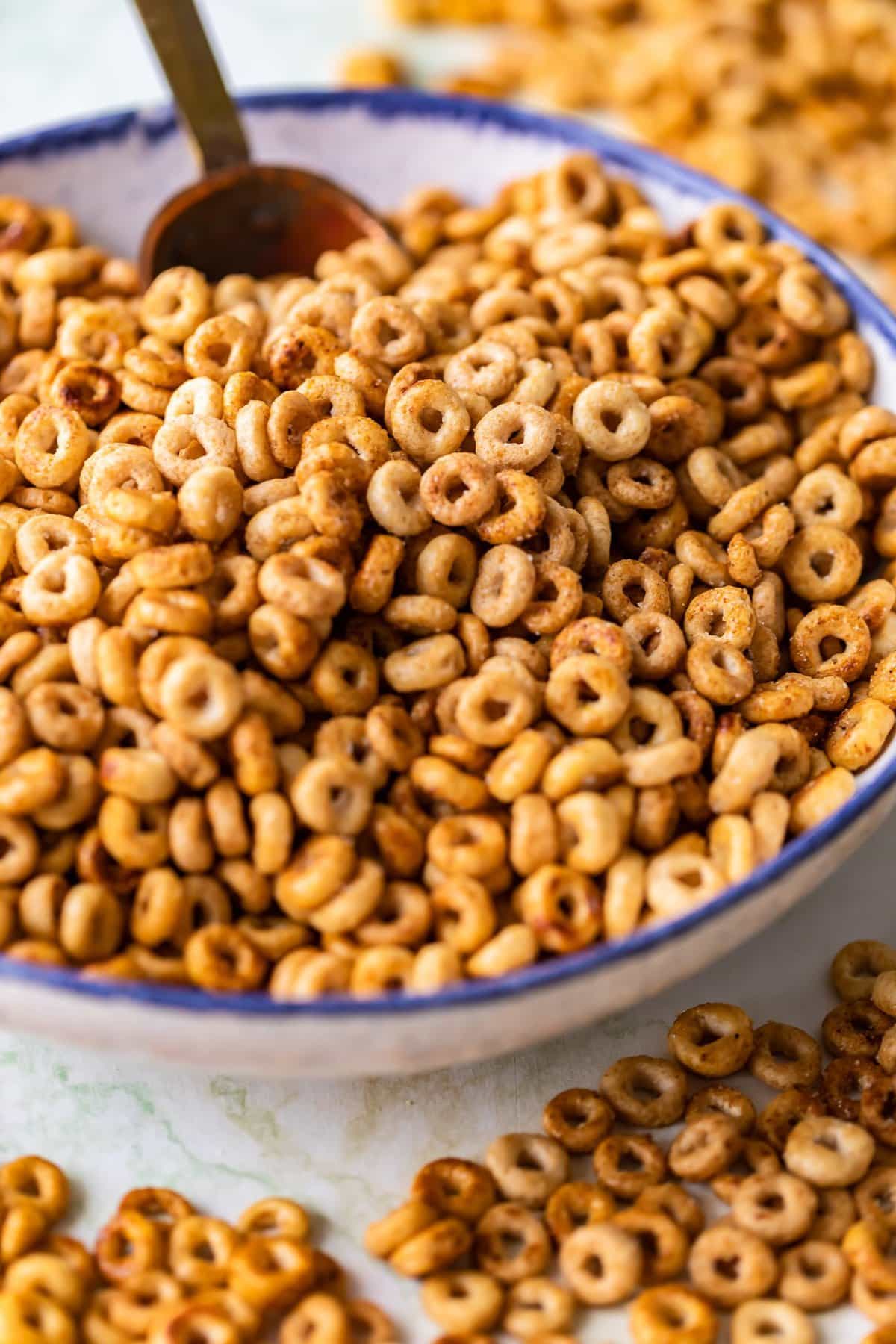 How to Make Hot Buttered Cheerios
This hot buttered Cheerios snack mix is so simple. Just mix everything together in a skillet, then let the Cheerios dry out before serving. It won't take you long to make, and this stuff is so easy to save…well, maybe not easy to save from getting eaten, but if you do happen to have leftovers, you can just throw it in a bag to snack on later!
How to make sweet and salty fried Cheerios:
Melt butter in a skillet over medium heat.
Stir in the Worcestershire sauce and seasoned salt.
Reduce heat to medium-low and stir in the Cheerios.
Cook until the Cheerios are fully coated, and the Worcestershire and butter are fully absorbed. (should take about 3-4 minutes)
Sprinkle the sugar over the cereal and cook just a couple more minutes.
Spread the cereal mix onto a baking sheet, and cook about 10 minutes at 200°F (this will help the cereal dry out).
Let the snack mix cool completely before serving or storing. Even if you're not planning a party, this is a great thing to keep around for those days when you're feeling extra snacky.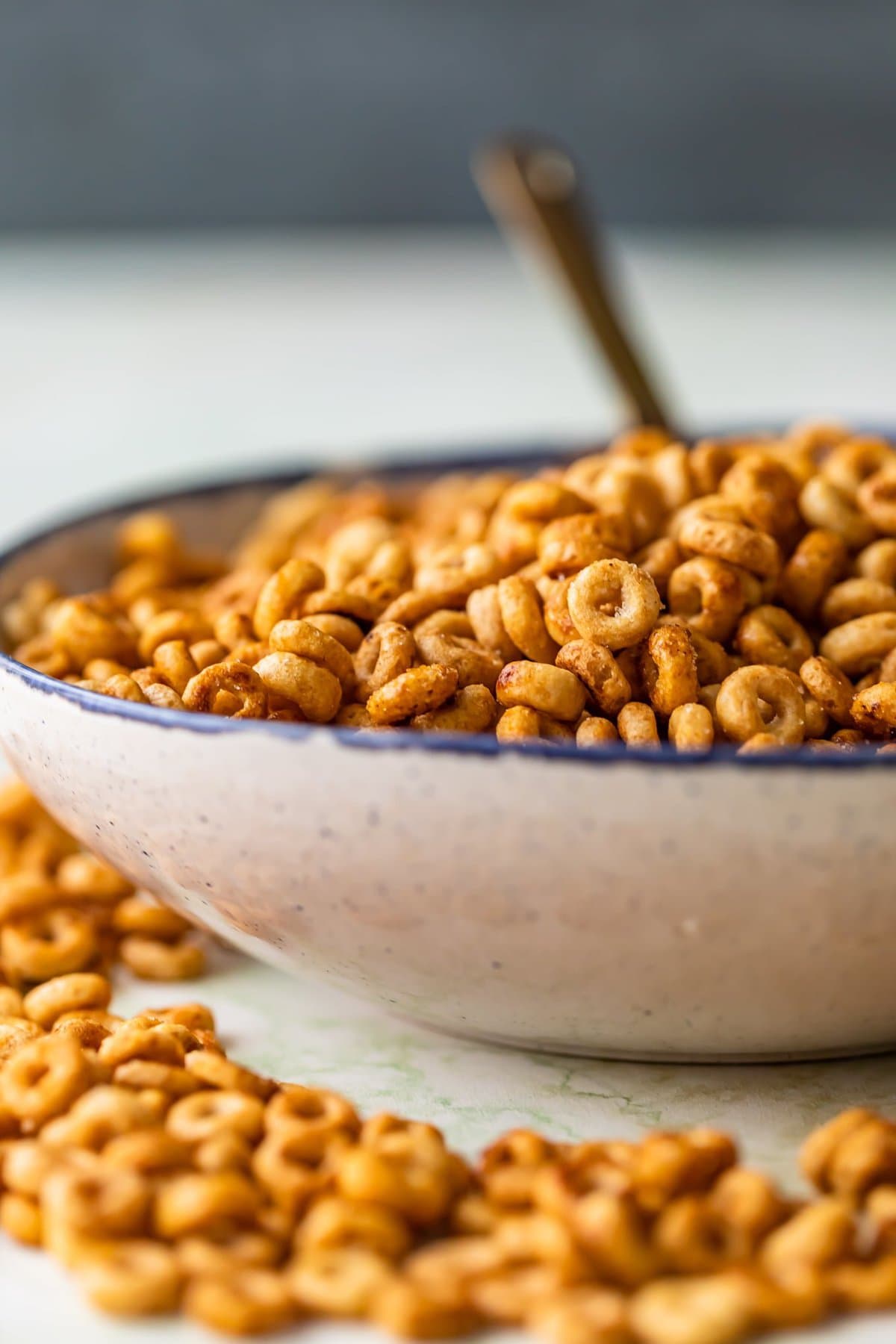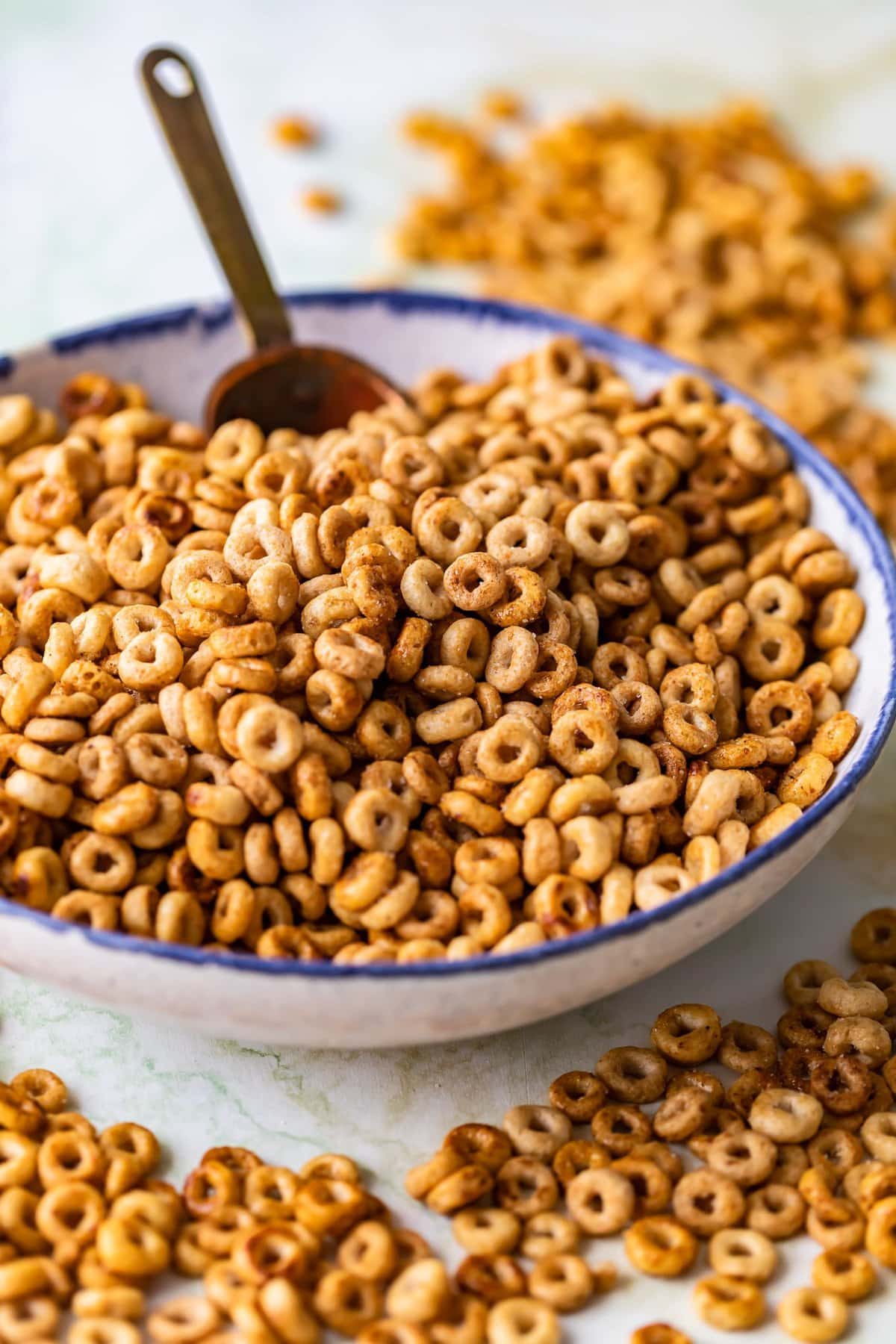 Easy Snack Mix Recipes
I love snack mixes! I can never seem to drag myself away from these salty little snacks, so I always make plenty. These Hot Buttered Cheerios are a favorite, but I've got some other classic snack mix recipes I like to put out at parties too.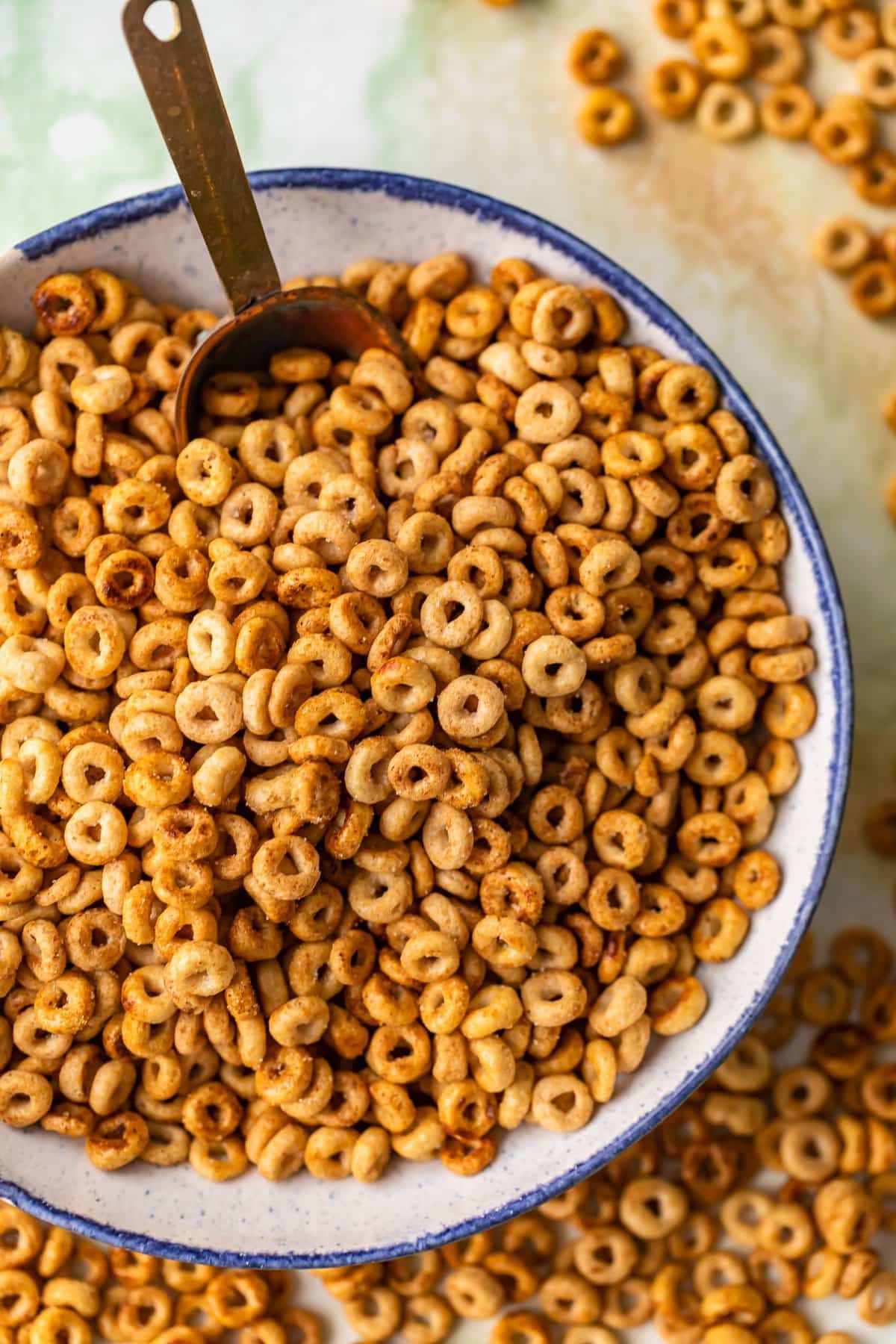 This classic Hot Buttered Cheerios snack mix is beyond addicting. Sweet and salty at its finest!
See the recipe card below for details on how to make Hot Buttered Cheerios Snack Mix. Enjoy!
Try these other super easy and super snackable recipes: