These Mexican spice cheese crackers are perfect for any party or for tailgating! Made with cheese-its, taco seasoning, and cilantro! SO ADDICTING! We love to have these around the house at all times. Just too good and too easy to not make on the regular!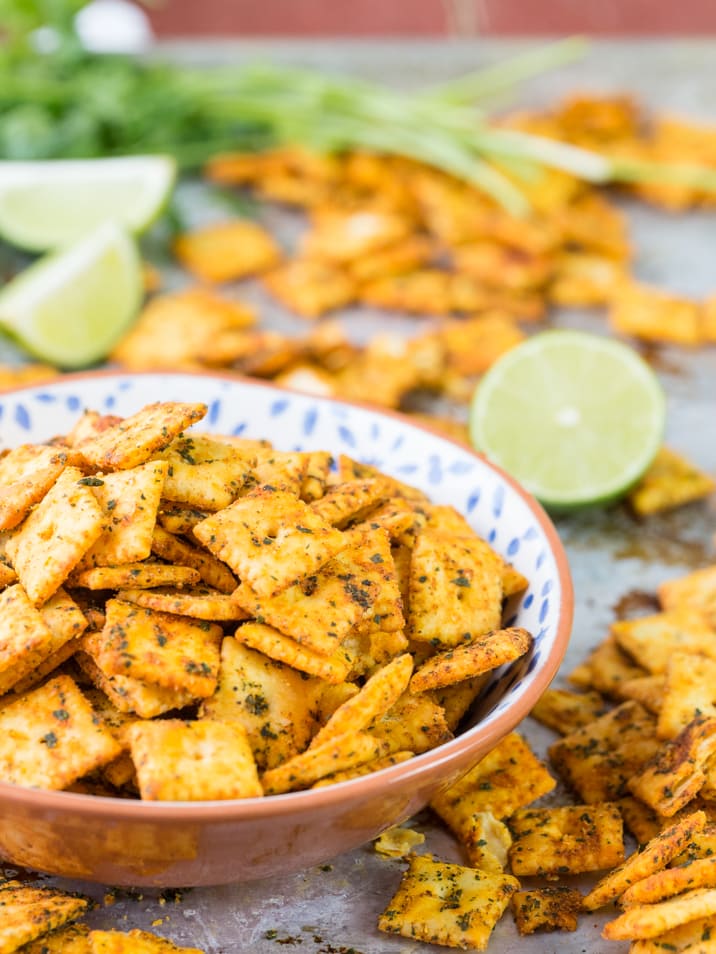 Being a food blogger is all about SELF CONTROL. My days consist of being immersed in recipe after recipe, cocktail after cocktail. A lot of times, I'll make small batch versions of the recipes I test, or will make the drinks with tiny amounts of alcohol to make sure they taste right.
Usually I'm good at the self control…but not today.
Today I made Mexican Spice Cheese Crackers. Today I made a lot of them. Let's just say that there won't be any left for Pat to sample. …Oops… I'm not to blame. THEY'RE JUST SO GOOD!
They have my three favorite things…Cheese, cilantro, and taco seasoning. Yep…just three ingredients are standing between you and total addiction.
Just looking at the pictures I'm contemplating making more. Someone please send help!
Be sure to try my Bacon Wrapped Crackers and Cheese Straws too!
Why you will love this recipe!
Quick and easy: It takes just 5 minutes to prep a big batch of these crackers before they get baked in the oven.
The perfect appetizer: These Mexican crackers are such an effortless app to serve. Minimal effort, maximum flavor. They are a great option for game day!
Simple ingredients: You just need 3 main ingredients and a little oil. You have no excuses not to make these beauties!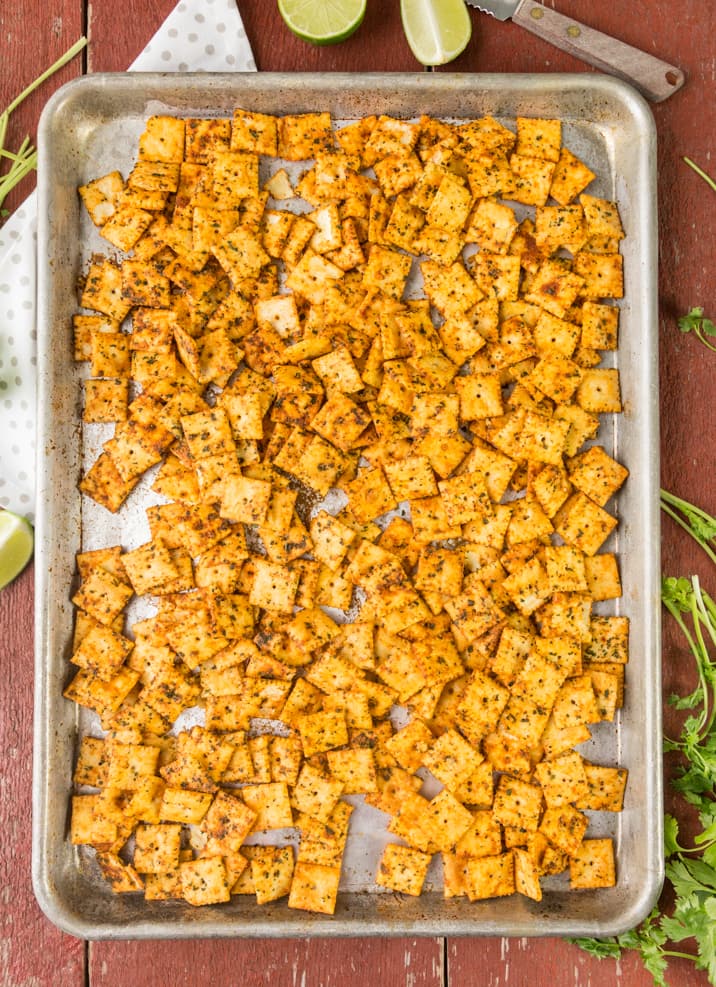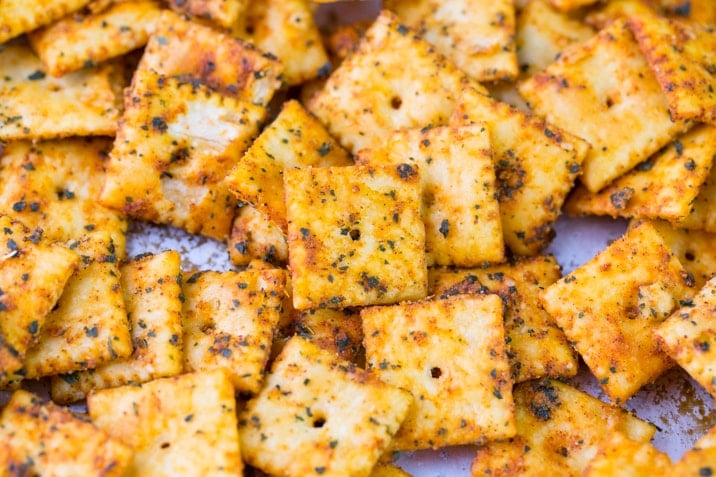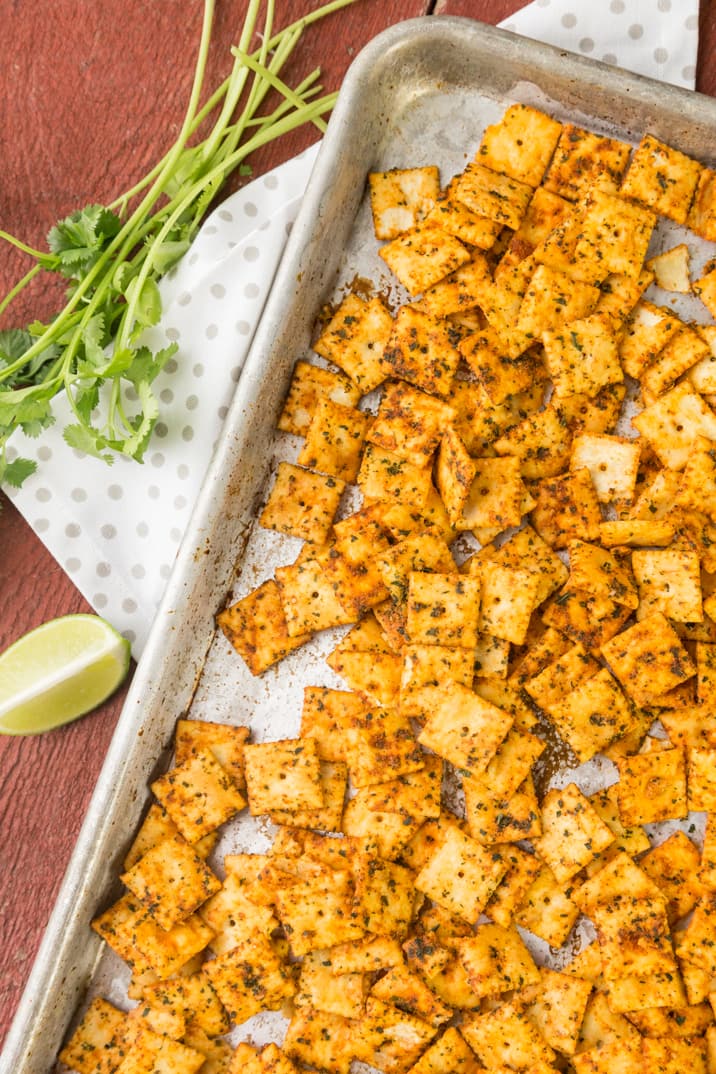 How to make Mexican spice cheese crackers
Be sure to scroll down for the full recipe!
Coat the Crackers in the oil.
Gently mix in the cilantro and taco seasoning.
Bake!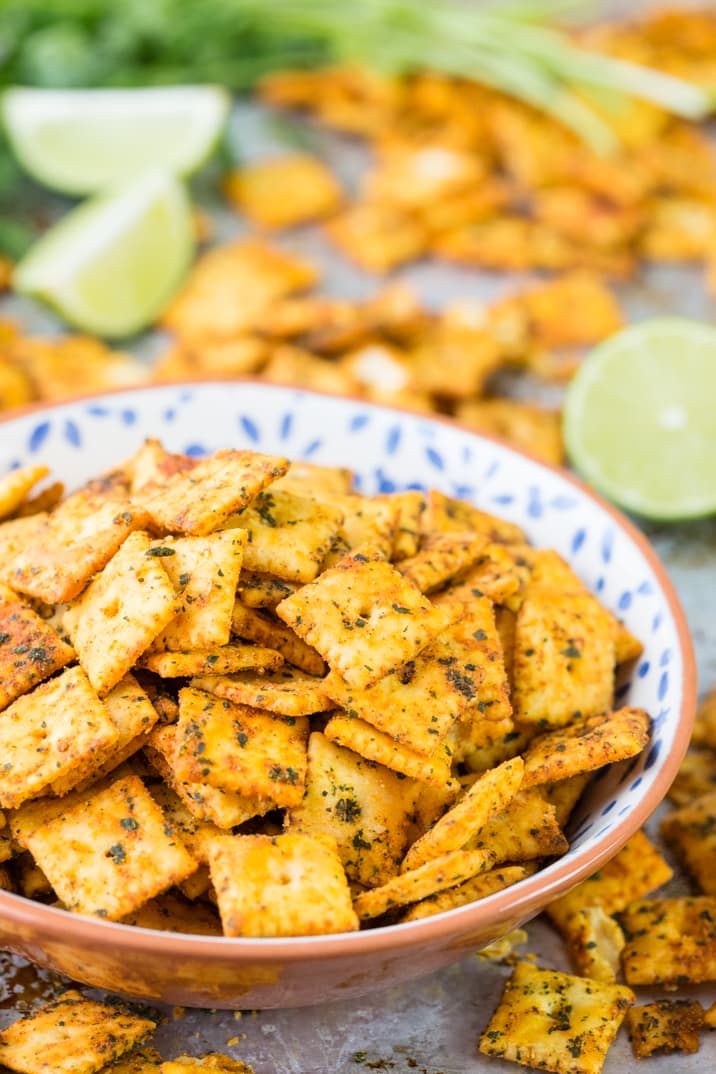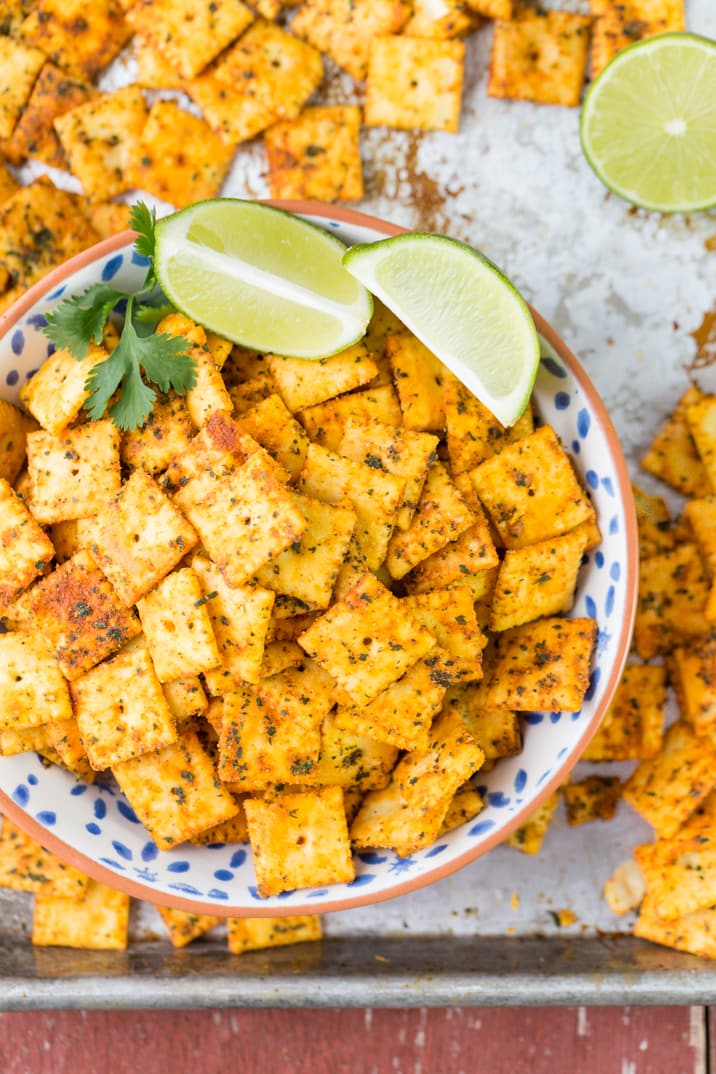 How long do they keep?
Once your Mexican spice cheese crackers have cooled, store them in an airtight container or sealable jar. They will keep well for a couple of days at room temperature.
They will still be good to eat after this time, but won't be as crispy. To crisp the back up, pop them on a baking sheet and bake in the oven at 350F for 10 minutes.
What are the best crackers to use?
I used white cheddar cheese-its, which have a great tangy flavor, but you can easily adapt the recipe to use with most crackers. Try them with Ritz or plain water crackers for a different flavor.
What do you serve them with?
These crackers are totally addictive by themselves, but they are great to serve with your favorite Mexican dips too. Try them with: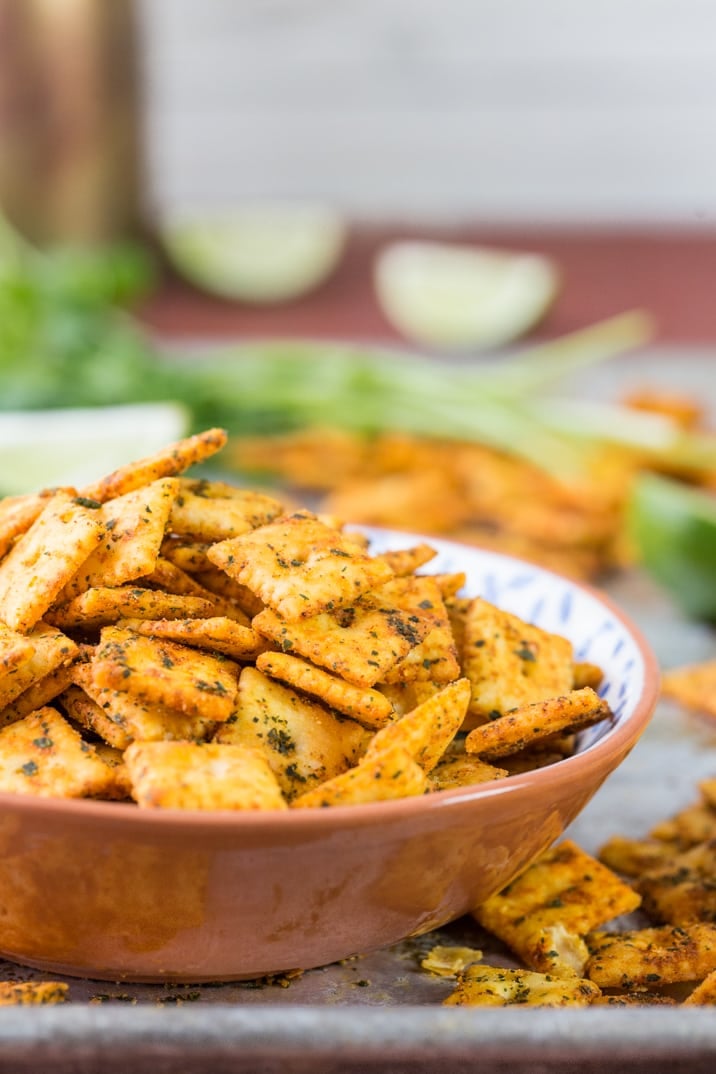 Recipe Notes and Tips
You can use your favorite store bought taco seasoning to make this recipe, or whip up some homemade.
It's best to use your hands to mix the crackers in the oil and seasonings. Be gentle so that they don't break.
Spread the crackers in a fairly even layer on the baking sheet so that they crisp up evenly.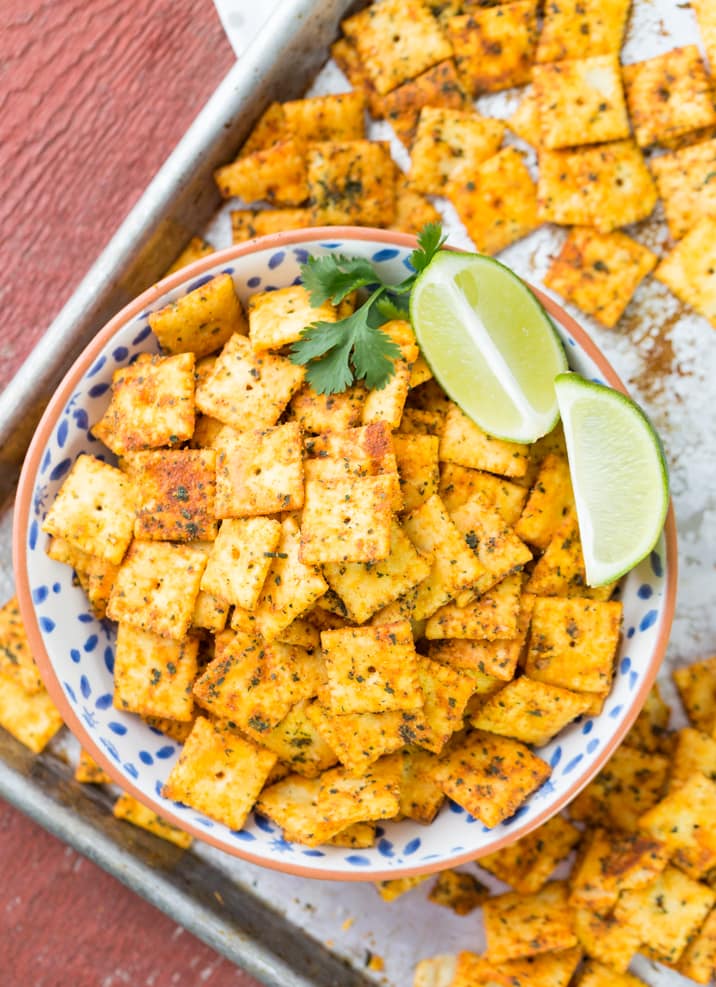 These Mexican Spice Cheese Crackers are the perfect year-round snack. I made them for a Summer BBQ (they didn't last until the BBQ). I'll be making them again for the World Series, Superbowl, March Madness, celebrating Thursdays…you get the idea. Obsessed!
More Easy Appetizers
If you make this recipe be sure to upload a photo in the comment section below or leave a rating. Enjoy!