If you are a fan of caramel corn then you will love these candied corn puffs! These little puffs are the perfect sweet, salty and crunchy mix for movie night, game day or just a delicious snack all to yourself.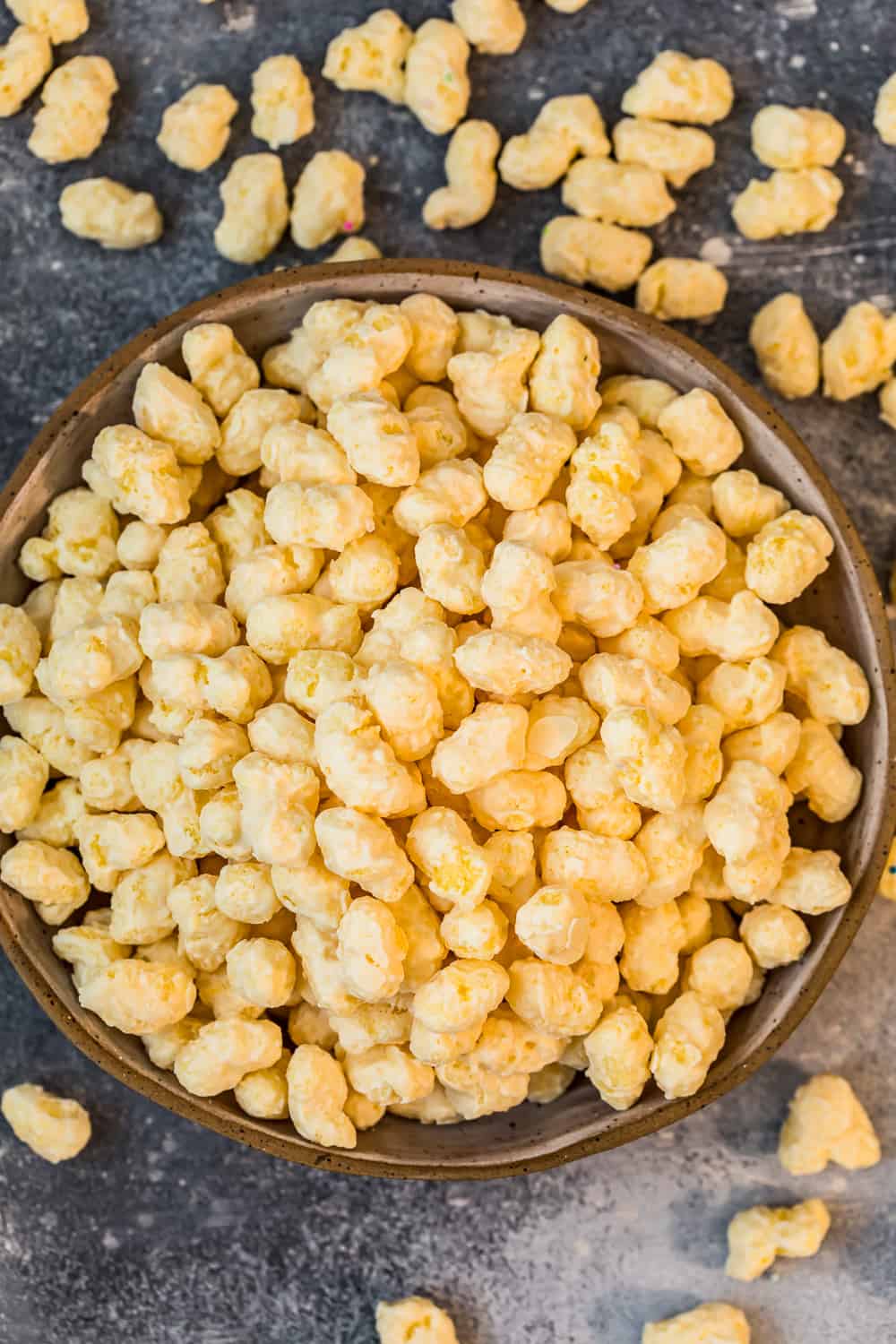 You can find these corn pops at most grocery stores, especially during the holiday season, in the same aisle as the chips. These are perfect in this recipe because there are no hard kernels, like with popcorn, and there is already some buttery flavoring on them that goes well with the sugary candy coating for a sweet and salty hit.
Only 3 ingredients too, so make a big ol batch!
How To Make These Candied Corn Puffs – Step By Step
Melt the almond bark in a clean, large, microwave-safe bowl and stir the almond bark until melted.
Pour the corn puffs into a huge bowl and pour the melted almond bark over the top. Use two rubber spatulas to "toss" the corn puffs until evenly coated.
Spread the mixture onto the prepared baking sheets – spread out the corn puffs as much as possible. Sprinkle lightly with coarse sea salt. Let the corn puffs dry completely, about 1 hour, and place in an airtight container up to 4 days (although I don't think they will last that long). If left in an open container, the puffs could get soggy.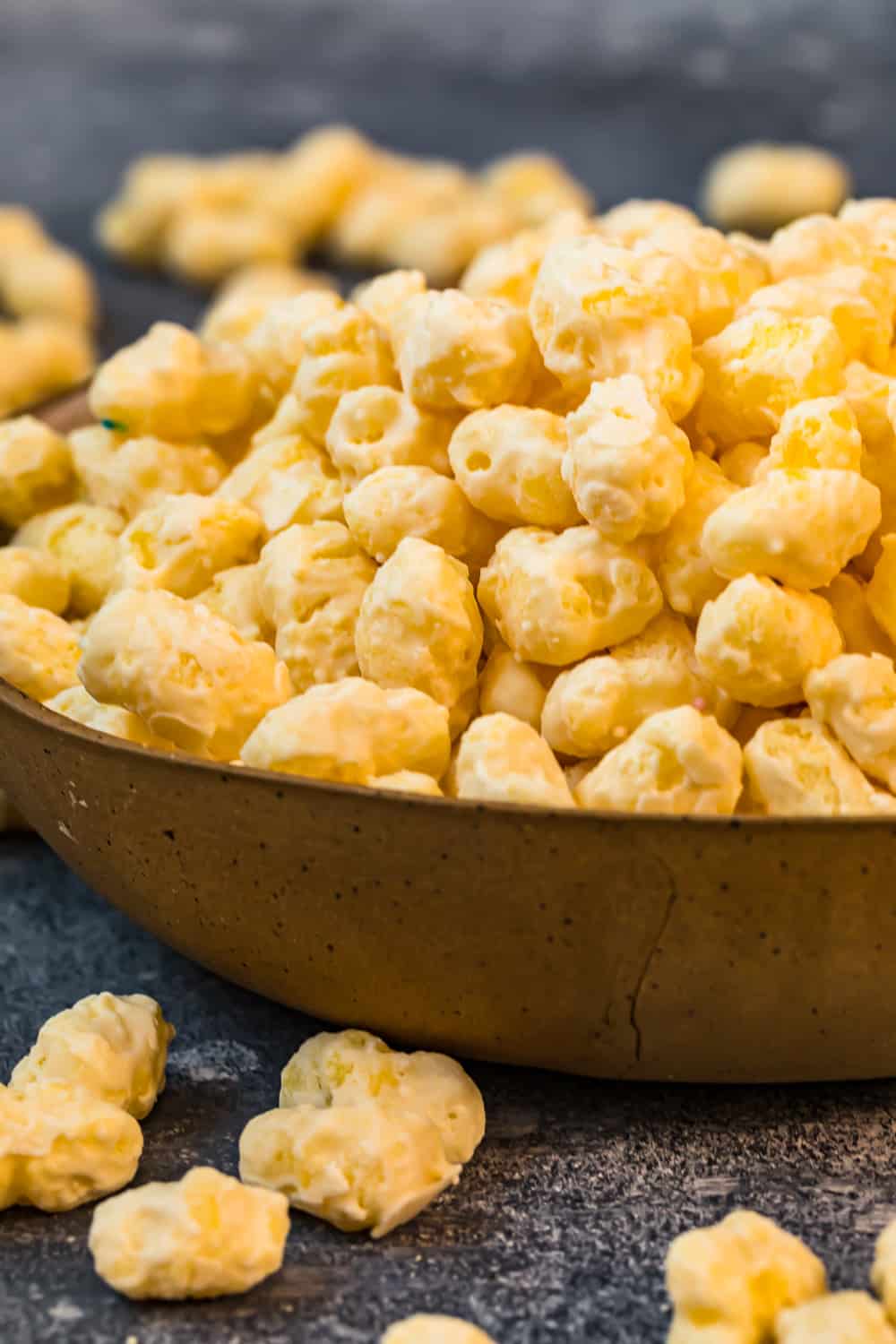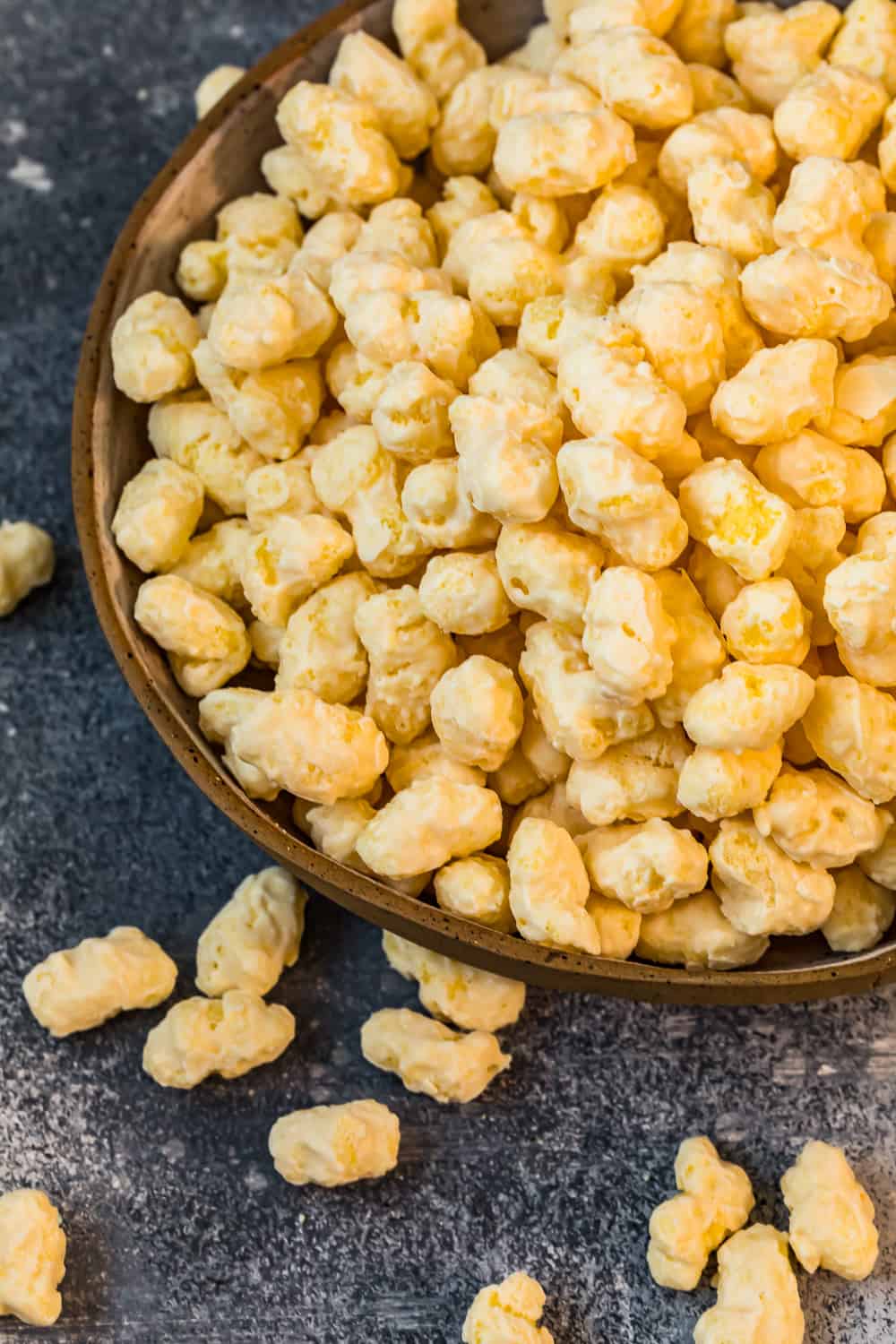 Corn Puffs – A Salty And Sweet Treat
If you love caramel corn, you will LOVE these salty-sweet corn puffs. They make the best treat…salty and sweet, and we love that they never get stuck in your teeth like popcorn sometimes can. We love this treat during the holidays.
What Is Almond Bark?
Almond bark is a chocolate-like confection made with vegetable fats instead of cocoa butter and with coloring and flavors added. It can be bought in packages, blocks, or round discs where candy and baking supplies are sold. It adds the perfect amount of sweetness to these little yellow puffs of loveliness.
Candied Corn Puffs Vs Candied Popped Corn
Puff Corn is way easier to make than popped because you take out the popping and the tedious act of sorting through the popped corn for all the kernels and half-popped, will-surely-mean-a-trip-to-the-dentist kernels.
Also, the puff corn has a saltier flavor, which balances out the sweetness of the almond bark in a way that regular air-popped corn does not. Perfect for those who crave the perfect salty-sweet mix!
With the crispy exterior and seriously melt-in-your-mouth interior, it's really a snack that can't be beat.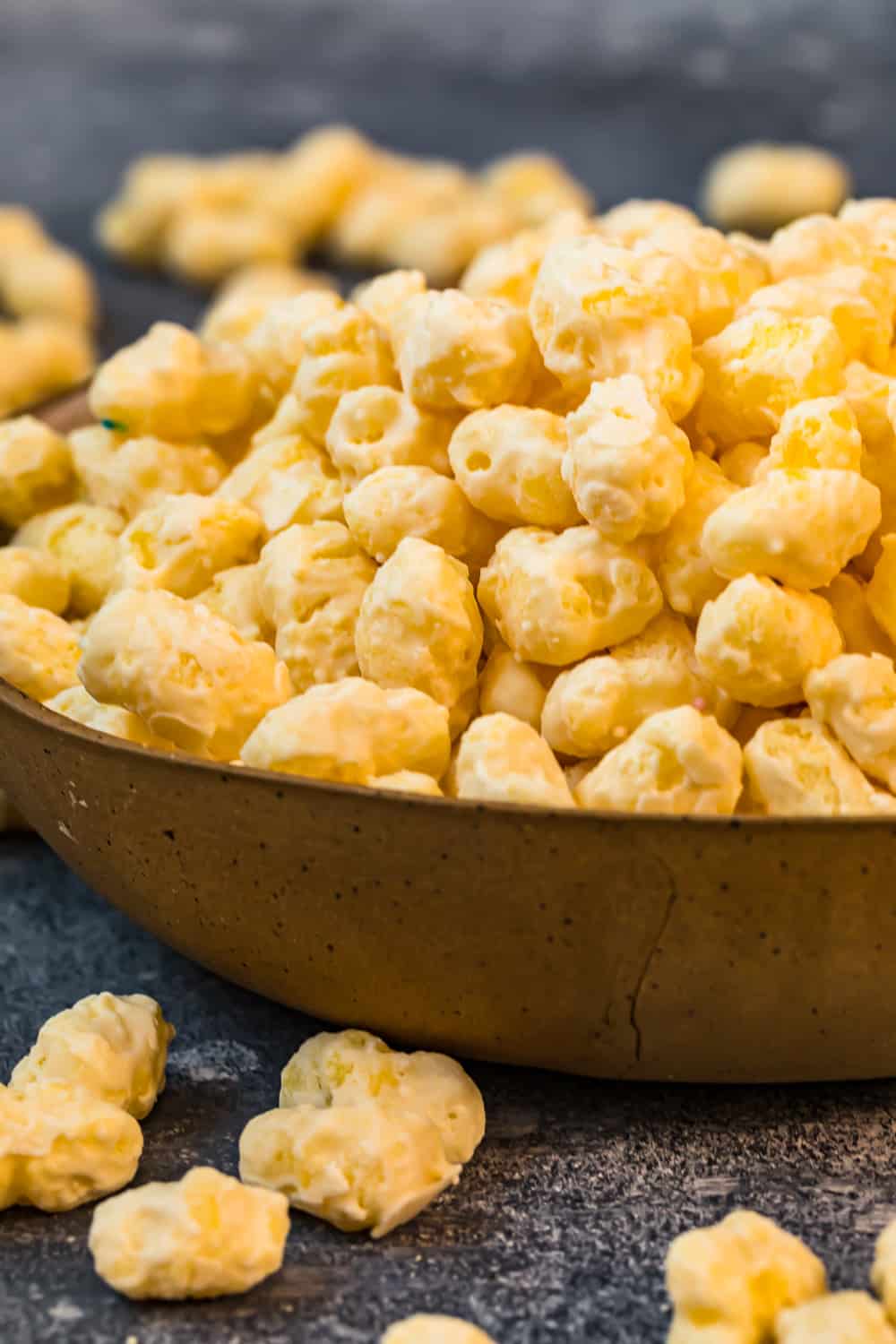 Top Tips For Candied Corn Puffs
Use parchment! Parchment paper is going to save you so much mess and unnecessary clean-up. No one wants to scrub a sheet pan full of dried on caramel.
Don't forget to stir the almond bark between melting it in the microwave.
Make sure to bake and stir. The baking helps to set the caramel so that it is firm and crunchy. Stirring the popcorn helps to make sure that all pieces are evenly coated and that they all dry accordingly.
Store in an airtight container to avoid sogginess!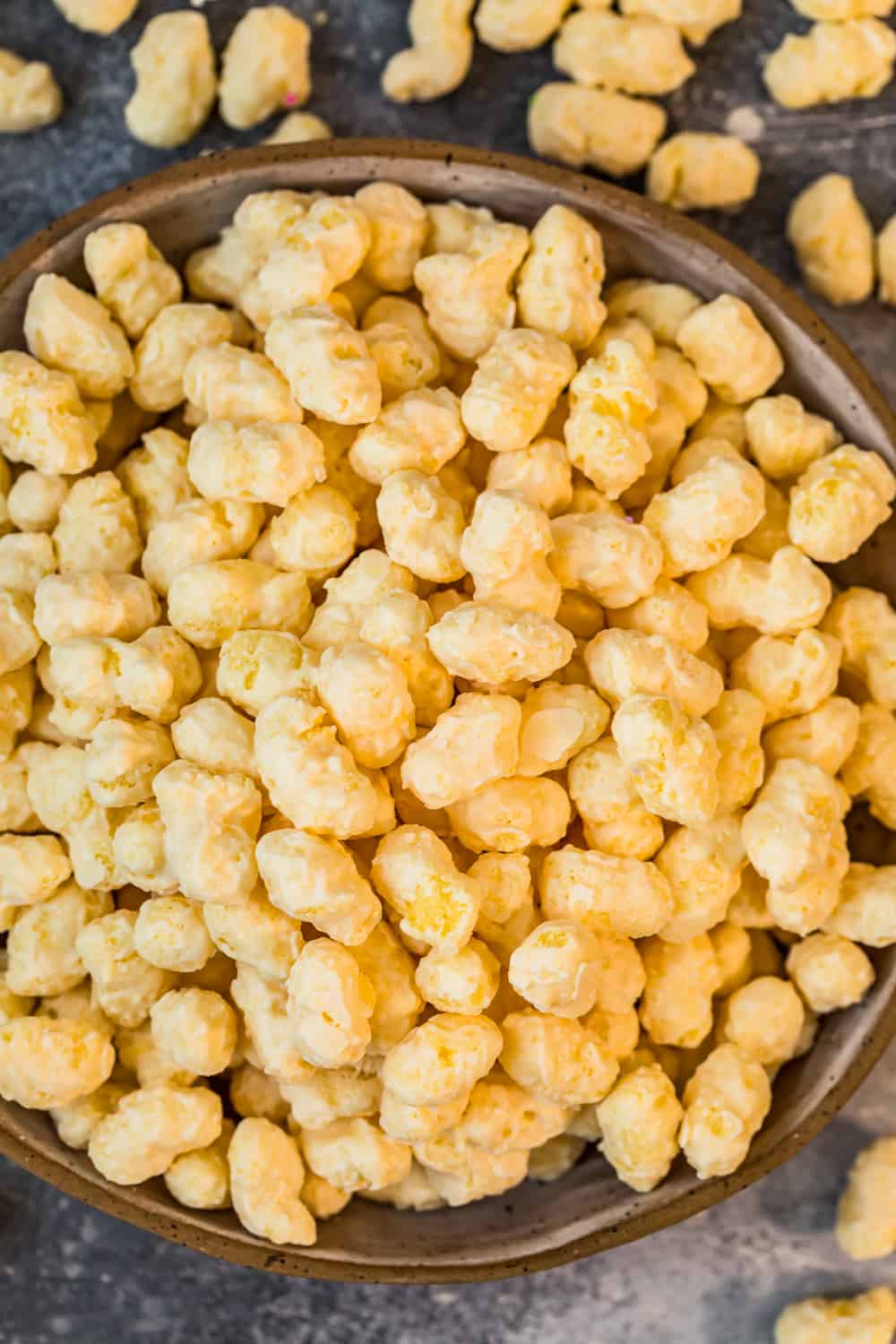 Check Out These Other Delicious Snacks
Did you try this Candied Corn Puffs recipe? I'd love to hear from you in the comments below!