Lemon Squares (Gluten Free Lemon Bars) are the easiest and best lemon bar recipe, and they just so happen to be gluten free! These lemon squares are one of our favorite easy gluten free desserts. Thick, creamy, tart, and utterly delicious; The Best Lemon Bars you'll ever taste.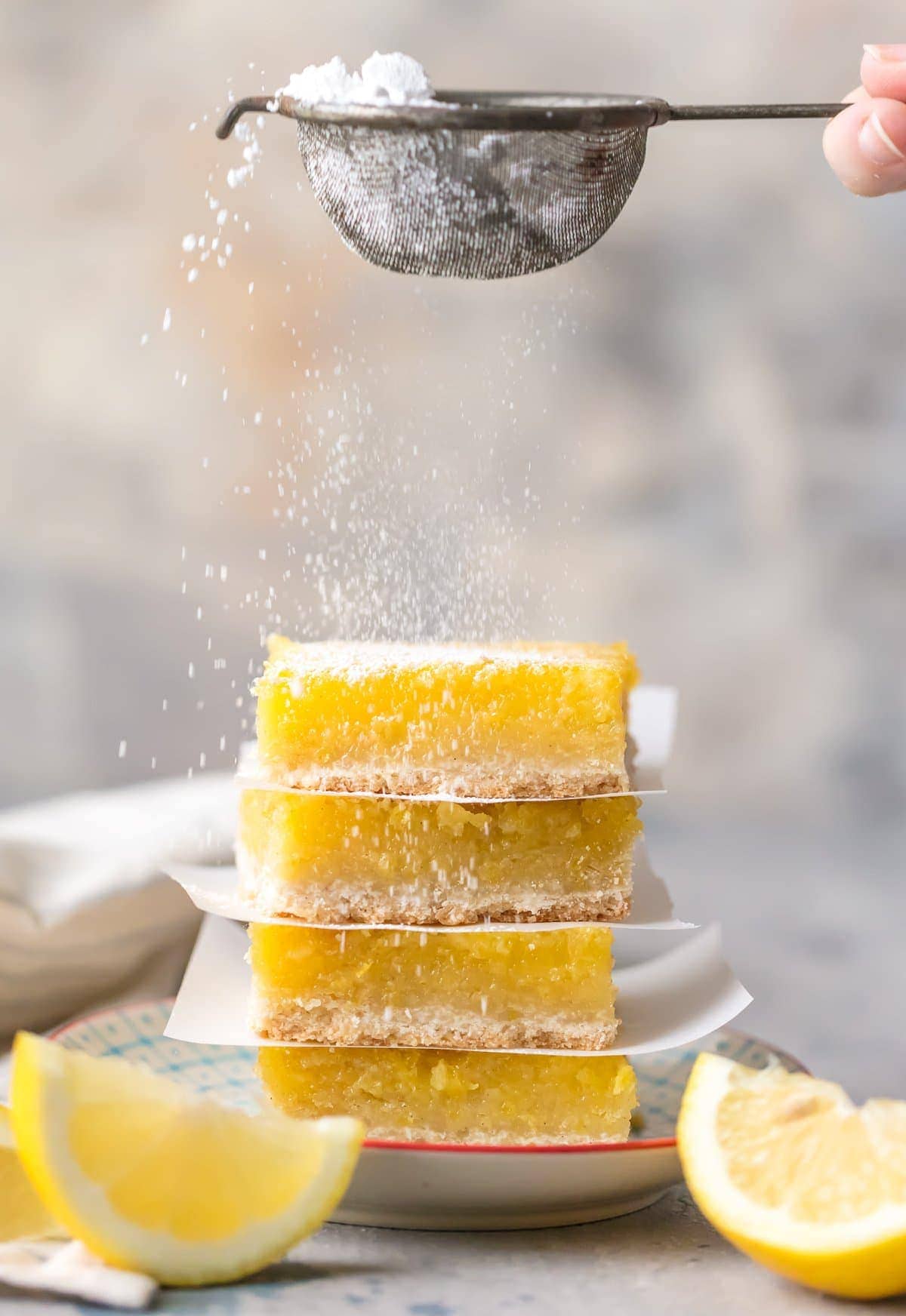 GLUTEN FREE Lemon Bars Recipe (Lemon Squares)
Lemon Squares are a classic recipe everyone should know how to make. These Gluten Free Lemon Bars are so EASY, anyone can feel like a pastry chef.
Lemon Squares are easier than you might think. Baking is still a bit intimidating for me, as I've talked about before. When I started this blog, I couldn't cook ANYTHING, and I for sure couldn't bake anything. Cooking seems to be so much easier to me.
Throw this in, leave this out…most recipes are easy to customize and hard to ruin. Baking is more precise. It seems like more of a skill. Along the blog's journey, I've had some baking successes that I'm so proud of! These Gluten Free Lemon Bars are a favorite.
Before I attempted these easy lemon bars, My mom helped me make her famous Oatmeal Chocolate Chip Crinkles, I made an amazing Raspberry Moscow Mule Bundt Cake, and I tackled and perfected Mini Nutella Cheesecakes (nevermind that those are no bake. shhh!).
Today's recipe, GLUTEN FREE LEMON BARS, has quickly become one of my favorite gluten free dessert recipes on the site. They are SO creamy, dreamy, and EASY! You'll crave them year round, but they're especially perfect for Spring and Summer. Lemon Squares just can't be beat in my opinion.
These Gluten Free Lemon Bars are a must-bake dessert! I love the flavor of these Lemon Square AND they're easy to make.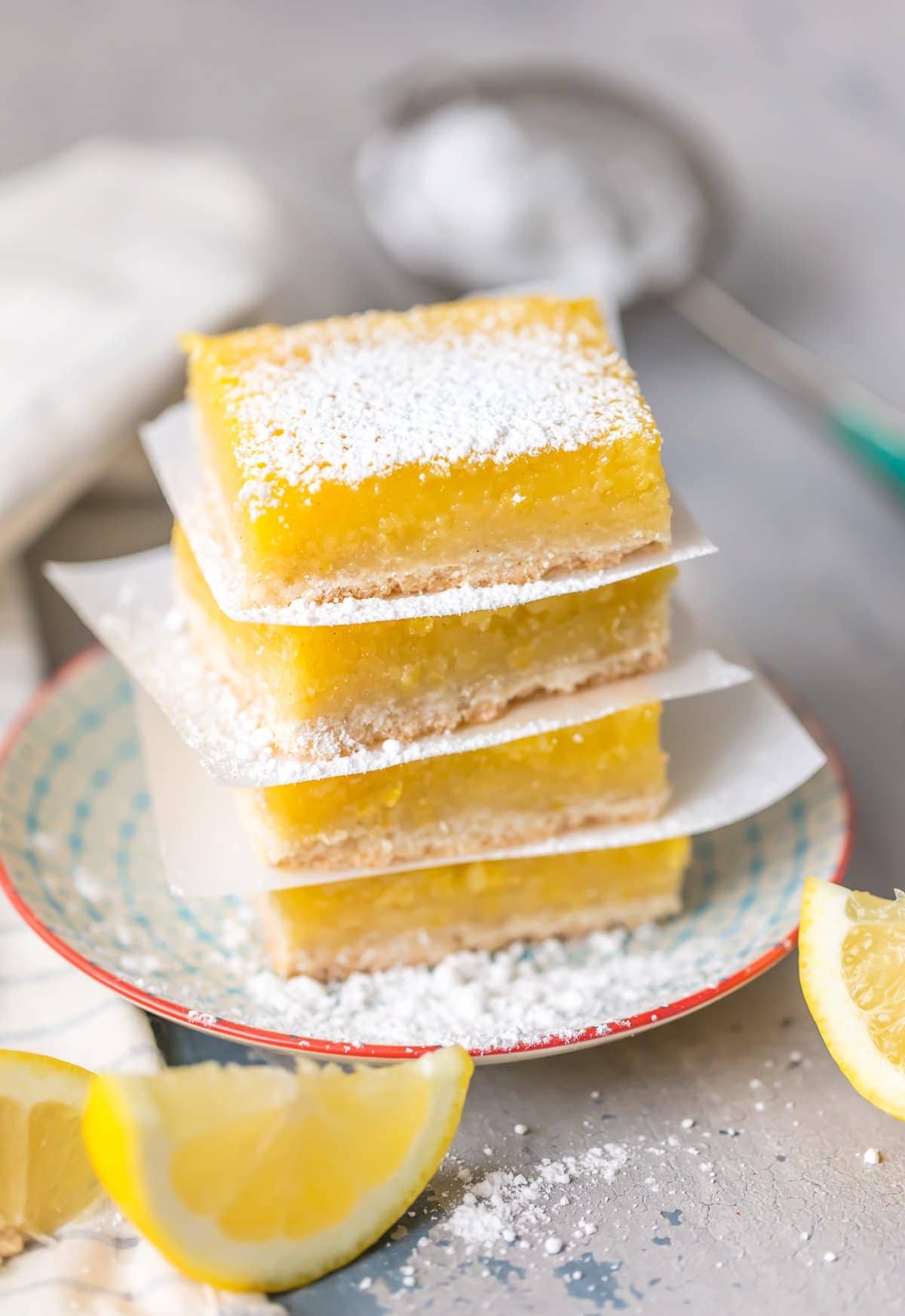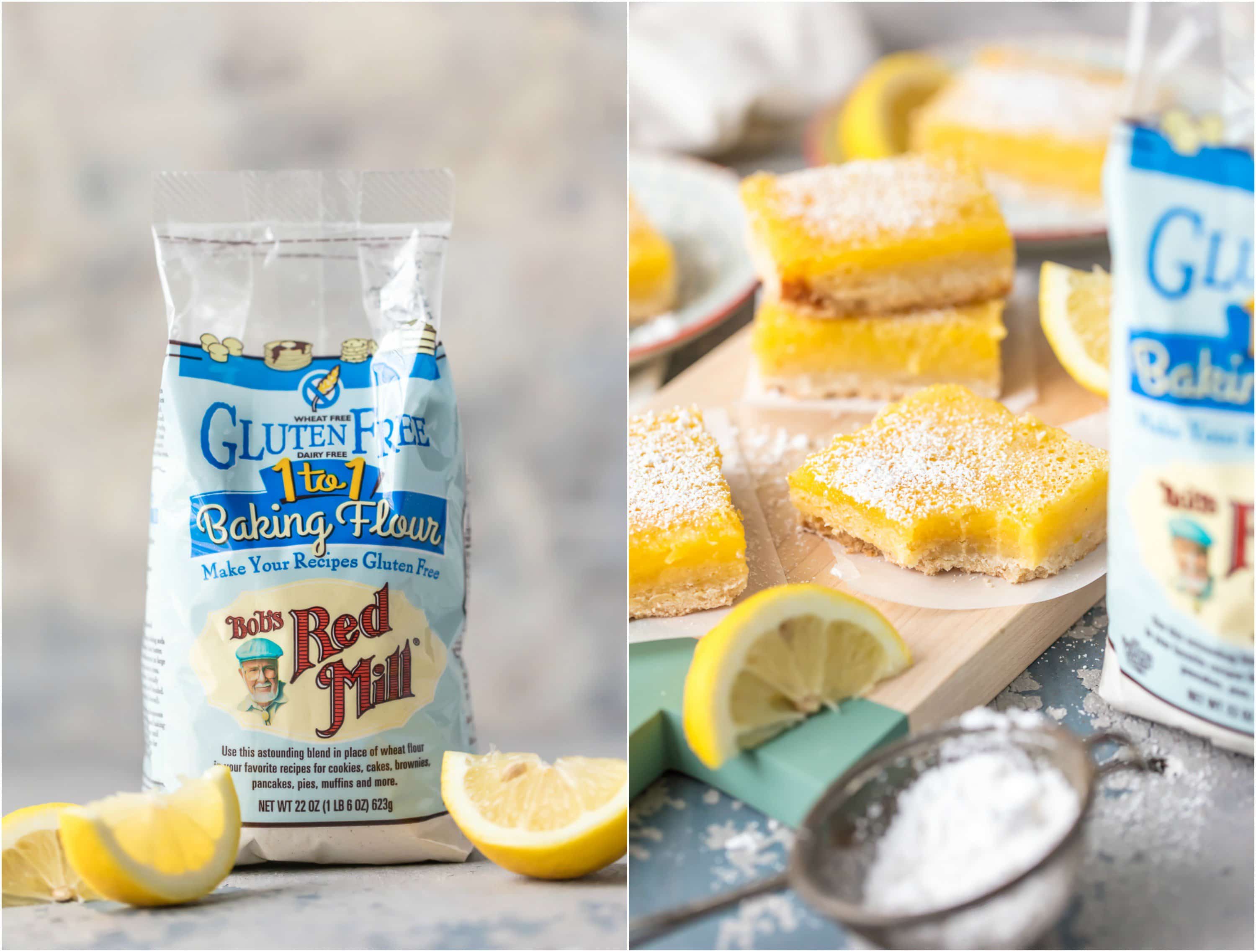 How do you make Gluten Free Lemon Bars?
Part of what makes these Gluten Free Lemon Bars oh so easy and perfect is Bob's Red Mill Gluten Free 1 to 1 Baking Flour. You heard that right, ONE TO ONE. No more adding in special ingredients to make gluten free flours work with your favorite recipes. You can literally add this flour into any of your best bets just as you would all purpose flour and bake away. Bob's is amazing and making things way too simple for people like me. It's what makes this recipe one of my favorite Easy Gluten Free Desserts. It's as simple as swapping out the flour.
Thank you Bob's Red Mill! Pat thanks you too, he's the inspiration behind these lemon squares. He asked me to work on some gluten free goodies and this was my first attempt. Now that I know how easy they are, they won't be my last.
Easy Gluten Free Recipes
If you're looking for some more easy gluten free desserts or other recipes, try out some of my favorites: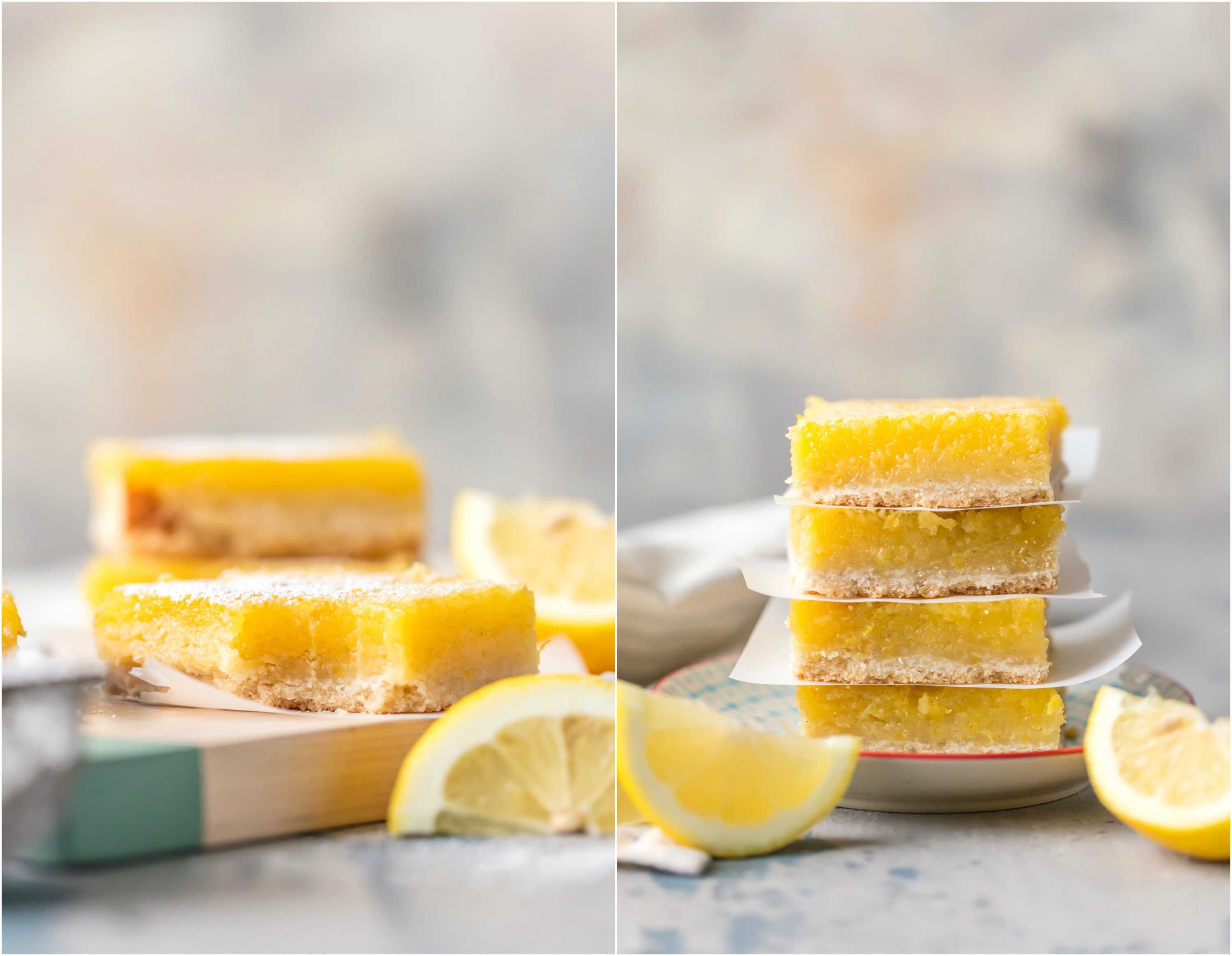 Tips for making Lemon Squares
I sampled a few variations before settling on this Lemon Bar Recipe. I'm SO happy with the result. These gluten free Lemon Bars are the right amount of creamy, tart, and crust all together.
There are tons and tons of great lemon sqaure recipes out there, but I hope you give this one a try. I think it's amazing and we sure do love it. I know its a bold statement to say these are THE BEST LEMON SQUARES but I really do think this is the Best Lemon Bar Recipe out there! If I do say so myself (as my Mom would say). :)
These lemon bars are so perfect for Easter. Get more Easter Dessert Ideas right here!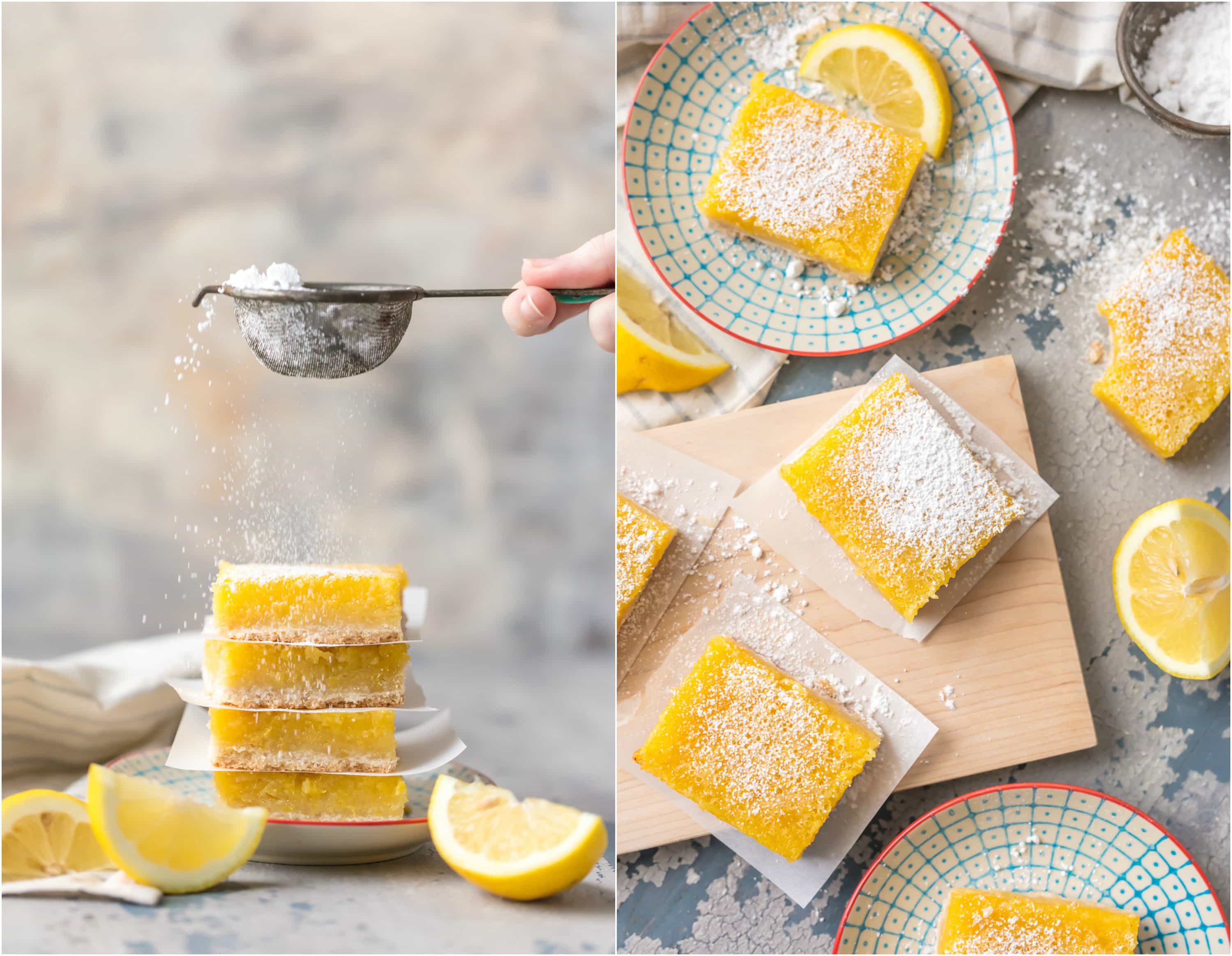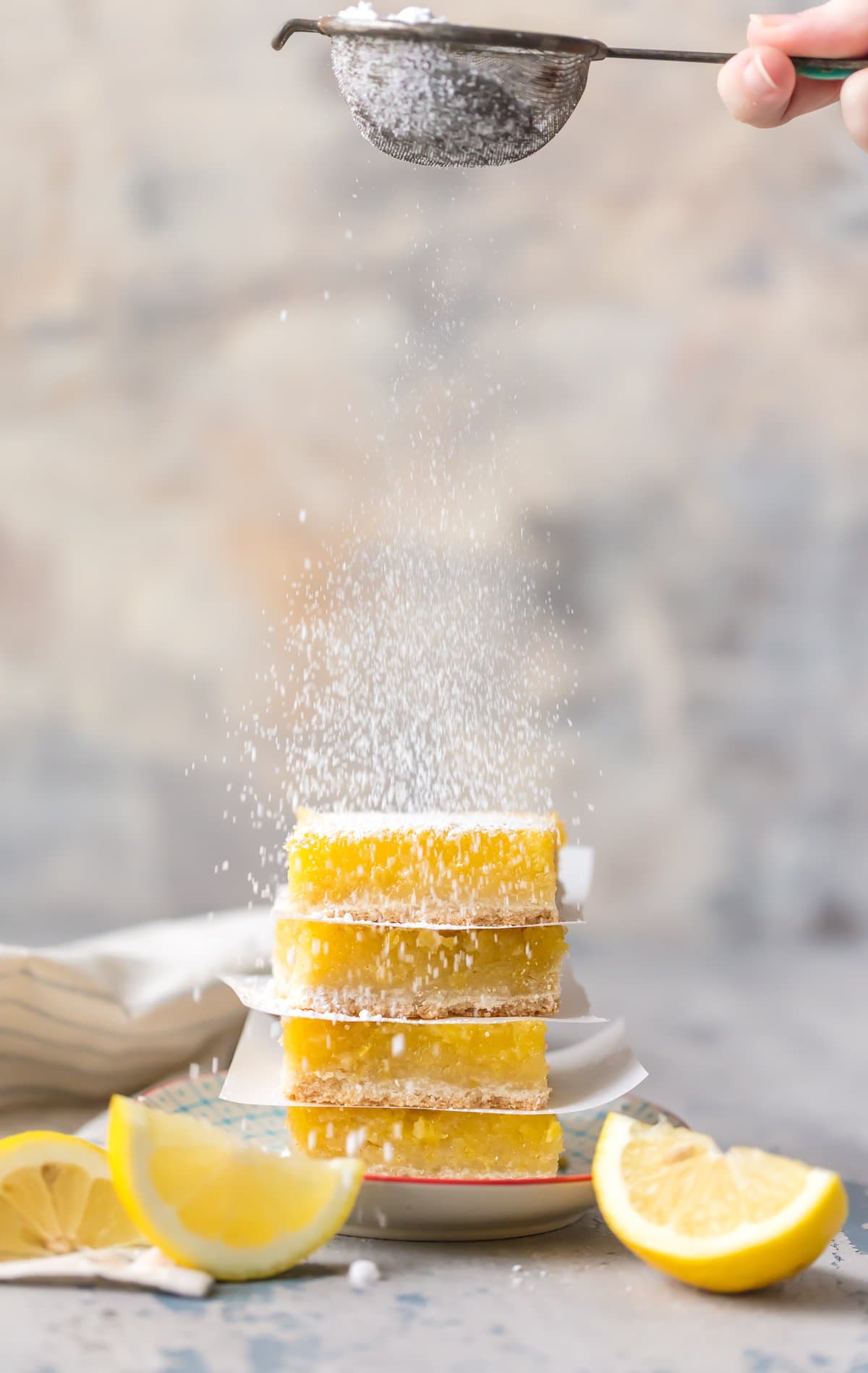 Do you put Lemon Bars in the fridge?
I recommend keeping them cool. You can keep them in the fridge or on the counter in an air tight container for 2-3 days, but the refrigeration will only enhance the flavor of the bars and keep them extra creamy.
How much is the juice of one lemon?
On average, each lemon has 2 tablespoons of lemon juice and 1 tablespoon of lemon zest. Great info to know!
How long can you keep lemon squares?
I recommend no more than 2-3 days in an airtight container.
How long is a lemon good for?
A lemon can stay good and fresh for up to 1 week at room temperature and 2-3 weeks in the fridge. Cut lemons can stay good for 2-3 days in the fridge.
NOTE: If you want to make this dessert with regular flour (instead of gluten free) that's not problem at all! Just use all purpose flour in the gluten free flours place. Also, I hope you'll check out all of our Gluten Free Recipes!
See the recipe card below or watch our video on how to make Lemon Squares. Enjoy!
Be sure to try some of our other lemon-flavored recipes: