Gluten Free Lemon Bars are the easiest lemon bar recipe, and they just so happen to be gluten free! Thick, creamy, tart, and utterly delicious. The Best Lemon Bars you'll ever taste!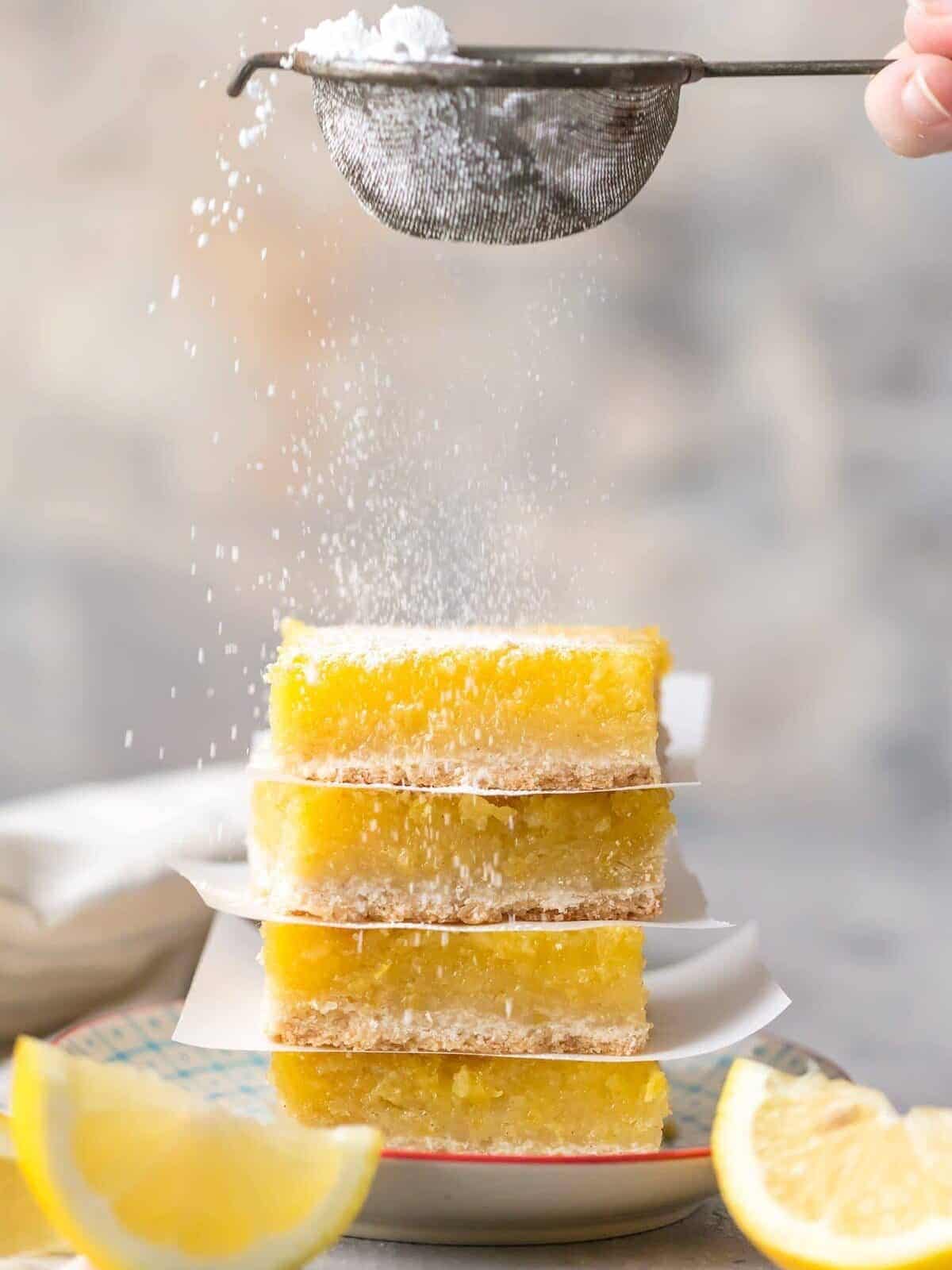 What's in this Lemon Bars Recipe?
We love our classic lemon bars so much, we just had to make a gluten-free version! These lemon bars have quickly become one of my favorite gluten-free dessert recipes on the site. They are so creamy, dreamy, and easy!
Gluten-Free Flour: Part of what makes these Gluten Free Lemon Bars oh-so-easy and perfect is Bob's Red Mill Gluten Free 1 to 1 Baking Flour. You heard that right, one-to-one! No more adding in special ingredients to make gluten-free flours work with your favorite recipes. You can literally add this flour into any of your best bets just as you would all-purpose flour and bake away.
Granulated Sugar: Sweetens the crust and the filling.
Salted Butter: Adds fat and flavor to the crust. If using unsalted butter, add a pinch of salt to balance the flavor.
Water: Helps bring these bars together and makes them dairy-free!
Lemon: You'll need 4 lemons for this recipe. You'll use the juice of 4 and the zest of 2. I do not recommend using bottled lemon juice, as it just won't taste right.
Eggs: Help make the filling rich and creamy like lemon curd!
Pro Tip: You can also make these lemon bars with regular all-purpose flour if you're not gluten-free!
Variations on the Best Lemon Bars
These dreamy gluten free lemon bars are so easily adaptable!
For Blueberry Lemon Bars, stir a cup of fresh blueberries into the filling, or add a thin layer of blueberry jam between the crust and the curd.
For Raspberry Lemon Bars, stir a cup of fresh raspberries into the filling, or add a thin layer of raspberry jam between the crust and the curd.
For Cranberry Lemon Bars, stir a cup of fresh cranberries into the filling, or cook down some cranberries and sugar into a cranberry jam!
For Meyer Lemon Bars, use Meyer lemon juice and zest.
For Gluten Free Lemon Bars with Graham Cracker Crust, pulse a few sheets of gluten-free graham crackers in a food processor and use them in place of the flour.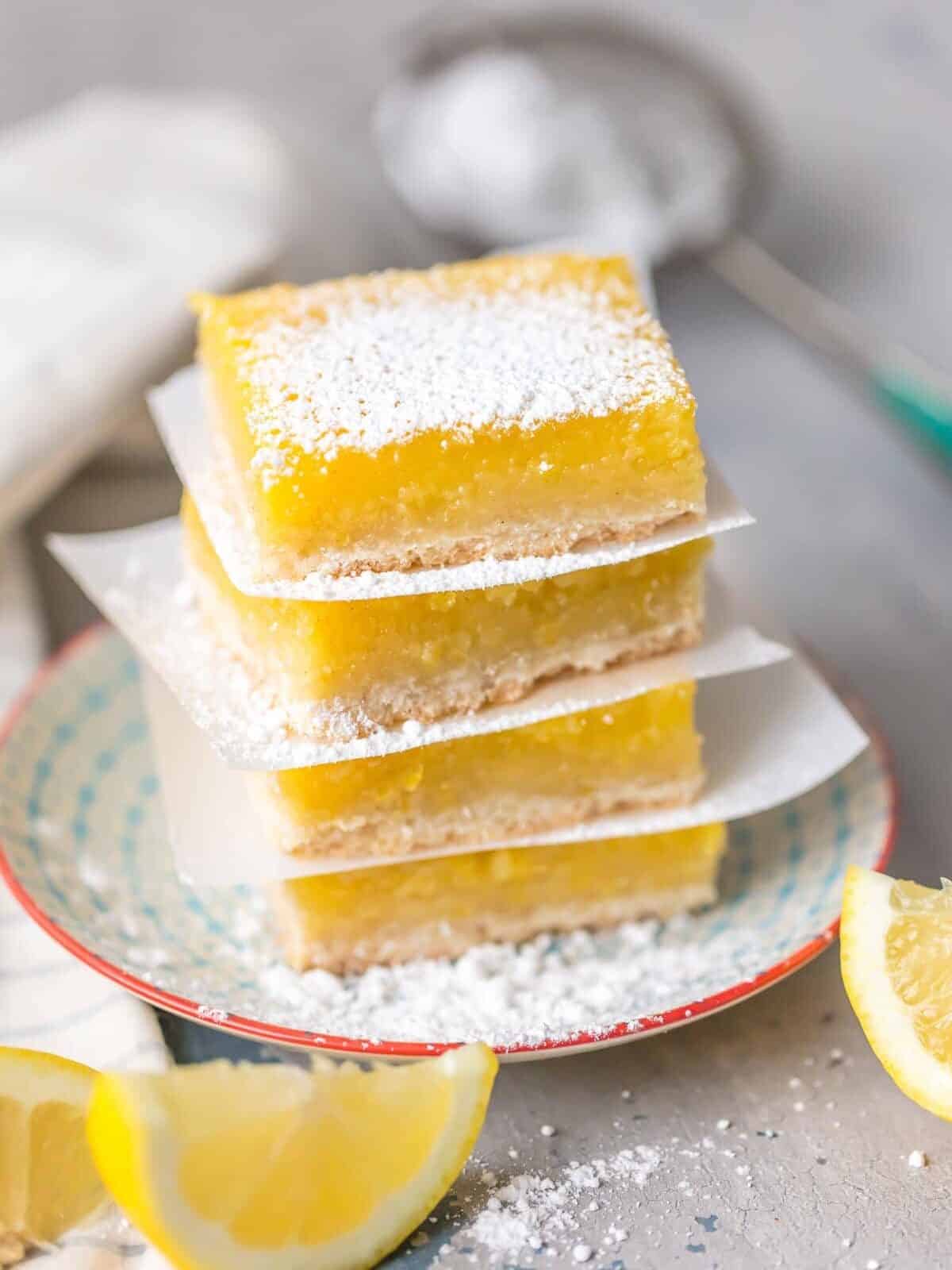 How much is the juice of one lemon?
On average, each lemon has 2 tablespoons of lemon juice and 1 tablespoon of lemon zest. Great info to know!
How long is a lemon good for?
A lemon can stay good and fresh for up to 1 week at room temperature and 2-3 weeks in the fridge. Cut lemons can stay good for 2-3 days in the fridge.
Do lemon bars need to be refrigerated?
I recommend keeping them cool. You can keep them in the fridge or on the counter in an airtight container for 2-3 days, but the refrigeration will only enhance the flavor of the bars and keep them extra creamy.
How long can you keep lemon squares?
I recommend no more than 2-3 days in an airtight container.
Can you freeze lemon bars?
Yes! Lemon bars freeze beautifully for up to 3 months!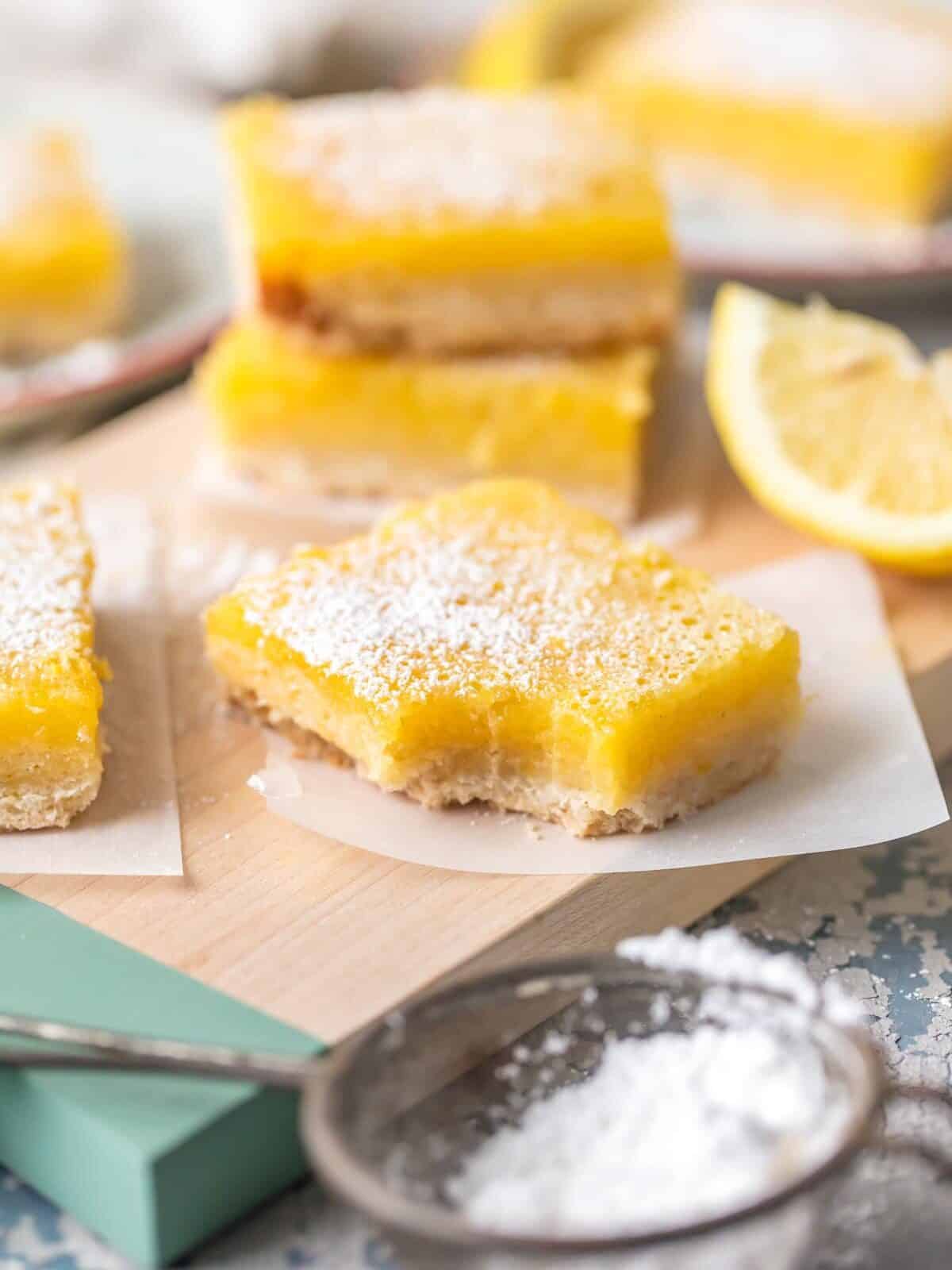 How to Store Gluten-Free Lemon Bars
Store leftover gluten free lemon bars in an airtight container or Ziplock bag at room temperature for up to 3 days or in the refrigerator for up to 5 days. Lemon bars are best enjoyed slightly cool or at room temperature.
How to Freeze GF Lemon Bars
Freeze gluten free lemon bars whole or cut into individual bars tightly wrapped in 2 layers of plastic wrap and 1 layer of aluminum foil for up to 3 months. Let thaw overnight in the refrigerator before enjoying.
What to Serve with Gluten-Free Lemon Squares
These lemon bars are delicious all on their own or paired with a heaping dollop of whipped cream, meringue, or a dusting powdered sugar. Top the bars with toasted sweetened, shredded coconut flakes to make them festive for Easter. A surprising combo you may love is topping these with a bit of chocolate magic shell!
Some drink pairings I love include lavender lemonade, oat milk, or a pineapple matcha. Cheers!