Key Lime Pie is the best summer dessert! This EASY Key Lime Pie recipe is part creamy, part tart, and all the way delicious. No outdoor BBQ or family celebration is complete without this perfect pie.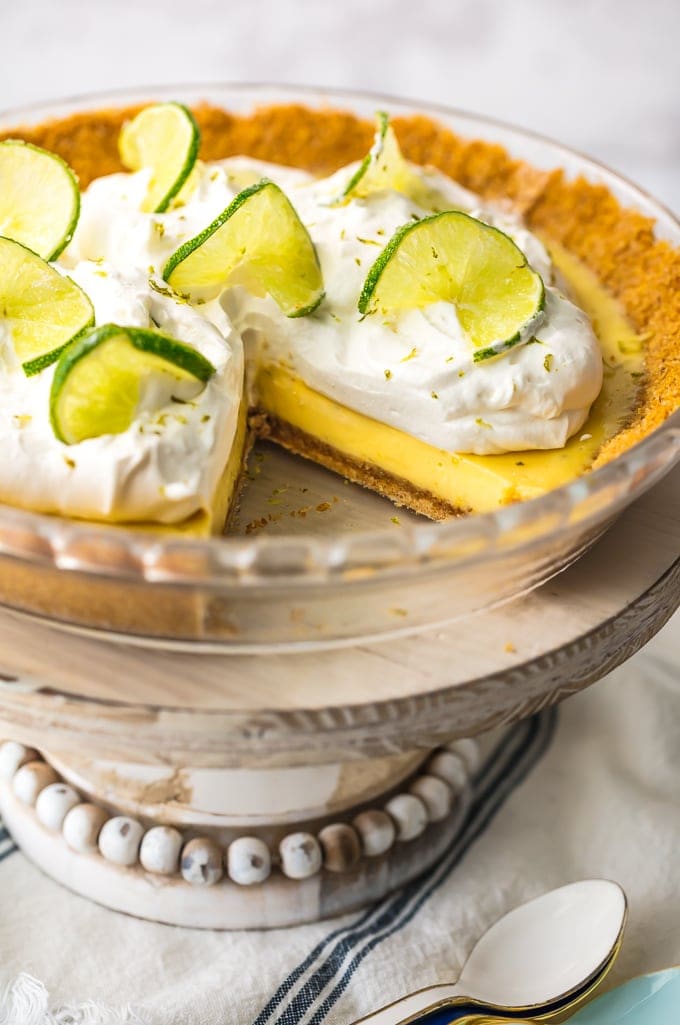 Key Lime Pie
This Key Lime Pie Recipe is the type of recipe that takes a Summer party from good to great. I don't think any bbq or family get together is complete without a slice of creamy, tart, delicious, EASY Key Lime Pie. You'll be the star of the show when you show up with this delicious tart, covered in homemade whipped cream, and atop a simple graham cracker crust. What could be better?
This BEST Key Lime Pie Recipe has me so excited for Summer Recipes. I can't wait to break out the grill and make Mexican Grilled Corn, Chicken Burgers, Salmon with Avocado Salsa, and more. We will wash it all down with a Skinny Margarita and finish it off with a slice of this PERFECT Key Lime Pie. Wanna join?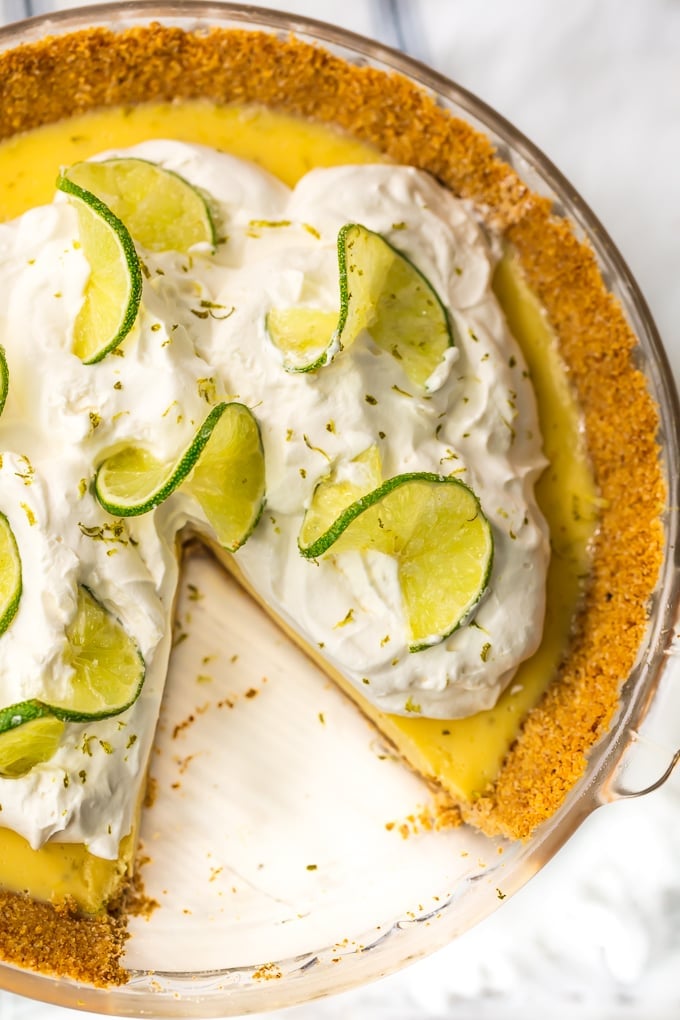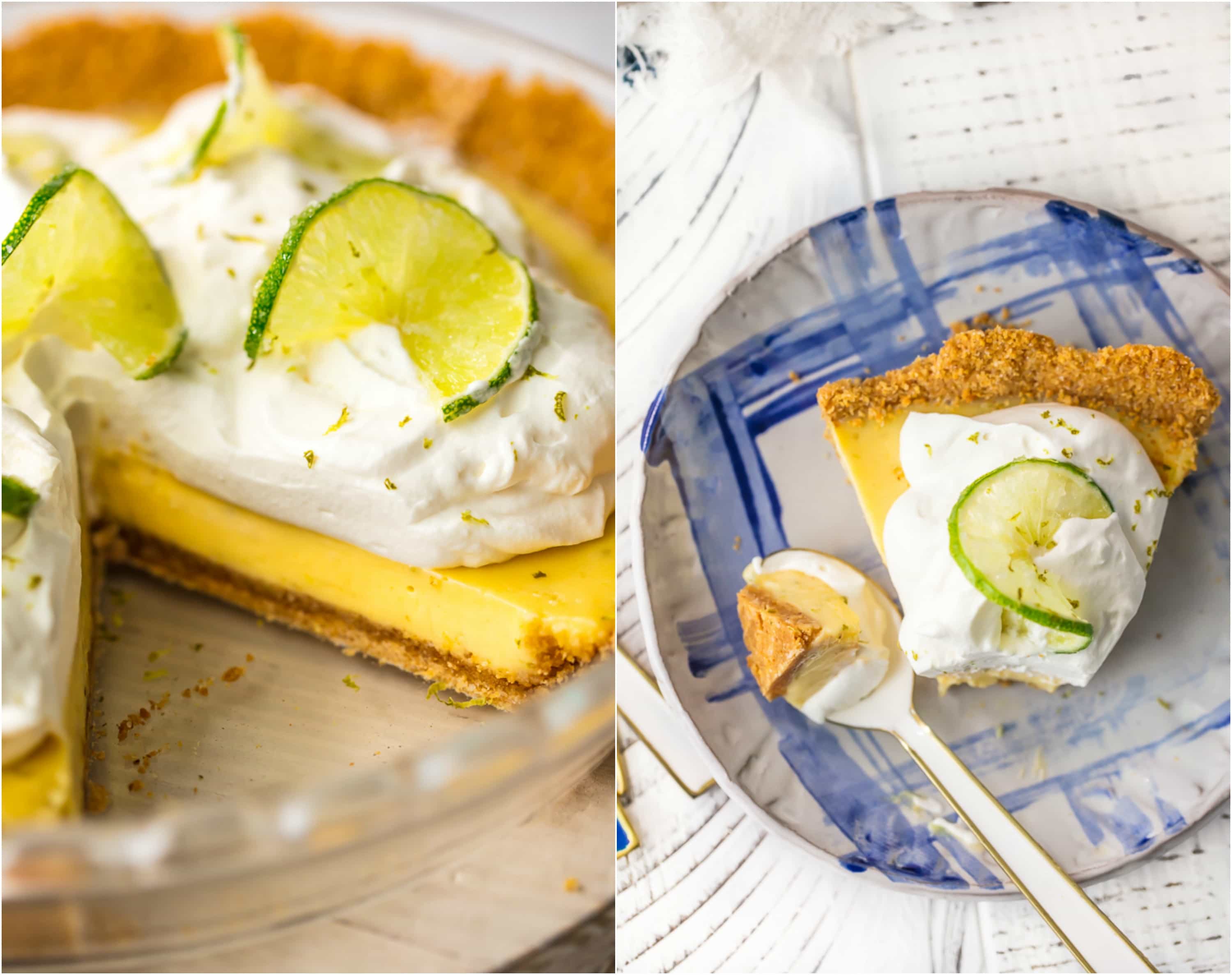 What is the difference between Key Limes and Regular Limes?
Key Limes, often called Mexican or West Indian Limes, used to be commercially grown in Key West, hence their name. A hurricane in the 1920's knocked out most of the groves, which led to the limes we see more today being grown instead. Key Limes are more aromatic than a regular lime and typically have a more floral and tarter flavor. They are smaller and more yellow than a regular lime.
Although they are less common in the USA, you're more likely to find them around than world than our normal limes. You REALLY can taste the difference between typical lime juice and key lime juice, so put in the effort to finding them if you can! They're SO good.
When are key limes in season?
Key Limes are in season in the US from June through August, but you should be able to get them year round, especially at stores like Whole Foods.
Do you have to make homemade whipped cream for this Key Lime Pie Recipe?
We love homemade whipped cream so we prefer that, but you don't have to! I also love cool whip topping this pie recipe.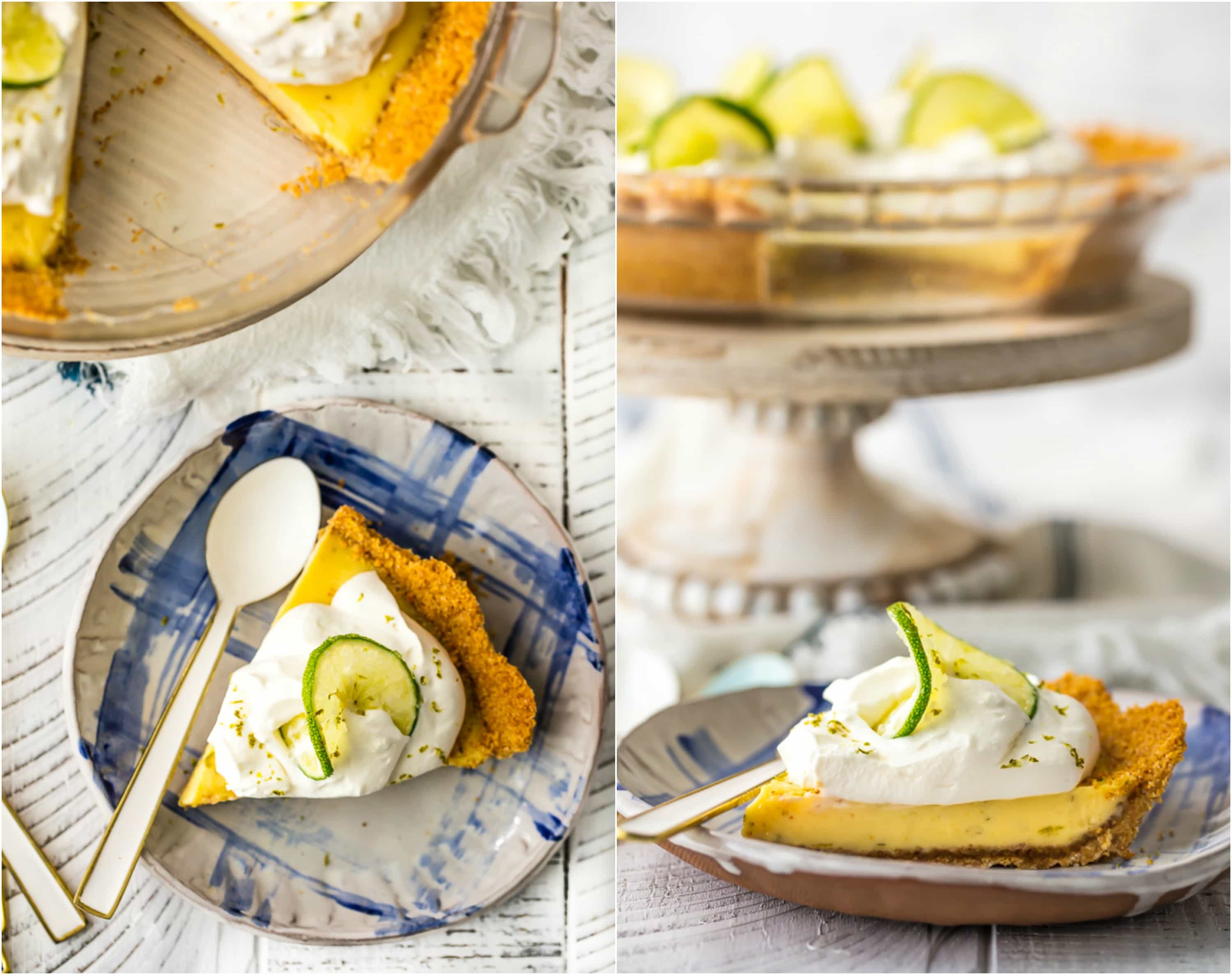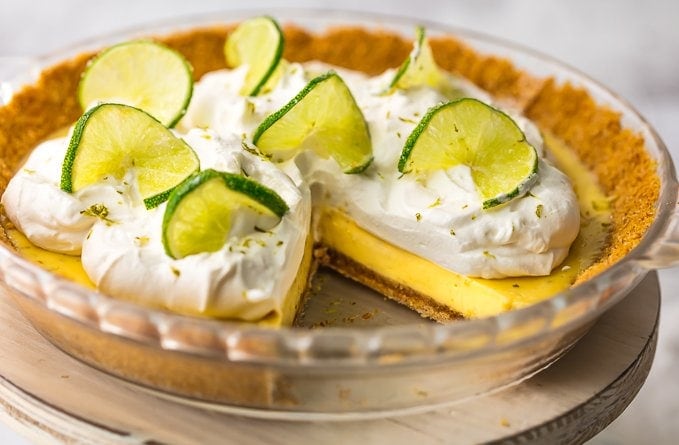 Tips for making Key Lime Pie:
Allow the pie filling to cool and thicken on the counter while your graham cracker crust bakes.
Cool your crust COMPLETELY before adding in the filling.
If your crust seems to be sticking to the pie plate when you're ready to serve, one trick that works like a charm is filling a large bowl with warm water and dipping the bottom of the pie plate into the water for a bit to loosen the crust. Do not submerge the pie, you're just putting the bottom of the pie plate in the water to add some heat; release the crust.
Refrigerate for at least 3 hours before serving. This will give your pie time to come to the right texture. Good luck holding out that long…when I know the Best Key Lime Pie Recipe is waiting for me…I have very little self control!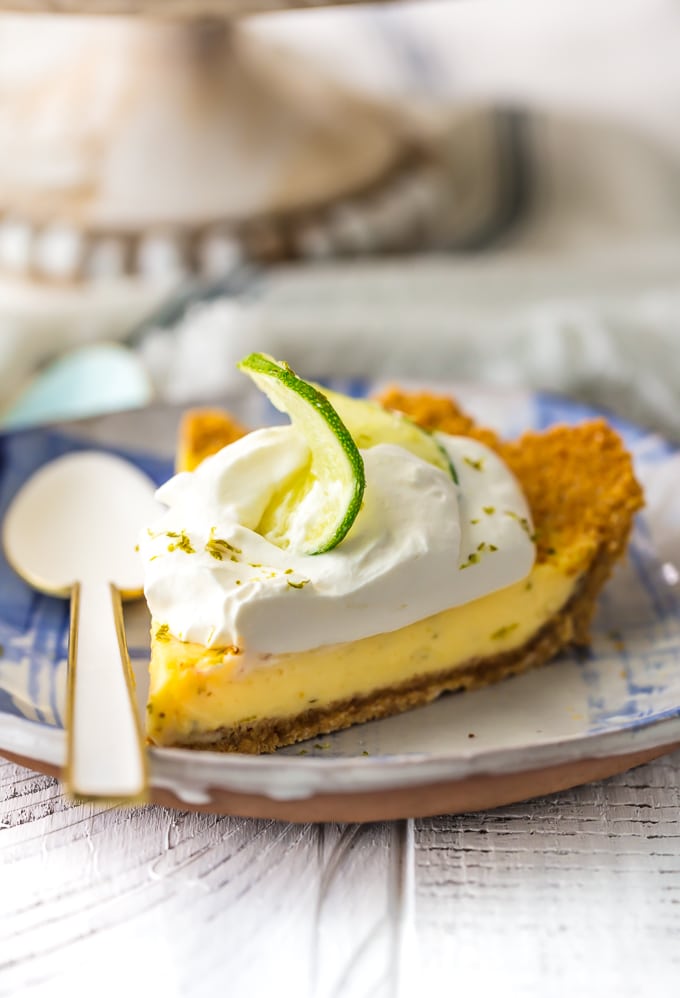 Best Summer Pie Recipe
I have been SO into Pies and Tarts lately. We have made so many that are so easy, and always crowd pleasers. I hope you have time to check out some of our favorites like Sour Cream Lemon Pie, Cherry Pie, French Silk Pie, Fresh Strawberry Pie, Crock Pot Pecan Pie, Butterscotch Pie, and of course Easy Peach Cobbler.
Some other EASY Summer Desserts that we find ourselves making again and again include S'mores Cookies, Homemade Brownies, Apple Pie Cupcakes, and Oreo Poke Cake. OMG Summer, you can get here any time…we are ready!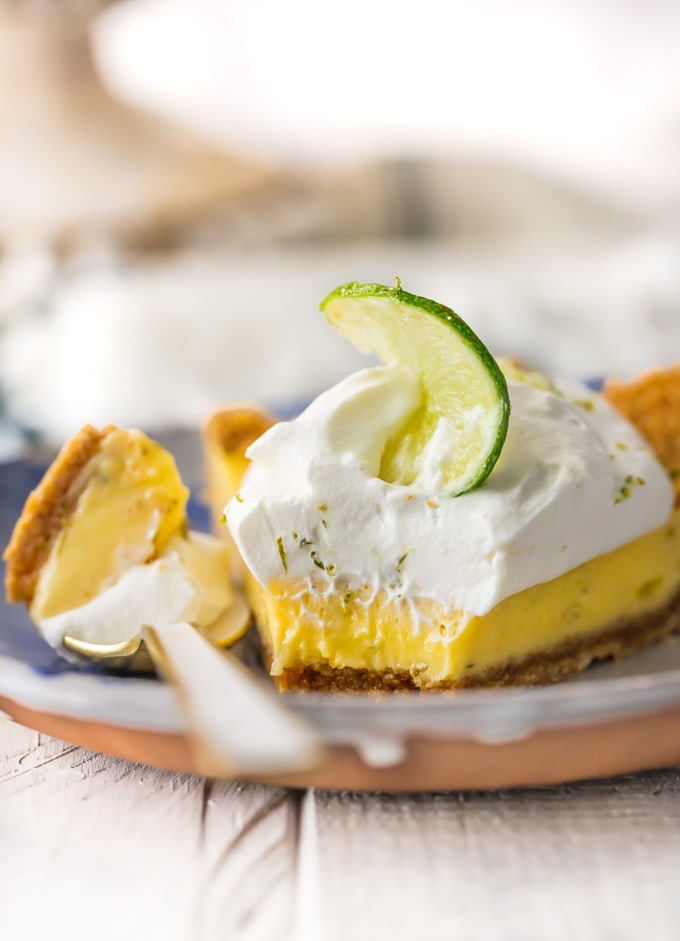 As the weather gets warmer, I need more cool pies and tarts in my life. This EASY Key Lime Pie Recipe is my EVERYTHING and I cannot get enough. You can use a larger pie plate to create more of a Key Lime Tart, or a smaller pan for a true Deep Dish Key Lime Pie. Don't forget to cover it in as much whipped cream as possible. You can peruse all of our dessert recipes if this pie isn't quite what you were looking for.
See the recipe card below for details on How to Make Key Lime Pie. Enjoy!