This easy homemade French Silk Pie Recipe is the only one you'll ever need! Pie crust is piled high with silky, sweet, rich chocolatey filling that's topped with plenty of fluffy whipped cream. Serve this chocolate pie at any holiday table and watch it disappear!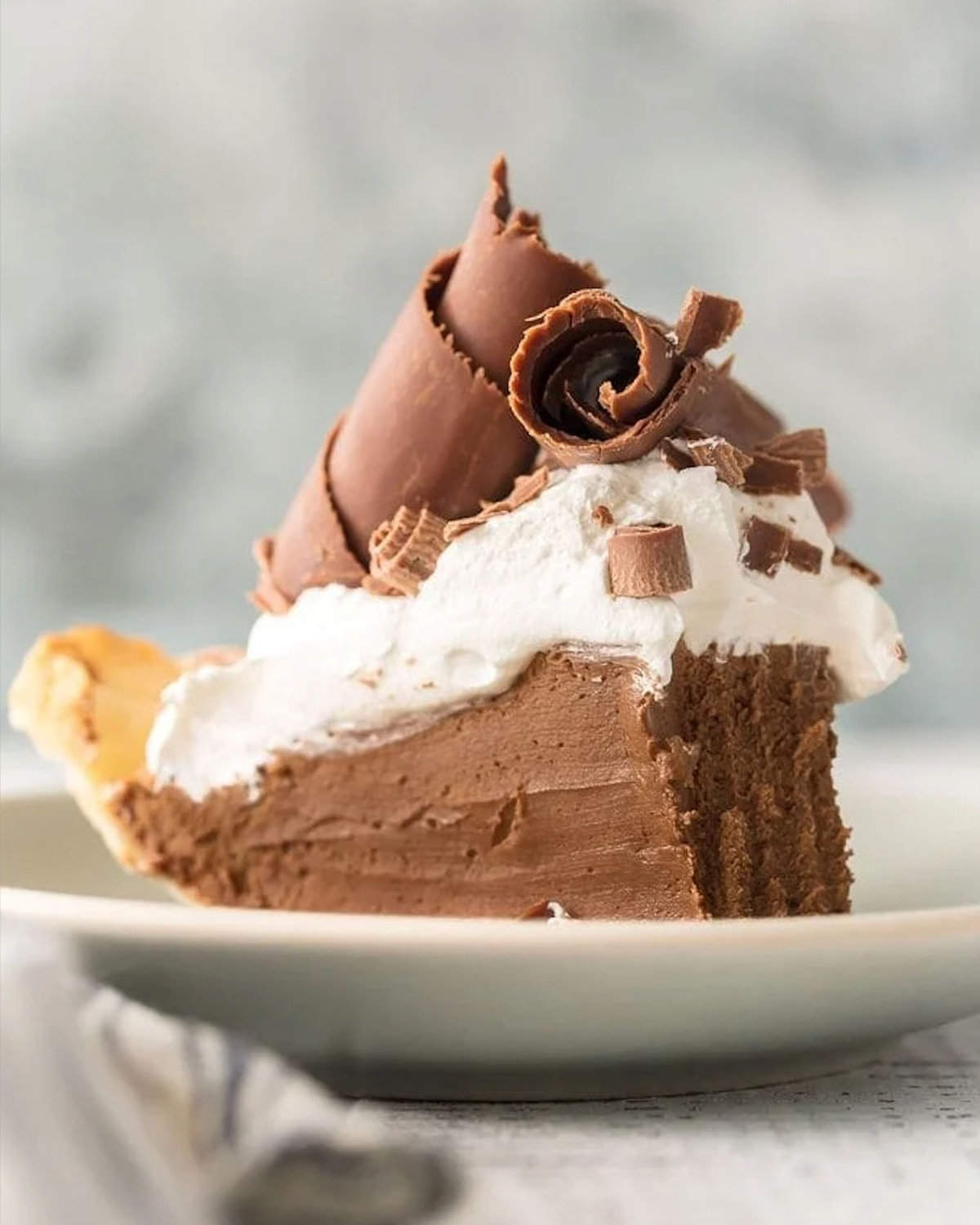 What's in this French Silk Pie Recipe
Calling all chocolate lovers – this one's for you!
Pie Crust: You can use a store-bought or homemade pie crust.
German Baking Chocolate: Slightly sweeter than semi-sweet chocolate but not overly sweet, this is the best ingredient to use for balancing all of the rich and sweet flavors at play.
Semisweet Baking Chocolate: This is what really gives the pie that signature deep chocolatey flavor.
Baking Chips: I love the subtle added flavor and creaminess from the peanut butter chips. It does not make the pie taste like peanut butter. If you prefer a more traditional recipe, you can use chocolate chips instead.
Butter: It needs to be unsalted and adjusted to room temperature prior to using.
Superfine Sugar: I recommend using superfine (caster) sugar for this recipe. If you cannot find any, you can pulse regular granulated sugar in a food processor for a few seconds.
Kosher Salt: Just the tiniest pinch is all you need.
Vanilla Extract: I love using my favorite homemade vanilla extract recipe whenever I can.
Eggs: Ensure the eggs are fresh, and keep them covered in a refrigerator – egg shells are porous and can absorb odors from other items in the fridge.
PRO TIP: If you're worried about the raw eggs in this chocolate pie recipe, another great option is using pasteurized eggs. Peace of mind is worth a lot! You don't want to miss out on this French silk pie, trust me!
Is it safe to use raw eggs in french silk pie?
This is a bit of a complicated answer and a touchy subject for a lot of people. The short answer is yes, it can be safe to eat raw and under-cooked eggs if you practice good food hygiene and safety. They're packed with protein, all sorts of vitamins and minerals, and good fats. The key is purchasing pasteurized eggs.
Here are some tips for proper use of raw eggs in cooking:
Wash hands thoroughly, before and after handling food.
Purchase pasteurized-in-shell eggs, which you might be able to find with the rest of the eggs in the grocery section.
Ensure the eggs are fresh, and keep them covered in a refrigerator – egg shells are porous and can absorb odors from other items in the fridge.
Use within 2 weeks of purchase.
Wash eggs shells under water, just before cracking them.
Avoid using any eggs that have a cracked shell.
Prevent cross-contamination – as with raw meat, wash containers and surfaces that have been in contact with raw eggs before using them for other foods.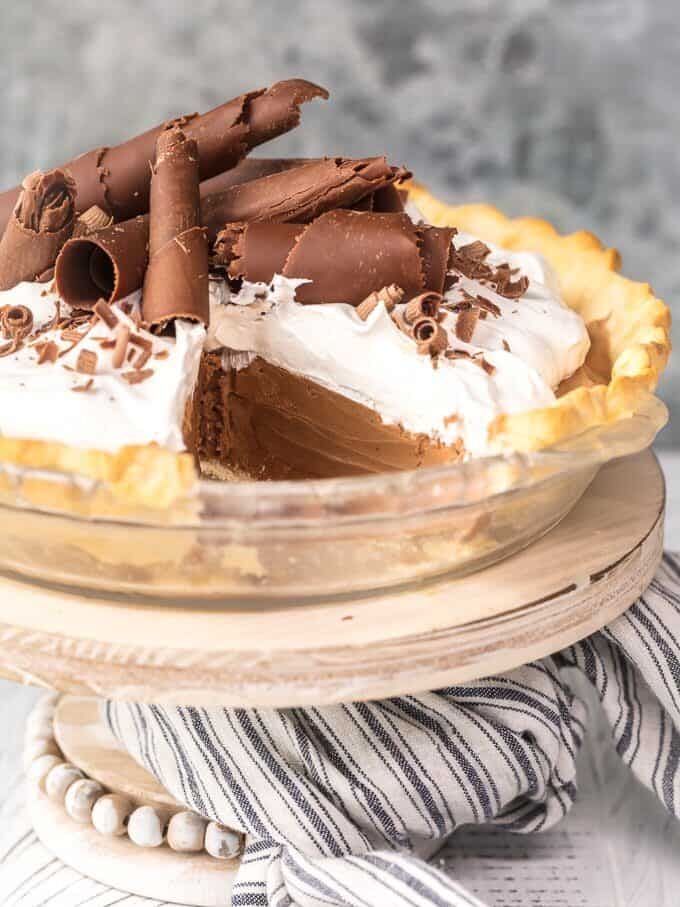 What's the difference between french silk pie and chocolate cream pie?
French silk pie has a more velvety, silky consistency compared to chocolate cream pie. Both are chocolatey and delicious, but they differ a little bit in consistency.
Why is it called french silk?
Just like the name suggests, this pie is incredibly smooth and silky!
Why is my french silk pie gritty?
This is almost certainly the result of using regular white granulated sugar instead of superfine sugar. If you're very worried about grittiness, you can swap the superfine sugar with powdered sugar to avoid that concern entirely.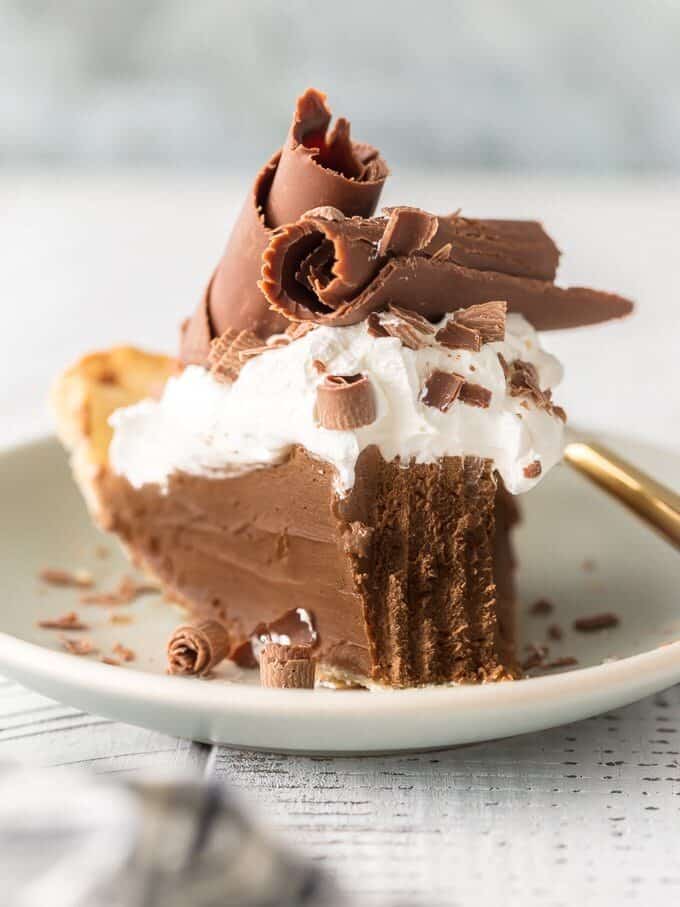 How to Store
A freshly made chocolate silk pie should last 3-4 days in the fridge. Cover loosely with foil or plastic wrap and enjoy!
How to Freeze
Freeze your french silk pie for up to 3 months. Keep in an airtight, freezer-safe container. Let slowly thaw in the fridge prior to serving.
Serving Suggestions
Make this chocolate silk pie recipe for Thanksgiving, Christmas, Valentine's Day – really any holiday or special occasion that comes to mind!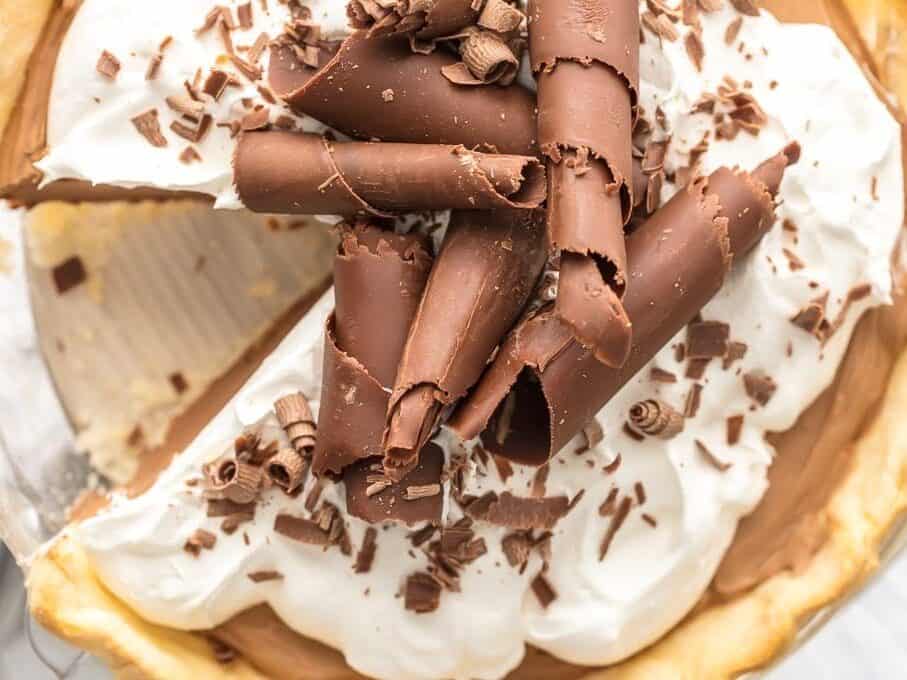 5-Star Review
"This is the best French Silk Pie I have ever made. It tastes like a little piece of Heaven in every bite." – Kat R.