French Silk Pie is my all-time favorite pie recipe. This Chocolate Silk Pie is an easy version of a classic holiday favorite. We love this French Silk Pie at Thanksgiving, Christmas, Easter, my birthday, and every day in between. It tastes like chocolate mousse in pie form. Utterly decadent and delicious! Best French Silk Pie Recipe EVER!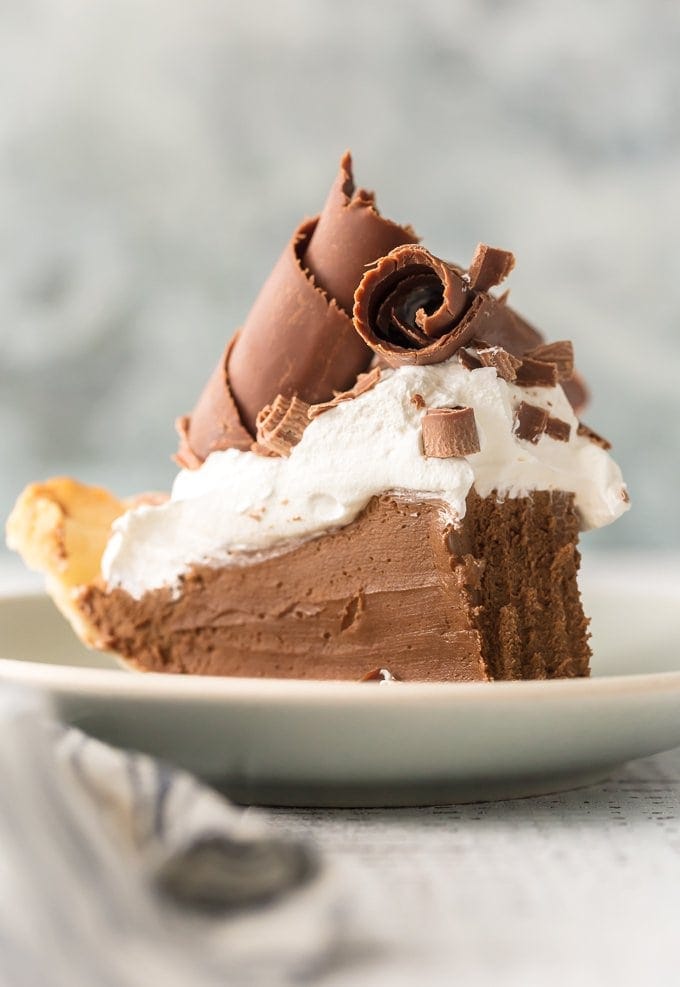 French Silk Pie – Chocolate Silk Pie
This French Silk Pie Recipe is my all time favorite dessert, made at home!
French Silk Pie is my FAVORITE Pie Recipe. I'm a Choc-aholic. Hardcore (I'm also a Cheese-aholic, but that problem is for another day!). I love love love chocolate. If you're ever wanting to bring me dessert or bake me something (please feel free), make it chocolate. French Silk Pie has been one of my favorite chocolate silk pie recipes since childhood. I've made French Silk Pie Fudge and French Silk Pie Cookies, but nothing compares to the original.
I used to always buy it at Tippins (FAVE!) for every special event, but recently have realized I can make it at home. It's easy, decadent, and BETTER than when you buy it. I love pies of all kinds, Fresh Strawberry Pie, Slow Cooker Pecan Pie, Easy Key Lime Pie, and of course Pumpkin Pie, but this Chocolate Silk Pie is my all-time favorite.
This French Silk Pie Recipe is creamy, delicious, and SO chocolatey!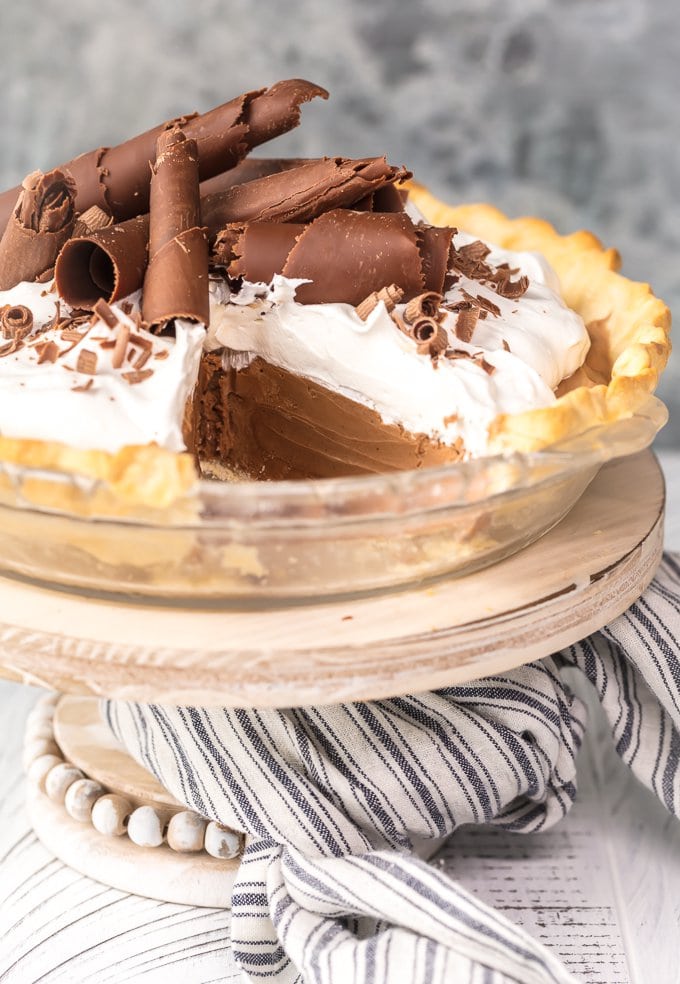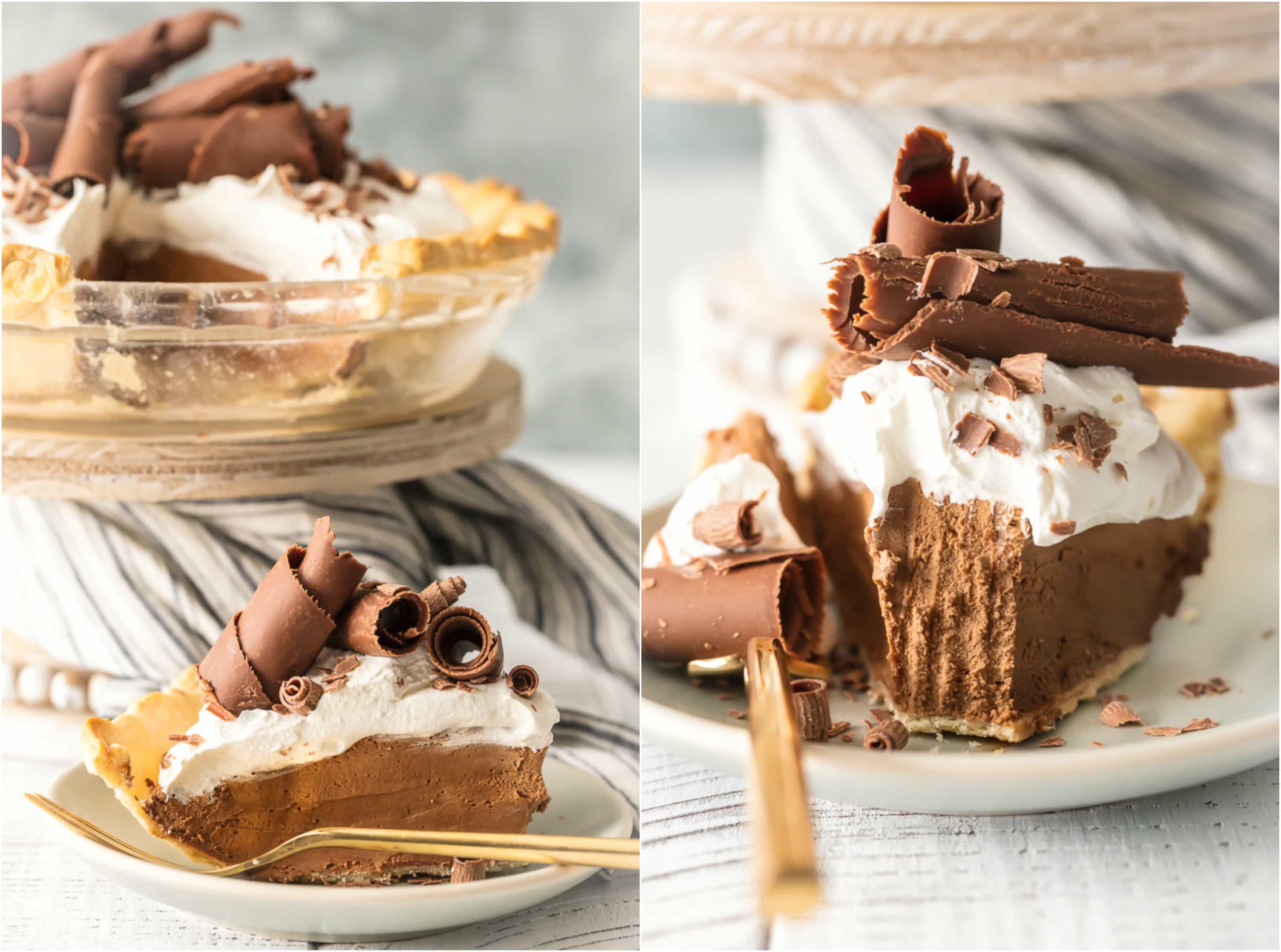 What is French Silk?
Traditionally, French Pie is a custard style pie poured into a pie crust. The filling is typically made with butter, eggs, sugar, buttermilk, flour, and chocolate. Originating in France, it's name has stuck. Thus, French Silk Pie! We have broken down the steps to make sure your pie is a success every single time.
French Silk Pie isn't just good…it's GREAT. It's the pie I request for my birthday each and every  year. I simply can't get enough! Especially with big chocolate swirls on top. GIMME!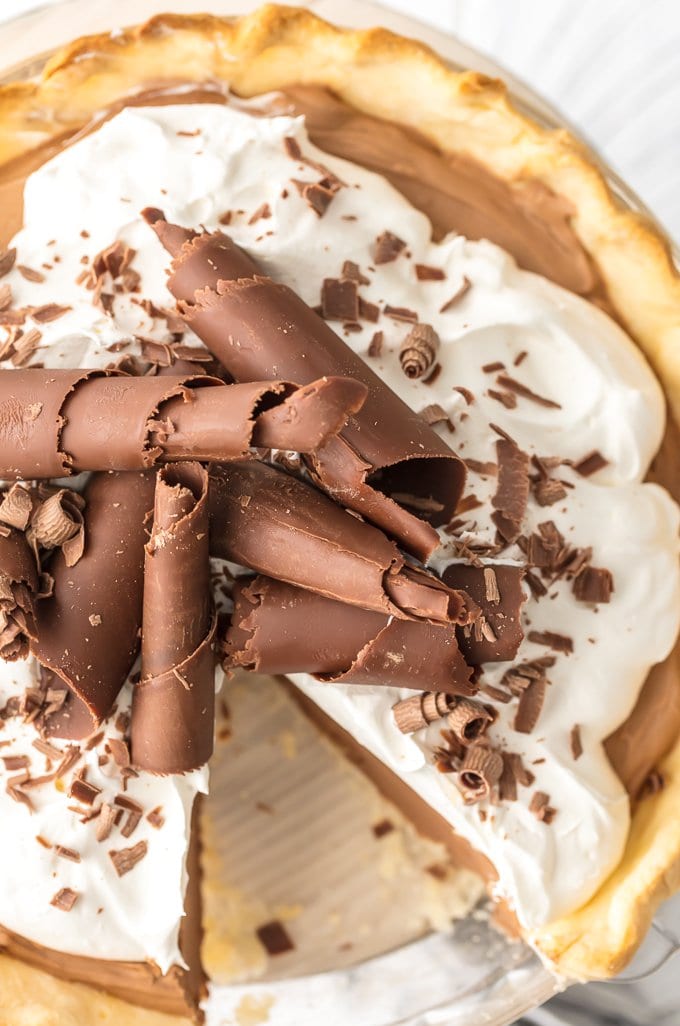 It is safe to eat raw eggs in French Silk Pie?
This is a bit of a complicated answer and a touchy subject for a lot of people. The short answer is yes. It's safe to eat raw and undercooked eggs if you practice good food hygiene and safety. Raw eggs are actually easier to digest than cooked eggs. They're packed with protein, all sorts of vitamins and minerals, and good fats.
Here are some ideas from Delishably for Tips for proper use of raw eggs in cooking:
Wash hands thoroughly, before and after handling food.
Purchase organic, free-range eggs – hens that have space to roam and eat a natural diet are healthier, good living conditions reduce the risk of contamination.
Ensure the eggs are fresh, and keep them covered in a refrigerator – egg shells are porous and can absorb odors from other items in the fridge.
Use within 2 weeks of purchase.
Wash eggs shells under water, just before cracking them.
Avoid using any eggs that have a cracked shell.
Prevent cross-contamination – as with raw meat, wash containers and surfaces that have been in contact with raw eggs before using them for other foods.
If you're still worried about the raw eggs in this French Silk Pie Recipe, another great option is using pasteurized eggs. Peace of mind is worth a lot! You don't want to miss out on this Chocolate Silk Pie, trust me!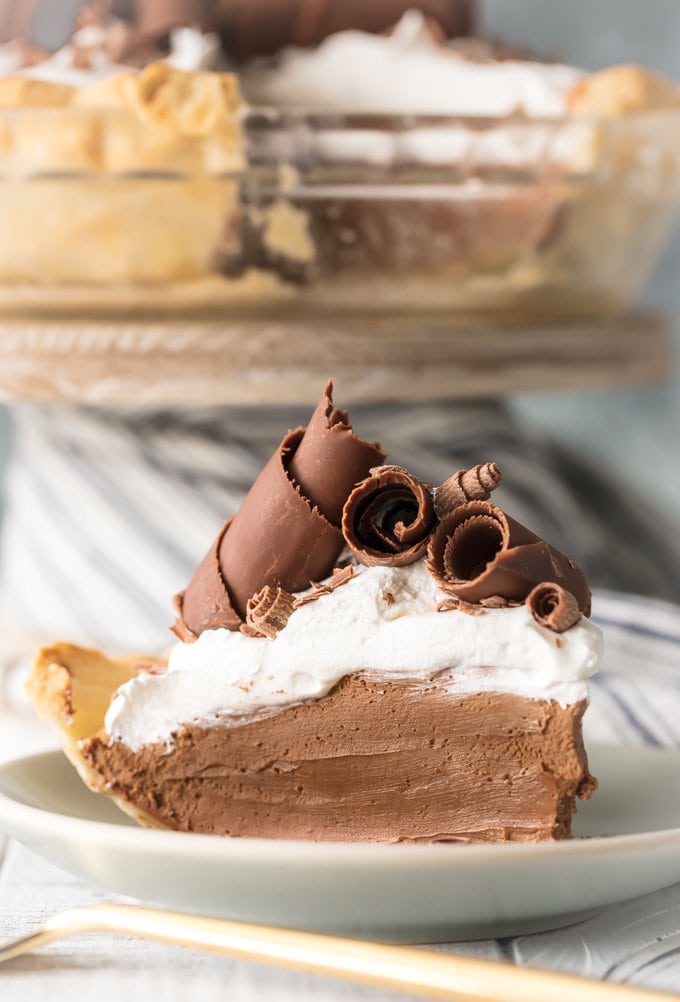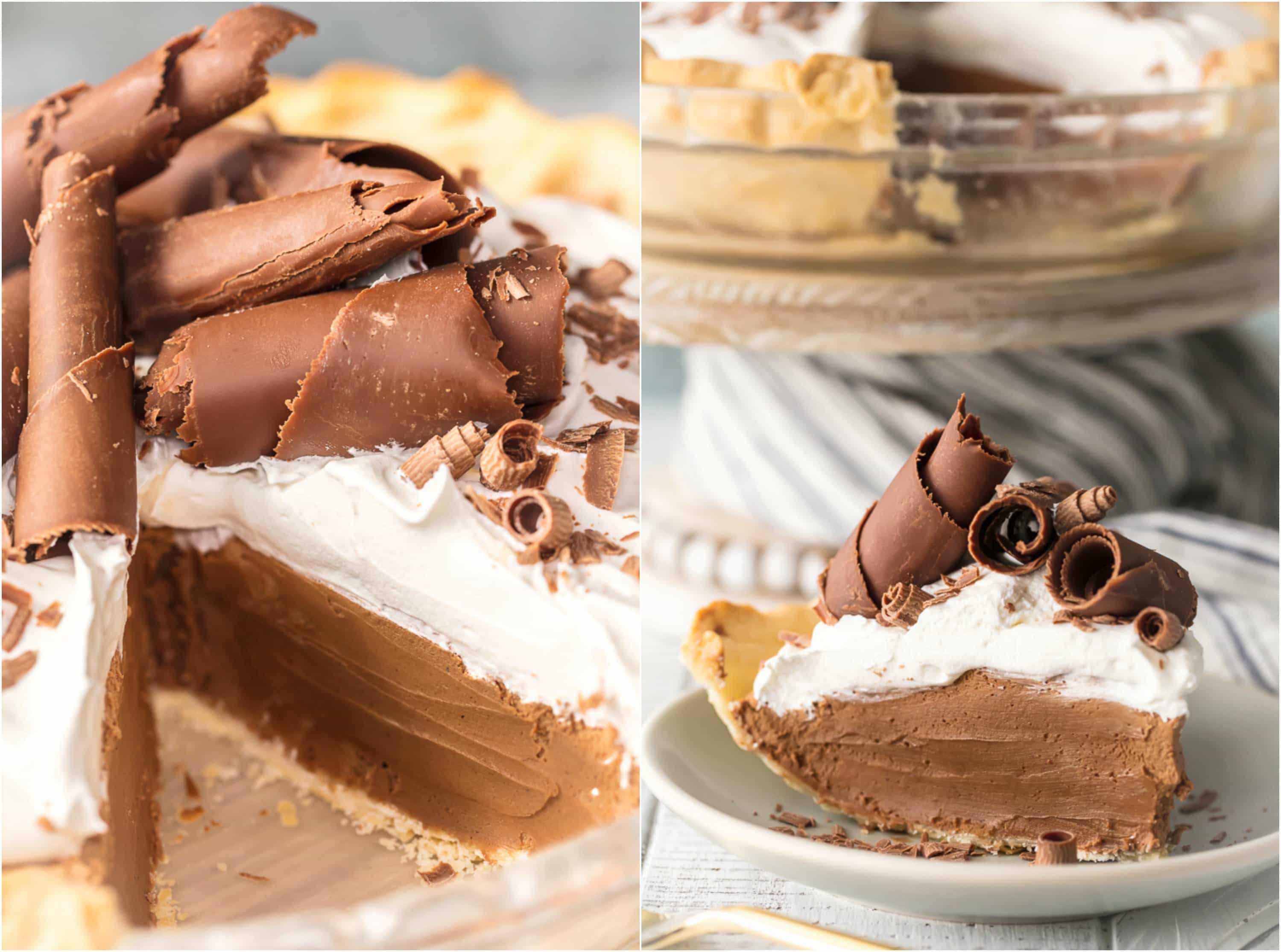 Best French Silk Pie Recipe 
This French Silk Pie Recipe is the best chocolate silk pie I have ever tasted!
I adapted this recipe from THE QUEEN Pioneer Woman Chocolate Pie. I love how Ree makes things easy for all. She was such a resource for me when I started learning to cook, and her books were some of the first cookbooks I ever purchased. If you're looking for any recipe, she most likely has an awesome version of it.
I love French Silk Pie covered in whipped cream (homemade or not…just give me A LOT) and homemade chocolate shavings. Stay tuned for a post on how to make the best and biggest chocolate shavings. Aren't these beautiful?! They taste even better than they look and they're perfect for chocolate silk pie.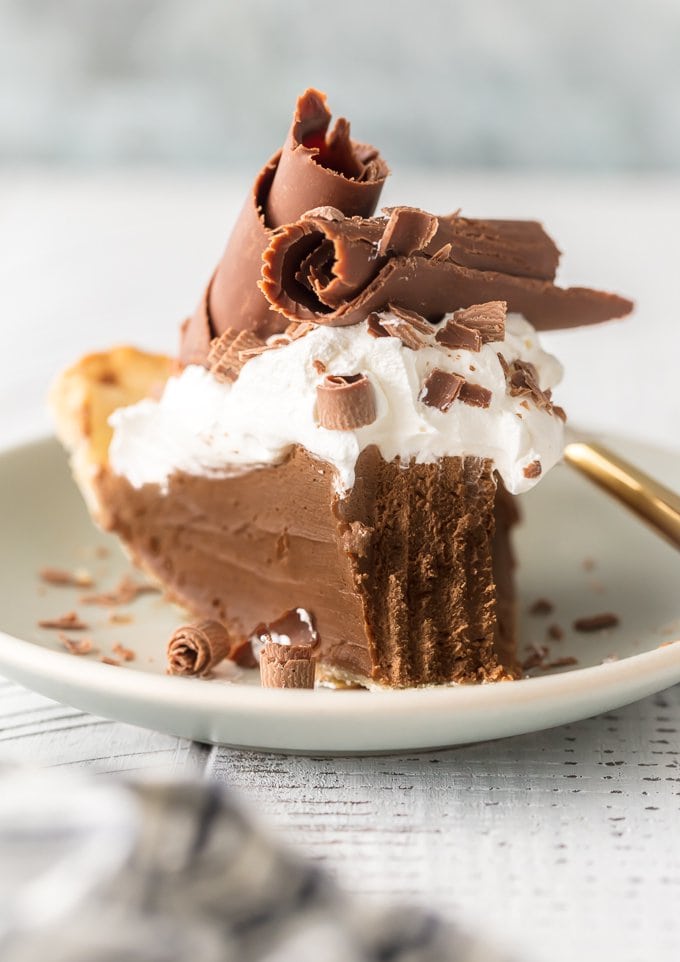 How long will this French Silk Pie last in the fridge?
A freshly made chocolate silk pie should last 3-4 days in the fridge. Cover loosely with foil or plastic wrap and enjoy! I love knowing I have a slice waiting for me. Best way to end the day.
How many calories are in a slice of French Silk Pie?
If you cut 8 slices into your French Silk Pie, there is about 550 calories per slice. If you make your slices bigger…the calories are bigger as well. :) Don't worry about health when eating this pie. It's strictly for bringing you JOY. Everything in moderation. You can eat this chocolate pie today and drink a couple smoothies tomorrow. No shame in your game!
Do you use homemade crust? What is your favorite brand of store bought crust?
I hardly ever make homemade pie crust. Honestly, the right store bought crust can be (almost) as good and can save you a ton of time and effort. If it's a Easy French Silk Pie Recipe you're after, there's nothing wrong with buying the crust and baking it at home. I'm semi-homemade around here! My favorite store-bought brands are Pillsbury and Trader Joes. Trader Joes pie crust is better in my opinion, but it's flakier and prone to breaking a bit. Worth it if you're going for flavor!
Watch the video or see the recipe card below for full details on How to Make French Silk Pie. Enjoy!
Looking for more Easy Dessert Recipes? We've got you covered!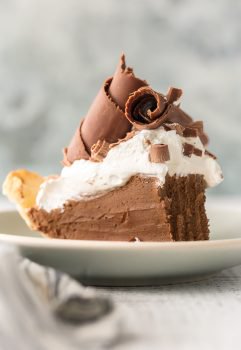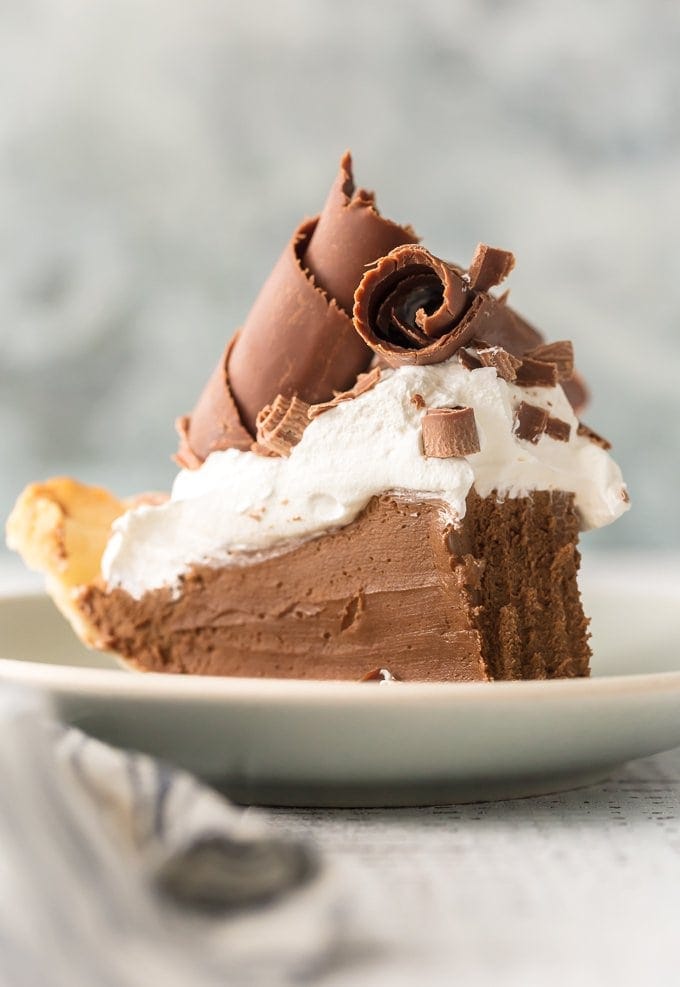 French Silk Pie Recipe
French Silk Pie is my all-time favorite pie recipe. This Chocolate Silk Pie is an easy version of a classic holiday favorite. We love this French Silk Pie at Thanksgiving, Christmas, Easter, my birthday, and every day in between. It tastes like chocolate mousse in pie form. Utterly decadent and delicious! Best French Silk Pie Recipe EVER!
Keyword:
easy french silk, french silk pie
Ingredients
1

store-bought pie crust

2

ounces

german baking chocolate

2

ounces

baking chocolate

1/4

cup

peanut butter chips

or milk chocolate chips *SEE NOTE

1

cup

unsalted Butter

Softened

1 1/2

cup

Castor Sugar

superfine baking sugar

1/8

teaspoon

flake sea salt

(or Kosher salt)

1

teaspoon

Vanilla Extract

4

Eggs
Optional Garnishes
Whipped Cream or Cool Whip

milk chocolate for shavings
Instructions
Bake pie crust according to package instructions. Set aside and let cool completely.

In small microwave safe bowl melt the baking chocolate and peanut butter chips until stirrable (about 45 seconds on high). Set aside to cool.

In a large bowl with an electric mixer beat 1 cup (2 sticks) of unsalted butter and 1 1/2 cups of white sugar and salt using the whisk attachment until fluffy (about 1 to 2 minutes).

When melted chocolate is cooled (it should be stirrable but not hot, drizzle it over the butter/sugar mixture.

Add vanilla.

Beat the mixture thoroughly until combined using the whisk attachment

Turn your mixer to a medium speed and over a period of 15 to 20 minutes add in the four eggs, one at a time, leaving about 5 minutes between each egg addition.

continue mixing for 3-4 minutes until completely smooth. (ALWAYS on medium. do not increase the speed. mixing too quickly or adding the eggs too quickly will ruin the consistency and make the pie runny)

Once the pie filling is well mixed ***SEE NOTE , pour it into the baked pie shell

Smooth out the pie filling and place pie in the refrigerator to chill overnight (or for at least 3 hours)

top with whipped cream and chocolate shavings if desired
Recipe Video
Recipe Notes
NOTE: I love the subtle added flavor and creaminess from the peanut butter chips. It does not make the pie taste like peanut butter. If you prefer a more traditional recipe, you can use chocolate chips instead.
NOTE: If your filling seems too thin, then place in a bowl and refrigerate for 1-2 hours after the mixing step. Remove from the fridge and mix again to fluff. It should be fine to pour into the crust at this point :)
Nutrition Facts
French Silk Pie Recipe
Amount Per Serving
Calories 583
Calories from Fat 342
% Daily Value*
Total Fat 38g 58%
Cholesterol 144mg 48%
Sodium 171mg 7%
Potassium 156mg 4%
Total Carbohydrates 56g 19%
Protein 6g 12%
* Percent Daily Values are based on a 2000 calorie diet.