These OATMEAL CREAM PIE BARS are an adult version of a childhood favorite. They're a tasty dream come true perfect for showing your loved ones on Valentine's Day just how special they are. Layer of homemade marshmallow cream icing sandwiched between two perfectly chewy oatmeal cookies, all in bar form! OBSESSED!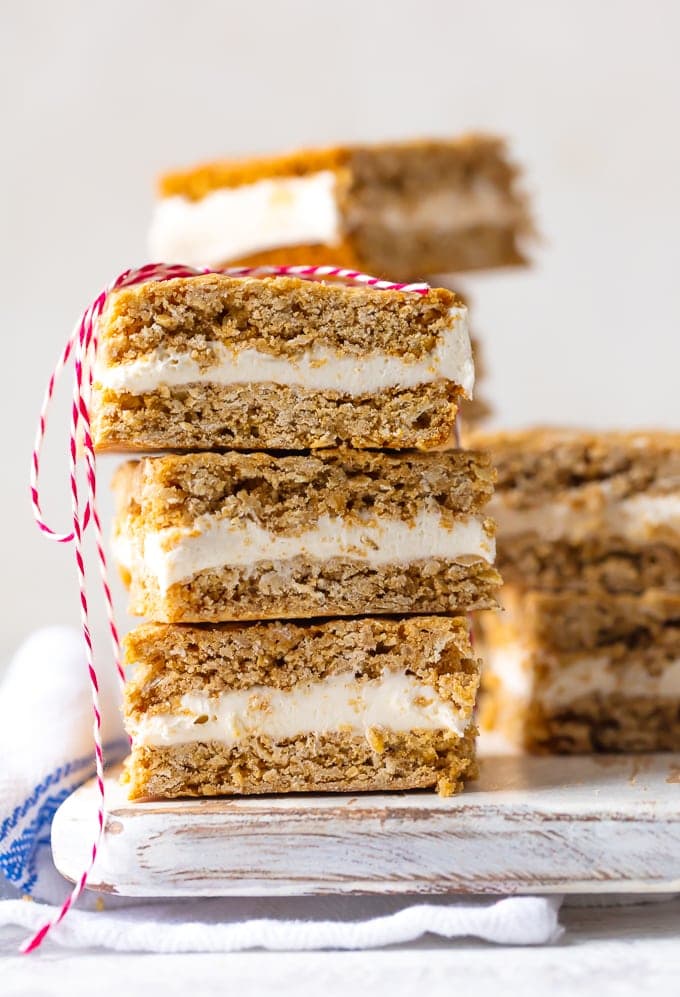 As a kid, one of my very favorite indulgences were Oatmeal Cream Pies. Something about those soft cookies holding in that decadent marshmallow cream…something I would crave time and time again! As an adult, I think its so fun to find out hoe to make those childhood favorites in homemade versions…and they're typically always better than I even remember them.
Mom helped me perfect this amazing recipe for Oatmeal Cream Pie Bars and I couldn't be more excited. The cookies are the perfect consistency…chewy but substantial enough to keep their form. The cream is TO DIE FOR and I cannot be trusted alone with a bowl. I cannot wait for you to try these goodies or to make them for your sweetheart this Valentine's Day!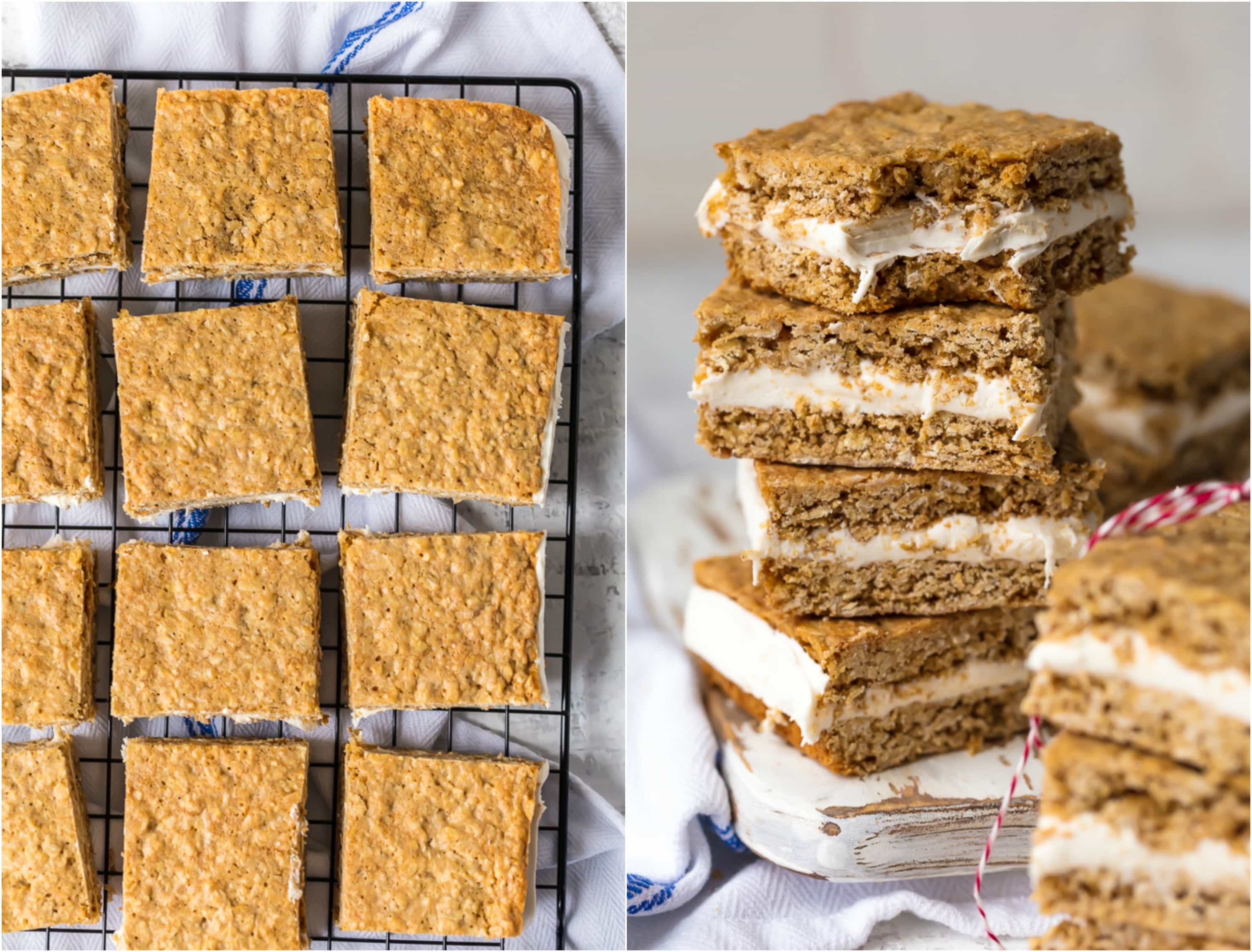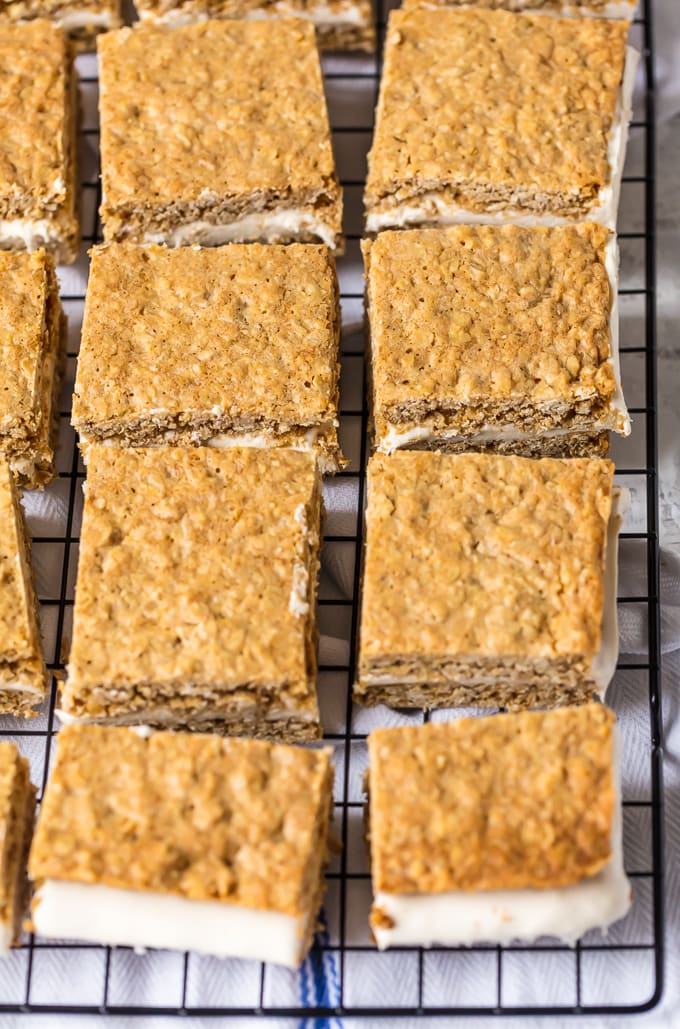 I gotta be honest…I made fun of Pat this Christmas because of all the cookies he could request…he requested oatmeal cookies. I was like EXCUSE ME?! That's what you pick? There are so many amazing options and you pick OATMEAL!? Wellllll…my Mom was up to the challenge and made him the most amazing Oatmeal Cookies on the face of the Earth…and I think I ended up eating more of them than Pat did.
Once I got over that snobby attitude, I knew that I would love love these Oatmeal Cream Pie Bars. I wasn't wrong. Mom made them absolutely impeccable and I'm so proud for you to try these. Adult version of a childhood staple. A must make.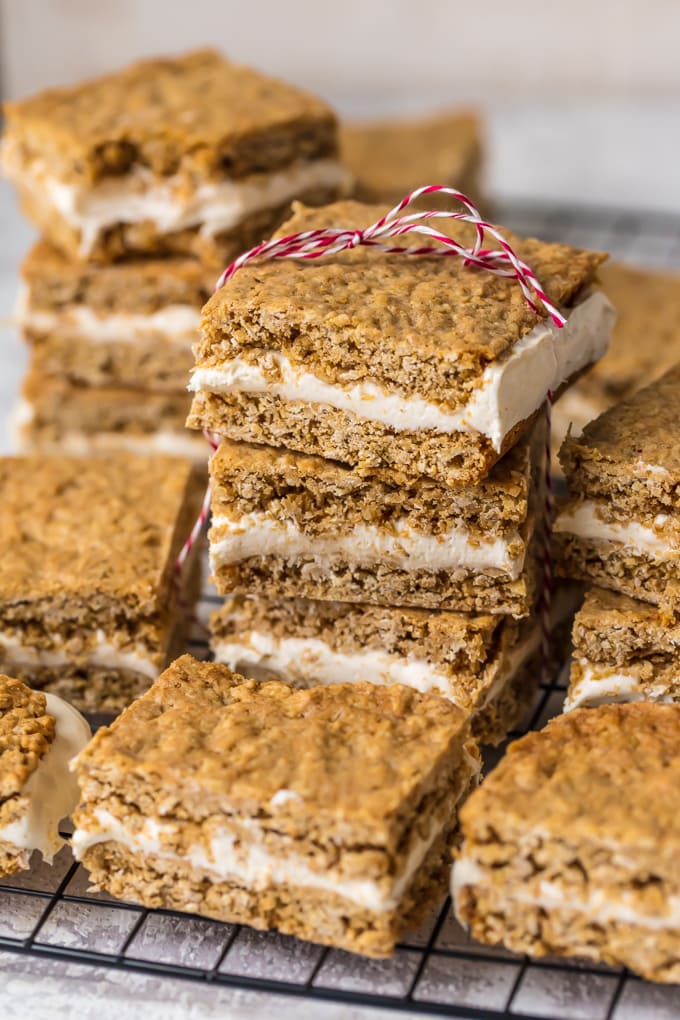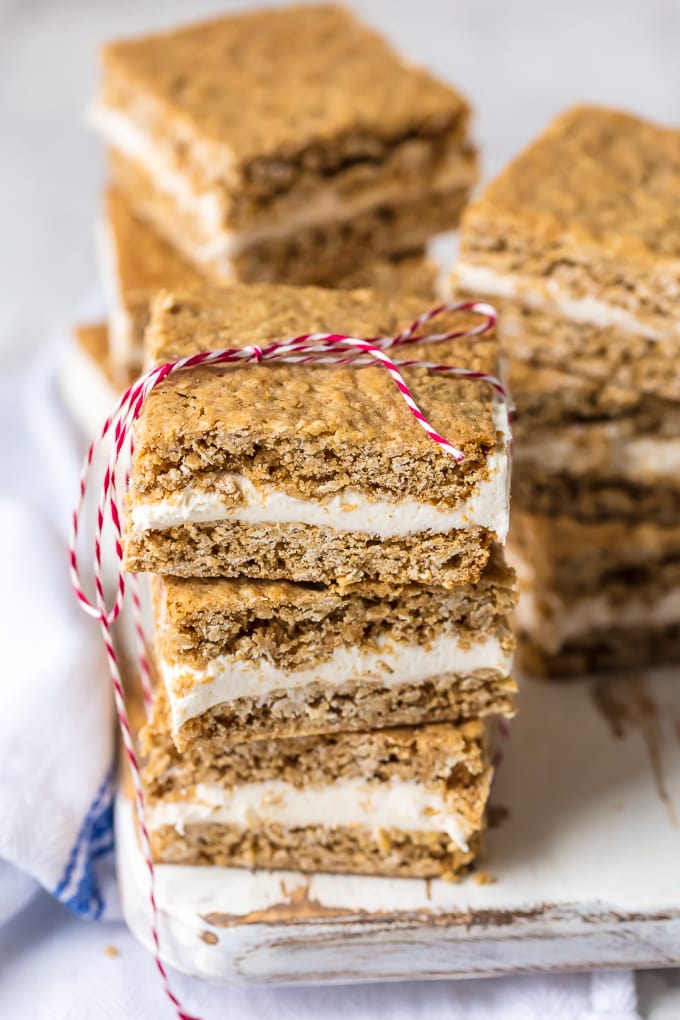 I recommend cutting these while frozen and keeping them in the fridge in a sealed container after that. They're great served room temperature, but they can get a little messy. I prefer them cold and with a bit more structure. SO DELICIOUS. I am so obsessed, it's hard to put into words.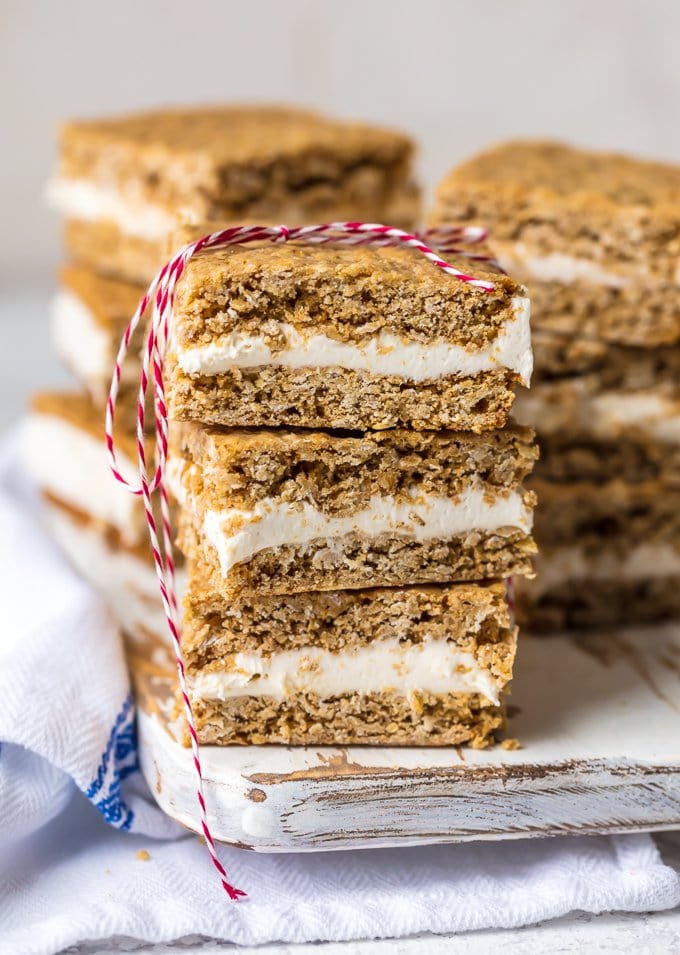 Enjoy!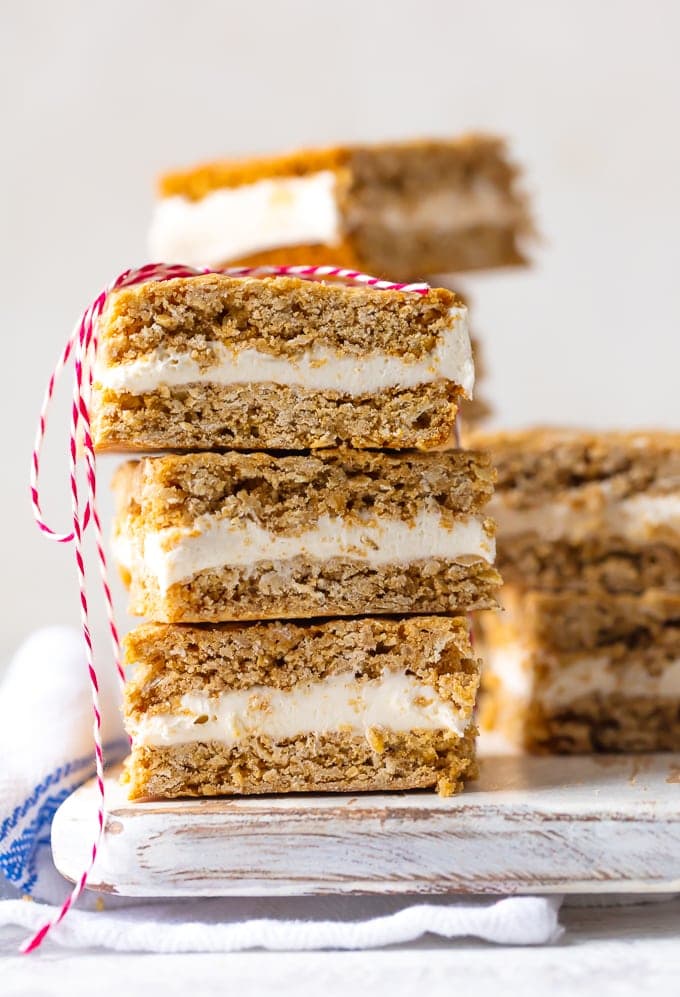 5 based on 1 review(s)
Ingredients
For the Bars:

1¼ cups (2½ sticks) unsalted butter
¾ cup firmly packed dark brown sugar
½ cup granulated sugar
2 large eggs
1 teaspoon vanilla extract
1½ cups all-purpose flour
1 teaspoon baking soda
1 teaspoon ground cinnamon
¼ teaspoon ground nutmeg
¼ teaspoon table salt
¼ teaspoon coarse sea salt
1½ cups Old-Fashioned Oats, uncooked
1½ cups Quick Oats, uncooked

For the Cream Filling:

¾ cup (12 tablespoons) unsalted butter
2 cups powdered sugar
1 (13 ounce) jar marshmallow cream (fluff)
1½ teaspoon vanilla extract
¾ teaspoon kosher salt
Instructions
For the Bars:

Heat oven to 375°F and spray two 8 x 12-inch baking pans with cooking spray (if you don't have two 8x12 pans, use one 12 x 16-inch pan, and use 1 cup less dough. Line the pan with parchment, so that each edge of the pan has a 2-inch over-flap. Spray the parchment with nonstick cooking spray.
In the bowl of a stand mixer, cream the butter and sugars together until creamy. Add eggs and vanilla and beat well.
In a medium bowl, whisk together the flour, baking soda, cinnamon, nutmeg and salts. Add the flour mixture to the wet mixture all-at-once and beat only until flour mixture is incorporated.
Add the oats and mix until the oats are incorporated.
Divide the dough in-half and spread half in each pan. Spray a wooden spoon or rubber spatula with cooking spray to prevent the dough from sticking. Work the dough evenly until it reaches across the pans evenly. (If necessary, spray your fingers with cooking spray and spread the dough with your fingers. The dough is somewhat stiff and sticky.)
Bake 12-13 minutes or until the dough is cooked in the middle and is light golden brown. Do not over-bake or the bars will dry out.

While the bars are baking, make the Cream Filling:

Use an electric mixer to beat the softened butter until fluffy. Add the powdered sugar and beat until lighter in color and smooth. Add marshmallow cream, vanilla and salt. Beat until light and fluffy. Set aside until ready to use.
Transfer the cookie bars to a cooling rack to cool 10 minutes. Lift the bars out of the pans, by the parchment paper and set them back on the cooling rack to completely cool.
When bars are cool, spread the Cream Filling over one of the uncut 8 x 12-inch cookies. Remove the parchment paper and place the other 8 x 12-inch cookie over the Cream Filling and press gently down. Place the entire large cookie on a larger baking tray and cover it with plastic wrap and foil. The cookies are easy to cut when frozen. Place in the freezer at least 2 hours or overnight.
Cut the frozen cookie into bars.
Enjoy!

Note - Keep the in an airtight container in the fridge. The bars will keep up to 4 days, but I doubt they last that long.
7.6.7
2531
https://www.thecookierookie.com/oatmeal-cream-pie-bars/