These Homemade Oatmeal Cream Pies are an adult version of a childhood favorite! They're a tasty dream come true, and they're perfect for showing your loved ones just how special they are on Valentine's Day. These Oatmeal Cream Pie Bars have a layer of homemade marshmallow cream icing sandwiched between two perfectly chewy oatmeal cookies, all in bar form! OBSESSED!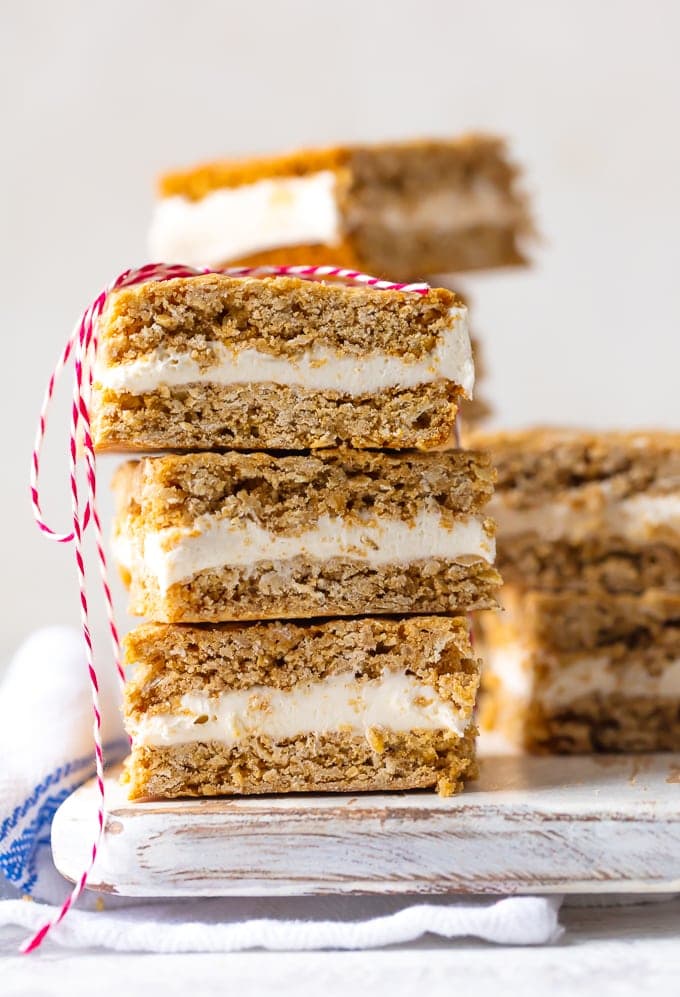 Homemade Oatmeal Cream Pies
As a kid, one of my very favorite indulgences were Oatmeal Cream Pies. Something about those soft oatmeal cookies holding in that decadent marshmallow cream. I would crave this special flavor mixture time and time again! As an adult, I think its so fun to learn how to make homemade oatmeal cream pies in place of the original. To be honest, this version is even better than I remember them.
Mom helped me perfect this amazing recipe for Oatmeal Cream Pie Bars and I couldn't be more excited. The cookies are the perfect consistency…chewy but substantial enough to keep their form. The cream is TO DIE FOR and I cannot be trusted alone with a bowl. I cannot wait for you to try these goodies or to make them for your sweetheart this Valentine's Day!
These Homemade Oatmeal Cream Pie Bars are a delicious take on the classic Oatmeal Cream Pies!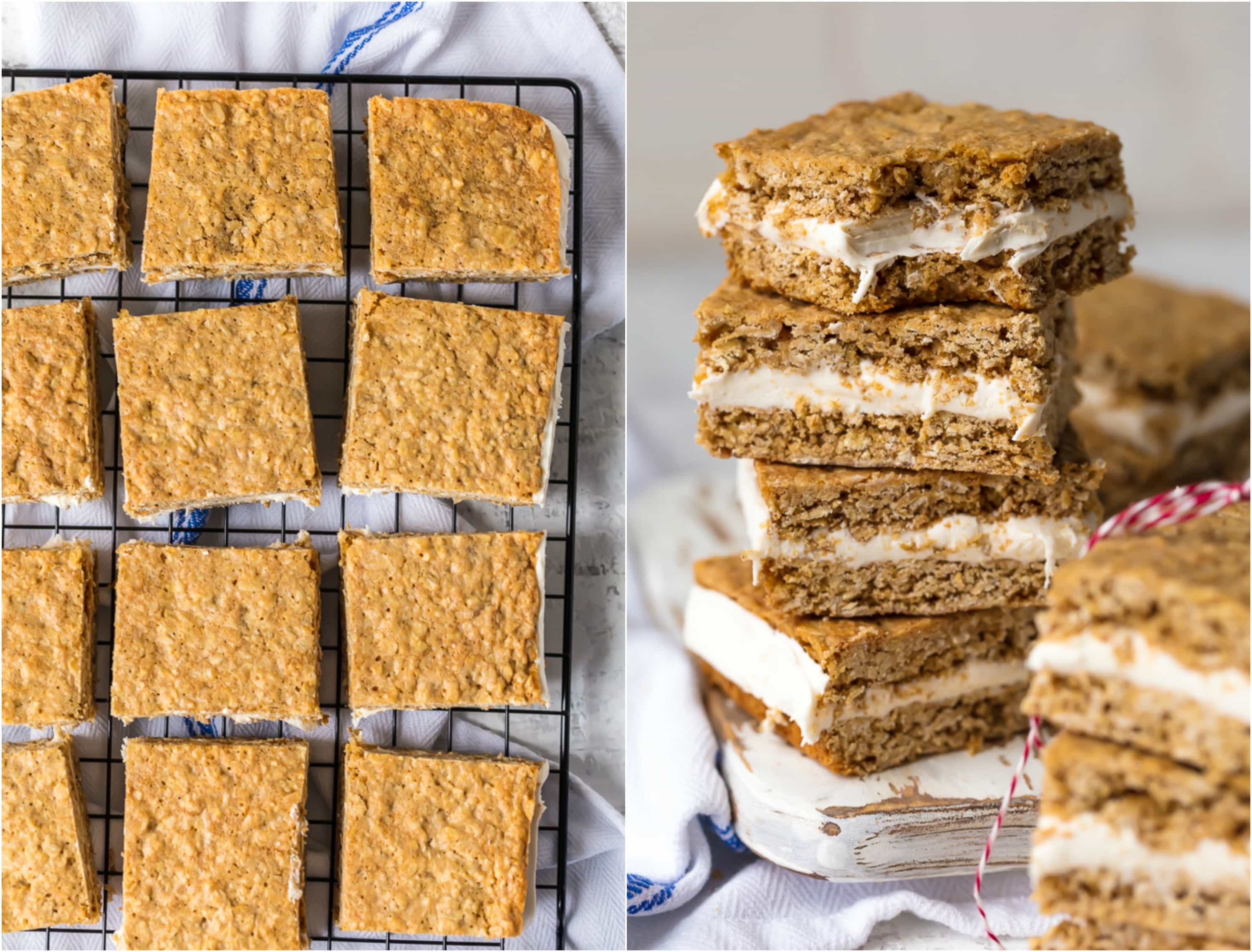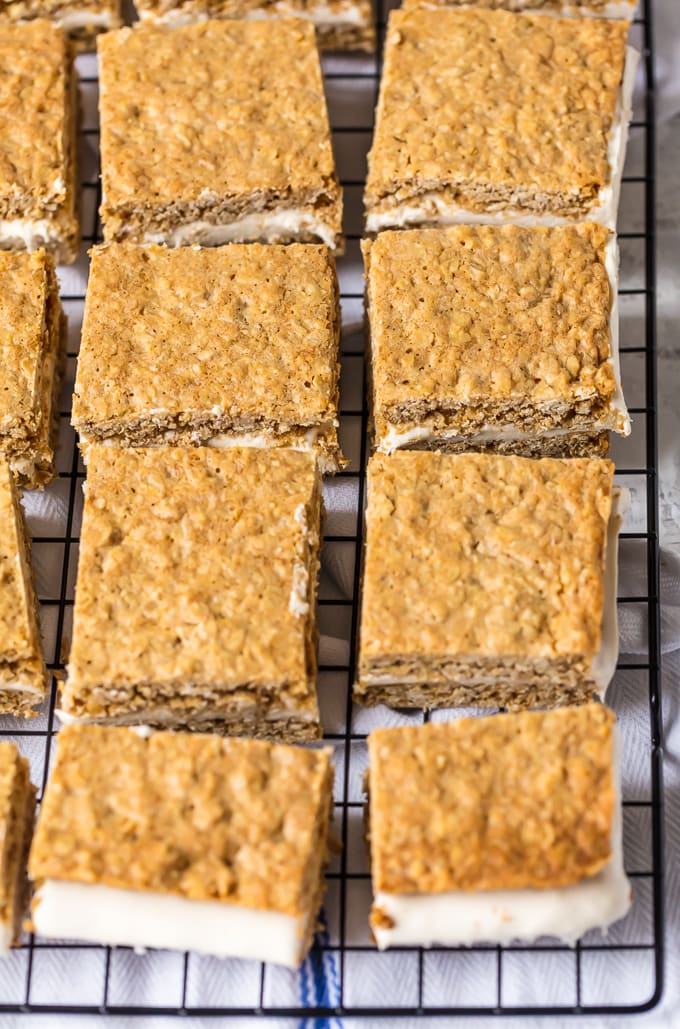 Oatmeal Cream Pie Bars – Craveworthy
I gotta be honest…I made fun of Pat this Christmas because of all the cookies he could request, he requested oatmeal cookies. I was like EXCUSE ME?! You chose OATMEAL cookies? There are so many amazing options and you pick OATMEAL!? Well…my Mom was up to the challenge and made him the most amazing Oatmeal Cookies on the face of the Earth, and I think I ended up eating more of them than Pat did.
Once I got over that snobby attitude, I knew that I would love these delicious Homemade Oatmeal Cream Pies. I wasn't wrong. Mom made them absolutely impeccable and I'm so excited for you to try these. An adult version of a childhood staple is always a must-try!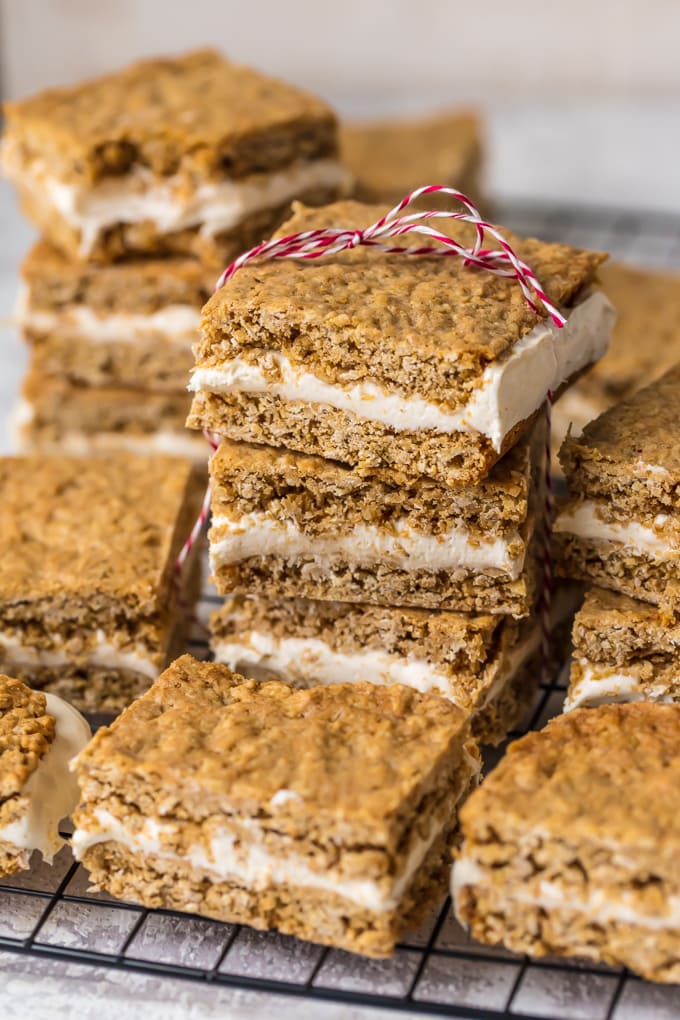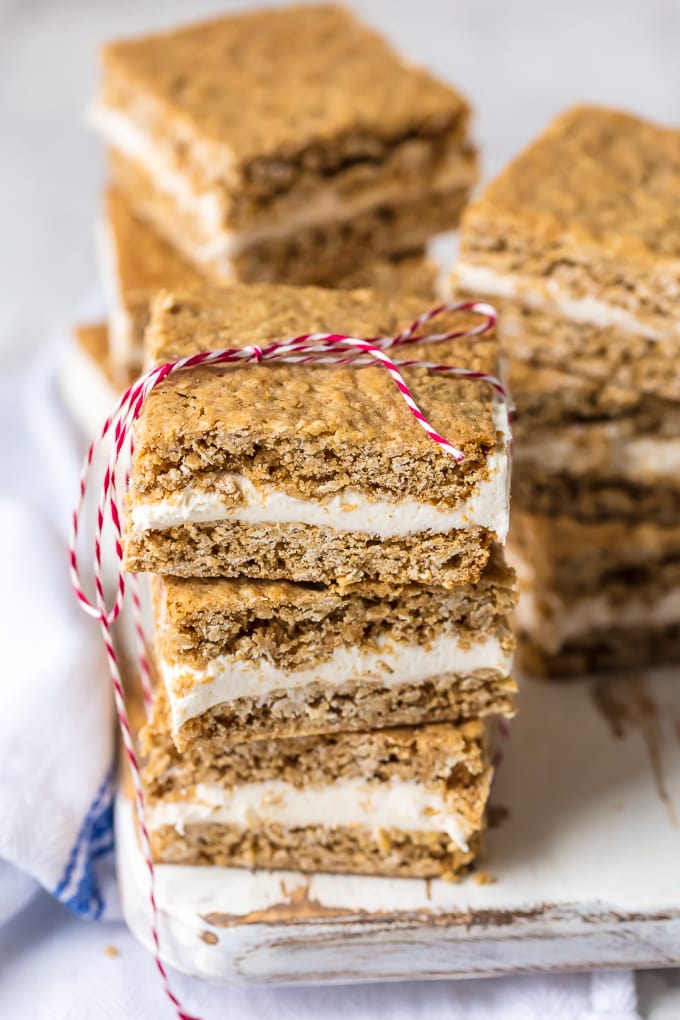 Oatmeal Cream Pies Serving Recommendations
I recommend cutting your homemade oatmeal cream pies while they're frozen. Keep them in the fridge in a sealed container after that. They're SO GOOD when served at room temperature, but they can get a little messy with all that cream. I prefer them cold and with a bit more structure. They are SO DELICIOUS either way. I am so obsessed with these oatmeal cream pie bars, it's hard to put into words.
Who invented Oatmeal Cream Pies?
Oatmeal Cream Pies (creme) were invented by Little Debbie. It was the very first snack the company created, back in the 1960s. This sweet treat has been a classic childhood favorite ever since! These Oatmeal Cream Pie Bars are a grown-up version of the Little Debbie original. I like to think these homemade oatmeal cream pies are a bit healthier too.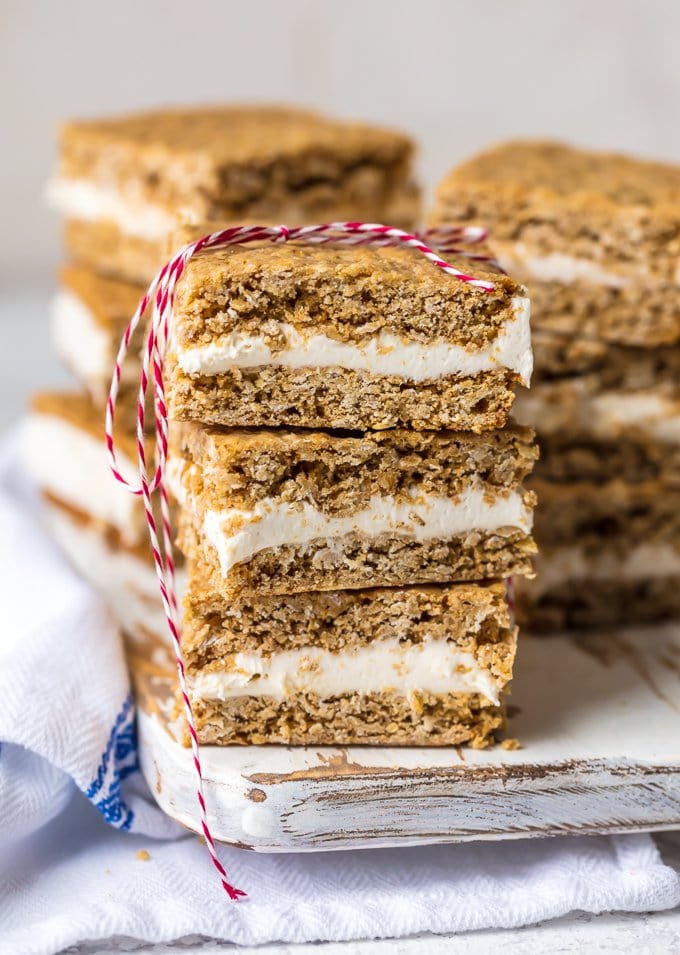 These homemade Oatmeal Cream Pie Bars will take you right back to those childhood Oatmeal Cream Pies. I can't wait for you to try them!
If you enjoyed these oatmeal cream pies, try some more dessert recipes. These chocolatey homemade brownies and s'mores cookies are some of our favorites! Looking for more dessert bars? Try our carrot cake bars or (gluten free) lemon bars.
See the recipe card for details on how to make these Homemade Oatmeal Cream Pie Bars. Enjoy!