These Homemade Oatmeal Cream Pies are an adult version of a childhood favorite! They're a tasty dream come true, and they're perfect for showing your loved ones just how special they are. These copycat Oatmeal Cream Pie Bars have a layer of homemade marshmallow creme icing sandwiched between two perfectly chewy oatmeal cookies, all in bar form!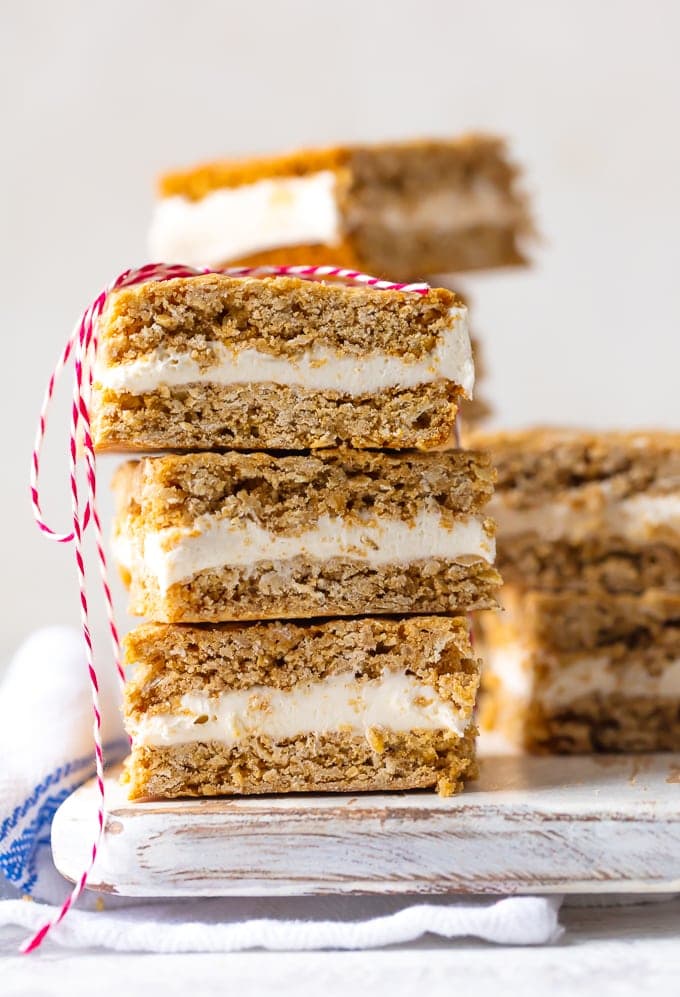 Homemade Oatmeal Cream Pies
As a kid, one of my very favorite indulgences was Oatmeal Cream Pies. Something about those soft oatmeal cookies holding in that decadent marshmallow cream. I would crave this special flavor mixture time and time again! As an adult, I think it's so fun to learn how to make homemade oatmeal creme pies in place of the original. To be honest, this version is even better than I remember them.
Mom helped me perfect this amazing recipe for Oatmeal Cream Pie Bars and I couldn't be more excited. The cookies are the perfect consistency, chewy but substantial enough to keep their form. The cream is TO DIE FOR and I cannot be trusted alone with it. I cannot wait for you to try this homemade version. Make them for yourself or for your kids. Everyone will love them!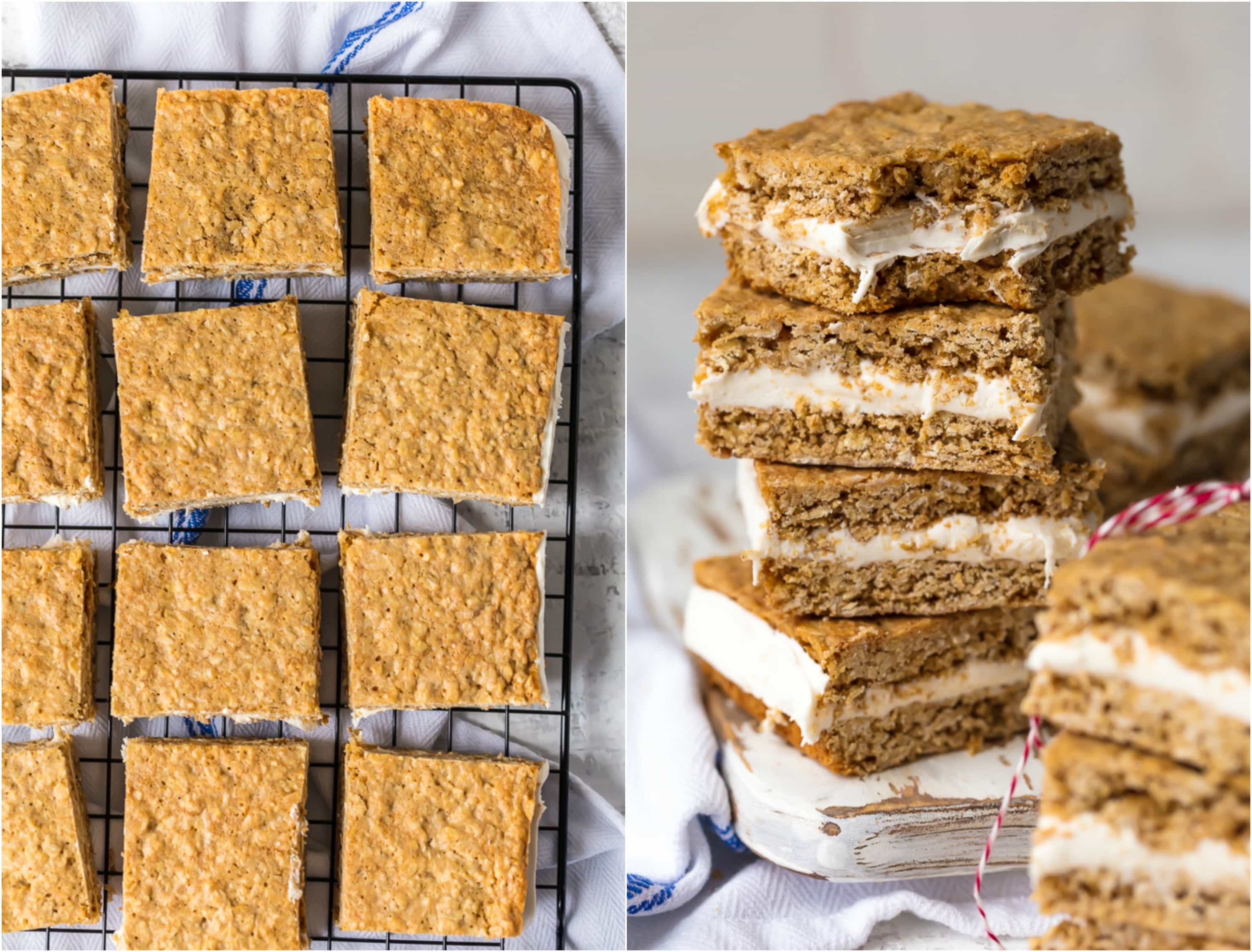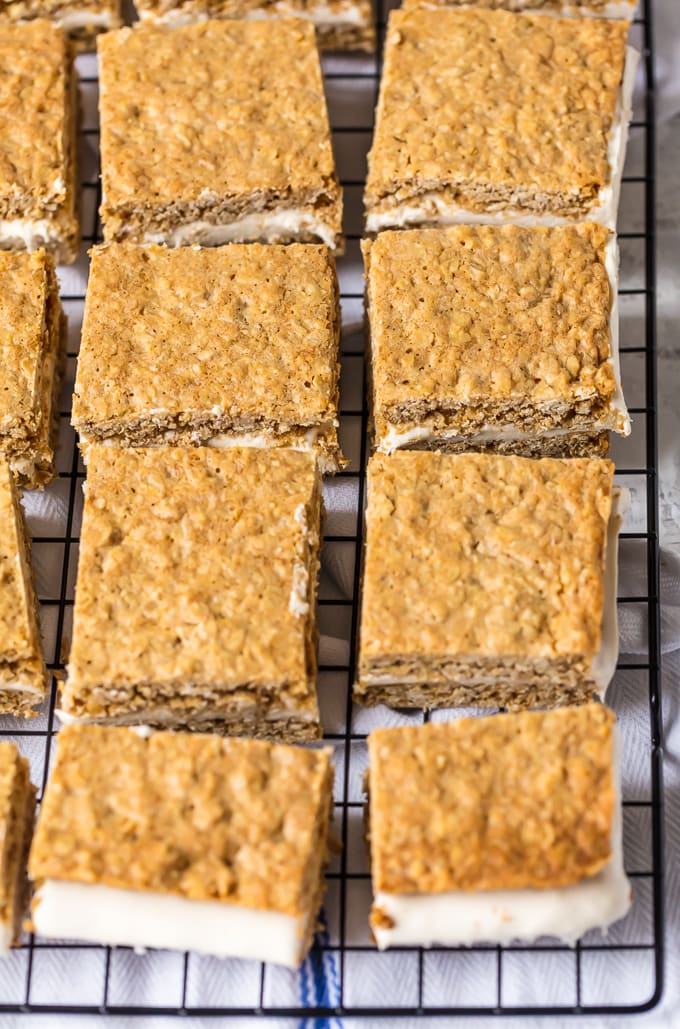 What are Oatmeal Creme Pies & who made them?
Oatmeal Creme Pies were invented by Little Debbie. It was the very first snack the company created, back in the 1960s. This sweet treat has been a classic childhood favorite ever since! This homemade recipe is a grown-up version of the Little Debbie original. I like to think these are a bit healthier too.
What are the ingredients in oatmeal cream pies?
Like most processed snack foods, the ingredients list on the Little Debbie box is filled with a lot of things I don't exactly want to be eating (or don't know what they are). But the ingredients in this HOMEMADE oatmeal pie bar recipe are a little bit easier to read. It's made up of oatmeal cook bars and marshmallow creme, but we're making those parts ourselves.
Ingredients List:
Oats
Dark Brown Sugar
Cinnamon & Nutmeg
Eggs
Vanilla Extract
Unsalted Butter
Baking Soda
Salt
Marshmallow fluff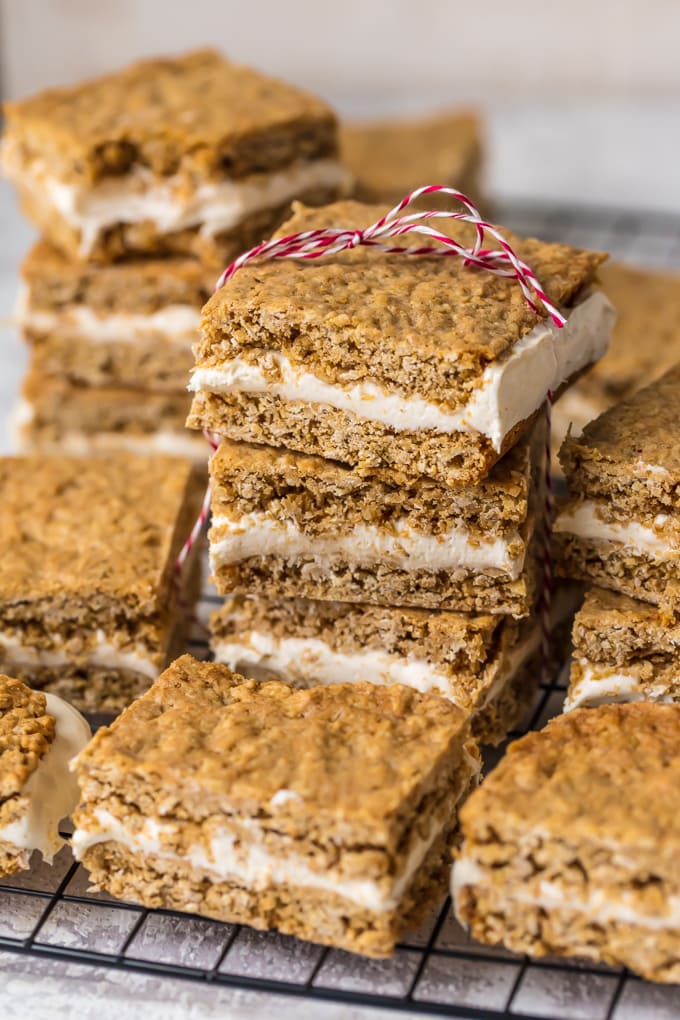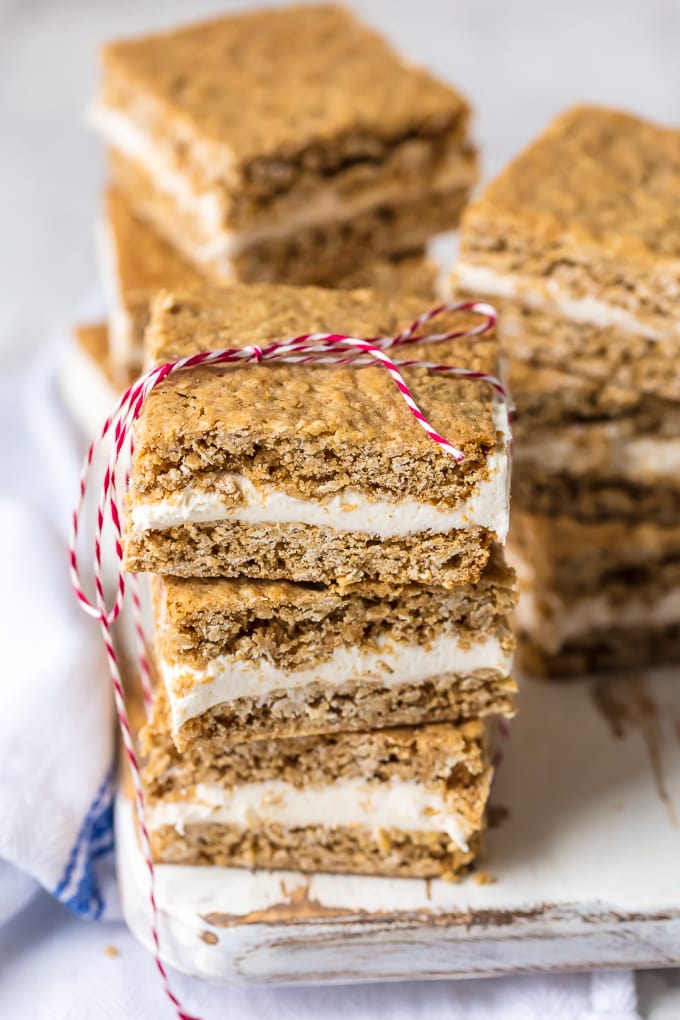 Top Recipe Tips
Be sure to watch the how-to video and check the step-by-step recipe card below, but keep these tips in mind while baking!
Line baking pans with parchment paper and cooking spray to make sure nothing sticks.
Use an electric mixer to make sure everything is fully incorporated (mixing by hand will wear you out).
Bake cookie bars for about 12 minutes then let them cool for 10 minutes before removing them from the pans.
After assembling the oatmeal cream pie bars (bar, marshmallow, bar), place on a tray and cover with plastic wrap. Then freeze at least 2 hours.
They are easier to cut into bars AFTER freezing, then you can serve them or save for later.
Place them in an airtight container and store them in the fridge up to 4 days.
You can serve them cold or at room temperature, but they do get a bit messy when too warm.
If you want the classic round shape, you can use the dough to make cookies instead of bars before assembling, or even cut off the corners of the bars. Whatever you prefer!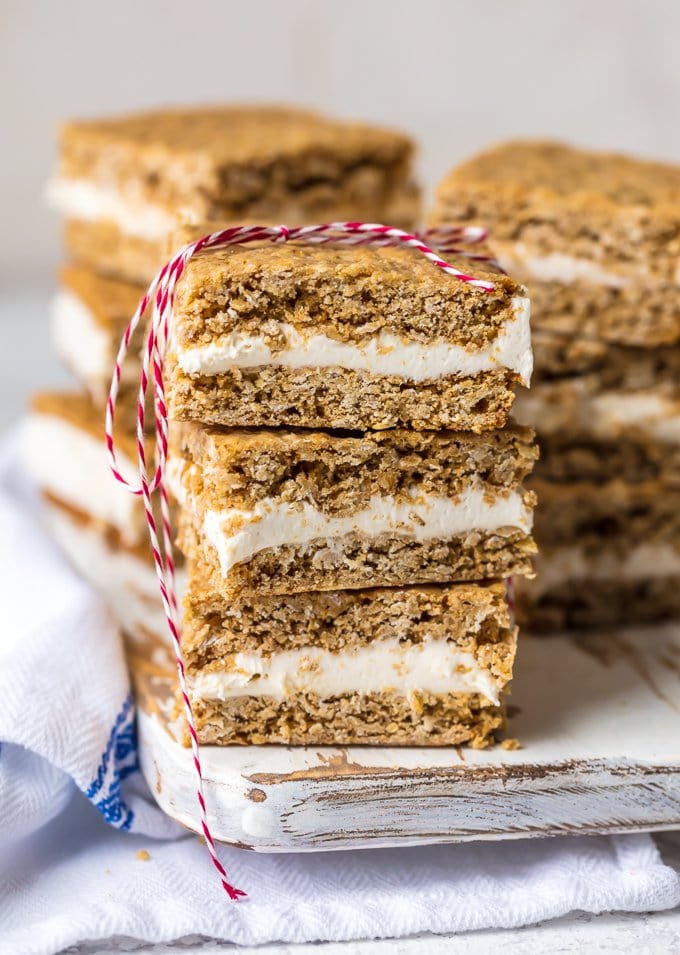 Oatmeal Cream Pie Bars
These homemade Oatmeal Cream Pie Bars will take you right back to childhood. I can't wait for you to try them and share them with your kids too.
If you enjoyed these, try some of our other favorite dessert recipes.
Watch the video and See the recipe card for details on how to make these Homemade Oatmeal Cream Pie Bars. Enjoy!