We are always on the hunt for easy entertaining ideas around the holidays. Thanksgiving, Christmas, and the entirety of Fall are filled with opportunities to get together with friends and family; but that doesn't mean enjoying guests has to be exhausting. We have some tips and tricks for simple Thanksgiving entertaining using our very favorite brand of Sweet Tea, Milo's Tea!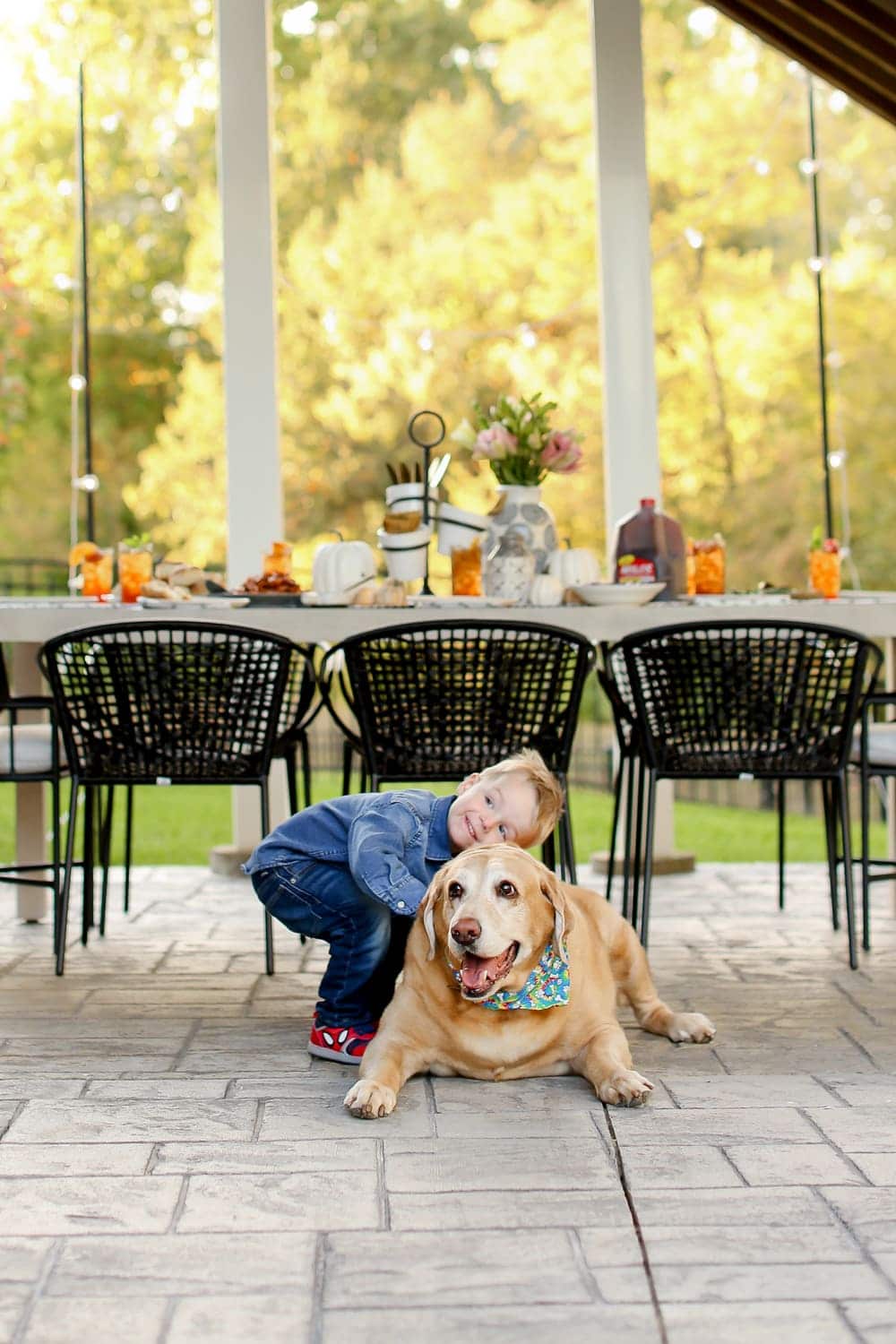 We are a low maintenance family. We like to get together and have a great time, but without the stress that some entertaining can bring. I'm talking come as you are, stay as long as you'd like, and enjoy little entertaining hacks that keep things simple and easy.
Every Thanksgiving, we aren't sure what to do with all the leftovers. My Mom is an amazing cook, and we are so spoiled by all the mains, sides, and desserts. This year, we plan to keep things basic with reheated sides, pulled bbq turkey sandwiches, and of course, Milo's Sweet Tea.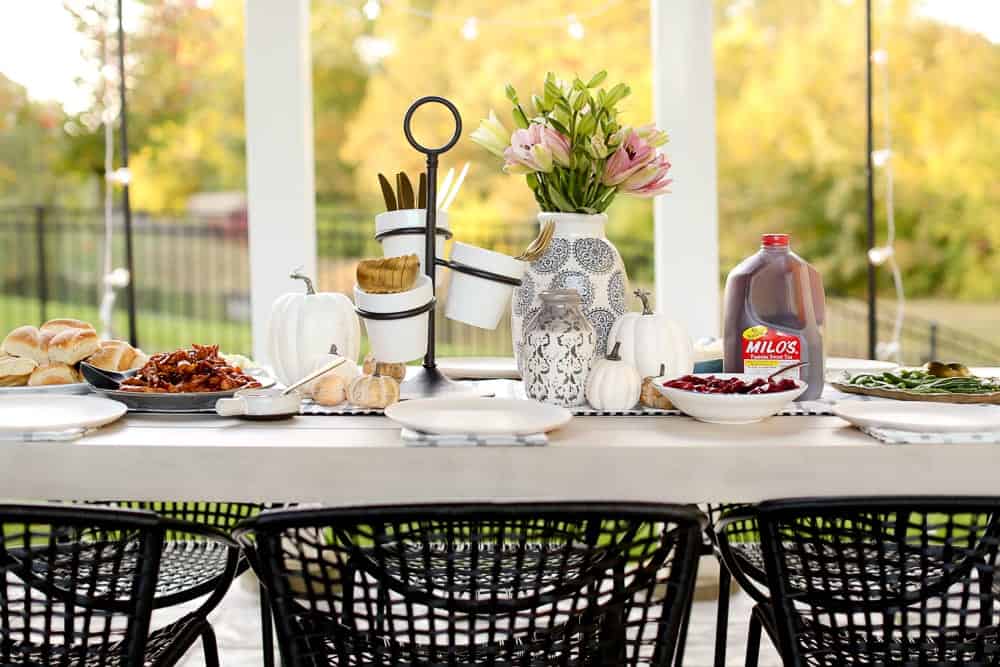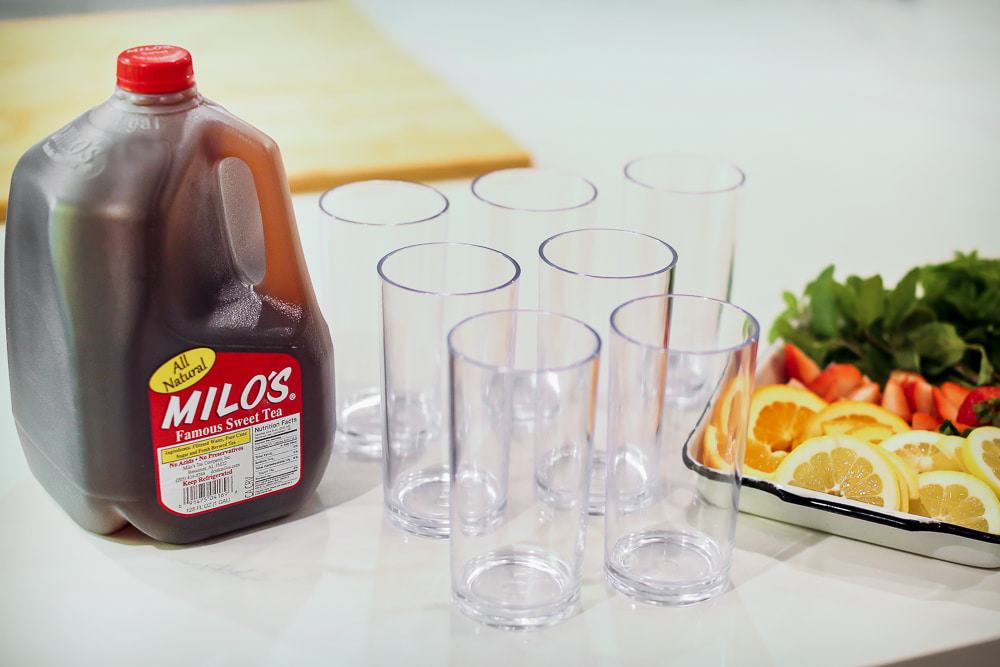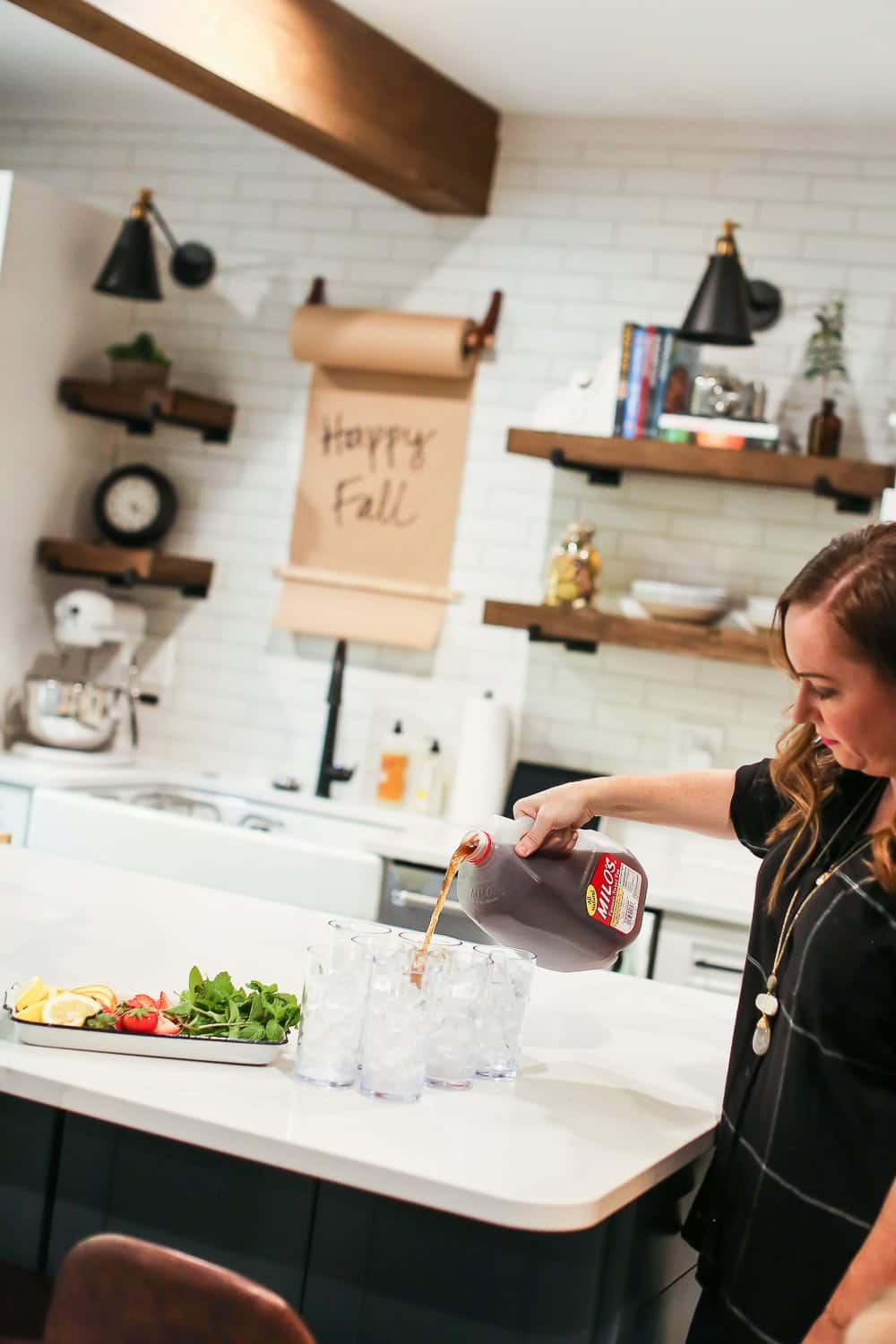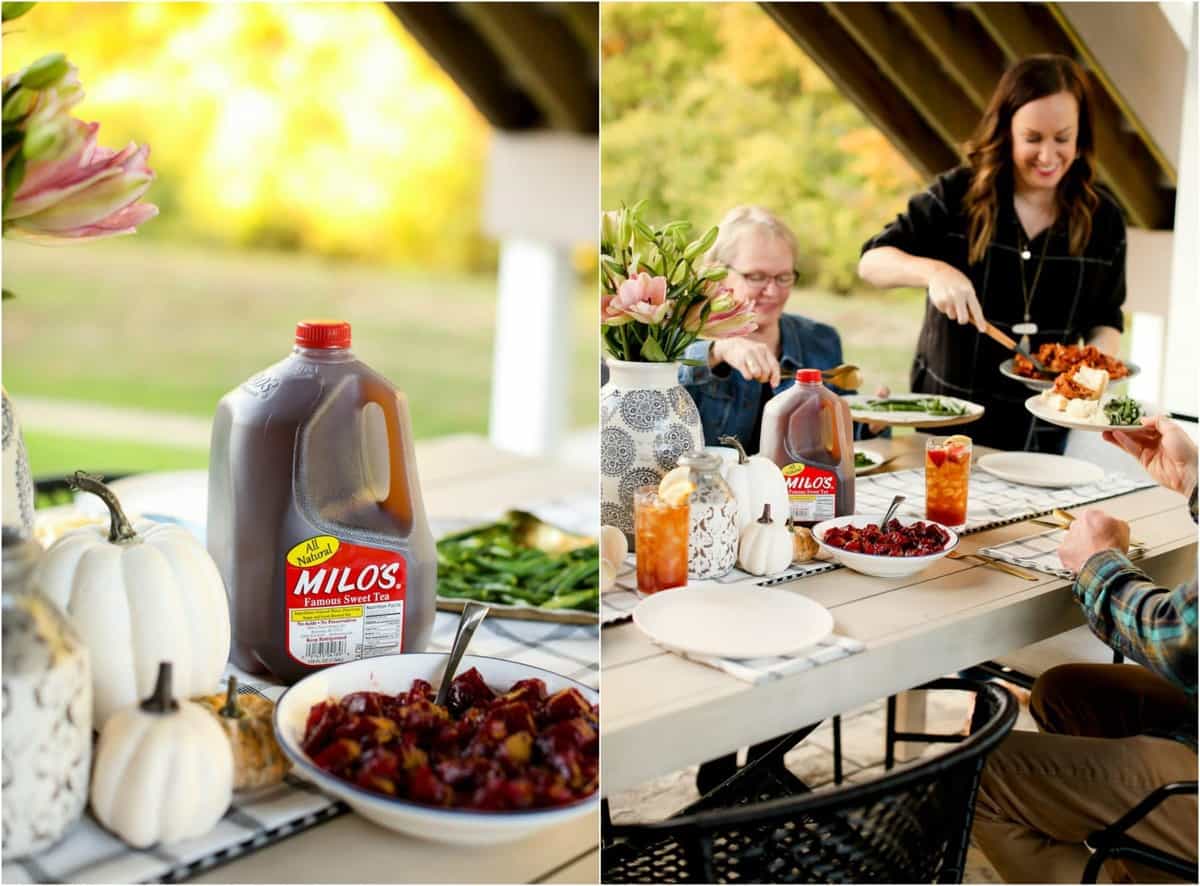 Easy Table Decor
Like I said earlier, I'm not fancy. I'm not fancy, but I love things to be beautiful. I kept things easy to set up and easy to clean up by using a simple matching table runner and linen set, decorating with fresh flowers (always in season), and some decorative pumpkins that I can pull out year round. I love things to look light and airy so I added one string of bulb lights behind our outdoor table. I think it makes the scene so inviting and fun, but not overdone.
We serve our food family style so everyone can take as much or as little as they want, and I think it invites people to feel at home instantly.
I set up an indoor Tea Station inside where the adults and kids could get all the Milo's Sweet Tea their hearts desired, and garnish as they'd like with fruit (oranges, lemons, and strawberries) or fresh mint. Little touches go a long way!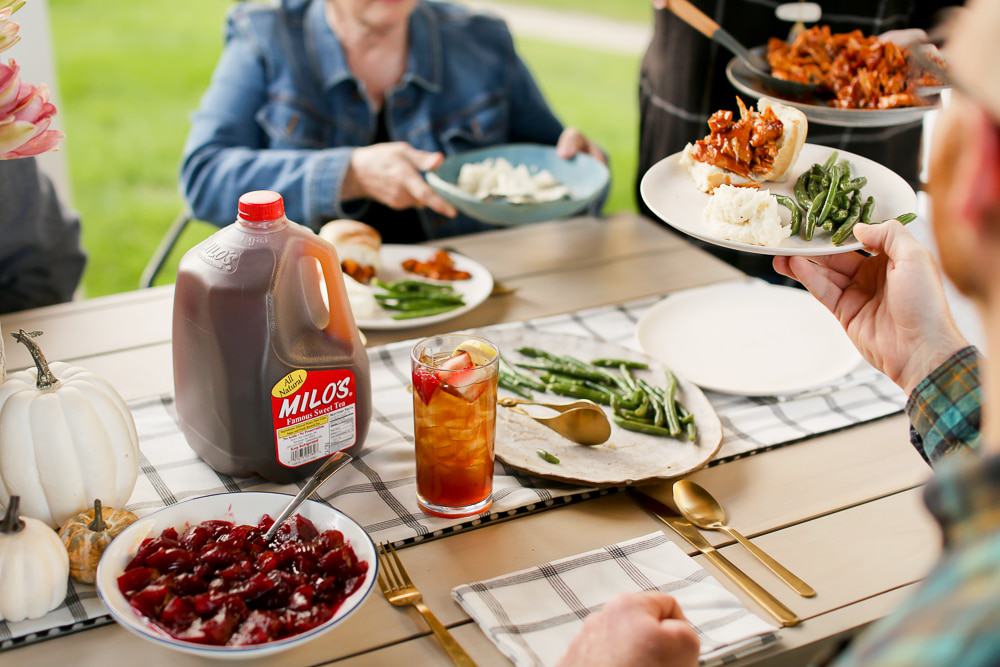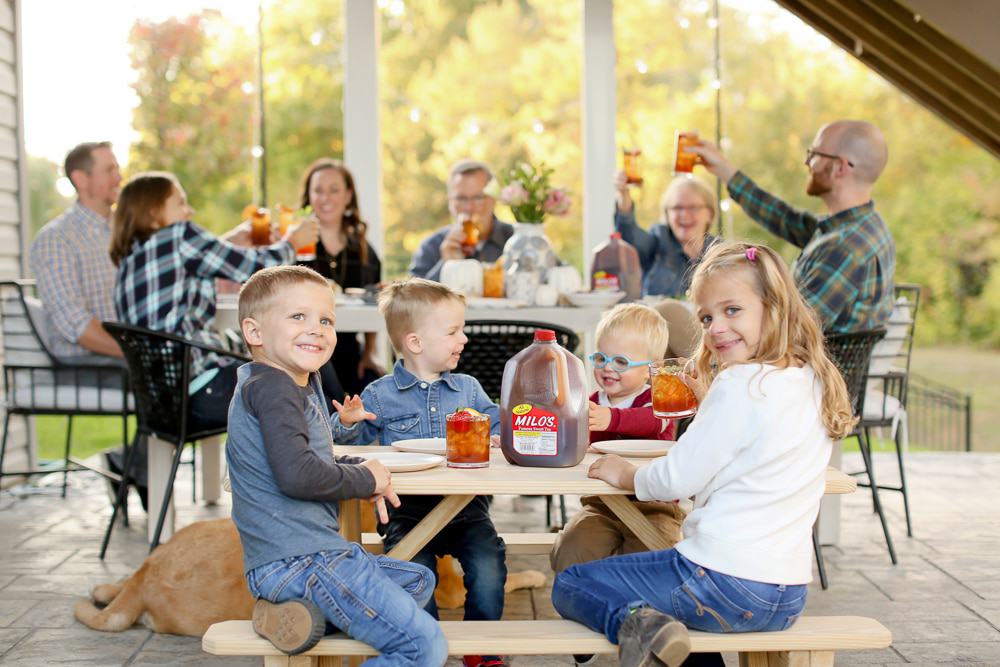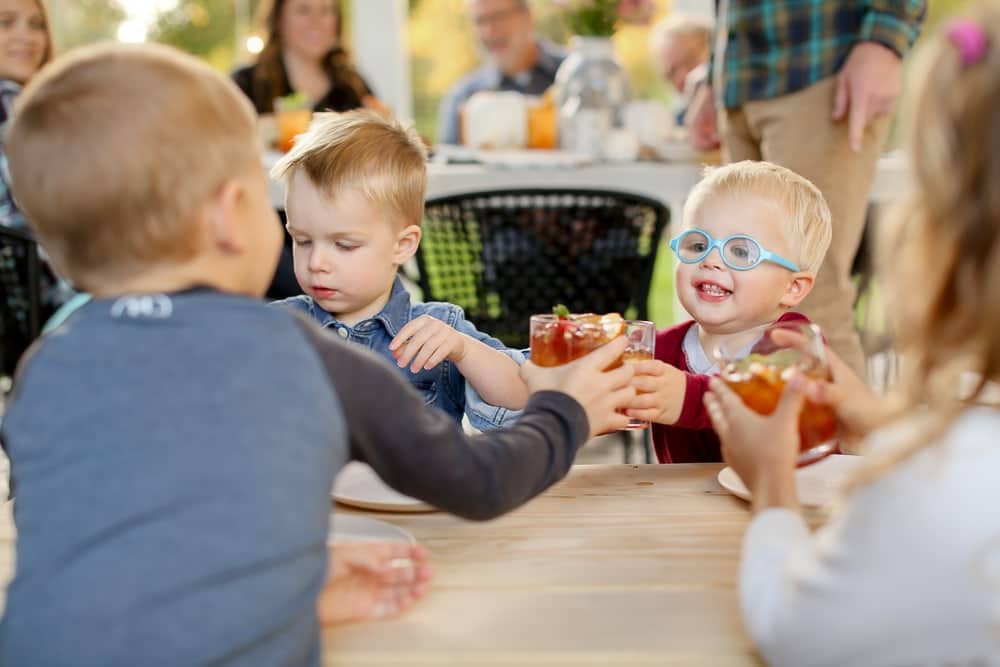 Milo's Tea
You guys, there is simply NO TEA on the market like Milo's Tea. For this party we served their Famous Sweet Tea, but I also love their Unsweet Tea and No Calorie Sweet Tea (heaven).
Milo's is an award-winning tea that is free of all preservatives and added acids. You notice right away the clean and clear taste, and that's because its ingredient list is as simple as this holiday party. It's simply tea leaves, water, and cane sugar, just like if you made it at home. We are in LOVE with it and I feel great about serving it to Henry. Milo's is the ultimate drink to serve at holiday parties because it's loved by all, and goes with everything!
I love saving time and avoiding stress around the holidays by always serving Milo's Sweet Tea!
You can find Milo's Tea in the refrigerated juice section of your local grocer, or check their handy store locator to find near you.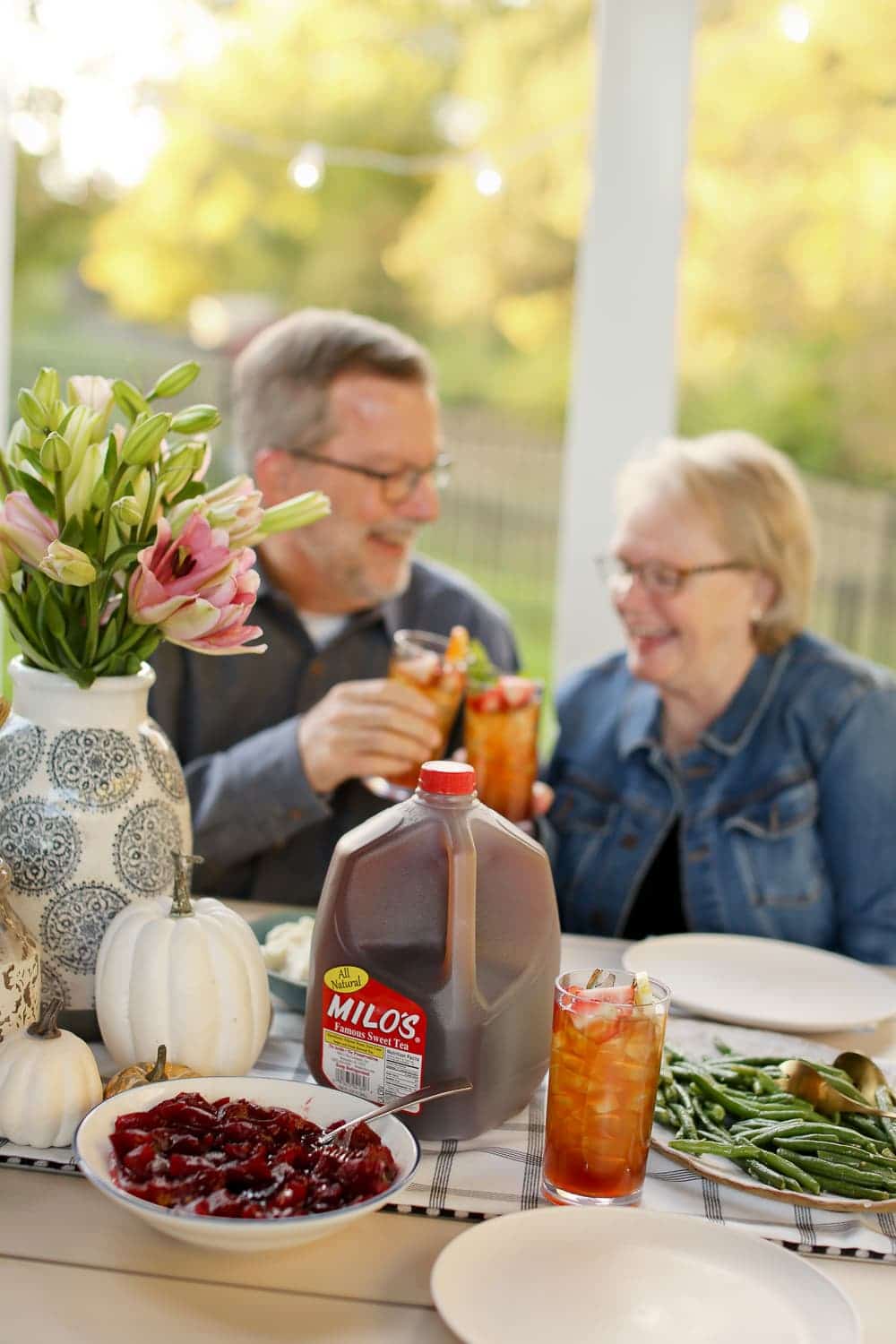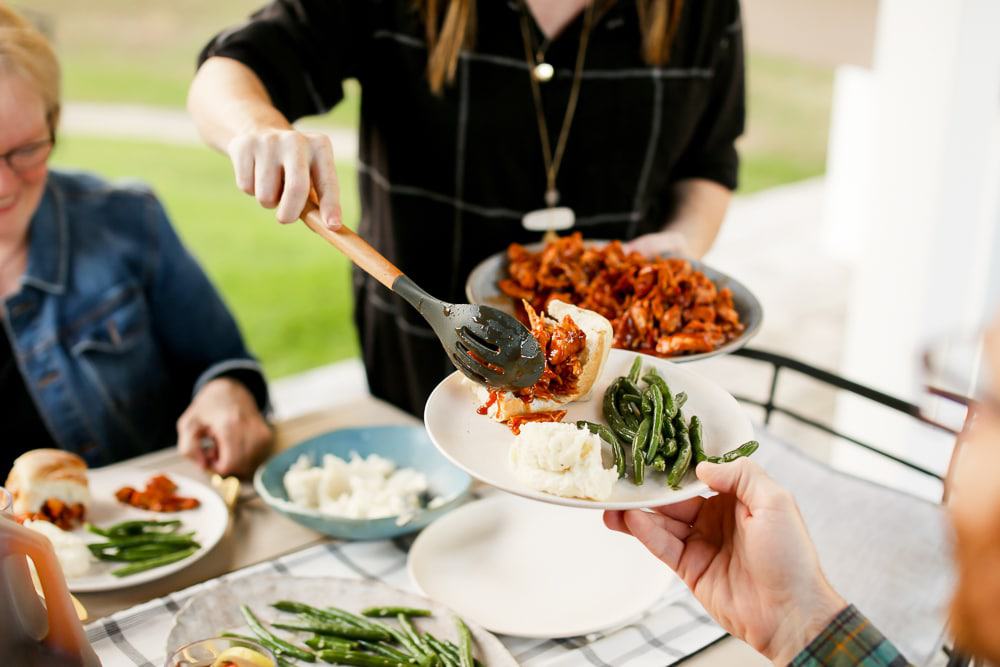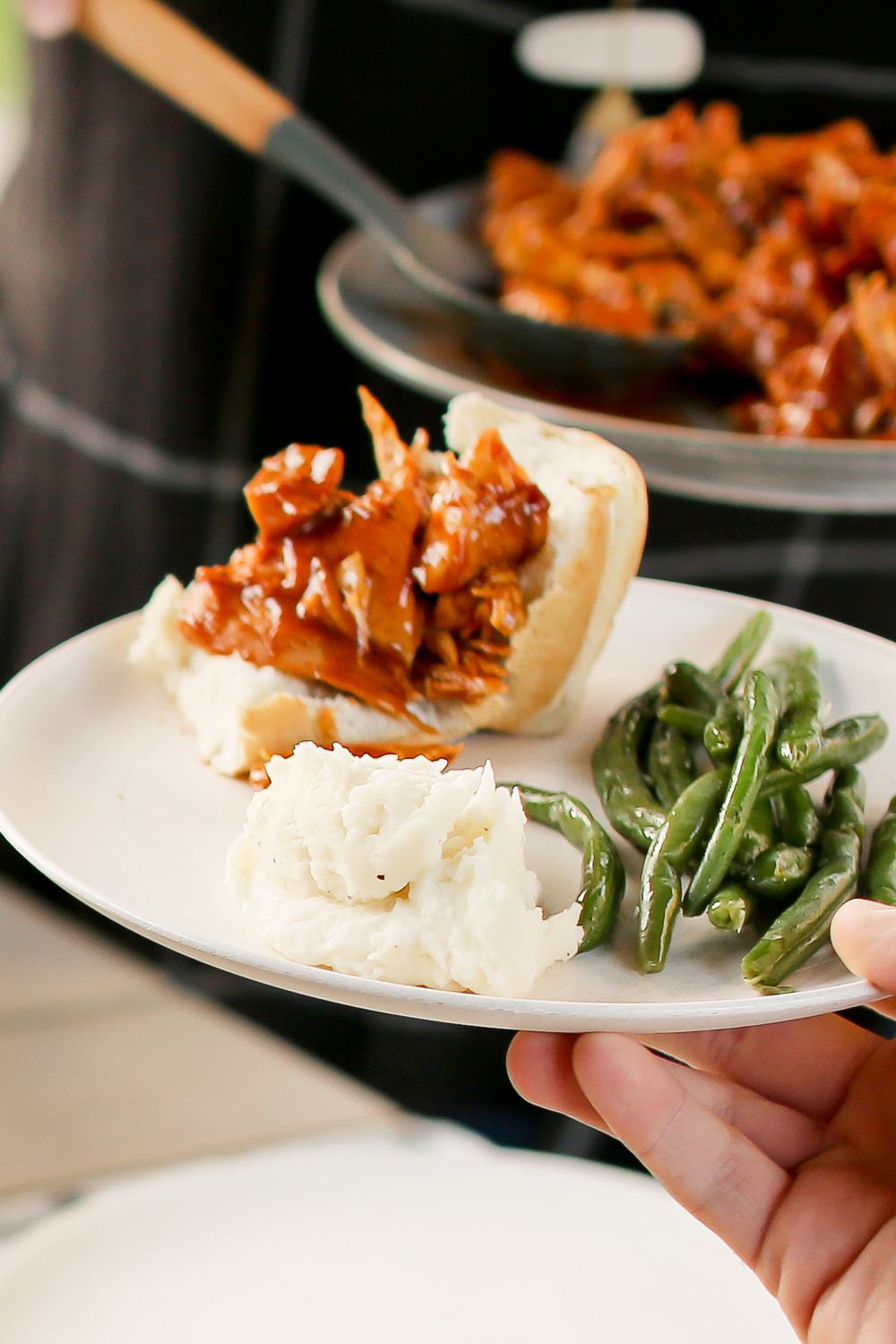 Entertaining with Thanksgiving Leftovers
We kept the food simple by reheating our favorite Thanksgiving sides; green beans, mashed potatoes, macaroni and cheese, and cranberry sauce. We tossed the leftover Thanksgiving turkey in the slow cooker to heat up with some bbq sauce. Once the turkey is heated through, simply shred with two forks. Serve over homemade rolls garnished with coleslaw! SO DELICIOUS and easy. I aim to please!
This holiday meal was super kid friendly and required almost zero prep. My kind of meal! Served with Milo's Tea, we were in heaven.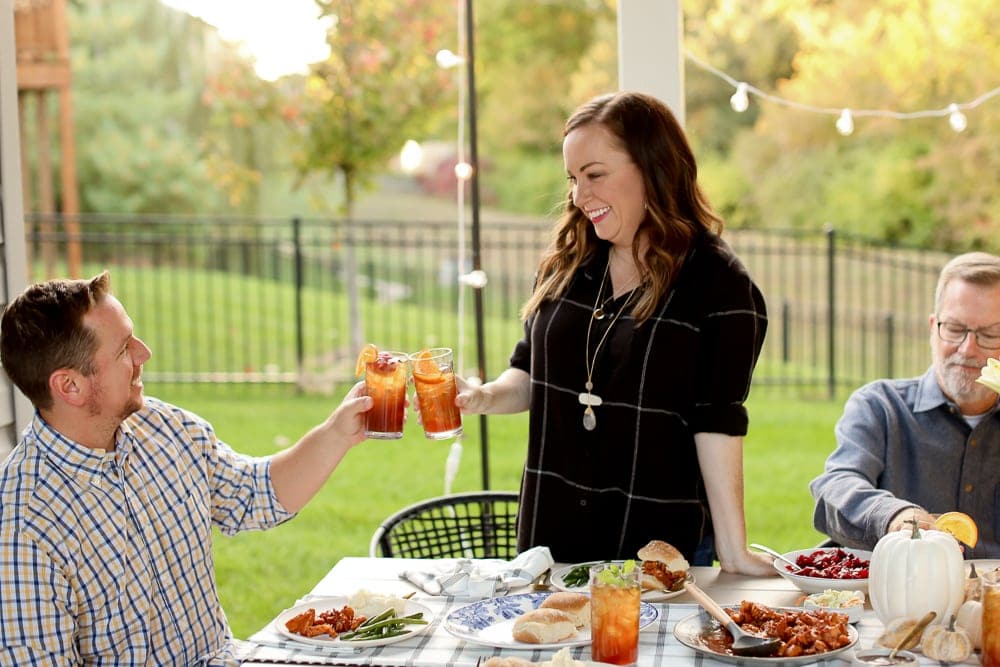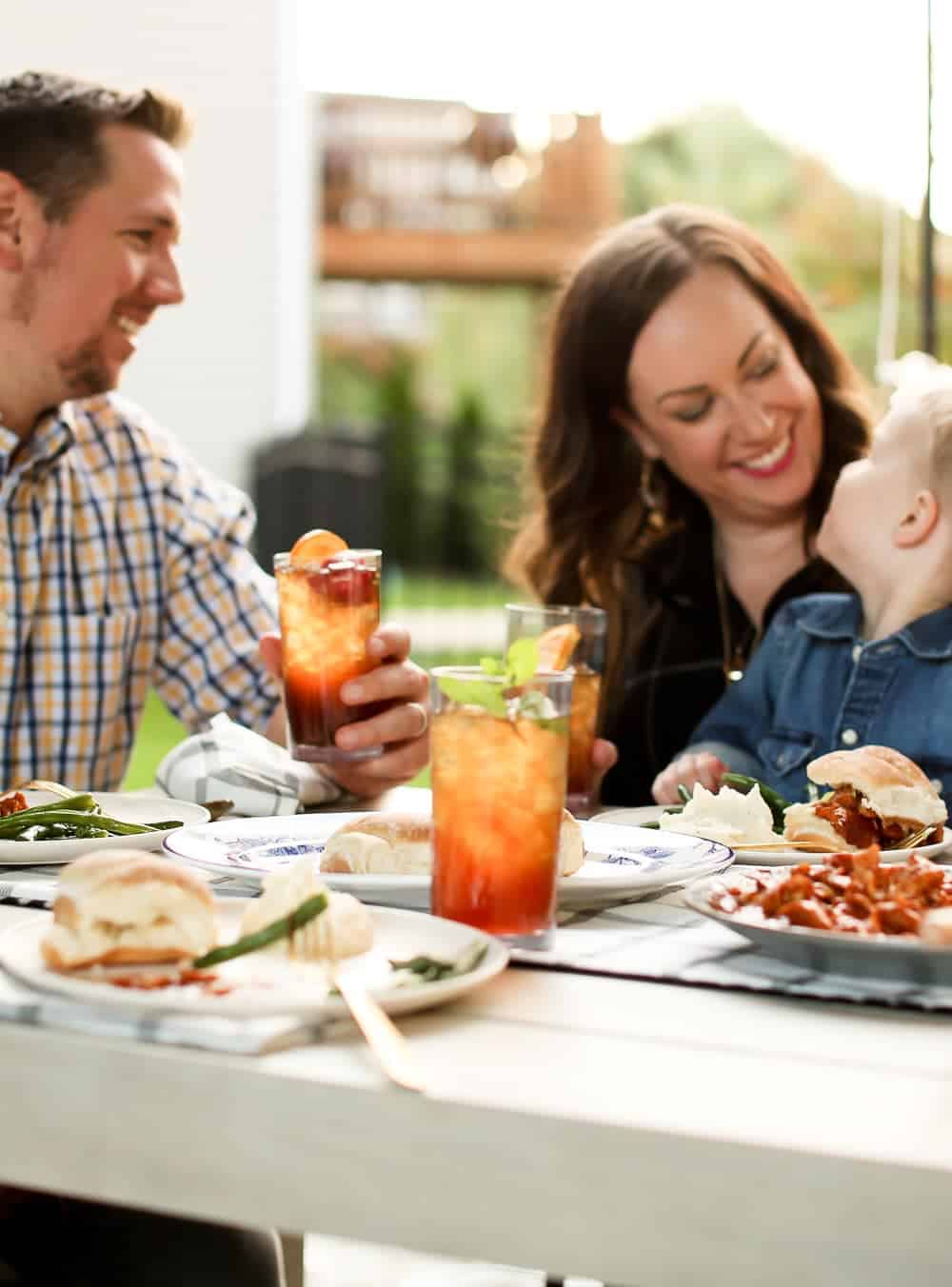 Holiday entertaining shouldn't be stressful or overdone. It truly is about the time spent with loved ones, not how long the food or decorations took to prepare. I hope this holiday season you'll focus on simple recipes, and serve them alongside Milo's Tea for a special treat for all involved!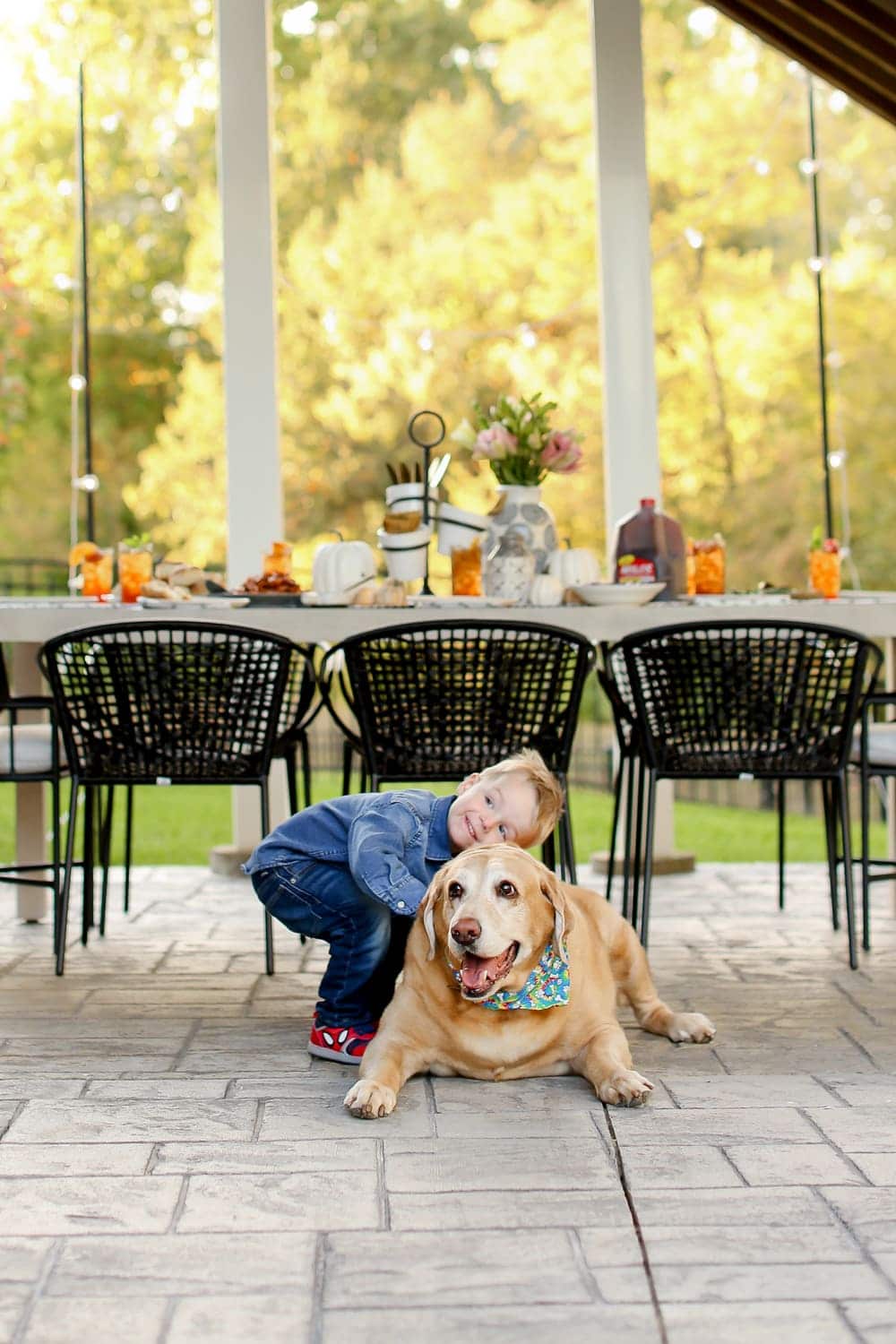 From our family to yours, Happy Thanksgiving!
Be sure to check out Milo's Tea and find out where to buy HERE.