Roast turkey breast is perfect for Thanksgiving, Christmas and other special occasions. This oven roasted turkey breast recipe is basted in garlic butter for a real flavor explosion! This garlic turkey breast is simple to prep and it's a real show stopper. The skin is perfectly crispy and the meat is so succulent and flavorful!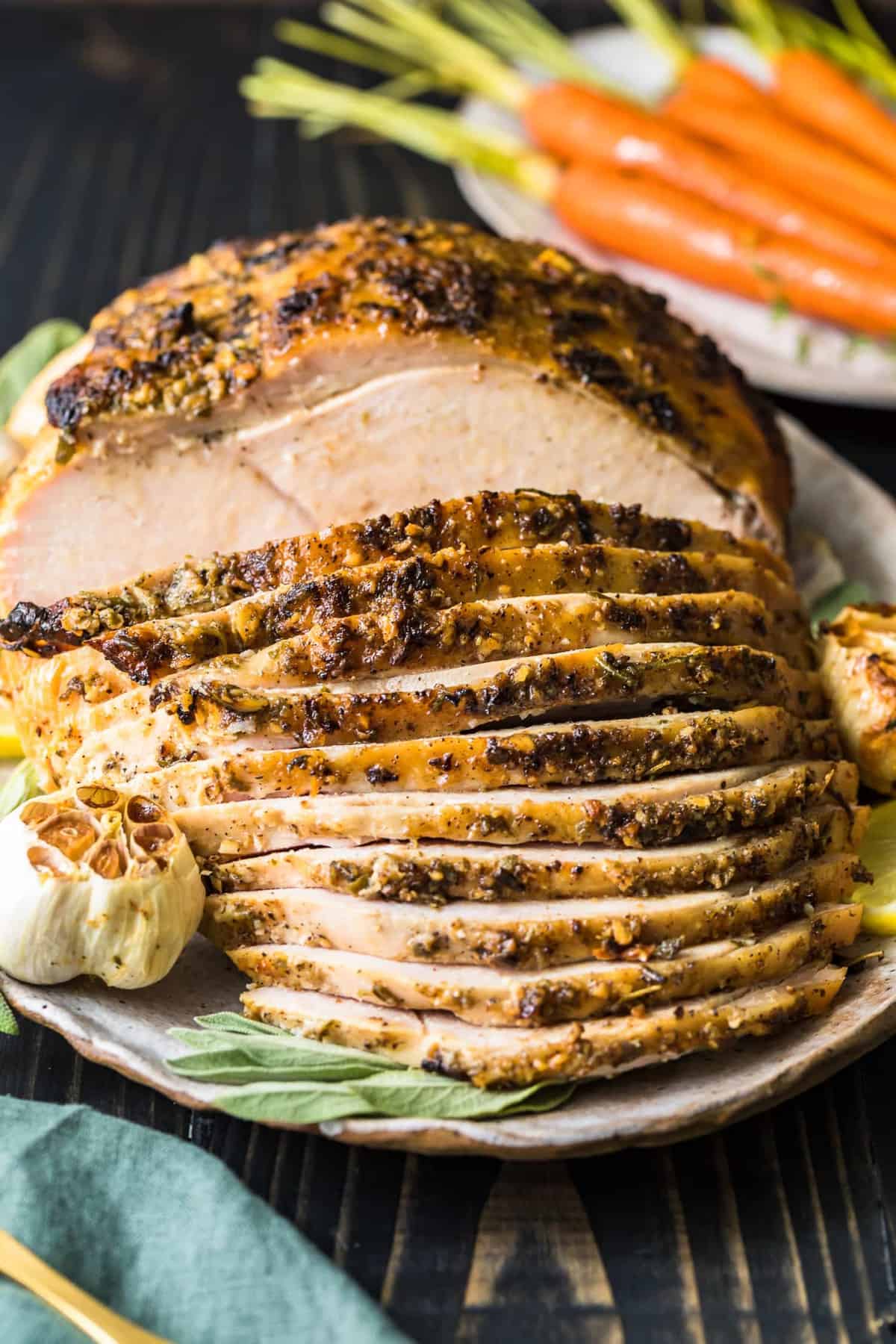 Roast Turkey Breast
Roast turkey breast is the perfect option for easy Thanksgiving meals, and it works just as well for any holiday or special occasion!
Have you got your holiday menus planned yet? If not, may I suggest this rather delicious and gorgeous looking roast turkey breast recipe? The flavor of this garlic butter turkey are just amazing, you're going to love it!
This oven roasted turkey breast is so easy to make, and it's filled with the flavor of garlic (40 cloves of garlic!) and lots of herbs. It's a nice juicy and savory turkey that looks beautiful on any Thanksgiving or Christmas table.
Making turkey breast for the holidays leaves you with flavorful white meat that serves the whole family, without the hassle of making a huge turkey that you don't need!
Top Tips to Make Garlic Roasted Turkey
The turkey is cooked when the internal temperature registers 162°F-163°F on an instant-read thermometer when inserted into the meatiest part of the breast.
If the skin is darkening too quickly during cooking, tent the turkey with aluminum foil.
Be sure to let the turkey breast rest for at least 15 minutes before slicing.
Use a 5-7 pound, un-brined turkey breast.
Watch the video to see the step by step recipe!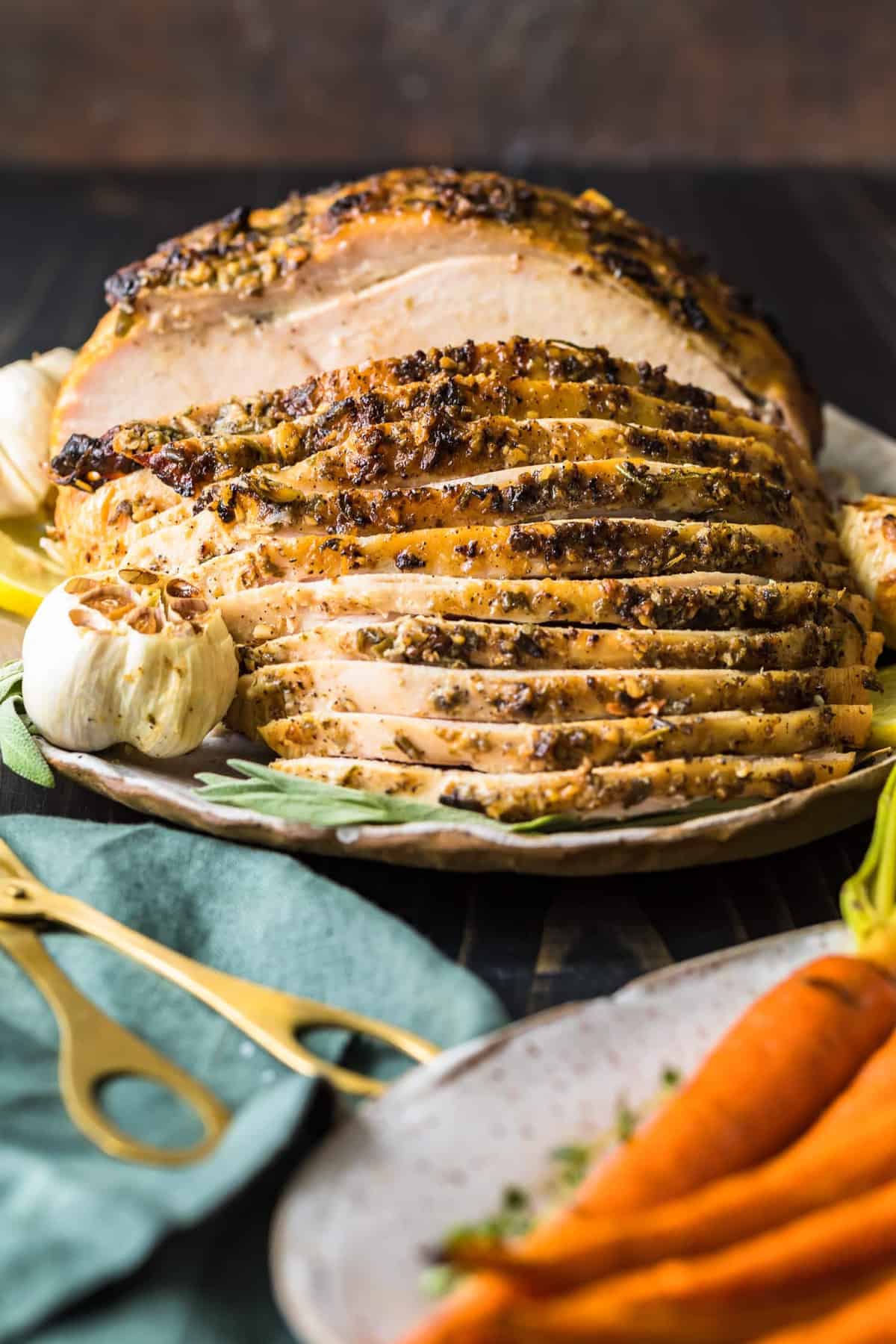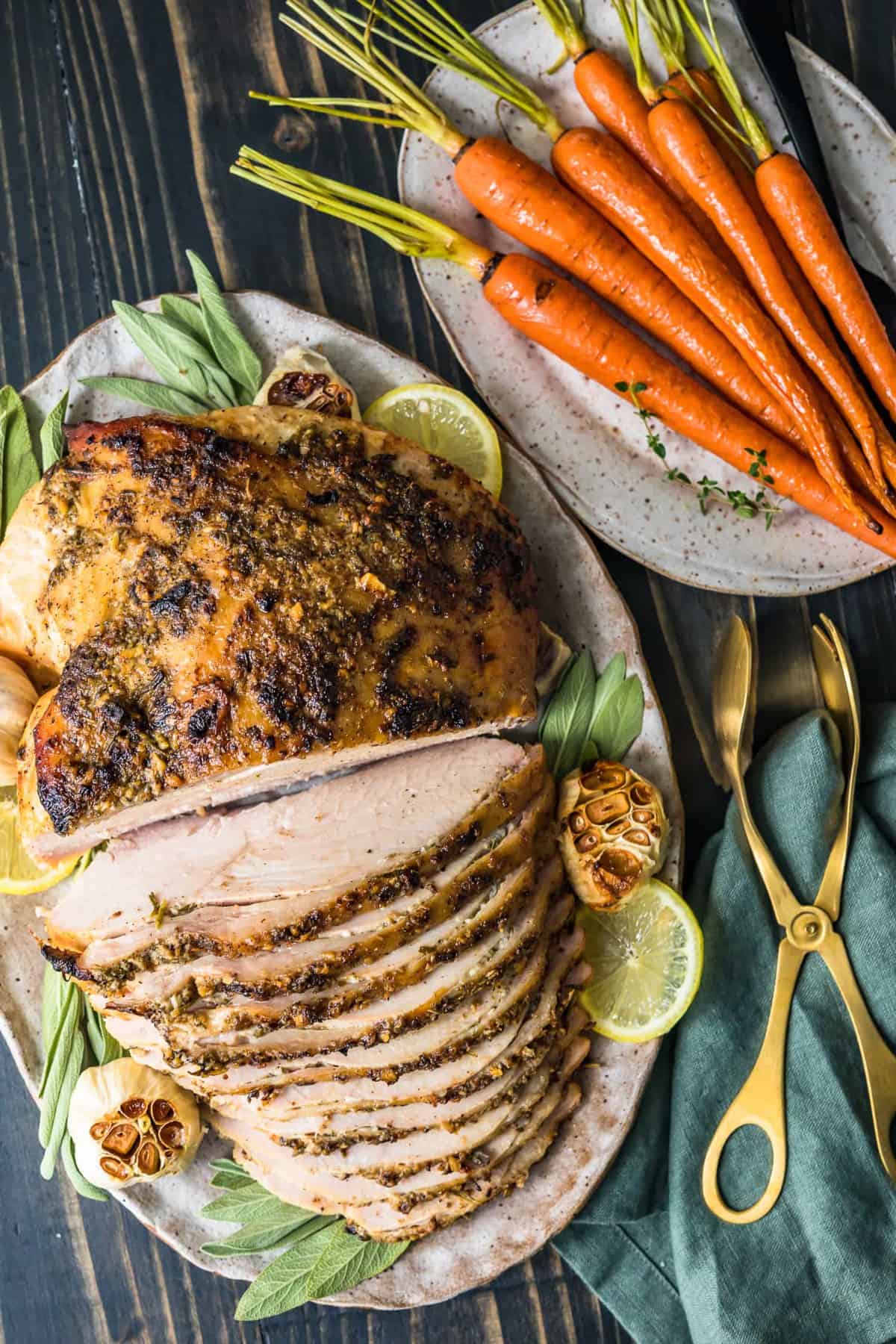 How to Roast a Turkey Breast
Roasting turkey breast is a simple way to make juicy turkey for Thanksgiving, or any meal. The garlic butter rub on this turkey adds so much flavor!
Prep: Preheat oven to 325°F, line a large roasting pan with foil, spray both sides of a wire rack with nonstick cooking spray, and place the wire rack over the pan.

Pat the turkey breast dry and set it on the wire rack.

Mince 20 cloves of garlic and cut the other 2 heads of garlic in half.

Garlic Butter: combine ingredients to make the garlic butter rub, then use your fingers to loosen the skin from the breast meat.

Smear 1/3rd of the garlic butter underneath the skin and directly over the meat on each side of the breasts. Use the remaining 1/3rd garlic butter to coat the outer skin of the breasts.

Before Roasting: Use 2-3 toothpicks on each half of the breasts to secure the skin to the breasts. Pour wine and water into the bottom of the roasting pan, and set the garlic halves in the roasting pan.

Roast: Roast the turkey at 325°F for 1½ -2 hours or until the internal temperature registers 162°F. If the skin is darkening too quickly, tent the turkey with aluminum foil.

Rest: Remove the turkey from the oven and tent snugly with foil for 15 minutes before slicing.

Serve: Serve the turkey along with the pan juices.
Garlic Butter Turkey Rub
The garlic butter rub is what makes this roast turkey breast so flavorful! It helps to keep it moist and juicy while cooking, while also adding that amazing garlic flavor.
We're talking LOTS of garlic in this recipe, and I'm obsessed. It's the perfect savory turkey breast recipe for a crowd, and so EASY.
Here's what in the garlic mixture:
Butter
Minced garlic
Dijon mustard
Rosemary
Sage
Thyme
Salt & Pepper
Lemon Juice
Lemon Zest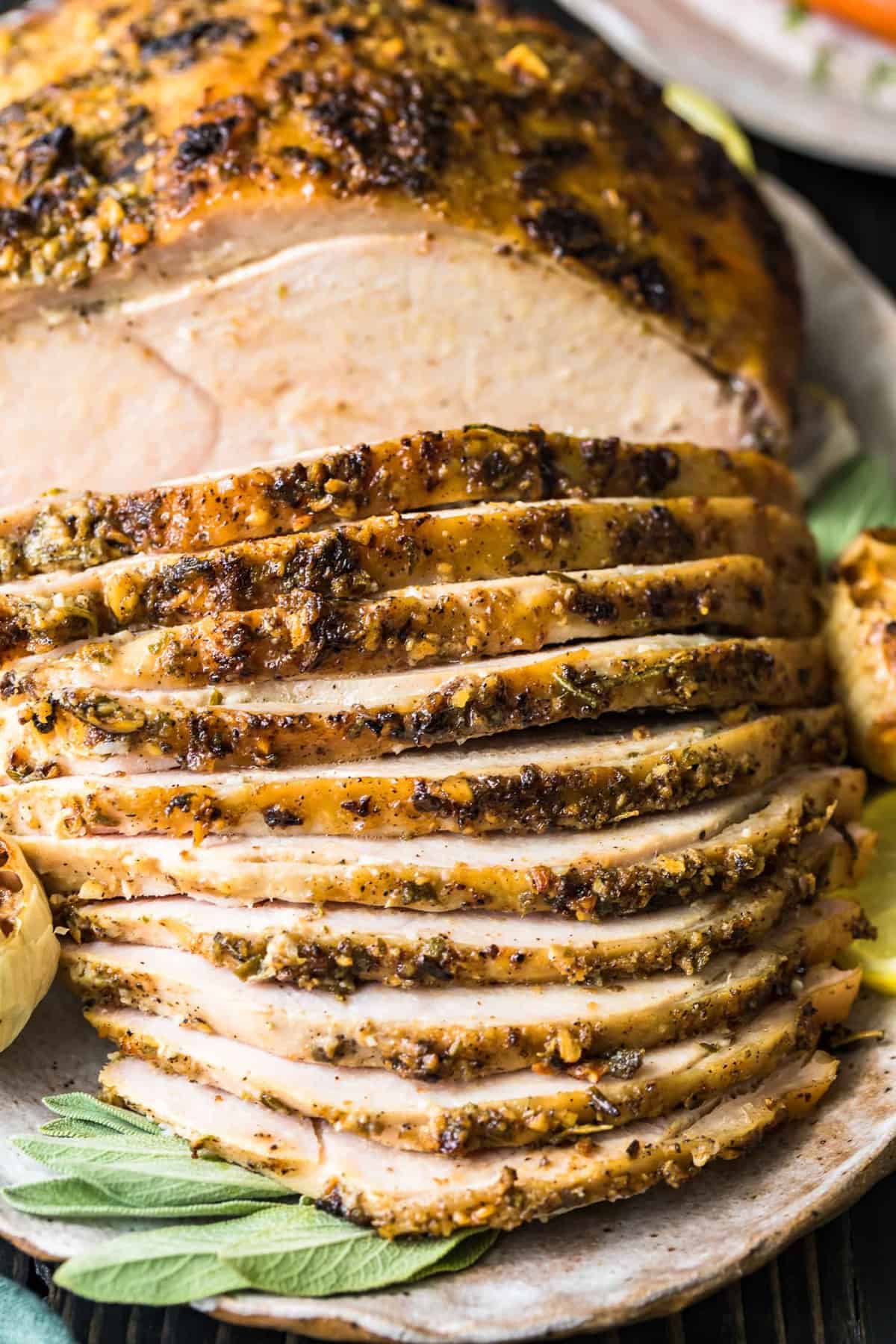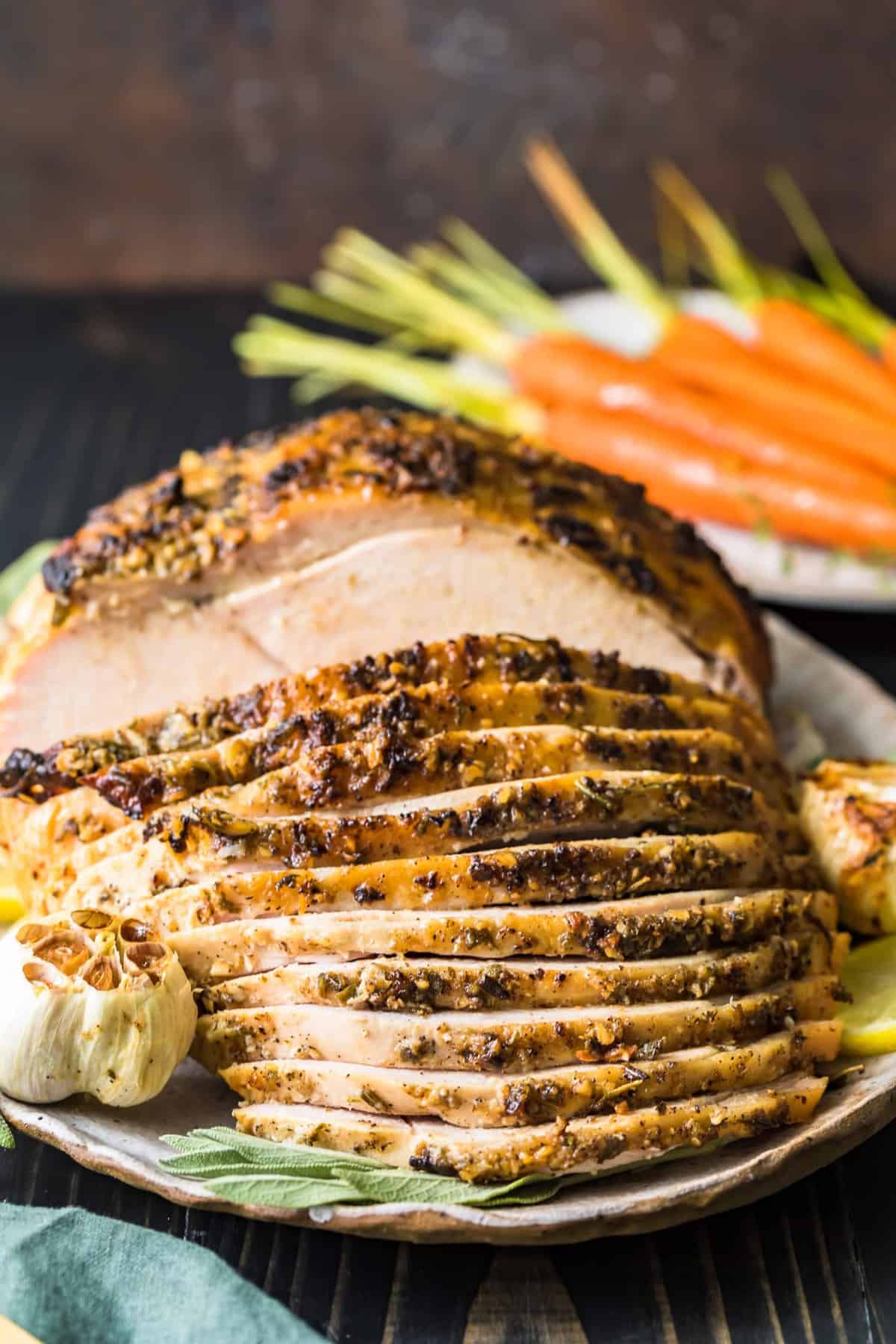 What's the best turkey breast to use for this recipe?
Use a whole turkey breast for this recipe.
Choose a turkey that is about 5-7 pounds for optimal cooking time.
You can use bone-in or boneless turkey breast.
Don't use a brined turkey breast (no Butterball style).
How long does it take to cook a 7 pound turkey breast?
Roasting a 5-7 pound turkey breast at 325°F will take about 1 1/2-2 hours (typically on the longer side for a 7 pound turkey vs. a 5 pound turkey).
What temperature should turkey breast be?
Turkey should reach 162°F while roasting. Be sure to use a meat thermometer to check the internal temperature to make sure it's fully cooked. Insert the thermometer at the meatiest part of the breast.
How many people will this oven roasted turkey breast serve?
A 5-7 pound whole turkey breast will easily feed up to 8 people, so it's still a huge feast but with a little less effort! The meat is so perfectly succulent and flavorful, every one will be asking for seconds!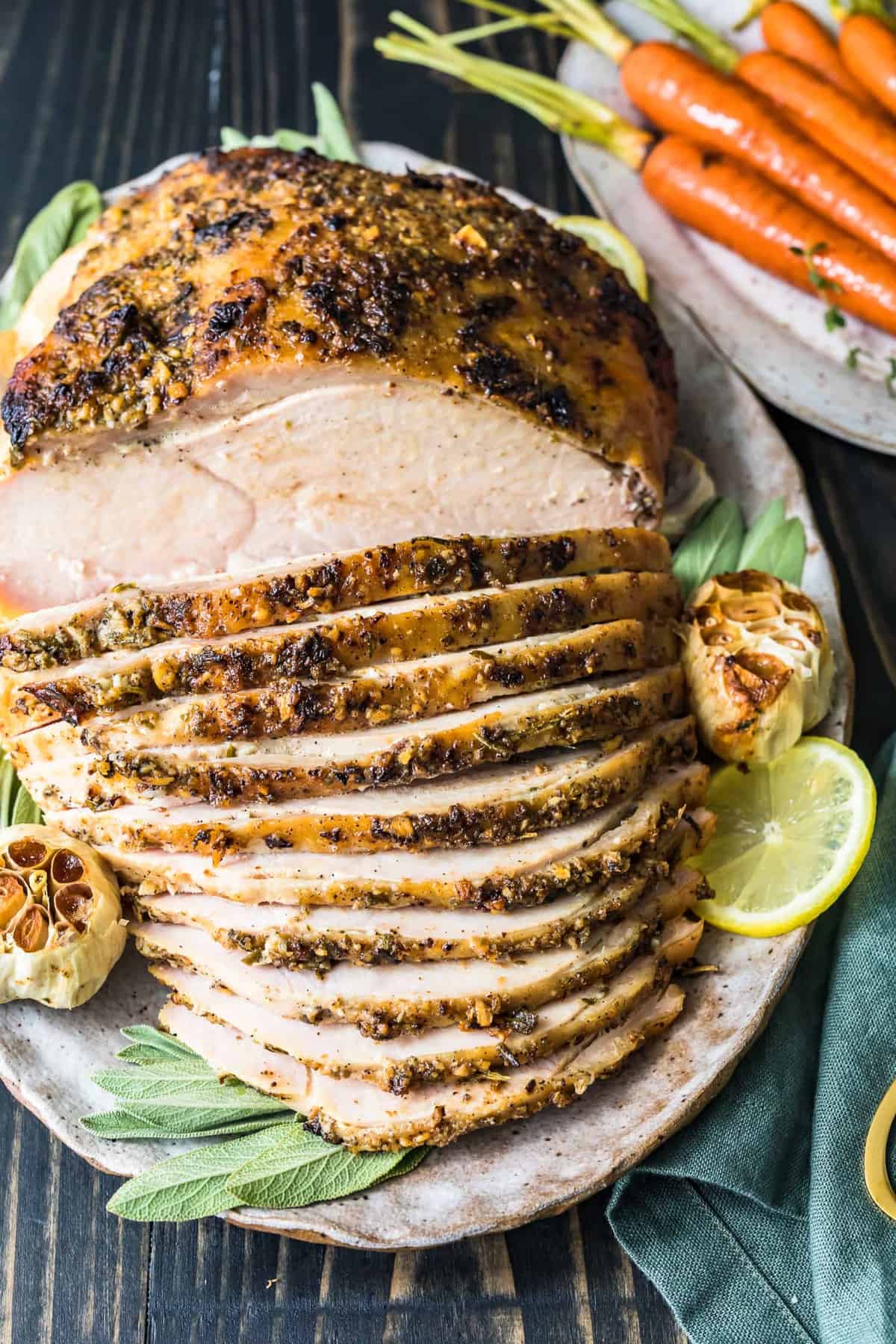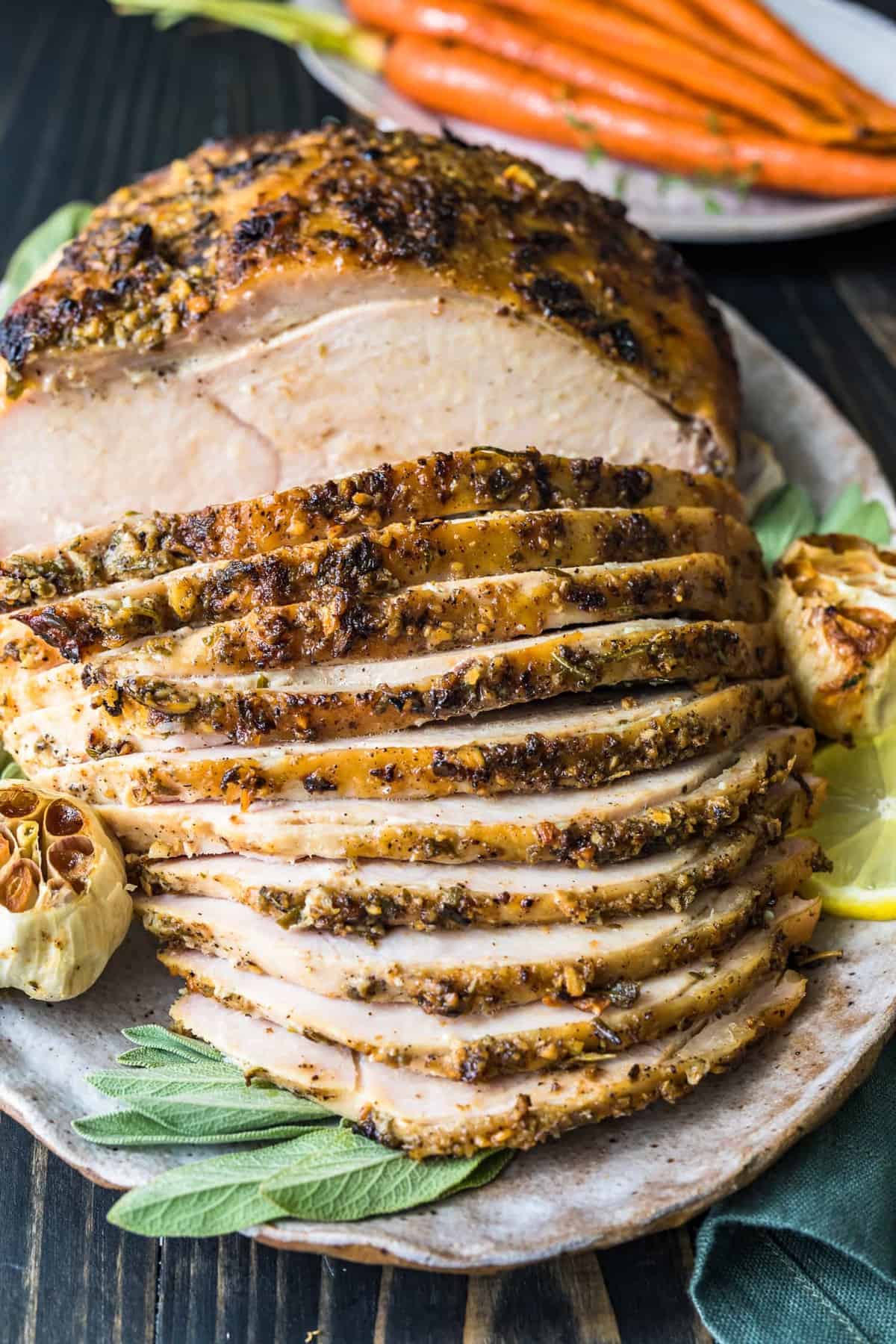 What do you serve with this roast turkey breast recipe?
Serve this delicious oven roasted turkey breast next to all of your favorite holiday side dishes. If you need a little inspiration be sure to check out these recipes!
Why have a turkey breast rather than a whole turkey?
Turkey breast is a great alternative to cooking a whole bird for Thanksgiving or Christmas. It's perfect if you have less guests and don't want to be eating leftover turkey for days! When roasting, the process is much more hands off, no basting or flipping required, meaning you can get on with preparing those all important side dishes! It also cooks much quicker.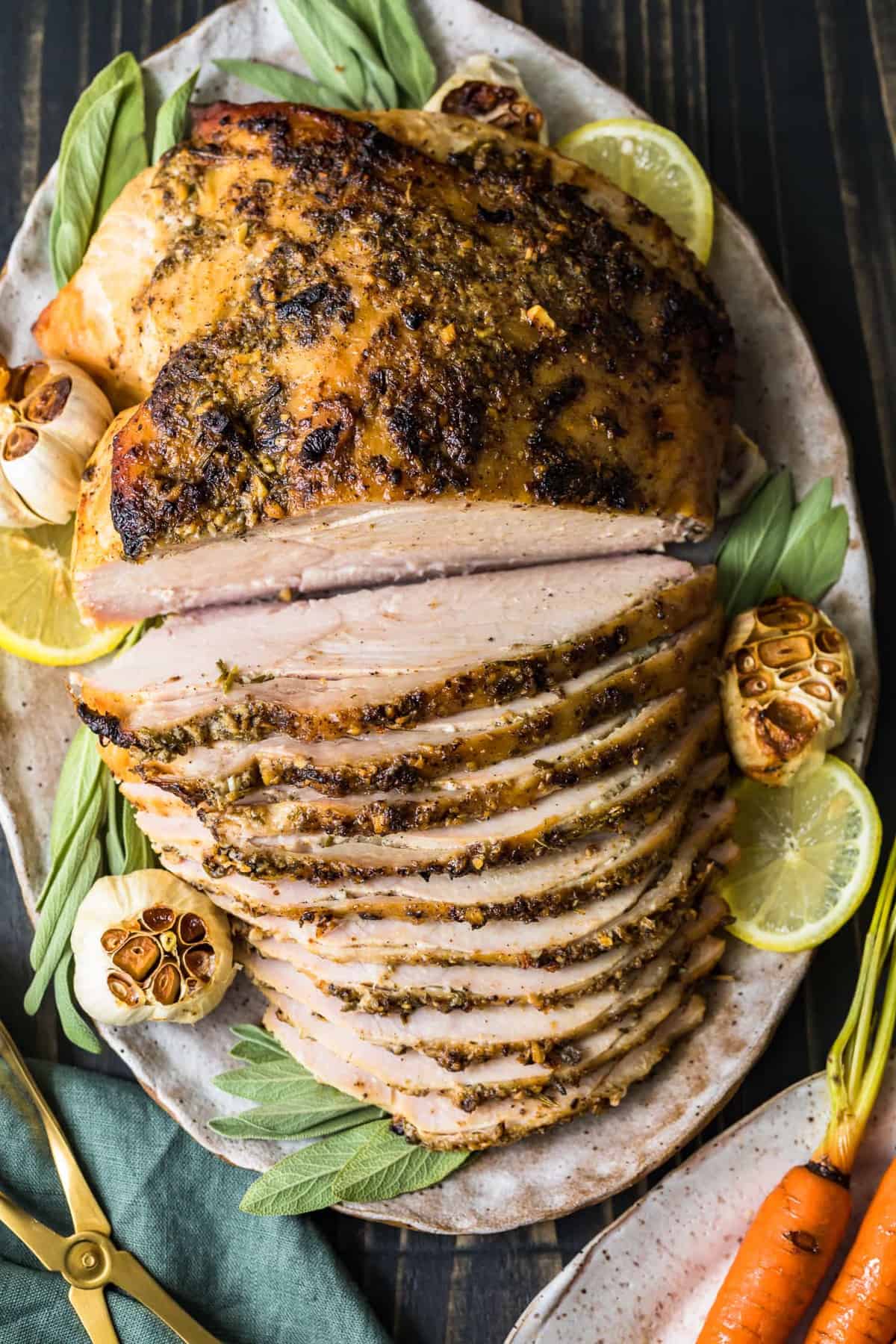 I just know you and your family will love this Garlic Butter Roast Turkey Breast. It's so flavorful, and just perfect for the holidays.
Watch the Video and Check the recipe card for full details on how to make oven roasted turkey breast. Enjoy!
If this isn't the right turkey recipe for you, don't worry! We've got plenty more to choose from.