Coleslaw is the perfect summer side dish, and this creamy coleslaw recipe is my favorite! It's easy, it's simple, it's quick, and it goes with all the best summer foods. This homemade coleslaw dressing is so flavorful, the perfect thing to eat with burgers, BBQ, or sandwiches!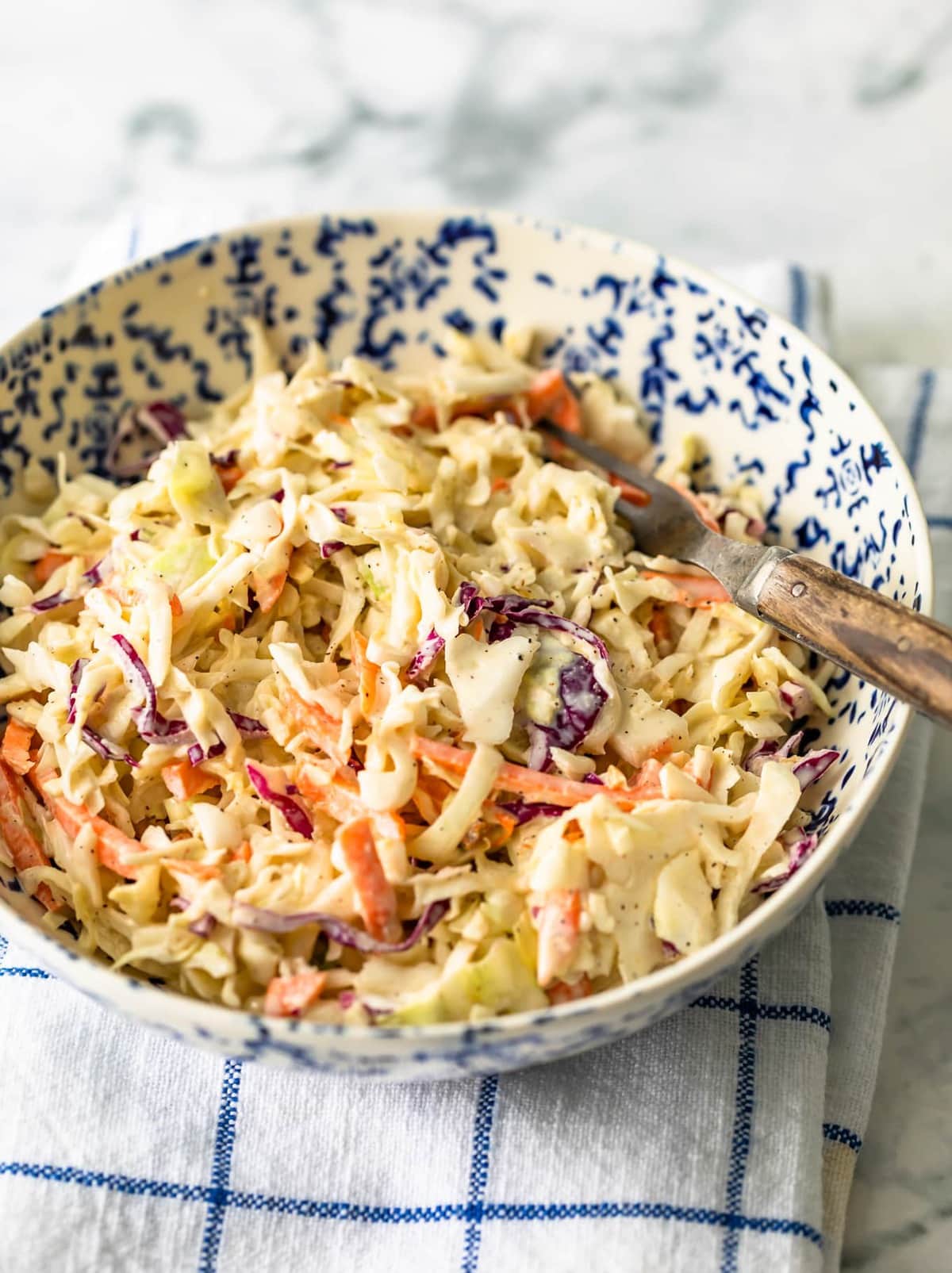 Coleslaw Recipe
This homemade coleslaw recipe is super creamy and super flavorful. Learn how to make coleslaw in just a few minutes, and you'll have the perfect summer side dish!
Now that summer is here, everyone needs an easy coleslaw recipe. It's the quintessential side of the season because it's simple and delicious, and it goes with everything.
This creamy coleslaw recipe is my favorite one to make. The combination of ingredients is so flavorful, with just a little hint of sweetness mixed in. The crisp cabbage slaw mix with the creamy homemade coleslaw dressing is perfect!
I'll be serving this coleslaw with burgers, sandwiches, BBQ, fried chicken, hot dogs, and more. It goes with everything, and it's the best thing to bring to summer parties.
It's not really summer without the best coleslaw recipe. Make this side dish every time you grill out or go to a BBQ!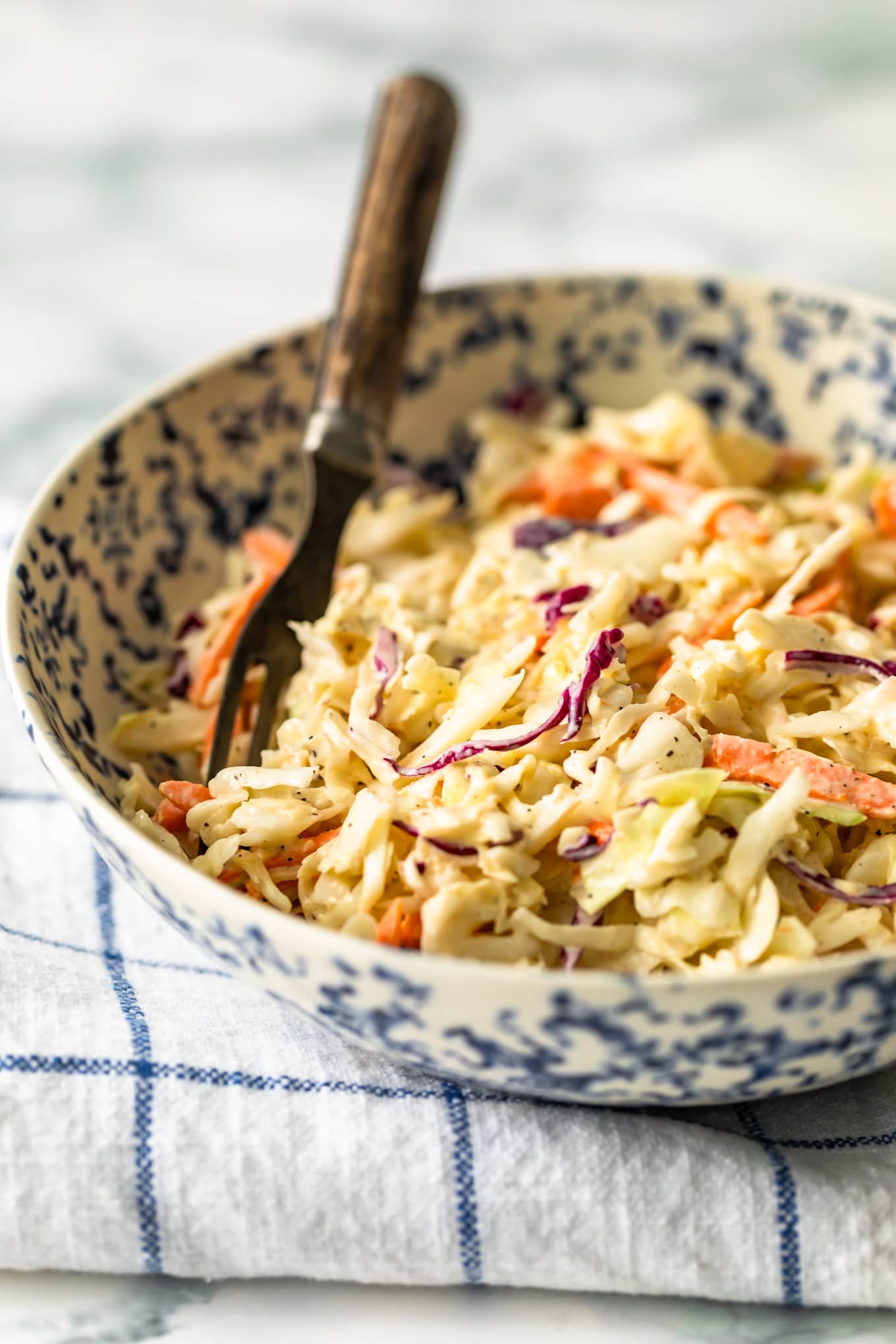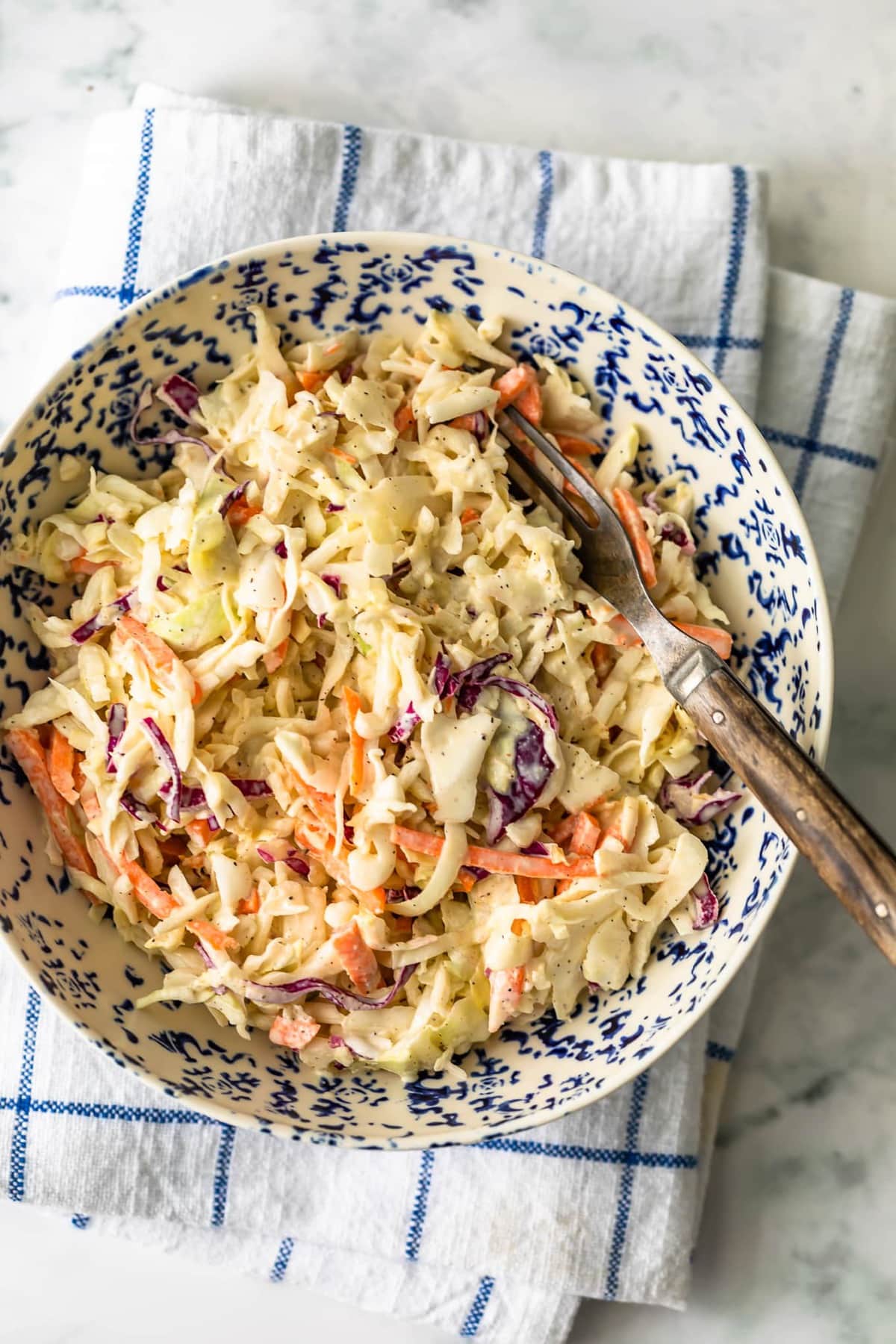 Homemade Coleslaw Recipe
Crispy, crunchy, and creamy. That's how I like my coleslaw!
This creamy coleslaw recipe is always a hit at BBQs. It's the perfect complement to all the burgers and hot dogs we eat during the summer season, and I love adding leftovers to sandwiches for lunch.
When I think of grilling out with friends and family, I think of potato salad, deviled eggs, pasta salad, and of course the best homemade coleslaw dressing to go with it. It can't be beat!
Creamy Coleslaw Ingredients
This easy coleslaw recipe is mayonnaise based–that's what makes it so creamy! There's just a handful of ingredients to give it the perfect flavor, nothing complicated. You could always shred your own cabbage, but I prefer to get a bag of slaw mix at the store. Not only is it that much easier, but I love the added red/purple cabbage and carrots that get mixed in. Yum!
Coleslaw Ingredients:
Deli Slaw Mix
Mayonnaise
Apple Cider Vinegar
Dijon Mustard
Salt & Pepper
Granulated Sugar
Parsley (for garnish)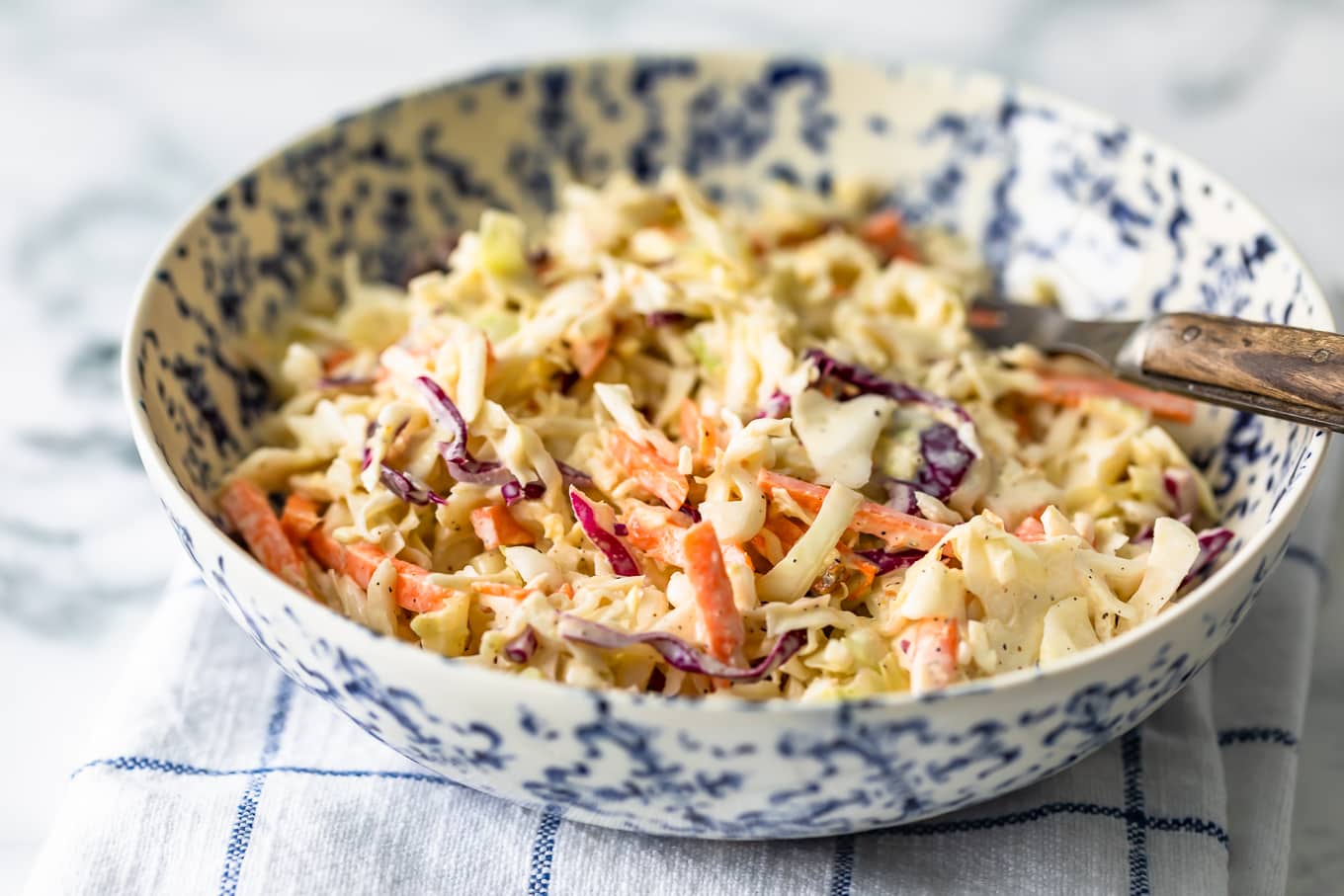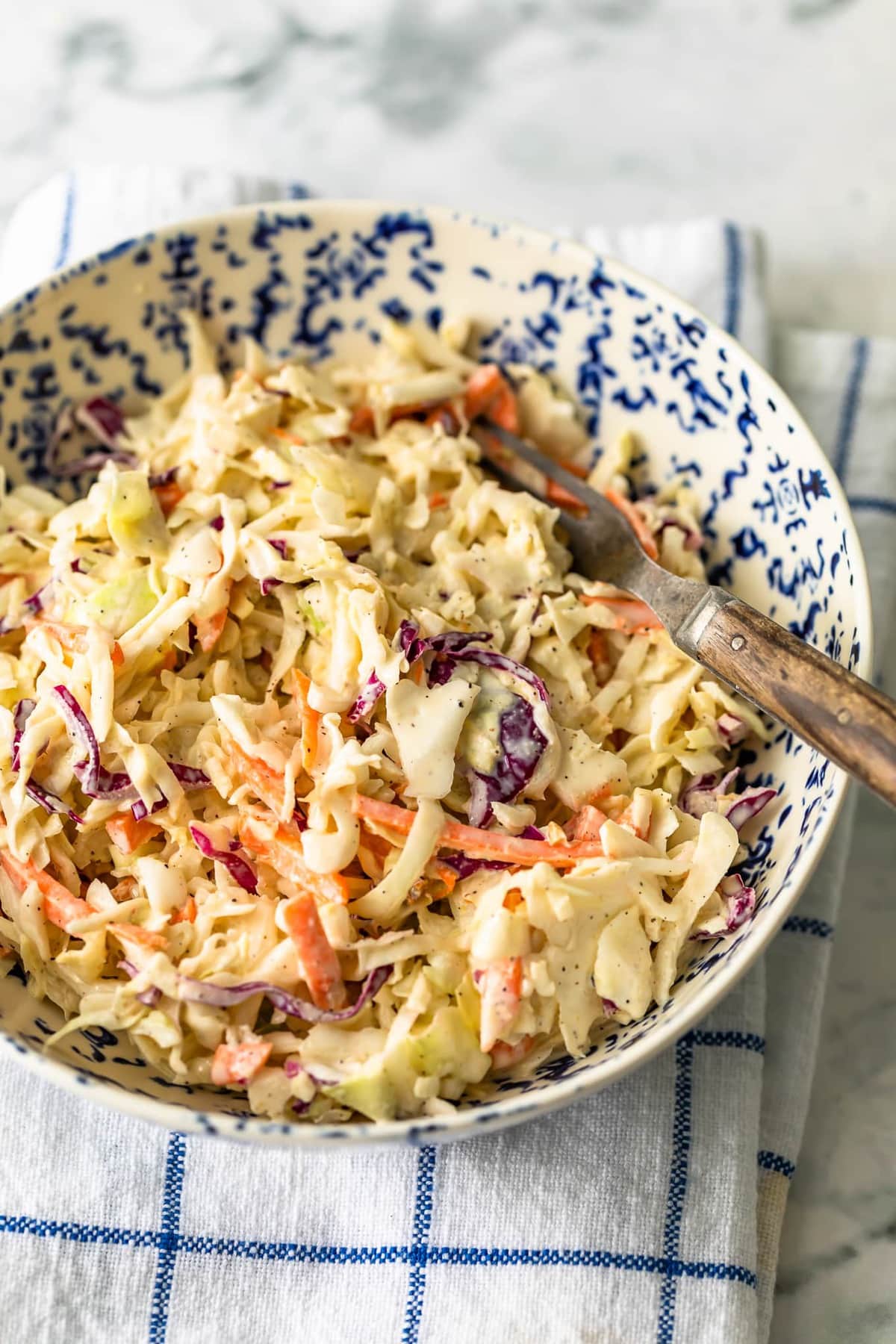 How to Make Coleslaw Dressing
This recipe is SO easy. Like, no cooking, no chopping, just mix some things together kind of easy. The EASIEST creamy coleslaw recipe and the most delicious.
How to Make Coleslaw:
In a mixing bowl, combine mayonnaise, apple cider vinegar, dijon mustard, salt, pepper, and granulated sugar.
Whisk everything together until the mixture becomes smooth.
Pour the slaw mix into a bowl, and toss it in the coleslaw dressing.
Season to taste if needed (add salt, pepper, vinegar, or more dressing).
That's it! Make it just before serving, or keep it in the refrigerator until you're ready to eat. Be sure to watch the video to see the step by step process.
How long does homemade coleslaw last?
If you have any leftovers, be sure to save them! Store homemade coleslaw in an airtight container and refrigerate. It will be best if eaten within about 3 days, but typically lasts up to 5 days.
What goes with creamy coleslaw?
This creamy coleslaw is my go-to side dish all summer long. It's a classic thing to serve with burgers, sandwiches, hot dogs, fried chicken, ribs, and other BBQ/grilled favorites. Since it's so quick to make, it's a great last minute side dish for whatever you're cooking this summer!
What to Eat with Coleslaw
These are my favorite things to eat with my creamy coleslaw!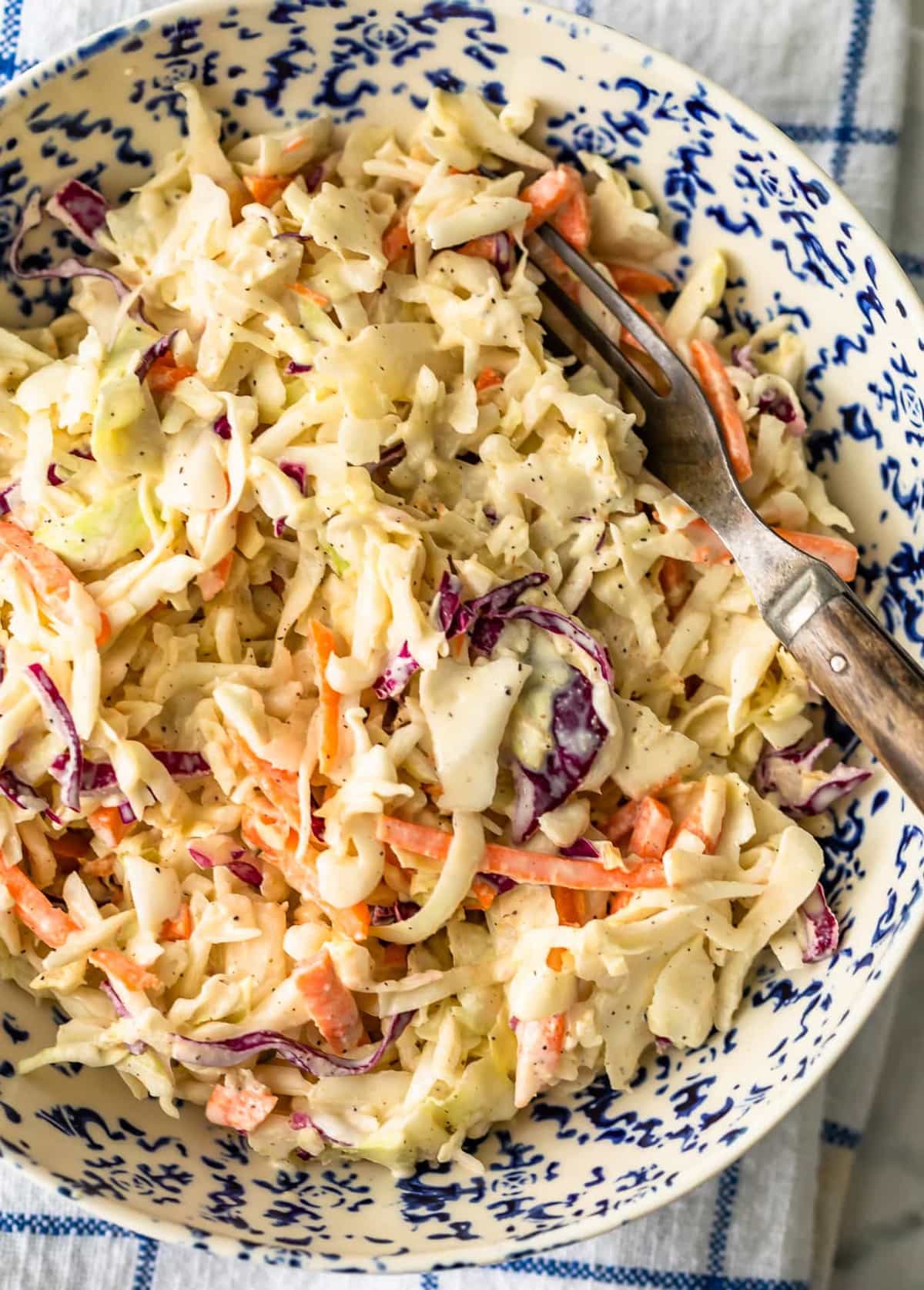 Make this classic summer side dish with all of your favorite meals. It's fresh, crisp, creamy, and so delicious!
Watch the Video and See the recipe card for details on how to make coleslaw at home. Enjoy!
Try these other easy summer side dish recipes: