Homemade Crescent Rolls are so soft, flaky, and buttery. There's nothing quite like a fresh dinner roll, and these are right at home on any holiday table. Learn how to make crescent rolls from scratch instead of buying them at the store, and you'll really notice that extra level of freshness!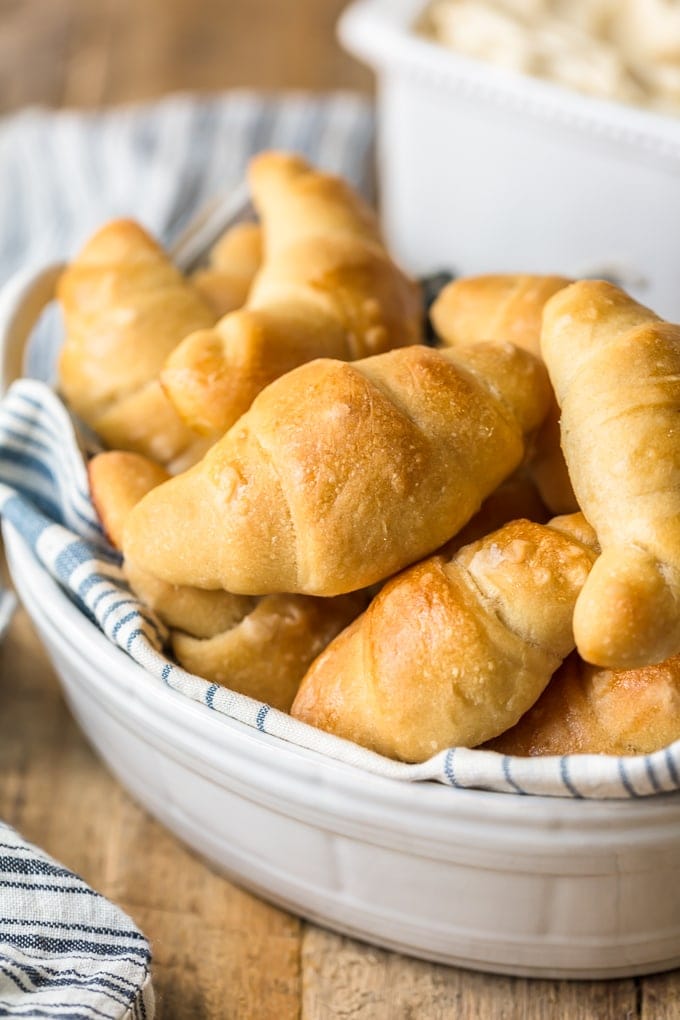 Buttery Crescent Rolls
There's nothing quite like the soft, flaky, buttery taste of homemade crescent rolls. Put a basket of these on the table fresh out of the oven, and they'll be gone in a flash. No one can resist these when they're hot, fresh, and filled with butter!
This easy crescent roll recipe is an absolute must-make for the holidays. Christmas, Thanksgiving, Easter, and every other holiday meal needs some of these to go along with the rest of the dishes.
I'm going to show you how to make crescent rolls from scratch so you can have a fresh batch ready for every meal, whether it's a holiday or just a regular night of the week.
Why You'll Love this Crescent Rolls Recipe:
FLAKY: These rolls get so crispy, golden, and flaky in the oven. They're so delicious to bite into!
EASY: Even though you're making these from scratch, they're still pretty easy. It's a straightforward process that will make you feel like a real baker.
MAKE AHEAD: These can be made ahead of time an baked right before serving, so they're fresh and warm!
You'll be surprised by how simple these are to make, and you'll never buy the store-bought version again. The come out of the oven perfectly golden and ready to devour!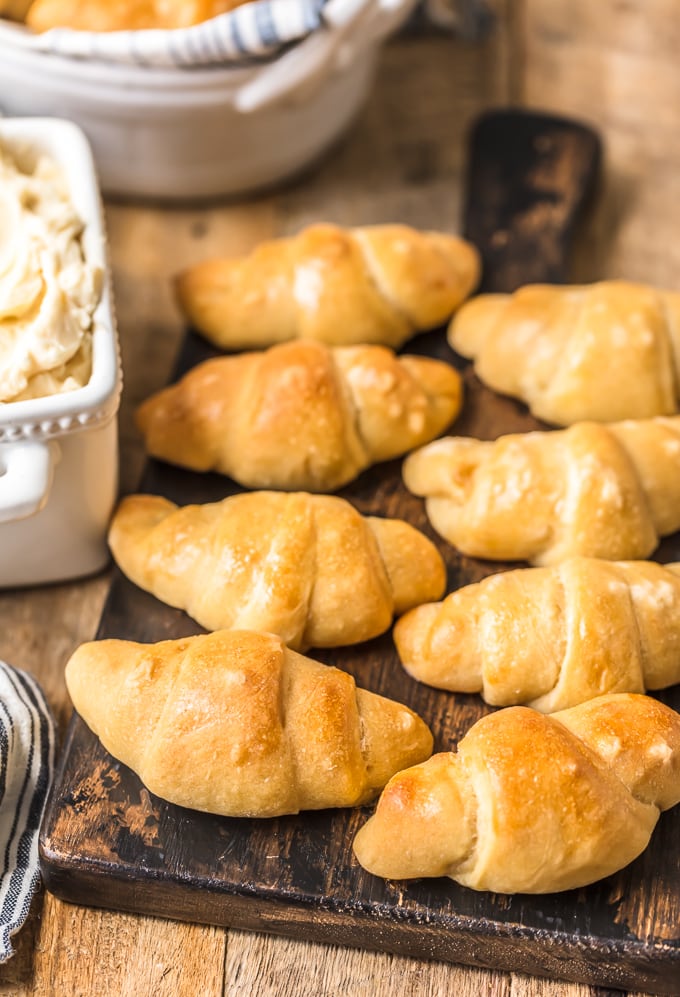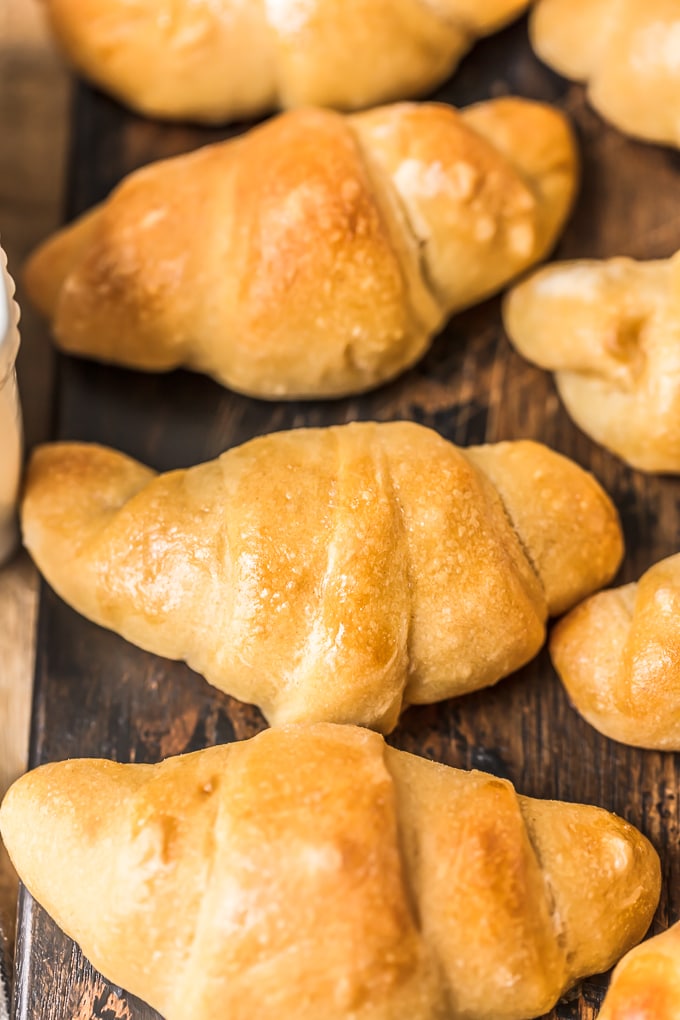 How to Make Crescent Rolls
Be sure to see the recipe card below for full ingredients & instructions!
Combine ingredients to make the crescent roll dough.
Place the ball of dough in a buttered bowl and cover with a dish towel, then let it rise in a warm spot.
Flatten, shape, and divide the dough into wedges, then roll them up to form the crescents.
Let them rise in a warm spot (or refrigerate to rise overnight).
Bake at 350F, then let them cool slightly before serving.
Ingredient Notes
Active Dry Yeast: The warm half n half (below) will activate it.
Half n Half: Be sure to warm it to 110F before mixing in.
Butter: Use unsalted butter, and melt it in the microwave before mixing in.
Honey: The honey adds a hint of sweetness to these rolls.
Check the recipe for the full ingredients list.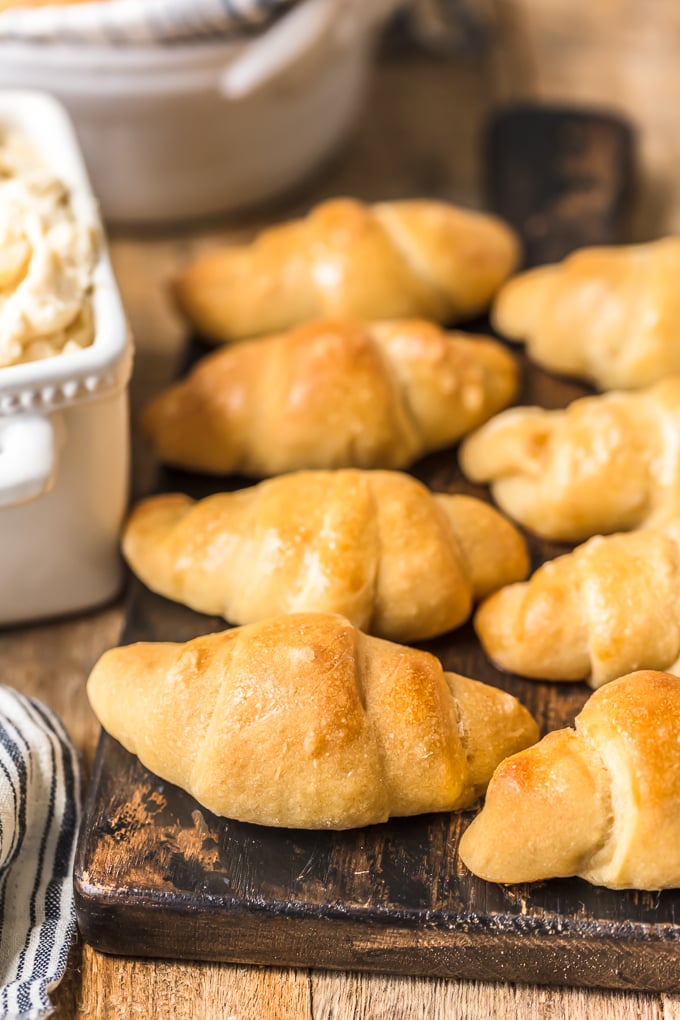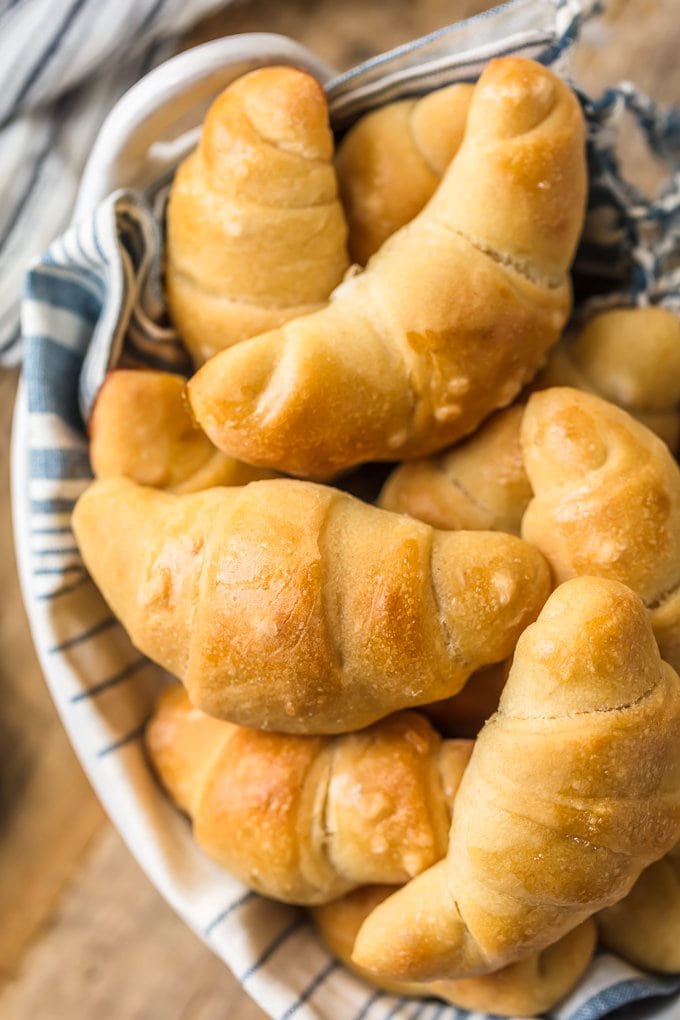 How long do crescent rolls keep?
Store rolls in an airtight container at room temperature for up to 1 day. To keep them longer, move them to the fridge up to 3 days.
How long do you bake crescent rolls?
It will take about 14-18 minutes to bake at 350°F.
Can I freeze homemade crescent rolls?
Yes. Let them fully cool after baking, then wrap them individually in foil and place in a freezer-safe container. Freeze for up to 1 month.
How long does it take the dough to rise?
The first rise will take about 1 hour. The second rise only needs about 30-45 minutes, unless you are storing them in the fridge ahead of time then you can let them rise in the fridge.
Serving Suggestions
Slather your favorite butter, jam, or spread on to these little crescent rolls and dig in. I love them with this homemade honey butter to bring out the subtle sweetness but they're just as tasty served plain.
These make the perfect dinner rolls for any meal, whether it's a casual weeknight or a holiday. I love serving them with turkey on Thanksgiving, as much as I love serving them with pork chops on a Tuesday.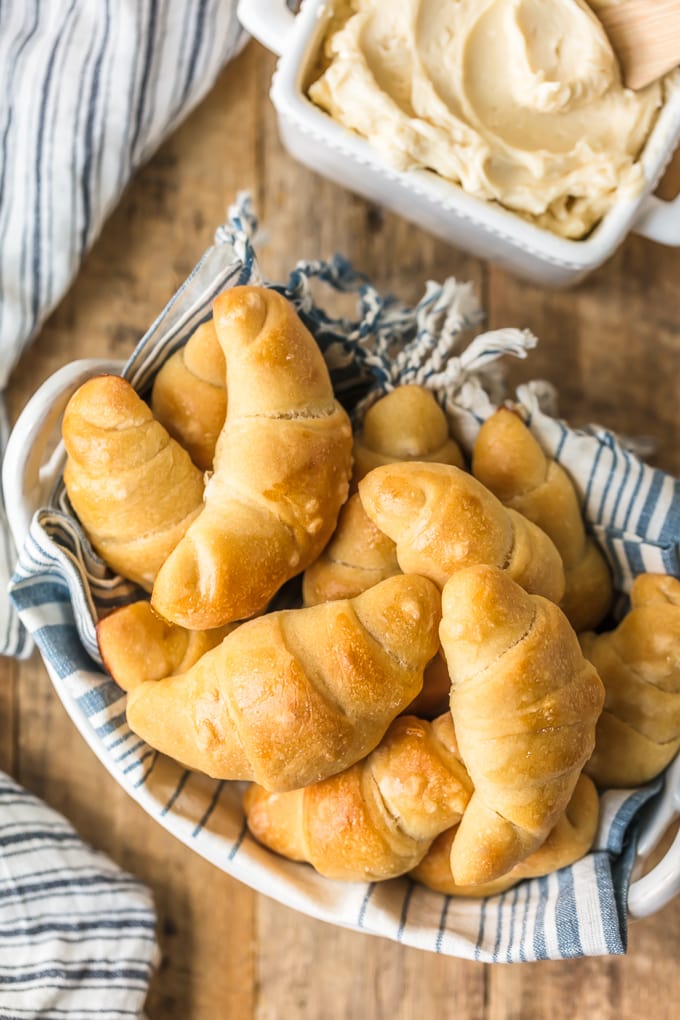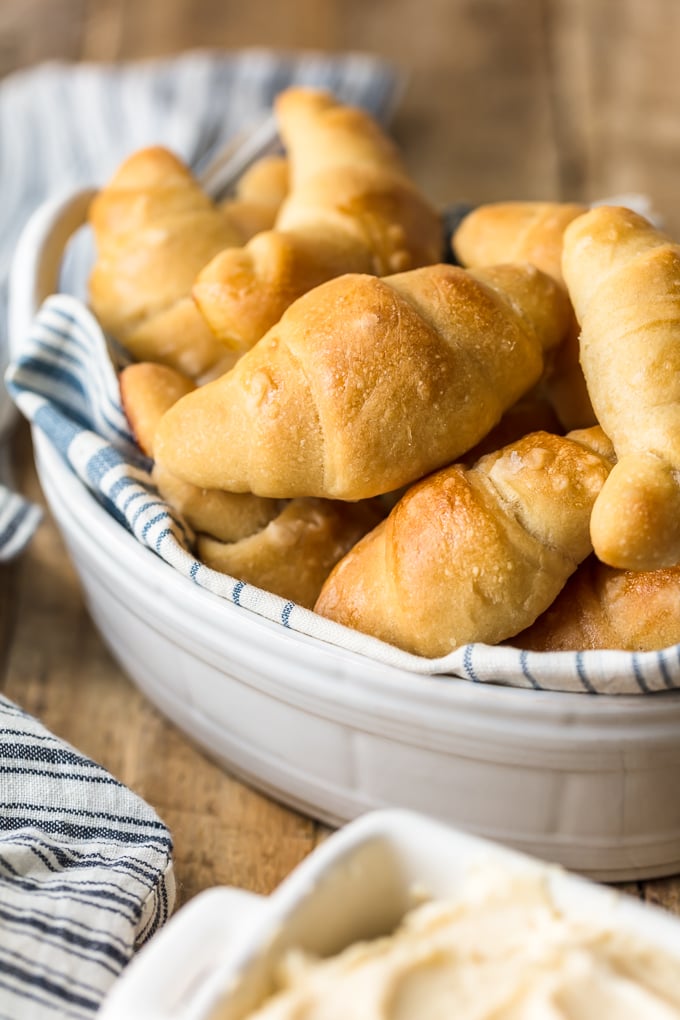 How to Roll Crescent Rolls
Separate the dough in two, and make large, flat circles. Then cut them into wedges, like a pizza. Take a wedge of dough, and starting with the wider end, gently roll towards the pointed end. Simple! Don't roll them up too tight, just a gentle roll will do.
Can I make these rolls ahead of time?
Yes! One of my favorite things about this recipe is that the dough can be made ahead of time and refrigerated for the second rising. That way you have super fresh, homemade crescent rolls, without taking up extra time right before dinner.
Simply follow through to step 7 (in the recipe card), then refrigerate overnight, or up to 24 hours. Let the dough come to room temperature before baking.
Recipes with Crescent Rolls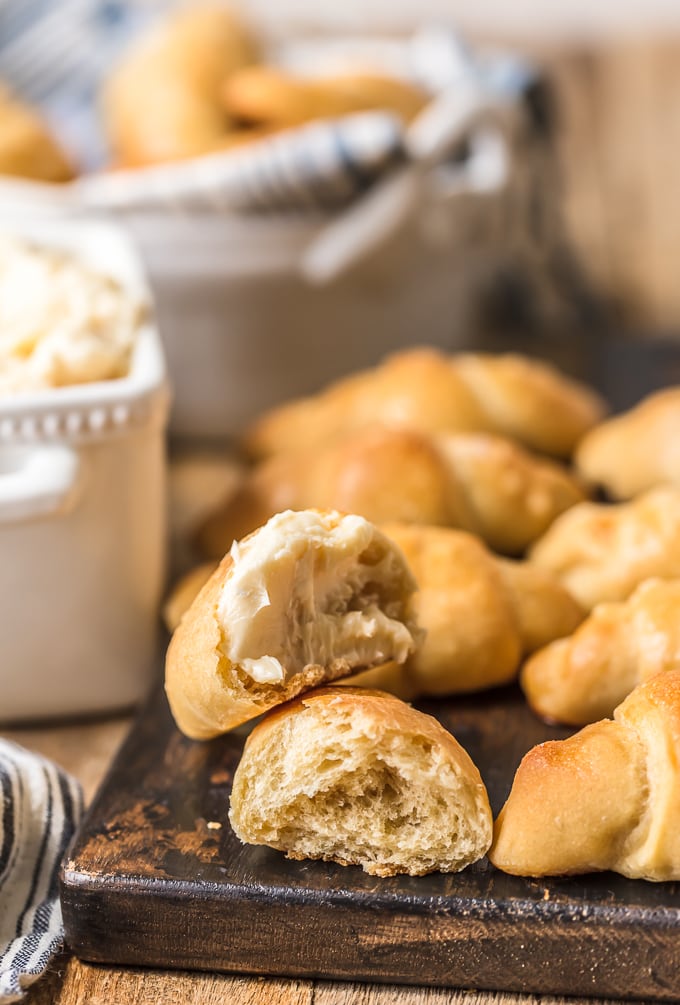 These buttery Homemade Crescent Rolls are just so delicious. Flaky, fresh, and oh so good. Make them for every holiday, every dinner, and every time you need a little piece of joy!
If you make this recipe be sure to upload a photo in the comment section below or leave a rating. Enjoy!