Homemade Crescent Rolls are so soft, flaky, and buttery. There's nothing quite like a fresh homemade roll, and these are right at home on any holiday table. Learn how to make crescent rolls from scratch instead of buying them at the store, and you'll really notice that extra level of freshness! Serve them with homemade honey butter to add a bit of sweetness into the mix and you won't be able to stop eating them.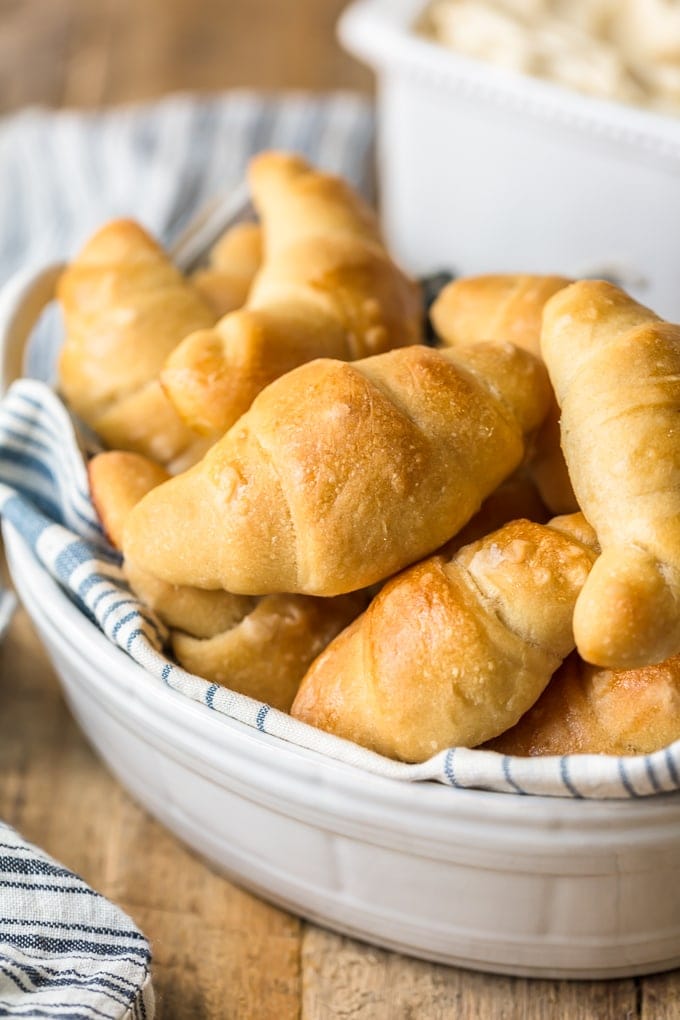 Homemade Crescent Rolls
There's nothing quite like the soft, flaky, buttery taste of homemade crescent rolls. Put a basket of these on the table fresh out of the oven, and they'll be gone in a flash. No one can resist these when they're hot, fresh, and filled with butter!
This homemade crescent roll recipe is an absolute must-make for the holidays. Christmas, Thanksgiving, Easter…every holiday meal needs some of these to go along with the rest of the dishes. Crescent rolls are so nostalgic because they ALWAYS made an appearance on our table growing up. And while a lot of us might be used to the kind that come in a can, these are just as easy to make from scratch. You can't beat homemade rolls!
I'm going to show you how to make crescent rolls so you can have a fresh batch ready for every meal, whether it's a holiday or just a regular night of the week. And with my honey butter recipe to go with them, you won't be able to stop eating these!
Learn how to make crescent rolls with this Homemade Crescent Roll recipe. So fresh, flaky, and EASY to make!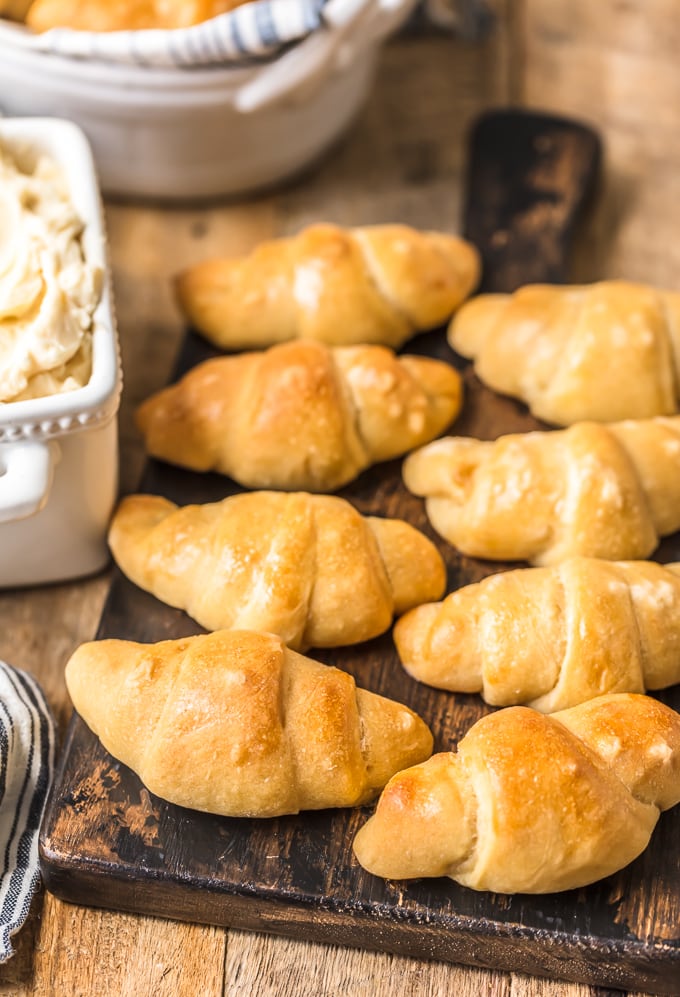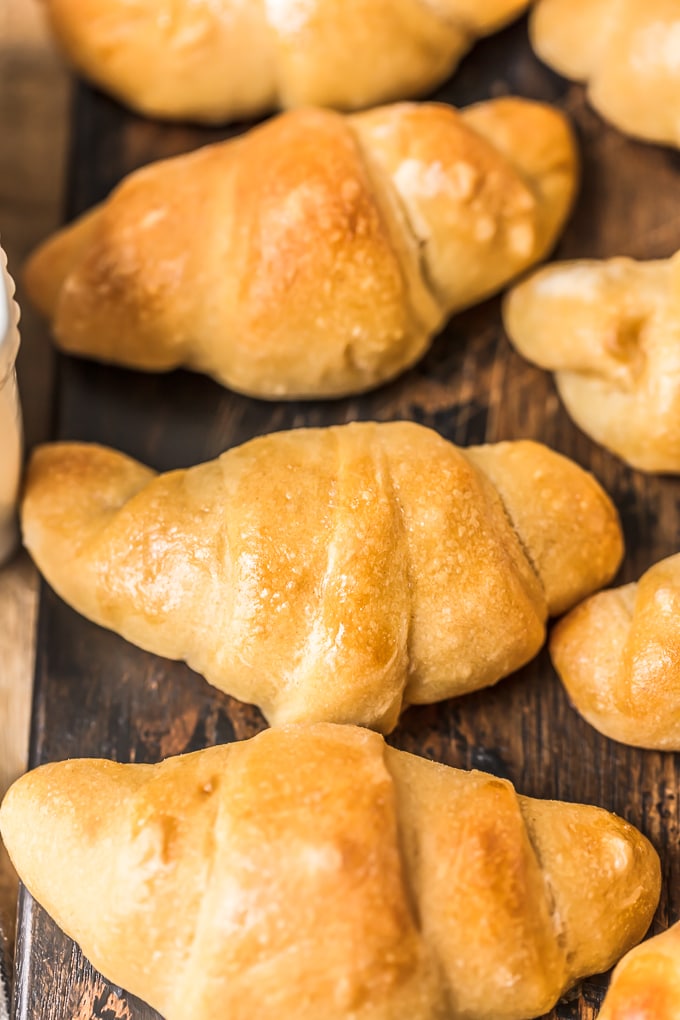 Crescent Rolls Recipe for the Holidays
I feel like crescent rolls were always on the table for every holiday. A big holiday meal is never complete without the perfect bread to go along with it, and these rolls go with everything. They're flaky, buttery, and they taste so amazing along with mashed potatoes, stuffing, turkey or ham…basically every holiday recipe.
As good as the pre-made, store-bought version is, I'm so glad I know how to make crescent rolls from scratch. It adds an extra level of freshness that you just don't get from a can. I'll be making these every Christmas, every Easter, every Thanksgiving, and I'll definitely be making them all throughout the year. There's never a bad time for these, and I love that you can create so many fun homemade crescent roll recipes with them too!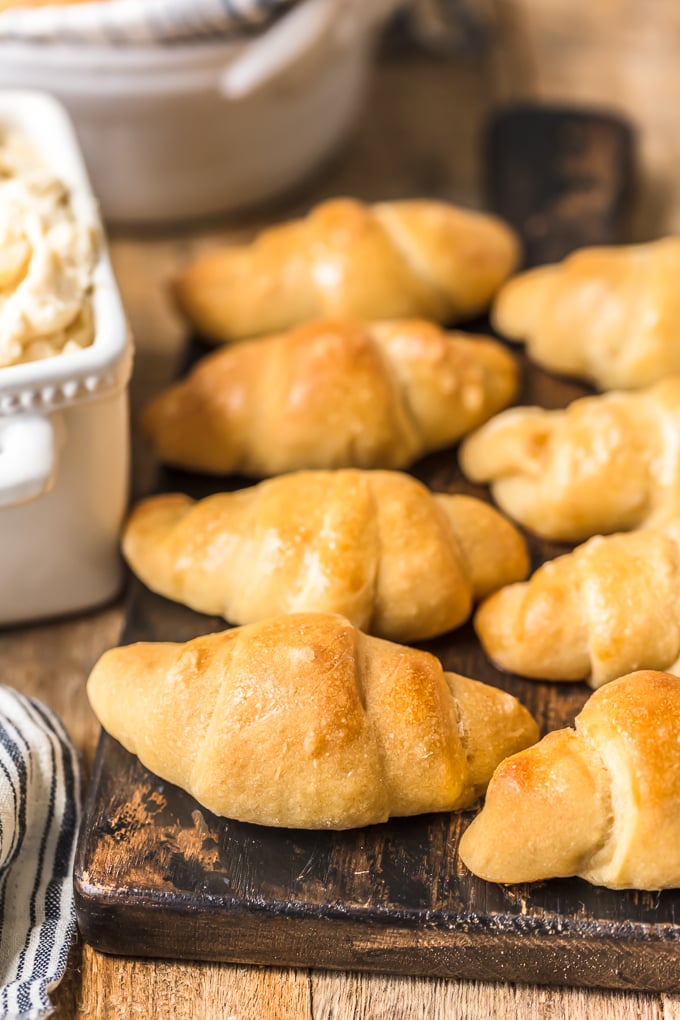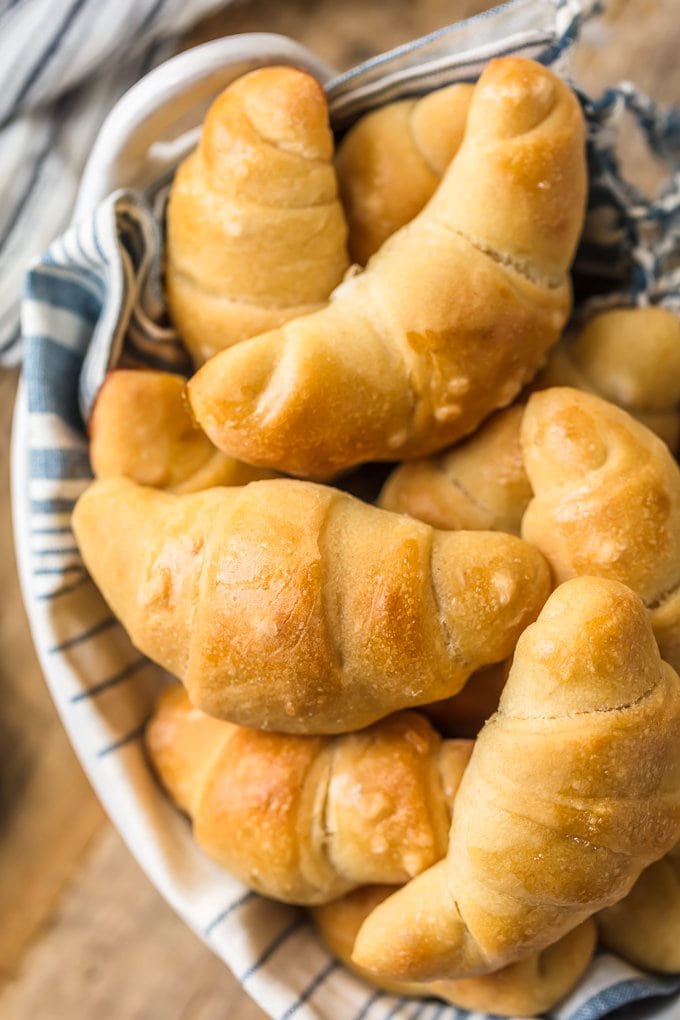 How do you roll crescent rolls?
Once you've cut the dough into wedges, it's time to roll them up! Start at the wide end of the wedge, and roll towards the pointed edge. Don't roll them up too tight, just a gentle roll will do.
How long do crescent rolls keep?
Once you've made the dough, you can keep it in the refrigerator for up to 24 hours if you are making it ahead of time. After the rolls have been baked, they will stay fresh for a day or so. Just be sure to store them properly at room temperature. You can also freeze them by wrapping them in foil & putting them in a freezer-safe bag. Store for up to a month.
How long do you bake crescent rolls?
This homemade crescent rolls recipe will take about 14-18 minutes to bake at 350°F.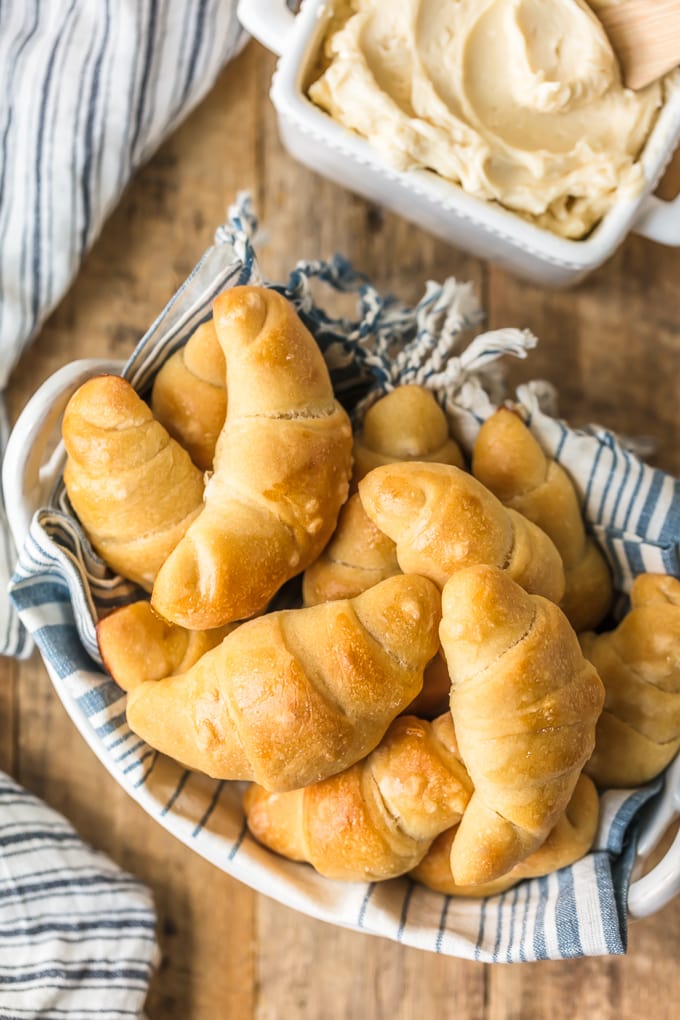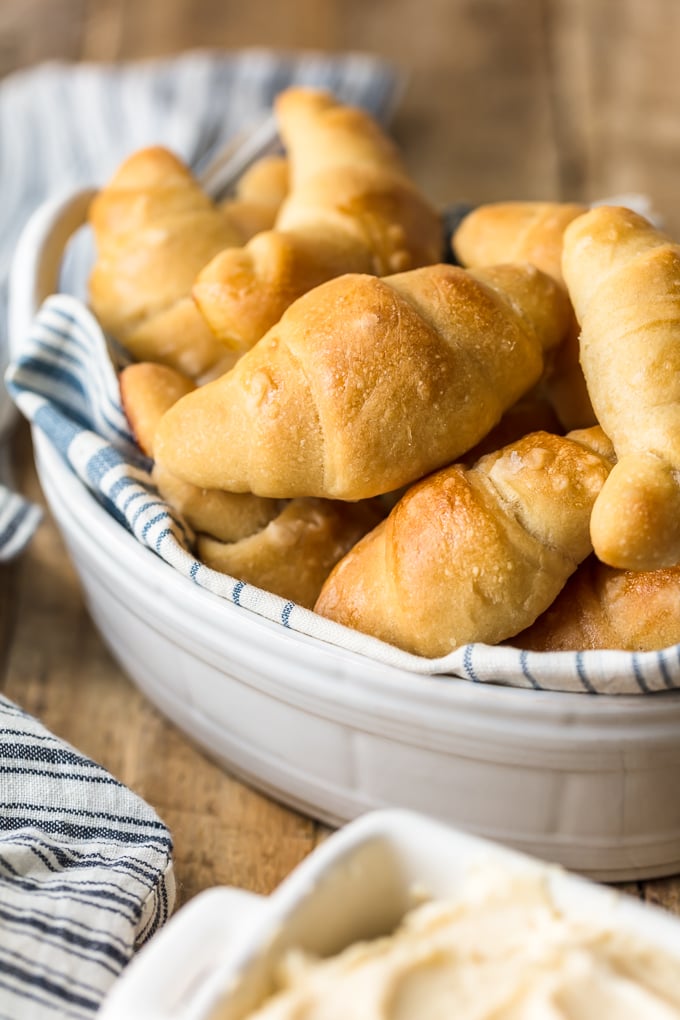 Homemade Crescent Rolls with Honey Butter
Crescent rolls are nice and buttery on their own, but they're just not quite complete without a little extra butter added in the middle to melt into the bread. I love that when the rolls are hot and fresh, the butter melts so much that it starts to drip. YUM! And when the rolls are a bit cooler, you can get a thick slab of butter on there to bite into. What I'm saying is, bread and butter is good no matter what.
Even better than regular, plain butter is my honey butter recipe! This sweet butter is soooooo creamy and flavorful. Unsalted butter is mixed with honey and maple syrup to create a perfectly sweet flavor. Spread it onto these flaky crescent rolls for a real treat!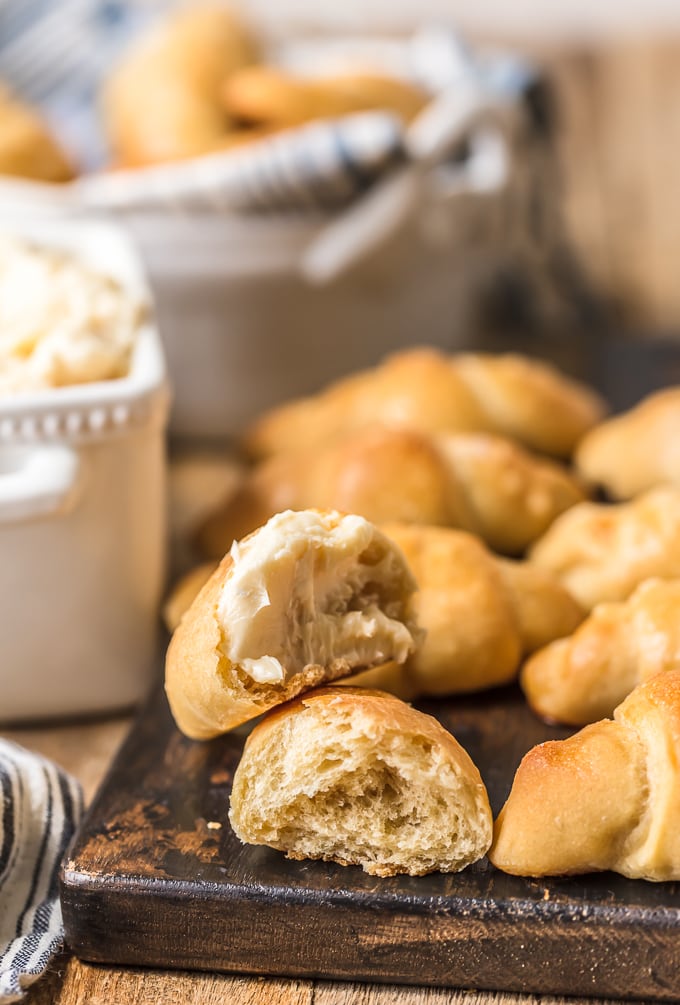 This Homemade Crescent Roll recipe is just soooo delicious! Flaky, fresh, and oh so gooood. Make them for every holiday…no, make them for every dinner, any night of the year!
Besides eating them up fresh with butter, you can make some cool crescent roll recipes. Make the dough from this recipe and use it as the crust for a breakfast pizza, crescent roll pizza, or use it to make pigs in a blanket.
See the recipe card below for details on how to make crescent rolls from scratch. Enjoy!
If you like this recipe, you'll love these other bread recipes too: