Homemade Crescent Rolls are so soft, flaky, and buttery. There's nothing quite like a fresh dinner roll, and this crescent rolls recipe is right at home on any holiday table. Learn how to make crescent rolls from scratch instead of buying them at the store, and you'll really notice that extra level of freshness!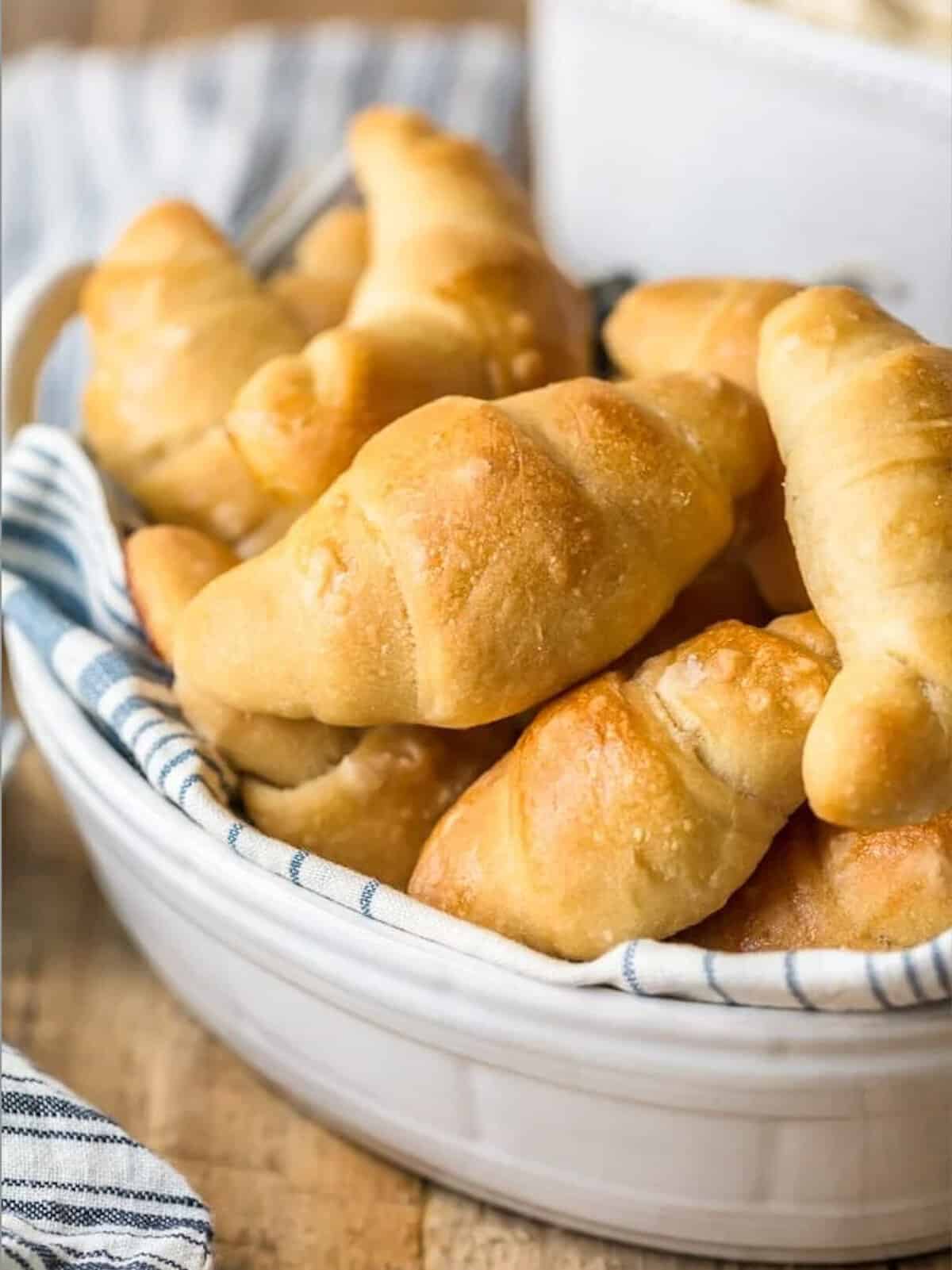 What's in this Crescent Rolls Recipe?
There's nothing quite like the soft, flaky, buttery taste of homemade crescent rolls. Put a basket of these on the table fresh out of the oven, and they'll be gone in a flash. No one can resist these when they're hot, fresh, and filled with butter!
Active Dry Yeast: Helps these rolls rise up to become light and fluffy.
Half-and-Half: Adds moisture and richness to the rolls.
Honey: Adds a touch of floral sweetness to the rolls.
Unsalted Butter: Enriches the dough and makes these rolls flaky.
Granulated Sugar: Feeds the yeast and adds sweetness.
Egg: Helps bind the dough together.
All-Purpose Flour: Gives the rolls structure.
Kosher Salt: Enhances the natural flavor of the rolls.
Pro Tip: Serve these crescent rolls with homemade honey butter!
How to Roll Crescent Rolls
Separate the dough in two, and make large, flat circles. Then cut them into wedges, like a pizza. Take a wedge of dough, and starting with the wider end, gently roll towards the pointed end. Simple! Don't roll them up too tight, just a gentle roll will do.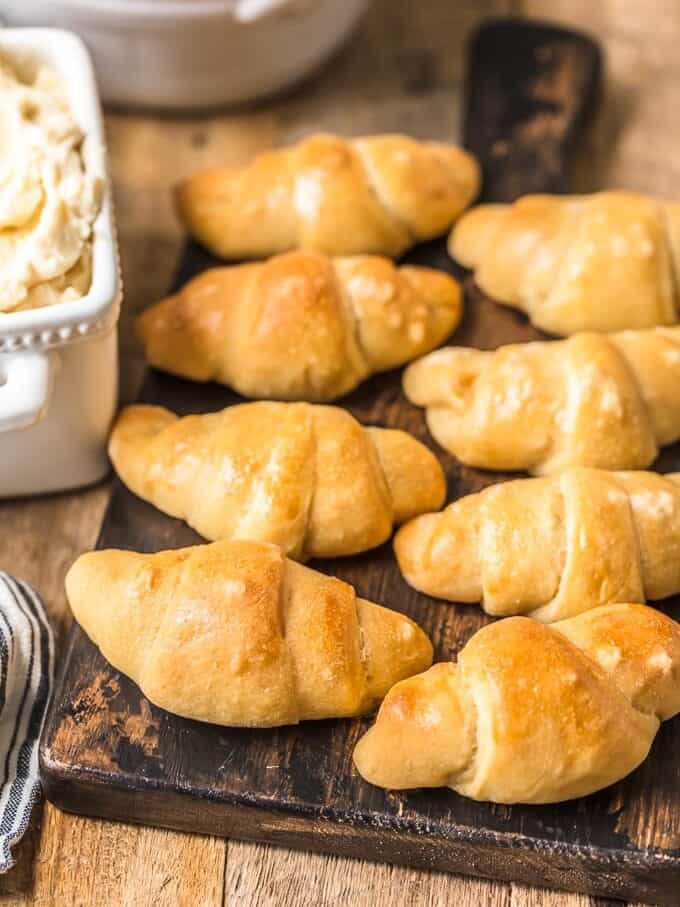 What is the difference between crescent rolls and croissants?
A croissant is a type of pastry made flaky through the process of lamination, while crescent rolls are a type of bread.
Do crescent rolls have eggs?
Yes, these homemade crescent rolls do contain egg.
Are crescent rolls healthier than bread?
Not really! Both options are not considered health foods and should be enjoyed in moderation.
How long do you cook crescent rolls for?
These rolls will take about 14-18 minutes to bake at 350°F.
Can I make these rolls ahead of time?
Yes! One of my favorite things about this recipe is that the dough can be made ahead of time and refrigerated for the second rising. That way you have super fresh, homemade crescent rolls, without taking up extra time right before dinner. Simply follow through to step 7 (in the recipe card), then refrigerate overnight or up to 24 hours. Let the dough come to room temperature before baking.
How do you keep crescent rolls crispy?
To keep these rolls crispy, make sure to let them cool completely before storing, and wrap them tightly in plastic wrap to seal out moisture.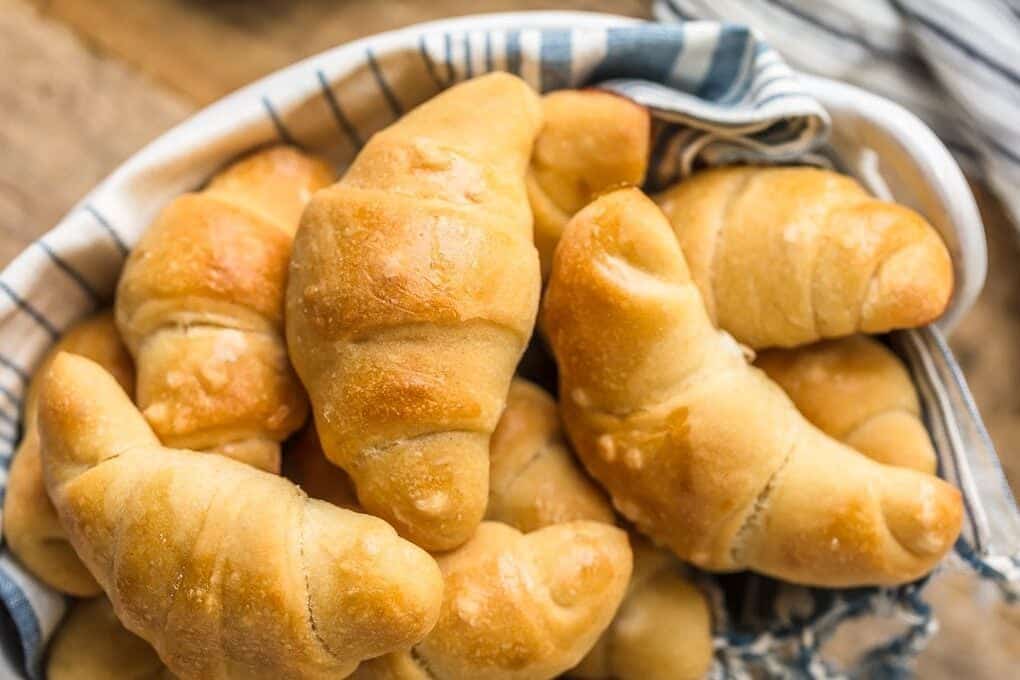 How to Store and Reheat
Store leftover homemade crescent rolls in an airtight container at room temperature for up to 1 day. To keep them longer, move them to the refrigerator for up to 3 days. Reheat in a 350°F oven for 5-10 minutes or in the microwave in 30-second increments until warmed through.
How to Freeze
Freeze homemade crescent rolls individually wrapped in 2 layers of plastic wrap and 1 layer of aluminum foil for up to 1 month. Let thaw overnight in the refrigerator before reheating.
Serving Suggestions
Slather your favorite butter, jam, or spread onto these little homemade crescent rolls and dig in. I love them with this homemade honey butter to bring out the subtle sweetness but they're just as tasty served plain.
You can also use them to make various dishes, such as crescent roll pizza, taco pie, asparagus crescent rolls, pigs in a blanket, sopapilla cheesecake bars, or breakfast pizza.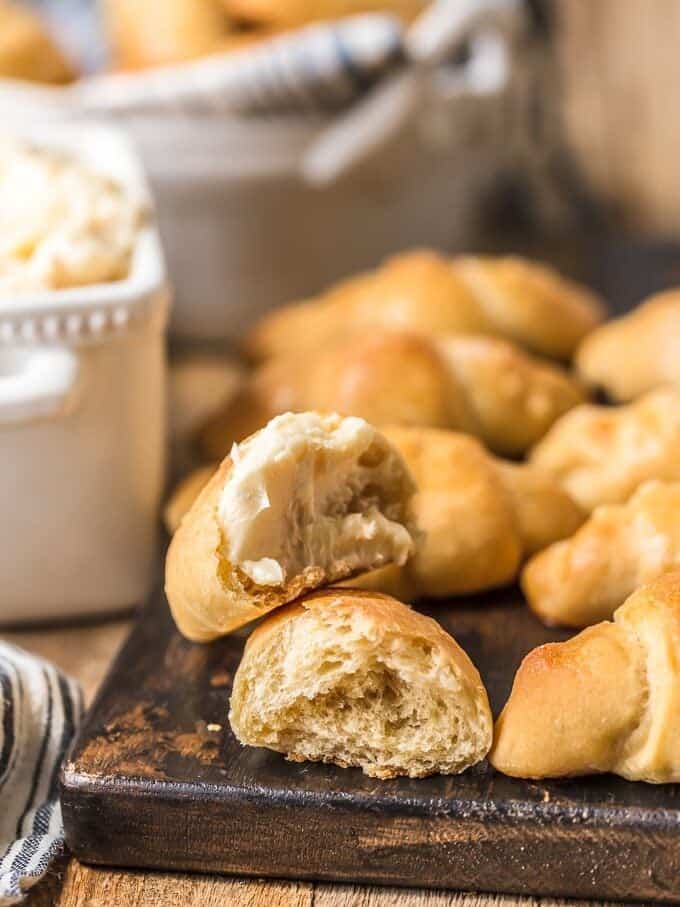 5-Star Review
"This is a great recipe, even for the beginner! Love your style!" – Geraldine Loyd
More Dinner Roll Recipes We Love