Crockpot Mashed Potatoes are one of the easiest and best side dishes for any dinner or holiday. These slow cooker mashed potatoes are the perfect easy Thanksgiving, Christmas, or Easter side dish. So much flavor and none of the fuss. Creamed potatoes for the win!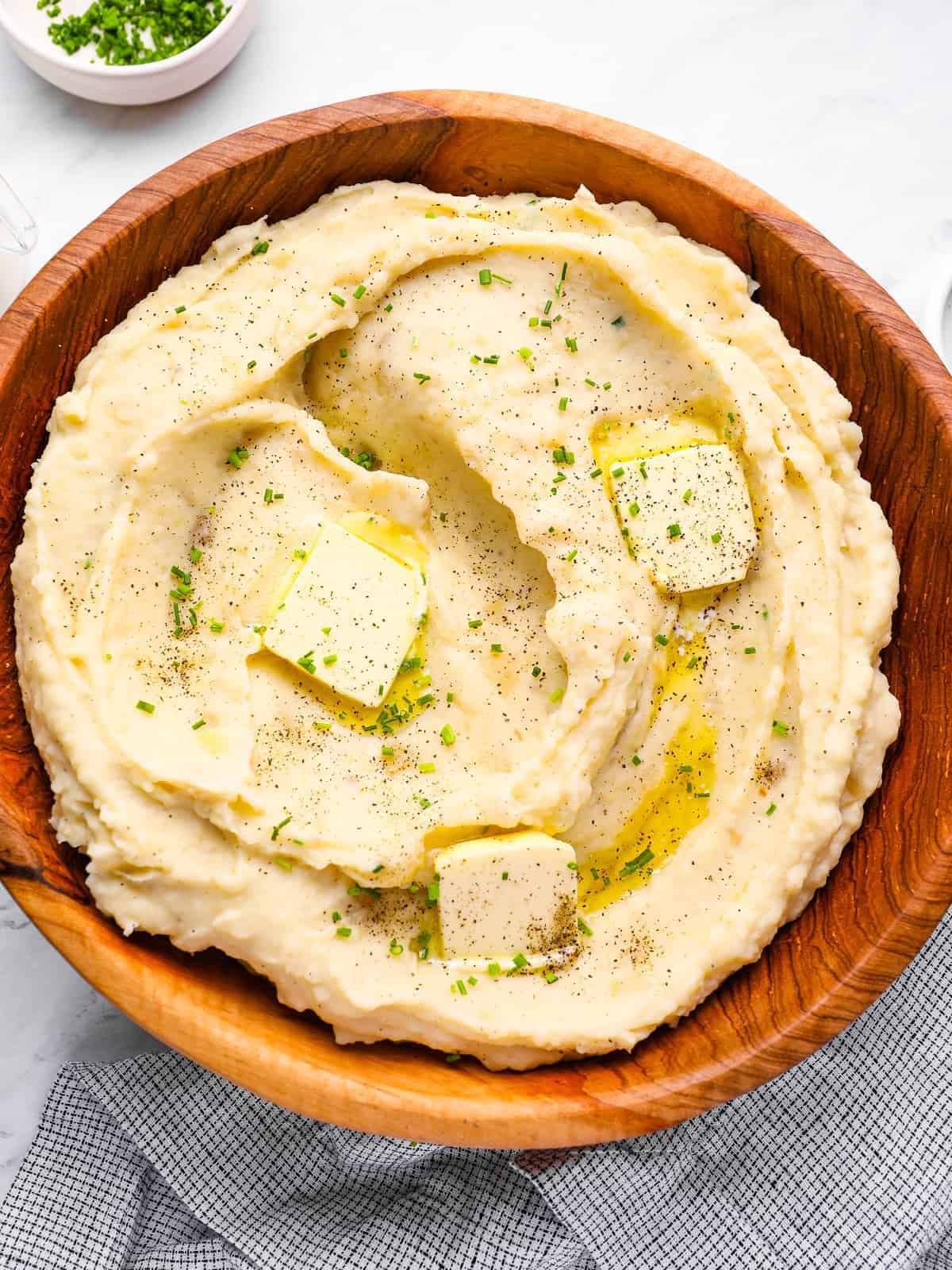 What's in this Crockpot Mashed Potatoes Recipe?
This garlic mashed potatoes recipe is a special version of a classic and they are oh-so creamy! They are cooked with whole roasted garlic to soak up all the flavor possible. Just look at all that garlic and butter. Mmmm!! I'm in love with these crockpot mashed potatoes!
Potatoes: I like Yukon Gold potatoes for their buttery flavor and texture. Russet or Idaho potatoes also work well!
Garlic: Adds all that roasty, toasty, garlicky goodness!
Chicken Broth: Adds moisture and flavor to the potatoes.
Salt + Pepper: Enhances the natural flavor of the potatoes.
Unsalted Butter: Adds richness and moisture to the potatoes.
Milk: Adds richness to the potatoes and helps make them silky smooth.
Pro Tip: Bring the milk to room temperature (or slightly warm it) to help it combine more easily!
Variations on Slow Cooker Mashed Potatoes
For dairy-free mashed potatoes, use dairy-free butter, milk, and cream! You can also use some of the starchy cooking liquid from the potatoes in place of the milk or cream.
For cheesy mashed potatoes, add ½ cup of your favorite cheese!
For loaded mashed potatoes, add cheese, chopped cooked bacon, and chives.
For ranch mashed potatoes, add a packet of ranch seasoning.
For herby potatoes, feel free to add some of your favorite chopped herbs.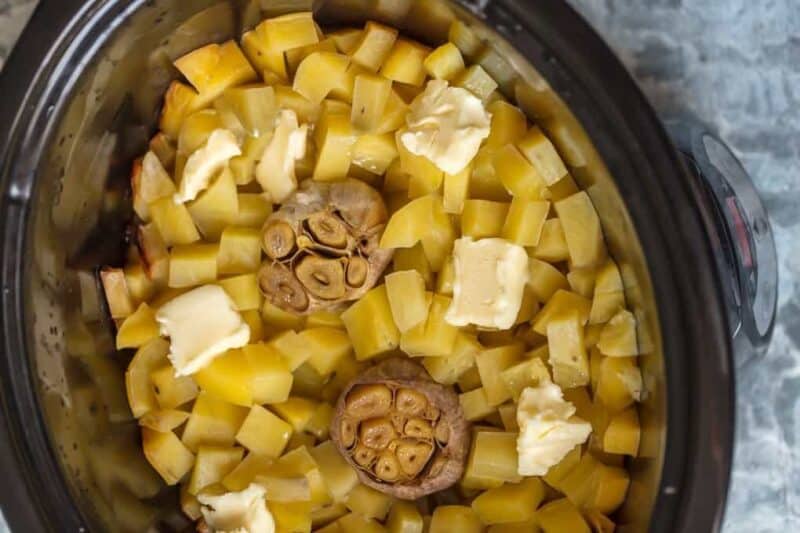 Can you cook mashed potatoes in a slow cooker?
Yes! Making slow cooker mashed potatoes is so easy because you can set everything up, let them cook, and forget about them for a while. Just throw the potatoes in and they'll take a few hours to cook.
Should you boil potatoes before slow cooking?
There's no need to boil potatoes before cooking them in the crockpot!
Why add butter before milk in mashed potatoes?
If you add the butter first, it will infuse the potatoes with rich, buttery flavor. If you add it at the same time as the milk, the potatoes will absorb the milk and not the butter, leading to a less buttery tasting dish.
Should butter be melted before adding to mashed potatoes?
You can add cold, room temperature, or melted butter to the potatoes. It really doesn't matter!
Is it better to add cold milk or warm milk to mashed potatoes?
I prefer to use room temperature or slightly warmed milk, as this will help keep the potatoes nice and hot!
Can you put too much milk in mashed potatoes?
Yes! Add the milk a little at a time; otherwise, you may end up with runny or gummy potatoes!
Can you make mashed potatoes and put them in a crockpot to keep warm?
The great thing about these potatoes is that once they're done cooking, you can turn the heat down low to keep them warm until everyone is ready to eat. Even better if you made these ahead of time, you can let them warm in the crockpot while the rest of the food is being made.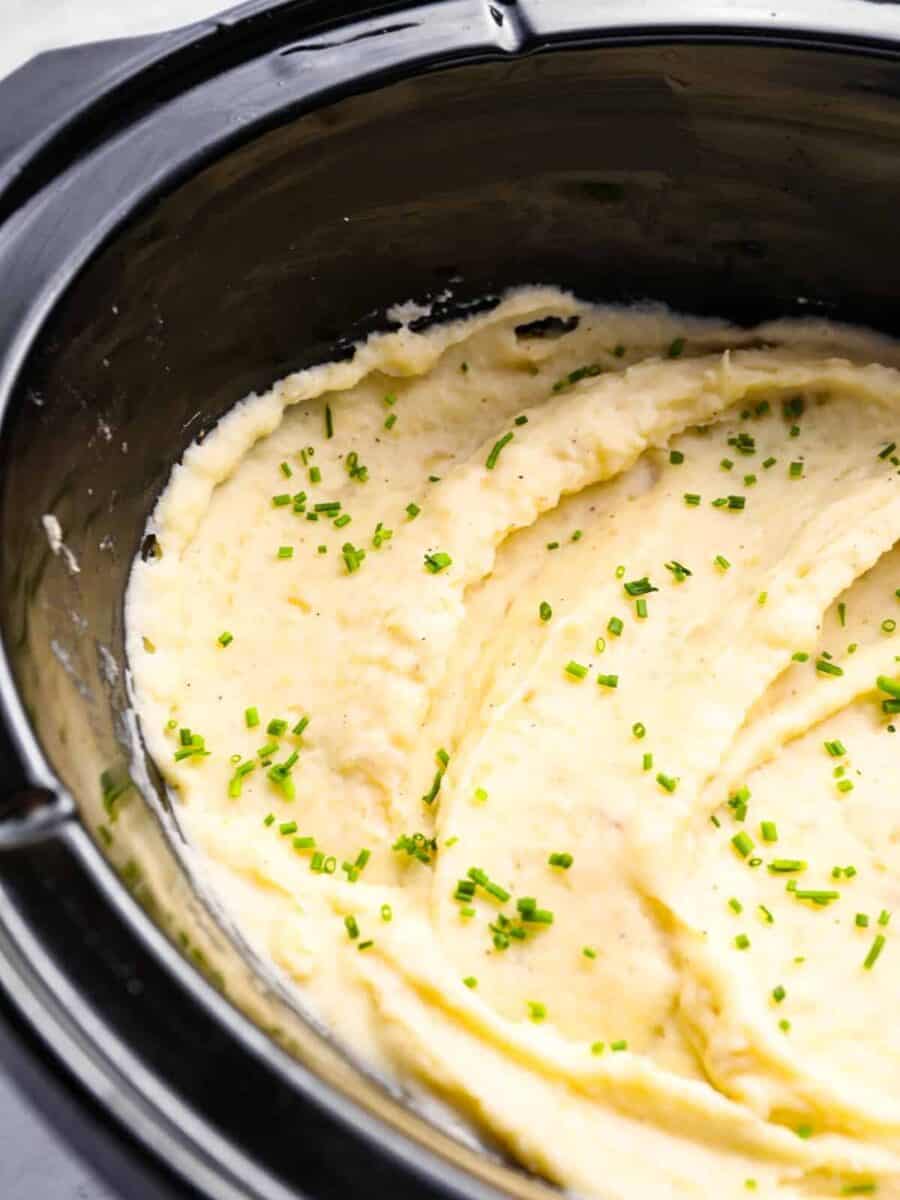 How to Store and Reheat
Store leftover crockpot mashed potatoes in an airtight container in the refrigerator for up to 4 days. Reheat in a Dutch oven over medium-low heat or in the microwave on high for 1 minute.
How to Freeze
Scoop 1-cup mounds of mashed potatoes onto a lined baking sheet and freeze uncovered until solid, about 1-2 hours. Transfer to an airtight container or Ziplock bag to store for up to 3 months. Let thaw overnight in the refrigerator before reheating.
Serving Suggestions
Serve these slow cooker mashed potatoes with Thanksgiving turkey and classic Thanksgiving side dishes, Easter dinner, or Christmas dinner. Or add them to a simple weeknight meal, like crockpot chicken breasts, Swedish meatballs, smothered pork chops, pan seared salmon, spatchcock chicken, or beef tenderloin.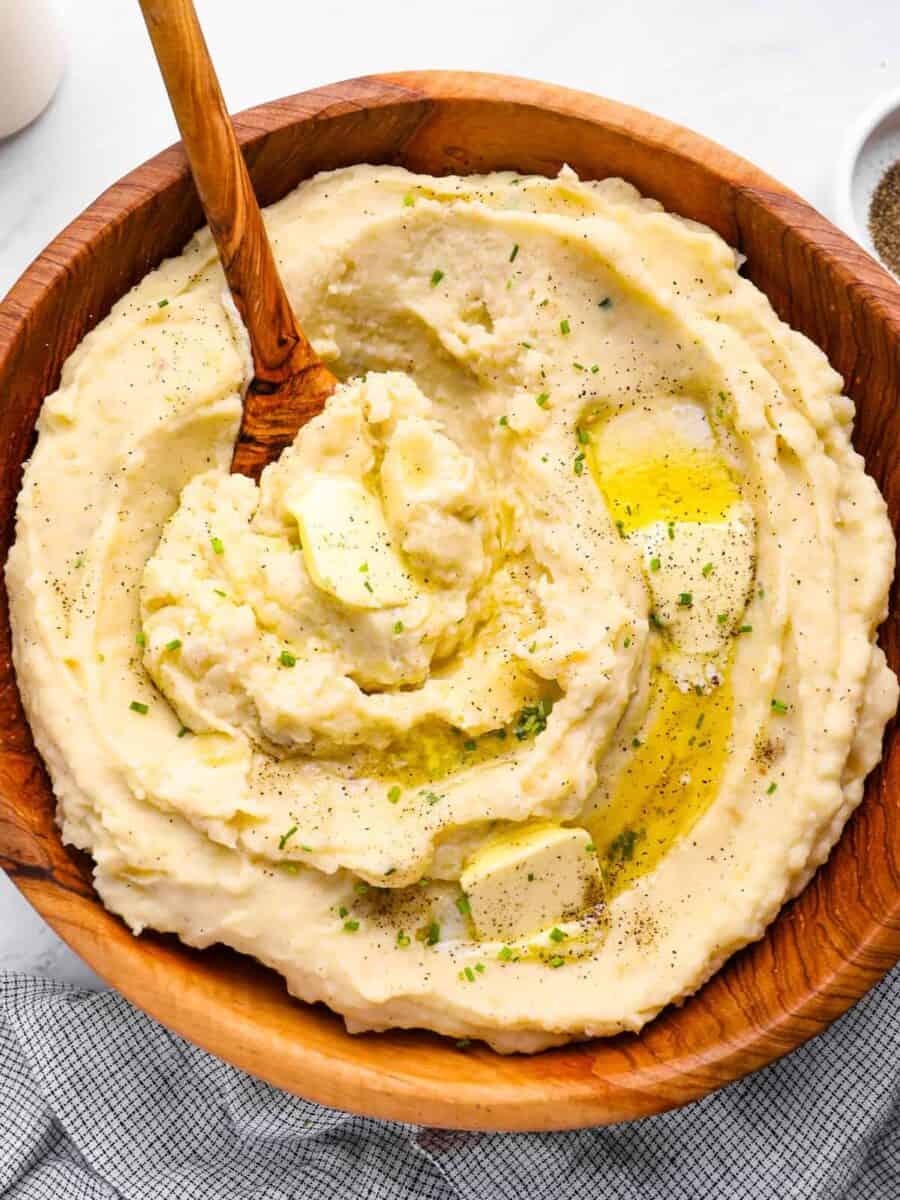 5-Star Review
"Thanksgiving is way gone, but these mashed potatoes still sound delicious! genious idea making them on the crockpot, they look so creamy and tasty! love this" – Albert Bevia
More Mashed Potato Recipes We Love