This SPIKED CRANBERRY SAUCE is a fun twist on a classic Thanksgiving recipe. No holiday table is complete without cranberry sauce, and these are extra delicious and amazing! We call them "sauced" cranberries.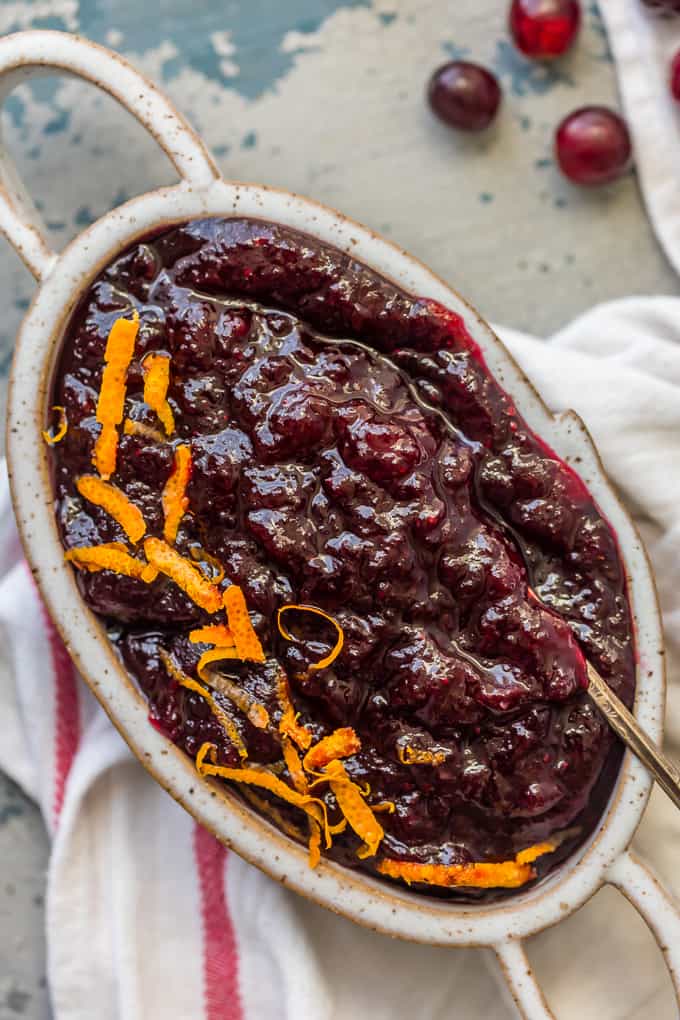 My Mom and I are the only two people in the family that like cranberry sauce. I think the rest of the family are CRAZY! For me, a good Spiked Cranberry Sauce is a must make for Thanksgiving and really anytime turkey is involved. I love it on the holiday itself but I also love it with turkey leftovers and any time of year.
Even though we are the only ones that like it, we make it every darn year because we don't just like it, we LOVE IT. For me it wouldn't be Thanksgiving without this fun and easy side dish, made a little bit unique with splashes of sherry and orange liqueur. Get ready!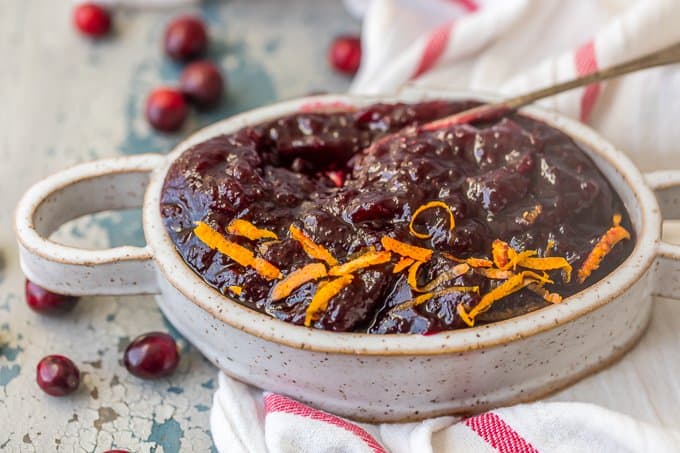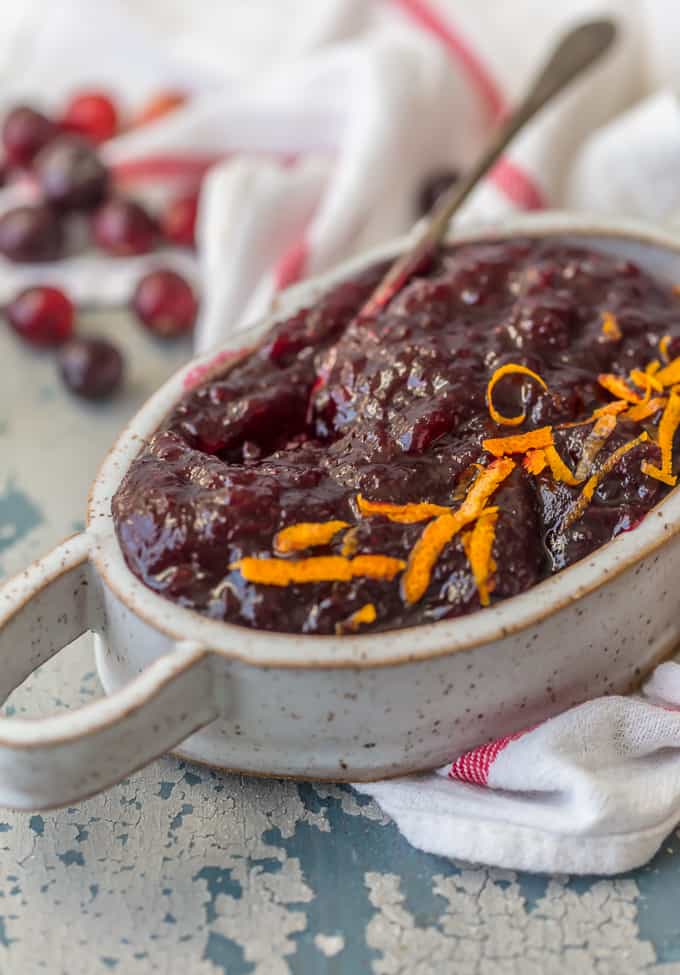 Whether you call this simple side dish "Sauced Cranberries" or "Spiked Cranberry Sauce", the result is always the same.
Sweet, tangy, zippy, delicious cranberry sauce. A little bit unique and a lot bit required for Thanksgiving Day. I just think this is such a fun recipe for your holiday table.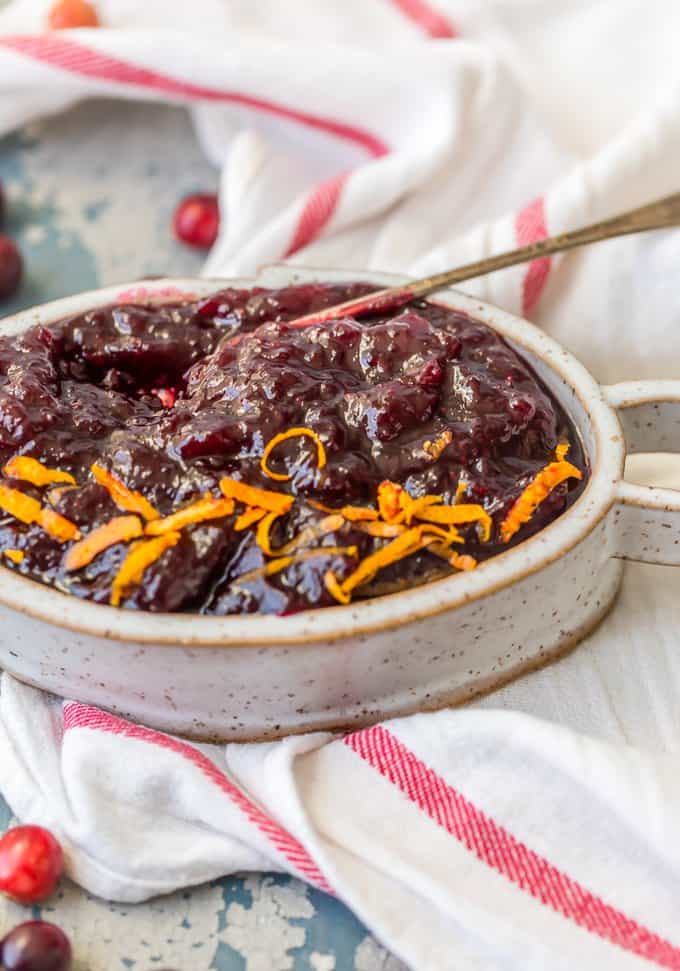 If you're looking for a fun and unique twist on a classic this Thanksgiving, this Spiked Cranberry Sauce is for you. I just love how the orange liqueur infuses the cranberry flavor. DIVINE!
Enjoy (and HAPPY THANKSGIVING!).
Spiked Cranberry Sauce
5 minPrep Time
30 minCook Time
35 minTotal Time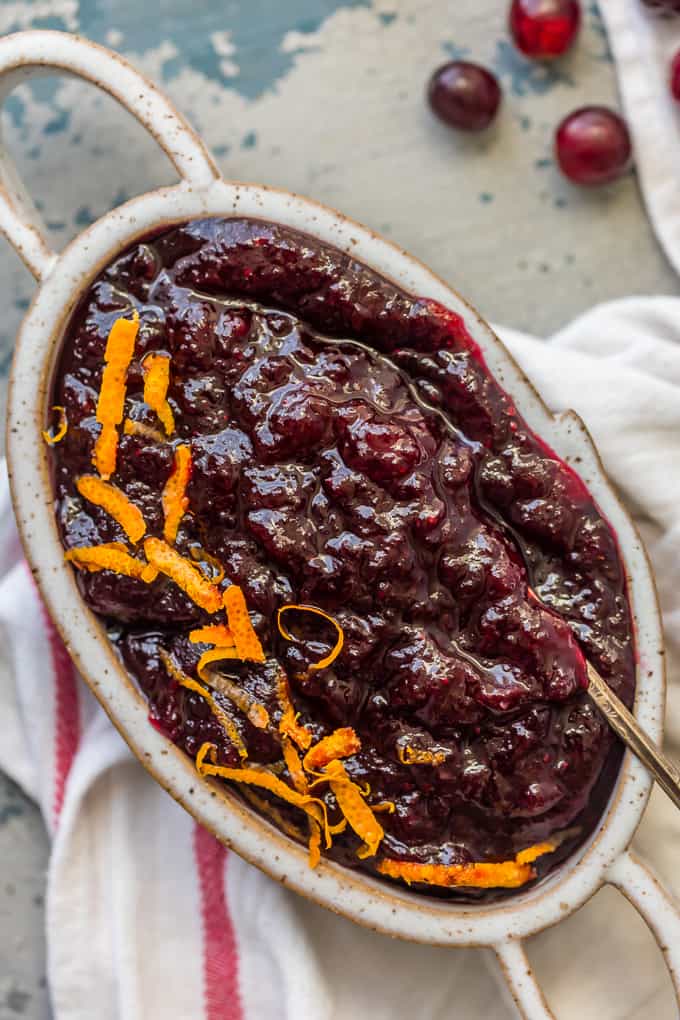 5 based on 1 review(s)
Ingredients
1½ cups sugar
¼ teaspoon kosher salt
¾ cup port or dry sherry
1 cup water
4 cups fresh cranberries
¼ cup orange liqueur (Triple Sec or Grand Marnier)
Instructions
Mix together sugar, port and water in a heavy 2-quart saucepan, over MED-HIGH heat. Stir well, and add cranberries. Bring mixture to a boil, reduce heat to MED-LOW and simmer 30-40 minutes until thickened. Stir often.
Remove from heat and cool 15 minutes.
If a chunkier cranberry sauce is desired, pour the sauce in a blender or food processor and chop or pulse a couple of times, until cranberries are almost puréed. (Or, even easier yet, leave the sauce in the pan and use a stick blender.)
If a smooth cranberry sauce is desired, pour the sauce through a fine-mesh strainer over a medium bowl.
Stir in the orange liqueur.
Pour the sauce into an airtight container and let cool before covering. When the sauce has cooled, cover tightly and refrigerate up to 2 weeks.
Serve cold or at room temperature.
Note: Cranberry sauce can be frozen in a freezer container up to 2 months.
7.6.7
2479
https://www.thecookierookie.com/spiked-cranberry-sauce/