Sauteed Green Beans with Molasses are a slightly sweet yet savory side dish perfect for Thanksgiving, or any dinner throughout the year. This simple and fresh green beans recipe is so delicious and comforting, and it has just a bit of Southern charm. Start by blanching green beans, then cook them in a skillet with molasses, honey, and Worcestershire sauce. This recipe is so easy and so tasty!
Sauteed Green Beans with Molasses
Sauteed Green Beans with molasses are a deliciously sweet yet savory side dish with Southern charm!
Green Beans are a big part of holiday cooking for me. I can't imagine a Thanksgiving dinner without some kind of green bean recipe on the table. It just doesn't seem right!
Of course, I've grown to love fresh green beans over the years, and now I love adding them as a healthy and simple side dish to any dinner throughout the year. And sauteed green beans always seem like the best option! There's something quite comforting and rustic about them. They pair so nicely with Southern comfort food, with pork, with chicken, with steak even. And of course I'd eat these with a nice roasted turkey, whether it was November or July.
These simple sauteed green beans with molasses, honey, and Worcestershire sauce are tender, crisp, and full of the flavor.
These Sauteed Green Beans with Molasses are great for a holiday meal or any dinner throughout the year!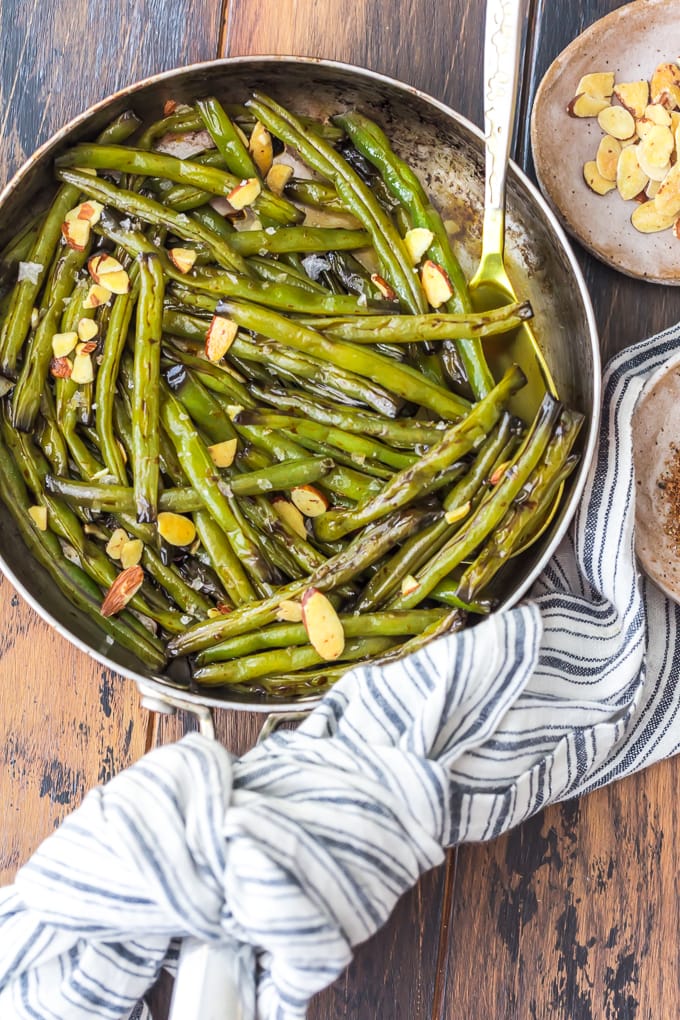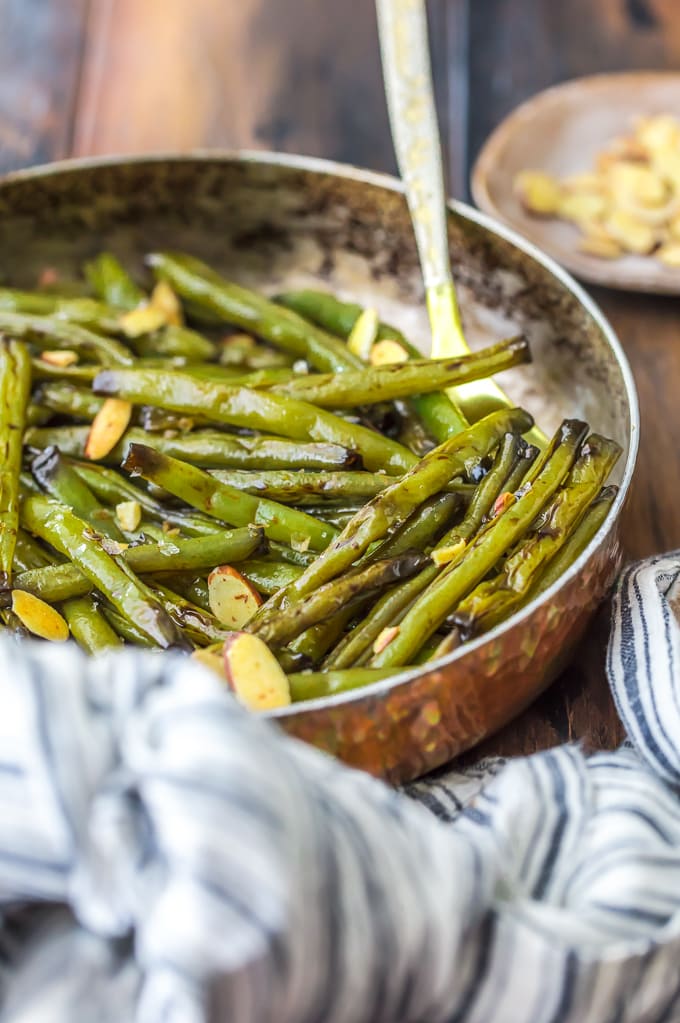 Blanching Green Beans
Blanching green beans is an important step in this recipe. It helps clean the beans, it helps to cook them, and it ultimately provides a better, crunchier texture and more flavor when done before cooking. This process should also be done before freezing or storing any fresh green beans.
How to Blanch Green Beans:
Prepare a large bowl or pot of ice water
Fill a separate pot with 2 quarts of water and boil
Gently add the beans into the boiling water & cook for about 2 minutes
You want to cook them quickly, for a very short time, until they turn bright green
Immediately transfer them into the bowl of ice water
This process of blanching green beans cooks the beans quickly, and the ice water is meant to quickly STOP the cooking process. It's important that the ice water is very cold (so don't let it sit out before this process), and that the beans are transferred and submerged right away so that they don't overcook. After blanching, set the green beans on a paper towel to dry before moving on to sauteeing.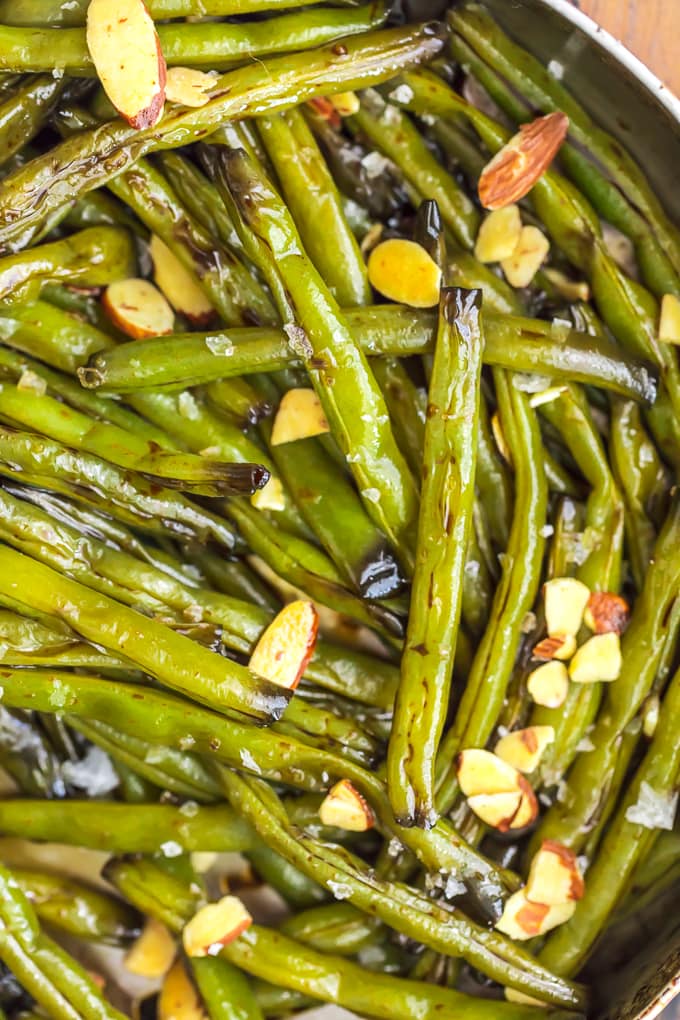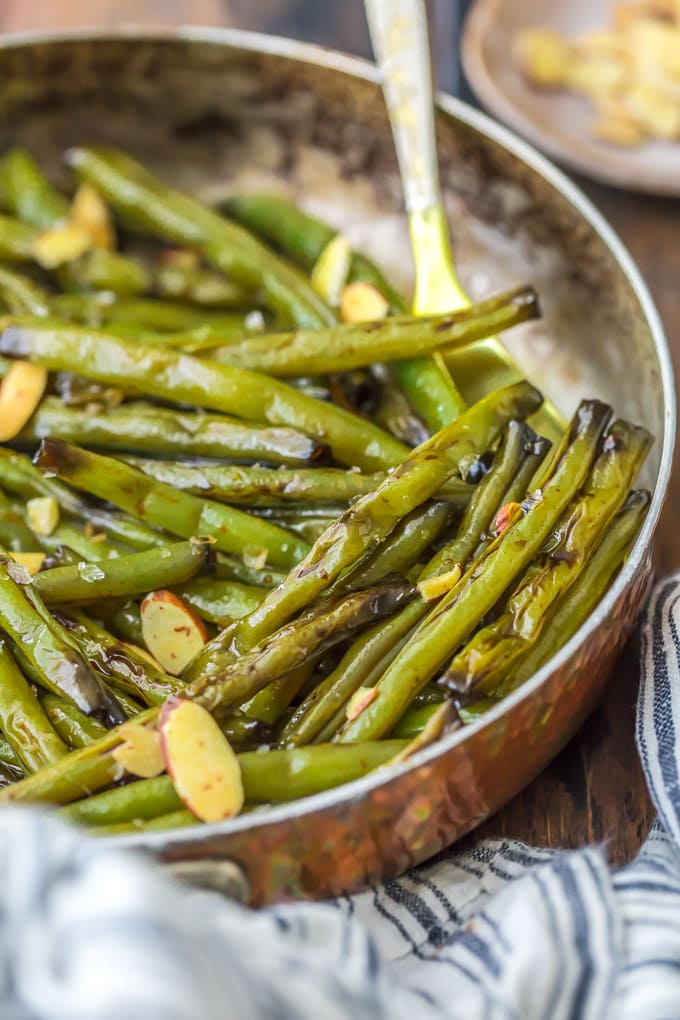 Can you cook green beans in a skillet?
Yes! Fresh green beans can be cooked on the stove top in a skillet or frying pan. Sauteed green beans are a tasty, easy, and popular way of cooking them.
How long do you cook green beans on the stove?
Sauteed green beans don't take long at all. After blanching green beans, cooking them on the stove top in a skillet only takes about 3-5 minutes. Just let them crisp up and become tender and green. It's a quick process.
How do you sautee green beans?
Add butter or oil to a skillet over medium heat. Add the fresh green beans into the skillet and let them cook for a few minutes. Add in any seasonings or ingredients you want and mix a couple of times.
What's the difference between a string bean and green bean?
They are really just two different names for the same thing. Whether you call them green beans or string beans, we're talking about the same beans!
To get into the details: green beans are a general term for a lot of different bean varieties, but they are all this same type of young bean, where we cook and eat the entire pod or casing. They are referred to as string beans because of the fibrous string that runs along the seam of the pod (although most beans no longer have this "string").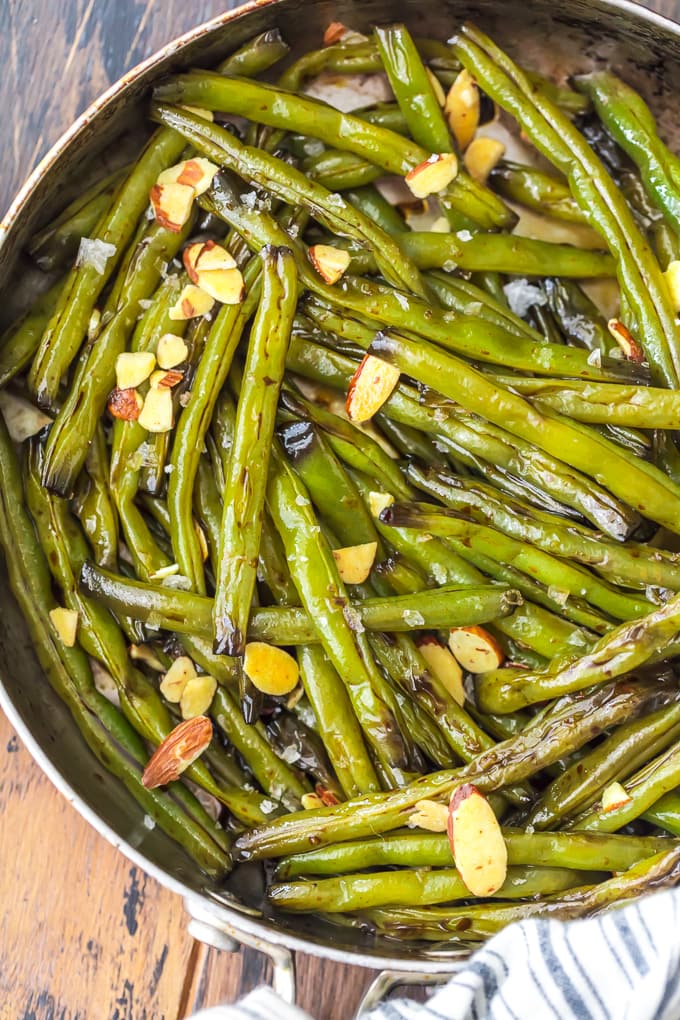 These sauteed green beans with molasses are the perfect, Southern-inspired side dish for Thanksgiving, Christmas, or any night of the year! This fresh green bean recipe is so simple yet so delicious, and it's easy to make with just a few steps.
See the recipe card below for details on how to make Sautéed Green Beans with Molasses. Enjoy!
If you like this sauteed green beans recipe, try these other vegetable side dishes: