This Coconut Water Smoothie is my new favorite healthy smoothie option! This GLOWING SKIN SMOOTHIE is full of delicious ingredients like coconut water, strawberries, mangoes, carrots, and avocado, all mixing together to create healthy hydrated skin. Sip your way to beautiful skin with this easy treat!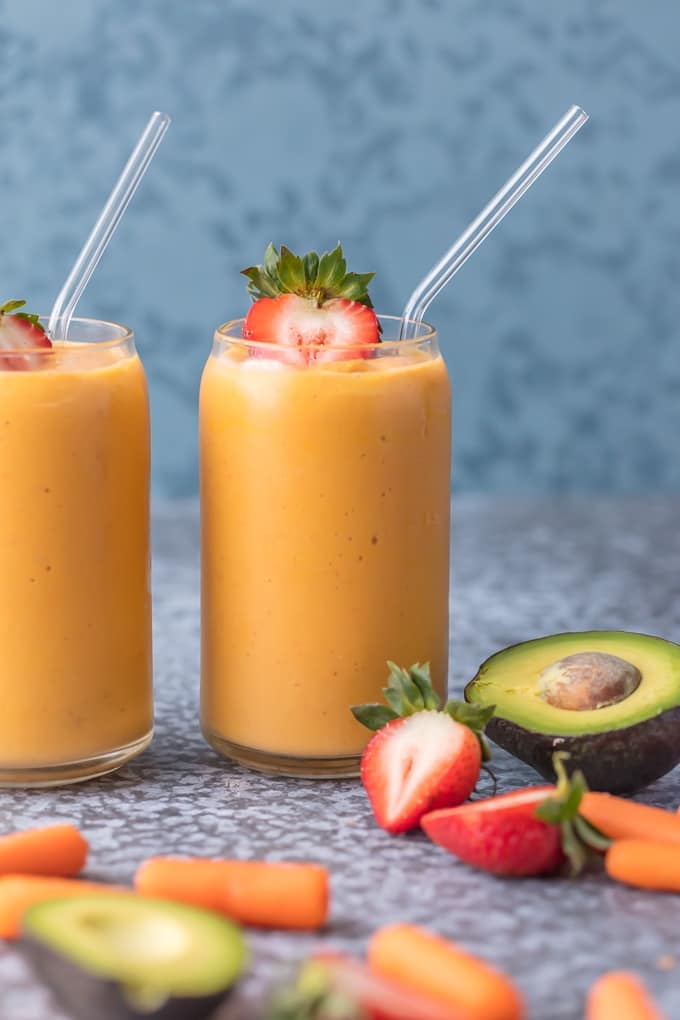 Coconut Water Smoothie for Healthy Skin
Coconut Water Smoothies are my new favorite healthy smoothie option! This one in particular is GREAT if you want healthy, glowing skin.
You guys…I'm sure you know this but having a baby puts your body through some tough times. During my pregnancy, I felt like my skin was young and beautiful (hello prenatal vitamins) but afterwards, I was left with skin that felt dry and tired. I've been looking for ways to make my skin glow again, and this amazing GLOWING SKIN SMOOTHIE is just the ticket!
This tasty Coconut Water Smoothie is filled with amazing ingredients that all work together to create clear, healthy, glowing skin. I'm sold! This healthy smoothie contains, avocado, carrots, strawberries, mangoes, and coconut water. It's the perfect thing to sip on because I know that while it tastes AMAZING, I'm also doing my skin a big favor!
I'm not one of those women that can drink all greens and pretend it tastes amazing, so this coconut water smoothie is for me. It tastes like a dessert while giving you lots of vitamins and minerals needed to quench your skin's thirst. YUM!
Get glowing skin with this amazing Coconut Water Smoothie! It's filled with ingredients that will give you healthy skin & make you feel good.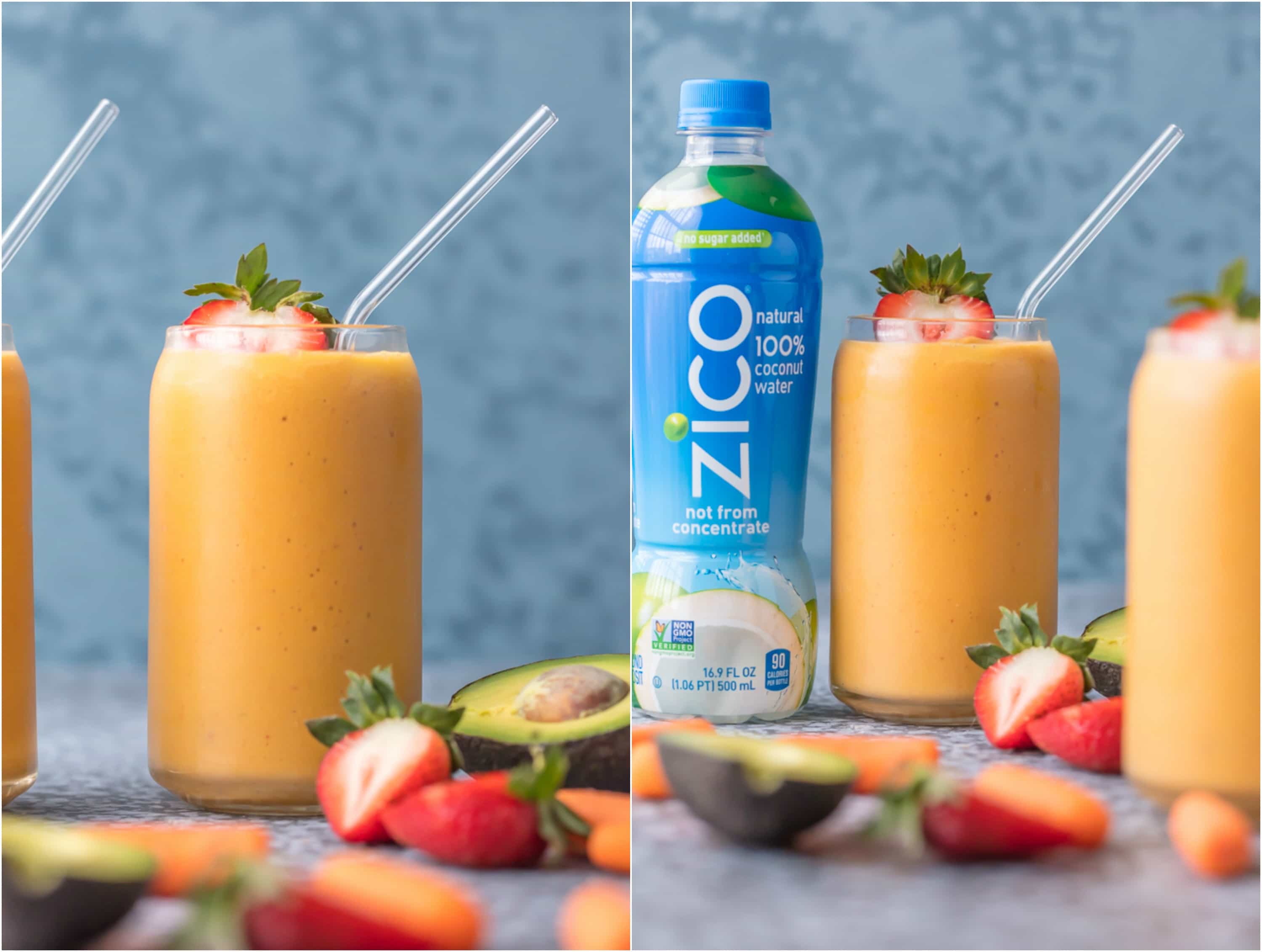 Healthy Smoothie Recipe
My favorite part of this Glowing Skin Smoothie is the ZICO Coconut Water base. It adds that little bit of delicious flavor and sweetness but has zero added sugars and is one ingredient only…COCONUT! ZICO is the only brand at the top of its category to have zero sugar added, isn't that crazy? The coconut flavor blends so deliciously with the strawberry, carrot, mango, and avocado. It's just so refreshing and delicious!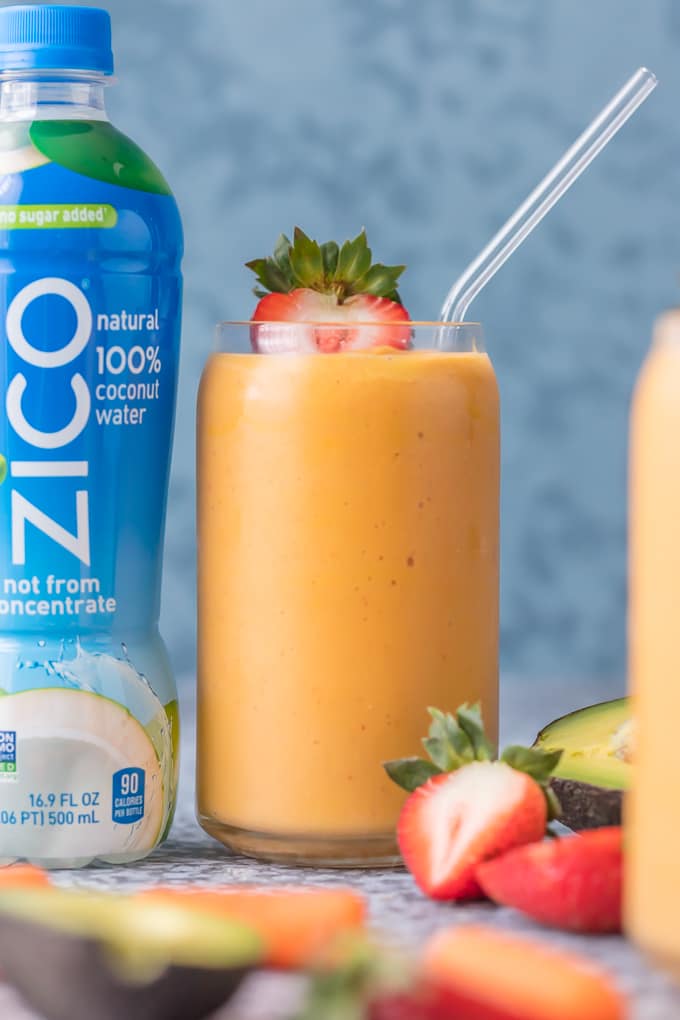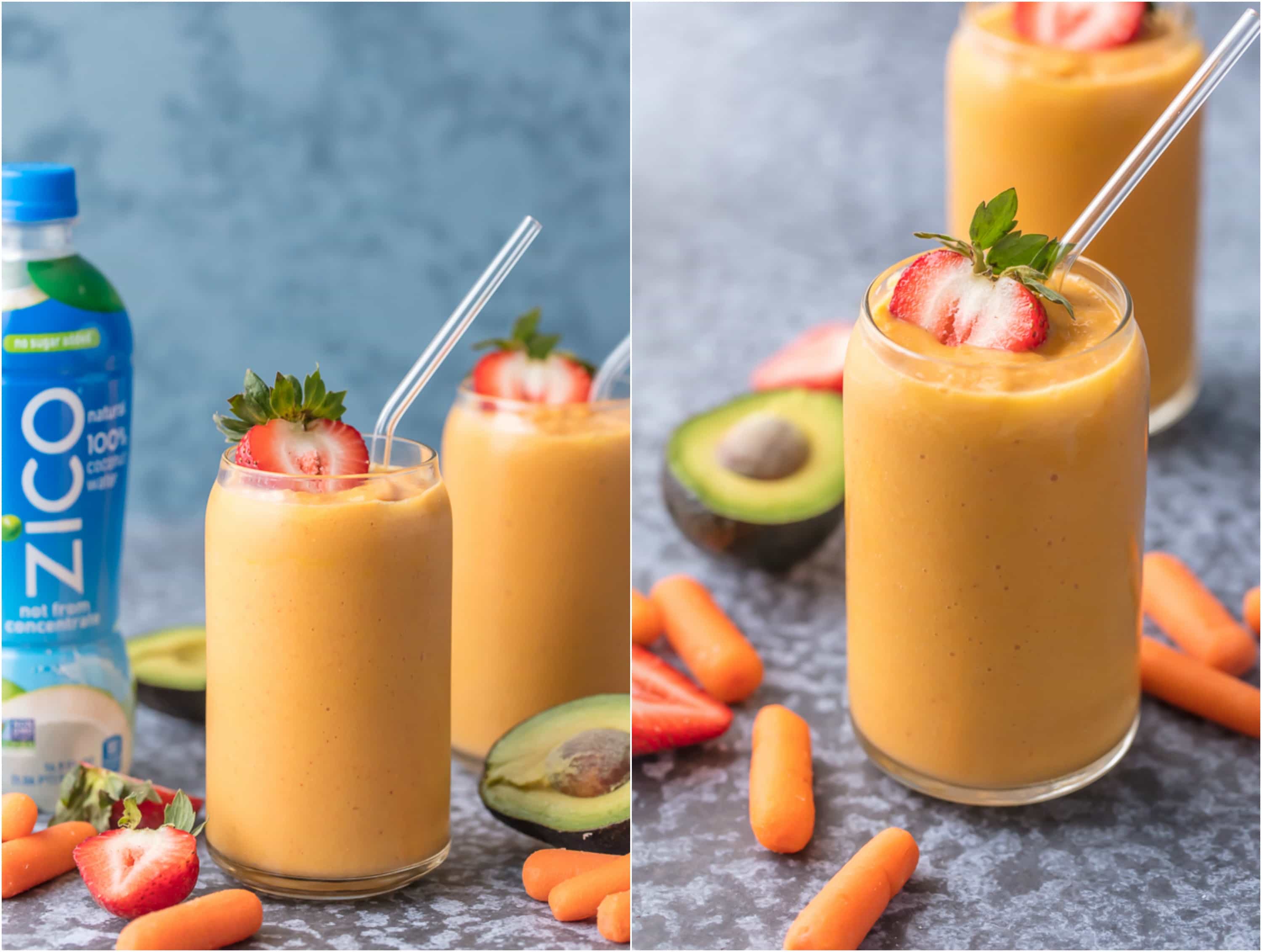 Glowing Skin Coconut Water Smoothie Benefits
All of the ingredients in this Coconut Water Smoothie work together to make your skin bright and healthy.
Mangoes have Vitamin C galore along with Vitamins E, K, A, and B.
Avocados are rich in healthy fatty acids as well as antioxidants and vitamins.
Carrots are powerful for anti-aging (give me all the carrots).
And strawberries are high in Vitamin C, helping our bodies make collagen.
Finally, coconut water is automatically re-hydrating and is a great source of potassium and magnesium.
Talk about a powerfully packed smoothie! No wonder this tasty coconut water smoothie makes your skin glow.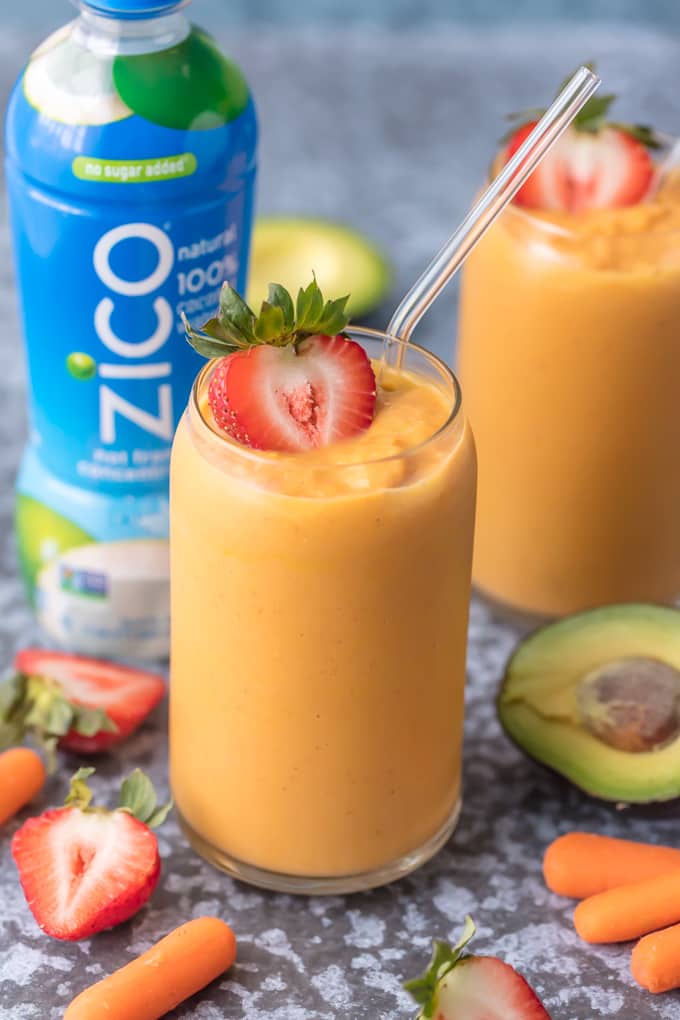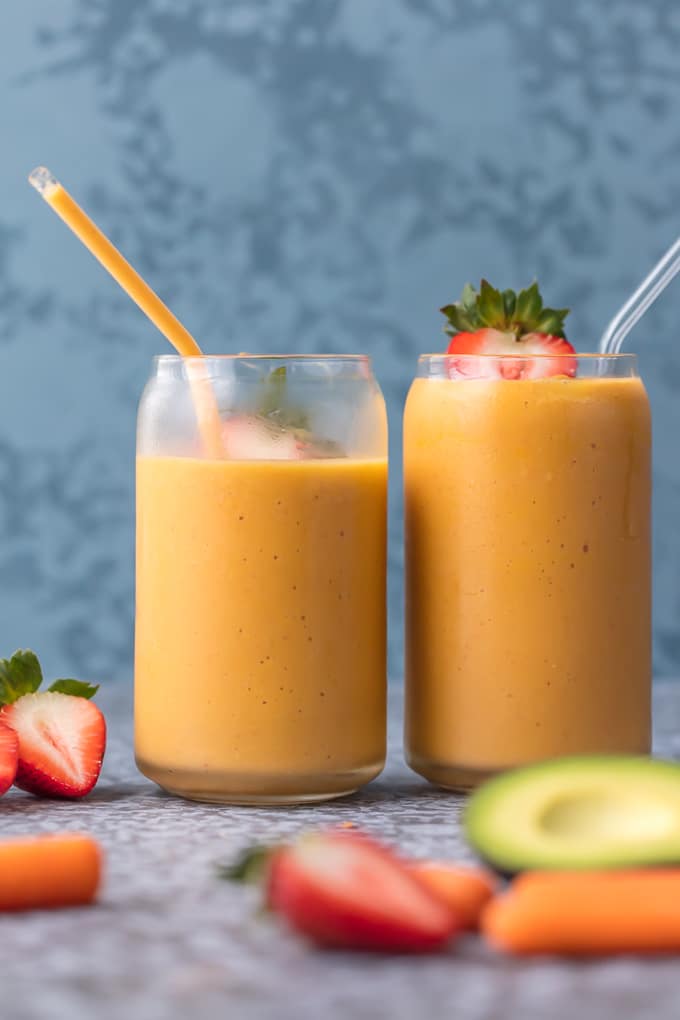 Is coconut water really that good for you?
Coconut Water is a really great thing to drink to replace other drinks that might be higher in sugar and calories. It does have a lot of real health benefits and it's a great thing to add into your diet for hydration.
Top Coconut Water Benefits:
Only 46 calories per cup
No fat & very little sugar
High in electrolytes for maximum hyrdration
Good source or potassium, magnesium, & manganese
All of these benefits help to make this coconut water smoothie so good for your skin! And hydration is one of the most important things for health AND good skin, so the natural electrolytes in coconut water are ideal.
Can you make a smoothie with water instead of milk?
Yes! Using water instead of milk in your smoothie makes it a lot healthier, lower calorie, and lower in sugar. Coconut Water smoothies are the perfect option because there's just a hint of creaminess in coconut water compared to regular water.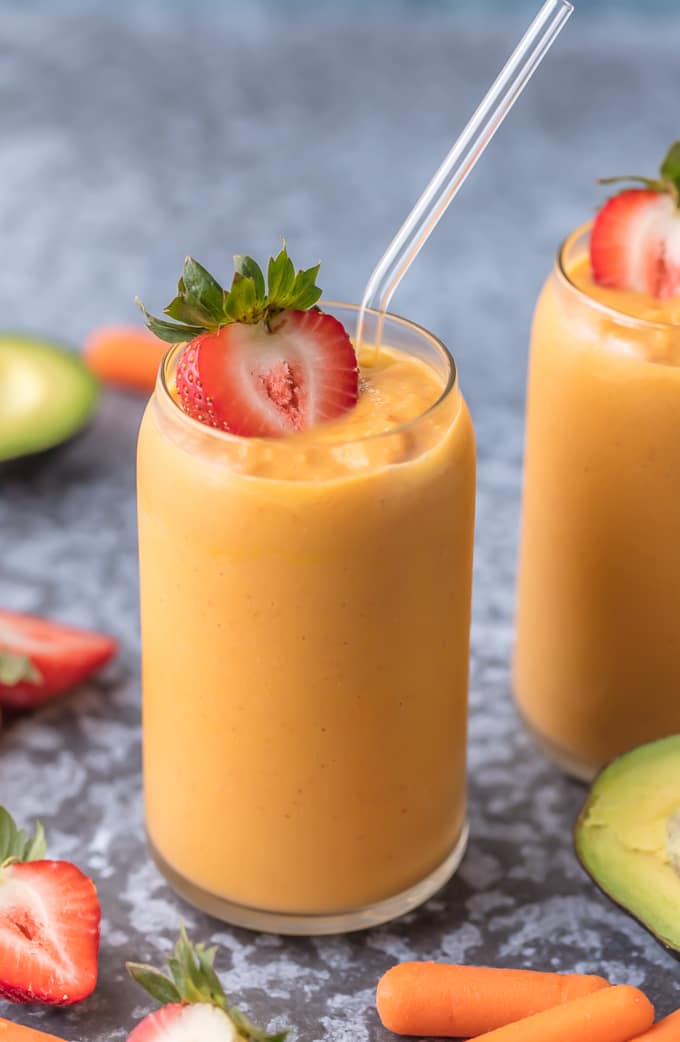 Pat loves this Coconut Water Smoothie for glowing skin just as much as I do. He's been begging me to come up with some healthy smoothie recipes, so this is perfect. I love that I can drink something that tastes so amazing AND be doing something good for my skin. We absolutely love this smoothie around here, and I hope you love it too!
See the recipe card below for full details on how to make this Coconut Water Smoothie to get glowing skin. Enjoy!
If you enjoyed this coconut water smoothie, try these other drink recipes: