A Hot Toddy is great on any cold night, but I especially love this hot toddy recipe to soothe a cold. This warm cocktail is my go-to recipe when I'm under the weather with a nasty cough. A homemade cure for a common cold that's easy to make and much tastier than cough syrup! Once you learn how to make a hot toddy, you'll be able to soothe your cold in no time!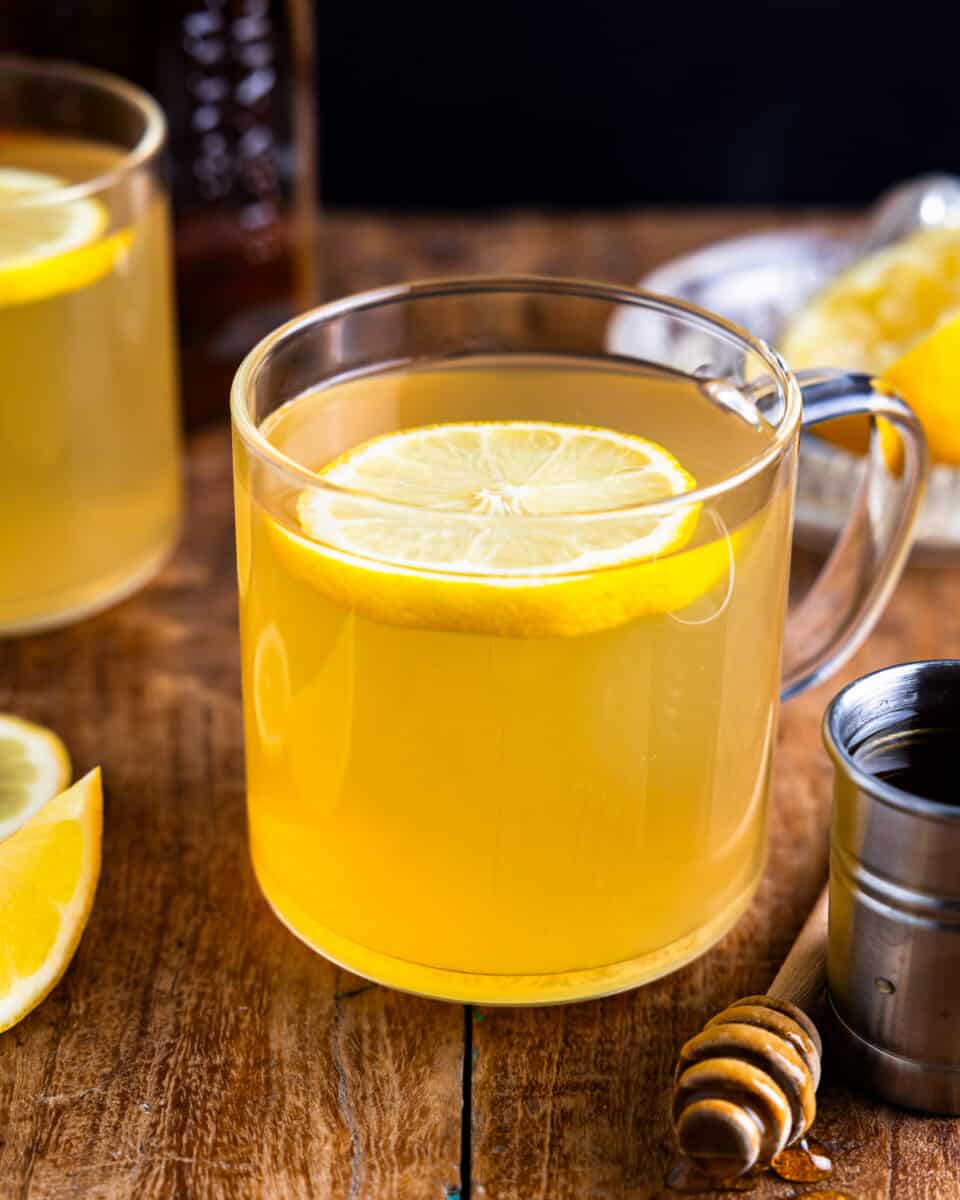 Why We Love This Hot Toddy Recipe
This classic winter drink recipe is the perfect warm sip to soothe a sore throat, cough, or cold. Forget the usual hot lemon water–this drink adds whiskey, honey, and ginger into the mix for a cocktail you can enjoy on sick days. I love sitting with this cocktail under a cozy blanket on a chilly night.
Easy. Just heat up your liquids, mix in the other ingredients, and you'll have a warm drink ready to sip. 5 ingredients, 5 minutes, and a microwave are all you need!
Soothing. Whiskey is a great decongestant, honey has antimicrobial properties, lemon juice boosts immunity, and ginger reduces inflammation.
Tasty. This adult bevvy is a little sweet, a little zesty, and a whole lot delicious.
Variations on a Hot Toddy
If you don't have any whiskey on hand, or you want to make this tasty cold remedy for someone under 21, you can still make a version of this drink without alcohol. Simply leave it out, and combine the rest of the ingredients as directed.
A nice glass of hot lemon honey water will still do wonders when you're feeling under the weather. You can also try using hot tea in place of the whiskey, which many readers have recommended!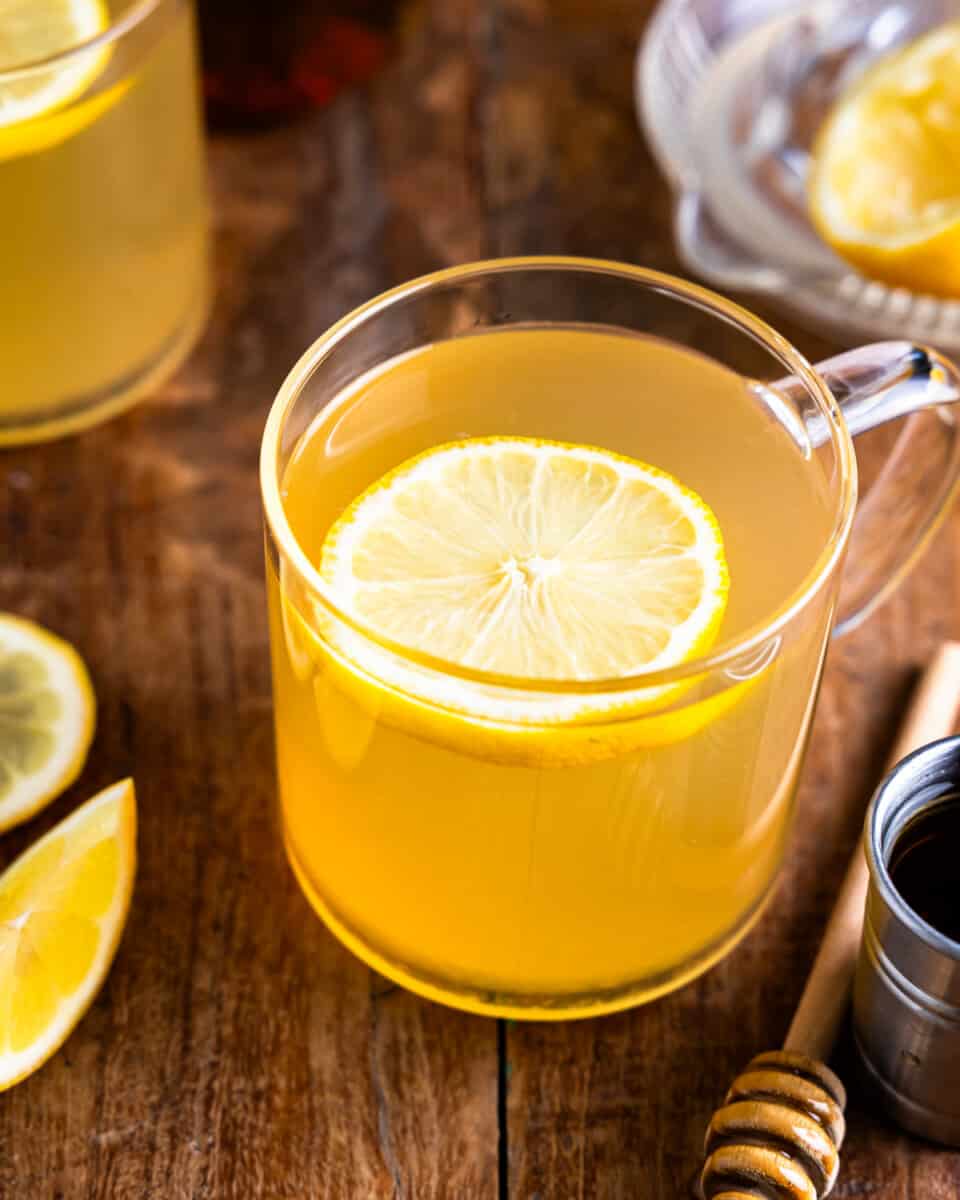 How to Store
This recipe is for one hot toddy, but if you don't finish the whole glass, you can store leftovers in the fridge. Just be sure to heat it up and give it a good stir before drinking the rest.
Serving Suggestions
If you need some other recipes to help you get through your sick day, I've got you covered. Make a pot of chicken noodle soup or turkey noodle soup, chicken broth, or a delicious bowl of ramen. If you prefer a different drink, try this detox lemonade for more health benefits.
What is a hot toddy?
A classic hot toddy is a warm drink made with whiskey, along with other ingredients like honey, water, and lemon. It's commonly served as a cold remedy to help relieve symptoms, like coughs, congestion, sore or scratchy throats, and inflammation.
Is a hot toddy a good cold remedy?
It's the best (non-medical) cold remedy I know! The warmth of the drink plus the health benefits of the ingredients (as listed above) can really soothe your sore throat & cough symptoms. There is some research that says hot drinks help the common cold or flu by increasing air flow.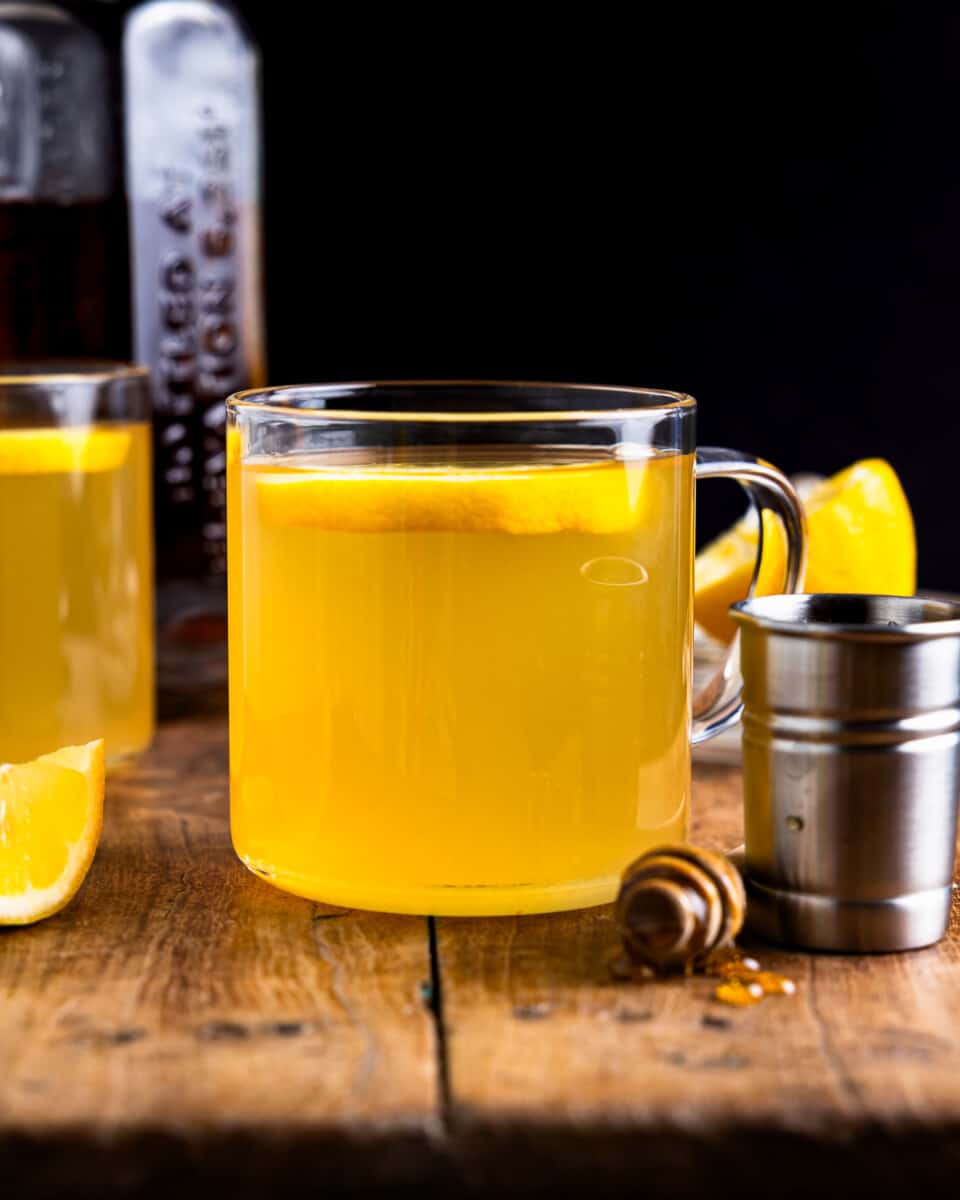 More Hot Toddy Recipes
5-Star Review
"The tastiest, easiest and most effective hot toddy yet!" – Tracy
How to Make A Hot Toddy Step by Step
Make the Drink: Mix together 2 ounces of whiskey or bourbon, 4 ounces of water, and 2 teaspoons of lemon juice in a microwave-safe bowl. Microwave for 1 minute, or until it's piping hot.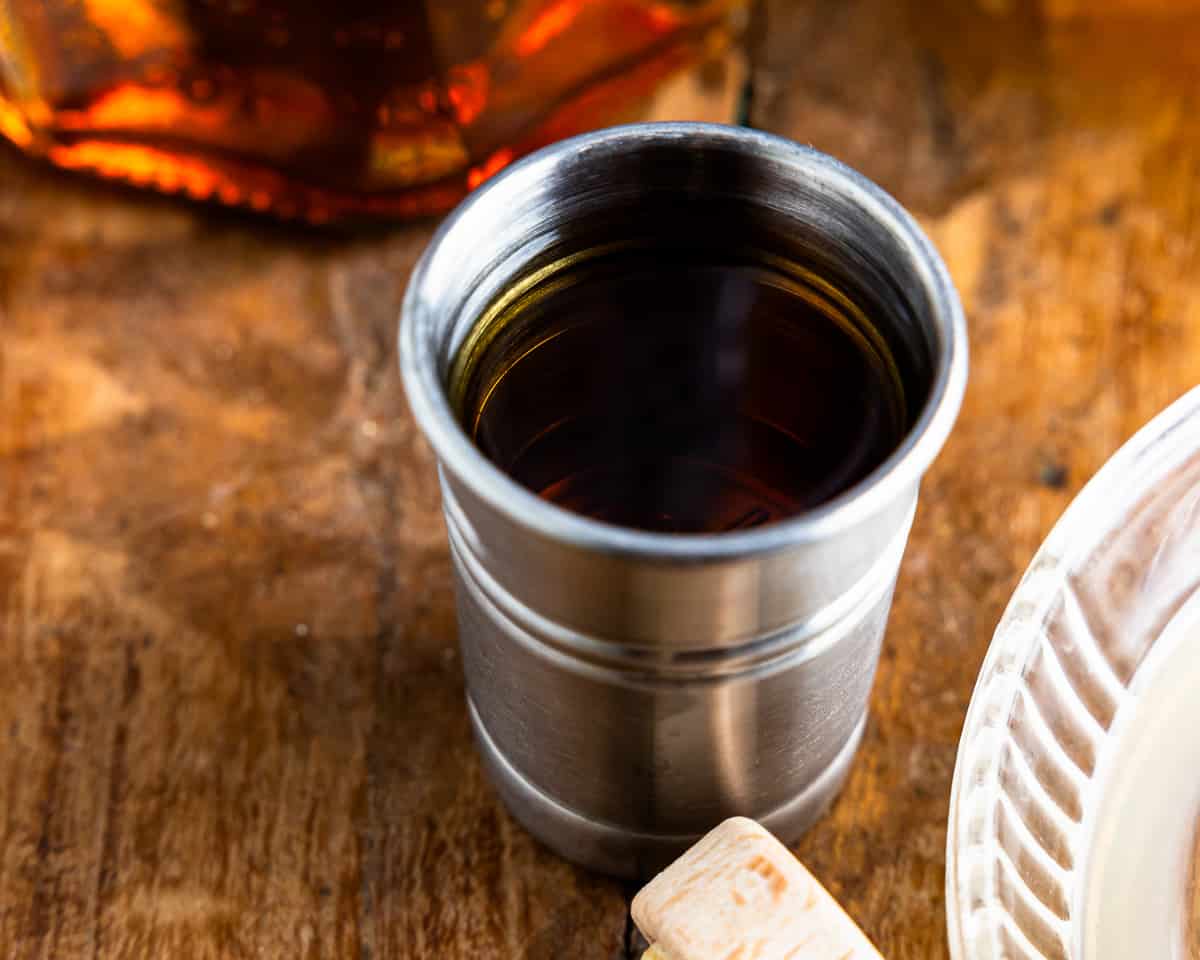 Garnish the Drink: Stir in 1½ tablespoons of honey, and drop in 1 cube of crystallized ginger if using. Garnish with a lemon slice and enjoy– you and your cold deserve it!