This easy Strawberry Mango Smoothie recipe features just 5 simple ingredients! It's perfect for a healthy breakfast or midday snack and it takes minutes to make in your blender. Frozen fruits and coconut water come together to make a seriously refreshing smoothie!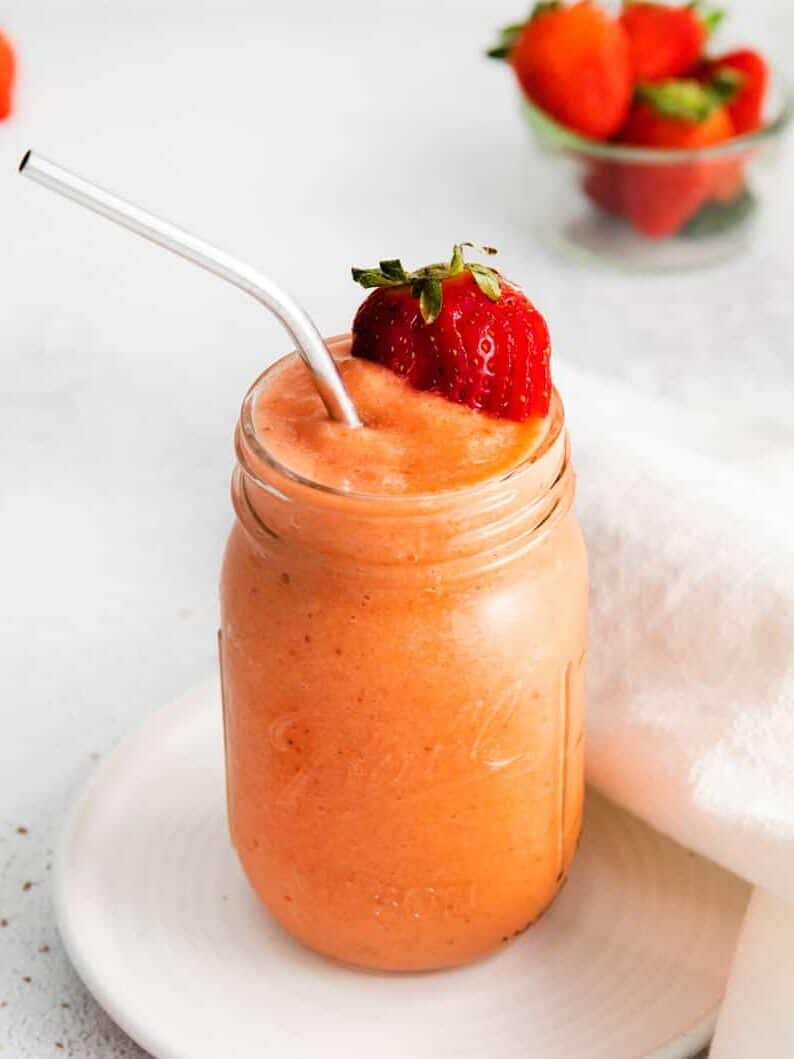 What's in this Mango Strawberry Smoothie
With only 5 ingredients needed, this recipe is super budget-friendly. Even the kids will love these sweet and tasty smoothies!
Frozen Strawberries: If you have any extras, use them to make the best strawberry frosé!
Frozen Mangoes: I love the tropical flavor this fruit gives the smoothie. So perfect for summer!
Bananas: The bananas can be fresh or frozen.
Ice Cubes: Optional, but highly recommended for the best consistency.
Coconut Water: This helps with both the tropical flavor and smooth consistency.
Pro Tip: I always prefer to use frozen fruits for smoothies. They make the drink nice and thick plus they have a longer shelf life compared to fresh, so you can whip them up whenever you like.
Tips for a Thicker Smoothie
Ice Cubes. The easiest way to thicken up this strawberry mango smoothie is to add more ice cubes and re-blend.
Use Frozen Fruit. Frozen fruit thickens smoothies in the same way that ice cubes do. Plus, the cold fruit keeps your smoothie chilled (and thus, thicker) for longer. If your smoothie seems too thin, add in a few extra pieces of frozen fruit and blend again.
Add Creamy Fruits. Fruits like mango, banana, and ripe avocado give body to smoothies. They blend up creamy rather than icy due to having less water content. Pairing a creamy fruit with an icier one (like berries) yields a balanced smoothie that is thick and flavorful!
Add Greek Yogurt. Although yogurt is not necessary for a thick smoothie, it does add a boost of protein and probiotics, as well as a nice, tangy flavor. If you're looking for a way to thicken without changing the flavor too much, this is a great option!
Add Veggies: A great way to add volume, nutrients, and body to a smoothie is to sneak in some frozen veggies. Cauliflower and spinach are great thickeners without too much flavor of their own. Just be aware that spinach will change the color!
Add Oatmeal. Cooked oatmeal can add both fiber and additional thickness to a smoothie, while also giving it an oat-y flavor.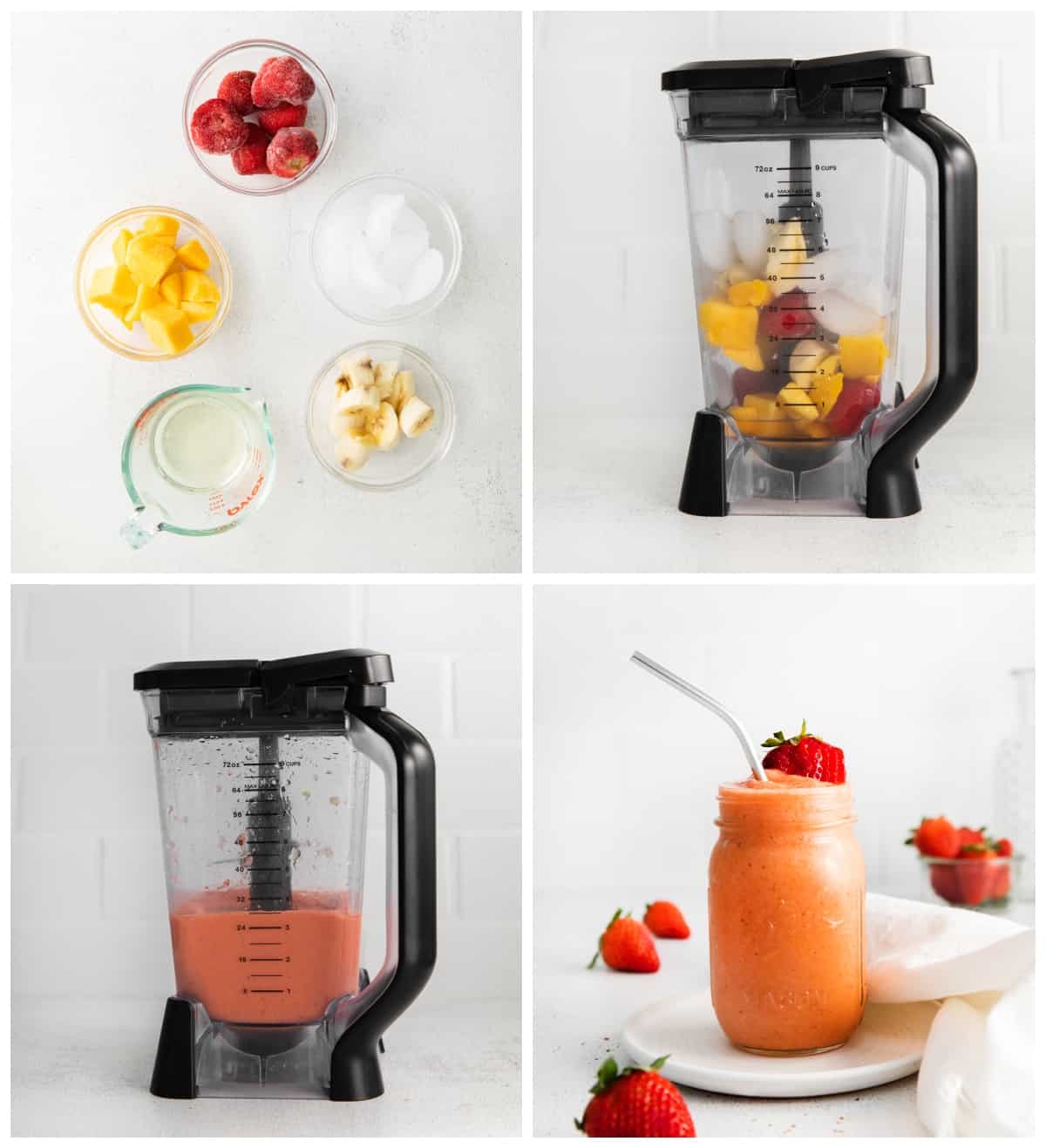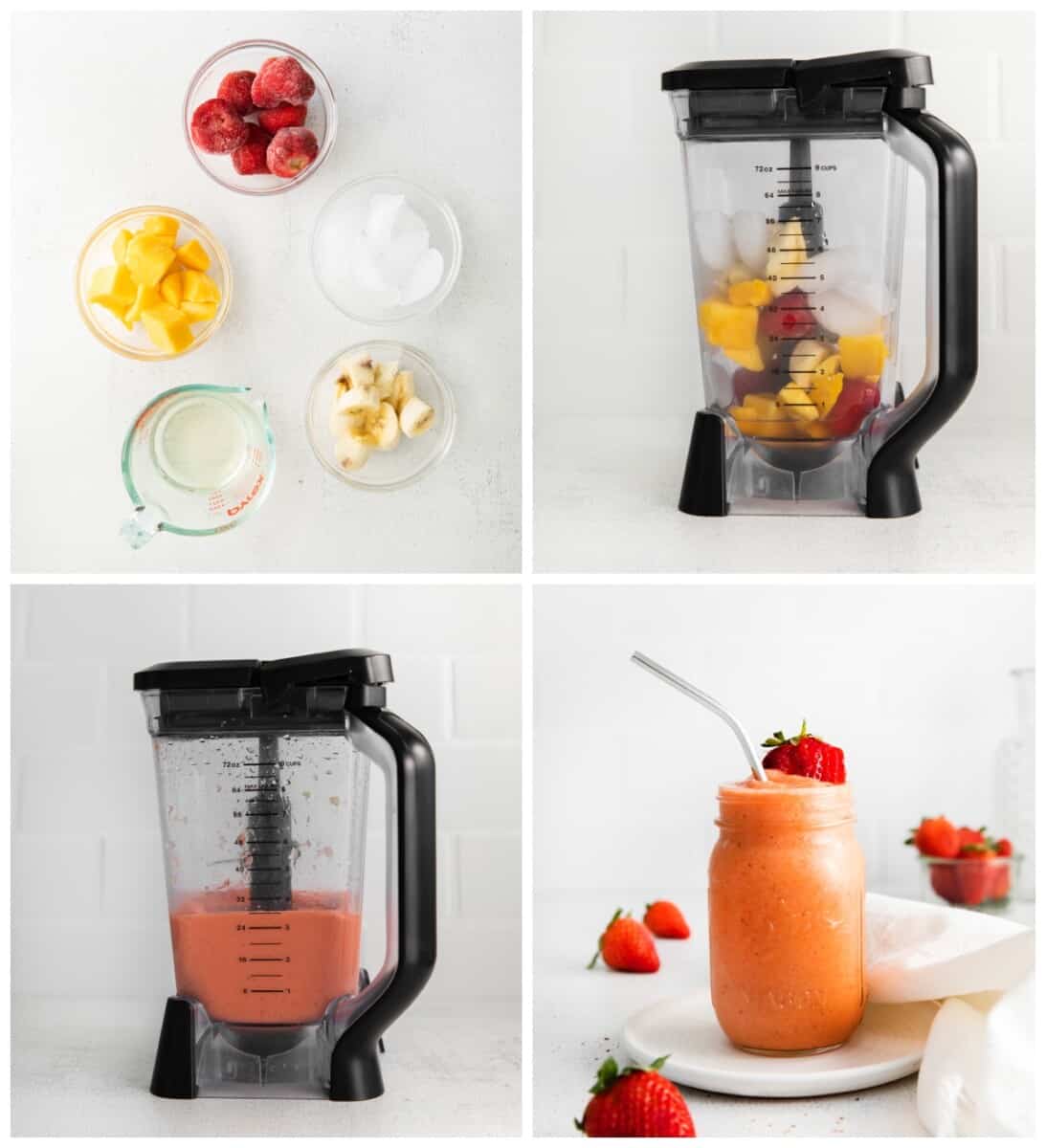 Can I make this smoothie with fresh fruit?
Yes, you can, but you may wish to freeze the fruit in a single layer on a lined baking sheet for about 30 minutes for the best results. Or, add more ice to create a thicker consistency
Do I have to use coconut water?
Nope! You can use whatever liquid you like, such as fruit juice, water, or nondairy milk.
Do I need to add ice to this smoothie?
For the best consistency, I recommend adding the ice. However, you can omit if you don't mind a slightly thinner smoothie, especially if you're using frozen fruit.
How to Store Mango Strawberry Banana Smoothie
This smoothie will keep for up to 24 hours in the refrigerator. You may wish to shake or stir the smoothie if the ingredients begin to separate or settle. Beyond 24 hours, the ingredients will oxidize, ruining both the look and taste.
How to Freeze Mango and Strawberry Smoothie
While I recommend consuming this strawberry mango smoothie right away, you can freeze it in a glass jar for up to 3 months and thaw in the refrigerator overnight when ready to enjoy. The texture will change somewhat. You can also pour it into ice cube trays and re-blend when ready to enjoy.
What to Serve with Banana Mango Strawberry Smoothie
This smoothie is really nice and filling by itself, but it's also a great refreshing drink to enjoy alongside your favorite breakfast recipes. Try serving it with healthy egg bites, strawberries and cream mini pies, or breakfast cookies.
For those busy mornings when you are running out the door, you can quickly whip up this smoothie and pour it into a travel cup to enjoy on the go!