Grape Jelly Meatballs are incredibly easy to make and always disappear fast at parties! Make a holiday party or game day so much more delicious when you serve this simple appetizer. Homemade meatballs are slowly cooked to perfection with just 4 inexpensive ingredients to create the best sweet and tangy sauce!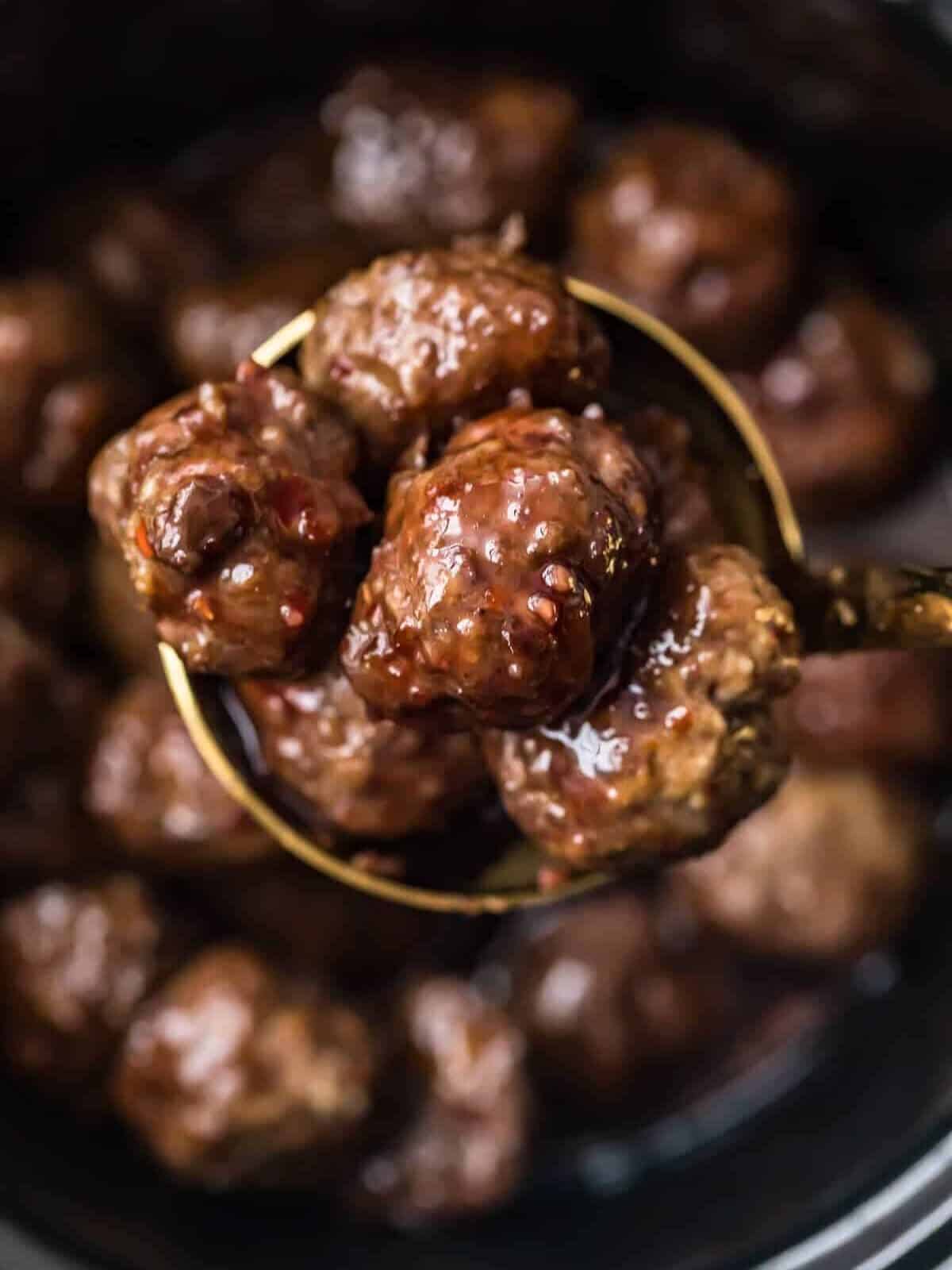 What's in this Grape Jelly Meatball Recipe
You only need 4 simple ingredients to make the best grape jelly sauce! The meatballs also come together with just a handful of delicious ingredients that you may already have on hand.
Grape Jelly: Any brand will get the job done, so just pick your favorite.
Sweet Red Chili Sauce: This is a sweet and savory condiment that adds a ton of flavor to the sauce.
Worcestershire Sauce: I love the savory flavor this creates in both the sauce and meatballs.
White Vinegar: Just a splash of vinegar helps balance everything out with a tangy flavor.
Ground Chuck: You can use ground beef if preferred.
Breadcrumbs: Use plain breadcrumbs, not Italian. Italian breadcrumbs will not compliment the sauce.
Milk: Whole milk is what I use! You can substitute it as needed.
Kosher Salt: A little goes a long way.
Black Pepper: Freshly ground black pepper yields the most flavor.
Garlic Powder: You can use granulated garlic instead if preferred.
Crushed Red Pepper Flakes: Add more or less to control the spice level.
Eggs: These will act as a binder for all of the meatball ingredients.
PRO TIP: Make the meatballs into similar sized balls so that they cook evenly, you can use a small ice cream scoop to do this if it's easier.
Are grape jelly meatballs spicy?
Nope! However, you can make them spicy by adding more crushed red pepper flakes in the meatball mixture. Feel free to sprinkle some into the sauce as well to really crank up the heat. If that's still not enough, consider mixing in some sriracha!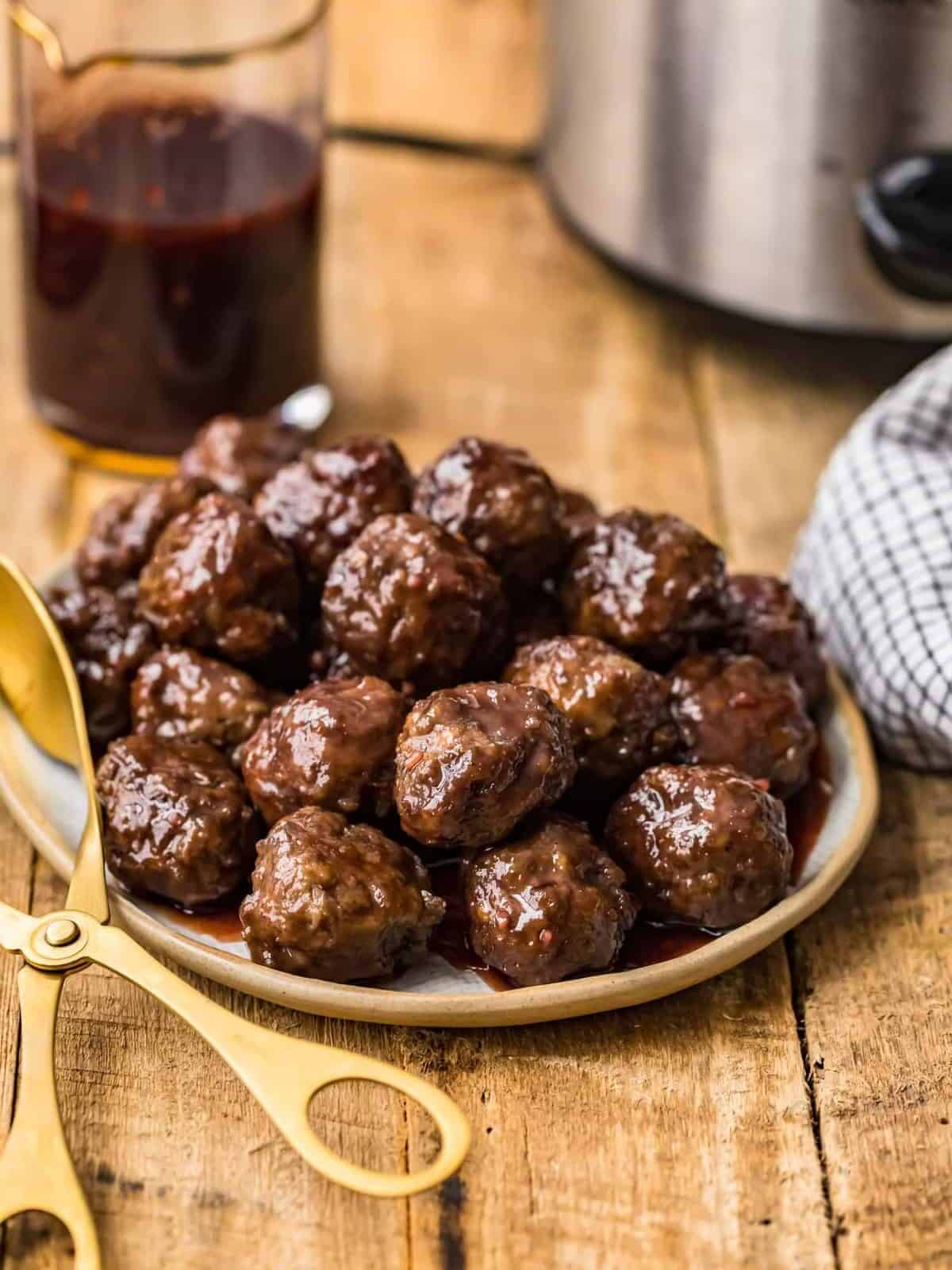 Why is grape jelly used in meatballs?
This combo may seem odd, but it's the best! The grape jelly mixes together with sweet red chili sauce, worcestershire sauce and white vinegar to create a smooth sauce that's both sweet and savory. It pairs perfectly with the meatballs.
Can I use frozen meatballs?
Yes! Just toss them into the slow cooker with the sauce, mix it all together, and cook as instructed until warmed through.
Why are my meatballs gummy?
This can happen when meatballs are too tightly packed. Avoid this by using a cookie scoop to form the meatballs, and try not to really pack the meat in there.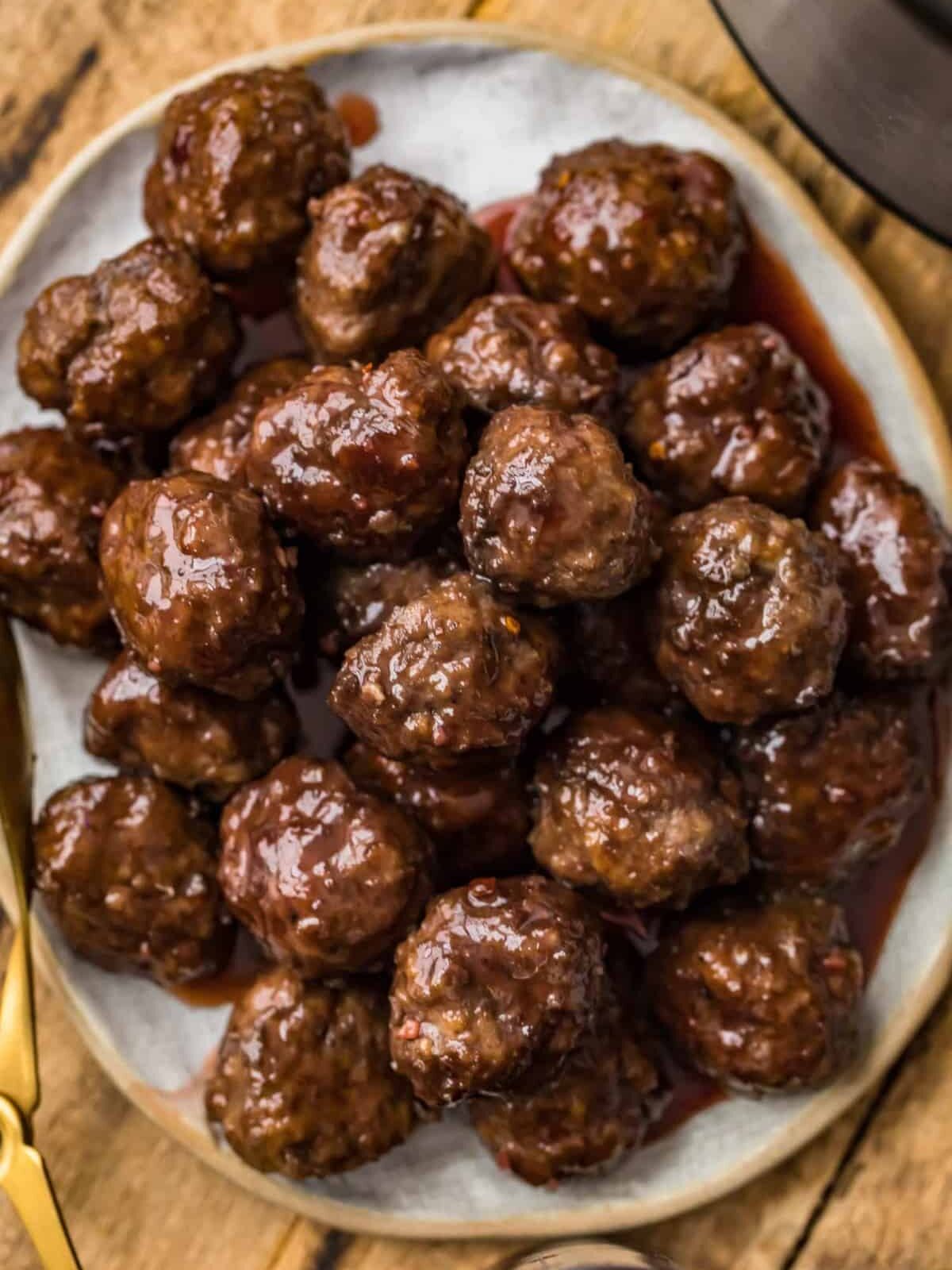 How to Store/Reheat
Once cooled to room temperature, you can store grape jelly meatballs in an airtight container in the fridge for 3-4 days. Reheat in the microwave or Crockpot until warmed through.
How to Freeze
Let the meatballs fully cool before transferring them to a freezer-safe container. Label, date, and freeze for up to 3 months.
Serving Suggestions
This is a great appetizer for the holidays and game day! I like to serve these meatballs with grape jelly on a large platter with a few forks and let everyone dig in! You can also serve each one on a cocktail stick if you prefer.
If you like, you can turn them into a full meal by serving them with rice or on a bed of sautéed vegetables.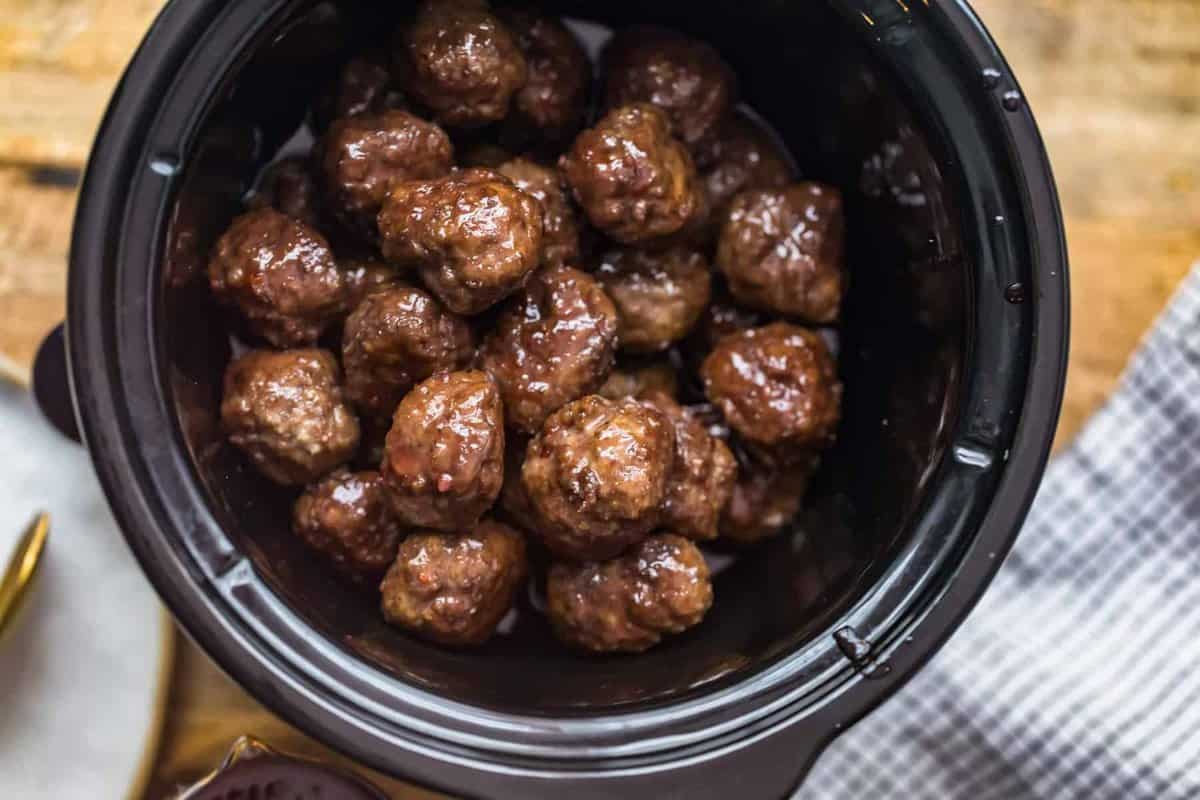 5-Star Review
"I make these every NYE. They're always a hit!" – Jen
More Game Day Appetizers We Love