This recipe will show you how to boil ground beef or chuck to use it other recipes. This is a unique way to cook the meat so it comes out in small crumbles. So easy and fail-proof!
Susie here with another 'how-to with suse' :) this little trick is a great resource when making recipes such as
Cincinnati Chili
:
Boiled Ground Beef or Chuck
One of my grandmothers taught me to cook ground beef this way for use in her chili.  The cooked meat turns out in small crumbles and perfect for use in
chili
, spaghetti sauce and Mexican recipes.
Ingredients:

Place the beef in a deep stove-top pan.
Add enough water to cover the meat.
If the meat stays in clumps, break it apart with a wooden spoon until it is in small crumbles.
Slowly bring to a boil, stirring often so the meat stays separated.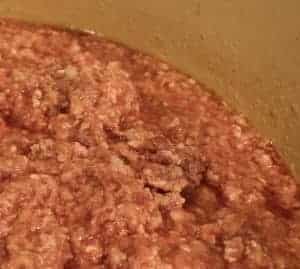 Lower the temperature, cover and simmer until the meat is brown and cooked.
Drain.


JOIN OUR MAILING LIST
TO GET COOKING!
Subscibe to recieve all the latest, greatest, and EASIEST recipes sent straight to your email inbox. If we post something yummy, you'll be the first to know.