Wondering how to cook ground beef? Frying is a popular option, but boiling ground beef is easy, quick, and it creates leaner, finer meat! Cooking ground beef with this method creates the perfect crumbled ground meat for tacos, chili, spaghetti sauce, and more.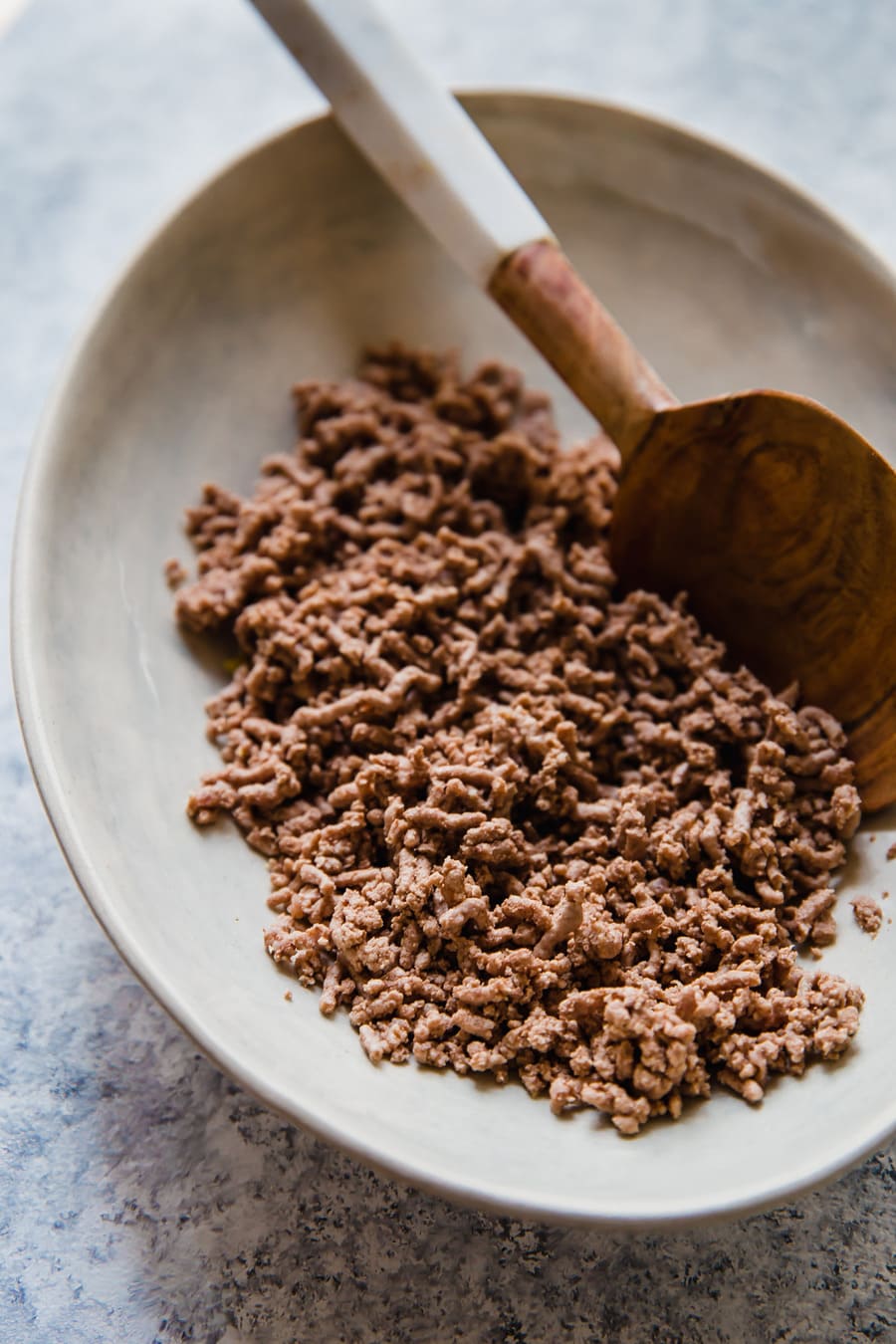 This recipe will show you how to cook ground beef or chuck to use in other ground beef recipes. Boiling ground beef is the best way to cook it so that it comes out in small, fine crumbles. Trust me, this is the secret to all those amazing tacos and pasta sauces at your favorite restaurant! It's also a healthier option, because the boiling process helps separate the fat from the meat, and it comes out quite lean.
What You'll Need to Boil Ground Beef
Grab a pound of hamburger meat and a pot, and you'll be on your way to cooking the perfect beef crumbles for any recipe you like.
Ground Beef: I like to use lean beef for most recipes, but you can use 90/10, 80/20, or any other type. This recipe is made for 1 lb of ground meat, though it works for any amount.
Water: You'll need enough to fully submerge the beef in the pan. Place the ground meat in the pot first, then pour cold/tap water over it until it's covered.
Seasonings: Use any type of seasonings or spices you like. Check below for some ideas!
Pro Tip: You can cook ground chicken or ground turkey with this stovetop recipe as well!
How to Season Ground Beef
The wonderful thing about ground beef is that it's easy to season any way you like. What works best really depends on what you're making! Try a range of spices, herbs, and seasoning blends.
If you're cooking ground beef for taco meat, then a simple taco seasoning works beautifully.
To make spaghetti, meat sauce, or another pasta recipe, add Italian seasoning.
Use burger seasoning if you want to make some burger-inspired casseroles, dips, or others dishes.
Salt and pepper is a great way to add simple flavor no matter what you're using it for.
Onion, garlic powder, red pepper flakes, and thyme are some of my other favorites for a range of dishes.
If you're cooking the beef to mix into sauces, stews, casseroles, or other recipes, you won't have to worry too much about seasoning it on its own. I actually recommend boiling ground beef without seasoning (especially if you're cooking it for meal prep), and mixing it in after draining, or as you cook it with other recipes.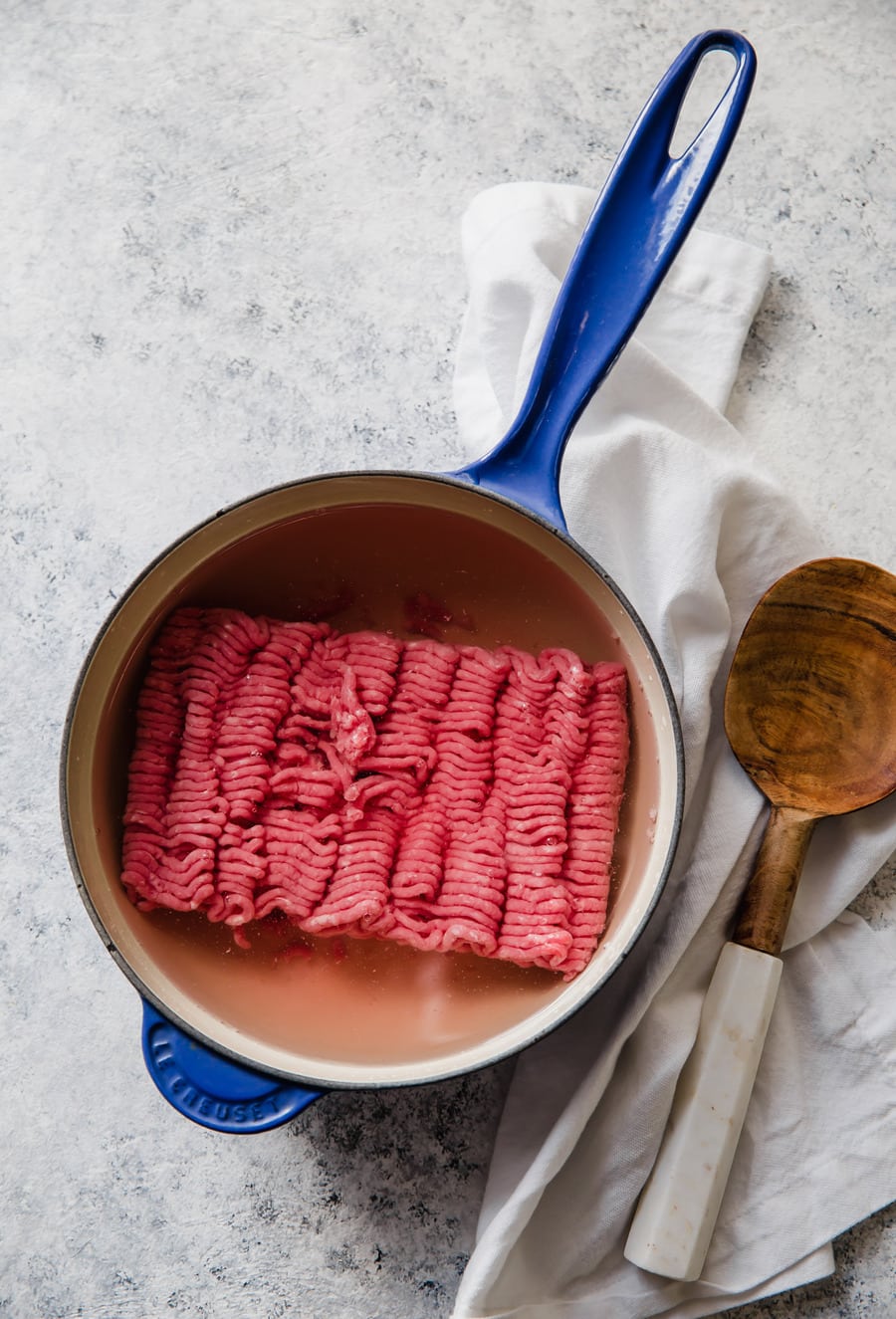 How long does it take to cook ground beef?
Once the water has come to a boil, cover the pot with a lid and let it simmer. It should only take about 15 minutes for the beef to fully cook through. The meat will turn brown when it's done, so keep an eye on it.
What's the right internal temperature to cook ground beef?
According to the USDA, ground beef, taco meat, hamburger meat, and other ground meats should be cooked to 160°F to be considered safe to eat. Use a meat thermometer to check internal meat temperatures, and check this Meat Temperature Chart for more information about the best temperatures for all types of meat.
Is it better to fry or boil ground beef?
A lot of people fry ground beef and brown it in a pan before using it in other recipes. While pan-frying works great, cooking anything in oil or butter is going to add more fat and calories. I like boiling ground beef because it comes out much leaner, and the boiling process is super easy. Cooking ground beef with this method also gives you the perfect ground meat crumbles, which is great for tacos and pasta sauces.
How do you drain ground beef?
After you've finished boiling the ground beef, you'll need to drain it. To avoid letting any fat or grease fall down the drain of your sink, set up a strainer inside of a large bowl. Pour the pot of boiled beef through the strainer, and the bowl will catch the grease. Then you can gently rinse the beef after draining if needed to help remove extra fat. Pour the grease into a sealed container and refrigerate until ready to dispose (or use it to cook with).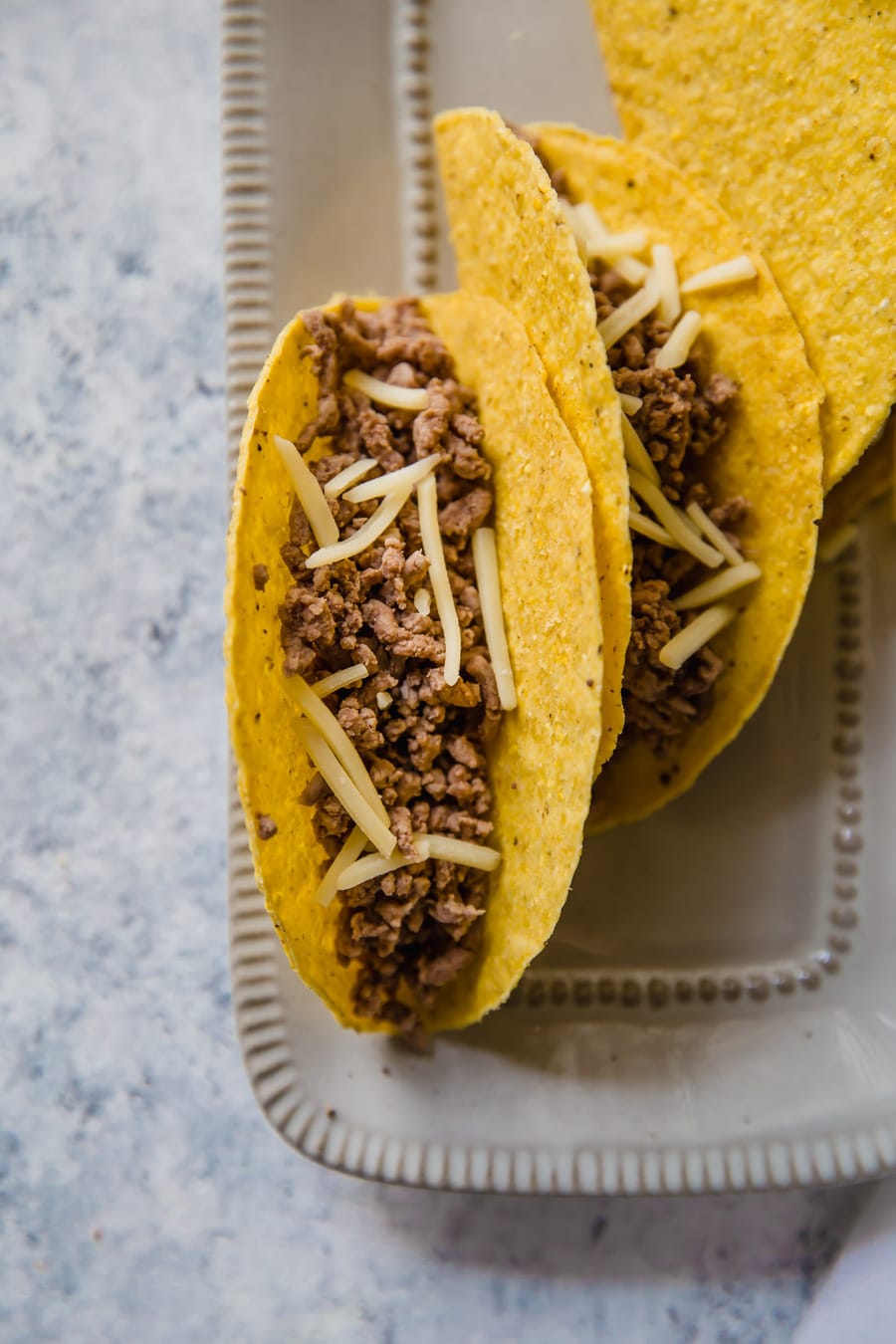 How long does cooked ground beef last?
If you're cooking ground beef ahead of time, or you just have leftovers, you can store it in the refrigerator or the freezer. Let it cool to room temperature, then store it in an airtight container. Boiled ground beef will last in the refrigerator for 3-4 days. It will last in the freezer for 2-3 months. Thaw it before using.
What can I make with this ground beef?
Once you learn how to cook ground beef, you're going to want to start using it in everything. Use it to make ground beef tacos, stuffed peppers, tacos in a bag, spaghetti with meat sauce, beef nachos, Cincinnati chili, chili mac, beef bolognese, cheeseburger dip, and beef taquitos. For healthier meals, make these Mexican zucchini boats or this egg roll in a bowl (just sub beef for turkey).
So if you find you have some hamburger meat sitting in the refrigerator or freezer, grab it, boil it, and save it! This is such an easy meal prep idea. Keep it in your fridge for the week, and use it with other recipes as needed!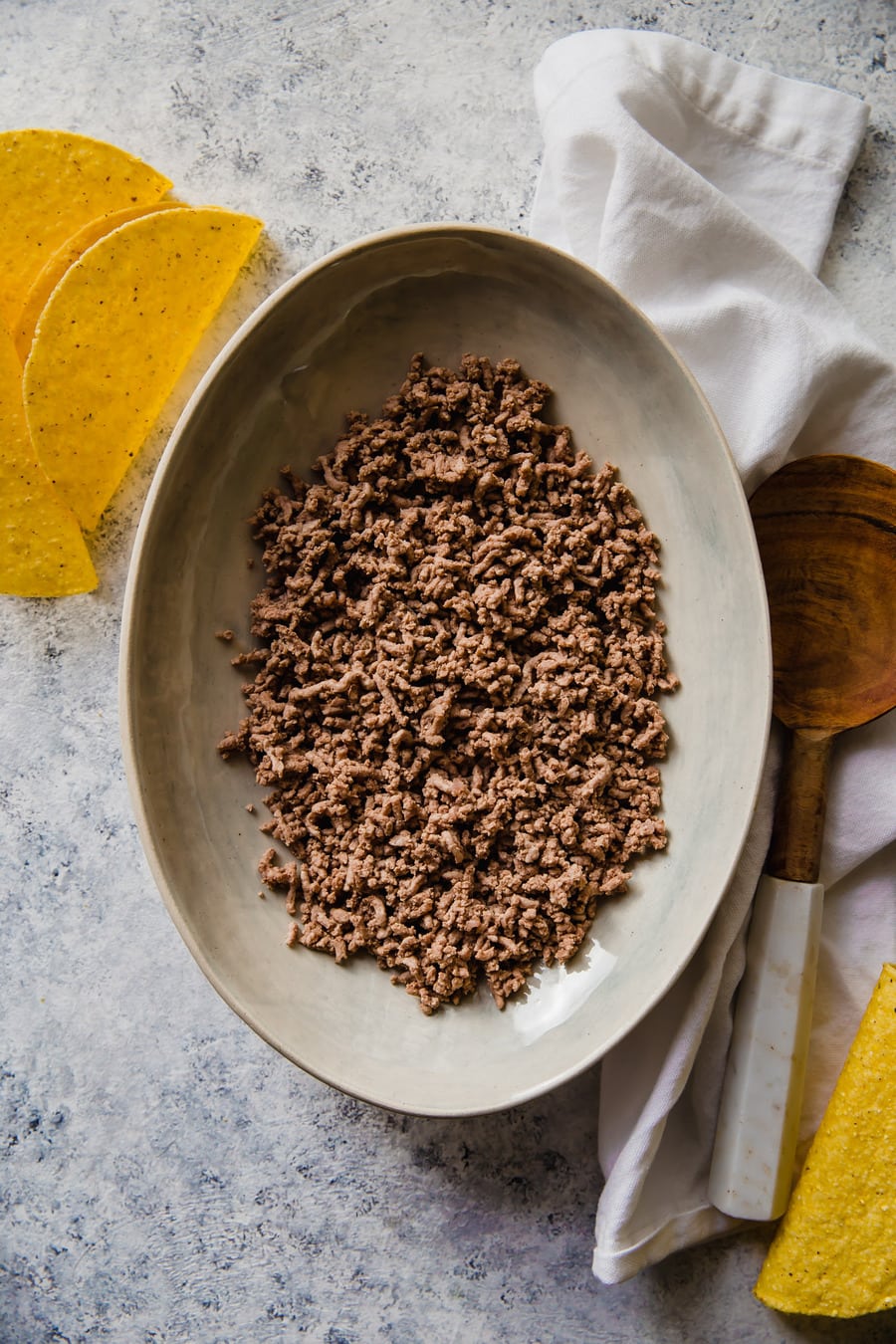 Learn How to Cook!