These homemade Mozzarella Sticks are filled with stringy cheese and deep-fried to crispy perfection! Every bite of these is bursting with comforting flavor, especially when dipped in marinara. Fried cheese sticks are the best appetizer for game day or any day, and the kids will eat them right up!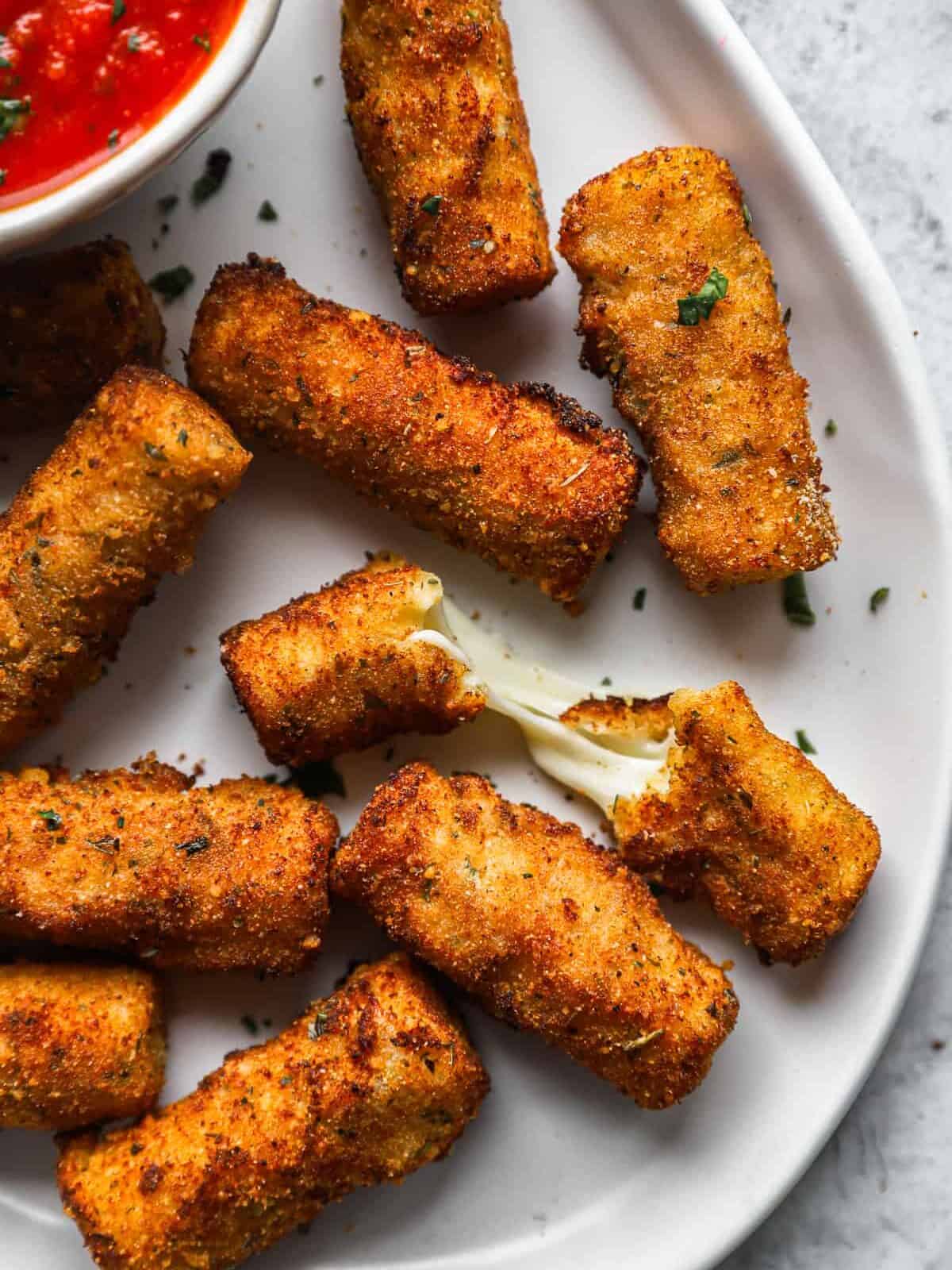 What's in this Fried Mozzarella Sticks Recipe?
Gooey, melty mozzarella cheese wrapped in a crispy, crunchy breading is the ultimate appetizer!
String Cheese: String cheese sticks are perfectly shaped and portioned for making mozzarella sticks.
Italian Breadcrumbs: Add that classic Italian flavor and a crispy, crunchy texture.
Parmesan Cheese: Adds a bit of salty umami flavor and even more crunch.
Spices: Kosher salt, onion powder, and garlic powder enhance the flavor of the breading.
All-Purpose Flour: Helps the egg stick.
Eggs: Helps secure the breading to the mozzarella cheese.
Vegetable Oil: The perfect high smoke point neutral oil for frying mozzarella sticks.
Pro Tip: Serve your mozzarella cheese sticks with my homemade marinara sauce!
Variations on Homemade Mozzarella Sticks
Try some of these fun spins on classic fried mozzarella sticks:
Spicy: Add a pinch of cayenne pepper or red pepper flakes to the breadcrumb mixture for some heat. You can also serve them with a spicy dipping sauce.
Pesto: Mix some pesto into the egg mixture for a burst of flavor. You can also sprinkle some chopped fresh basil over the finished sticks before serving.
Buffalo: Add a few dashes of Buffalo sauce to the egg mixture and replace the marinara sauce with blue cheese dressing for dipping.
Mexican-Style: Add a teaspoon of chili powder and a pinch of cumin to the breadcrumb mixture. Serve the sticks with restaurant-style salsa instead of marinara sauce.
Caprese: Roll the sticks in chopped fresh tomatoes and basil before rolling them in the breadcrumb mixture. Serve with a drizzle of balsamic glaze.
Bacon-Wrapped: Wrap each cheese stick with a slice of bacon before breading and frying. Serve with a creamy ranch dipping sauce.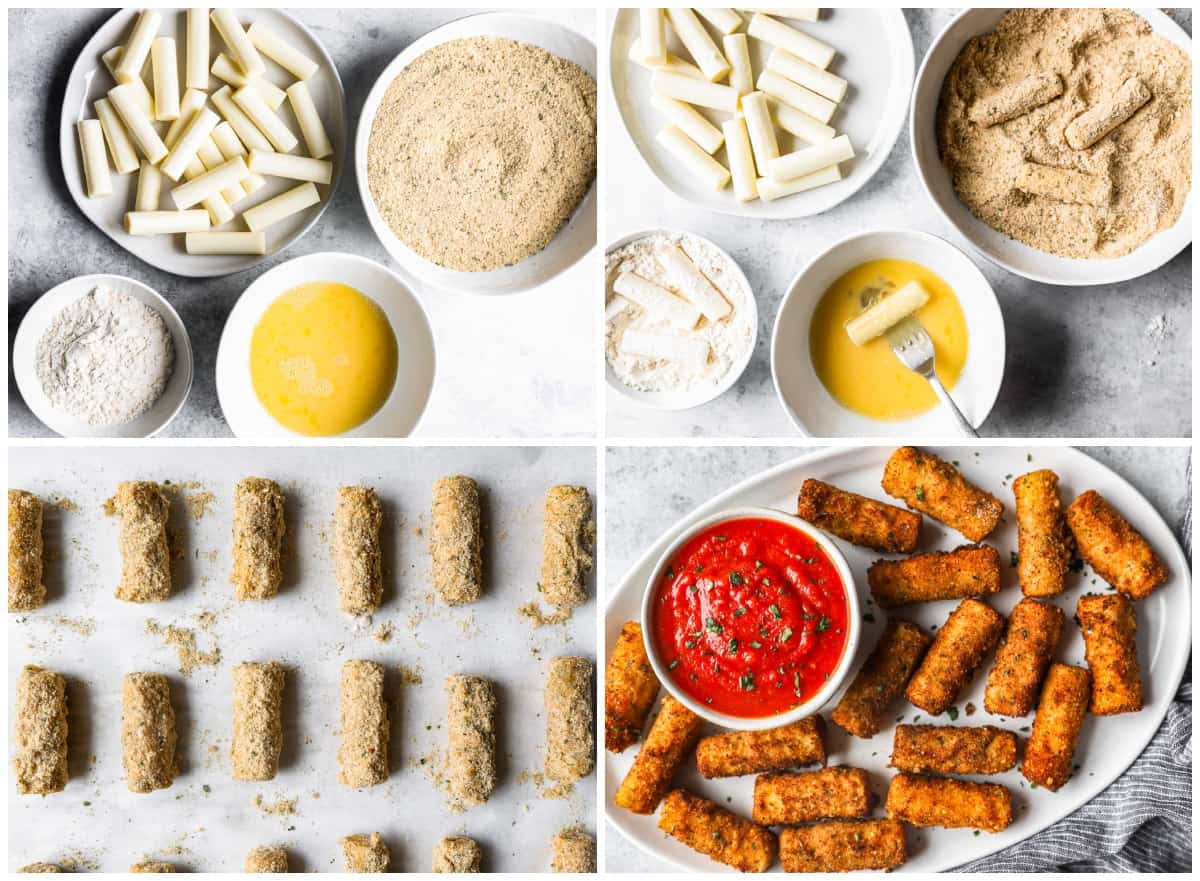 What type of cheese is used in mozzarella sticks?
Mozzarella sticks are made with low-moisture mozzarella cheese. This type of cheese has a lower water content, which helps it maintain its shape when it's breaded and fried.
Can I bake these instead?
Yes, you can bake mozzarella sticks instead of frying them. In fact, I have a great recipe for baked mozzarella sticks.
How do I prevent the cheese from leaking out?
To prevent the cheese from leaking out of the mozzarella sticks, it's important to freeze them for at least 20-30 minutes before frying. This helps the cheese stay firm and keeps it from oozing out during frying.
Can I make mozzarella sticks ahead of time?
Yes, you can make mozzarella sticks ahead of time and store them in the freezer until you're ready to fry them. Simply place the breaded sticks on a lined baking sheet and freeze them for at least 1-2 hours before transferring them to an airtight container or resealable freezer bag.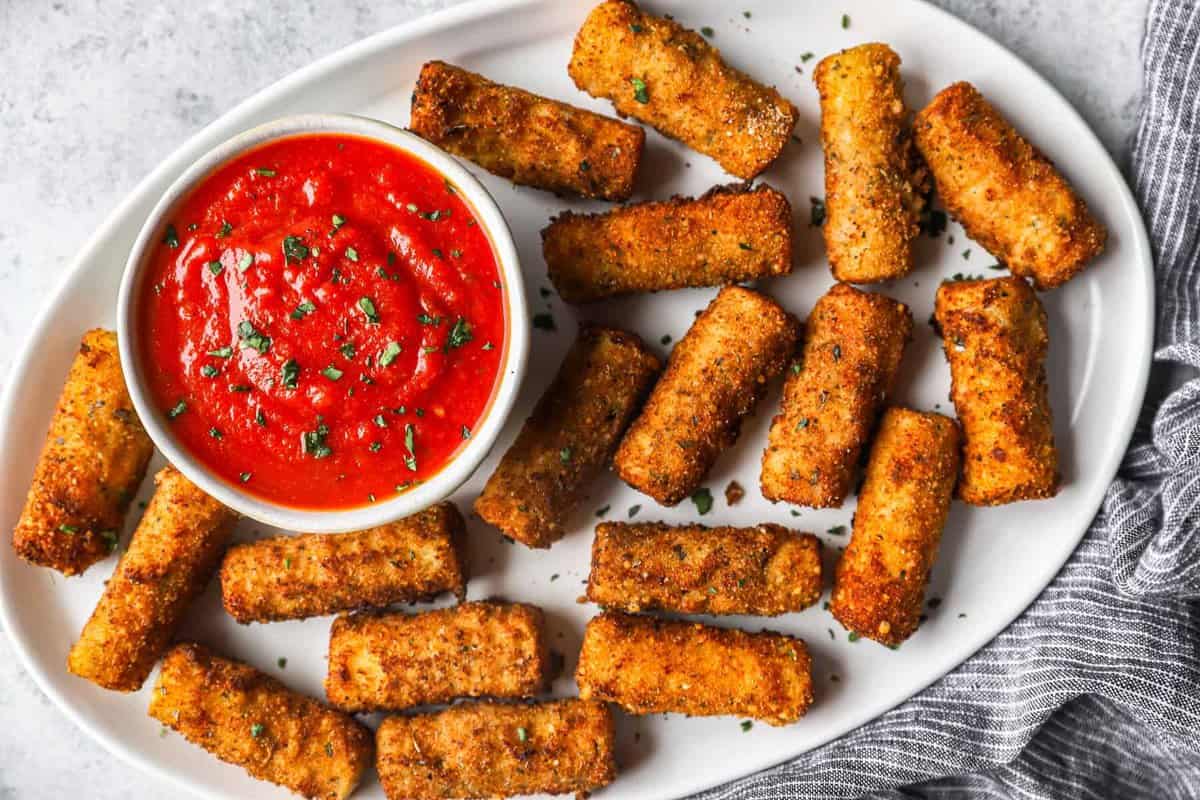 How to Store and Reheat
Store leftover fried mozzarella sticks in an airtight container in the refrigerator for up to 4 days.
Reheat in a 350°F oven on a lined baking sheet for 5-7 minutes, or until warmed through. You can also reheat them in the microwave for 30-60 seconds, but they will not be as crispy.
How to Freeze
Freeze homemade mozzarella sticks in a single layer on a lined baking sheet until solid, about 1-2 hours. Transfer to an airtight container or Ziplock bag to store for up to 3 months. Reheat directly from frozen, adding an extra 2-3 minutes to the final bake time.
Serving Suggestions
The classic dipping sauce for mozzarella sticks is marinara sauce. You can also serve them with pesto or balsamic glaze. Some other sauces that pair well with these cheese sticks include ranch dressing or honey mustard.
Enjoy your fried cheese sticks with other dippable appetizers and game day finger foods, like baked turkey meatballs, pepperoni pizza rolls, garlic parmesan pasta chips, toasted ravioli, or french bread pizza bites.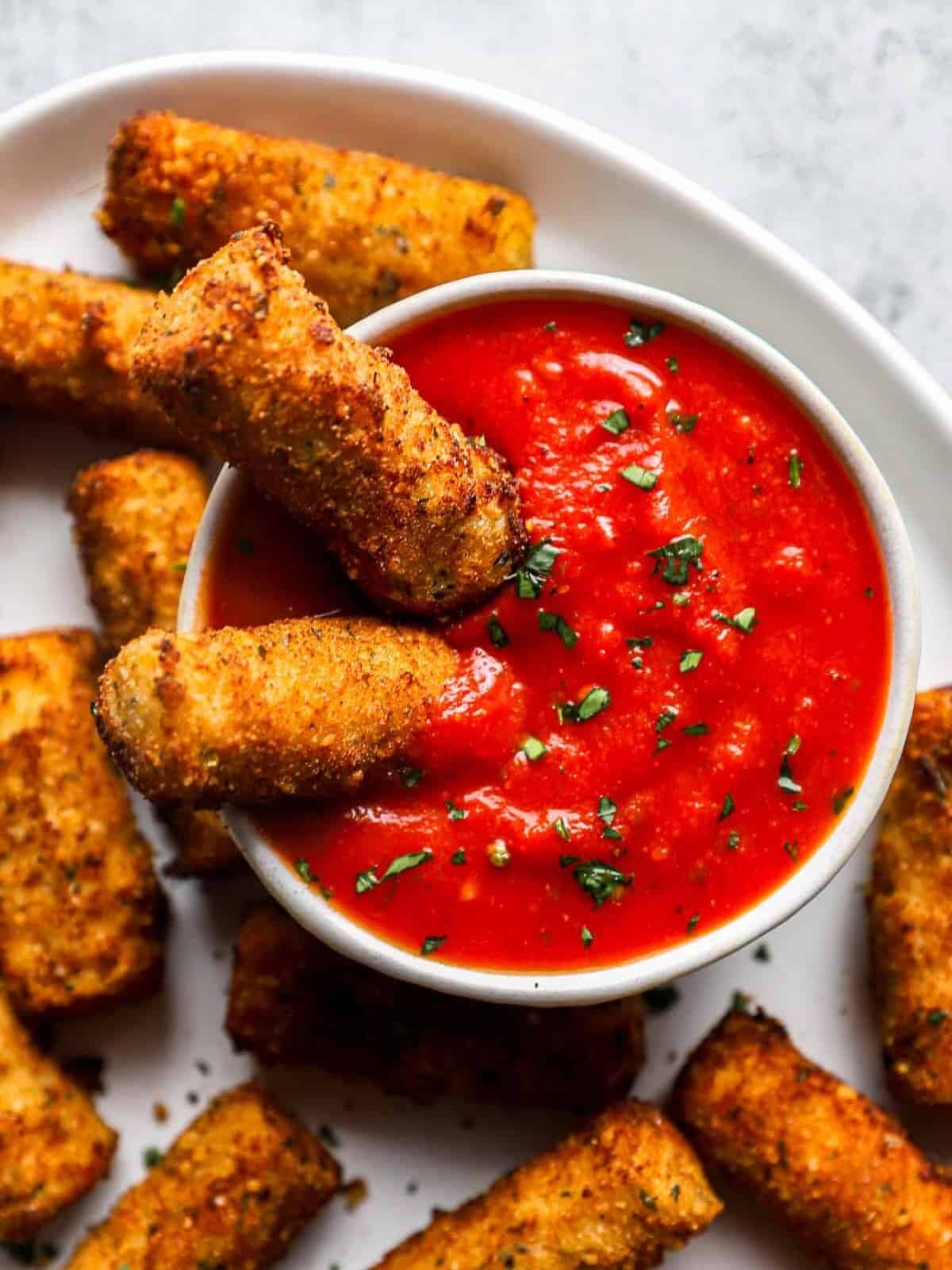 More Cheesy Fried Appetizers We Love