These HALFWAY TO HEAVEN BARS are the ultimate holiday dessert! Baking amazing cookie bars has never been easier or more delicious. The perfect Christmas dessert!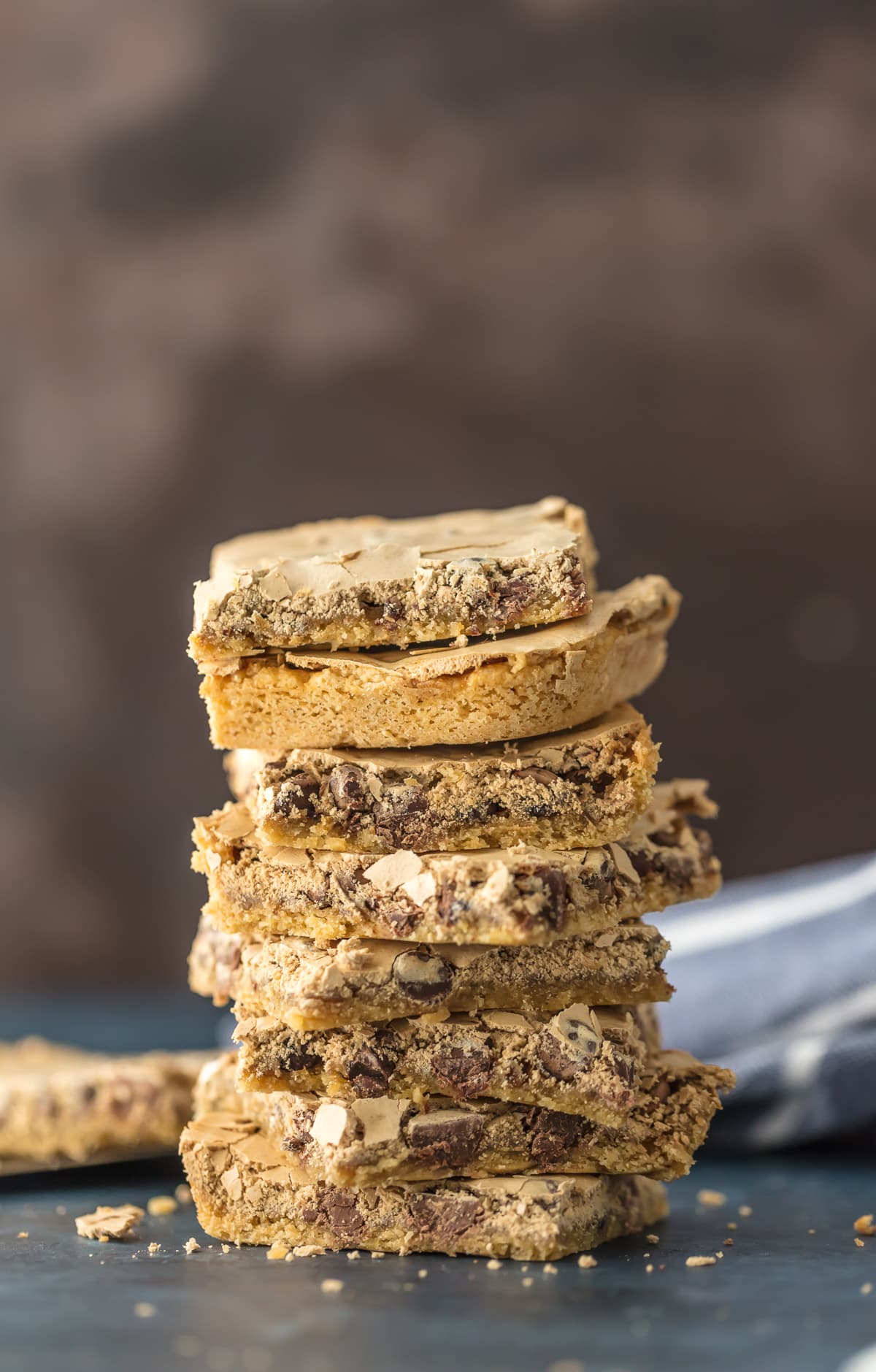 I've been saving the best of the week to post on FRIYAY!!! These Halfway to Heaven Bars are all I need in this world. They are SO delicious, just the right amount of soft and chewy, and absolutely addicting. They're super simple, just a thin layer of chocolate chip cookie topped with brown sugar meringue, but they're a total delight. Heavenly even, hence their name. This is my mom's recipe, so THANK YOU MOM! You have passed down many great things to me. Your sense of humor, your wacky ways, and your organizational skills (just kidding, I totally didn't inherit that), but these Halfway to Heaven Bars might be the best thing I have gotten from you. MMM!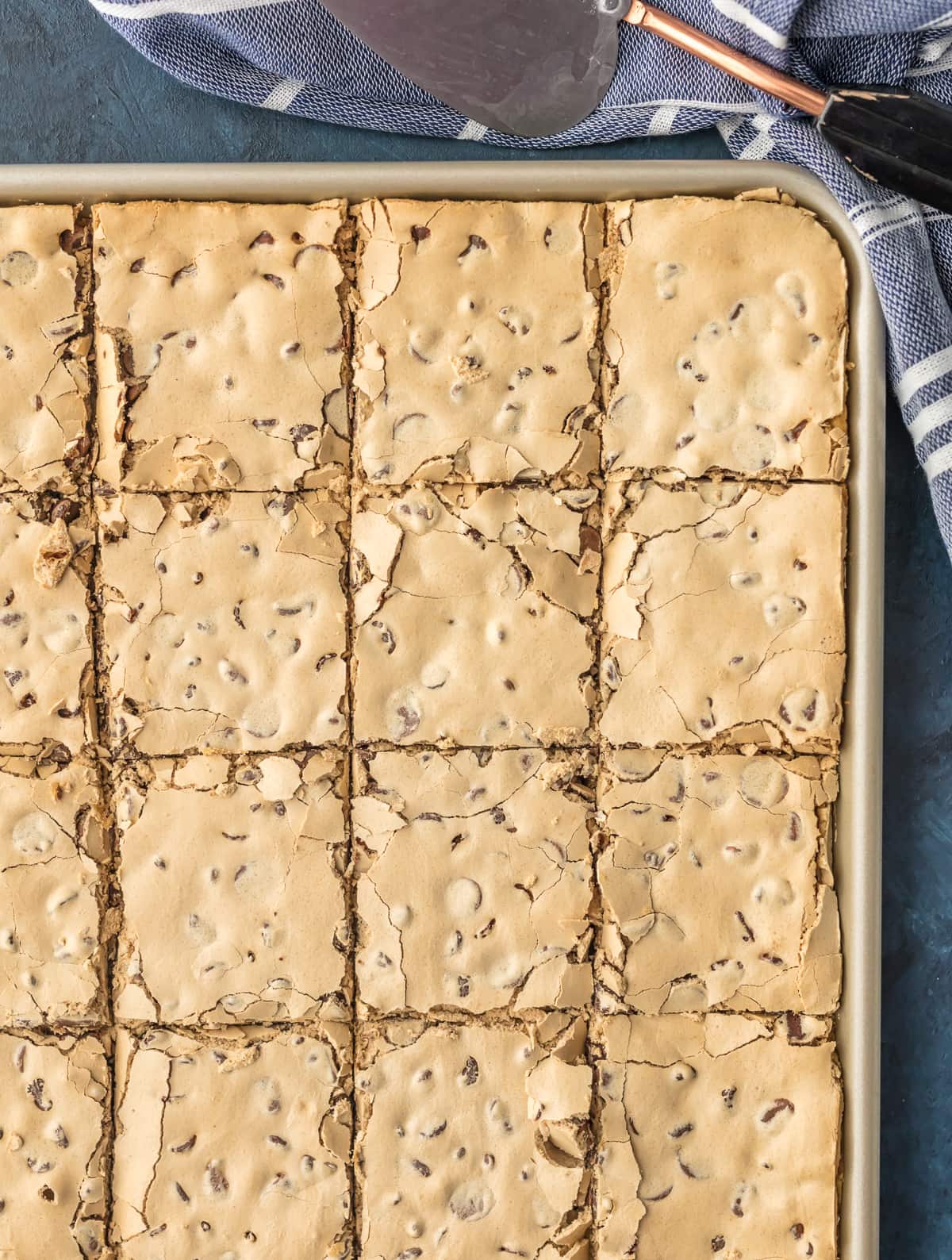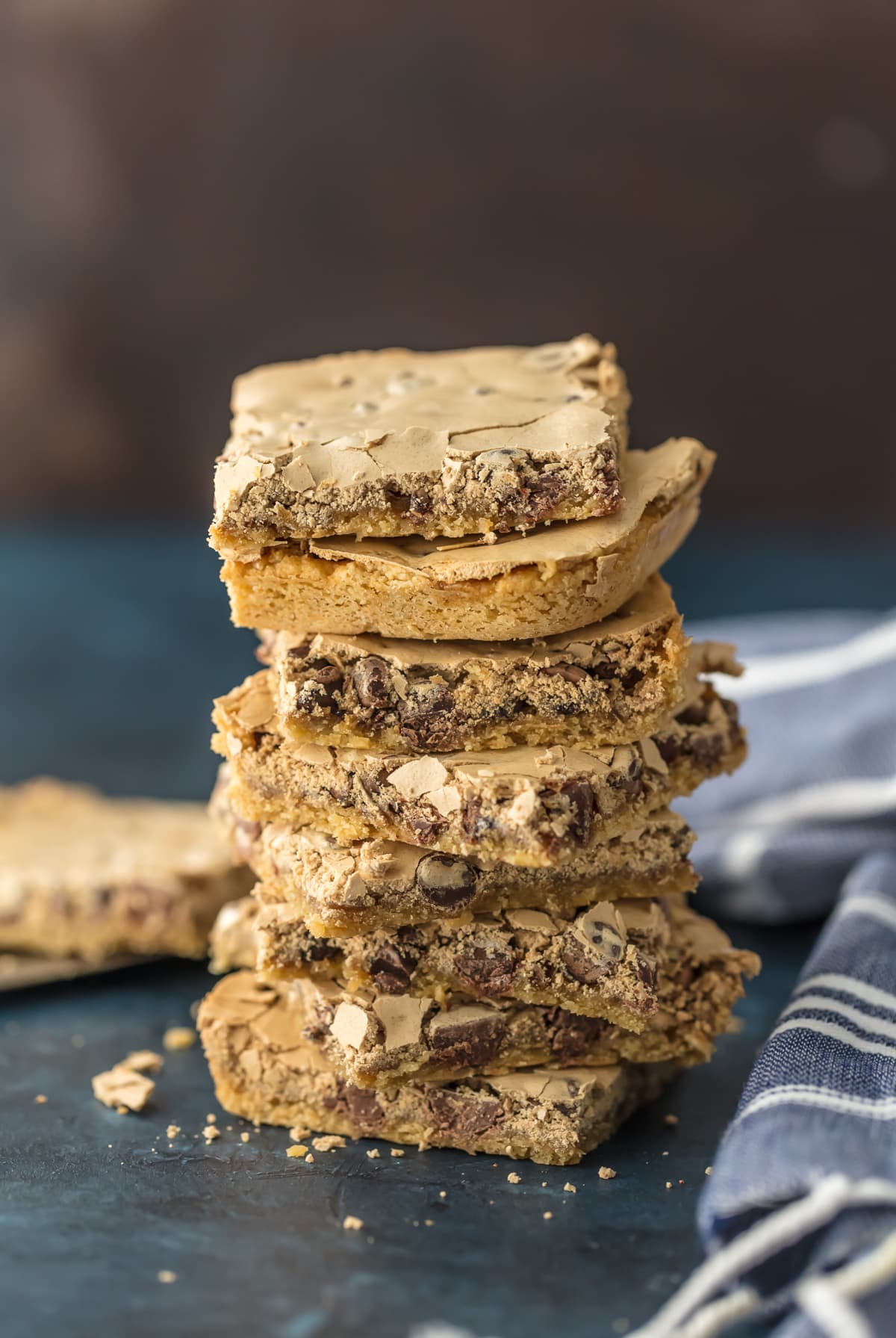 When I used to live in Florida and would come home for Christmas, I would hope and pray these would be on the menu for the holidays. Mom would never disappoint. She makes SO MANY BAKED GOODS for Christmas, my brother and I always make fun of her. But I mean, it's also amazing and I wouldn't have it any other way. I mean just look at these amazing cookie bars!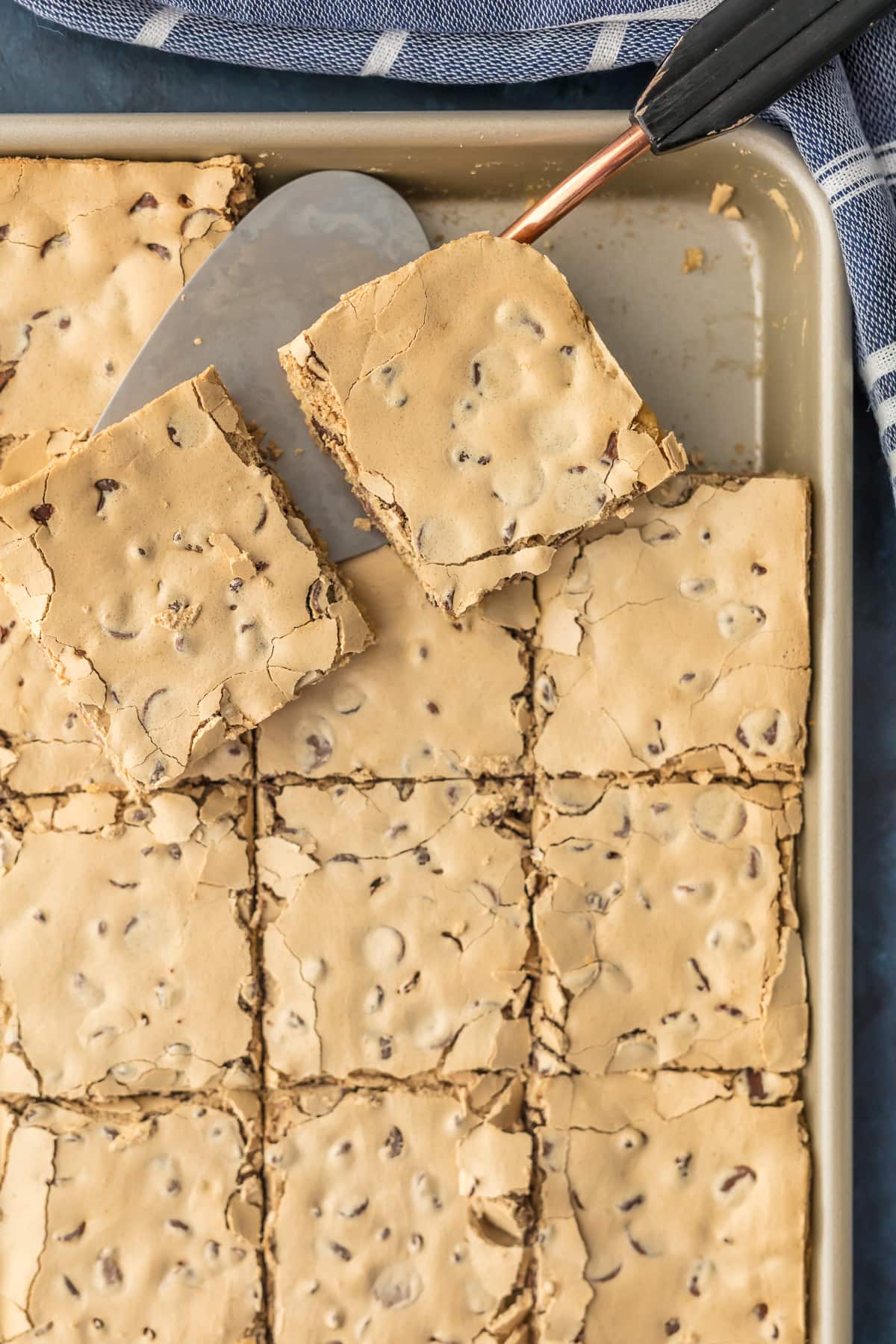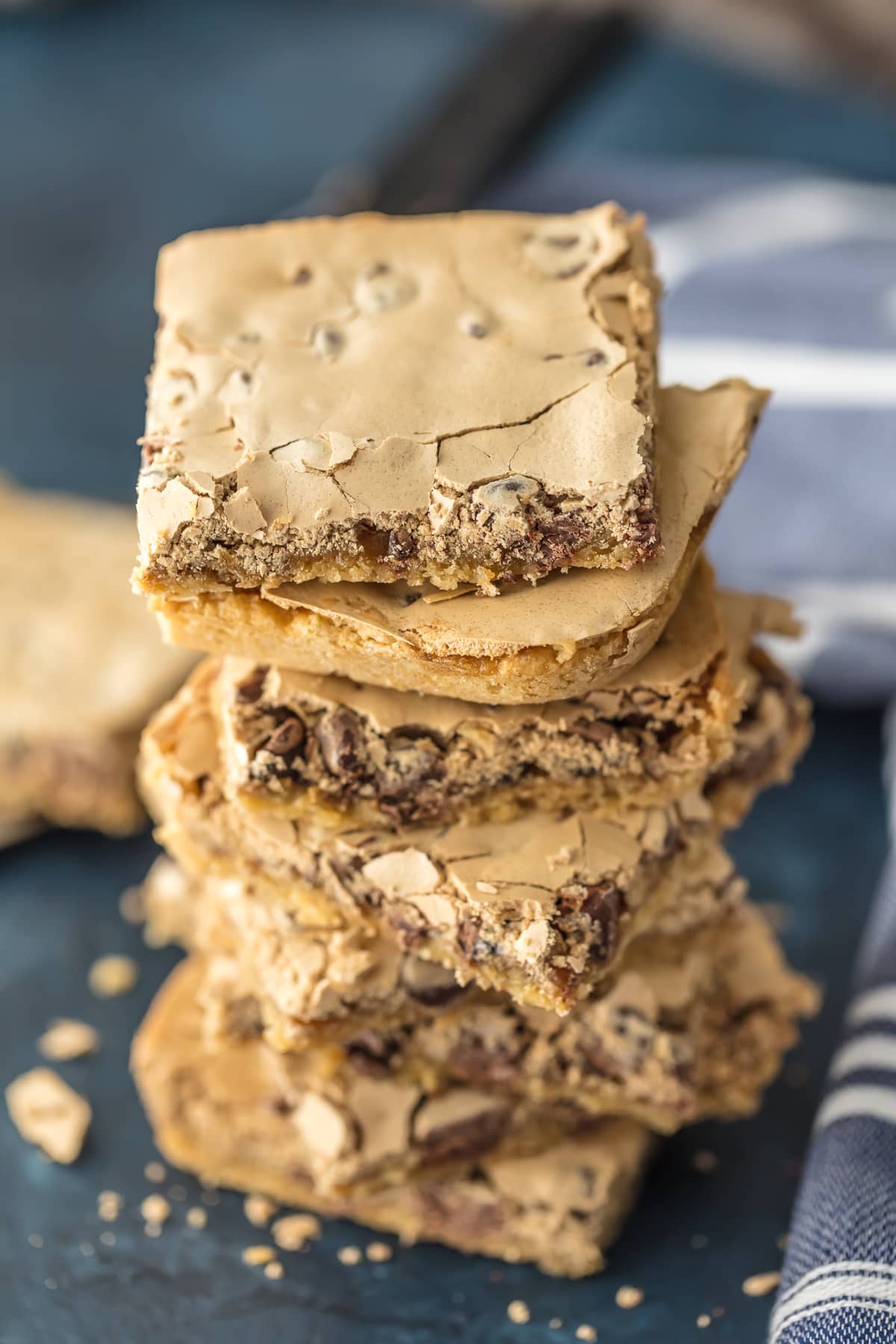 I cut these Halfway to Heaven Bars much larger than they need to be, because I shamelessly thought they photographed better that way. A little goes a long way with these babes, so even a small cookie does the trick. This recipe makes a large amount because you can cut them pretty small, win win! Take some to work, save some for Christmas, hide some away from your kids…you get the idea.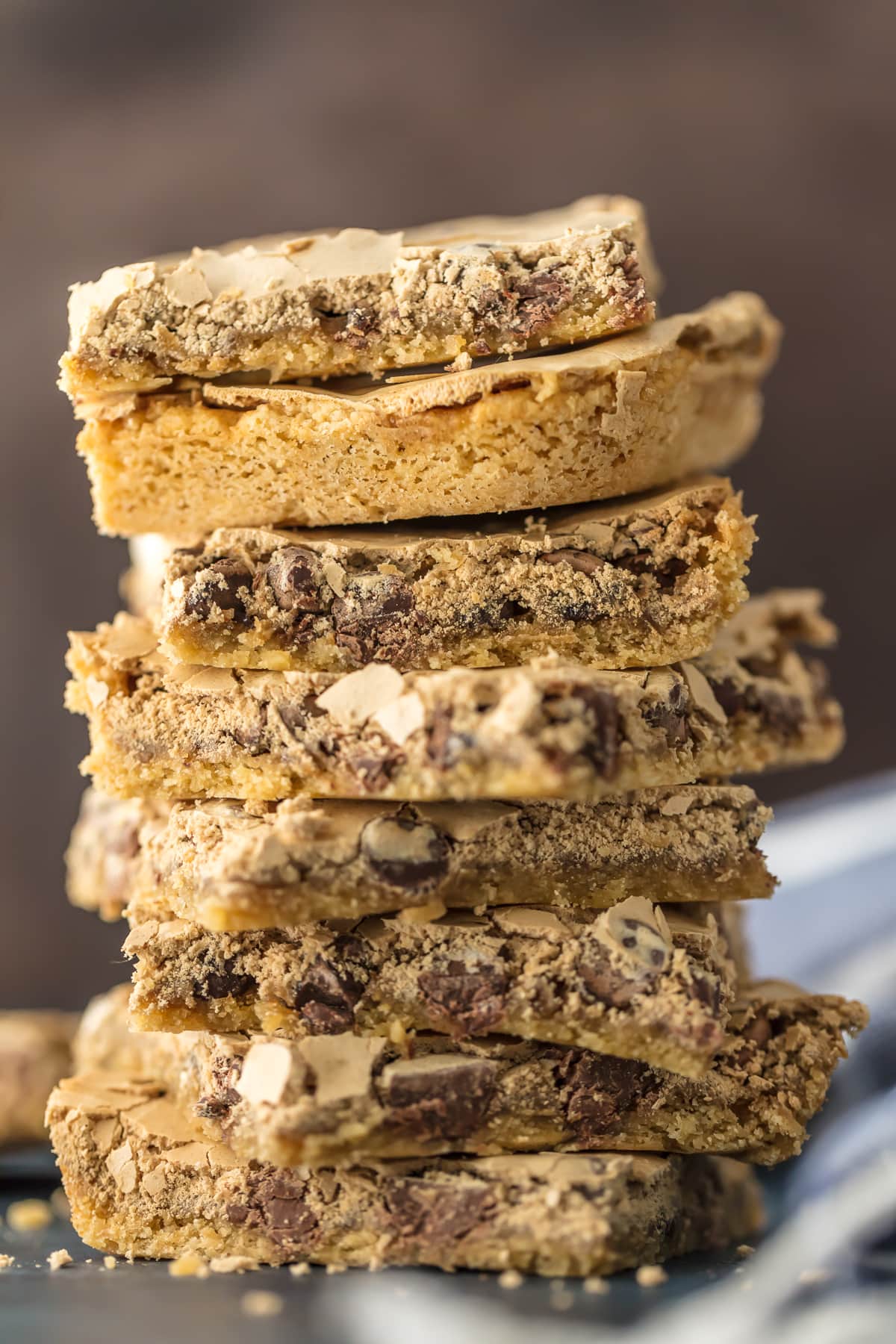 Enjoy! (Thanks Mom :)
Ingredients
For the crust layer:

½ cup (1 stick) butter, unsalted
½ cup granulated sugar
½ cup brown sugar
2 egg yolks
1 tablespoon water
1 teaspoon vanilla extract
2 cups flour
¼ teaspoon salt
¼ teaspoon baking soda
1 teaspoon baking powder
1 (12 oz) package chocolate chips (½ semi-sweet and ½ milk chocolate works well)

For the meringue layer:

2 egg whites
1 cup brown sugar, dark or light
Instructions
Preheat oven to 350 degrees F. Lightly coat a 9x13 jelly roll pan with non-stick spray.
For the crust layer:
In the bowl of a stand mixer, mix together butter, granulated sugar and ½ cup brown sugar until lighter in color and creamy. Add egg yolks, water and vanilla, and beat until well incorporated.
In a separate bowl, combine flour, salt, baking soda and baking powder. Add to butter mixture and mix just until incorporated. Pat dough into prepared pan.
Sprinkle bottom layer evenly with chocolate chips then slightly press the chips into the dough layer.

For the meringue layer:

In a clean mixer bowl, beat egg whites on HIGH until they are almost stiff. With mixer still on HIGH, carefully and gradually add the brown sugar and beat until egg whites are stiff.
Spread mixture over top of chocolate chips.
Bake the bars at 350F, for 25-30 minutes, or until top has darkened slightly and meringue is set and cooked.
Remove from oven and place on a cooling rack. Cool completely, then cut and serve.
Enjoy!
Notes
*Cookies will keep in an airtight container up to 5 days. Freezing is not recommended.
7.6.4
2335
https://www.thecookierookie.com/halfway-heaven-bars/

JOIN OUR MAILING LIST
TO GET COOKING!
Subscibe to recieve all the latest, greatest, and EASIEST recipes sent straight to your email inbox. If we post something yummy, you'll be the first to know.