back before i was a bonafide chef (jk)…i would literally keep NOTHING in my pantry.  when friends and family would come to visit…they were lucky if i'd go stock up on the essentials, such as cheetos and soft batch cookies.  oh and frozen pizza.  (mama lucia anyone?!) but two things i would always have in stock were saltines…and chocolate chips.  both are wonderful snacks for poor and lazy anti-cooks.  saltines are also awesome if you ever need to entertain guests by seeing who can eat 6 saltines in one minute! (spoiler alert…YOU CAN'T.  scout even tried) ANYWAY…point being that most people already have these ingredients.  even people like me.  this dessert is more up my alley than those delicious apple dumplings (although i've learned how simple a recipe like that really can be…and how impressive)…and are an awesome snack.  it makes getting through the work day that much easier knowing these are waiting for me!!
these chocolate toffee crackers are perfect for any party, any get-together, or just for snacking while watching the real housewives.  these are your new go-to dessert!
this recipe is as simple as laying out your crackers, boiling the brown sugar and butter, laying on the chocolate chips, and then spreading it all together.  let cool and keep in the fridge.  they'll keep for at least 2-3 weeks.  they taste especially good cold. delish!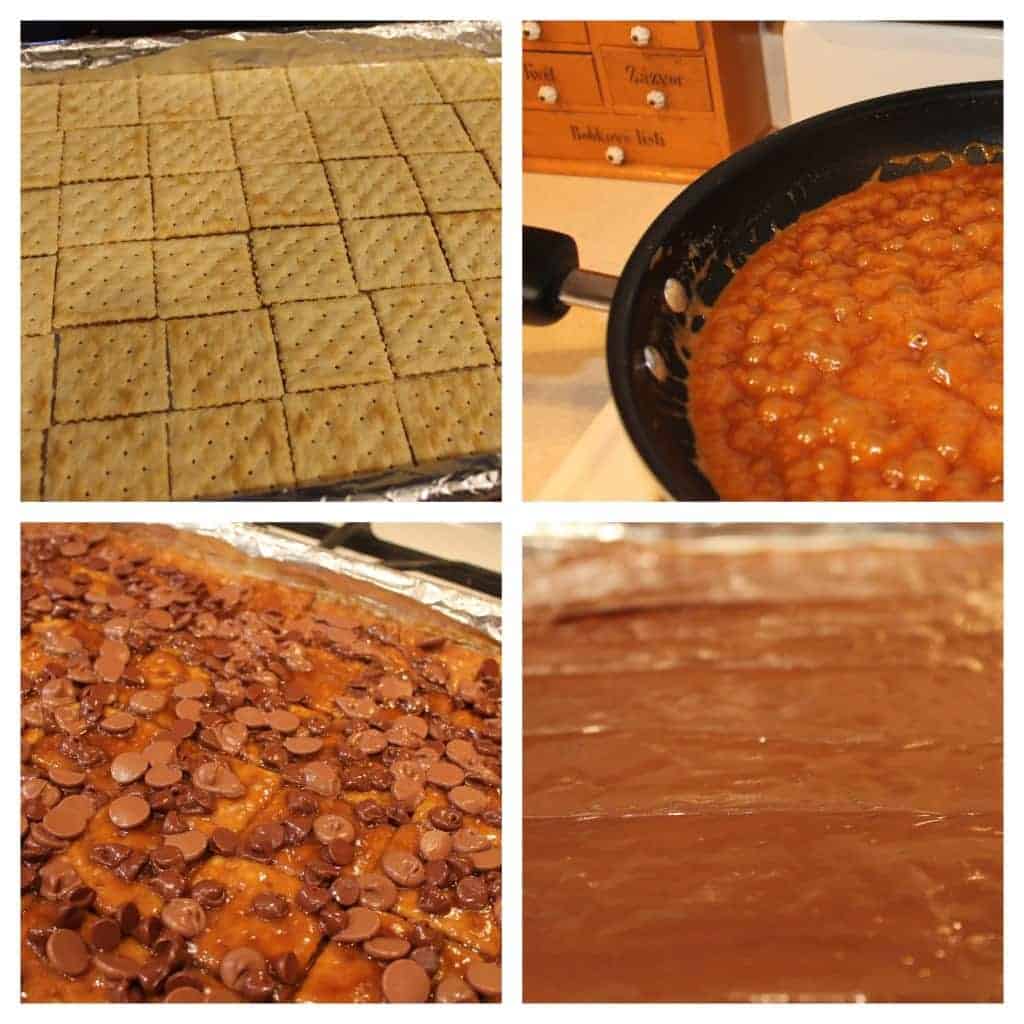 um my mouth is watering.  i'm going to have to make these again this weekend!!!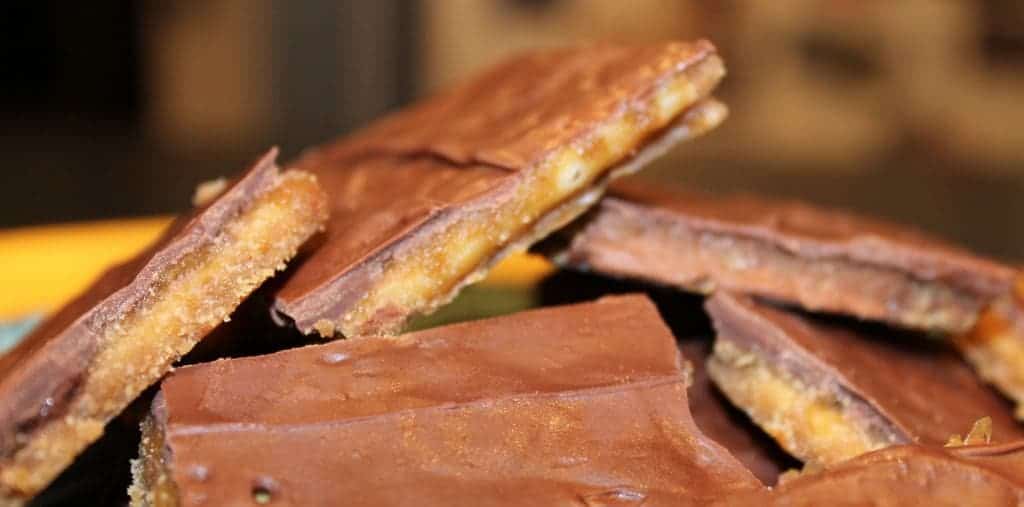 Ingredients
1 - 1 1/2 sleeves saltine crackers
2 sticks (1 c) butter
1 c. dark brown sugar
6 oz. semi-sweet chocolate chips
6 oz. milk chocolate chips
Instructions
Preheat the oven to 400 degrees.
Line a cookie sheet with heavy-duty aluminum foil and spray with cooking spray.
Lay the crackers (salt-side down) in a single layer until the sheet is covered.
Melt the butter in a non-stick stove-top pan.
Add the brown sugar and bring to a rolling boil.
Boil for 4-5 minutes until lighter in color of bubbly.
Pour carefully over the crackers.
Bake at 400 for 5 minutes.
Cool the crackers for 1-2 minutes then sprinkle the chocolate chips on top.
Let sit for a few minutes until the chocolate melts (you might need to put the pan in the oven for 30 seconds or so to warm the chocolate chips).
Carefully spread the chocolate over the crackers until smooth and covers every cracker.
Let cool to room temperature, then cool in the refrigerator until cold.
Break the crackers apart and...ENJOY!!
These keep in the refrigerator for at least 2-3 weeks. Keep in an airtight container.
7.6.4
2157
https://www.thecookierookie.com/chocolate-toffee-crackers/


JOIN OUR MAILING LIST
TO GET COOKING!
Subscibe to recieve all the latest, greatest, and EASIEST recipes sent straight to your email inbox. If we post something yummy, you'll be the first to know.