Spiced Rum is the perfect drink to make for the holidays! This Homemade Rum Recipe is so easy to make and it will blow you a way with its flavor. So much tastier than buying in store. Of all the Spiced Rum Recipes out there, I promise this is the best. Learn how to make rum for an awesome DIY Christmas gift or a great cost saving recipe to make for yourself any time of year!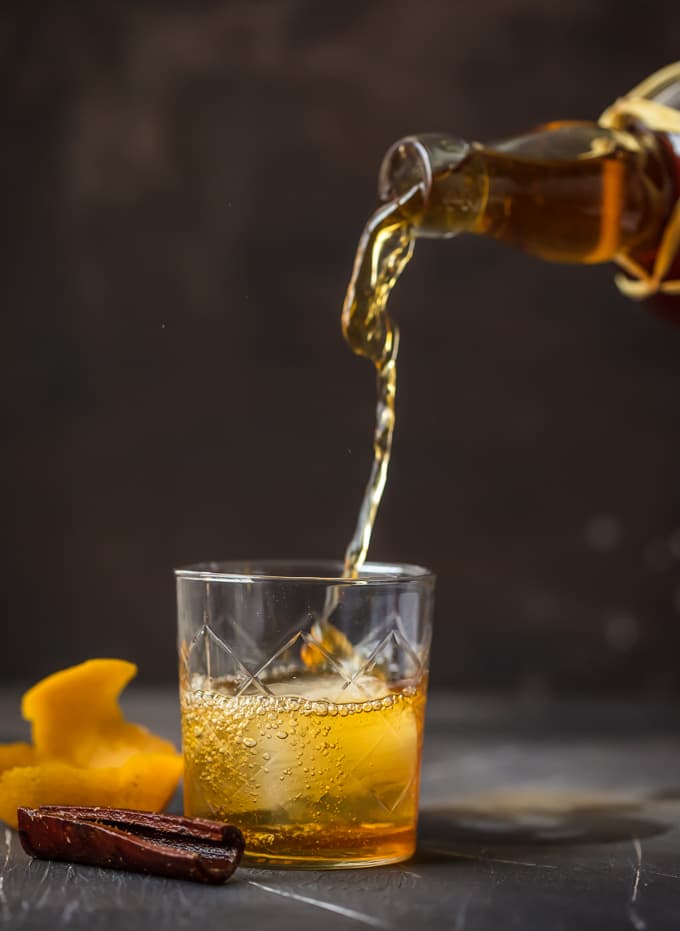 Spiced Rum Recipe
Looking for the BEST Spiced Rum Recipe? This Homemade Rum Recipe is such an easy and fun way to stock your liquor cabinet.
How silly am I that I didn't realize you could make Homemade Spiced Rum right in the comfort of your own kitchen? My mind is BLOWN! I'm walking around having people call me Captain Morgan after perfecting this fun and festive recipe–the BEST Spiced Rum Recipes. It's perfect for a cozy night at home in front of the fire or even perfect for homemade Christmas gifts.
Skip the white elephant gifts and make this spiced rum recipe instead! Sip it on its own or drink it with a splash of coke, or go really crazy and use it in Eggnog! Or make a rum cake with it! You can't go wrong…except for not trying it in the first place!
The Best Spiced Rum Recipes are made at home! Try this Homemade Rum Recipe and see for yourself.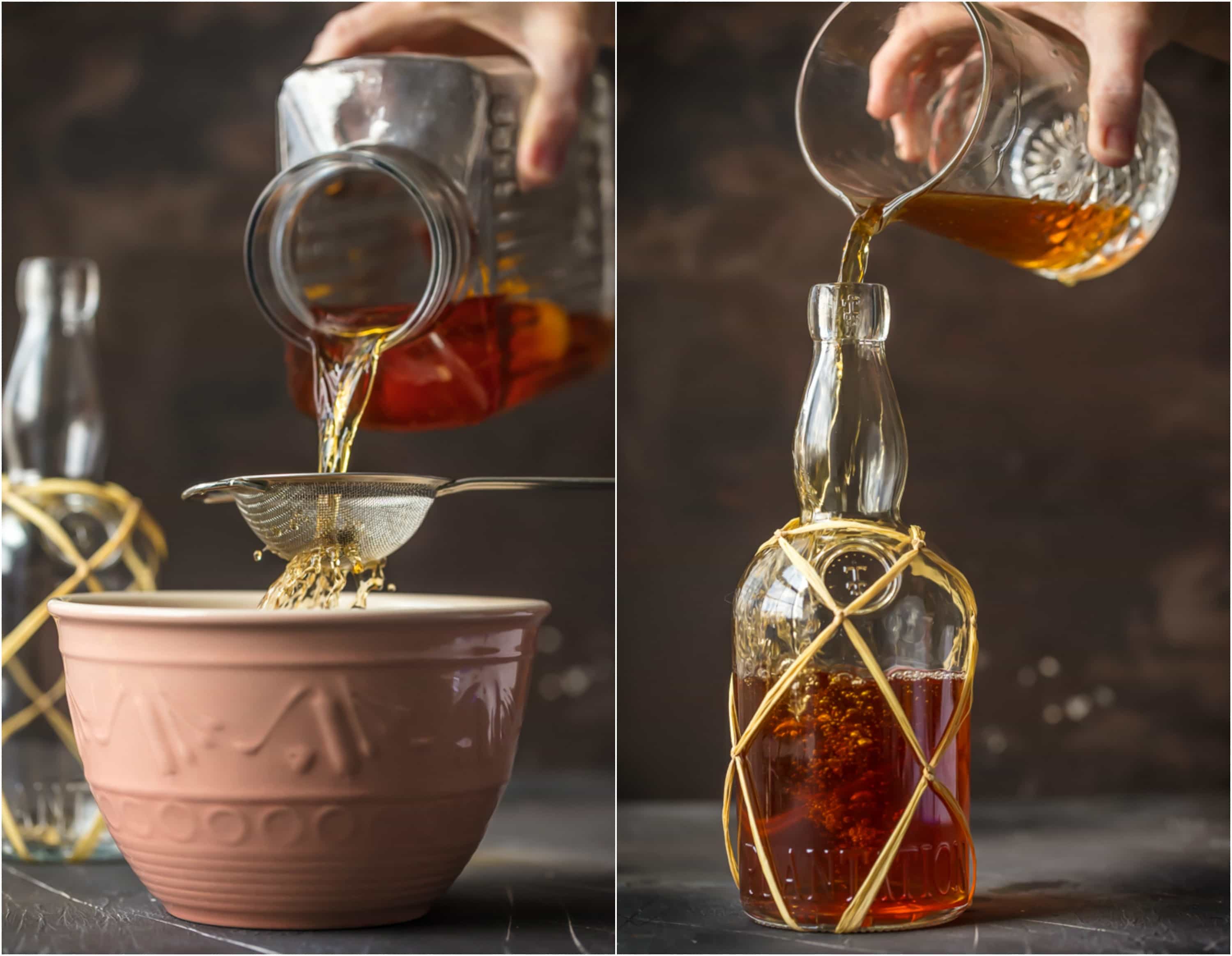 Homemade Rum – Easy Gift Idea
This Homemade Spiced Rum Recipe is the perfect gift, and it feels a little more special than something store-bought. Find the most fun bottle you can at the store to use as the base for the best spiced rum recipe, and then fill it back up with your homemade rum. You want your gifts to have a little flair don't you?
I love this bottle Mom had at home that was just perfect for our self brewing needs. All we needed were some spices and orange peel and we were in business. Maybe I should sell this goodness! It's like gold.
What is Spiced Rum
Once traditional white rum is distilled, spices and molasses are added and then the rum is aged in oak barrels. You can buy spiced rum from brands like Captain Morgan, but even better you can make it at home! It's so easy (and makes a great Christmas gift!). Other brands of rum include Sailor Jerry, Chairman's Reserve, and The Kraken.
What is the Difference between rum and spiced rum?
Light rum is white or clear and typically is called silver rum. Dark rum is aged longer and spiced rum typically has additives like caramel, orange peel, brown sugar, vanilla, molasses, spices, and colorings. It has a sweeter and more robust taste.
How to Make Spiced Rum
Combine all ingredients except the vanilla bean in a lidded 1-quart jar.

Split the vanilla bean lengthwise and scrape the seeds into the rum mixture and add the bean. Cover the jar tightly and shake one minute.

Place the Spiced Rum in a dark place for 2 days. After 24 hours, shake it again.

Strain the Spiced Rum through a fine-mesh sieve or cheesecloth into a clean bottle. Throw away the spices.

Spiced Rum will keep indefinitely. Be sure to store in an airtight, glass container and in a dark, dry place.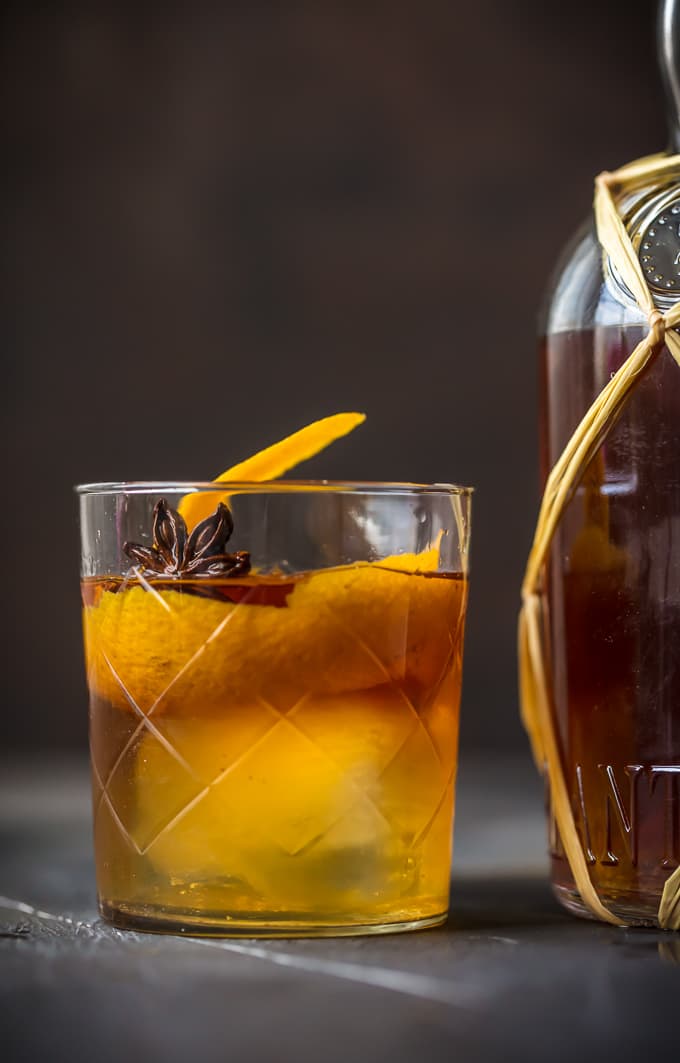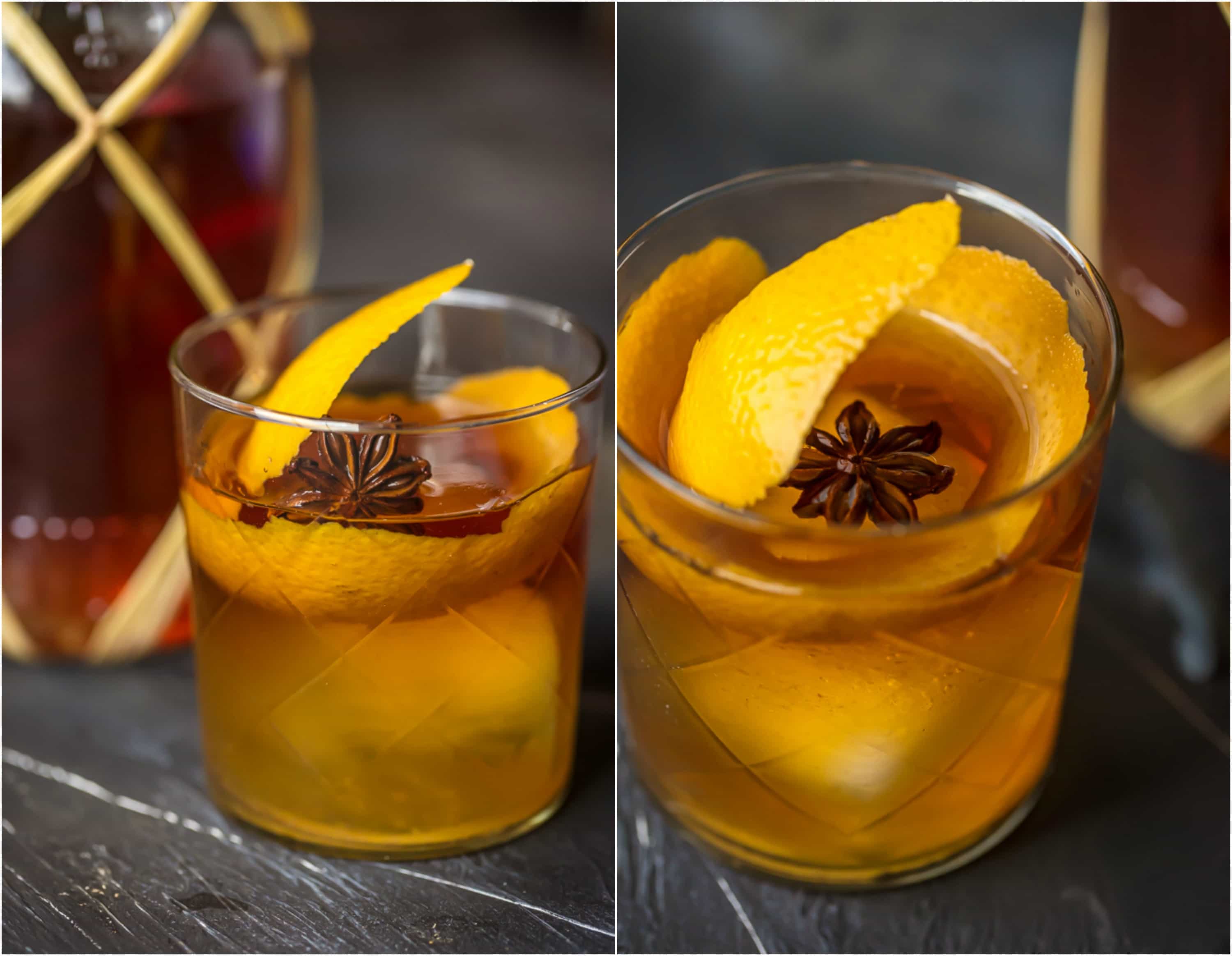 Homemade Rum vs. Mulled Wine
This spiced rum recipe is similar to Mulled Wine except it packs more of a punch. Have you tried Mulled Wine yet? If not, you should! And then you should try this Homemade Spiced Rum. You're going to be a regular alcohol making aficionado! Think of all the cooking and cocktails you can get going with this special treat. You'll be in business in no time.
Of all the recipes I've made over the years (about 1000 just on this blog!), this one might be Pat's favorite. HA! It has to be one of the best spiced rum recipes out there!
What goes good with Spiced Rum Drinks?
We love hearty comfort food when enjoying our homemade rum. Here are some favorite recipes that would pair beautifully!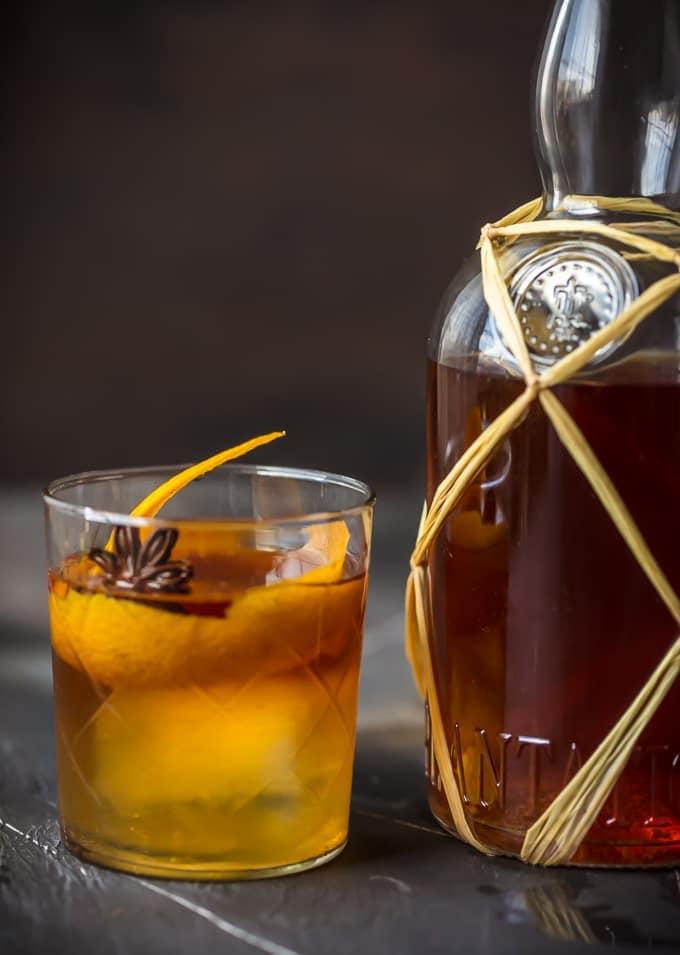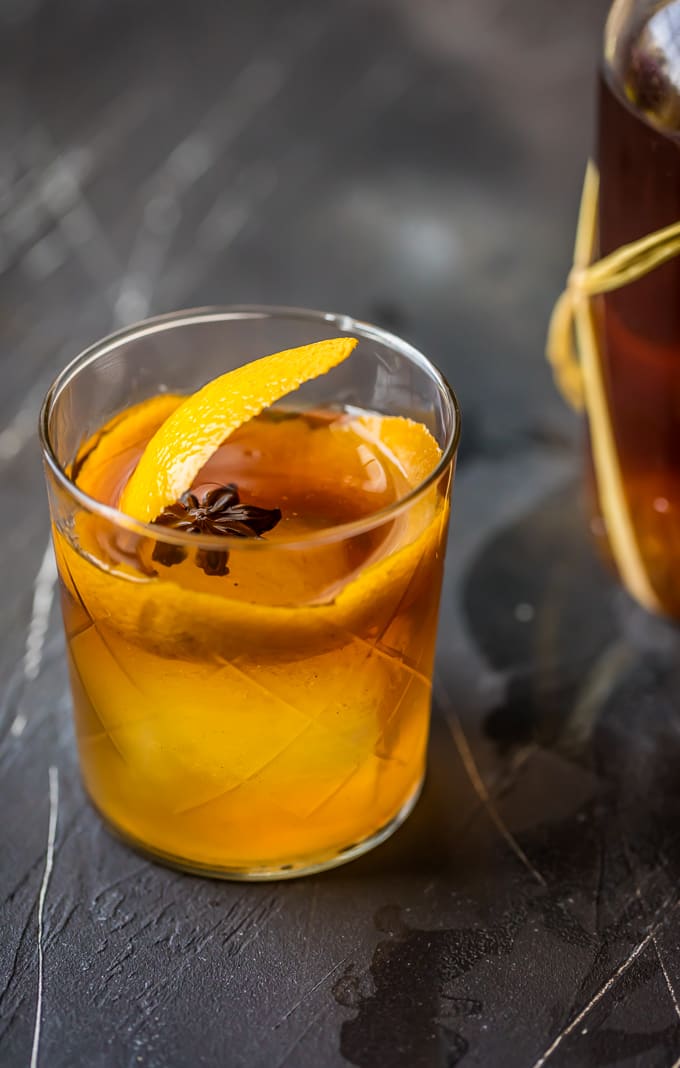 How much does Spiced Rum cost?
If you buy Spiced Rum at the store, it can range anywhere from $10-$100 for the good stuff. If you make it at home, its tastier, cheaper, and lasts longer! This Homemade Spiced Rum Recipe is winning!! :)
Are Dark Rum and Spiced Rum the same thing?
Dark Rum has simply been aged longer. The darker the rum, the longer its been aged. People will also add caramel or molasses to darken the color. Spiced Rum is different in that ingredients other than sugars are added to create a spicy and deep flavor. It's great paired with Coke! (Rum and Coke is one of the most popular drinks ever created!)
See the recipe card below for details on How to Make the Best Spiced Rum Recipe. Enjoy!
More Homemade Drink Recipes: