Learn how to cut butternut squash with ease, including halves and cubes. Plus learn the right way to peel it and prepare for cooking.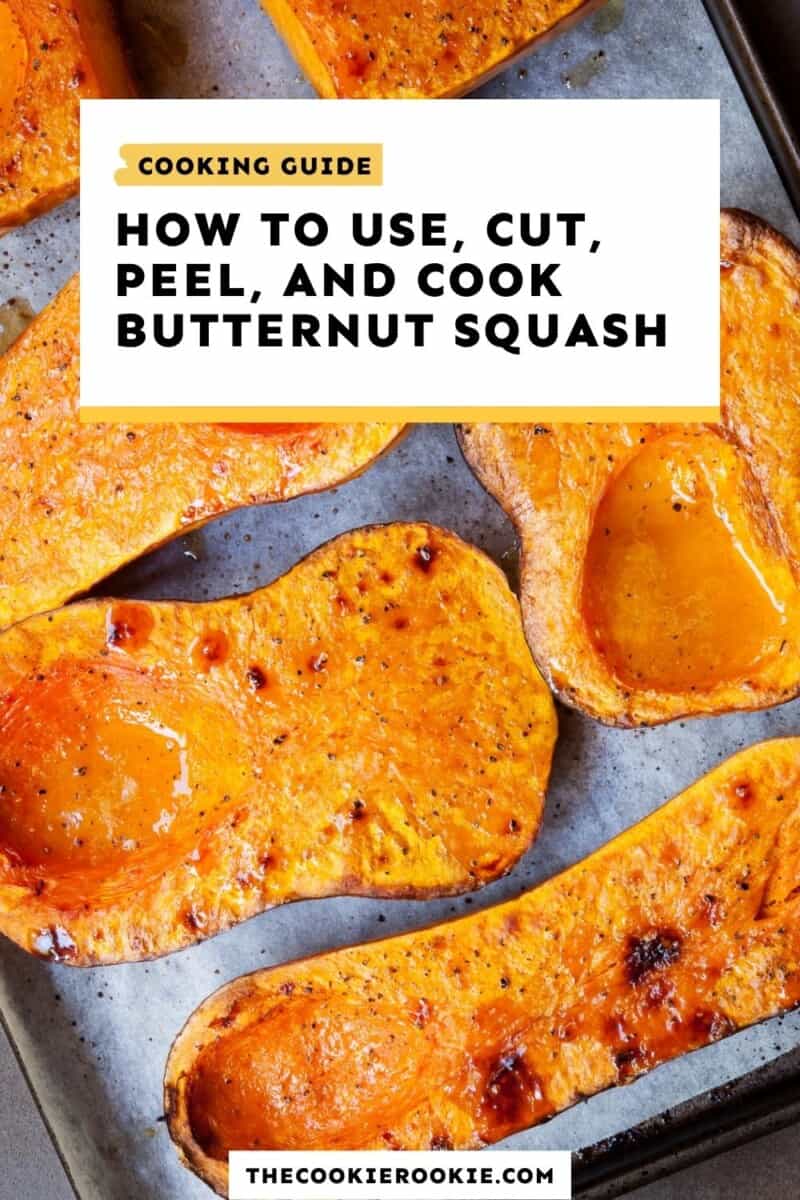 How to Cook Butternut Squash from Scratch
Butternut Squash is one of those weird-shaped vegetables that leaves you wondering, what am I supposed to do with this? How do I cut it? What do I make with it? How do I cook it? If you've never cut or cooked one before, it's definitely intimidating.
But this popular winter vegetable is so delicious, and I don't want you to miss out. So I'm here to show you STEP BY STEP how to cut butternut squash, so you don't have to fumble around with it. There is a knife involved, after all, so if you're not careful, trying to cut this thing could be stressful.
In addition to showing you how to cut it, I'll tell you how to peel butternut squash, prep it, store it, and give you some recipe ideas.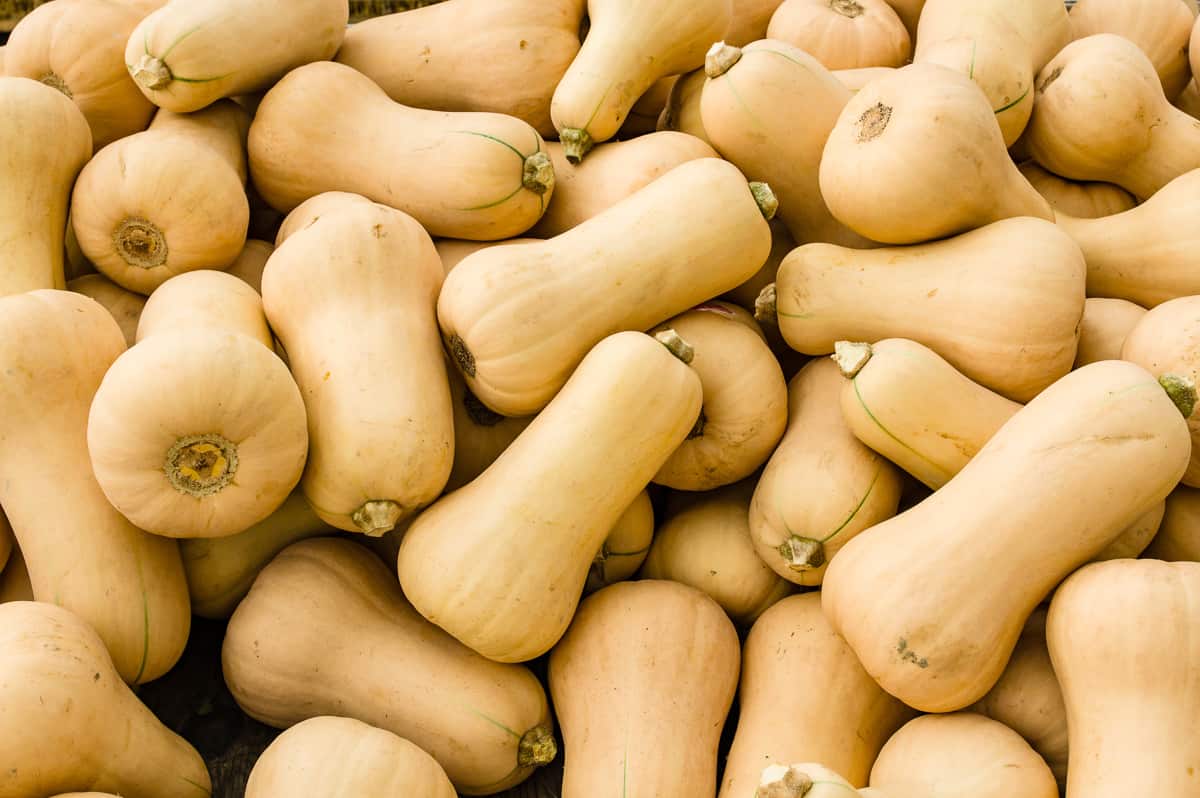 How to Cut and Prep Butternut Squash
With big, odd shapes, winter squash can be difficult to cut if you've never done it before. It's important to do it properly to ensure safety, but once you've done it, it's easy peasy.
Here's a few tips before you get started:
Use a large, well-sharpened knife. I like using a chef's knife for this. A knife that is sturdy and heavy will make it easier to handle, and the sharpness will make it easier to slice through the squash with ease.
Stabilize your cutting board so that it doesn't move around while chopping. Heavier boards tend to stay put a little better (compared to flimsy plastic ones). You can also dampen the surface beneath the board to help it stay in place.
If you're having trouble getting through the skin, try piercing the skin first with the tip of the knife, and then make a full cut.
Gently tuck your fingertips, almost like forming a claw, to be sure you don't nick them while slicing.
To soften the skin before cutting and peeling: poke small holes all over the squash, then place it in the microwave for 2 minutes. This will make it a little easier to pierce the skin and cut it.
Use a spoon to scoop out the seeds. These can be roasted (like pumpkin seeds) or discarded.
Do you have to peel butternut squash before eating it?
You don't have to peel the squash but it's recommended. It mostly depends on how you'll be consuming it.
If you're going to roast the whole squash, I don't find it necessary. The skin becomes easily digestible after roasting, and it's easy to scoop out if you don't want it.
If you're going to be cubing or slicing the squash to cook, then I do recommend peeling it during the cutting process.
How to Peel Butternut Squash
Peeling butternut squash is pretty straightforward. It has a thick, tough skin, so peeling can be a daunting task, but it's easy.
When to Peel: You can peel butternut squash straight after you've removed the ends, or after cutting it in half. You can also roast it with the skin on, and gently pull or shave it off after cooking.
I prefer to peel it after removing the ends and cutting the neck and the larger body apart. This creates more manageable pieces to handle. You can see which step this is during the cutting process below.
Tools: I recommend using a Y peeler for the smoothest process. Other types of peelers might be a little harder to use, especially if they're flimsy. If you don't have a peeler, use a small paring knife.
To peel: After cutting off the ends, place the squash standing up, with a flat end on the cutting board. Use your peeler to peel downwards, working your way around the squash until all the skin has been removed.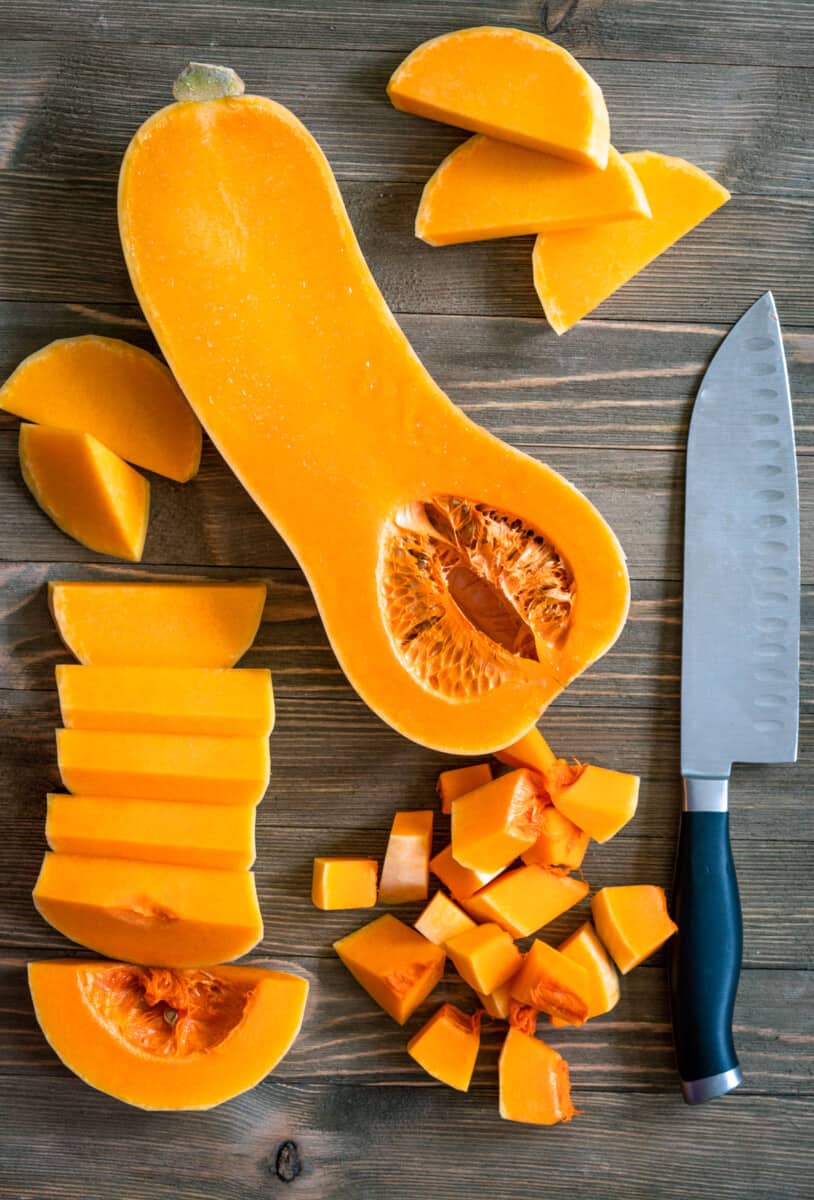 How to Cut Butternut Squash (Step by Step)
Place a cutting board firmly on your workspace. It's important that the board us sturdy and doesn't move around while cutting.
First, cut off both ends of the squash (about 1/4-1/2 inch).
Next, cut the butternut squash in half at the "neck" (where the larger half meets the skinnier part).
This is the best time to peel the squash. Place flat ends on the cutting board and peel downwards.
Take the "neck" half and cut horizontally into rings/rounds. Or cut into long sticks, and then cube if desired.
Cut the large "bulb" part in half lengthwise and use a spoon to scoop out the seeds.
You can roast the squash like this, in two large halves. Or you can continue cutting into slices or cubes.
For cubed squash, I recommend cutting 1/2-inch to 1-inch cubes. That's a good size for cooking and/or freezing.
You can keep the seeds to roast, similar to pumpkin seeds.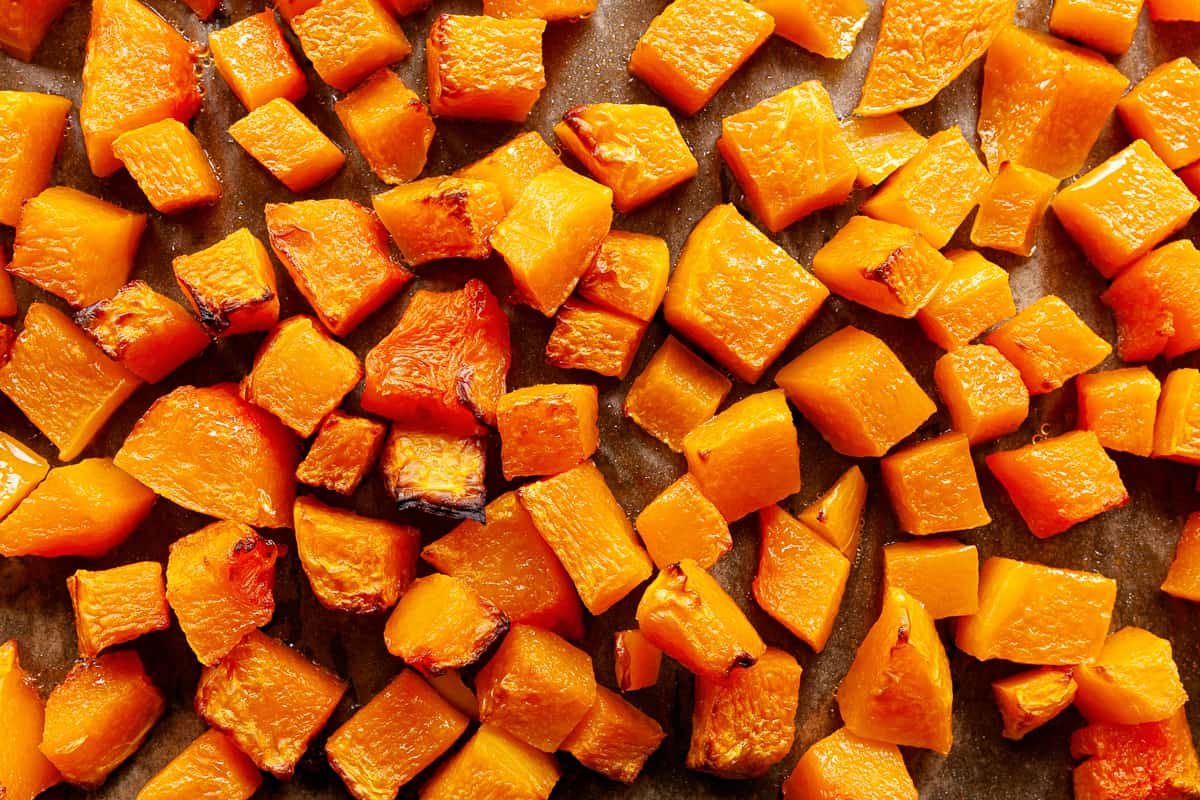 Storage Tips
Cutting butternut squash ahead of time will make meal prep much faster.
If you won't be cooking it right away, place it in airtight containers and store in the refrigerator up to 4 days.
You can freeze butternut squash too! Again, place it in airtight, freezer-safe containers or bags, and freeze up to 1 month.
I find that cutting the squash into cubes is the easiest way to store it, especially if you'll be freezing it.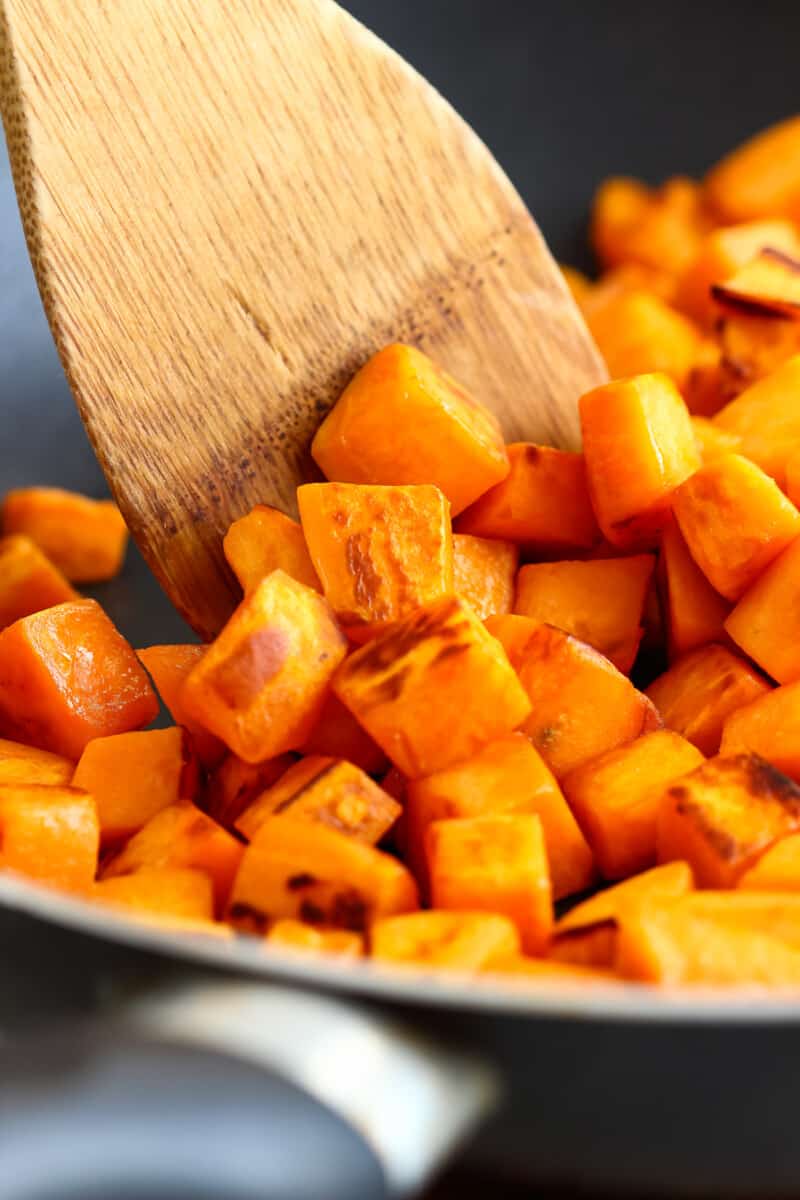 Easy Butternut Squash Recipes
Once you've manage to peel and cut butternut squash, it's time to cook it! Here are some recipe ideas.
Roasting Butternut Squash from scratch can be easy with the right tools and tips! I hope you try it at home and let me know how much you love it. It's the ultimate delicious Fall vegetable.