Wondering what produce is in season right now? Eating in season has many great benefits, but first you have to know WHEN everything is available. So check our chart to find out which fruits and vegetables are in season during Spring, Summer, Fall, and Winter!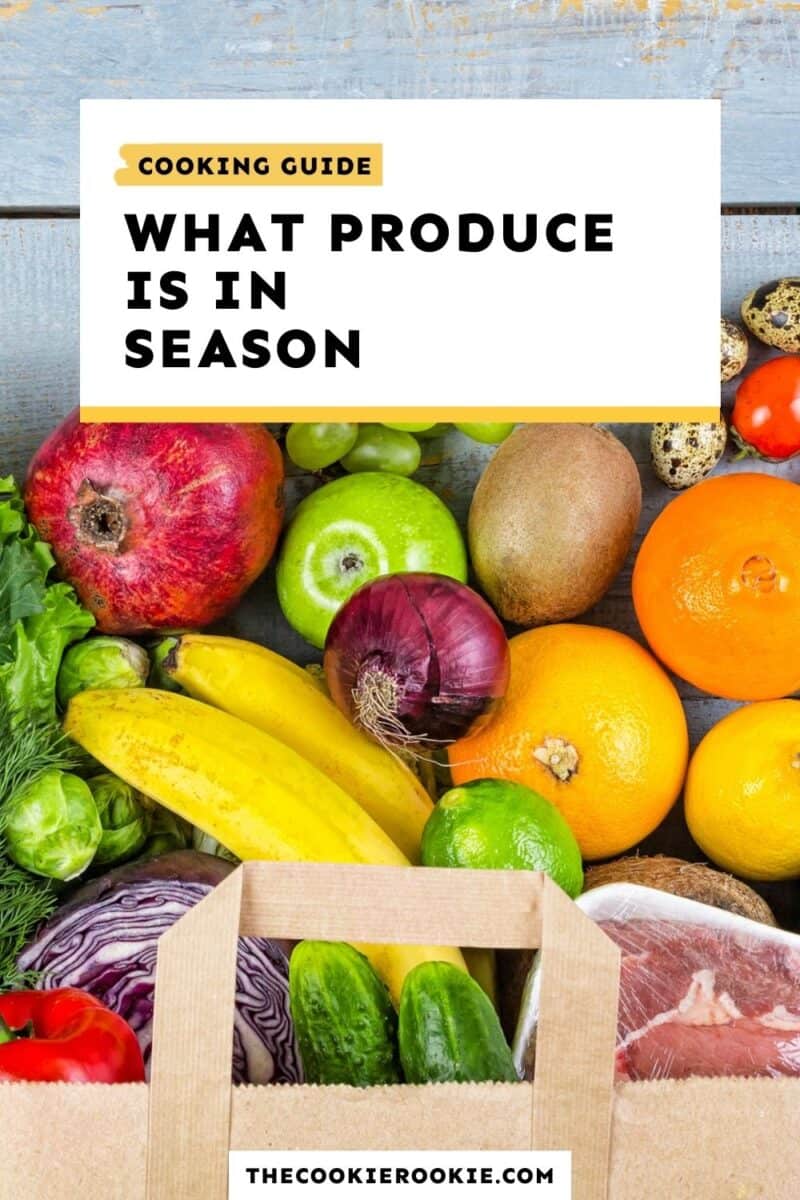 Seasonal Produce Guide
Eating produce in season is a great thing to add into your regular eating and cooking routine. There are plenty of reasons to focus on buying the vegetables and fruits that are available seasonally. The fact that it's generally budget-friendly is a big reason to give it a try!
It's not always easy to make sure you're eating seasonal fruits and vegetables, especially if you're not sure when produce is grown. And if you're used to eating certain veggies/fruits year-round, it might be an adjustment.
Fresh fruits and vegetables are truly the best of the best, so keeping the seasonal produce calendar in mind will help you to shop for the best produce!
Nobody here is asking for perfection, but once you know when different fruits and vegetables are in season, you'll start to notice the difference in price, availability, and even flavor throughout the year!
What fruits and vegetables are in season right now?
Check the chart and lists below for a quick look at which produce is in season during spring, summer, fall, or winter. Some fruits or veggies can grow in multiple seasons or even year-round. And what's in season NEAR YOU will vary as well. However, within most of the U.S., these are the in-season vegetables you're likely to find at farmer's markets and grocery stores each season.
Tip!
The best way to find out what's in season locally is to head to a farmer's market and see what's being sold! You get to buy in-season AND buy local.
There are so many bright and delicious, vegetable-filled recipes you can make with your produce. And as you start trying out new produce options, you'll have a chance to try new recipes!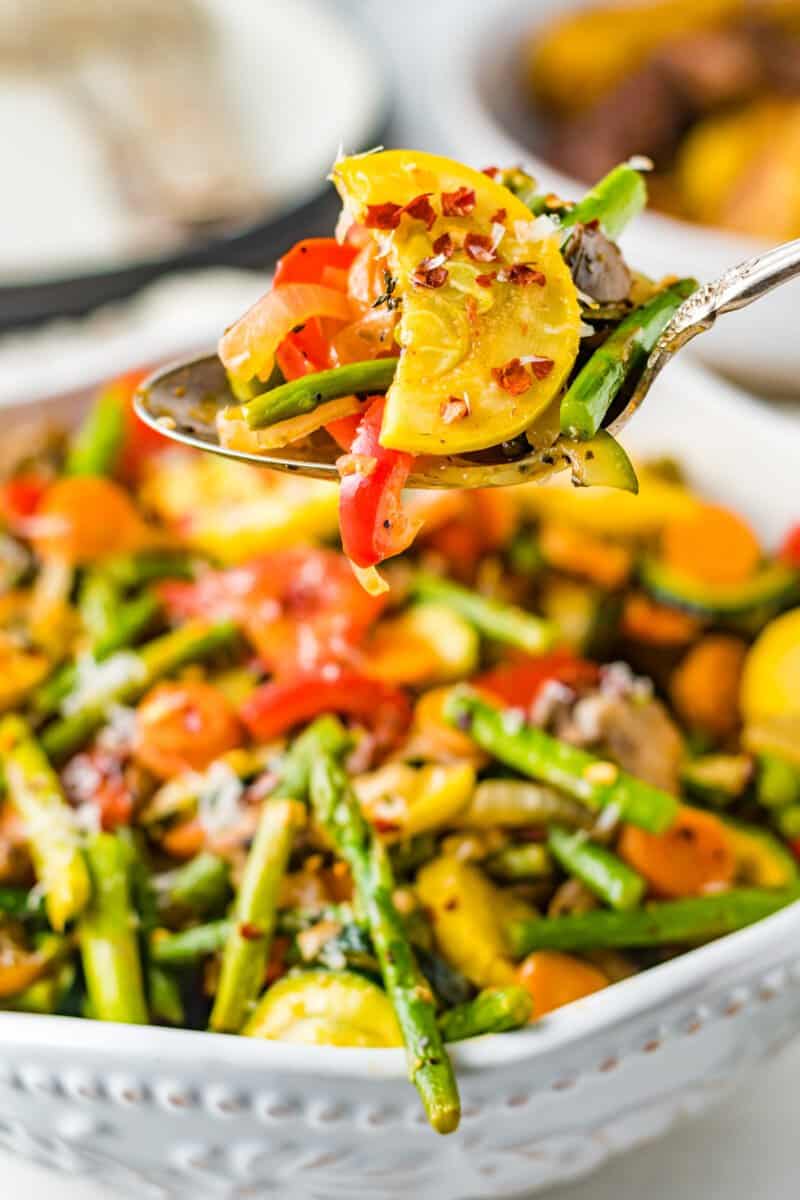 Fruits and Vegetables in Season (Chart)
Find out which fruits and veggies are in season right now with this chart. Check by season, or month by month. Generally, produce is most abundant between April and October, but there are plenty of things growing through the winter as well.
Season
Months
Vegetables
Fruits
Spring
March
April
May
Asparagus, Carrots,
Peas, Spinach,
Lettuce, Kale,
Swiss chard,
Broccoli,
Celery, Onions,
Scallions, Cauliflower
Apricots, Avocados,
Strawberries, Tomatoes
Summer
June
July
August
Summer Squash,
Cucumbers, Corn,
Green Beans,
Onions, Carrots,
Bell Peppers,
Eggplant, Peas,
Lettuce, Broccoli,
Cauliflower,
Zucchini
Berries, Tomatoes,
Melon, Avocados,
Apricots, Cherries,
Peaches, Plums
Fall
September
October
November
Beets, Winter Squash,
Sweet Potatoes,
Beans, Radishes,
Lettuce, Garlic,
Broccoli, Cauliflower,
Carrots, Pumpkin,
Peppers, Celery,
Brussels sprouts,
Cabbage, Kale,
Green Beans, Onion,
Fennel, Turnips
Apples, Tomatoes,
Cranberries, Pears,
Plums
Winter
December
January
February
Potatoes, Broccoli,
Leeks, Cauliflower,
Winter Squash,
Beets, Onions,
Carrots, Turnips,
Brussels sprouts,
Kale, Fennel,
Radishes
Orange, Lemons,
Grapefruits,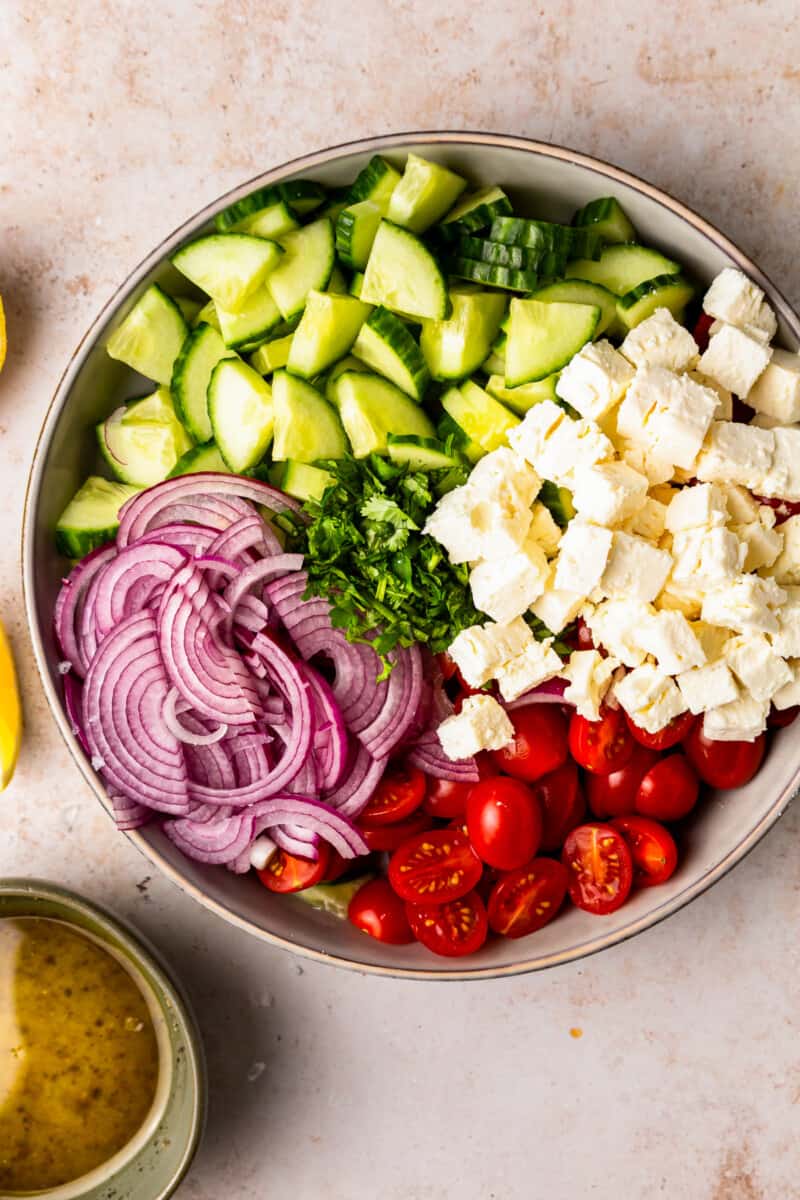 Benefits of Eating Produce in Season
Affordable: Eating the fruits and vegetables that are in season will give you the best-priced produce because it's readily available, and it doesn't have to travel far to get to your grocery store.
Healthy: Veggies start to lose nutrients the older they get, so if you're buying fresh seasonal produce, you're going to get even more health benefits.
Flavorful: Produce grown in season will be the freshest and most flavorful. Especially if you are buying at markets directly from local farms.
Sustainable: Overall, buying and eating produce when it's in season near you is better for the environment, for local farmers, and for the entire food ecosystem.
Variety: Eating what's in season will encourage you to try fruits and veggies you don't usually eat, and to try new recipes. Variety is great for your health and for your taste buds!
Keep reading for full lists of fruits and vegetables broken down by season. Whether it's currently Spring, Summer, Fall, or Winter, you can see what's in season right now.
Use whatever is available to make delicious roasted vegetables or sautéed veggies!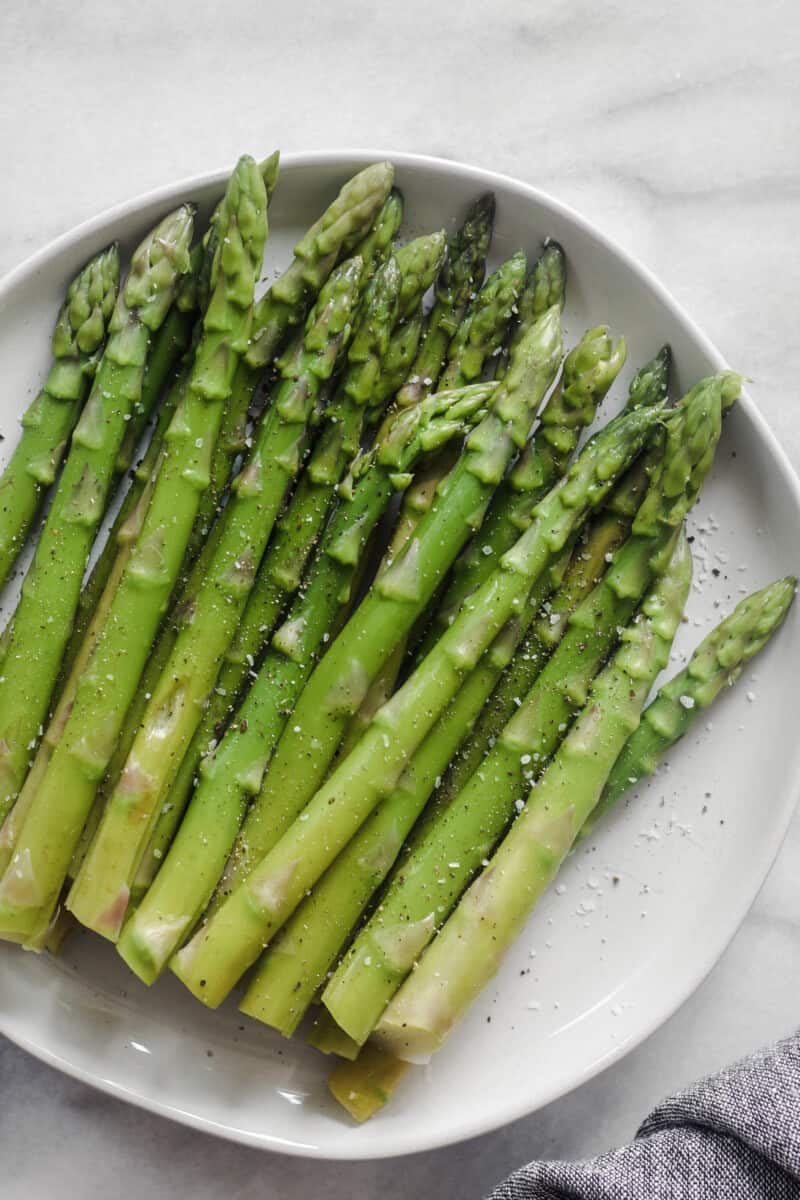 Spring Vegetables and Fruits
What produce is in season in Spring? After a long winter, Spring welcomes more variety in produce. Asparagus and Spring peas are available, and lots of lettuce and greens start popping up early in the season. You can still find late winter veggies and you'll start seeing more fruits and berries by late Spring.
Carrots
Peas
Spinach
Lettuce
Kale
Swiss Chard
Apricots
Avocados
Broccoli
Celery
Onions
Strawberries
Tomatoes
Scallions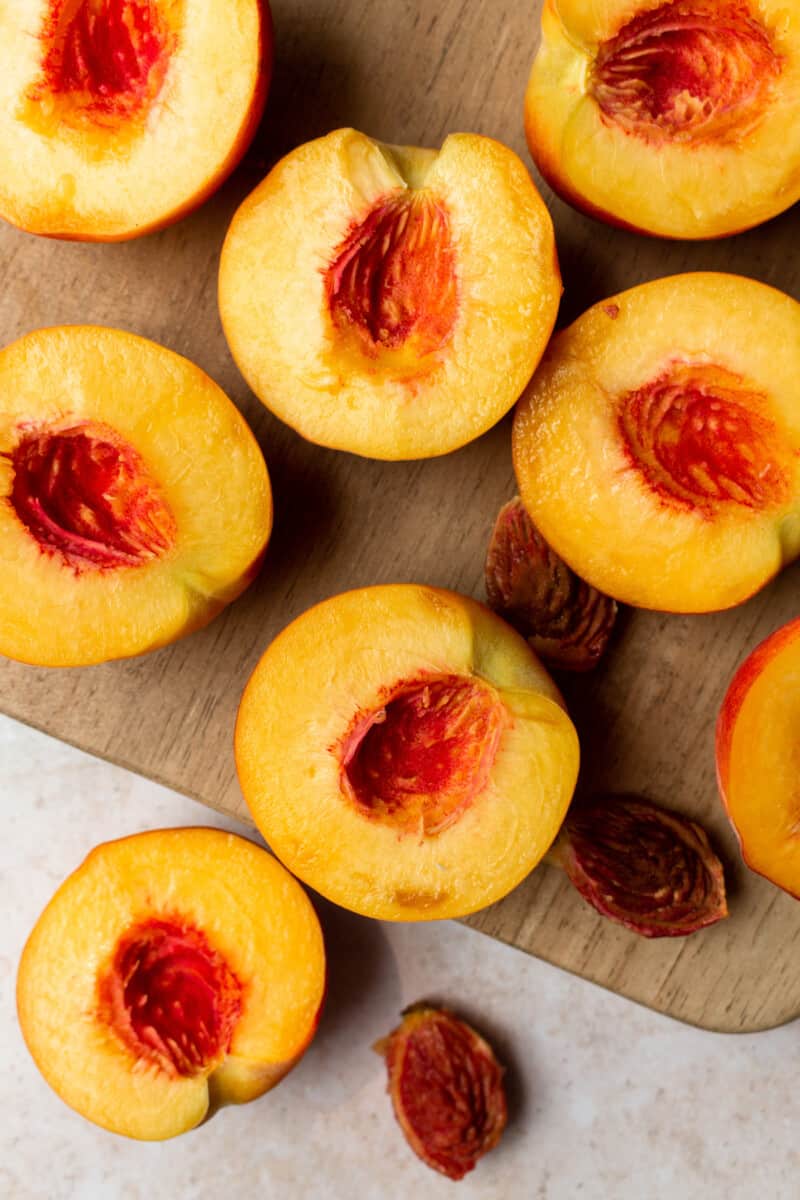 Summer Fruits and Vegetables
What produce is in season in summer? Lots of things can be grown around the country in the summer season, so you'll have plenty of in-season produce to choose from. Generally, a lot of fruits and berries are readily available during the high summer months of July and August, and you should start seeing them as early as June. The best tomatoes are grown in late spring and throughout the summer (and into early fall), plus you can find peppers, corn, greens, and cucumbers.
Berries (blackberries, raspberries, strawberries)
Summer Squash
Tomatoes
Cucumbers
Corn
Melon (cantaloupe, watermelon, honeydew)
Green Beans
Onion
Bell Peppers
Avocados
Apricots
Cherries
Eggplant
Peaches
Plums
Basil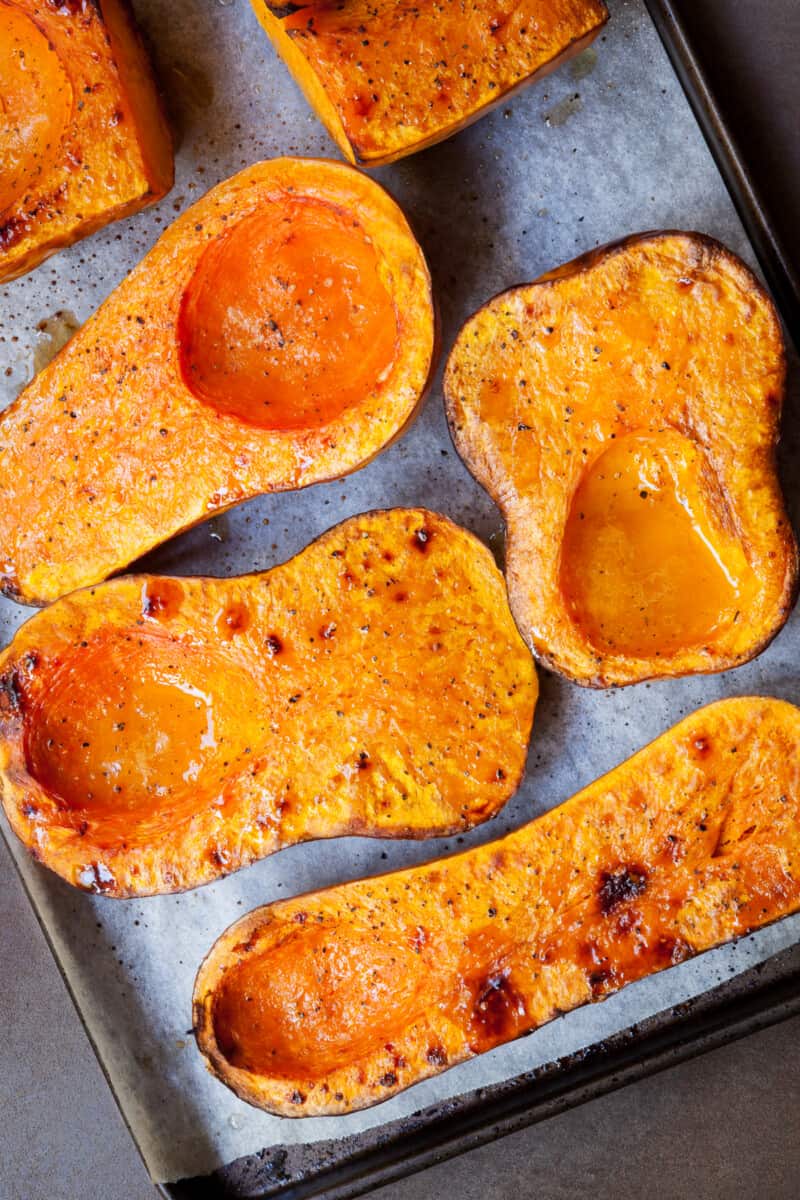 Fall Fruits and Vegetables
What produce is in season during fall? Autumn is another season filled with great variety. In September through November you'll see lots of heartier vegetables available, plus all the root vegetables that hold up to cooler weather. Early fall is prime time for apples, and you'll start seeing lots of sweet potatoes, winter squash, and things like beets and carrots.
Apples
Beets
Winter Squash (butternut squash, acorn squash, pumpkins)
Sweet Potatoes
Tomatoes
Radishes
Spinach
Lettuce
Garlic
Beans
Broccoli
Cauliflower
Carrots
Potatoes
Peppers
Brussels Sprouts
Cabbage
Celery
Cranberries
Kale
Green Beans
Onions
Fennel
Pears
Turnips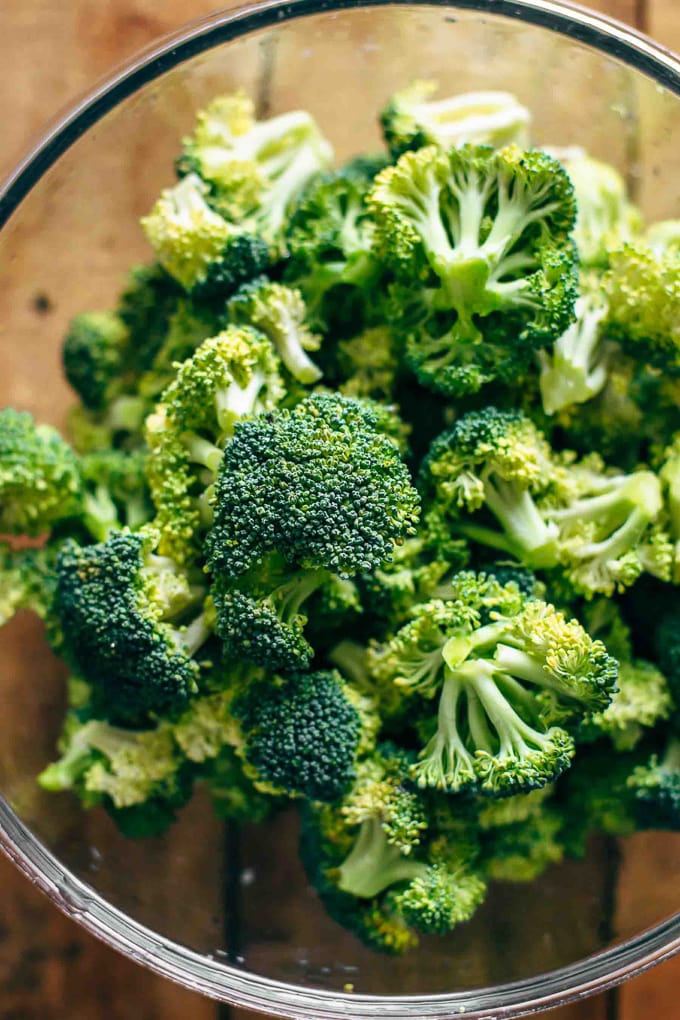 Winter Vegetables and Fruits
What produce is in season in the winter? Winter has less variety compared to summer, but there are still lots of vegetables you can find in-season. Root vegetables, cruciferous veggies, and hearty greens are readily available despite cold temperatures. You'll also see lots of citrus fruits coming in from Southern states.
Potatoes
Broccoli
Cauliflower
Leeks
Citrus (oranges, lemons, grapefruit)
Winter Squash
Beets
Carrots
Turnips
Brussels Sprouts
Kale
Fennel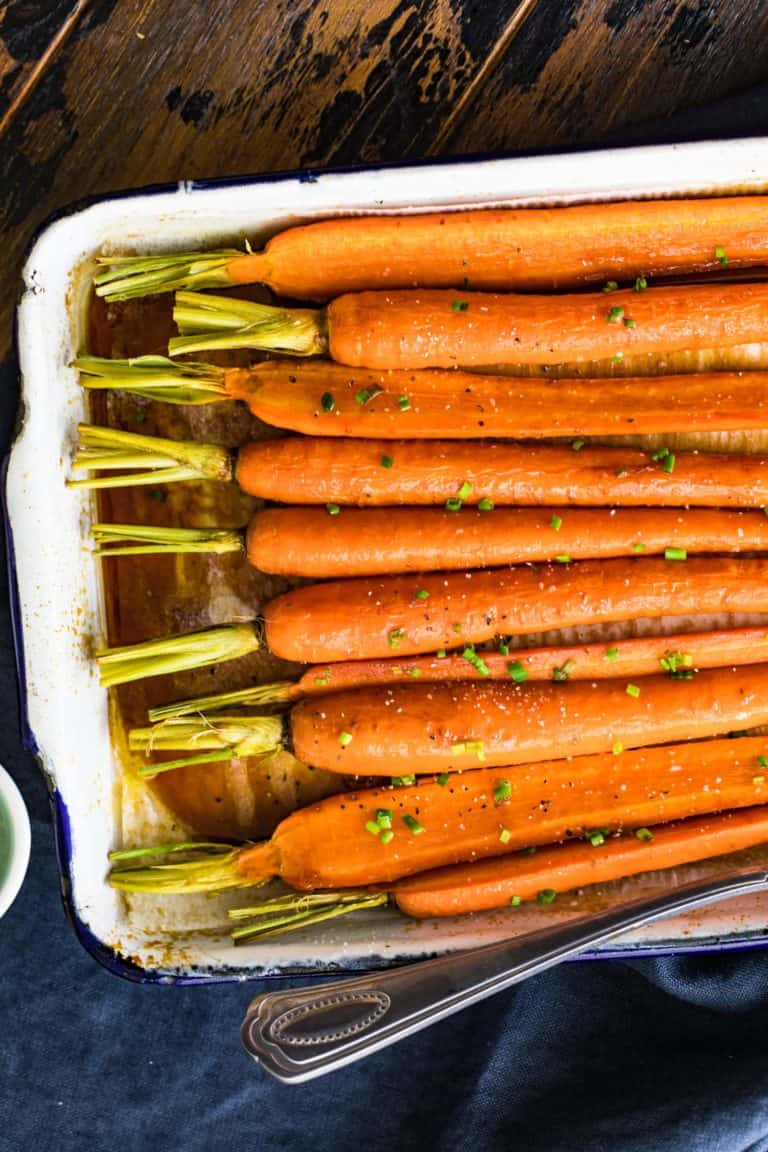 Now that you know what produce is in season right now, it's easier to start buying and cooking seasonal fruits and vegetables, so you can take advantage of all the great benefits of eating with the seasons. Fresh, flavorful, healthy, and affordable produce–what could be better?
More Food Guides
Get to know your veggies, the best ways to cook them, and other useful kitchen skills to step up your cooking game!
Cooking Guides