Homemade stuffing is a must-have side dish for me at Thanksgiving, with its herby flavors and meaty texture. Made with Italian sausage this recipe packs a punch of flavor and the roasted butternut squash makes it extra festive!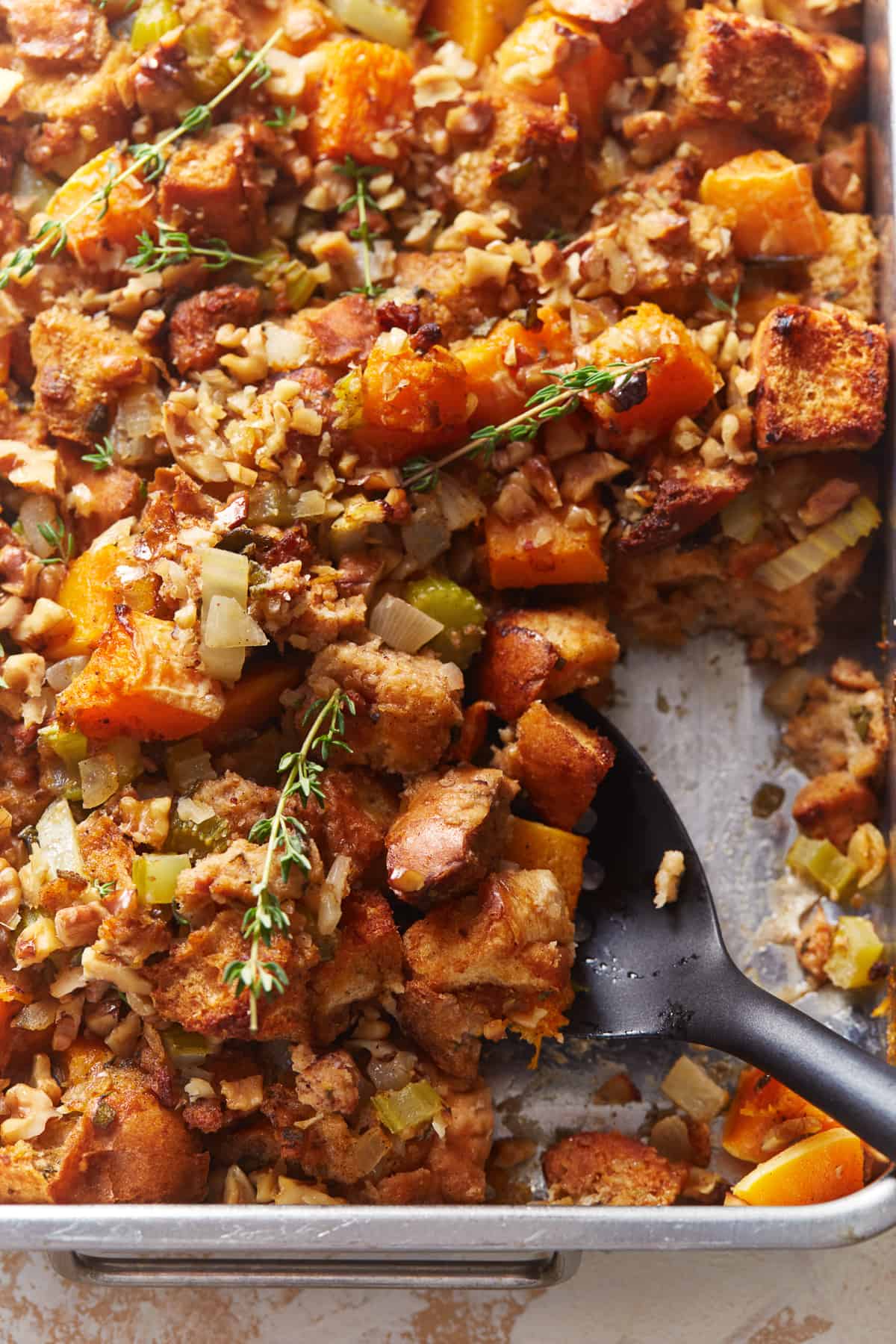 What's in Squash Stuffing?
The flavors and textures are out of this world! With crispy bread cubes, soft butternut squash, and lots of herbs, this is one tasty side!
Squash: Butternut squash forms the base of this stuffing recipe. If you're not a fan of butternut, you can use pumpkin, acorn, or delicata squash.
Oil: Olive oil helps the butternut squash roast in the oven without burning. If you prefer, you can use vegetable, canola, avocado, or coconut oil instead.
Italian Sausage: I love Italian sausage for the rich, meaty flavor it adds to this dish. I used mild sausage to make this kid-friendly, but you can use hot Italian sausage to make this dish spicier.
Onion: Yellow onion adds a sweet and savory flavor to this stuffing.
Celery: Celery adds a salty, vegetal flavor to the stuffing, plus a bit of crunch!
Butter: Unsalted butter adds moisture to the stuffing.
Eggs: Beaten eggs help bind the stuffing together so it doesn't end up crumbly and dry.
Herbs and Spices: Allspice, nutmeg, thyme, sage, salt, and pepper are classic nutty and herbaceous stuffing flavors.
Bread: I like to use Italian bread for my stuffing, but any hearty bread will do! You can even use sandwich bread for a softer stuffing.
Chicken Broth: Low-sodium chicken broth adds moisture to the stuffing to keep it from drying out in the oven. You can use vegetable broth if you prefer.
Walnuts: Chopped walnuts add a nice crunch and a nutty flavor to this stuffing, but they are optional if you have an allergy!
Pro Tip: For mapley stuffing, use breakfast sausage and add a tablespoon of maple syrup to the butter mixture!
Gluten Free Butternut Squash Stuffing
This stuffing is not naturally gluten-free, but it is super easy to adapt! Simply grab your favorite hearty loaf of gluten-free bread and you're ready to make this stuffing! Serve it alongside some other gluten-free sides, like sautéed vegetables, mashed sweet potatoes, creamed corn, potato casserole, or gluten-free biscuits!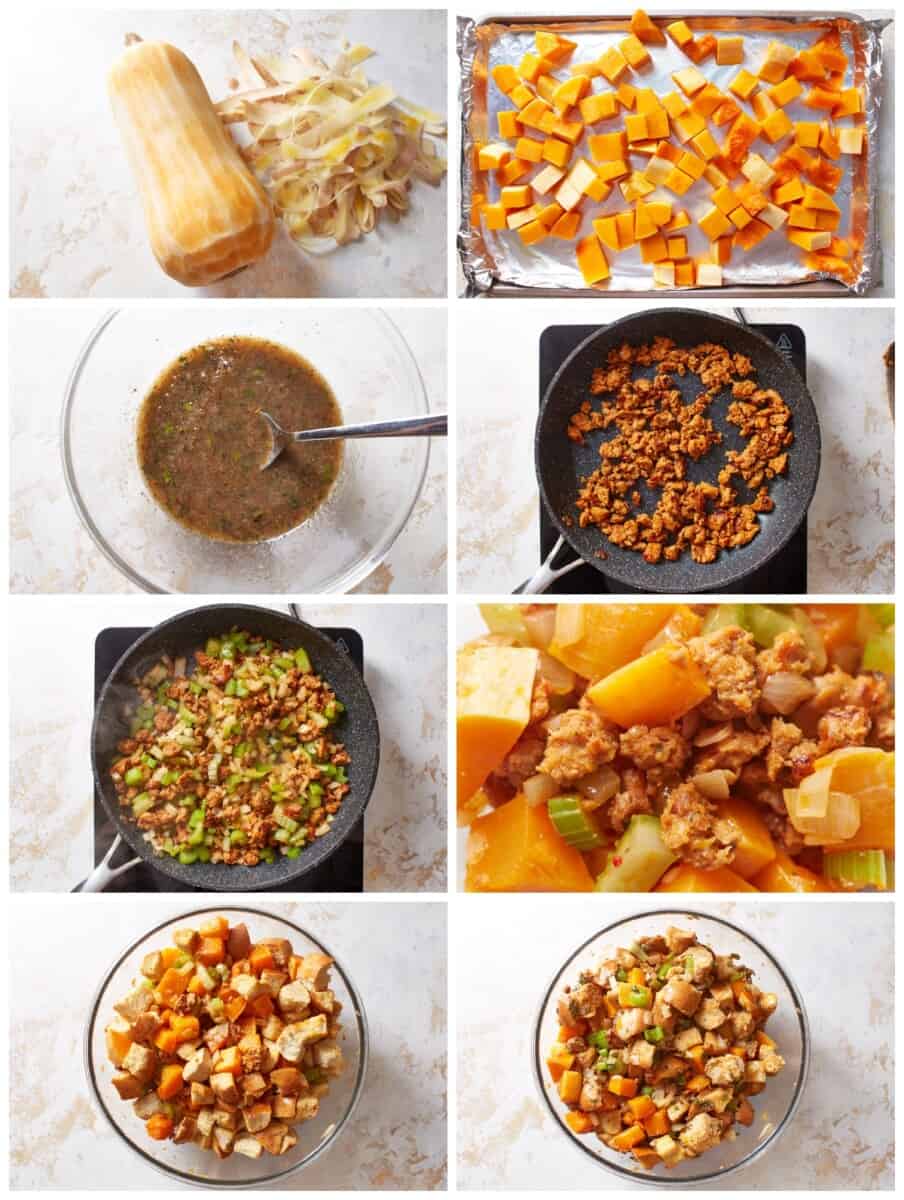 Can you make stuffing with frozen butternut squash?
Yes, this recipe can be made with frozen butternut squash cubes, and it's often more convenient than fresh. Thaw them fully before roasting them.
Can you make the stuffing ahead of time?
The stuffing can be made right up to the point of baking a day ahead of time. Cover and refrigerate it and then just bake it in the oven when you are ready to serve.
Can you freeze the stuffing?
Yes! This is perfect for the freezer and will keep well for up to 3 months. Wrap it tightly to protect from freezer burn. Thaw it in the fridge overnight before reheating it at 325°F, covered with foil, for around 20 minutes til hot.
Can you make this stuffing with other squashes?
Butternut squash is great to use in this recipe, but other fall squashes like acorn, pumpkin or delicata will all work well.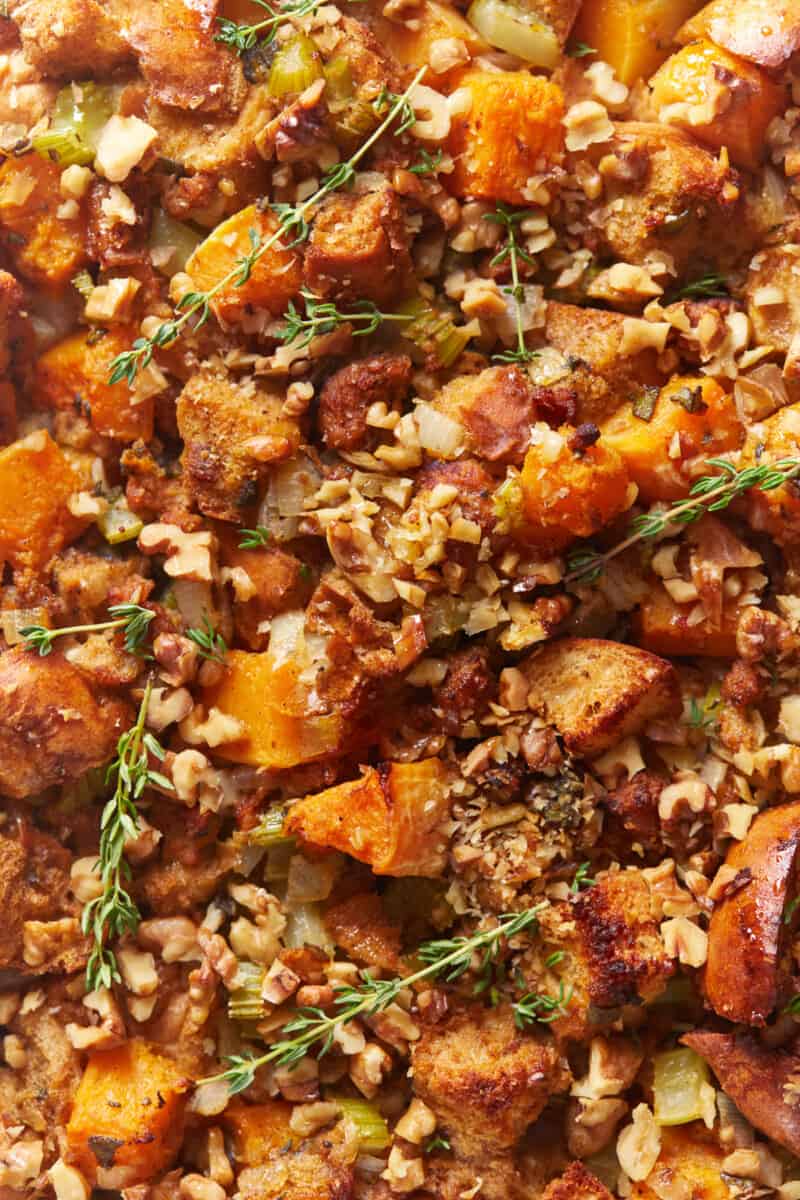 How to Store and Reheat Squash Stuffing Casserole
Store leftover butternut squash stuffing tightly covered with aluminum foil or plastic wrap in the refrigerator for up to 3 days. Reheat covered with foil in a 325°F oven for 20-25 minutes, until warmed through. You may wish to pour over a bit of chicken broth to help re-moisten the stuffing before reheating.
How to Freeze Butternut Squash Dressing
Freeze butternut squash stuffing tightly covered with 2 layers of plastic wrap and 1 layer of aluminum foil or portioned into airtight containers for up to 3 months. Let thaw overnight in the refrigerator before reheating.
What to Serve with this Butternut Squash Stuffing Recipe
This butternut squash stuffing recipe is the perfect accompaniment to all of your holiday meals. Try it with whole roast turkey, prime rib roast, pork crown roast, whole roast chicken, bacon wrapped turkey breast, or smoked turkey breast.
We all know that the sides are the best part of Thanksgiving dinner, so serve this stuffing alongside some dinner rolls and green bean casserole, loaded mac and cheese, crockpot sweet potato casserole, mashed potatoes, creamed corn, or air fryer roasted vegetables.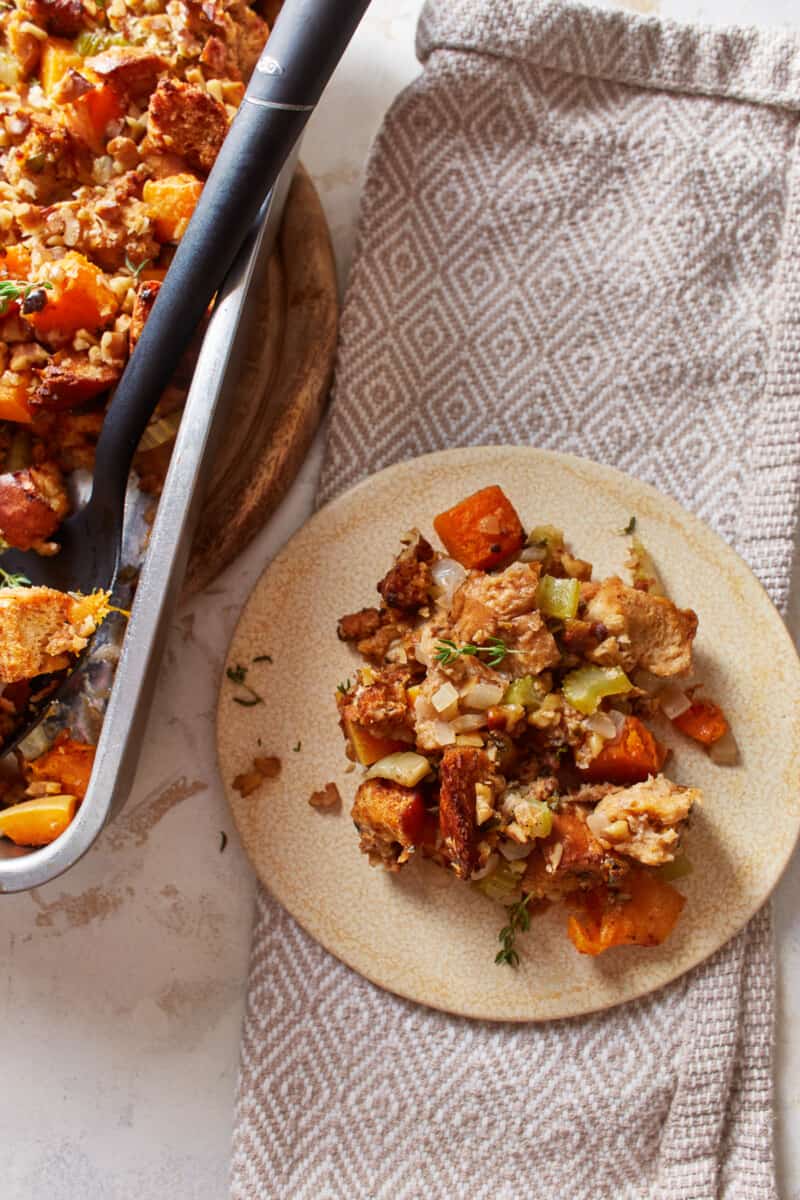 More Stuffing Recipes We Love