This maple-infused Butternut Squash recipe is so sweet and tender, roasted to perfection. It's the perfect Thanksgiving side dish, but just as good any night of the year!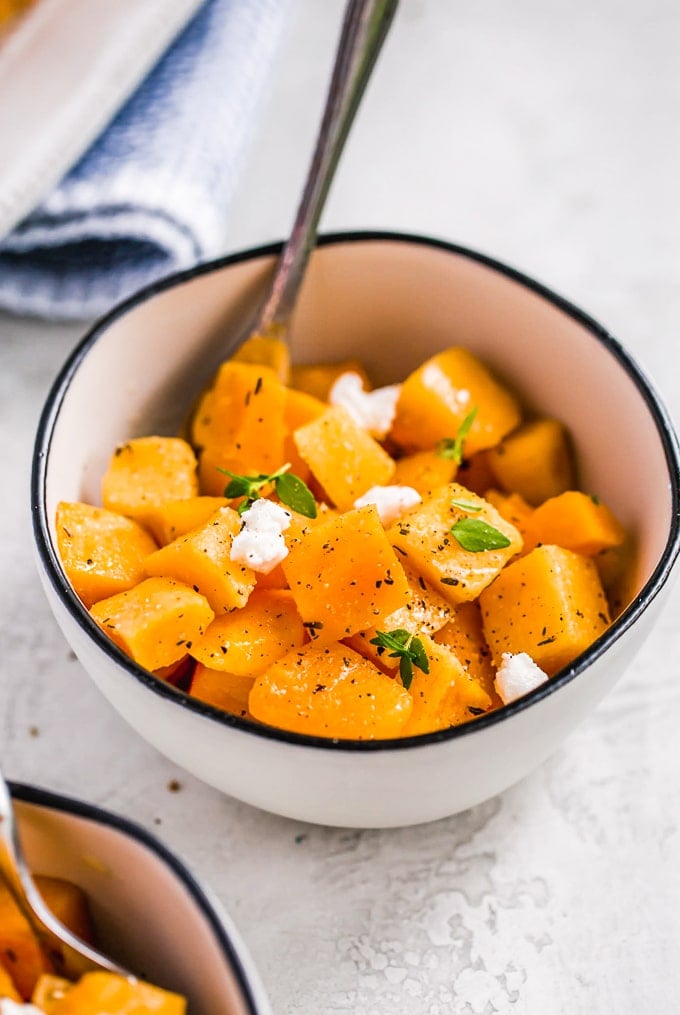 Baked Butternut Squash with Maple Glaze
Baked Butternut Squash with a maple glaze is such a sweet and delicious side dish. This winter squash recipe is perfect for the holidays!
Butternut Squash is one of those vegetables (well, fruit technically) that I don't think about much. As a winter squash that isn't pumpkin, it doesn't get much recognition outside of Thanksgiving. This baked butternut squash is the perfect Thanksgiving recipe though, so I get it.
The squash is baked in a maple, butter, and broth mixture, and it adds so much flavor. Plus the natural sweetness of the butternut squash comes out while roasting, and it all combines so well. Top it with a bit of crumbled feta cheese after baking, add some thyme or parsley, and wow! I could eat this every night.
Make this maple-infused Baked Butternut Squash recipe for Thanksgiving, Christmas, or any night of the year!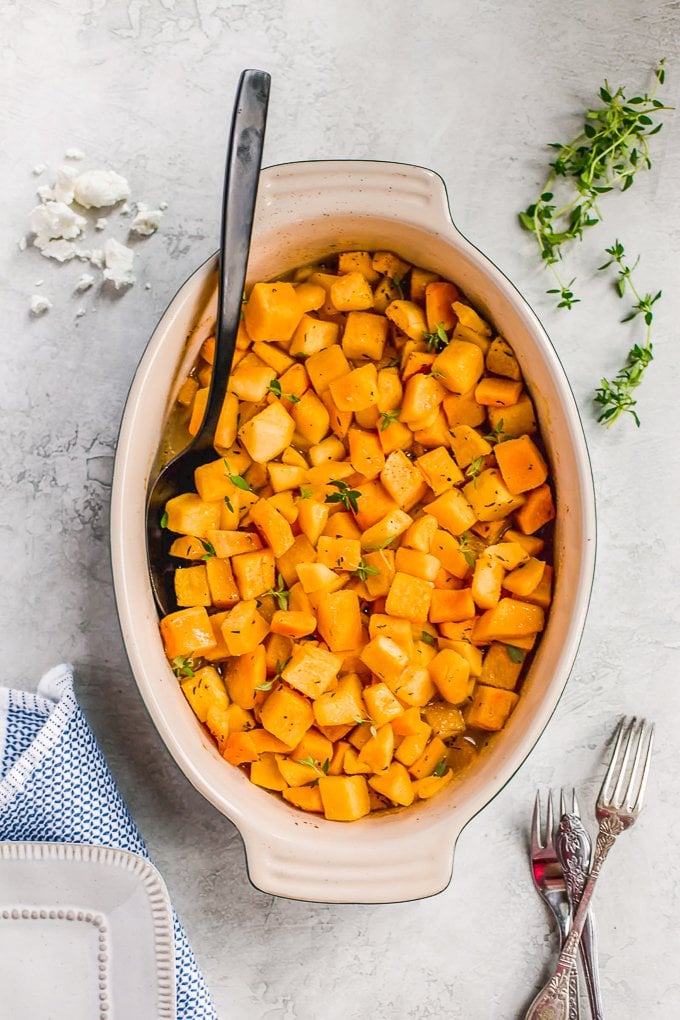 Baked, Mashed, or Roasted Butternut Squash
This maple-glazed, baked butternut squash recipe is so sweet and tender. It's absolutely delicious! I love this as a healthy and flavorful side dish any night of the week, and I love it even more as a welcome addition to the holiday table. How good would this be on Thanksgiving?!
This winter squash recipe is so good as it is, but you can also turn it into more of a maple mashed butternut squash, a butternut squash puree, or you can even roast it (cut in half) with skin on and then scoop out the flesh. And of course, you can roast the seeds too. There's a lot of variety with this hardy winter squash!
And if you're looking for more ways to use this veggie, be sure to try this Butternut Squash Hasselback, Butternut Squash Stuffing, or Butternut Squash Soup.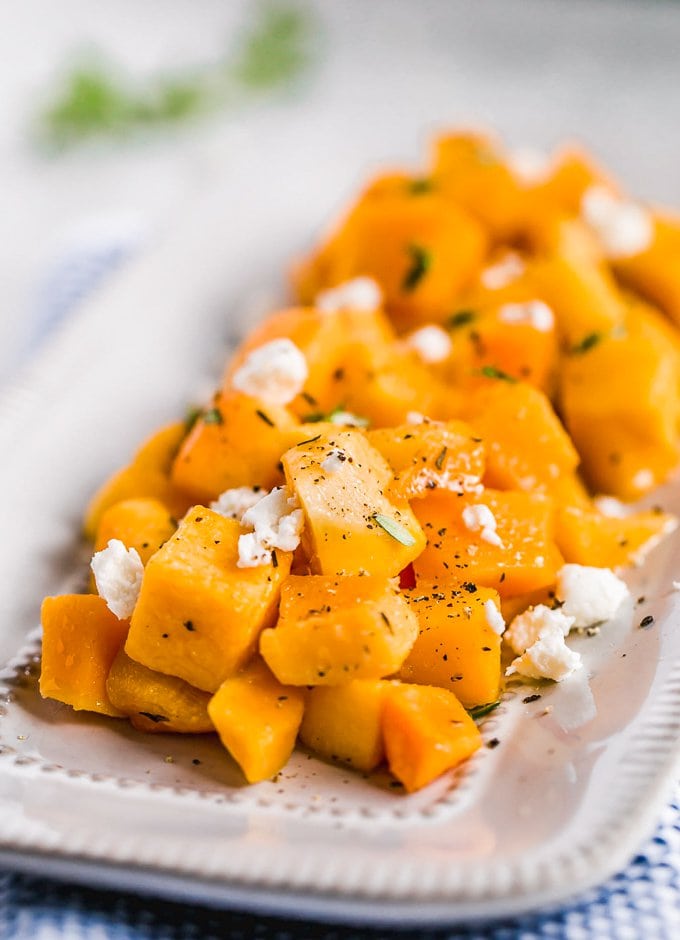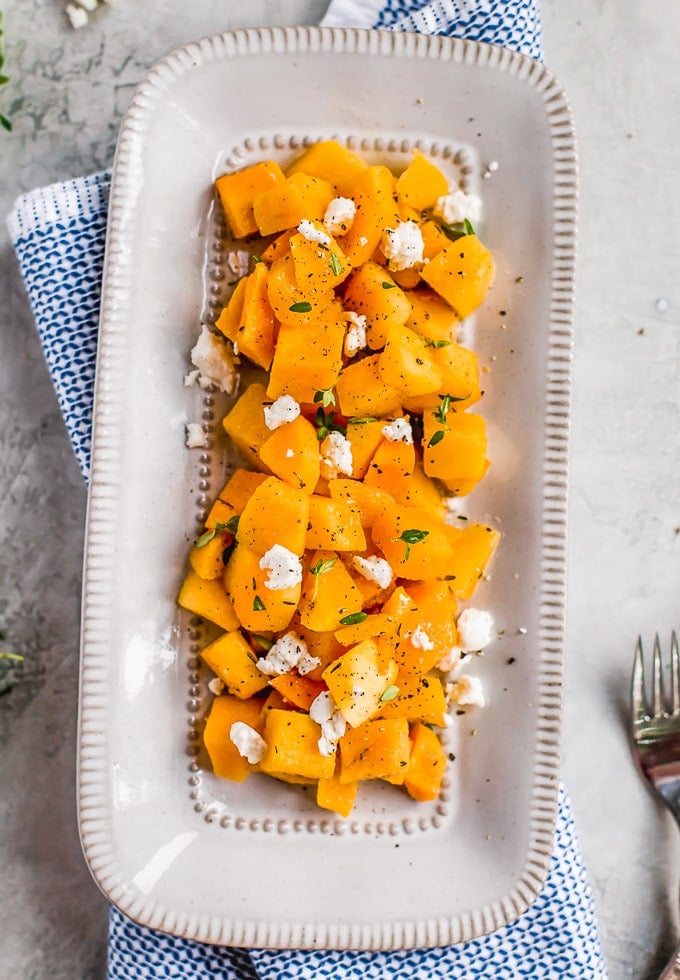 How to Cut Butternut Squash
The first step in this baked butternut squash recipe is cutting it into cubes. With big, odd shapes, winter squash can be difficult to cut if you've never done it before. It's important to do it properly to ensure safety, but once you've done it, it's easy peasy.
Here's a few tips before you get started:
Make sure you use a large, sharp knife (the first rule of knife safety is to make sure they're properly sharpened).
Hold the larger end of the squash with your non-dominant hand, with fingers tucked under it to get a good grip.
You can microwave it briefly beforehand to make it a bit softer, but it's not necessary.
When making cuts, pierce the skin first, and then make a full cut.
This is how to cut butternut squash:
First, cut the ends off
Cut the butternut squash in half at the "neck" (where the larger half meets the skinnier part)
This is the best time to peel the squash
Take the "neck" half and cut horizontally into rings, and then cube
Cut the larger part in half lengthwise and remove the seeds
Then cut into slices, and then cubes
1-inch cubes work best for this recipe, and is generally a good size for many baked butternut squash recipes. You can save the seeds to roast, as you would pumpkin seeds. They're so good!
How to Peel Butternut Squash
Peeling butternut squash is pretty straightforward. It has a thick, tough skin, so peeling can be a daunting task, but it's easy. You can peel butternut squash before you start cutting, straight after you've removed the ends, or after cutting it in half.
It's easiest to peel after cutting the neck and the larger body apart. Just use a sharp peeler or a paring knife to remove the skin. Set the squash facing up (with a flat end on the cutting board), and peel downward.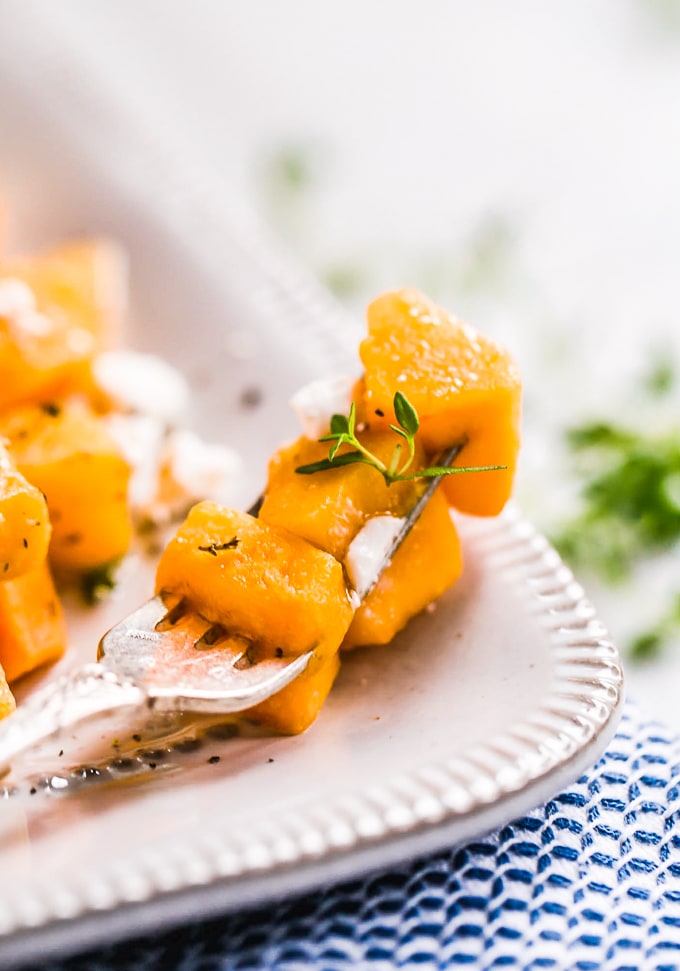 How to Cook Butternut Squash in the Oven
Making baked butternut squash in the oven is one of the best ways to make it. Baking or roasting butternut squash really brings out the natural sweet flavors!
How to make Maple Butternut Squash:
Cut squash into 1-inch cubes and place in baking dish
Cover with maple syrup, butter, & broth, add salt & pepper
Loosely cover the dish, & bake at 400°F for 15 minutes
Remove cover, stir, and bake another 15 minutes
Top with crumbled feta & thyme to serve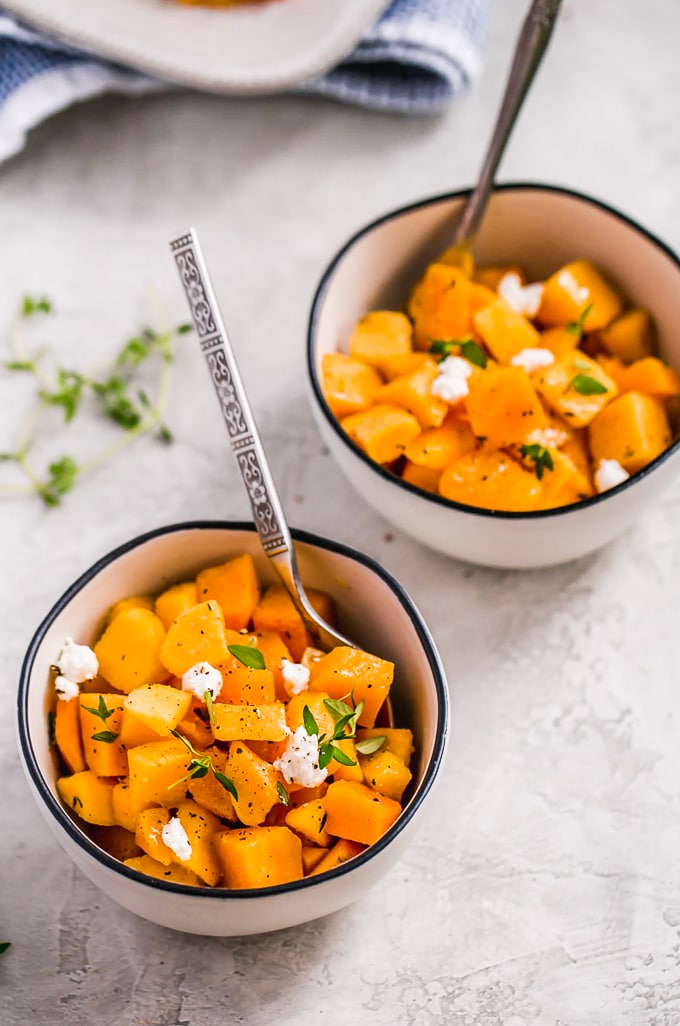 Another amazing recipe to add to the holiday table, or to make along with a nice steak or pork tenderloin. I love this sweet side dish so much! Since winter squash is most widely available between September – November, this is the perfect fall recipe.
However, if you find a butternut squash any other time of year, grab it and make this regardless of the season!
If you like this recipe, you'll love these other side dish recipes too:
If you make this recipe be sure to upload a photo in the comment section below or leave a rating. Enjoy! You can also jump to recipe.