This maple-infused Roasted Butternut Squash recipe is so sweet and tender, and baked to perfection. It's the perfect Thanksgiving side dish, but just as good any night of the year!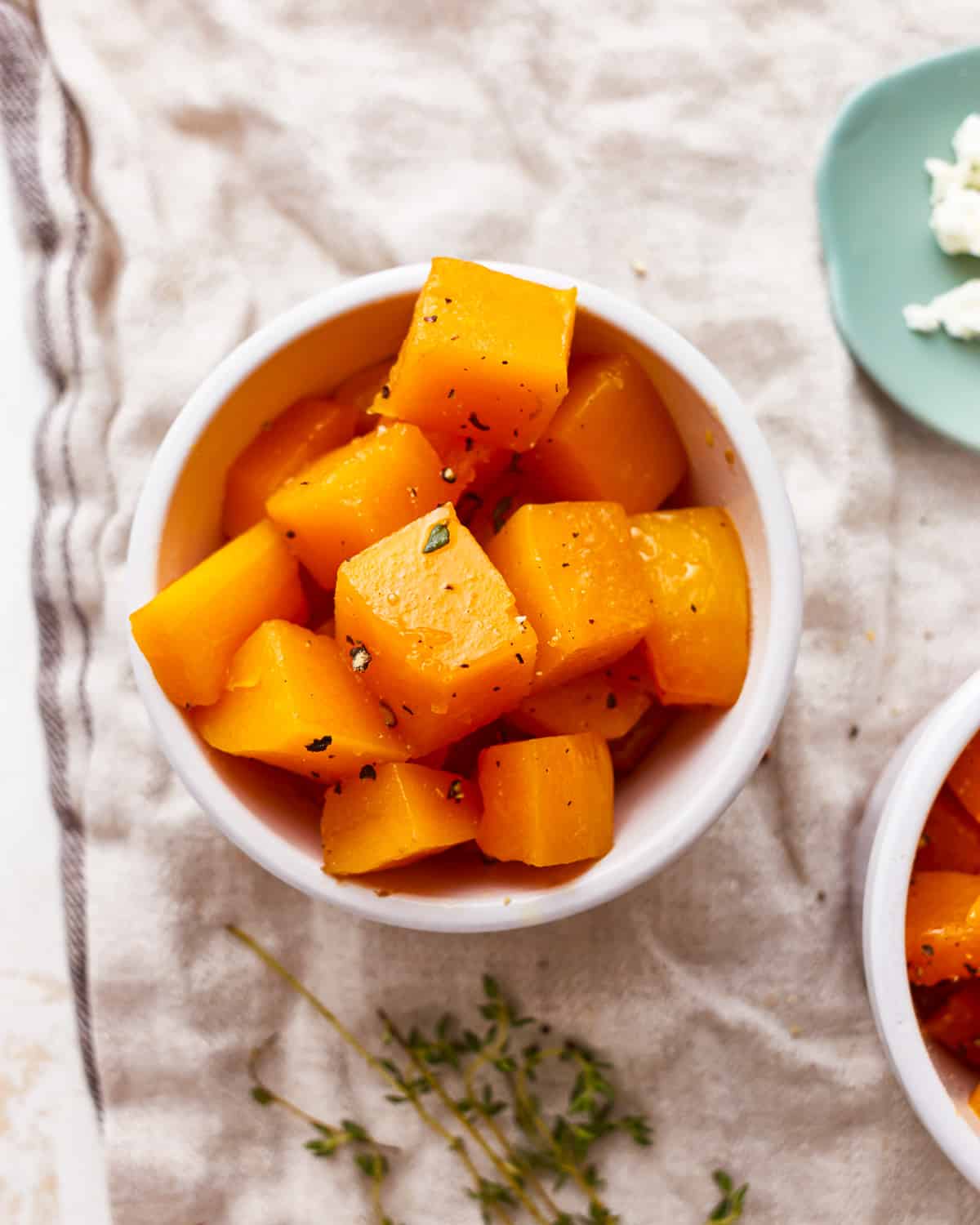 What's in this Roasted Butternut Squash Recipe?
This squash is baked in a maple, butter, and broth mixture, and it adds so much flavor. Plus the natural sweetness of the butternut squash comes out while roasting, and it all combines so well. Top it with a bit of crumbled feta cheese after baking, add some thyme or parsley, and wow! I could eat this every night.
Butternut Squash: Nutty, earthy, and slightly sweet, this bright orange squash is the perfect side!
Unsalted Butter: Adds richness and buttery flavor to the squash.
Chicken Broth: Helps keep the squash moist and adds umami flavor. Feel free to use vegetable broth instead to keep this dish vegetarian!
Maple Syrup: Adds a touch of sweetness and nuttiness. Make sure to use 100% pure maple syrup!
Salt + Pepper: Enhance the flavor of the squash.
Feta Cheese: An optional topping that adds a bit of tang and funk to the dish!
Pro Tip: Top your squash with fresh parsley or thyme to add a herbaceous note!
Variations on Roast Butternut Squash
This winter squash recipe is so good as it is, but you can add chopped toasted or candied nuts to take it to the next level.
You can also turn it into more of a maple mashed butternut squash, a butternut squash puree, or you can even roast it (cut in half) with skin on and then scoop out the flesh. And of course, you can roast the seeds too. There's a lot of variety with this hardy winter squash!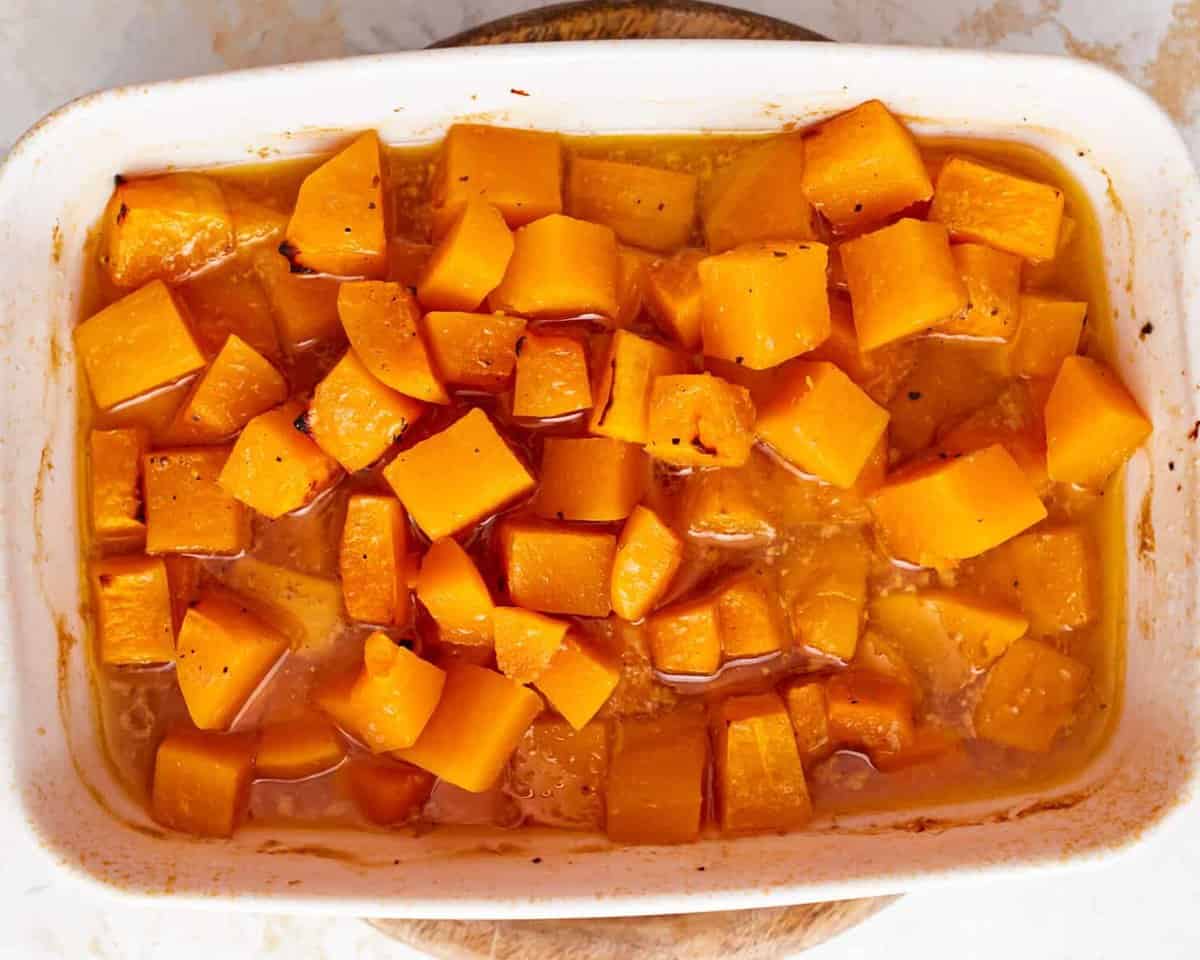 Do I need to peel butternut squash before roasting?
While you don't technically need to peel the squash, I prefer to, as the texture of the skin can be offputting on the cubes.
Can I use a different type of squash?
While the recipe specifically calls for butternut squash, you can experiment with other types of winter squash, such as acorn squash or kabocha squash. Just keep in mind that the cooking time may vary slightly depending on the type of squash used.
Why is my roasted butternut squash soggy?
If your squash is soggy, it's likely that you used too much broth. You want to coat the squash cubes, but not smother them.
How do I know when the squash is tender?
The cooking time provided in the recipe is an estimate. To determine if the squash is tender, you can insert a fork or knife into a few pieces. If it goes in easily and the squash feels soft, it is likely done. Cooking times may vary depending on the size and freshness of the squash, so adjust accordingly.
Can I prepare this dish ahead of time?
This dish is best served immediately after baking. However, you can prepare the ingredients in advance and assemble them just before baking to save time. Avoid baking it too far in advance, as the texture of the squash may become overly soft or mushy upon reheating.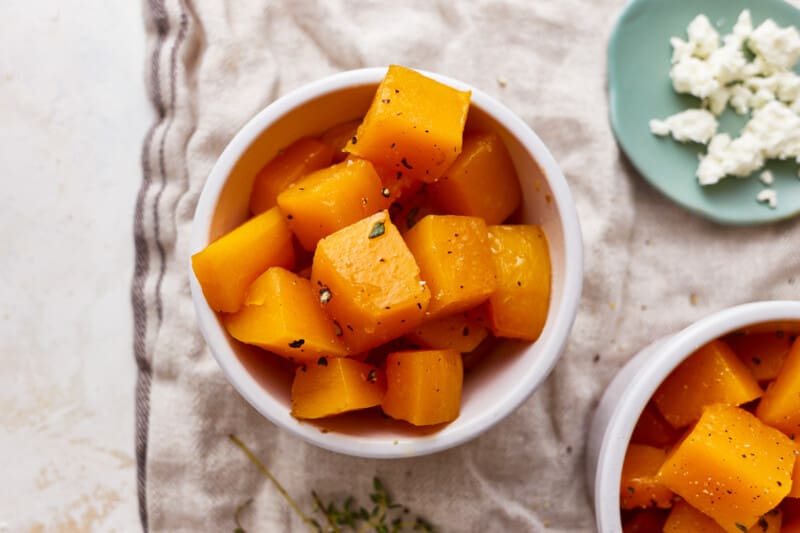 How to Store and Reheat
Store leftover roasted butternut squash in an airtight container in the refrigerator for up to 4 days. Reheat in a covered baking dish in a 350°F oven for 15-20 minutes. I do not recommend freezing this dish, as the texture of the squash will change significantly once thawed.
Serving Suggestions
This butternut squash recipe is the perfect Thanksgiving side. Serve it alongside a traditional turkey, stuffing, mashed potatoes, cranberry sauce, green bean casserole, creamed corn, and gravy.
But this squash is also great any time of the year served alongside grilled ribeyes, roast chicken, pork loin, maple glazed salmon, or honey ham. Keep that maple flavor going with a side of maple bacon Brussels sprouts or serve simply with roasted veggies.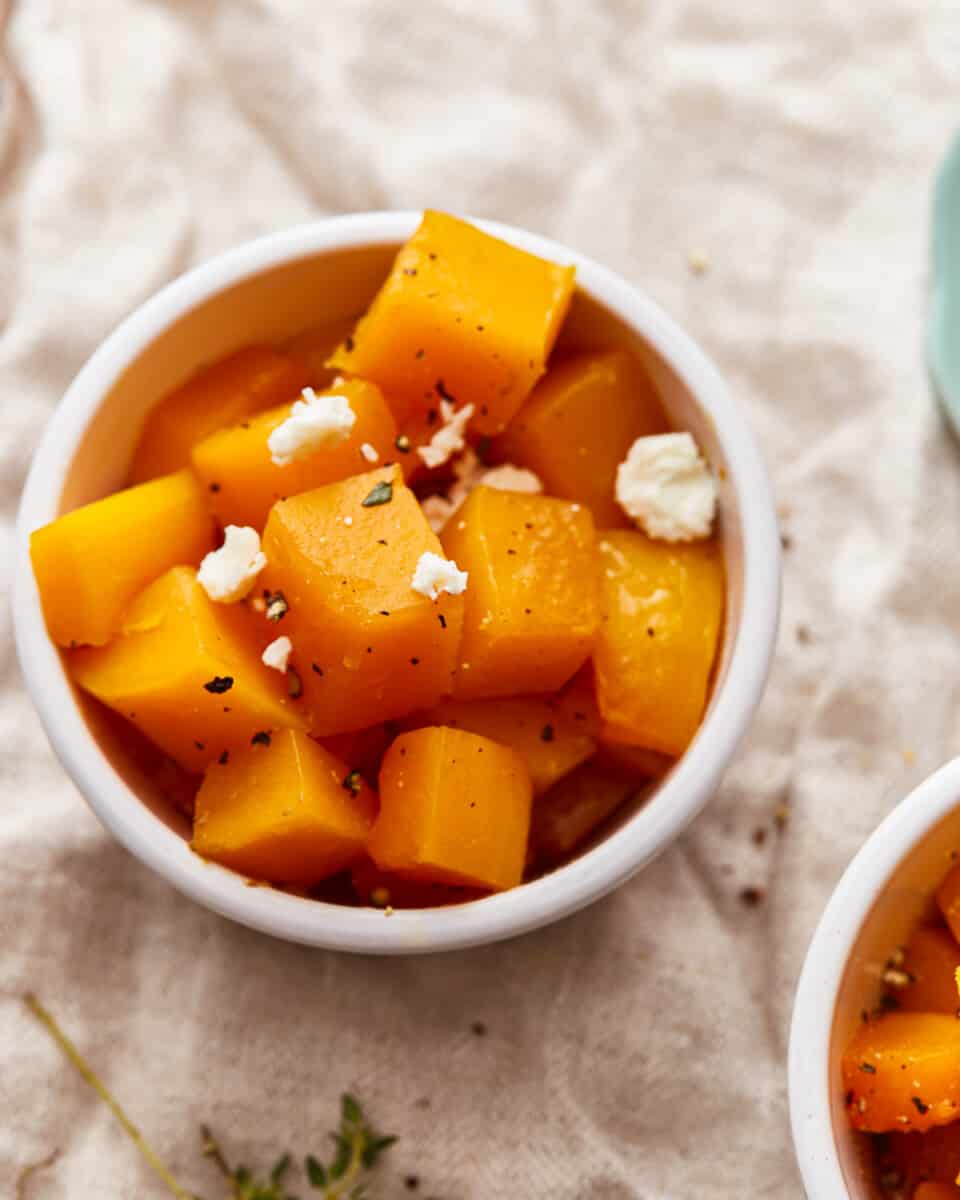 More Butternut Squash Recipes We Love