Instant Pot Mongolian Beef is a quick and easy dinner recipe that's loaded with flavor! The pressure cooker pretty much does all of the work for you and cooks the beef and broccoli to tender perfection in no time. Ingredients like soy sauce, red pepper flakes and ginger are sure to wake up your taste buds!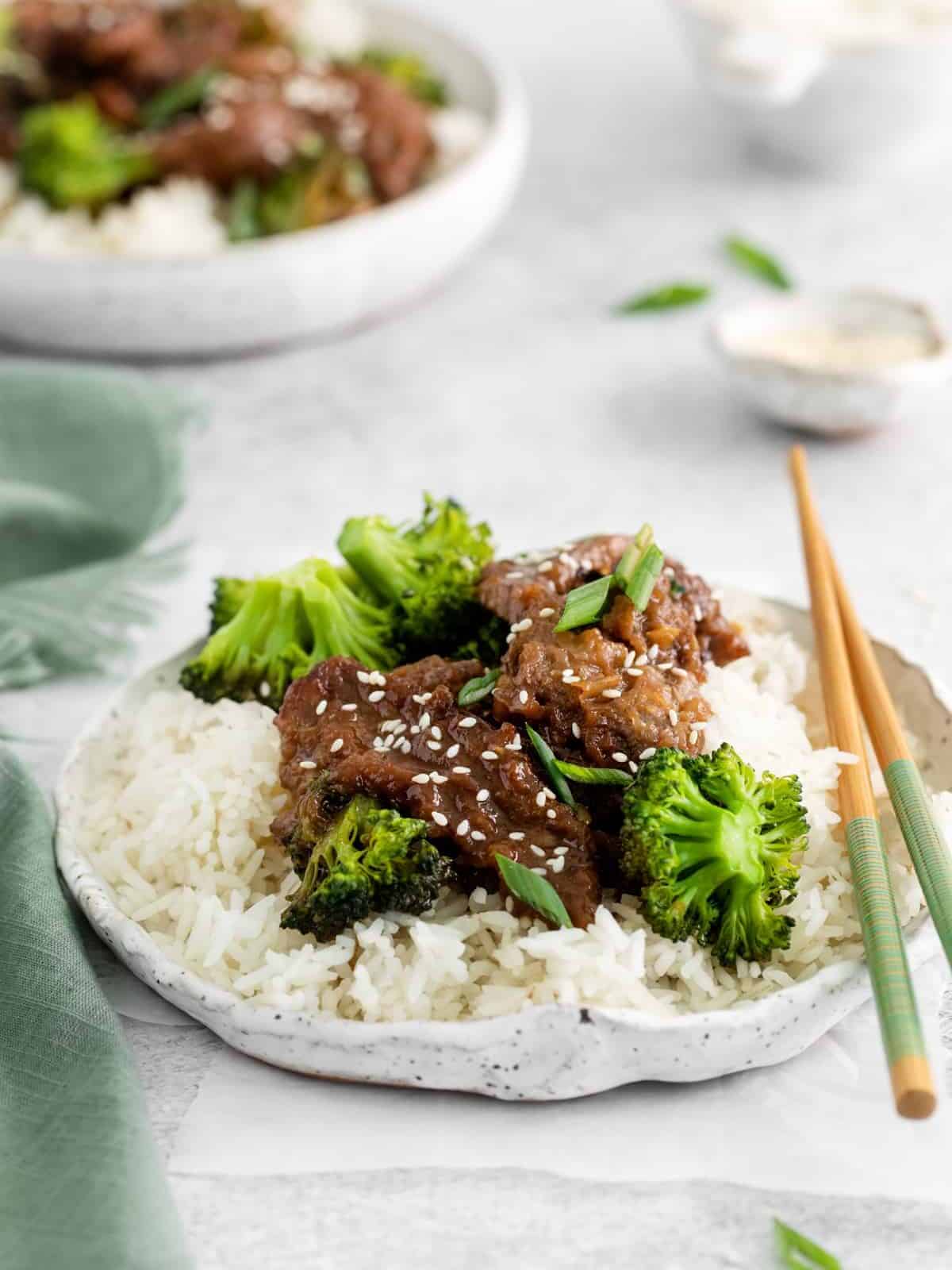 What's in Instant Pot Mongolian Beef and Broccoli
This Instant Pot Mongolian Beef recipe is the quickest and easiest way to make a takeout favorite.
Beef: Mongolian beef is most commonly made with flank steak, although you could use sirloin or New York strip if you prefer.
Cornstarch: Helps absorb extra moisture on the surface of the steak so it gets a crisp edge. It also helps thicken the sauce.
Soy Sauce: Adds a salty umami flavor to the beef. I'm using low-sodium soy sauce.
Water: Helps thin the sauce and steam the broccoli.
Brown Sugar: Adds a hint of sweetness to the sauce.
Garlic and Ginger: Classic flavorings in Asian-inspired sauces – I highly recommend fresh garlic and ginger, but you could use 1 teaspoon of granulated garlic and ½ teaspoon of dried ginger in a pinch.
Red Pepper Flakes: Add just a bit of heat – feel free to use as much or as little as you like. You can also substitute sriracha if you prefer.
Olive Oil: Helps sear the beef to create a crisp crust.
Broccoli: Delicious with Mongolian beef, but you could use pretty much any vegetable you like – carrots, snap peas, bok choy, etc.
PRO TIP: To make it easier to slice the beef thinly, place it in the freezer for about 20 minutes first.
Variations to Try
While flank steak is traditional, you can also make this dish with sirloin, New York strip steak, or even chicken!
To make this dish gluten free, swap the soy sauce for tamari or coconut aminos.
If you don't have fresh ginger and garlic, you can use ½ teaspoon of dried ginger and 1 teaspoon of granulated garlic instead.
The red pepper flakes are optional to add a bit of spice. You could also use a few squirts or sriracha instead!
Feel free to switch up the vegetables with carrots, snap peas, bok choy, or any other vegetable you like!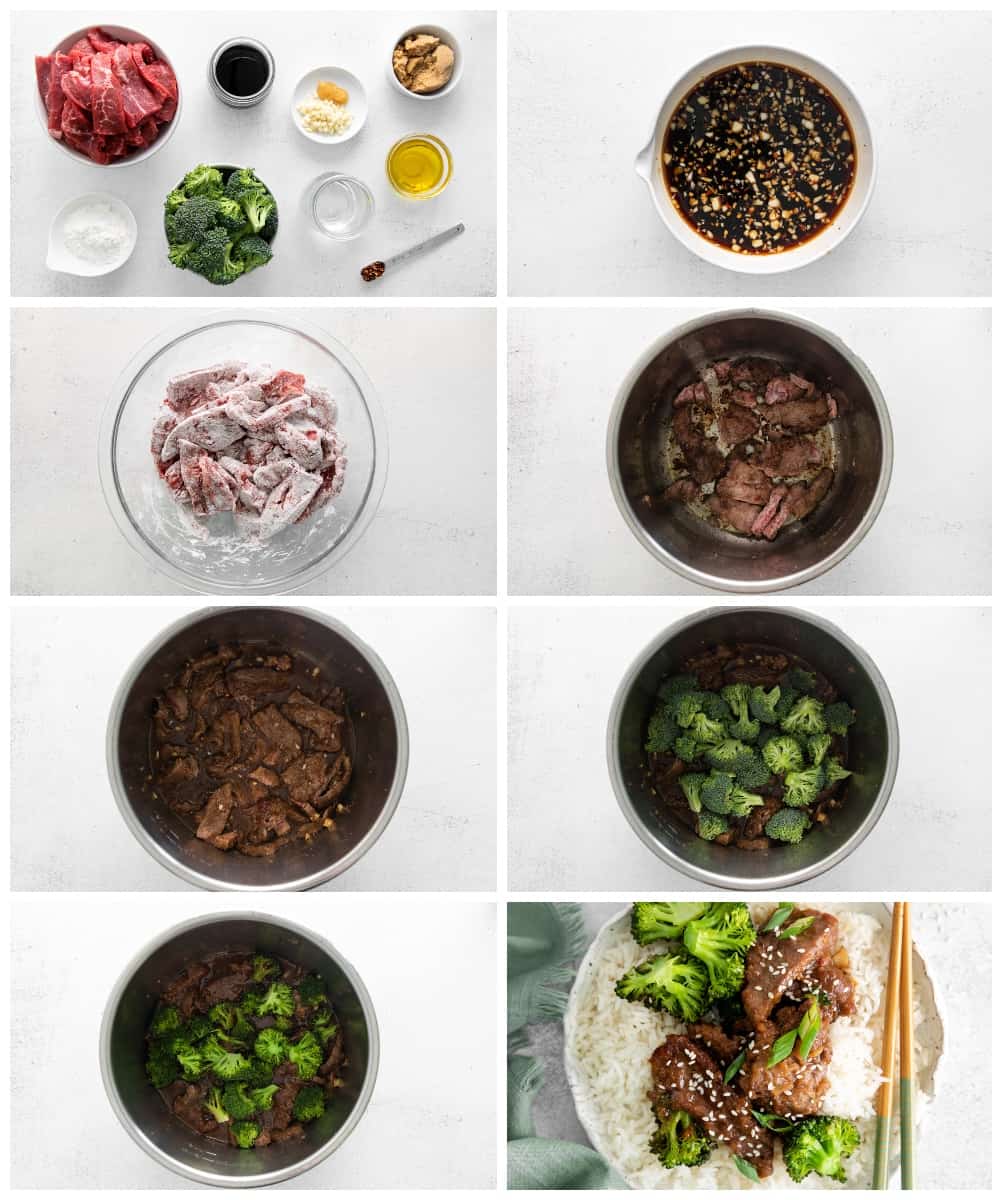 What is Mongolian beef?
Mongolian beef, despite its name, is a Chinese dish consisting of thinly-sliced flank steak cooked in a sweet and spicy sauce.
What is the best beef?
It's traditional to use flank steak, but you could also use sirloin or New York strip.
Can I make this in a Crockpot?
Yes! Sear the meat in a skillet, then add all ingredients to the Crockpot, cover, and cook for 4-5 hours on low or 2-3 hours on high.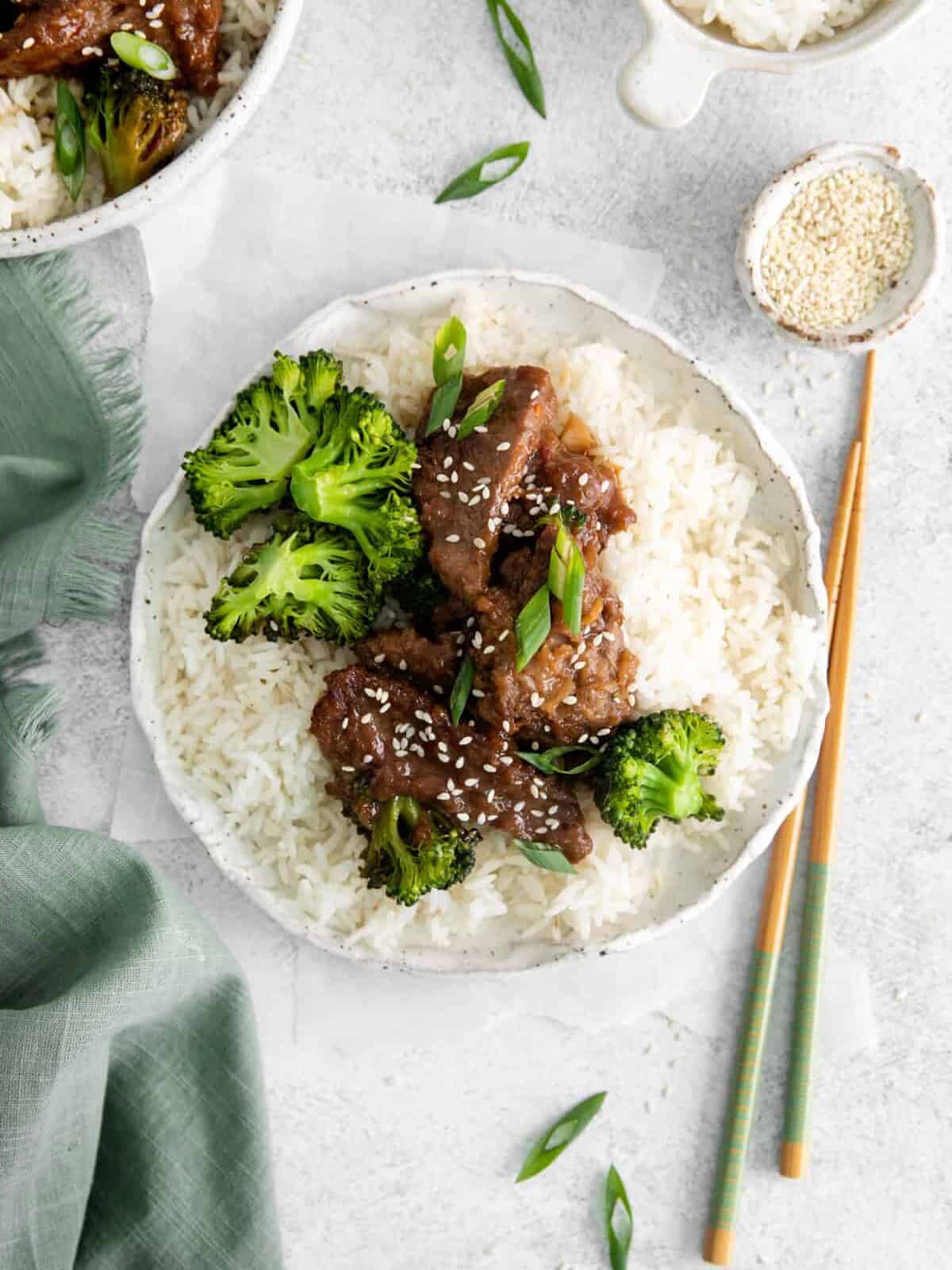 How to Store/Reheat
Store leftover instant pot Mongolian beef in an airtight container in the refrigerator for up to 3 days. Reheat gently in the microwave or on the stovetop over medium-low heat.
How to Freeze
Freeze instant pot Mongolian beef whole or in individual portions in airtight containers or Ziplock bags for up to 3 months. Let thaw overnight in the refrigerator before reheating.
Serving Suggestions
Serve your beef and broccoli white or brown rice or noodles. For a full fake-out take-out dinner, make some more easy recipes like egg rolls, crab rangoons and egg drop soup.