Instant Pot Pot Roast Recipe is the only recipe I need in life! Pot Roast is my absolute favorite! There's something about the tender meat, potatoes, carrots, and THAT SAUCE that is so comforting and delicious. This is the BEST POT ROAST RECIPE of all time. If you're in the mood for comfort food, you have to learn how to make this Pot Roast!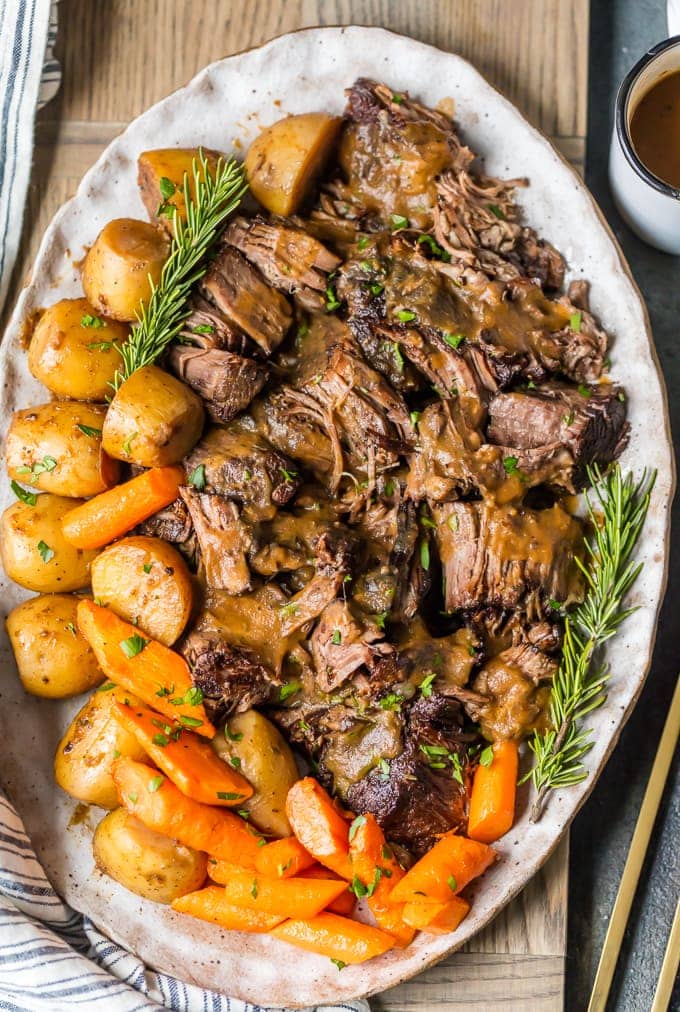 Easy Pot Roast Recipe in an Instant Pot
Pot Roast with carrots and potatoes….is there anything better? It's a meal we come back to again and again. It's loved by all, SO flavorful, and makes me think of home. The only thing better than the ole standby is if it gets easier…which is what this recipe is for!
INSTANT POT POT ROAST is all my foodie dreams come true. A fast and easy recipe that cooks all by itself and is sure to please the masses.
This Instant Pot Roast is the kind of recipe I always wanted to be able to cook but didn't know I could.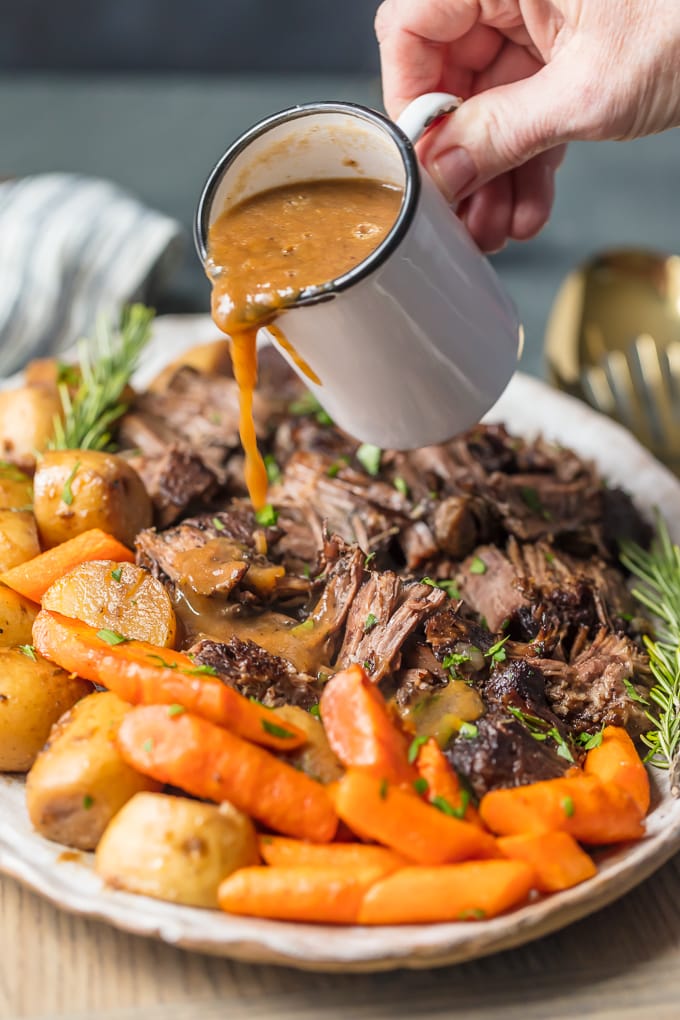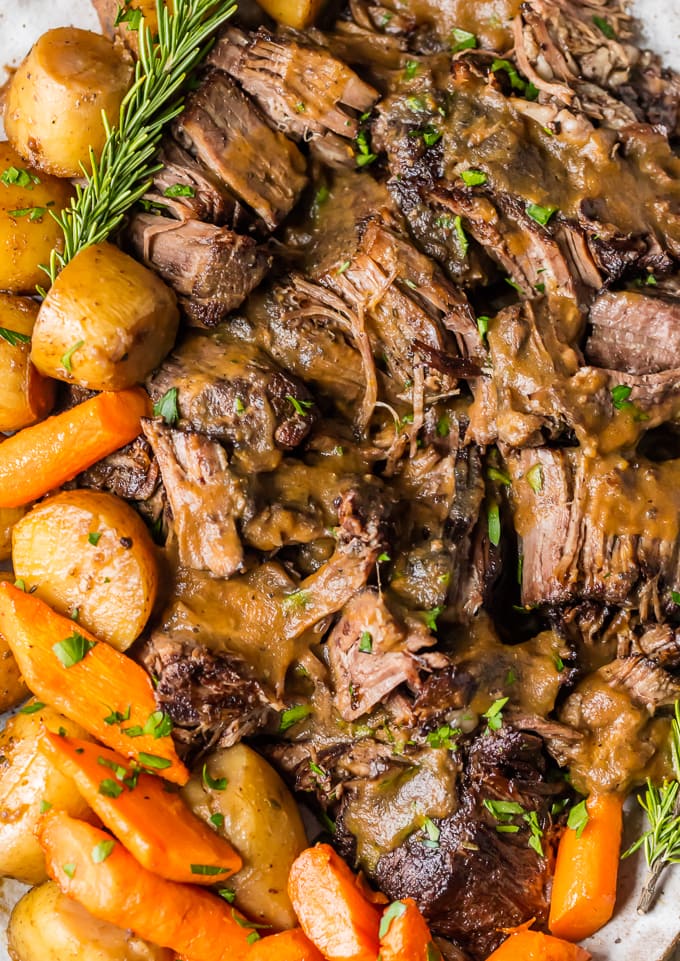 Instant Pot Pot Roast
If you haven't had my Mom's Pot Roast Recipe …and I guess none of you have :), then you're in for a treat. This sauce is TO DIE FOR and you'll never find a better recipe. This meal just takes me back. Takes me back to family dinners, takes me back to "everybody raise your hand if Mom made a great meal", takes me back to the basics.
I want Henry to grow up knowing the flavors of this Pot Roast and having those same memories. This is what comfort food is all about. It doesn't take much…just meat, potatoes, and carrots. The perfect recipe.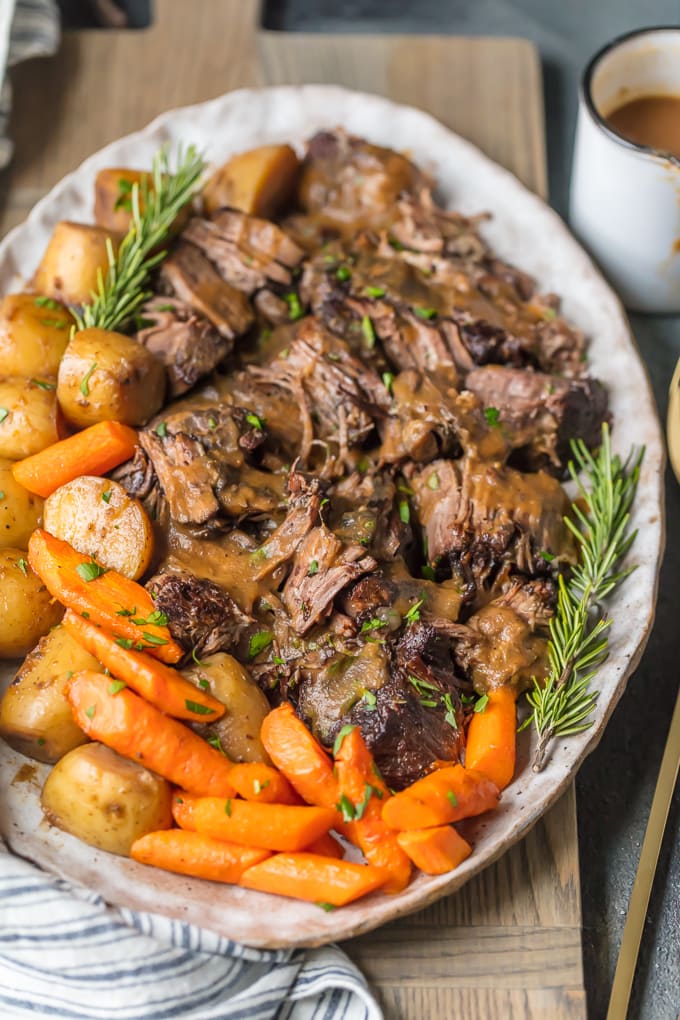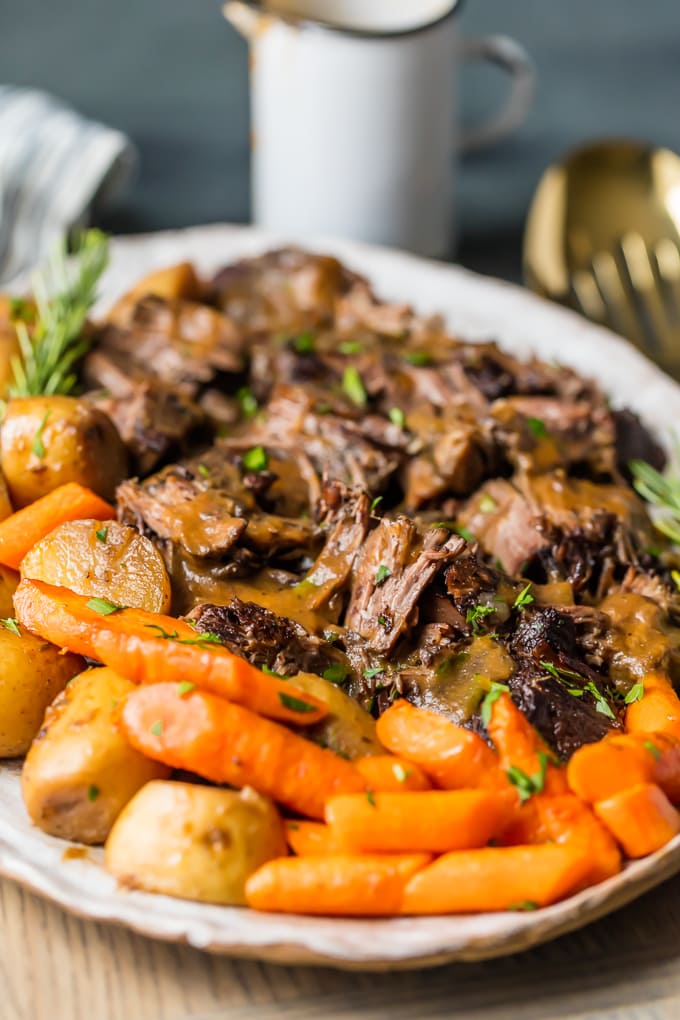 Why cook a Pot Roast in an Instant Pot?
So many reasons, but the #1 reason is TIME! The pressure cooker makes things SO much easier and quicker for making a Pot Roast. You won't be disappointed.
If you're new to the Instant Pot revolution, be sure to check out our other pressure cooked favorites. We have everything from turkey breast to chicken tortilla soup. Something for everyone!
What is your favorite Instant Pot to use for this Pot Roast Recipe?
In the "Shop This Post" section below I've linked to two of my favorite Instant Pots…both 6 and 8 qt. If cooking for a family of 4…I think the 6 quart is more than big enough. If you have a larger family, you might consider the 8 quart. I'm in LOVE with this new found wonder and hope you have fun using it!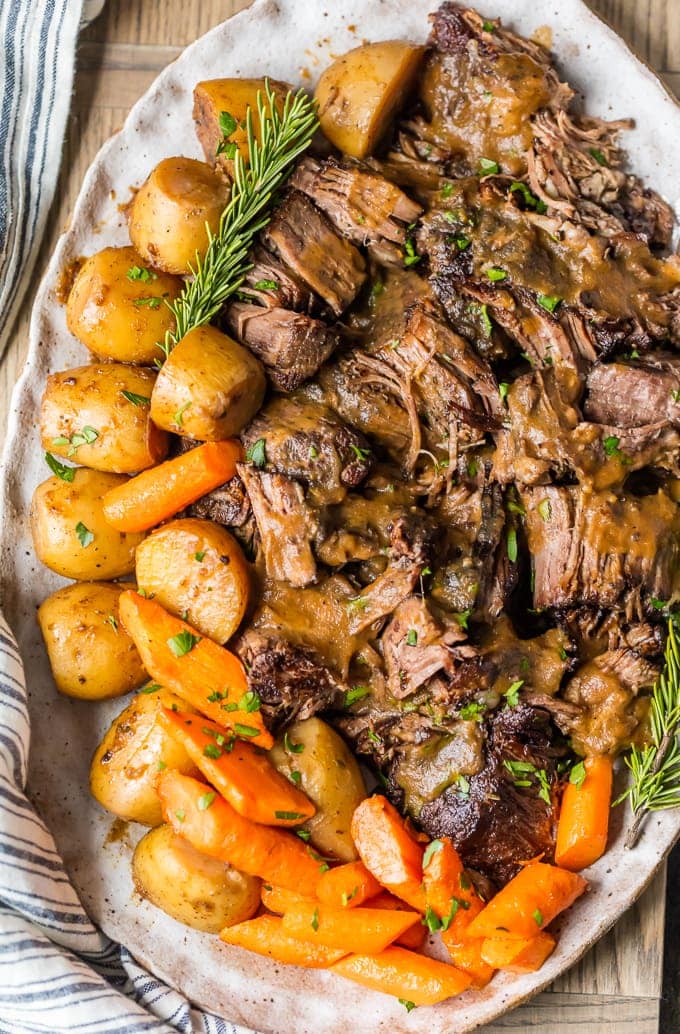 How many pounds is the right serving of pot roast?
A half pound (or about 8 ounces) is the perfect amount of roast per person. So if you're feeding a family of four you would want to get at least a 2 pound roast.
What is the best cut of meat for a pot roast?
Believe it or not the TOUGH parts of the meat make the best cuts to a Pot Roast! From The Kitchn, these are the best cuts to look for when buying for a Pot Roast Recipe:
Chuck: From the front portion of the animal. Look for chuck roast, shoulder steak, boneless chuck roast, chuck shoulder pot roast, chuck seven-bone pot roast, or beef chuck arm.
Brisket: From the breast or lower chest with long strands of meat. The flat cut is leaner, and the point cut has more fat. Brisket is best sliced against the grain of the meat for maximum tenderness.
Round: From the rear leg area of the animal. Look for rump roast or bottom round.
Be sure to check out all of our Instant Pot Recipes and see our side dishes for ideas on what to serve with them. We have something for everyone. Happy delicious dinner to all!
See the recipe card below for details on How to Make Instant Pot Roast. Enjoy!