Flavorful Instant Pot Chicken Tacos are a delicious and easy weeknight meal my whole family loves. With a short list of simple ingredients and the magic of a pressure cooker, it's easy to have juicy, tender, and spicy shredded chicken tacos on the table in under 30 minutes. They're also perfect for Taco Tuesday or a Cinco de Mayo dinner!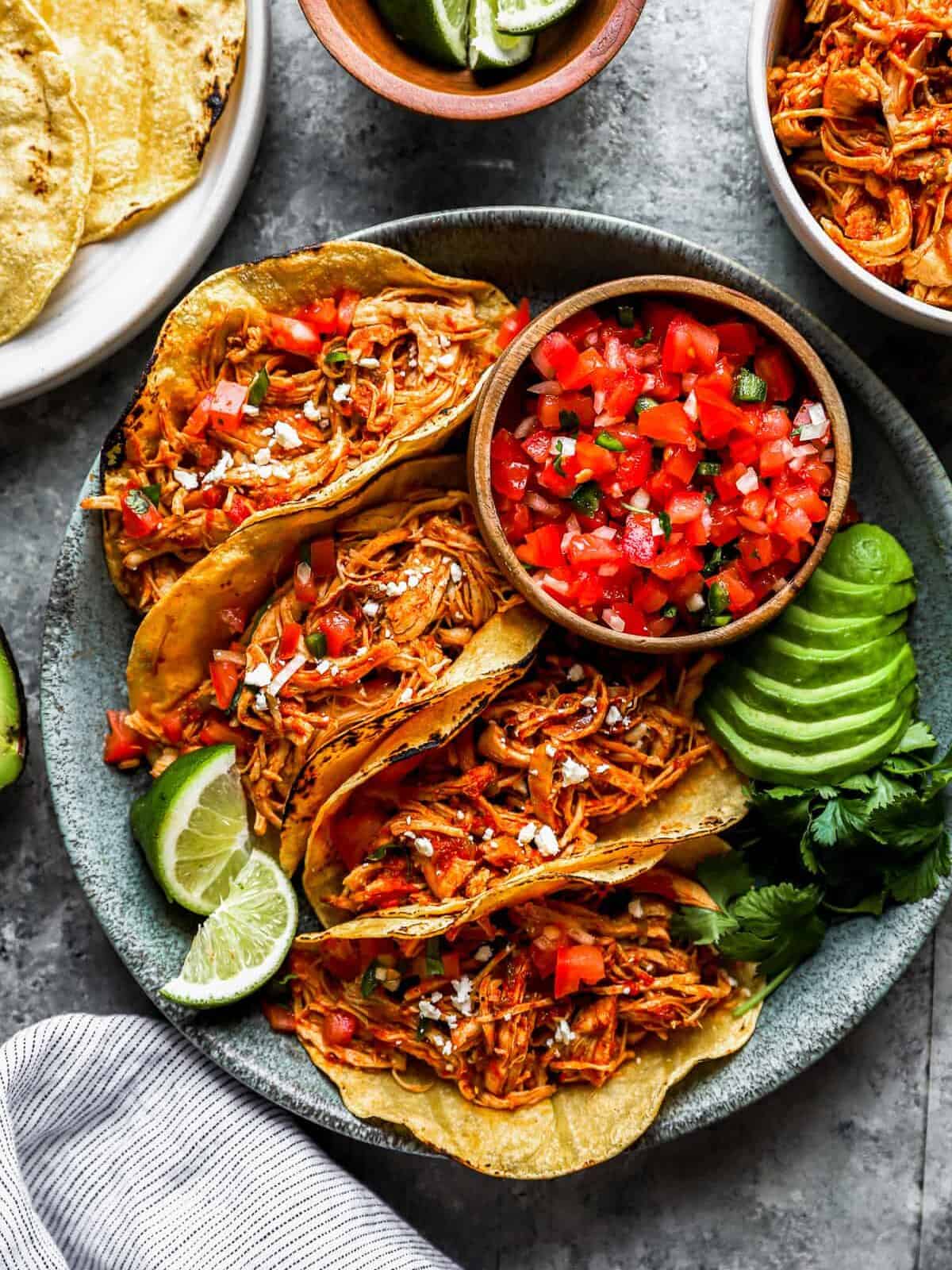 What's in Pressure Cooker Chicken Tacos?
The chicken broth, homemade salsa, and spices in the Instant Pot make the chicken incredibly juicy, tender, and flavorful with minimal effort.
Chicken Breasts: Skinless, boneless chicken breasts are best when making shredded chicken for tacos. But you can also use boneless chicken thighs for juicier meat.
Spices: Chili powder, smoked paprika, cumin, onion powder, garlic powder, and salt season the chicken breasts.
Salsa: A good salsa is the start of the most flavorful sauce for these Instant Pot chicken tacos. I like to use my easy blender salsa, but you can make any type you like, or use your favorite jar of salsa from the store.
Chicken Broth: While you can always buy premade broth at the store, homemade low-sodium chicken broth is easy to make and tastes even better.
Tortillas: I like soft and pliable flour tortillas, but you are welcome to use corn tortillas.
Variations on Instant Pot Shredded Chicken Tacos
These instant pot chicken tacos are endlessly riffable! You can use chicken thighs instead of breasts, swap the spices for store-bought or homemade taco seasoning, and swap the salsa for a hotter or milder salsa to adjust the spice level. Try using salsa verde for a fresh take!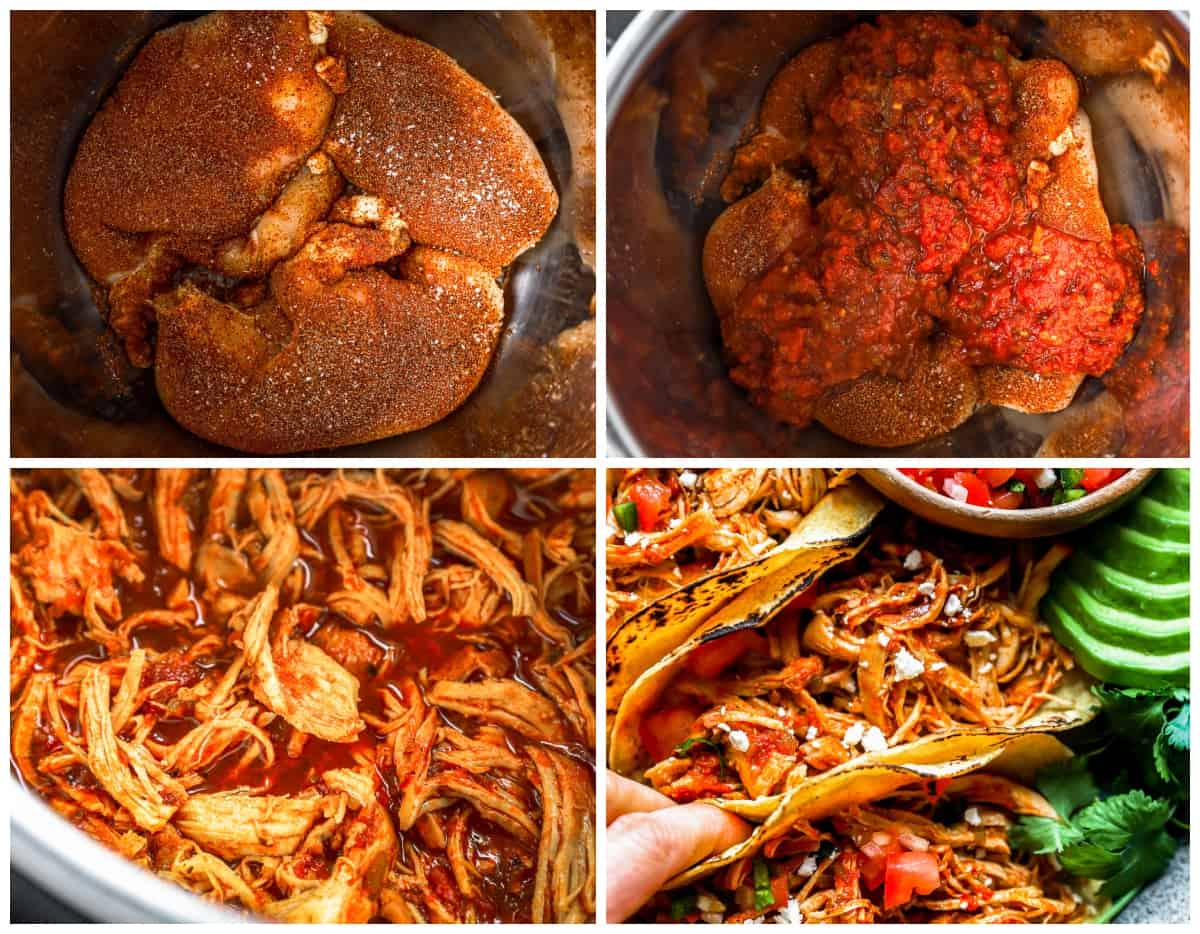 Can I use chicken thighs instead of chicken breasts?
Absolutely! Breast or thighs both work perfectly for this Instant Pot shredded chicken recipe. I just recommend using boneless, as bone-in options will require longer cooking times.
Can I use frozen chicken?
You can cook frozen chicken in the Instant Pot, but you'll need to add a couple of minutes to the cooking time (usually 3-4 minutes).
Can I make shredded chicken in a crockpot instead?
If you don't have a pressure cooker, this Crockpot shredded chicken is another easy option.
How do I know when the chicken is cooked through?
Luckily, this recipe is foolproof when it comes to fully cooking chicken, so you don't really have to worry about that. But it's always a good idea to make sure chicken has reached 165°F before eating it.
Is this shredded chicken spicy?
This recipe uses salsa and chili powder, which creates a mildly spicy flavor. You can use more or less chili powder and a hotter or milder salsa to adjust the spice level.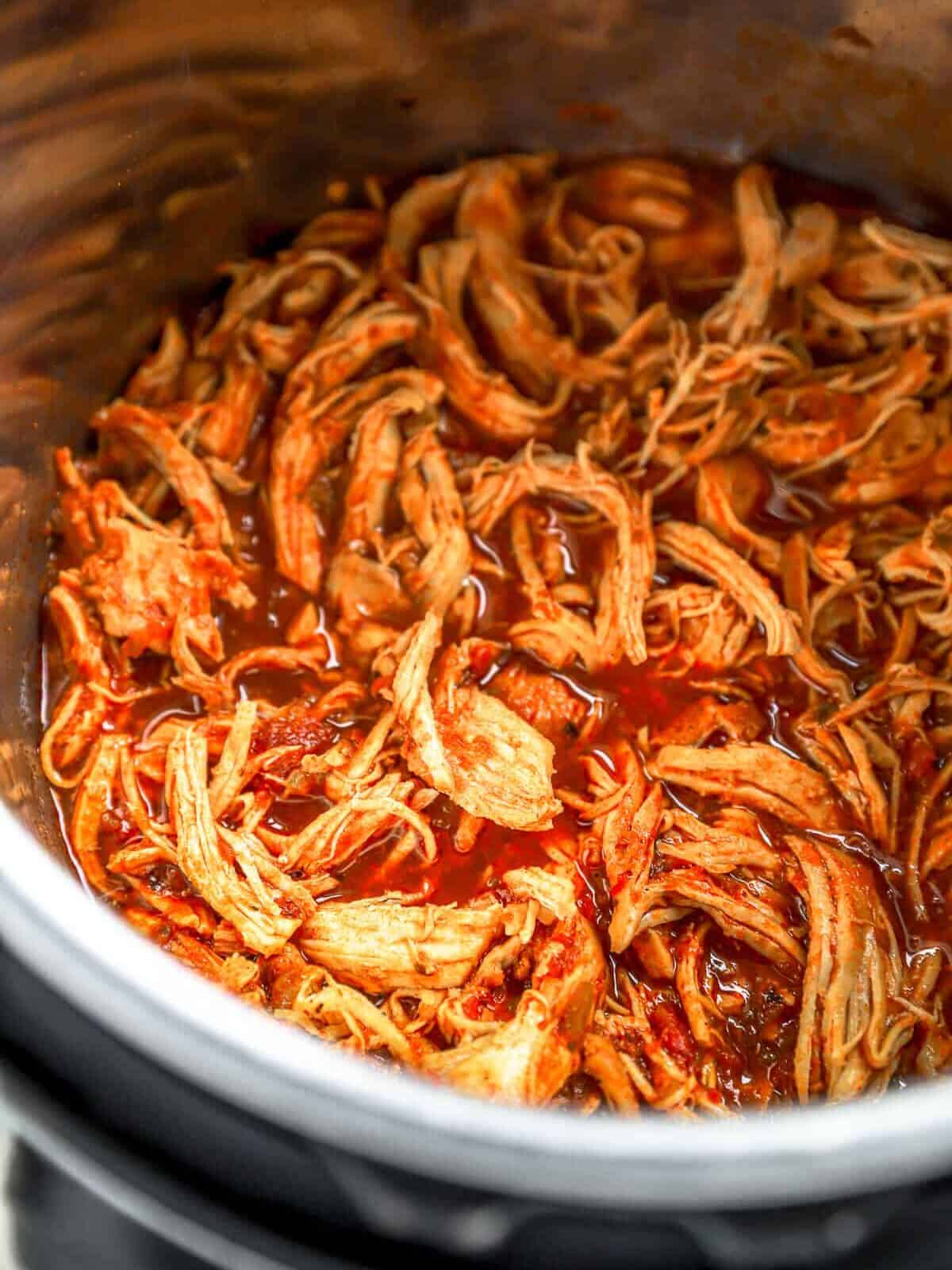 How to Store and Reheat Instant Pot Taco Meat
Store leftover instant pot chicken taco meat in an airtight container in the refrigerator for up to 3 days. Reheat in the microwave in 30-second increments until warmed through.
How to Freeze Instant Pot Chicken for Tacos
Freeze instant pot shredded chicken in an airtight container or Ziplock bag for up to 3 months. Let thaw overnight in the refrigerator before reheating.
What to Serve with Instant Pot Pulled Chicken Tacos
When it comes time to serve the tacos, set out bowls of sour cream, sliced ripe avocados, lime wedges, the best guacamole ever, pico de Gallo, and more fresh homemade salsa.
If you want to add more sides to complete the meal, consider Crockpot Red Beans and Rice or Mexican grilled corn on the cob.
You can also use the chicken to make burritos, nachos, or taco bowls.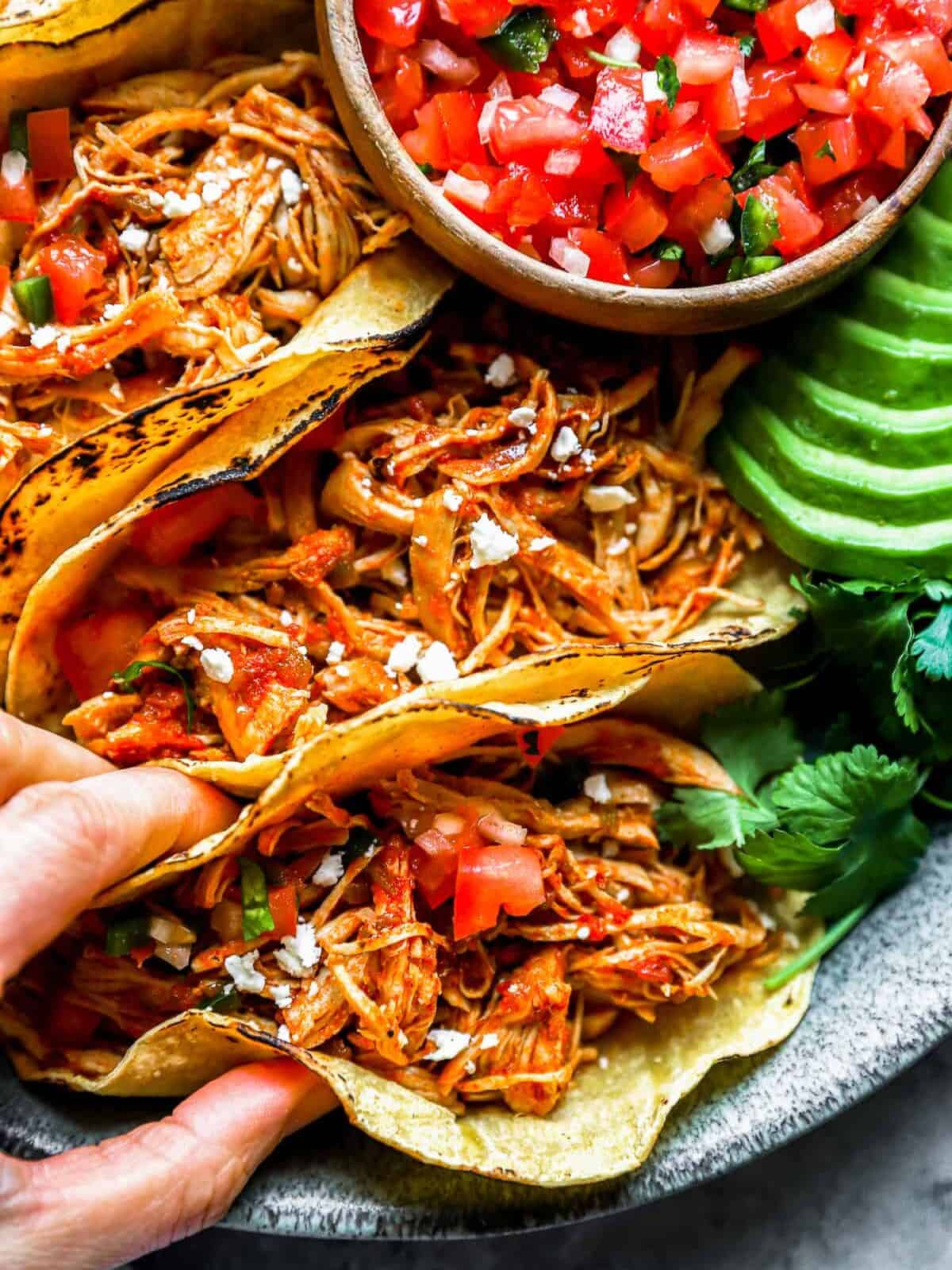 More Chicken Taco Recipes We Love