Instant Pot shredded chicken is the easiest and most versatile recipe. It's great for meal prep because you can use this juicy, flavorful chicken in so many different recipes. Learn how to make shredded chicken in an Instant Pot (breast or thighs), and add it to your tacos, soups, casseroles, salads, and so much more!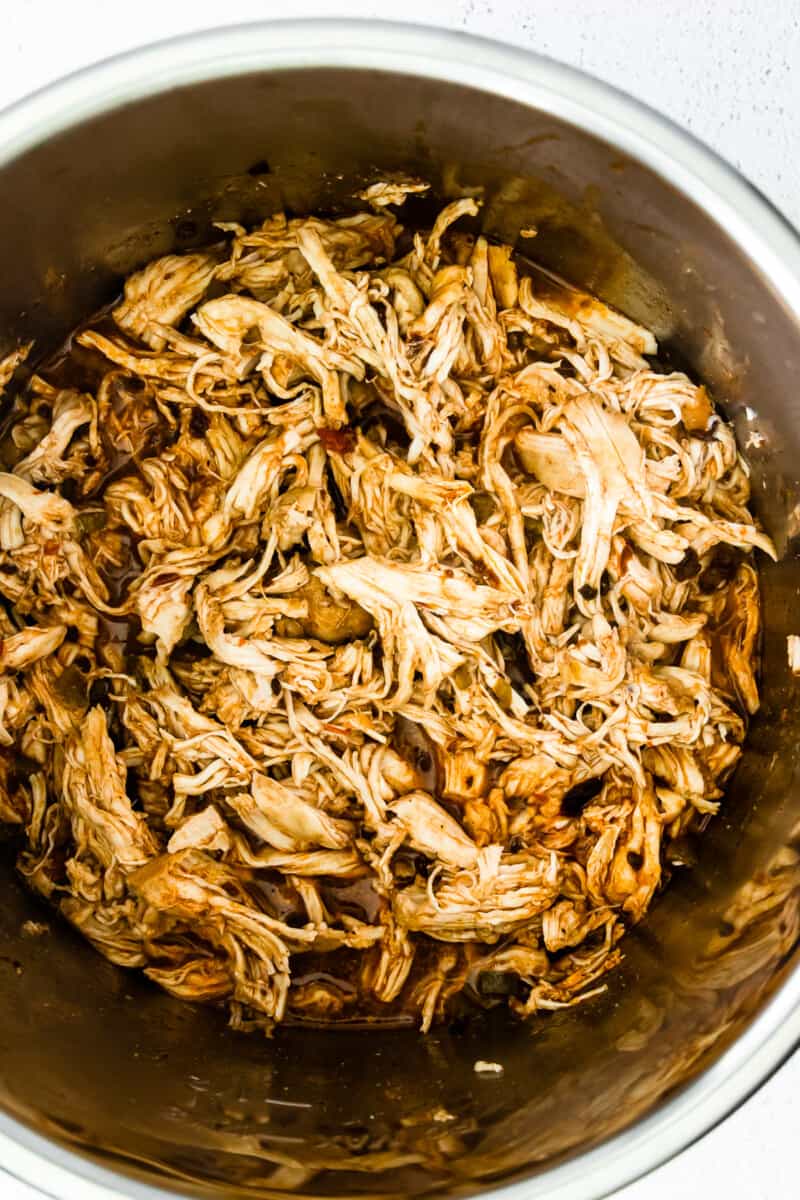 Easy Shredded Chicken
This Instant Pot shredded chicken recipe is one of my most useful and versatile recipes! Shredded chicken is essential for so many of my favorite dishes, and this method is the EASIEST way to make it.
I love making shredded chicken in the Instant Pot for meal prep, or any time a recipe calls for it. You can make tacos, sandwiches, casseroles, salads, soups, and so many other things with this recipe.
I added salsa and taco seasoning to this chicken before shredding for a delicious, slightly spicy flavor. But it's easy to use any spices or seasonings you like!
Why You'll Love this Shredded Chicken Recipe:
EASIEST RECIPE: I'm a big fan of easy recipes, and this is by far one of the easiest! You just need chicken, a few seasonings, and your pressure cooker, plus a few minutes to cook.
VERSATILE: There are so many different ways to use this shredded chicken, you'll never run out of recipes. Plus it's easy to change up the flavor every time you make it!
PERFECTLY COOKED: Making shredded chicken in an Instant Pot creates perfectly cooked, juicy, flavorful chicken every time!
Use chicken breast or chicken thighs for this easy shredded chicken recipe! And keep reading for some ideas on how to use it, different seasoning options, and what to make with it. This is one of our favorite meal prep ideas!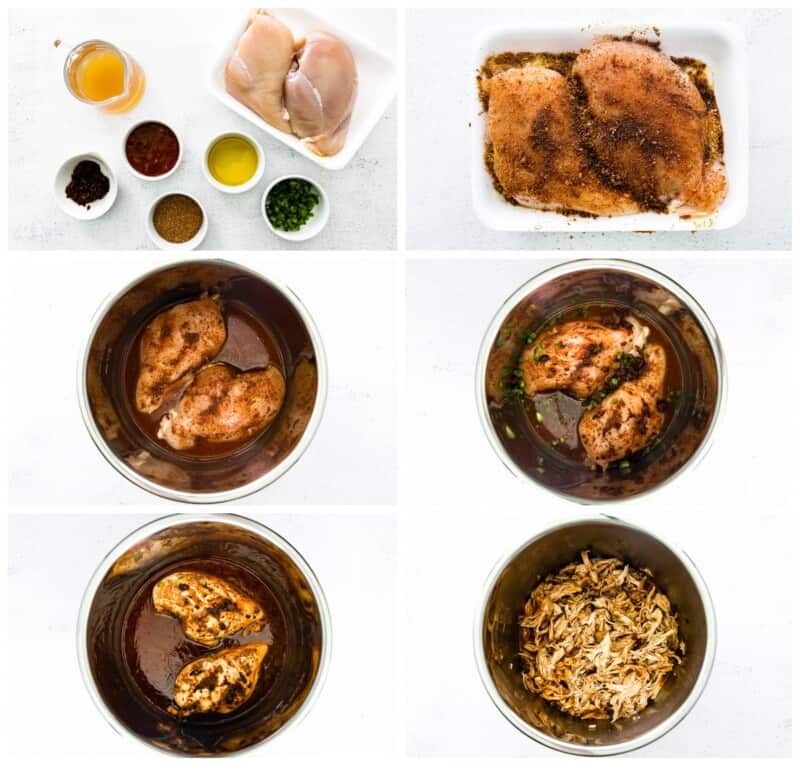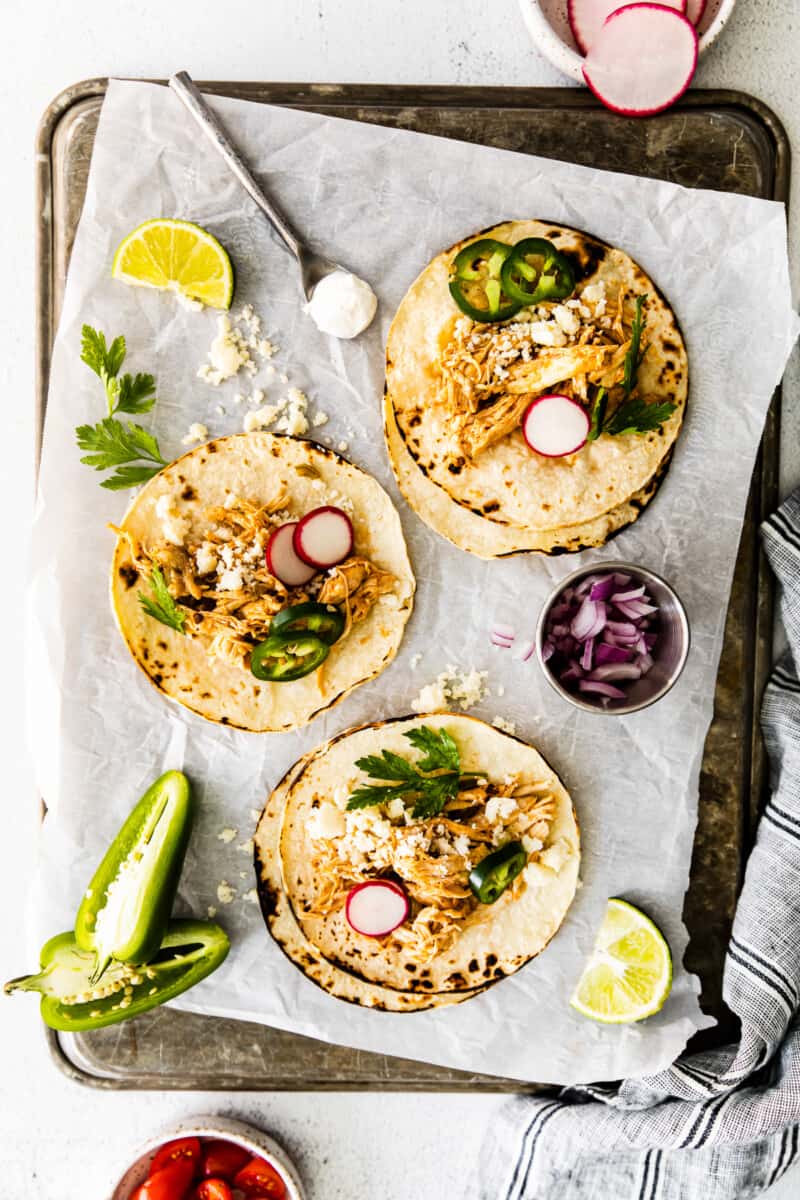 How to Make Instant Pot Shredded Chicken
You can jump to the recipe card for full ingredients & instructions!
Add stock and salsa to the pressure cooker.
Drizzle olive oil over the chicken, and rub with preferred seasonings.
Place chicken in the Instant Pot, and add any additional ingredients (if using).
Attach the lid, and set to cook for 12 minutes. Release pressure when it's done.
Shred the chicken and use as you wish, in any of your favorite recipes. (Check below for recipe ideas!)
Shredded Chicken Ingredient Notes
Chicken Stock: Helps ensure that the chicken stays moist and juicy while cooking. Stock also adds more flavor than water, so I highly recommend using it.
Salsa: Infuses a bit more flavor into the chicken while cooking.
Chicken: Use boneless, skinless chicken breasts or chicken thighs.
Olive Oil: Helps the spices stick to the chicken.
Taco Seasoning: Use your favorite store bought or homemade taco seasoning.
Peppers: Jalapeño adds a bit of spice while chipotles in adobo add smokiness. Both are delicious additions, but completely optional.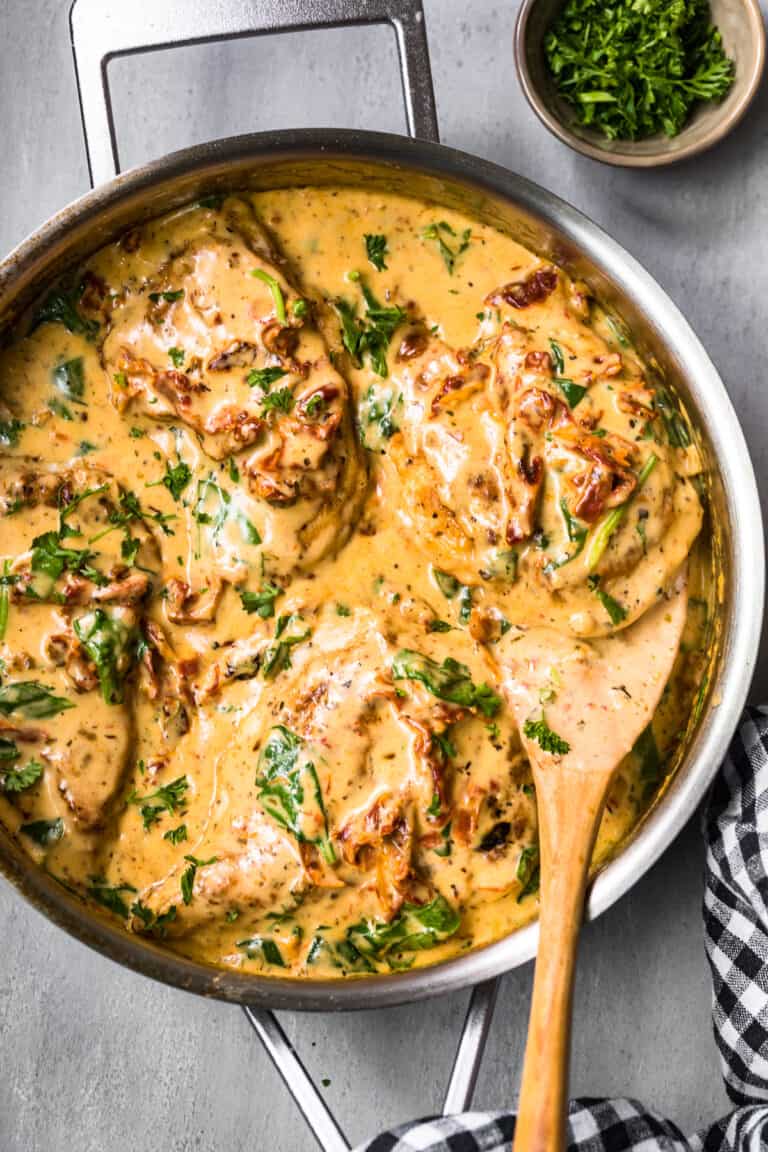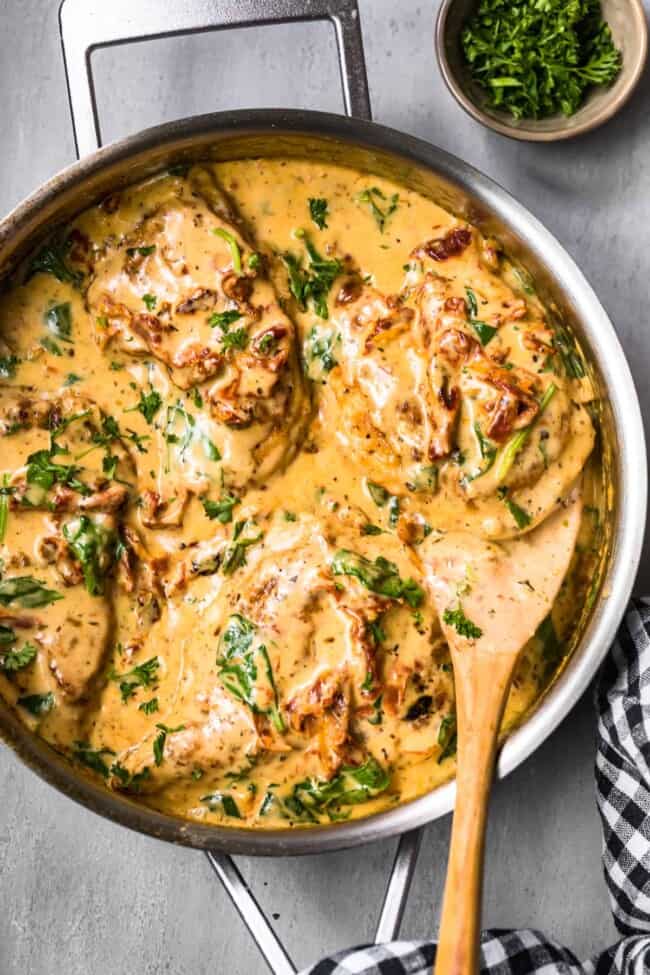 Winner Winner Chicken Dinner
72+ Chicken Dinner Recipes
See our Chicken Guide for all the best chicken recipes plus tips and tricks for juicy chicken every time.
Chicken Dinner Recipes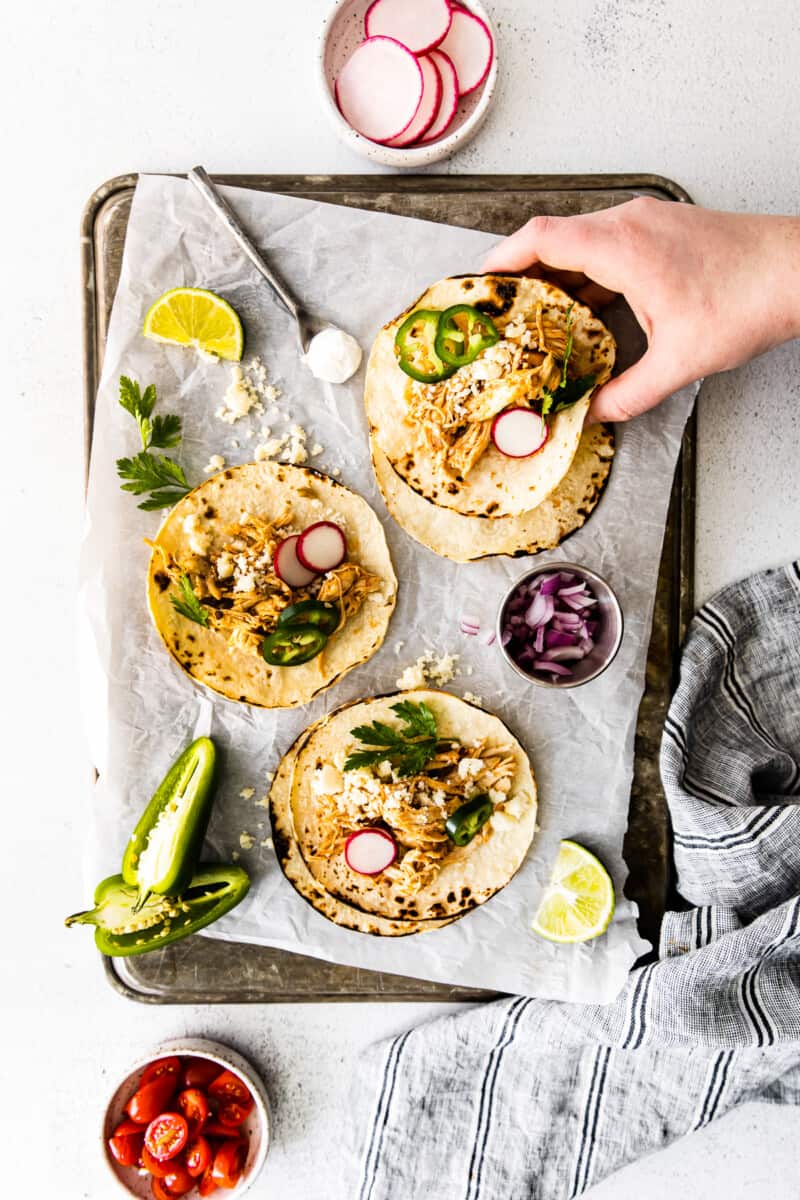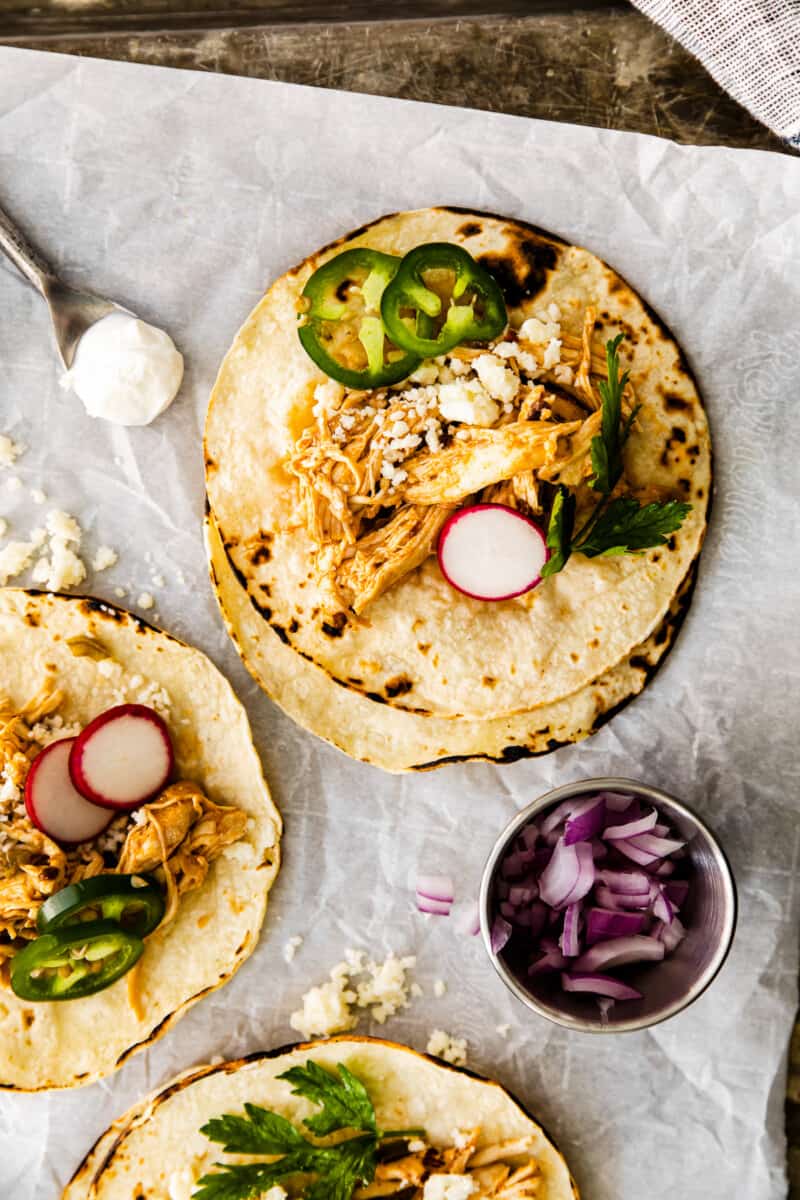 Can I use chicken thighs instead of chicken breasts?
Absolutely! Breast or thighs both work perfectly for this Instant Pot shredded chicken recipe. I just recommend using boneless, as bone-in options will require longer cooking times.
Can I use frozen chicken?
You can cook frozen chicken in the Instant Pot, but you'll need to add a couple of minutes to the cooking time (usually 3-4 minutes).
Can I make shredded chicken in a crockpot instead?
If you don't have a pressure cooker, this Crockpot shredded chicken is another easy option.
How do I know when the chicken is cooked through?
Luckily, this recipe is foolproof when it comes to fully cooking chicken, so you don't really have to worry about that. But it's always a good idea to make sure chicken has reached 165F before eating it.
How long does it take to cook shredded chicken in an Instant Pot?
You only need about 12 minutes of actual cook time. Because of the time needed to release the pressure after cooking, total time for this recipe will be around 30 minutes.
Is this shredded chicken spicy?
This recipe uses salsa and taco seasoning, which creates a mildly spicy flavor. It's perfect for Mexican-inspired dishes, like tacos or nachos. You can use different seasonings if you prefer.
What can I make with shredded chicken?
Instant Pot shredded chicken is so versatile, and can be used in so many different recipes. That's why I like making a batch of it when meal prepping, so I can use it in any dinners I might want for the week.
Because of the seasoning I use here, I like to use this shredded chicken to make tacos, nachos, burritos, enchiladas, or grain bowls.
But with different spices or even simple salt and pepper, it becomes even more versatile. Add it to soups and casseroles, make pulled chicken sandwiches, or top off your favorite salads and pastas.
Here are some of my favorite shredded chicken recipes.
And check this guide for even more ways to use shredded chicken!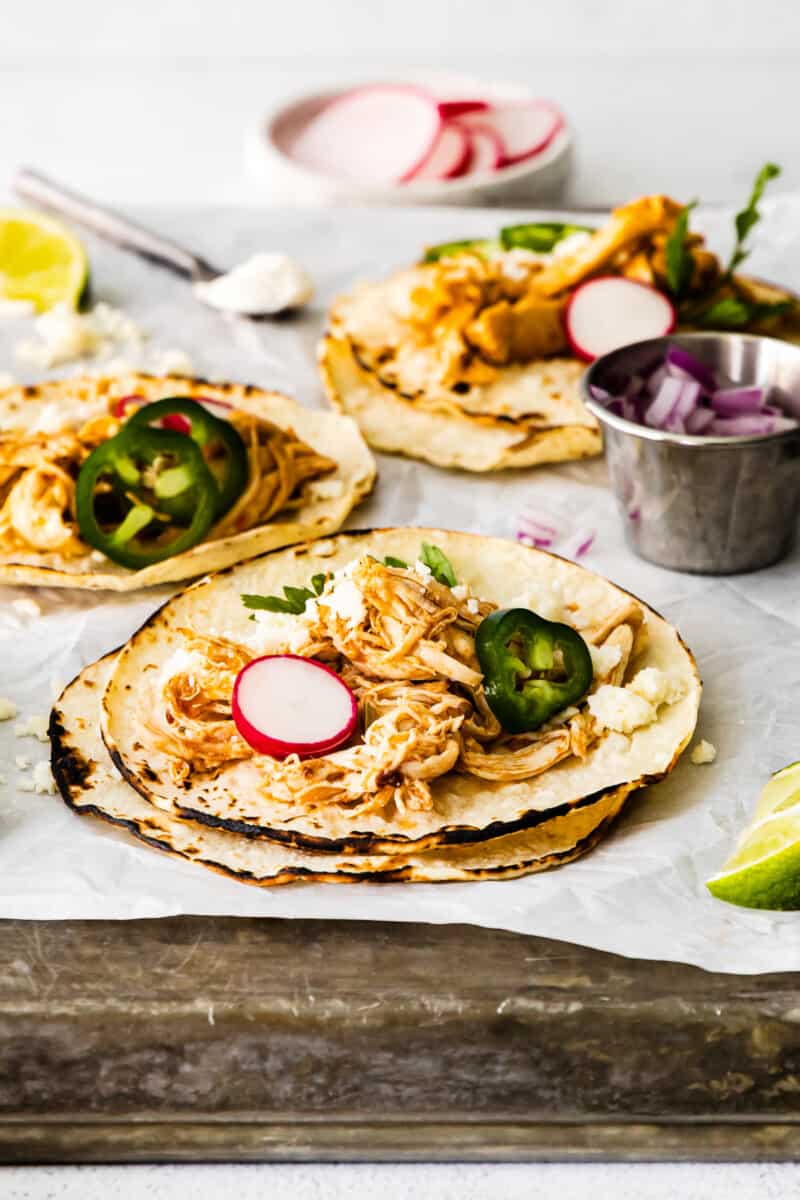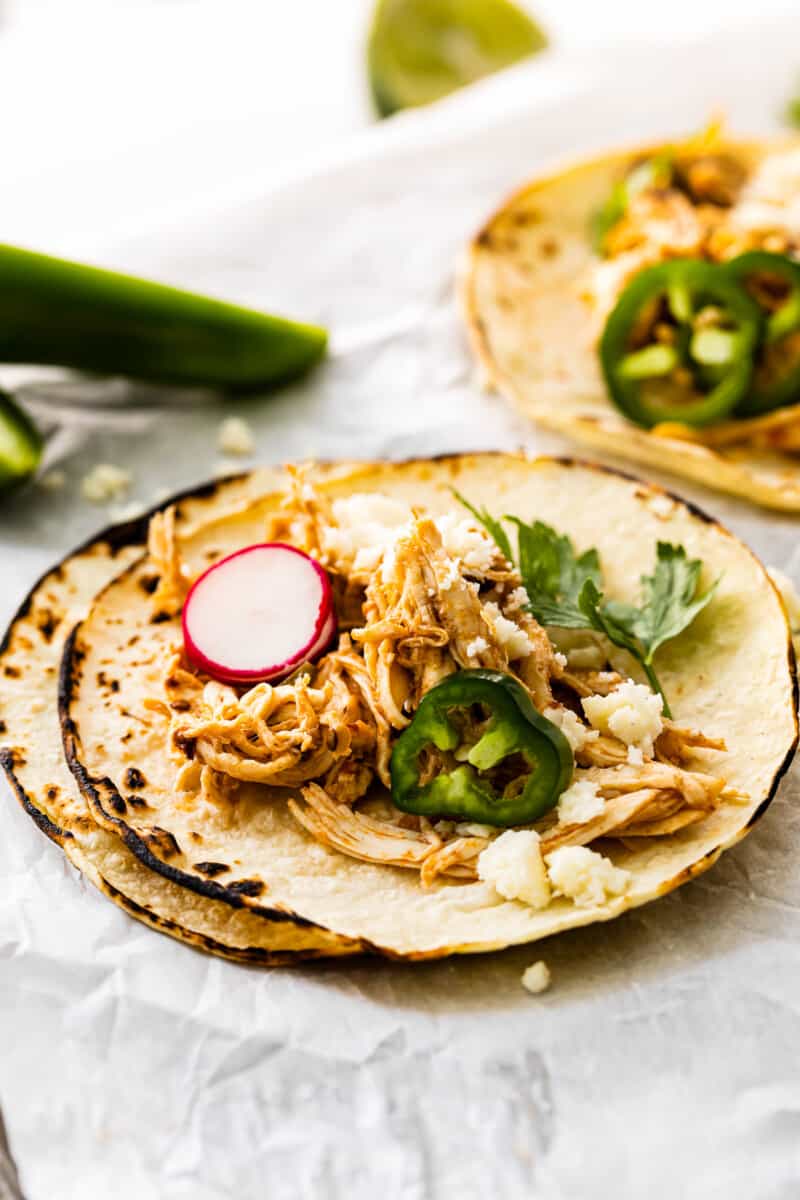 Tips!
Use boneless, skinless chicken breast or thighs for this recipe.
Rub seasoning into the chicken to make sure it's fully, evenly seasoned.
Try to arrange chicken in an even layer in the Instant Pot, instead of stacking it.
Be sure to use enough liquid–don't skimp! You can use water or another liquid instead of chicken stock, but the stock will add so much flavor.
Use different spices and seasonings if you prefer.
Store leftover shredded chicken in an airtight container in the refrigerator for up to 3 days, or in the freezer up to 3 months.
What other seasonings can I use for this Instant Pot shredded chicken?
I love the Mexican-inspired flavor of this Instant Pot shredded chicken recipe. The taco seasoning makes it just perfect for some of my favorite dishes.
However, you can use any combination of spices or seasonings you choose.
Simple salt and pepper will prepare the chicken for any possible recipe you might want to make with it.
Make BBQ pulled chicken by adding your favorite BBQ sauce to the pot while it cooks.
Use Italian seasoning to create something herby and flavorful for pastas or casseroles.
Or try Creole seasoning, blackened seasoning, or any of your favorite seasoning blends.
How do you shred chicken?
Once you cook the chicken in the Instant Pot, it will be ready for shredding! The easiest way to do it is to use two forks and pull them through the chicken, in opposite directions. It will pull easily and it goes quick.
You can use a blender or mixer if you prefer, but the fork method is the easiest for this amount of chicken.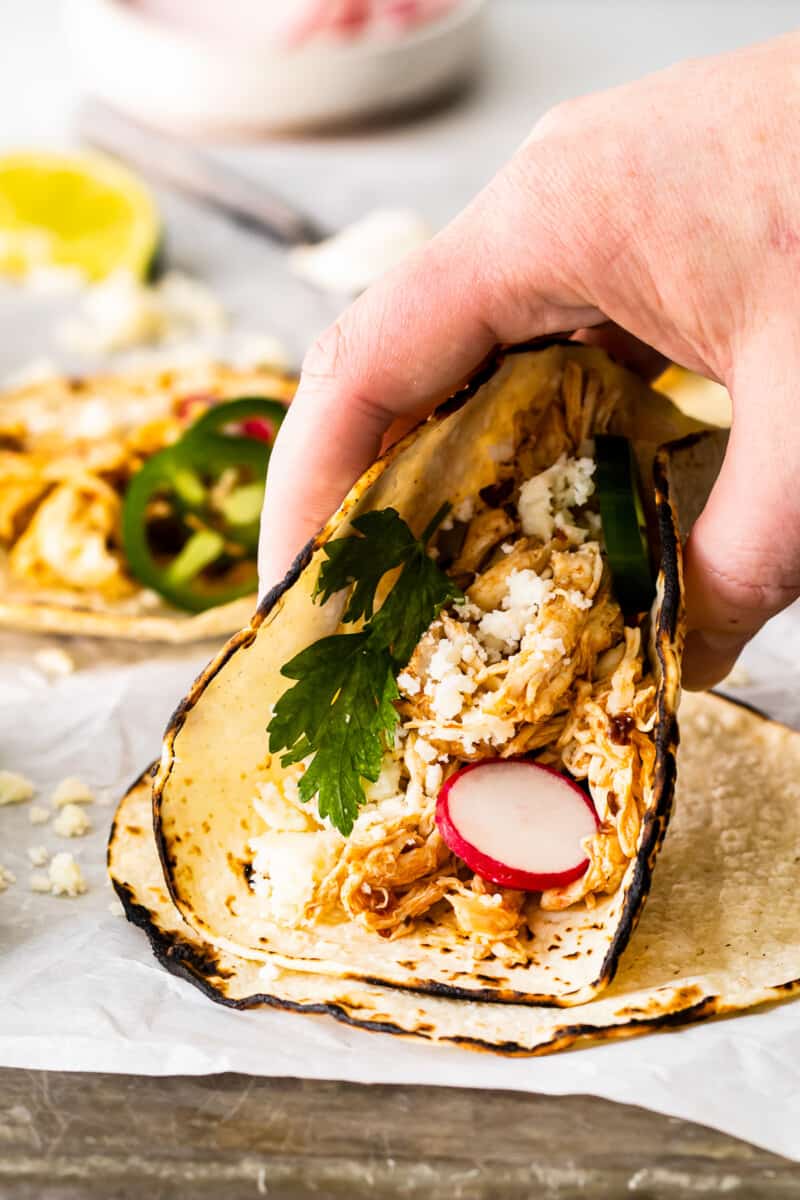 No matter how you season it or how you use it, this Instant Pot shredded chicken is sure to be a new go-to for weekly dinners and meal prep. It's so easy to make and so delicious!
If you make this recipe be sure to upload a photo in the comment section below or leave a rating. Enjoy! You can also jump to recipe.