These homemade Egg Rolls are super crunchy and loaded with garlic, ginger, minced pork and green onions. Such a delicious appetizer or game day treat!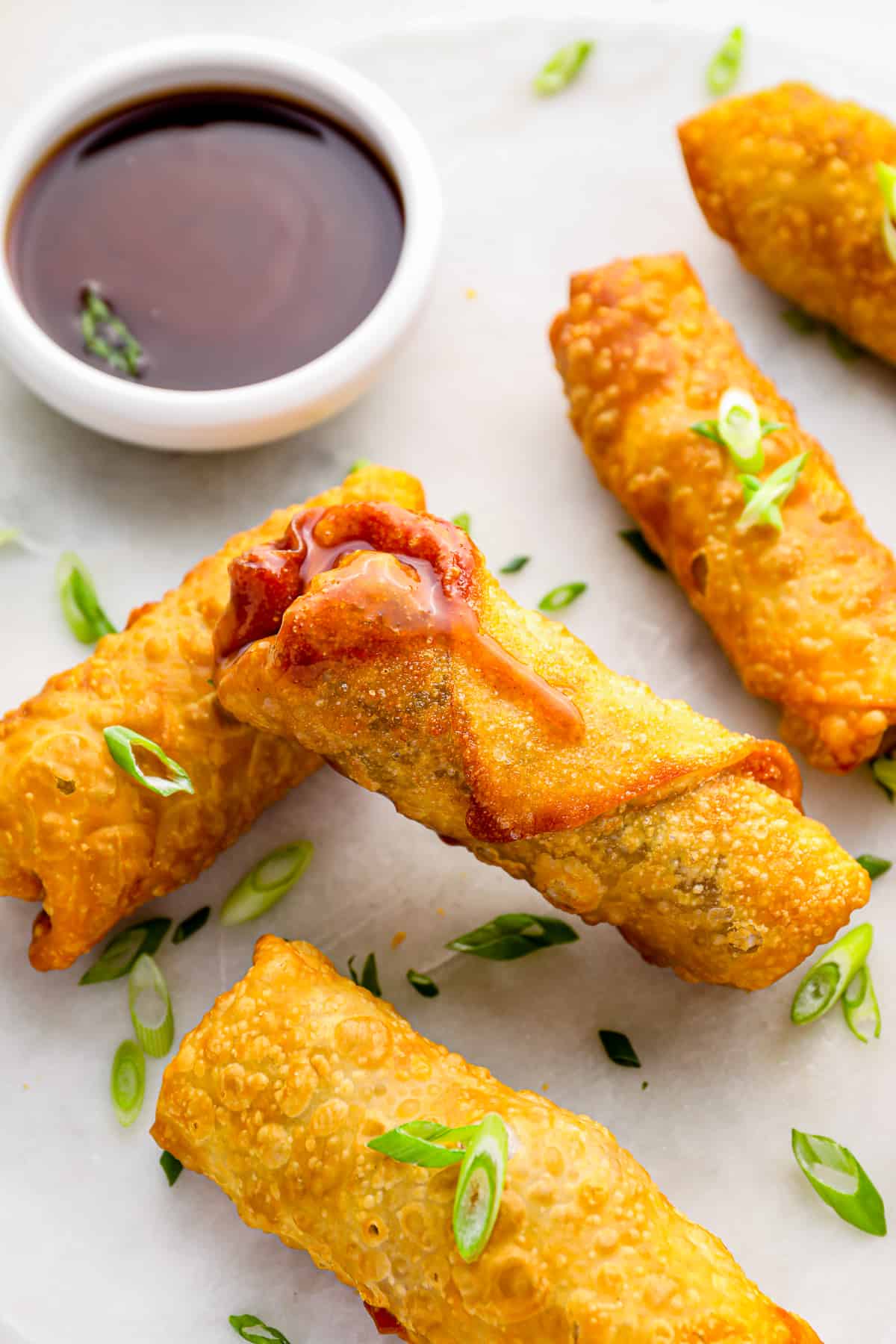 Pork Egg Rolls
With savory pork filling, these fried egg rolls come out golden and crispy. But be careful, they are utterly addictive!
Served up with dipping sauces, these bad boys will be gobbled up quick! Perfect as an appetizer or game day snack. Good thing you can make these ahead of time and freeze them–it's party prep perfection!
Looking for more game day snacks? Why not also try my Beer and Pretzel Chicken Wings and my Crockpot Queso Cheese Dip!
Why You'll Love this Egg Roll Recipe:
SUPER CRUNCHY: The egg rolls come out with the perfect crunch, bubbly golden and just as good as take out!
SAVORY FILLING: Each roll is generously loaded with a lip smacking garlic and ginger pork mixture.
EASY: So simple to make, with only a few ingredients needed.
These delicious egg rolls can be assembled in advance and stored until you need them, which makes them the ideal part food. These are one of my all time favorite appetizers, because they are simple, gorgeous and scrumptious!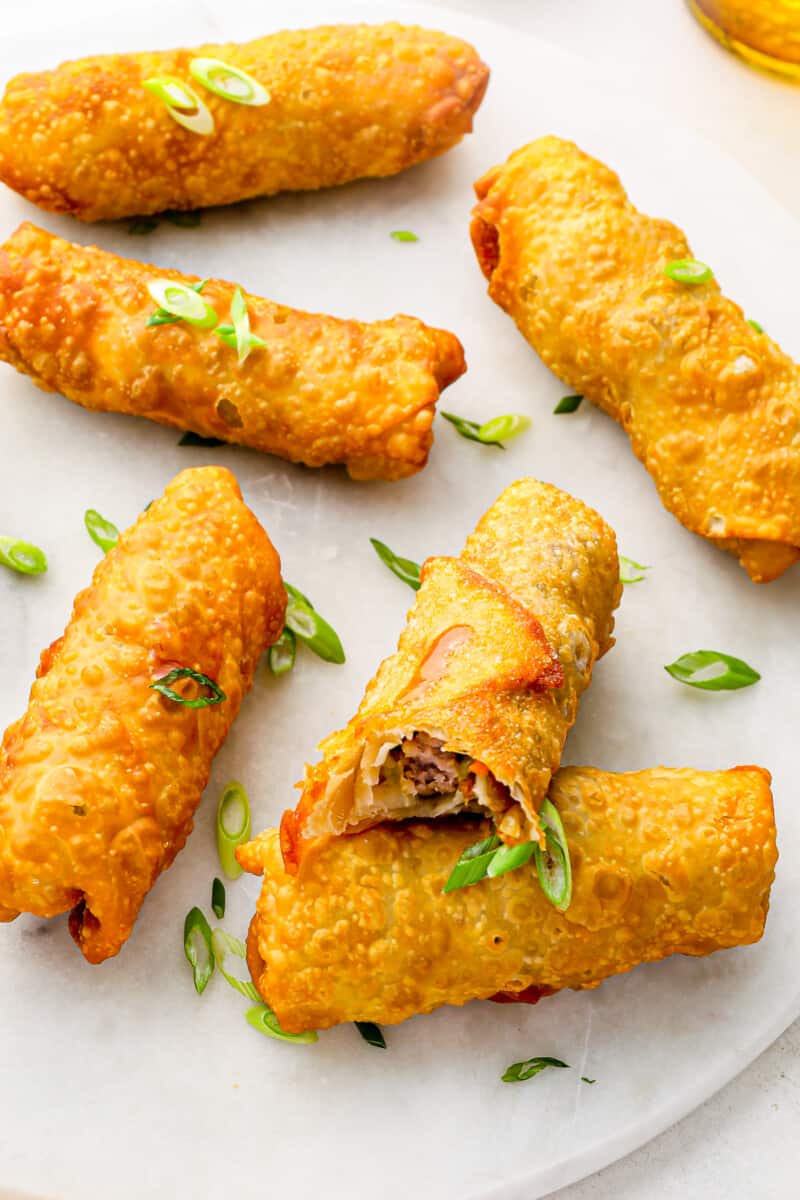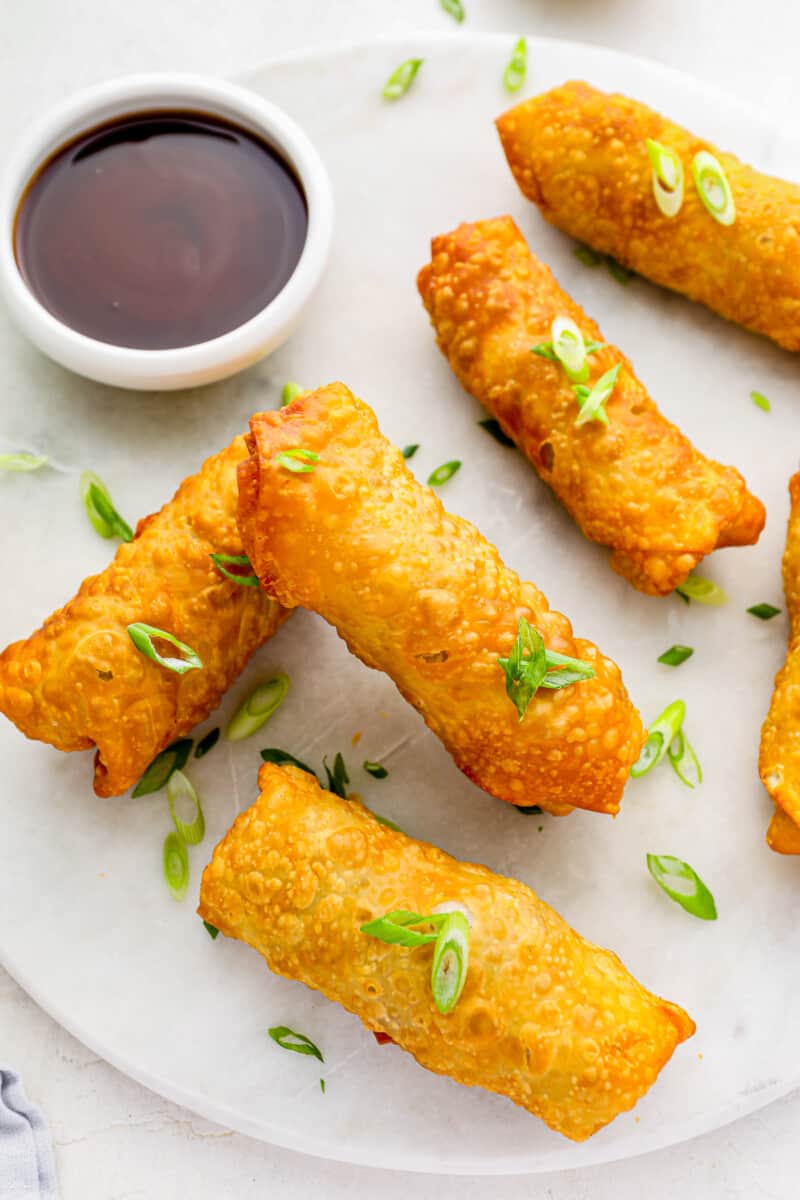 How to Make Egg Rolls
You can jump to the recipe card for full ingredients & instructions!
Cook your pork in a large skillet with garlic and ginger.
Stir in your veggies and sauces.
Fill your wrappers.
Fry the egg rolls in a Dutch oven or large pot.
Serve with dipping sauces and enjoy!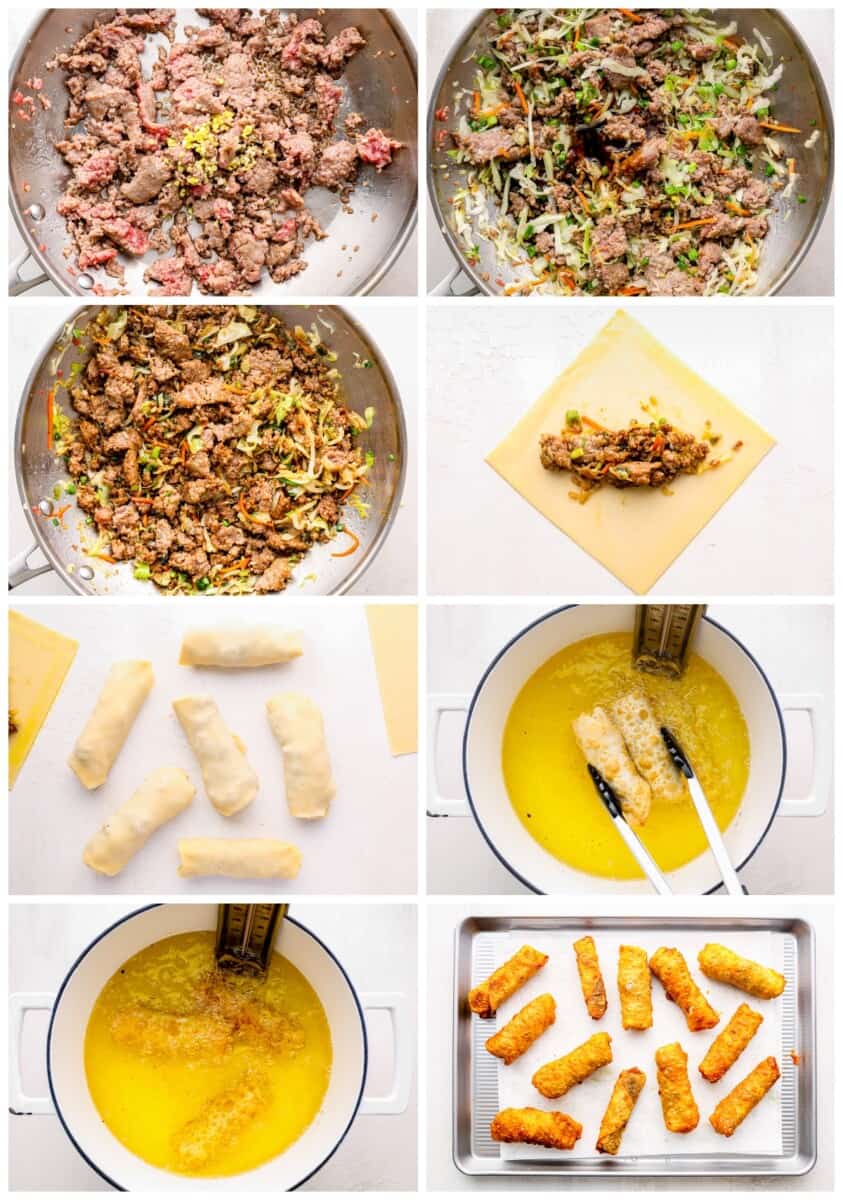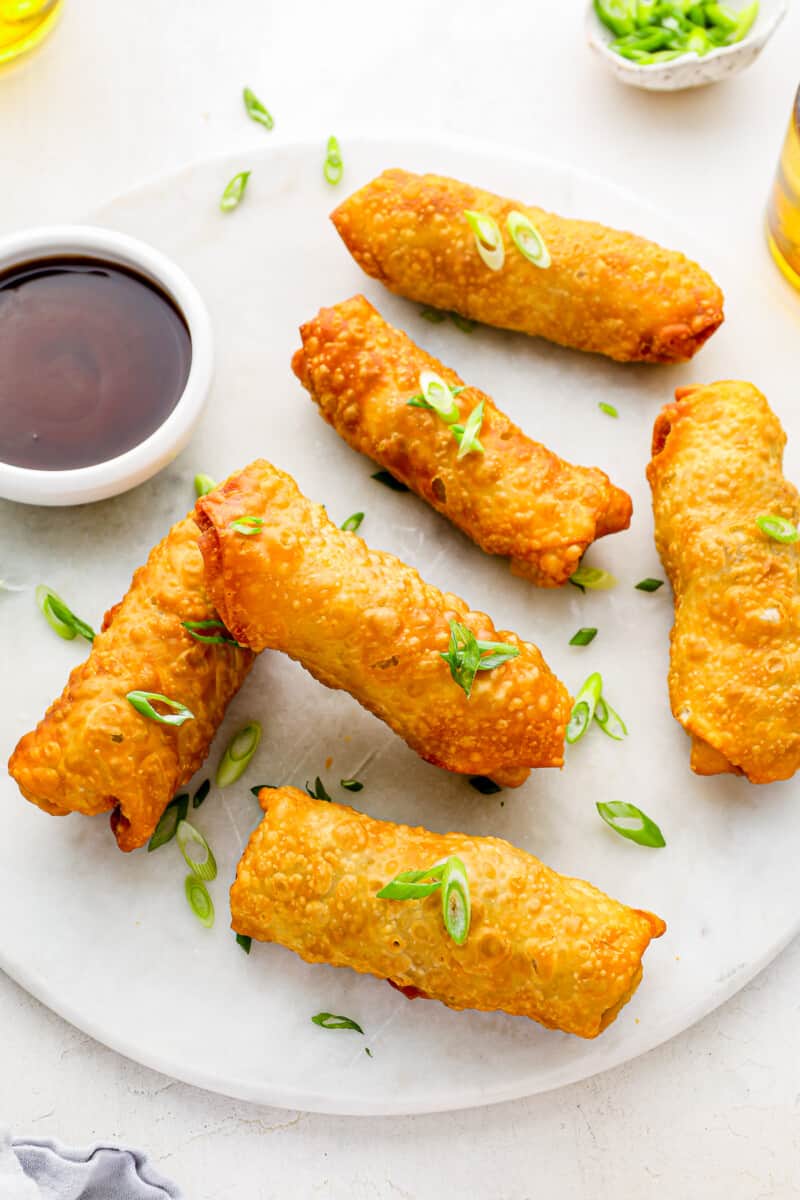 What's the difference between an egg roll and a spring roll?
Egg rolls contain a meat and vegetable filling and are wrapped in a thick flour wrapper. The wrappers are often dipped in egg before being fried, which leads to a bubbly, crispy exterior. Spring rolls are wrapped in thin flour or rice wrappers. They are thinner and lighter than egg rolls and often don't contain meat.
Where can I find egg roll wrappers?
Many grocery stores carry egg roll wrappers in the produce aisle or in the International foods aisle, but you can also buy them online.
What is oyster sauce?
Oyster sauce is a Chinese sauce made from oysters and soy sauce. It is often thickened with corn starch and dark brown in color. It adds a great umami flavor to these egg rolls! If you have an allergy, you can substitute with an equal amount of soy sauce, fish sauce, or Hoisin sauce.
How do I roll an egg roll?
Wrapping egg rolls is remarkably similar to wrapping a burrito. Add a little filling to the center of the roll, oriented in a diamond shape. Fold the bottom corner over the filling, then the two wings into the center. Then, roll the entire thing up just like a burrito, using a good amount of egg wash to seal.
Serving Suggestions
Serve these golden rolls with your favorite dipping sauces, great as an appetizer or you can also make a delicious party platter by adding some of these favorites:
Whether it's for a game day snack or an appetizer, make a big batch as they're going quick!
And of course they're perfect to serve before your homemade beef and broccoli or sweet and sour pork.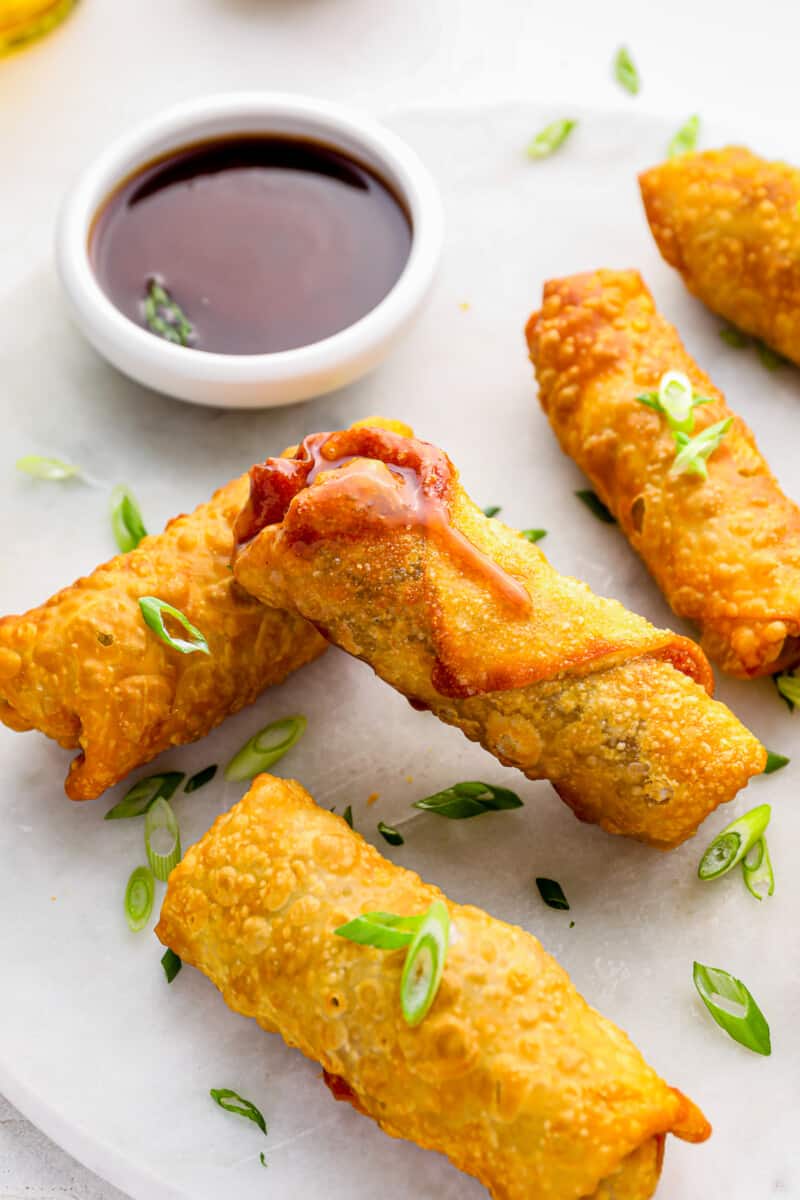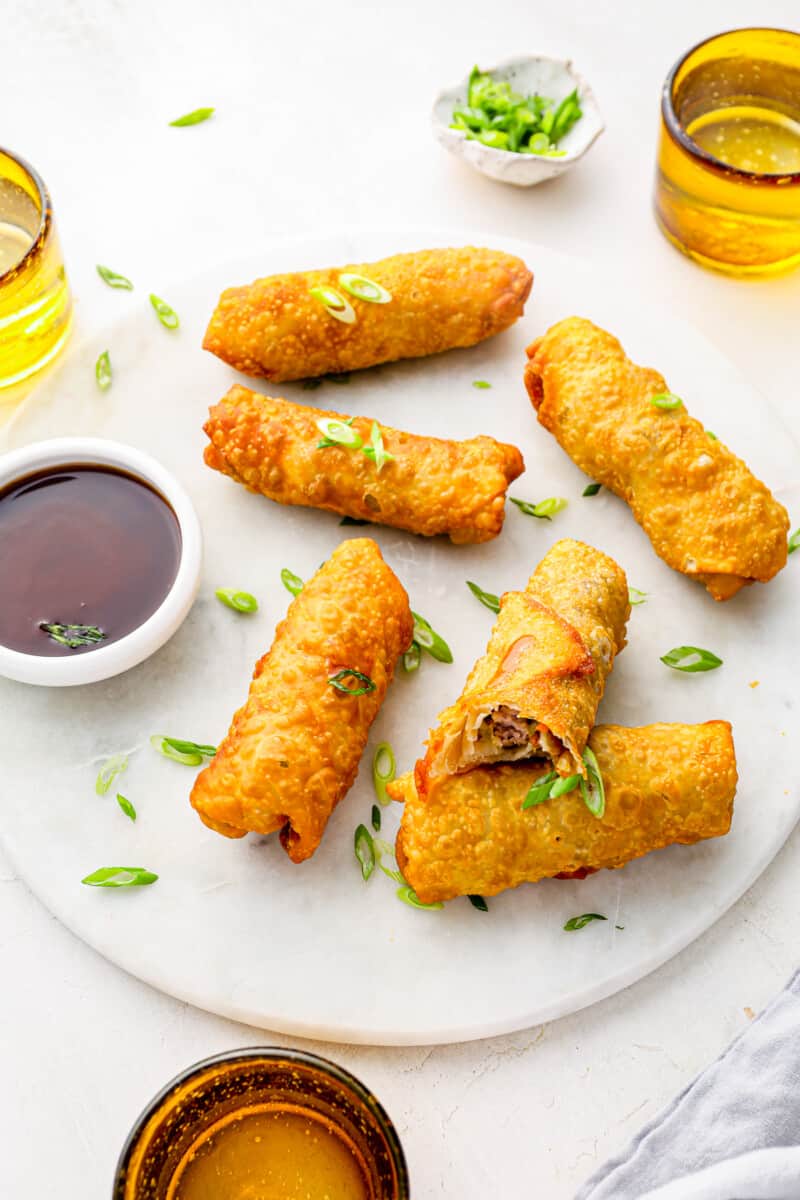 Storage Instructions
Store leftover egg rolls in an airtight container in the refrigerator for up to 3 days. To reheat, lightly fry the egg rolls or bake in a 350°F oven for about 10 minutes.
Freezing Instructions
You can freeze egg rolls both before and after frying. To freeze the rolls before frying, line the uncooked rolls up on a baking sheet and freeze until solid. Then, transfer to an airtight container or Ziplock bag and store for up to 4 months. To freeze the rolls after frying, let them cool completely, then follow the above steps, storing for up to 2 months. Let thaw in the refrigerator overnight before frying or reheating.
Egg Roll Substitutions
Use ground chicken, beef, or tofu in place of the pork.
Use soy, fish, or Hoisin sauce in place of the oyster sauce.
Use any mix of matchsticked vegetables in place of the coleslaw mix.
Egg Roll Dipping Sauces
Serve egg rolls with any of the following sauces:
Sweet Chili Sauce
Soy Ginger Sauce
Ponzu Sauce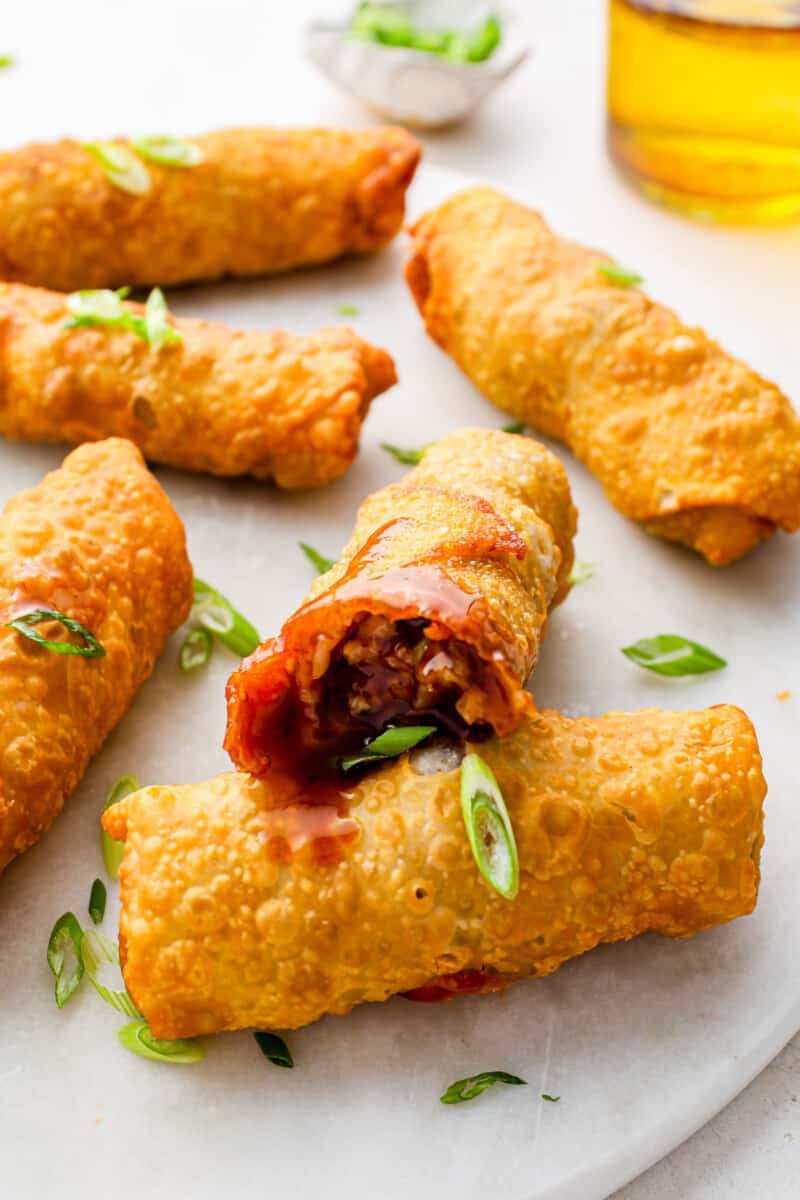 Ultra crunchy and loaded with those classic egg roll flavors we all love, these golden beauties are a major crowd pleaser! Whether it's for kids parties, game day or as an appetizer with your fave takeout-inspired meal, you'll find this recipe so easy to make and so yummy!
If you make this recipe be sure to upload a photo in the comment section below or leave a rating. Enjoy! You can also jump to recipe.