Egg Drop Soup is just so comforting and cozy! This easy homemade soup recipe serves up a super satisfying bowl of deliciousness that's packed with flavor!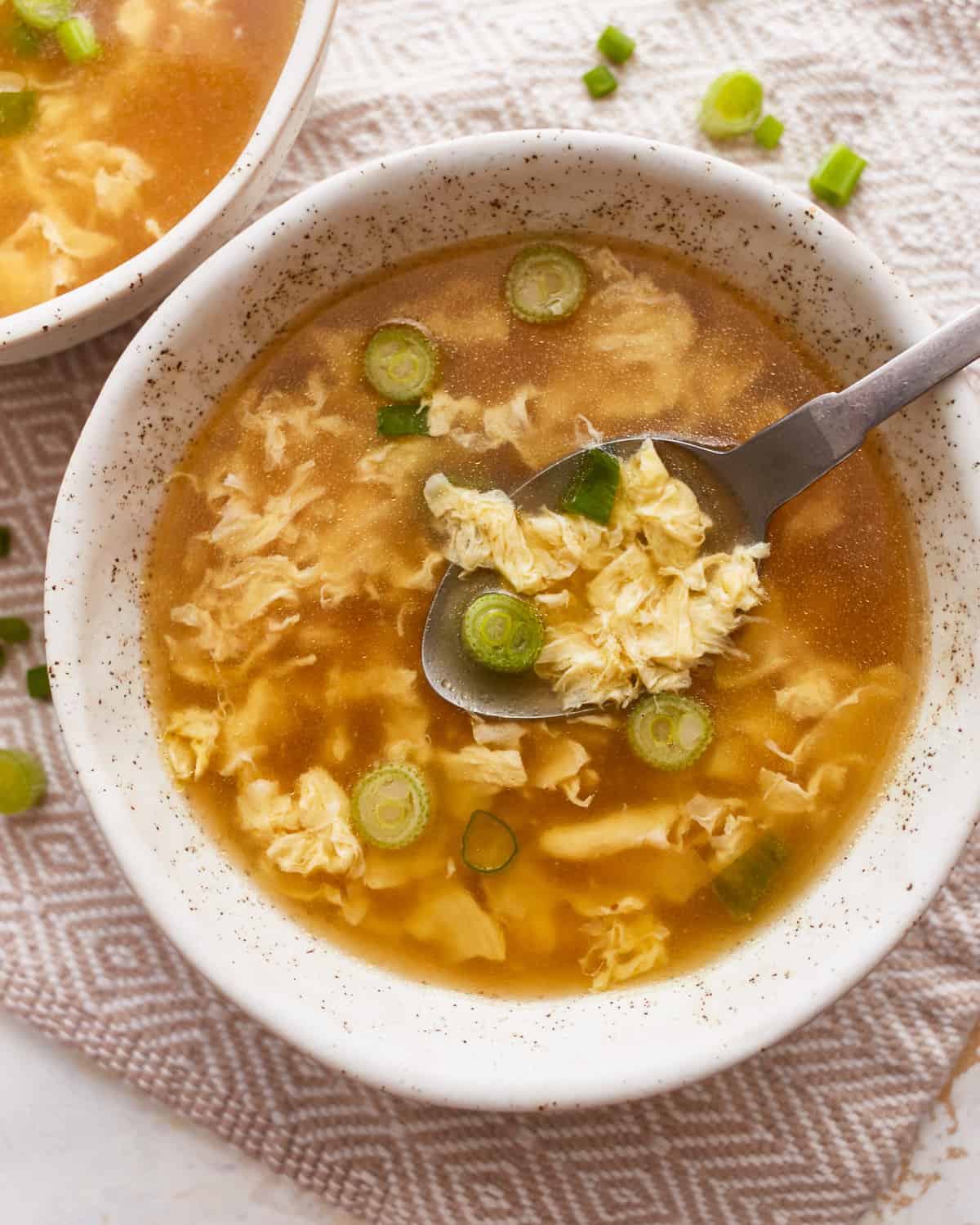 What's in this Egg Drop Soup Recipe?
Hearty, healthy, and 'souper' delicious, this homemade soup is a total crowd-pleaser! Loaded with protein and low in calories, it's great as a side or a lighter meal. Chicken broth seasoned with ginger and garlic and swimming with silky egg – it's a classic that you'll keep coming back to!
Sesame Oil: Adds a nutty flavor and prevents the onions, garlic, and ginger from burning.
Green Onion: Adds a fresh and earthy flavor.
Fresh Ginger: Adds a warm and spicy flavor.
Garlic: Adds an earthy flavor and a pungent aroma.
Chicken Broth: Forms the base of the soup. For a vegetarian option, use vegetable broth instead.
Soy Sauce: Adds a salty and umami element.
Cornstarch: Thickens the soup.
Eggs: Create ribbons of soft, silky 'noodles'.
Pro Tip: Use an equal amount of tamari or coconut aminos for a gluten free alternative to soy sauce.
Variations on Easy Egg Drop Soup
There are lots of ways you can change up this recipe to suit your tastes. You can add vegetables, like carrots, peppers, peas, and corn to the soup for a heartier meal. Or stir in some spinach leaves for extra vitamins. For a subtle oceanic flavor, try adding some nori (seaweed) to the broth!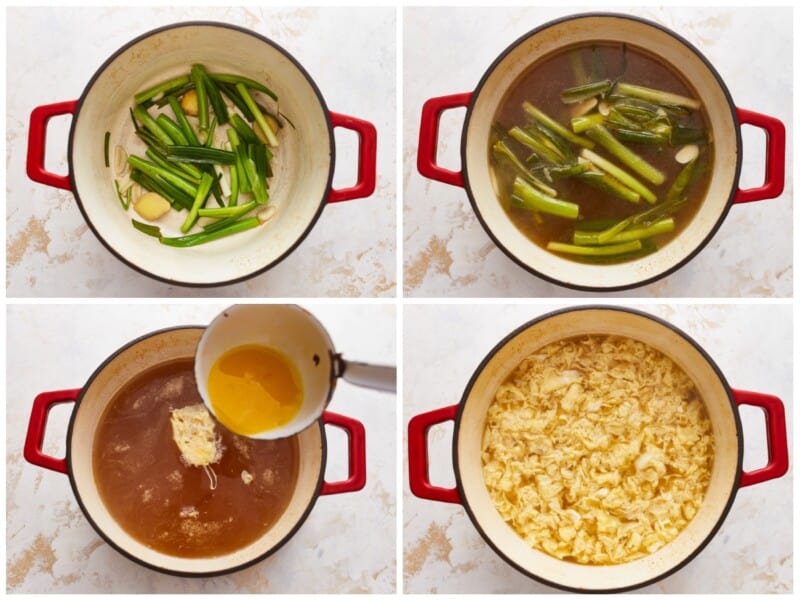 What is egg drop soup?
Egg drop soup is a Chinese soup made of whisked eggs in chicken broth.
Is egg drop soup healthy?
Yes! This soup is a lower-calorie food packed with 15 grams of protein per serving. Making it at home means it's a lower sodium option too.
How do I properly add the eggs to egg drop soup?
Whisk the eggs thoroughly in a small bowl before adding to the soup. When you're ready to add them, begin whisking the soup vigorously, then pour the eggs slowly into the soup. This will create ribbons of cooked egg, rather than clumps.
Is egg drop soup gluten free?
Why is my egg drop soup like jelly?
Can I freeze egg drop soup?
I do not recommend freezing this soup, as the eggs will become rubbery and unpleasant. You can freeze the broth by itself and add eggs after it has defrosted.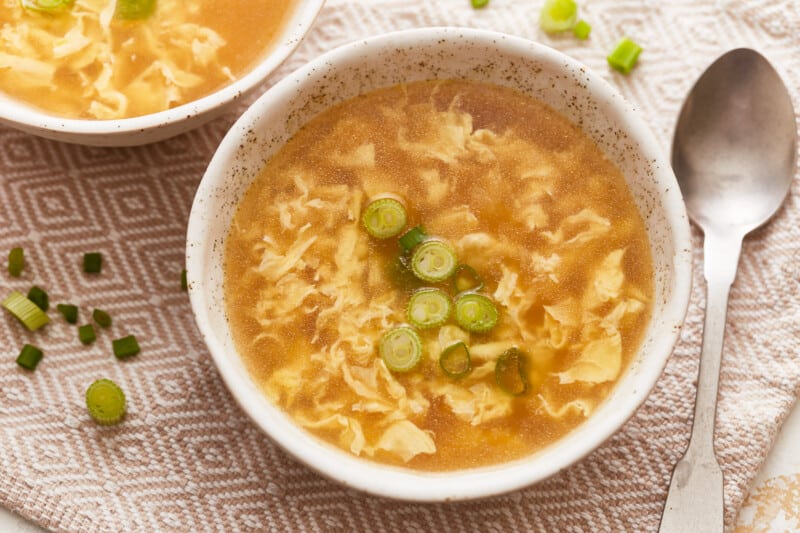 How to Store and Reheat
Although this soup is best enjoyed the day it is made, it can be kept in an airtight container in the refrigerator for up to 3 days. Reheat in a pot set over medium-low heat until warmed through, about 8-10 minutes.
Serving Suggestions
To make this soup into a meal, add ½ pound diced firm tofu, peeled shrimp, or shredded chicken. Add 4-6 ounces sliced mushrooms and a handful of baby spinach for extra veggies.
Or serve it up with other takeout classics, like Beef and Broccoli, Slow Cooker Cashew Chicken, Chicken Fried Rice, and Asian Cucumber Salad.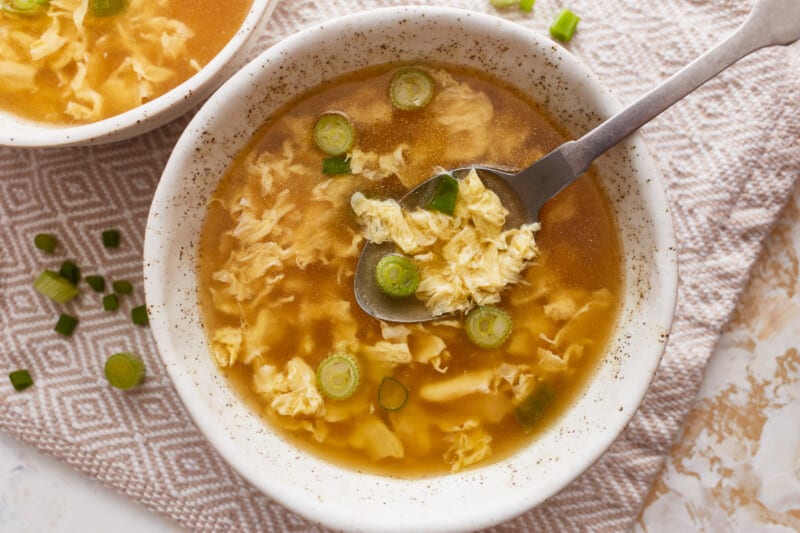 More Healthy Soup Recipes We Love