Peanut Butter Cup Cookies are the perfect little treat. Mini peanut butter cups are baked right into tart shaped cookies for a delicious bite-sized dessert. Everyone will eat these Reese's Cup Cookies right up because no one can resist chocolate peanut butter cookies!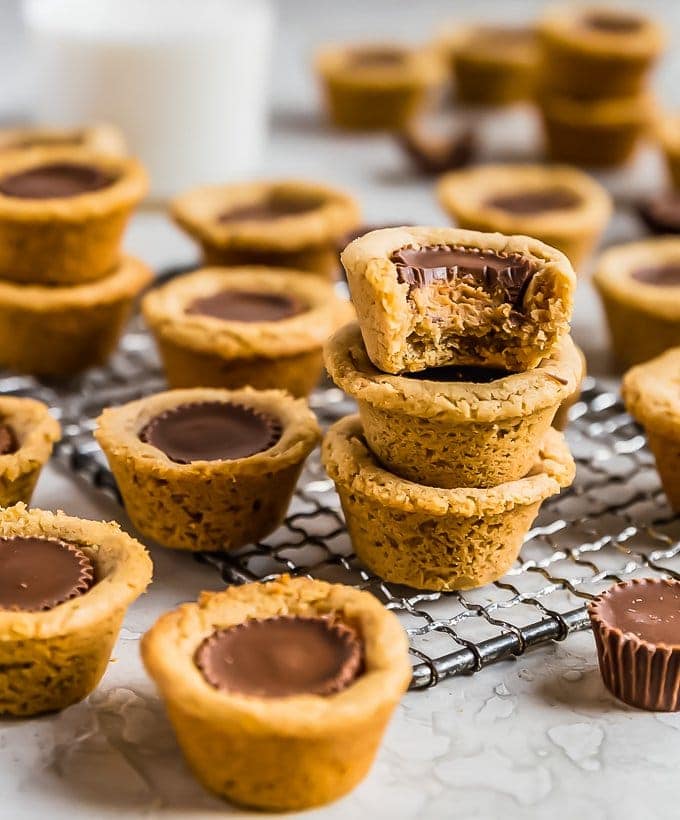 Peanut Butter Cup Cookies
Peanut Butter Cup Cookies are a delicious Christmas treat. No one can resist the combination of chocolate and peanut butter, especially in the form of a bite-sized cookie!
Every year we make these Peanut Butter Cup Cookies, and every year they are a HIT. They always seem to be EVERYONE's favorite cookie! For all of my fellow peanut butter lovers out there, these Reese's Cup cookies are for you!
These chocolate peanut butter cookies are kind of like mini tartlets. I never know what to call this recipe because it fits both categories. It really is a cookie in tartlet form. But that doesn't really matter, does it? What matters is how TASTY and EASY these peanut butter cup cookies are.
They make such a great Christmas cookie and they're so fun for parties. The cookies are baked in mini muffin tins to give them their perfect little shape without any hassle. When you bite into the chocolate, you will be blown away!
Peanut Butter Cup Cookies are the perfect little chocolate peanut butter cookies to bake this Christmas!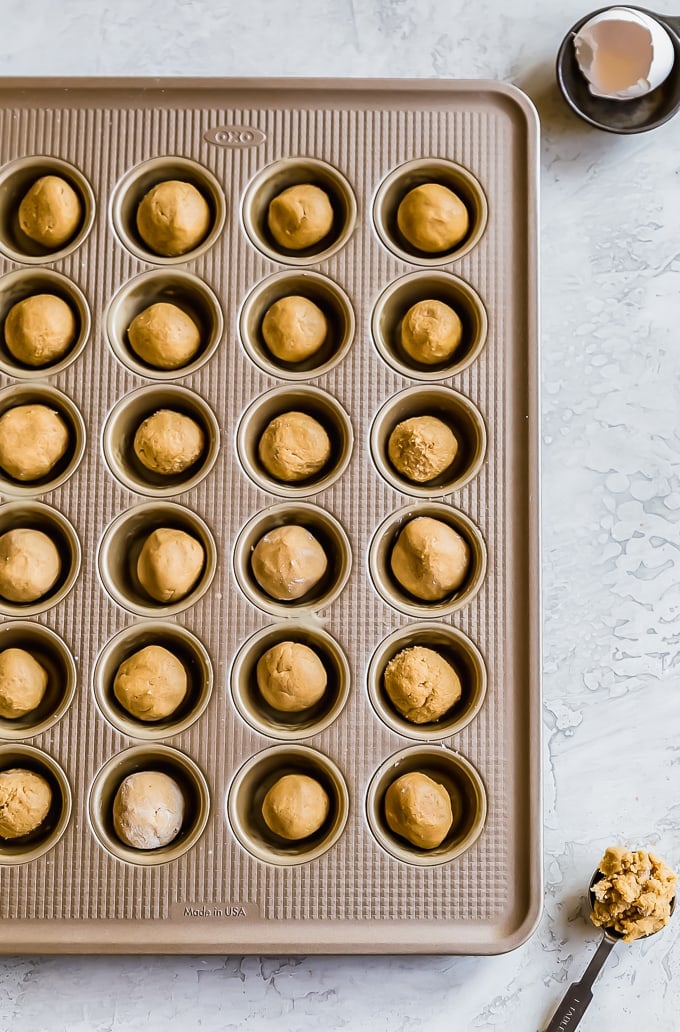 Reese's Cup Cookies
I think everyone has had a peanut butter cup before. If you haven't, go buy a package and eat them now. You can thank me later. They're one of the best candies and the mini bite-sized ones are perfect for cookies!
These Reese's Cup Cookies are so fun to make and so fun to eat! Just make the dough, bake, and then stuff the peanut butter cups in. The outside cookie has the perfect texture to complement the creamy, chocolate peanut butter cups inside. Yum!
Peanut Butter Cup Cookies Ingredients:
Mini Peanut Butter Cups
Peanut Butter
Butter
Brown Sugar
Sugar
Flour
Vanilla Extract
Egg
Baking Soda
Salt
Basically it's just all your typical baking ingredients, most of which you probably already have. So go out and buy a package of the peanut butter cups (let's be honest, you were probably going to buy a package anyways), and get to baking!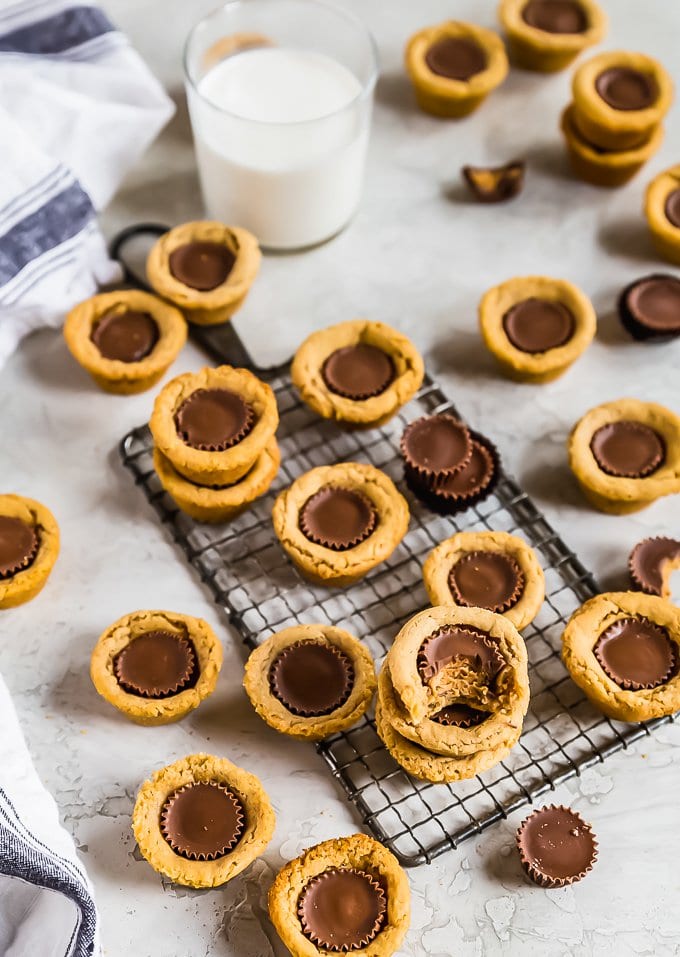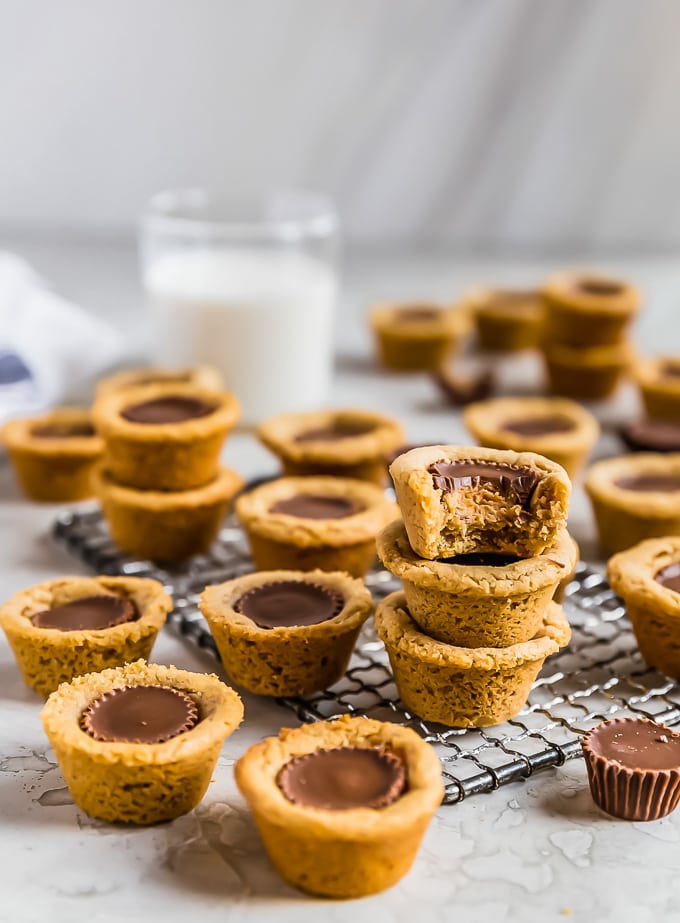 How to Make Peanut Butter Cup Cookies
These peanut butter cup cookies have everything going for it: chocolate and peanut butter with a peanut butter cookie crust…the perfect flavor combo, and it comes together in such a cute little package. Prepare to impress everyone with these babies!
How to make Reese Cup Cookies:
Cream together peanut butter and butter, then add in sugar and dark brown sugar and continue mixing.
Beat in the egg and then add the vanilla extract.
Combine flour, baking soda, and salt in a separate bowl, then mix into the other mixture.
Roll the dough into 1-inch balls and place them in the mini muffin tins.
Bake about 8-10 minutes at 375°F.
Remove them from the oven and push a mini peanut butter cup into each cookie.
Let them set in the muffin tin for a couple of minutes, then remove them and place them on a cooling rack.
So easy, right? The dough is so simple to make, baking time is short, and then they're all done and ready to eat!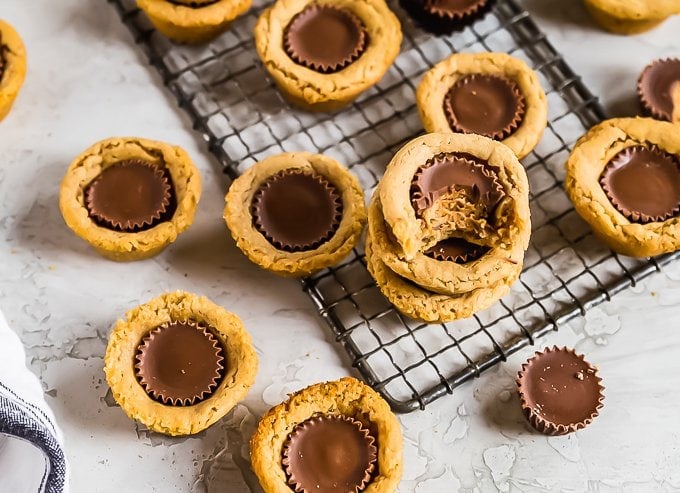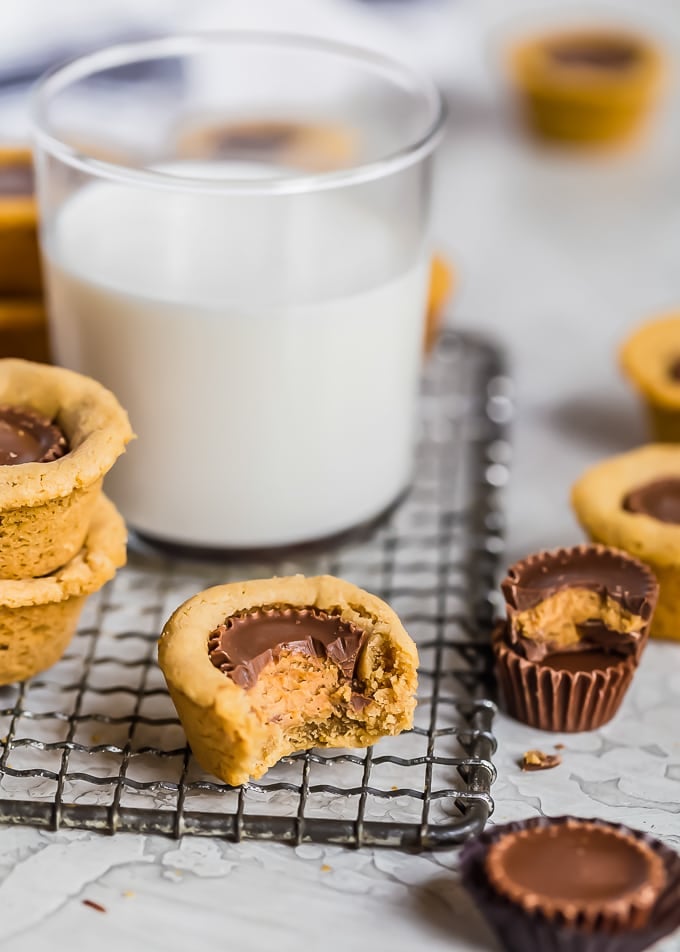 Chocolate Peanut Butter Cookies
Who can resist the combination of chocolate peanut butter? I know I can't! Anything with those two flavors is a win in my book. These Peanut Butter Cup Cookies are absolutely delicious, and kind of addicting since they're (almost) bite-sized. I could just keep popping these in my mouth one by one until they're gone!
Make these tasty chocolate peanut butter cookies for Santa on Christmas Eve so that you can keep them all to yourself!
Looking for the best Christmas cookies to make this year? Here are 25 Christmas Cookie Ideas to choose from!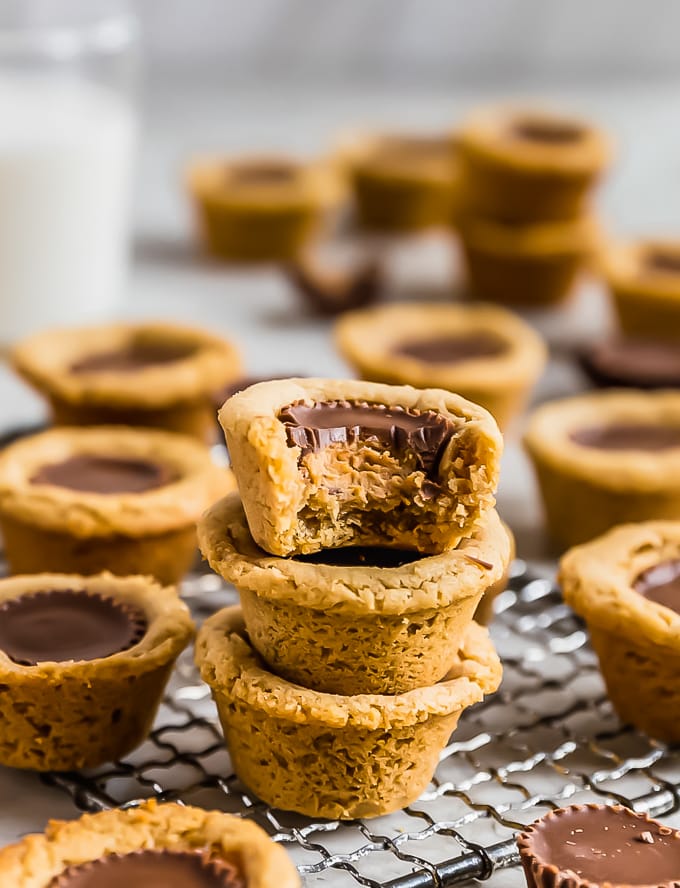 Merry Christmas! We hope you enjoy these peanut butter cup cookies as much as we do!
See the recipe card below for details on how to make Peanut Butter Cup Cookies. Enjoy!
If you like this recipe, try these other favorite desserts too: