These peanut butter cookies are just like Mom used to make! Quick and easy to make, these cookies are ready to eat in 20 minutes. This is the best peanut butter cookie recipe, and the only one you will need!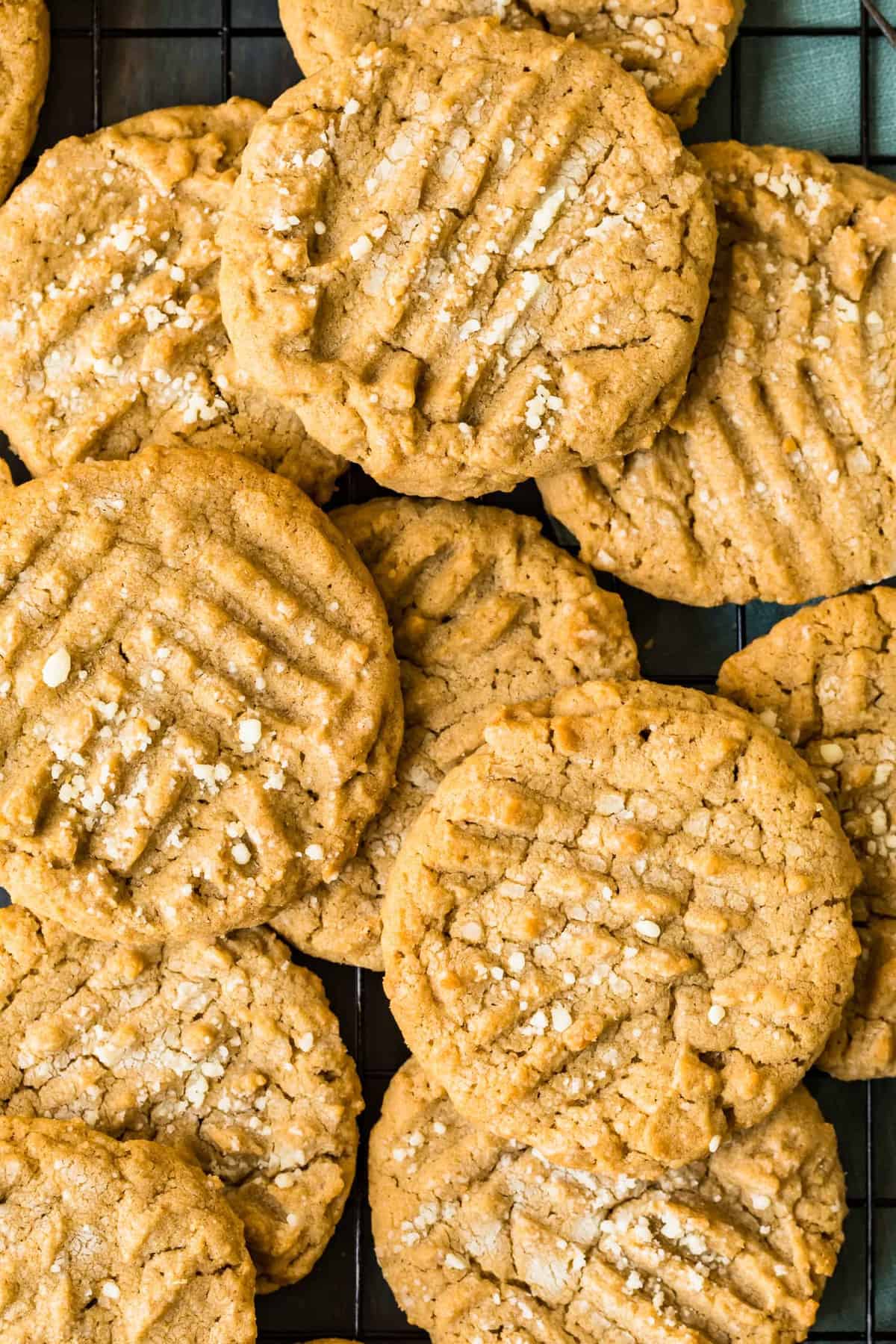 I'm so excited to share this amazing peanut butter cookie recipe with you today! They are soft, chewy and literally melt in your mouth!
How to Make Mom's Peanut Butter Cookies
Heat oven to 350°F and line 2 large baking sheets with parchment paper. (If not using parchment, do NOT grease the baking sheets.)

In the bowl of an electric mixer, add butter and peanut butter. Beat on medium speed 2 minutes until completely incorporated.

Add the brown and granulated sugars and beat an additional 2-3 minutes or until smooth, creamy and paler in color.

Add the egg and vanilla and beat another 1 minute.

In another large mixing bowl, whisk together flour, ½ teaspoon baking soda, table salt, sea salt and cinnamon.

Add the flour mixture to the butter mixture and turn the mixer to low speed. Mix until the flour is almost incorporated. There should be just a little flour visible.

Remove the mixing bowl from the mixer and add the peanut butter chips, if using.

Stir the dough gently just until all flour is incorporated.

Use an 1.5" scoop to scoop balls onto the baking sheet 2-inches apart. (If you don't have a cookie scoop – use about 1½ tablespoons of dough per cookie and roll the dough into balls.)

Lightly sprinkle the cookies with powdered sugar.

To put fork marks into the cookies, gently press the fork onto the cookie dough – being sure to crisscross the fork to get that traditional "peanut butter cookie" appearance.

Bake 9-10 minutes at 350°F or until the edges of the cookies are set.

Transfer the cookies to a cooling rack and…

Enjoy!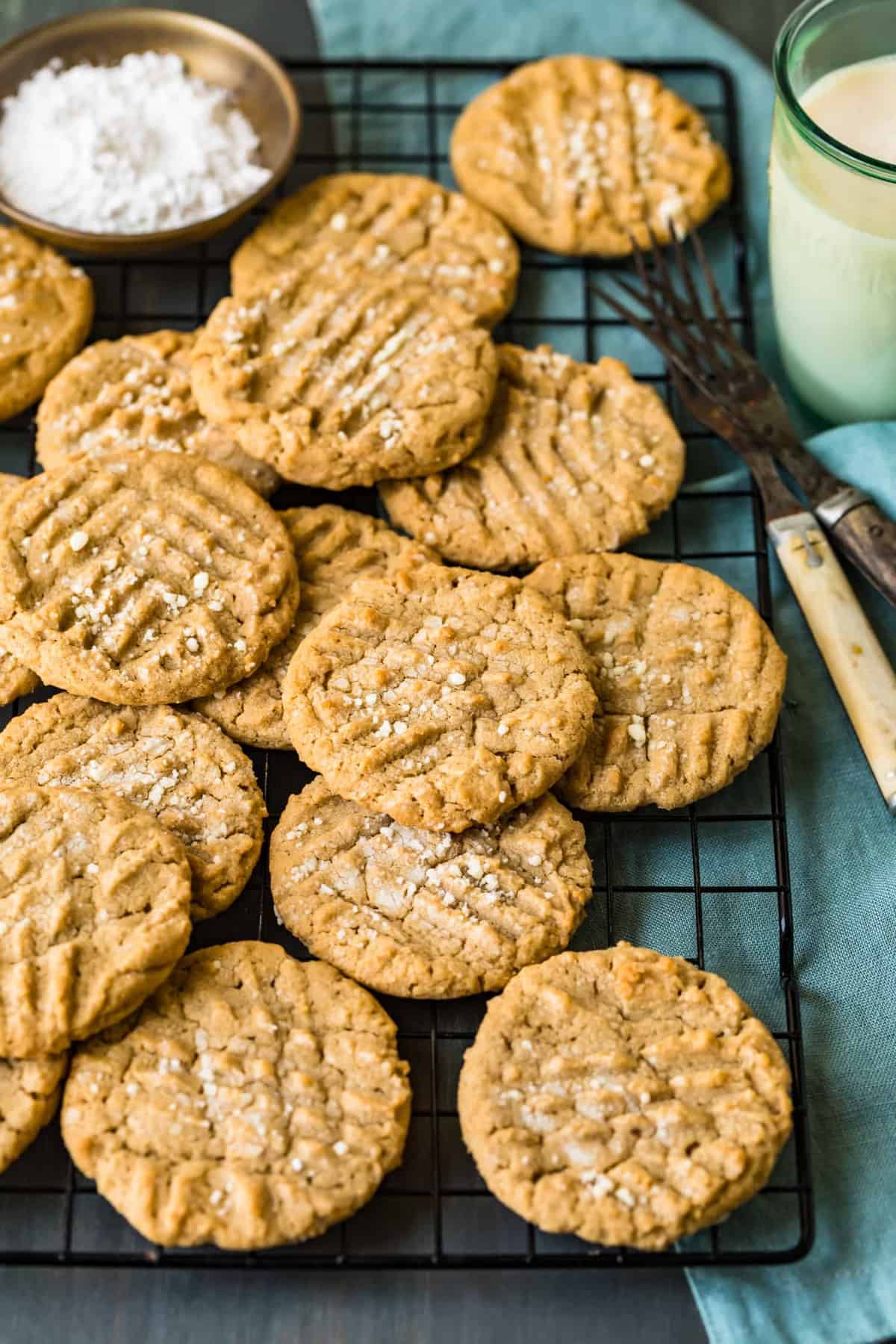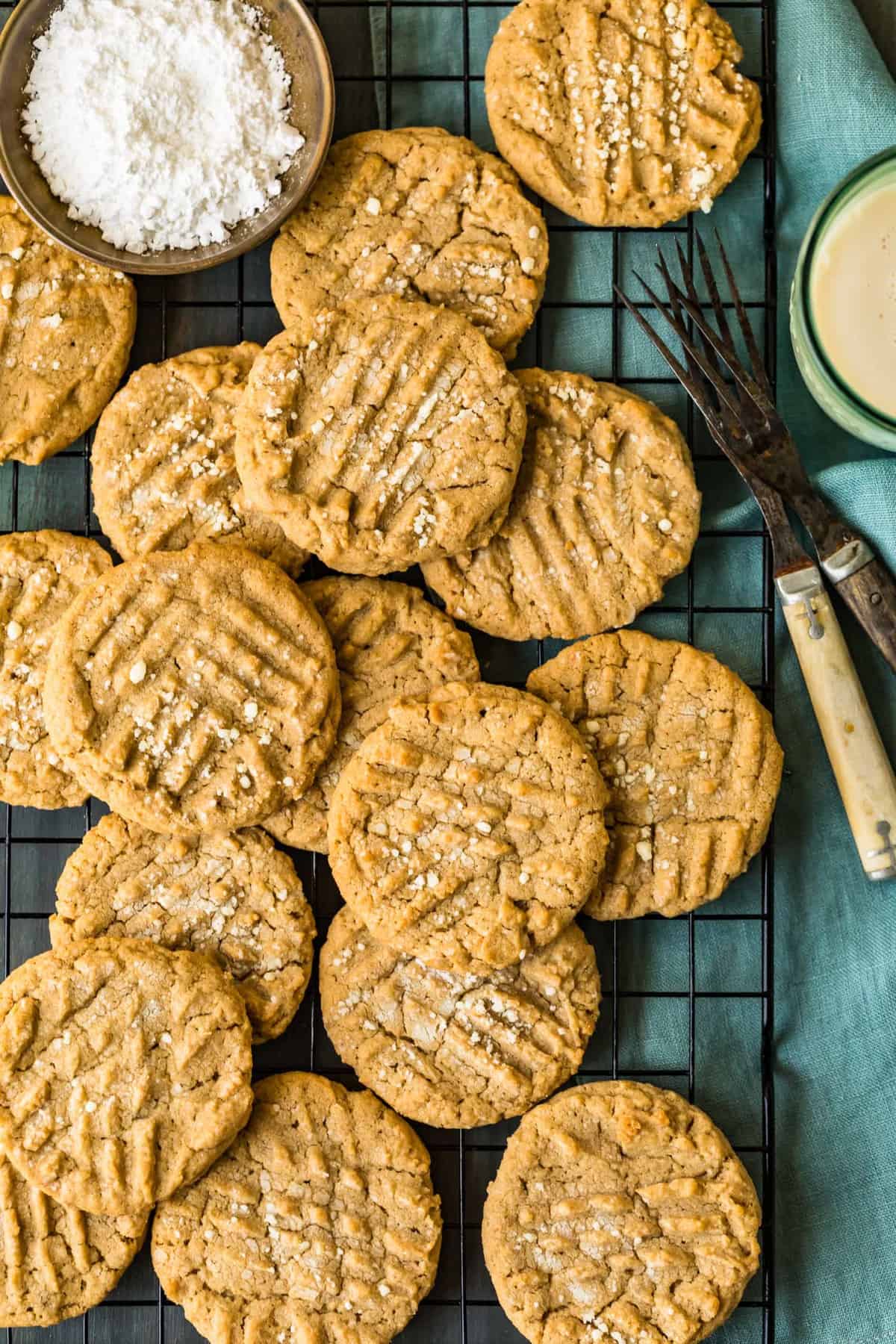 Peanut butter cookies with brown sugar
This cookies are beautifully rich and flavorful, and that's partly down to the fact that there's brown sugar in the dough. Brown sugar contains more molasses than white, which results in a deeper flavor. But it's not just the flavor, the brown sugar also helps to create a thicker cake like cookie.
How do you know when the cookies are baked?
Because of the peanut butter in the cookies, it can be a bit tricky to tell when the cookies are done. Check the edge of the cookies, the should be set and light brown. You may need to take them out of the oven quickly for a closer look and check they are done.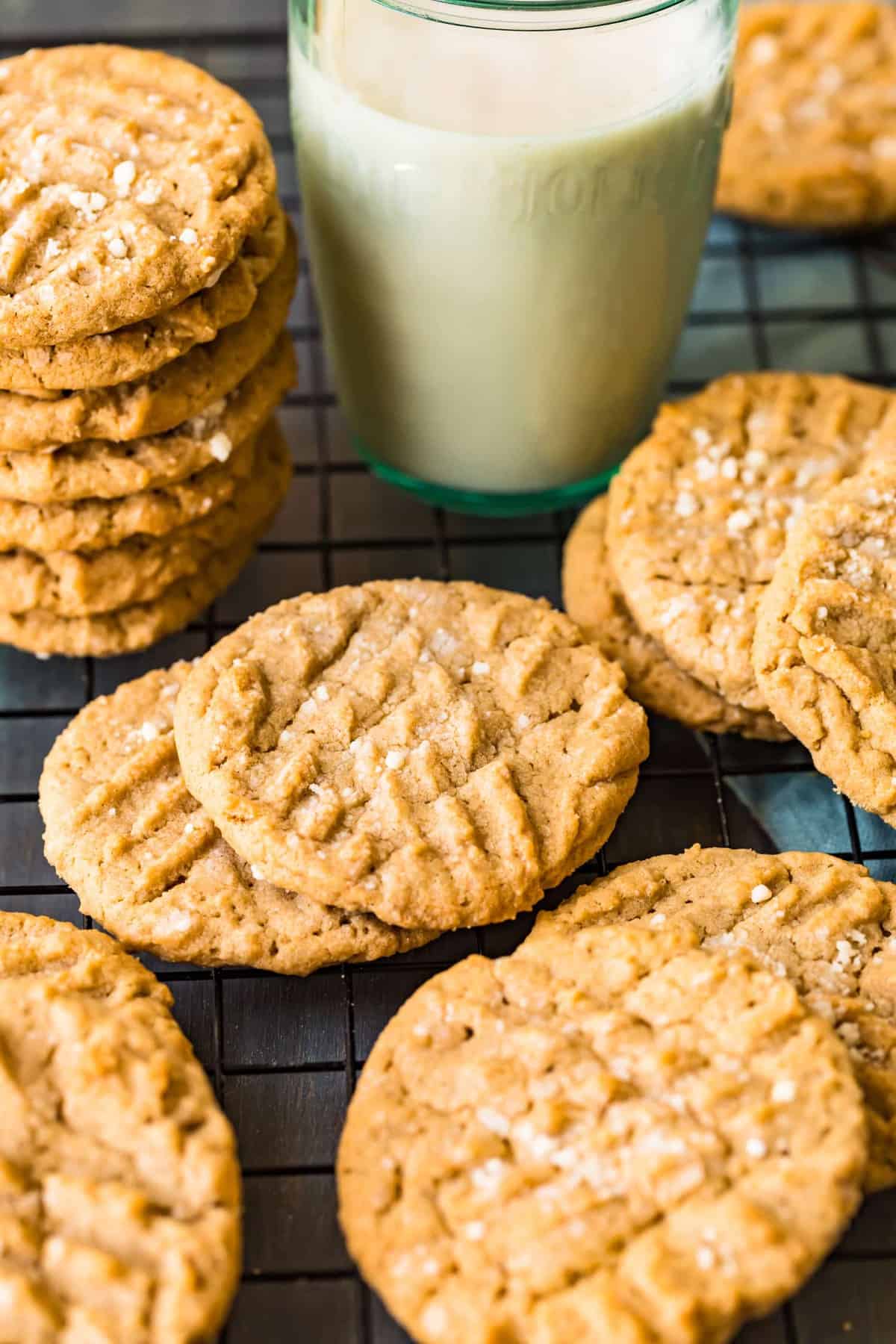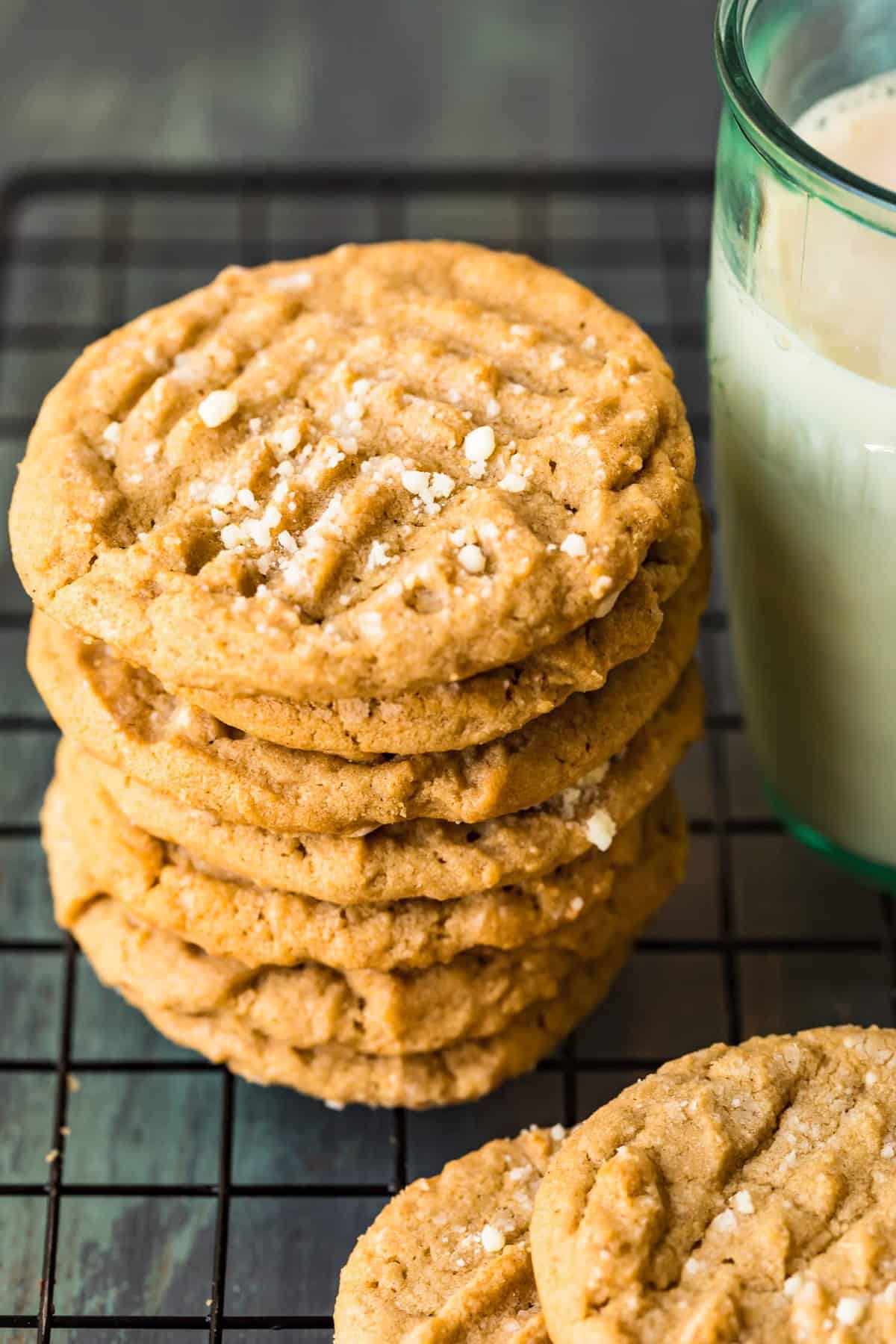 What's the best peanut butter to use in these cookies?
I prefer to use creamy peanut butter in my cookies, but if you like, you can use crunchy – it's a preference thing!
Natural peanut butter is often unsalted, so if you use that, you may need to add additional salt the recipe. If you use natural peanut butter, the cookies tend to spread out more and become slightly crisper and less chewy and cake like.
National peanut butter cookie day!
Now obviously these cookies are to be enjoyed all year long, but you for sure need to bookmark this recipe to make on June 12 – NATIONAL PEANUT BUTTER COOKIE DAY!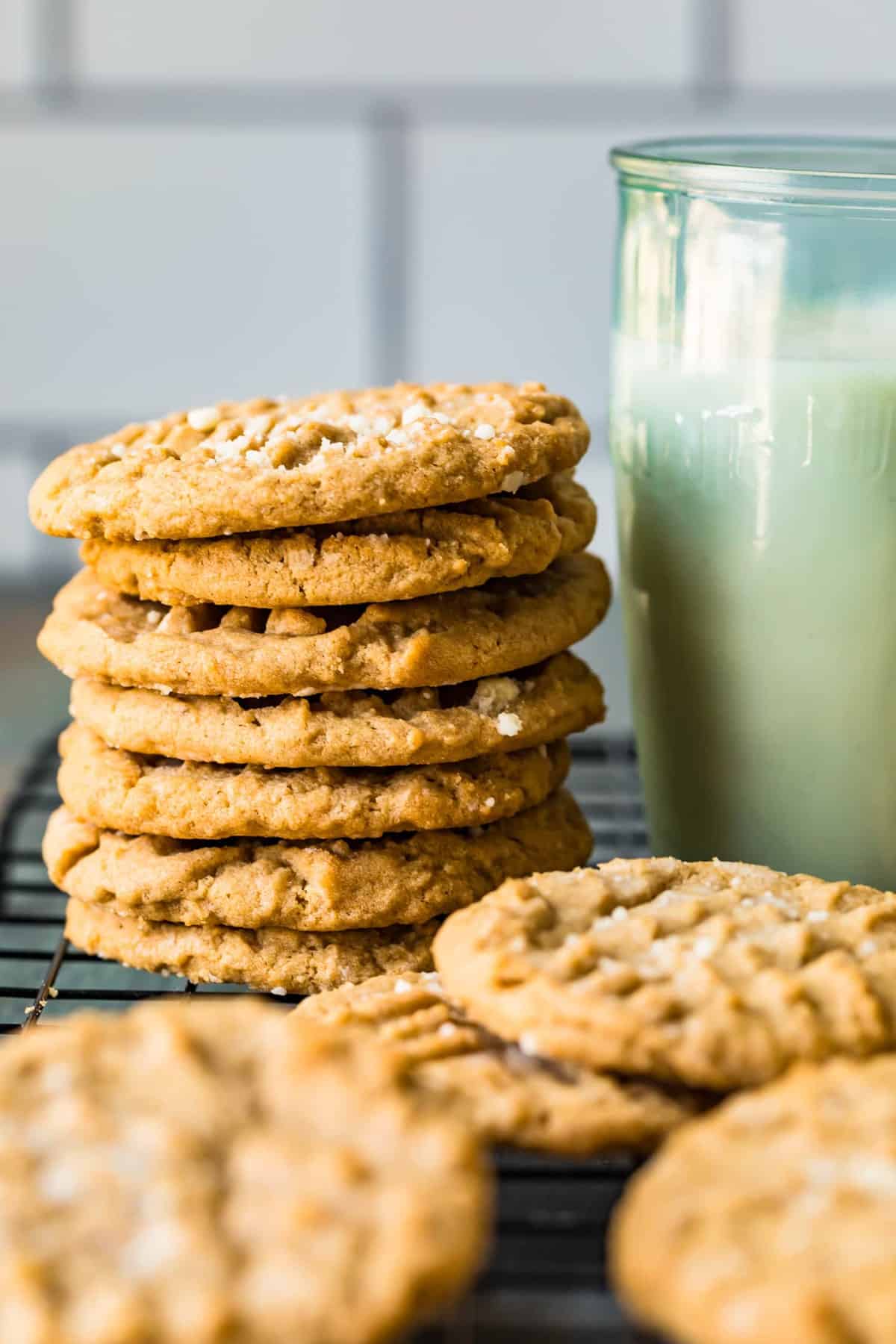 Top Tips to Make Mon's Peanut Butter Cookies Recipe
Cook the cookies in a pre-heated oven for the best results.
Press the cookies down with a fork on the baking tray – this gives the traditional marks but also helps the cookies to cook more evenly.
These cookies freeze beautifully and are actually pretty tasty eaten frozen!
Keep in an airtight container up to 4 days (if they last that long).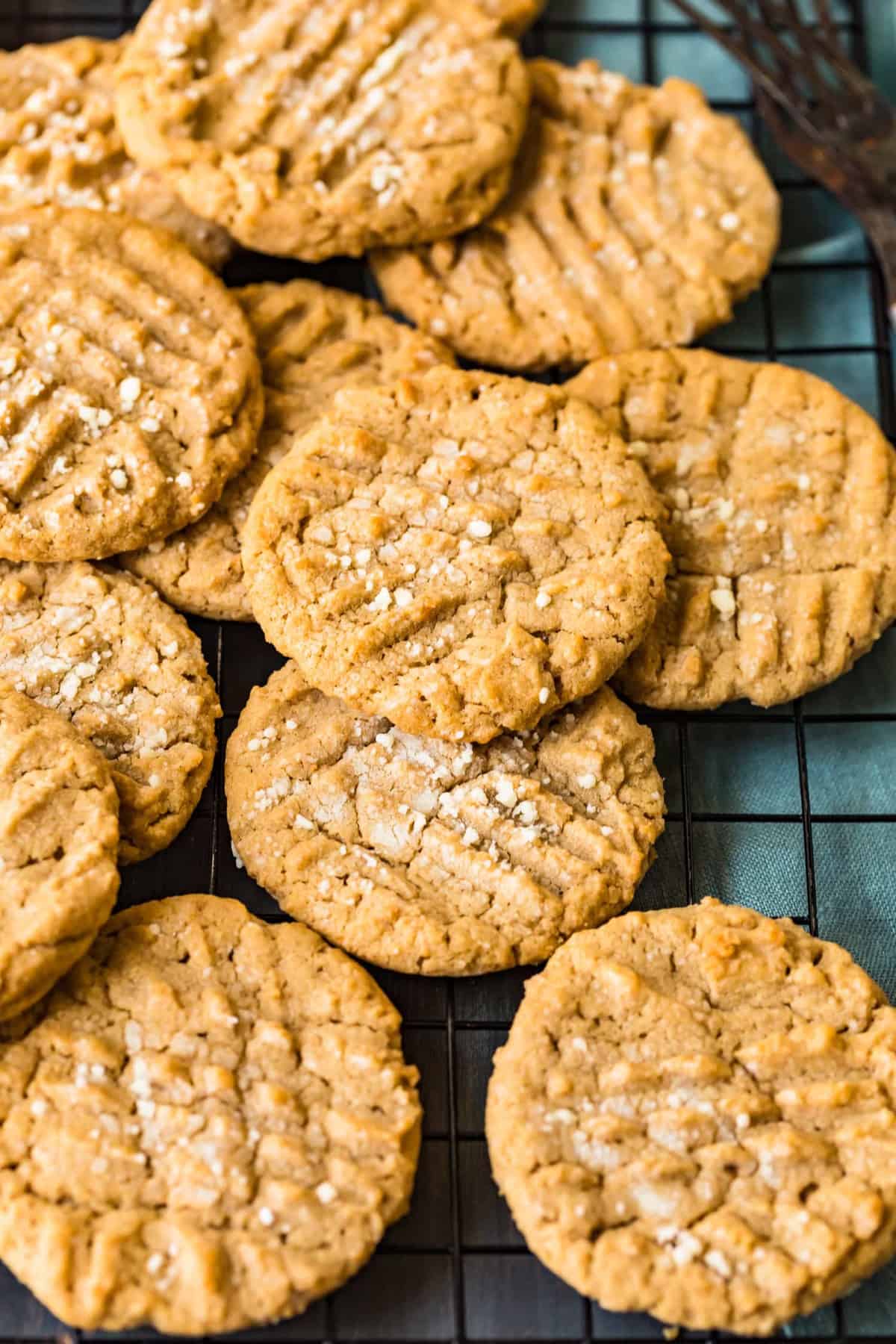 Be sure to check out these other yummy cookie recipes!